If you print in colour and on A3 paper, very soon, you will be looking to replace those ink cartridges. Not so with these A3 InkJet Printers with refillable ink tanks. For volume printing, you want nothing less than being able to refill those individual cartridges to lower your cost of printing.
When you think of A3 InkJet Printing, you will probably think about the ink cartridges you'll need, NOT with these printers.
Click To Tweet
For inkjet printers that can print up to A3 with refillable ink tanks, your choices are limited to offerings from Epson with their EcoTank series. Other manufacturer with refillable ink tank printers, such as Canon, HP and Brother will only take up to A4 or letter. If you are looking for printers to print up to A4 or letter, use the link below:
Top 5 InkJet Printers with Refillable Ink Tanks (A4/letter)
Here is our line-up of printers capable of printing up to A3 and A3+ with refillable ink tank, use the links below to search for these on Amazon:
NEW: Epson EcoTank Photo ET-8550 Wireless Wide-Format All-in-One Supertank Printer
The last printing on the list above, the Epson Expression does not come with refillable ink tanks but is a wide format (A3+) printer nonetheless and uses 6 individual Claria Ultra HD Photo ink cartridges so you only have to replace the cartridge that has run out. 
These wide format printers not only save your money on cartridges but does borderless prints up to A3+ with print, scan and copy functions.
Click To Tweet
Want a do it all inkjet printer that can scan, copy and print over WiFi and can print borderless photos up to 13″ x 19″ (wide format), then look no further. This EcoTank Photo E08550 uses 6 colour inks complete with refills to get your up and running. The print speed is surprisingly fast too, churning out a 4″ x 6″ photo in as little as 15 seconds. Epson claims up to 80% savings using their replacement ink bottles versus swapping out the bottle and the supplied ink is enough to 6200 pages. Download the Epson Smart Panel app to control the settings, monitor use and operate the printer directly from your mobile device. Plus, there is a big 4.3-inch colour display to preview your photos and voice activated printing too.

6‑Color Claria ET with Photographic Dye Inks

Up to 5,760 x 1,440 dpi Resolution
The EcoTank ET-7750 is a multifunction photo printer with printing, scanning and copying capabilities. Perfect for home office use, the ET-7750 is not only a wide-format A3 printer but can print up to 3,400 photos in A3 with included ink. The printer uses 4 dyes and a pigment ink for better quality printing. There is an easy way to tell how much ink is left in the tank without taking the printer apart and given that this is a multi-function printer short of a built-in fax machine, you can print, scan and copy straight from the unit. Use the huge 6.8 cm colour LCD display to help you navigate. There is even an SD card slot for camera to photo printing. It performs incredibly fast, printing at 13 ppm black and 10 ppm colour.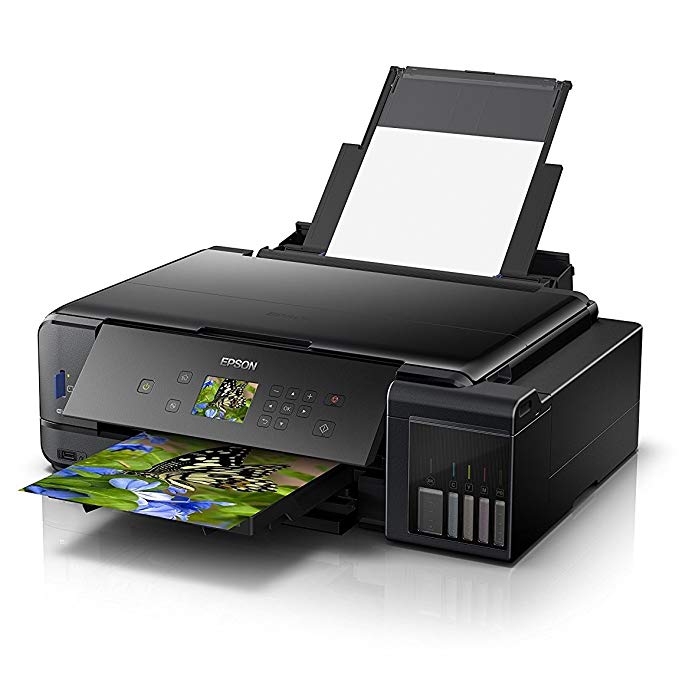 WiFi connectivity lets you print directly from your laptop or desktop and with the right mobile app, from your smartphone and tablet. When you run out of ink, there is no need to swap or replace the cartridges, the EcoTank system with its ultra high capacity ink tank means you can simply top up the thank. This helps keep the cost of printing down for you and your business. Out of the box, you get enough ink for up to 3,400 photos. Included are two sets of 5-colour ink bottles 70ml for CMY and PB, 140ml for black. The printer supports borderless printing, card, CD/DVD and A3 media with dual paper tray.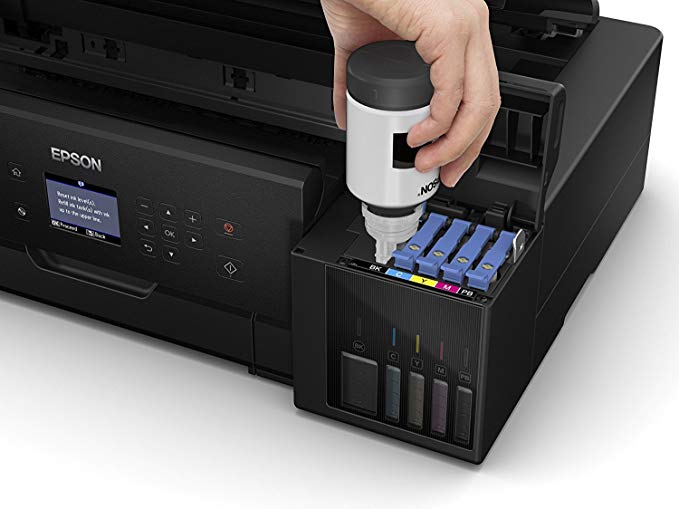 Search: Epson EcoTank ET-7750 A3 Photo Printer on Amazon
---
The EcoTank ET-14000 is sold with up to two years worth of ink in the box. It uses an easy to refill ink tank system. All you need to do when you run low is to top it up with low-cost replacement ink from the bottles. These refill bottles are available at less than the price of a full cartridge replacement. Inks are available in 70ml sizes and the first set is included, hence the two years worth of ink. Performance wise you are looking at 15 ppm for black and 5.5 ppm for colour. Why faster mono printing, read on to find out.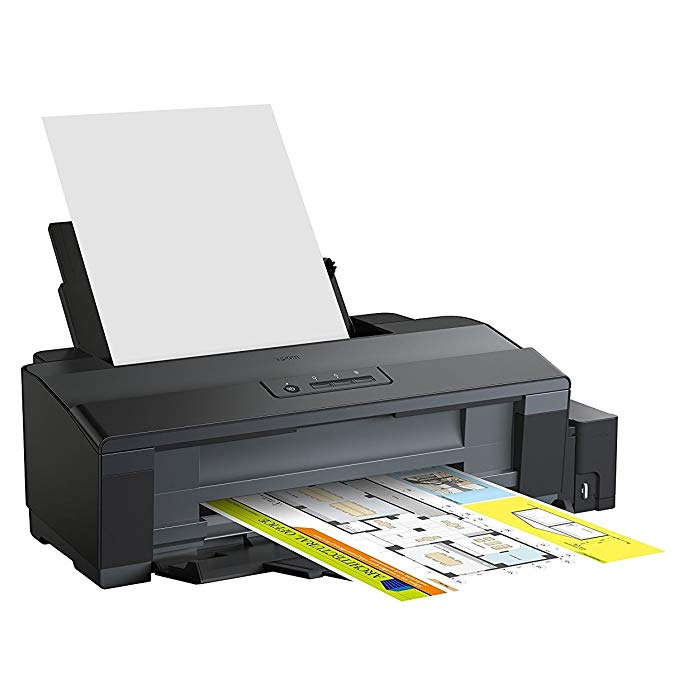 Even though the printer is capable of printing wide format prints up to A3+ the ET14000 takes up a very small foot print perfect for small office. There is enough ink to print up to 7,500 pages in black and 6,500 pages in colour. Again, there are no cartridges to replace, just bottled ink to buy and refill. An idea that some of us needs getting used to. It doesn't stop there, the ink tank system uses two black in tanks, instead of one. This allows for less refilling and faster black and white printing. If you must now, Epson also included two black in bottles in the box on top of the colour ink bottles. What a bonus. For those seeking professional photo print outs, this is not a photo printer, but with its CMYK ink, it is probably enough for the average user. Finally, the vertical in tray has a paper capacity of up to 100 sheets and only USB connection is available to keep the cost down.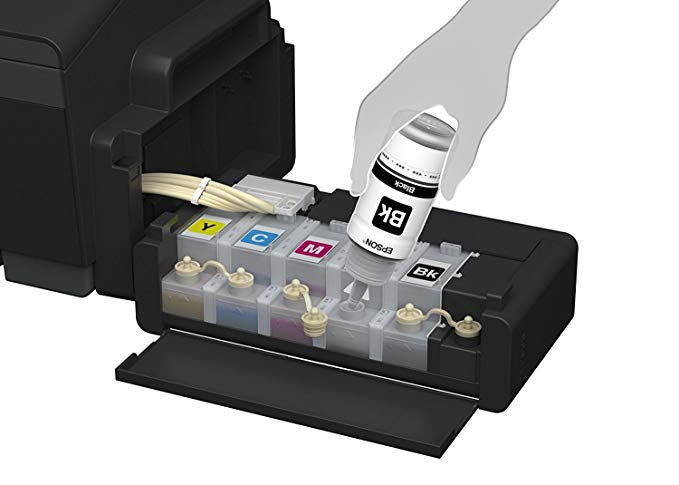 Search: Epson EcoTank ET-14000 A3 Printer on Amazon
Want huge poster size professional photo prints up to A3+, these wide format printers with refillable ink tank will save you loads of money.
Click To Tweet
Think high volume, high capacity, wide-format office printing for posters, infographics, wide-spread, signs, charts and graphs in colours and black up to A3+, the EcoTank ET-16500 got you cover. The Multifunction wireless printer is your office companion capable of serving small businesses to large enterprises.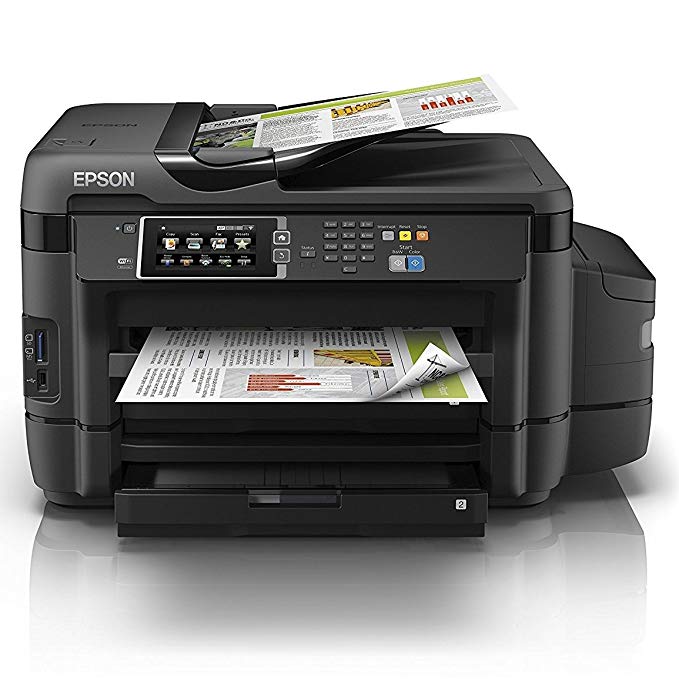 The printer can produce up to 10,500 pages in black and 11,300 pages in colour without any ink cartridges up to 18 ppm. When you run low, simply refill the ink tank system, see image below. This multi-function printer does print, scan and copy as well as fax. The automatic document feeder (ADF) can take up to 35 pages should you need to fax or copy a multipage document. For convenience, it has two huge capacity paper tray that takes up to 500 sheets of paper (2 x 250-sheet front trays) and performs double-sided printing. It doesn't stop there, WiFi and wired or Ethernet connectivity lets you print directly via WiFi-Direct or over the network. Use the free mobile printing app to print from your phone or Tablet.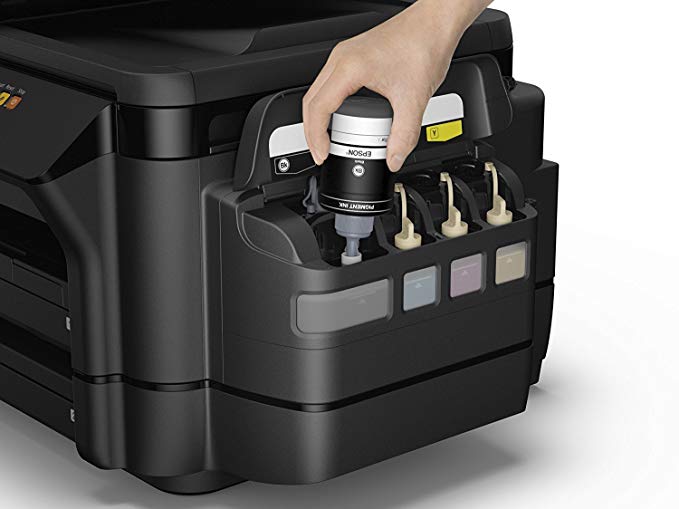 Search: Epson EcoTank ET-16500 A3+ Printer on Amazon 
This inkjet printer doesn't even have a cartridge to replace, when you run low, simply top up the onboard ink tank and you are good for go up to 11,300 colour pages. Cheap!
Click To Tweet
A photo printer that supports borderless wide format printing on paper sizes up to A3+ that comes with refillable ink tank is rare. The Epson L1800 and the EcoTank ET-7750 are two such printers. Capable of printing professional quality photos with CMYK as well as Pigment and black, you are assured of photo quality prints every time. What is even better is when you run out of ink, printing all those huge wide format photos and posters, you can simply top up from refill bottles instead of ripping out and throwing away the cartridges.
The high capacity ink tank lets you print up to 1500 photos before needing refills. For standard text there is enough ink to print up to 2600 pages in black and up to 4700 pages in colour. Use the size 70 ml ink bottles one for each colour when you run low. And, you can easily tell when that happens with the clearly visible ink level in the tank on the side window.
The printer is also fast, printing at speeds of up to 15ppm black and 15ppm in colour. When printing at photo quality, this will take a longer time, up to 2.6 pages per minute. Still, it will take only 45 seconds to complete a 10 x 15 cm photo on glossy photo paper. The vertical paper can take up to 100 sheets of standard paper or 30 photo sheets. Finally, to keep the cost down, you only get a USB interface.
Search: Epson L1800 Borderless A3+ Photo Printer on Amazon
---
As mentioned above, the Expression XP-15000 is a professional Ultra HD photo printer. It supports borderless printing on paper up to 13-inch by 19-inch. The printer also handles auto 2-sided document printing with a 200-sheet front tray. While it does not come with refillable ink tank we like to think that this is an economical professional photo printer in that it supports 6 separate Clara Ultra HD Photo ink cartridges. This means that you only replace the colour that has run out, no wastage therefore saving you money. The 50-sheet rear tray handles special media such as card stock and a full colour 2.4-inch LCD makes navigating the menu system easy. Finally, with WiFi and wired connectivity, you can print front mobile devices (Android tablets and smartphones) without needing to switch on your computer.

Search: Epson Expression XP-15000 printer on Amazon
---