Want to be able to annotate or draw on the screen, a graphics tablet with built-in display may be your answer but none as portable and offers the same level of flexibility and versatility as convertible 2-in-1 PC with stylus support.
UPDATED: 1 June 2022
What about Samsung Galaxy Tab S or Apple iPad Pro or Microsoft Surface Pro
Yes, you can get a detachable tablet or tablet with keyboard cover and stylus input. Both Samsung and Apple supports this with Samsung Galaxy Tab S and iPad Pro tablets respectively. But for those who desire more flexibility in their device, nothing offers more than a 2-in-1 convertible machine. Not only will you get a laptop, the 360-degree hinge lets you use the device in laptop, tablet, tent or presentation mode. That's total flexibility in the way you interact with the device, especially with a stylus.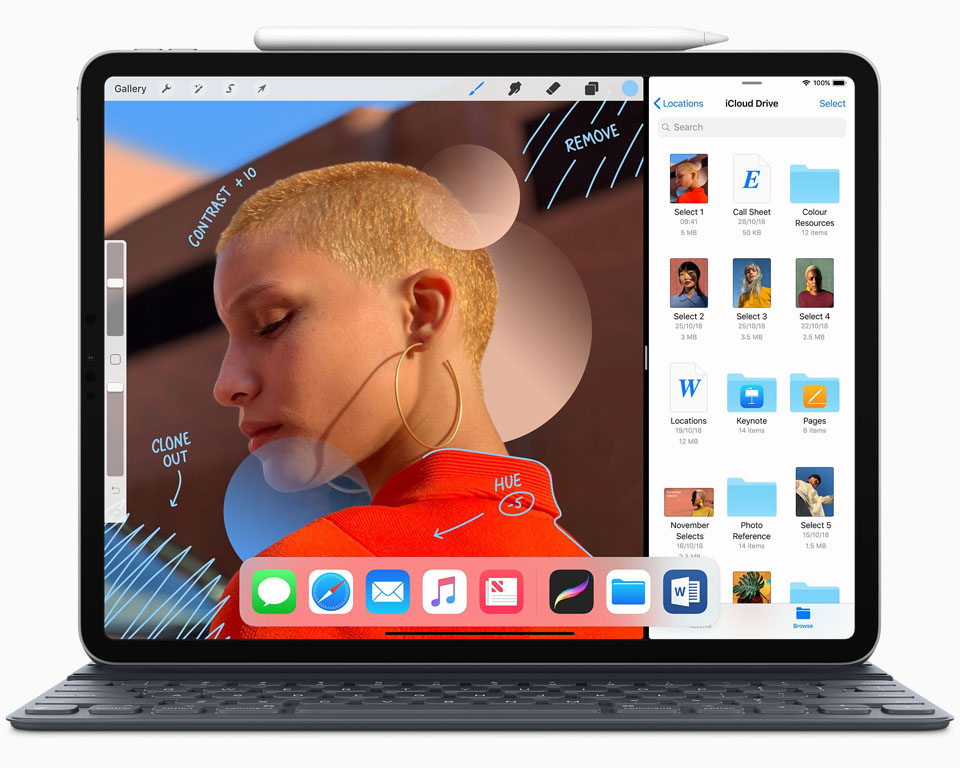 Bigger Display for More Sketching Real Estate
2-in-1 convertible PCs that support stylus also come with bigger displays starting from 13.3-inch going up to 15.6-inch. Compare this to Samsung Galaxy Tab S8's 11-inch or iPad Pro's slightly better 11-inch. The only tablet that comes close are the iPad Pro 12.9, Galaxy Tab S8+ and Surface Pro 8. They come with 12.9-inch, 12.4-inch and 13-inch display, respectively. There is however a wild card with pro tablets. Samsung's Galaxy Tab S8 Ultra comes with a 14.6-inch display but that does not make big tablets the norm, at least not bigger than 13-inch.
Carry Fewer Devices
With a 2-in-1 PC, you can leave your tablet at home (or save on a separate purchase). Modern 2-in-1 PCs are built lighter, sturdier and slimmer than ever before. They may still be heavier than your standard tablet, but when one can leave their tablet at home and only carry one device on their trip, that's overall lighter baggage.
Cheaper Overall
When you factor in the cost of getting a tablet and a laptop separately, it makes financial sense to go with a 2-in-1 device. The cost of acquiring and replacing one device is ultimately cheaper and more economical. Purchasing of a tablet that supports stylus input is an expensive affair. These are typically high-end premium tablets that can cost more than a 2-in-1 convertible PC on its own. Then, in order to complete the PC equivalent setup, one would need the optional keyboard and stylus costing a couple more hundred if not more.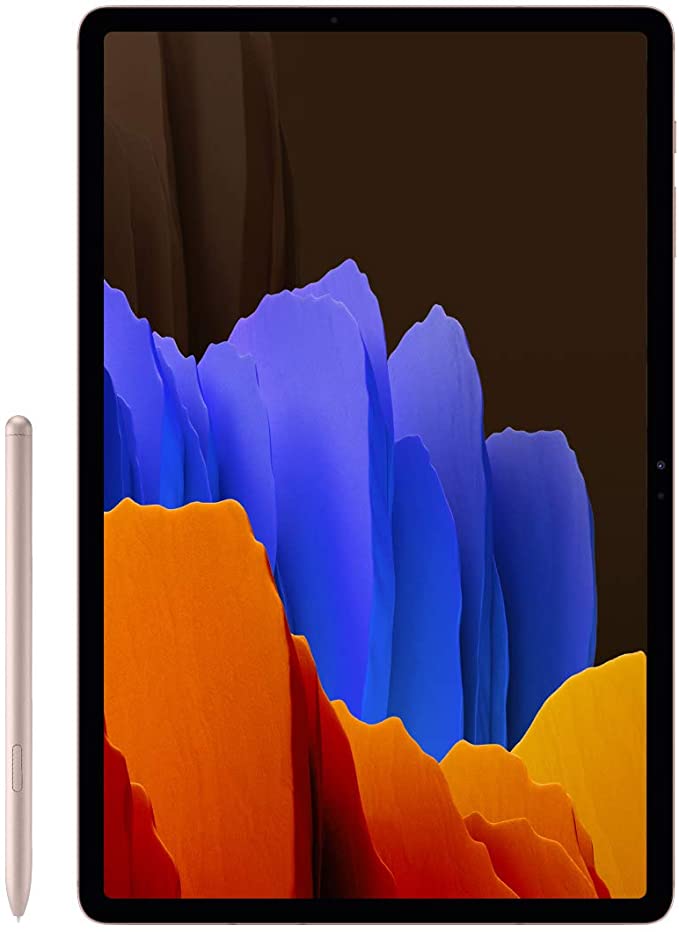 Samsung Galaxy Tab S on Amazon
Top 5 Best Convertible 2-in-1 PCs with Stylus Support
Here is a look at five of the best convertible 2-in-1 laptops in the market right now for tech giants like Microsoft, HP and Lenovo.
We've got to be honest, this is not slim nor is it lightweight. With a 14.4-inch touchscreen, it weighs 1.74kg. The laptop looks like a Surface Pro with its kickstand mounted on a full size keyboard base. From Laptop Mode, deploy the kickstand and bring the screen forward to just at the bottom of the keyboard for Stage Mode or all the way to the front edge for Studio Mode. Being the flagship laptop, much like MacBook Pro 14 or even MacBook Pro 16, it doesn't come cheap. That is also because it is powered by 11th generation Intel Core H series processor, up to 32GB RAM and can be specified with NVIDIA GeForce RTX 3050 Ti discrete graphics. It also supports the new Surface Slim Pen 2 with a dedicated storage and charging area on the base of the laptop.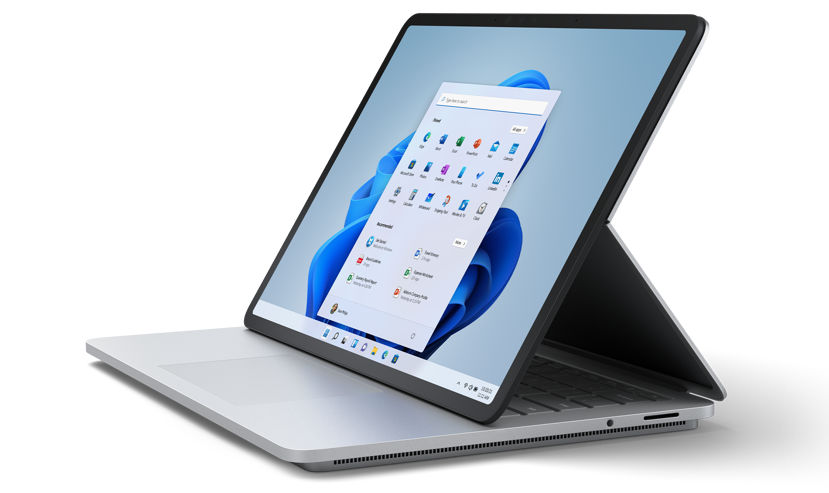 1. MICROSOFT Surface Book 3 13.5-inch and 15-inch
The Surface Book 3, available in two sizes, the 13.5-inch and 15-inch, may be late to the 2-in-1 convertible laptop game but excelled in so many ways. Both models are capable of supporting the optional Surface Pen stylus and Surface Dial (both on screen and off screen), a main criteria for our selection.
Microsoft started with the Surface back in 2012 tablet and Surface Pro tablet back in 2013. The Surface Book 2 together with Surface Laptop 3 and Surface Pro 7 are a culmination of the company's experience with designing and manufacturing their own hardware. For the 13.5-inch device, it can be specified with either a 10th Gen Intel® Core™ i5 or Intel® Core™ i7.
Microsoft Surface Book 4 on Amazon
Notable features include the ability to detach the displays from the base or keyboard, turning it into a full size 13.5-inch or 15-inch tablet. The convertible devices can also be configured with a choice of discrete graphics which includes NVIDIA® GeForce® GTX 1650 with Max-Q and 4GB GDDR5 graphics memory (13.5-inch model) or NVIDIA® GeForce® GTX 1660 Ti with Max-Q and 6GB GDDR5 graphics memory (15-inch model). Choosing one of the discrete graphics option makes the convertible laptop a superb gaming machine.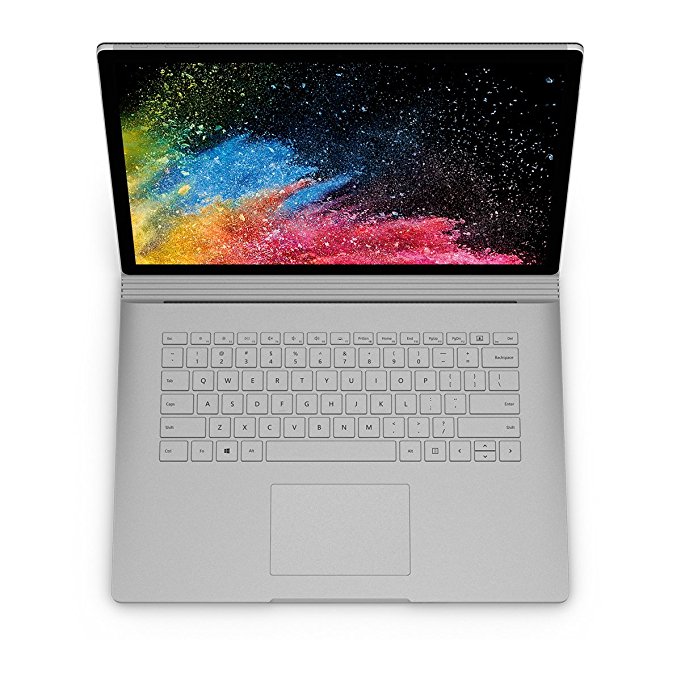 The 13.5-inch PixelSense display has a resolution of 3000 x 2000 pixels (267ppi). The 15-inch PixelSense display has an almost equally sharp resolution of 3240 x 2160 pixels (260ppi). Both displays have a more productivity friendly 3:2 ratio and a contrast ratio of 1600:1. These are wrapped in premium and lightweight materials with a solid construction and sleek design. Another feature that put other laptops in this category to shame is its super long up to 15.5 hours (13.5-inch model) and up to 17 hours (15-inch model) battery life with video playtime. Expect to spend up to double or more the base price when you start to spec it up.
CPU and Graphics Choices
Intel® Core™ i5-1035G7 models: Intel® Iris™ Plus Graphics
Intel® Core™ i7-1065G7 models: NVIDIA GeForce GTX 1650 with Max-Q Design w/4GB GDDR5 graphics memory
Intel® Core™ i7-1065G7 models: NVIDIA GeForce GTX 1660 Ti with Max-Q Design w/6GB GDDR6 graphics memory
---
2. HP Envy x360 13.3-inch and 15.6-inch 2-in-1
The HP Envy x360 convertible laptop with 13.3-inch or 15.6-inch display is the mid-range alternative to the premium HP Spectre x360 range also available with 13.3-inch or 15.6-inch display. The convertible laptop can be had with Intel Core i7 or Core i5 processors or the cheaper and more affordable AMD Ryzen 7 or Ryzen 5 processors. At the point of writing, processors from the giants (AMD and Intel), pitched against one another is the Ryzen 4000 series chips vs 11th Gen Core-i chips. You can find a performance comparison table of the different processors below.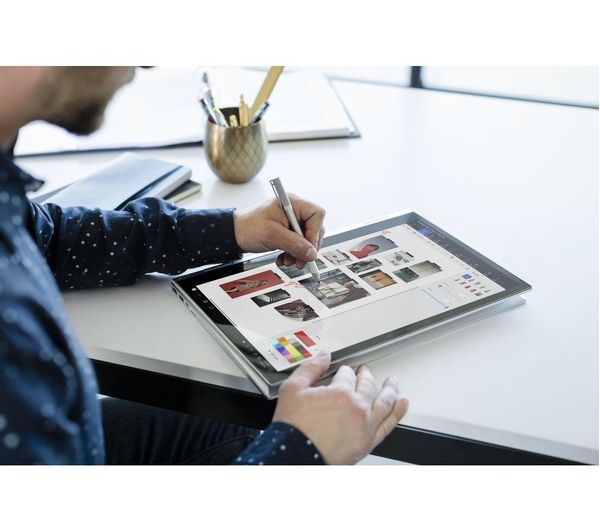 Being the mid-range device, you are going to miss out on 4K display and premium rose gold accent but the laptop is far from being a slouch. The chart topping spec comes with Intel® Core™ i7-1165G7, 16GB memory and 512GB. That's not all, it also comes with NVIDIA GeForce MX450 discrete graphics with 4GB graphics memory, dual Bang & Olufsen tuned speakers, fingerprint reader, Full HD 1920 x 1080 pixel touchscreen display, Fast Charger, Backlit keyboard and Active Stylus included. Even with all that power, the laptop still manages up to 9.5 hours of battery life.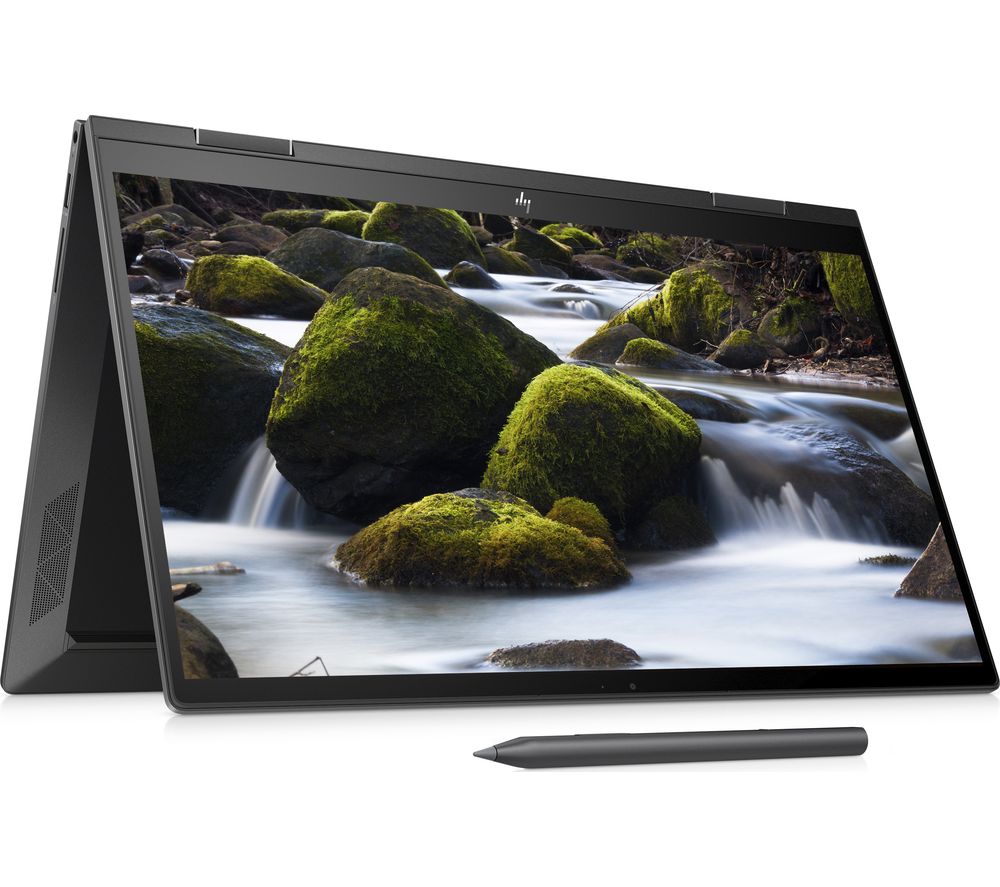 The Core i5 and i7 models are available in sandblasted tinted anodised finish in silver while the AMD Ryzen 5 and Ryzen 7 models are also available in sandblasted tinted anodised finish but in dark ash silver. We veer towards the dark ash finish for that mysterious and stylish look, see gallery below.
The Core i5-1135G7 with 15.6-inch display is our favourite with 8GB memory and 512GB SSD storage, offering a balance of price to performance. The model is also equipped with NVIDIA® GeForce® MX450 (4 GB GDDR5) and Active Stylus making it the perfect all round machine.
If you are looking to save some money with near equal performance, choose the AMD Ryzen 5 4500U model with 13.3-inch or 15.6-inch display. Processor performance is just as good as the Core i5 model based on the PassMark CPU performance benchmark (see chart). As you can see, Ryzen 5 4500 excel in multi-core benchmarks by as much as 19% while Core i5 1135G7 is better in single-core benchmarks by 16%.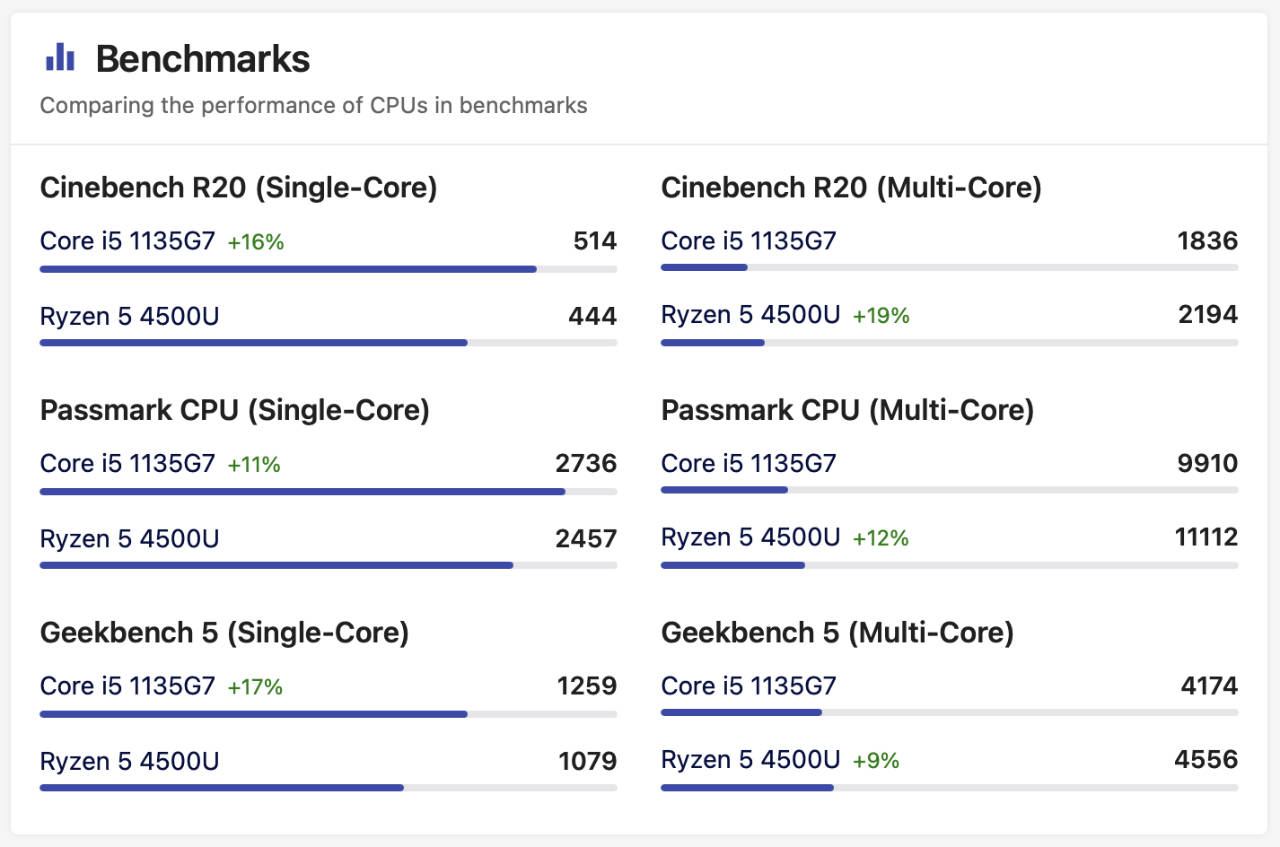 Pushing things up a notch is the Envy x360 powered by AMD Ryzen 7 4700U. We see a similar trend when pitching the Ryzen 7 4700U against the Core i7-1165G7. Ryzen 7 4700U is up to 32% faster in multi-core performance while Core i7-1165G7 would lead by as much as 36% in single core benchmarks, see chart below.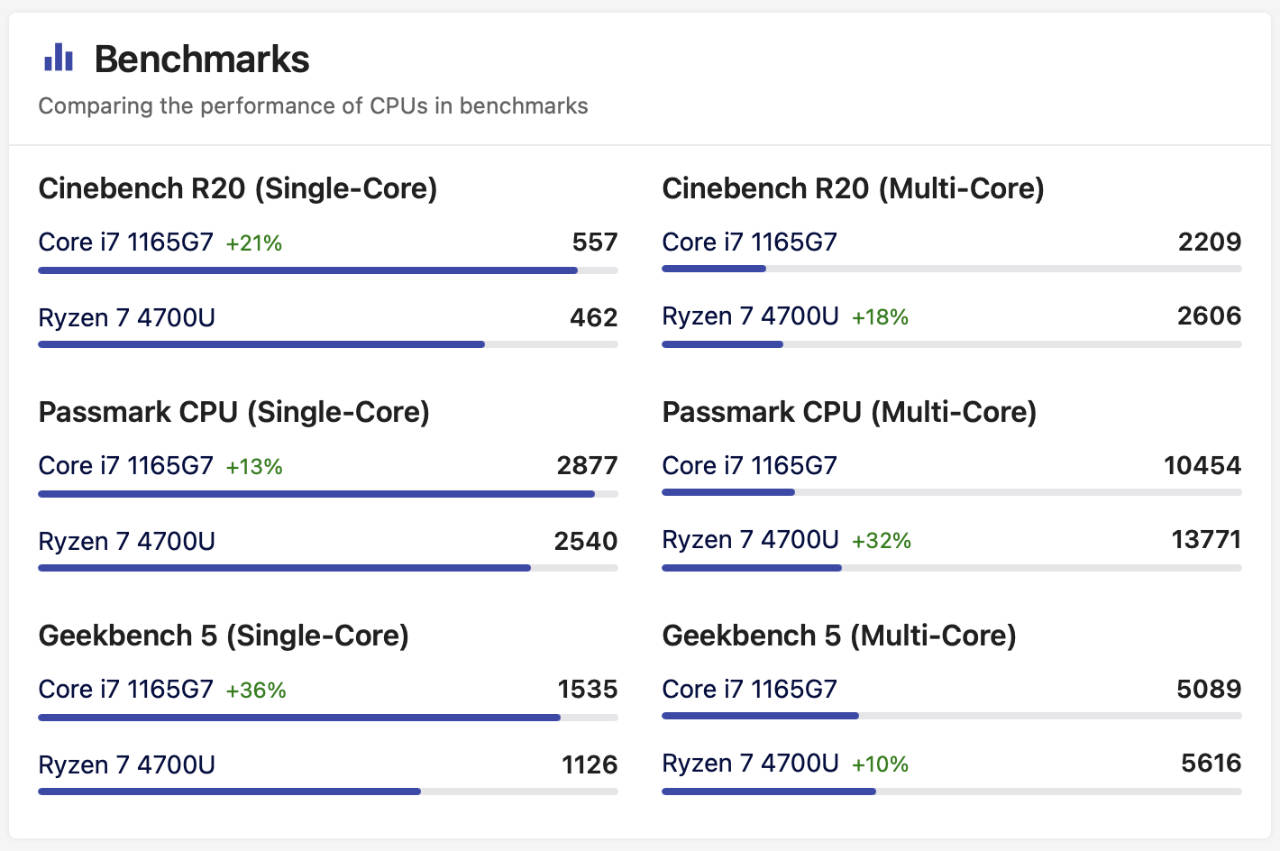 HP Envy x360 with AMD Ryzen CPU on Amazon
---
3. HP Spectre x360 13.3-inch, 13.5-inch and 15.6-inch Convertible Laptop
Everything about the laptop scrams look at me. Definitely a head turner, the premium HP Spectre laptop has all the hall marks of high-end designs with its dark ash silver aluminium finish, gold accent and gold hinge. The highest of the range is powered by Intel Core i7 1165G7 quad-core processor, although you might still be able to find some 15.6-inch models based on the more powerful Intel Core i7 10750H hexa-core processor or the equivalent 10th generation Intel Core i7-1065G7. Also depending on availability, there are a few configurations to be had including one that comes with discrete NVIDIA GeForce GTX 1650 MaxQ graphics with 4GB memory, 4K Ultra HD touchscreen, 16GB memory and 1TB SSD.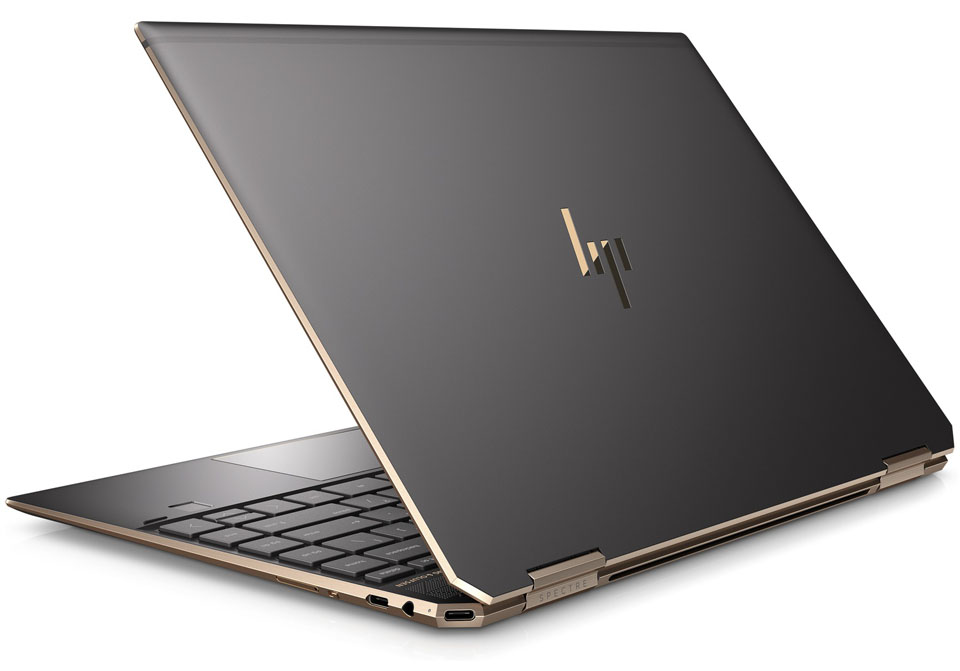 Just to stir things up even more, HP just introduced a 13.5-inch model, pushing the already small bezels even smaller, see image below. These are powered by the latest generation Intel Core i7-1165G7 and Intel Core i5-1135G7 processors paired with a 3000 x 2000 pixel OLED touch panel or 1920 x 1280 pixel (WUXGA+) touch panel respectively.
Our favourite 13.3-inch model comes with Intel® Core™ i7-1165G7. This is specified with 16GB of memory and a huge and super fast 512TB GB PCIe NVMe SSD storage. It has a more moderate price tag as it only comes with a Full HD touchscreen display but you have a choice of paying more and going with the 4K Ultra HD touchscreen display with 1TB GB storage.
But, what we truly look for in our review is not the fast charger support, fingerprint reader, powerful processor and graphics unit, up to 11 hours battery life (on the 13.5-inch model) or even the 4K display. It is the ability to use the convertible laptop with the included digital pen. The included Active Pen tilts and shades to precision on the scratch-resistant Corning Gorilla Glass 4 and it is simply a joy to use especially on the 4K UHD display. Allowing one to stretch their creativity to the limit.
---
4. LENOVO Yoga 7i 14-inch 2-in-1 Laptop
The LENOVO Yoga is the premium series when compared to the more affordable LENOVO IdeaPad Flex. Both come with 2-in-1 convertible profile, the Yoga 7i is more expensive but it is better received compared to its cheaper sibling. The 14-inch touchscreen packs Full HD resolution and you can get the laptop with 11th generation Intel Core i5-1135G7 (with 8GB RAM and 256GB storage) or Core i7 1165G7.
The 11th generation stock means they also benefit from Intel Iris Xe graphics, with intel boasting discrete level graphics performance. The biggest plus however in going for the Yoga 7i is not the super reliable metal hinge and body or the Dolby Atmos sound system but the super long 16 hours battery life. Another added bonus is the inclusion of the stylus, the Lenovo Digital Pen out of the box. Together the entire package only measures 1.43kg and 17.7mm slim.
---
5. Dell Inspiron 13 13.3-inch 2-in-1 Laptop
Dell's Inspiron 13 7000 series 2-in-1 laptop is next, with either an Intel Core i5-1135G7 (8GB RAM/512GB SSD) or Intel Core i7-1165G7 (16GB RAM/512GB SSD). The laptop spots a no nonsense look with a sleek body and a 360 degree hinge that also doubles as silo for the stylus, keeping it safe when the lid is shut. That same hinge also serves to tilt the keyboard at a comfortable typing position when in laptop mode.
It props up a Full HD touchscreen and with the Intel IRIS Xe graphics pushing smooth in game experience. Back to the panel, this is capable of 100% sRGB colour and supports Dolby Vision pushing 300 nits brightness. That pen is rechargeable and connects to the laptop via Bluetooth with 4096 pressure sensitive levels, tilt detection and quick eraser button. Other bonus features include WiFi 6 connectivity and Thunderbolt 4 USB Type-C.
Dell Inspiron 13 2-in-1 on Amazon
---
BONUS: Samsung Galaxy Book Pro 360 15.6
The full size Samsung Galaxy Book Pro 360 has one of the best display. Based on Super AMOLED Full HD panel, the touchscreen is vibrant and colour rich with ultra high contrast. Powered by Intel Core i7-1165G7 it doesn't skip a beat either and will take on any task be it photo editing, 3D rendering or any office productivity tasks you can think of. If you need a laptop and tablet in one and a big one at that, this ultra slim 11.9mm, and ultra light weight 1.39kg is without a doubt your best option.
It is crazy thin like a phone thanks to that self lit AMOLED panel. The Bluetooth S Pen is included. Plus, at a full charge, the battery will last up to an amazing 20 hours. A quick 30 minutes charge will give you up to 8 hours of use. This is easily one of the most innovative and versatile 2-in-1 laptop. If you like the design, an equally slim (10.5mm) 13.3-inch model is also available weighing only 1.04kg.
Samsung Galaxy Book Pro 360 15 on Amazon
---
OTHERS
LENOVO Yoga 730 13.3-inch and 15.6-inch 2-in-1s
The Lenovo Yoga 730 is another mid-range laptop with a stylish design, 360 degree hinge and comes with Lenovo Active Pen 2, the all important stylus that offers pen on paper experience with 4096 levels of sensitivity for more accuracy. The 2-in-1 laptops offer the same Intel Core i5 and Core i7 processor options. The 13.3-inch version we looked at comes with Intel Core™ i5-8250U Processor while the bigger 15.6-inch version comes with the faster Intel® Core™ i7-8550U Processor.
LENOVO Yoga 730 15.6-inch on Amazon
The bigger 15.6-inch model we considered also comes with 16GB memory, 256GB Solid State Drive and discrete NVIDIA GeForce GTX 1050 graphics with 4GB dedicated graphics memory. What we did not get is the model with 4K resolution touch screen but one with Full HD 1920 x 1080 pixel resolution. Still, device packs plenty of punch and offers up to 9 hours of use per charge and weighs only 1.89kg. The laptop is available in platinum or iron grey finish.
The 13.3-inch model with Core i5 processor is no less impressive. Weighing only 1.19kg, the device lasts up to 11.5 hours per charge and comes with Rapid Charge to quickly top up. The 8GB memory is paired with a generous 256GB SSD storage. What it lacks however, is the discrete graphics relying instead on Intel Integrated Graphics to power the 13.3-inch Full HD IPS touch screen. But it makes up for this with Dolby Atmos support via headphones, a pair of JBL speakers, fingerprint reader for quick log in and two Thunderbolt 3 USB-C ports. Again, while a 13.3-inch 4K display option is available, we could only get our hands on the Full HD variety. Still, the Active Pen 2 scores plenty of points on performance and accuracy.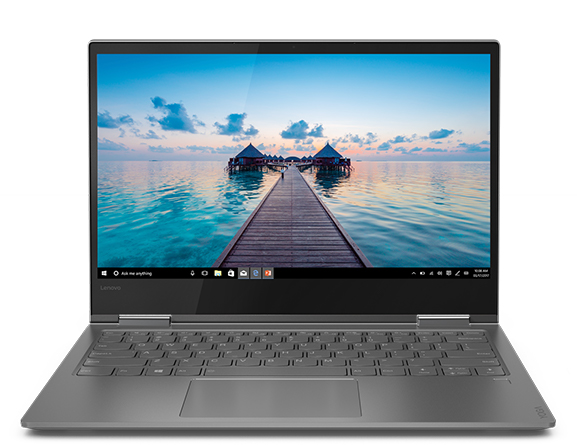 LENOVO YOGA 530 14-inch 2 in 1
The only 14-inch 2-in-1 convertible laptop on our list is another entry from Lenovo. This time, the Yoga 530. The Yoga 530 is a low (Yoga 300 series) to mid-range (Yoga 700 series) model. The highest in the Yoga range is the 900 series. Unlike the 700 series featured on the top of this list, the low to mid-range Yoga 530 is available with processors from Intel or AMD. On the Intel side, there is the Intel Pentium Gold 4415Y, Intel Core i3-8130U or Intel Core i5-8250U processor. On the AMD side, there is a choice of AMD Ryzen 3 3300U, AMD Ryzen 5 2500U or AMD Ryzen 7 2700U processor. For memory and storage, The Yoga 530 is available with memory up to 8GB and fast storage up to 256GB.
While the laptop supports pen and ink input, the Lenovo Active Pen is an optional purchase. Still, the device offers pin-point accuracy support with palm rejection tech. Just remember to factor in the cost of the option pen when considering the Yoga 530 compared to Yoga 730 above. Still, the convertible weighs only 1.6kg and measure 17.6mm thin with battery life up to 10 hours (depending on the chosen processor) and comes with 14-inch Full HD 1920 x 1080 pixel display. Being at the budget end, the Lenovo 530 is a clear favourite for those looking to get their hands on a convertible that supports stylus input.
HP ENVY x2 12.3-inch 2 in 1 with 4G Connectivity
Powered by Qualcomm Snapdragon 835 processor, the same processor that powers smartphones, the slimline tablet with folio style keyboard cover stylus and 4G connectivity is perfect for executives on the move. The tablet comes with up to 8GB of memory and 256GB of storage. The 12.3-inch Full HD+ device is seen as a direct competitor to Apple's iPad Pro 12.9-inch. It does have the added advantages of including with the purchase, the HP Digital Pen and keyboard cover. The tablet is also offered with 24GB of 4G date and has IR enhanced front facing camera for Windows Hello facial recognition log in. One a full charge, the tablet can last up to 22 hours.
HP Spectre Folio 13-inch Intel® Core™ i7 2 in 1 Convertible Laptop
A premium convertible laptop with an energy efficient Intel Core i7 the Intel® Core™ i7-8500Y (1.5 GHz base frequency, up to 4.2 GHz with Intel® Turbo Boost Technology, 4 MB cache, 2 cores) the convertible 2-in-1 device is wrapped in a genuine leather cover. Brown Cognac Leather to be precise. The ultra portable while compact has a reasonably large 13.3-inch Full HD display protected by scratch resistant Corning Gorilla Glass 4. It doesn't stop there. The compact folio styled device includes 8GB RAM memory and 256GB PCIe NVMe SSD storage. Elsewhere, it pushes up to 19 hours of battery life, comes with HP Fast Charger, 4G LTE connectivity and webcam that supports Windows Hello login. But, what is even more important is the included Tilt Pen.
LENOVO YOGA C740 2-in-1 Convertible Laptop 14-inch and 15.6-inch
The upper mid-range laptop from the Yoga C-series, the Yoga C740 is our favourite. The other convertible laptops in the Yoga C-series are the mid-range C600 series, the upper mid-range C700 series and the high-end C940. Back to the Yoga C740. The convertible laptop is available with a 14-inch or 15.6-inch Full HD touchscreen display and a choice of processors; Intel Core i7-10510U Processor (1.80GHz 8MB) or Intel® Core™ i5-10210U Processor (1.60GHz 6MB).
It has a sleek chassis made from sandblasted premium aluminium. The 15-inch display supports HDR with 500nits of brightness. The 14-inch display performs just as well with vibrant colour, clarity and brightness. These displays are wrapped in narrow bezels on all sides and is paired with user facing Dolby Atmost speakers for that perfect entertainment machine when you need it.
Both 14-inch and 15.6-inch convertible also features TrueBlock Privacy Shutter for the web cam and fingerprint scanner for quick and secure login. Both models support the super fast WiFi 6 standard with speeds up to 9.6Gbps. That's 2.7 times faster than WiFi-5. However, what is truly impressive is its battery life. The 15.6-inch model can last up to 15 hours on a full charge while the 14-inch can last up to 13 hours on a full charge.
Search Lenovo Yoga C740 on Amazon
NOTE: Some models are supplied without the Active Pen stylus. Check with the vendor before purchasing your Lenovo Yoga C740.
LENOVO YOGA C940 14-inch and 15-inch Convertible Laptop
We have seen the upper mid-range YOGA C740 above. The premium or high-end version, the Yoga C940 is just as popular is also available with 14-inch or 15.6-inch touchscreen display except that, instead of just Full HD resolution, these are also available at UHD 4K resolution with 3840 x 2160 pixels with DisplayHDR 400 and up to 500nits brightness.
While the 14-inch model is only available with integrated Intel Iris Plus Graphics, the 15.6-inch boast a powerful NVIDIA GeForce GTX1650 dedicated graphics making it a proper gaming laptop. For processors, the 14-inch model uses the Intel Core i5-1035G4 Processor (1.10GHz, up to 3.70GHz with Turbo Boost, 4 Cores, 6MB Cache) or Intel Core i7-1065G7 Processor ( 1.30GHz 8MB ). On the other hand, the 15.6-inch model goes right up to 9th generation Intel Core i9 processor.
Battery life takes a beating when you choose a UHD display with up to 9 hours on 15.6-inch model and up to 10.5 hours on the 14-inch model. Otherwise, they go up to 12 hours and 18 hours repectively with a Full HD display. Rapid Charge brings the battery level back up to 80% in an hour. Both models are equipped with rotating sound bar with Dolby Atmos Speaker System, 2 x far-field microphones, TrueBlock Privacy Shutter for the webcam and fingerprint sensor for secure login.
Finally, the included Active Pen has a storage silo in the chassis. It can be stored away safely when not in use in its own in-body charging bay so you never misplace it.
Search Lenovo Yoga C940 on Amazon