Try these origami Christmas ornaments. They cost very little to make and you're guaranteed that the kids will enjoy making their own Christmas tree decorations and learn a thing or two along the way. From ornaments, to mini Christmas trees, to wishing stars, wreath, envelope and baubles, there is something for everyone.
The season of snow flurry has ceased, and the heaviest snow has blanketed the backyard. There is a possibility that a fierce snowstorm will hit the town soon. You and your little ones are glued to the window hoping for a ray of sunlight to melt the ice. They have already made dozens of snowmen, and it is too risky to drive to ice-skating ring. It looks like you guys will have to stay at home for a while.
Shoo away the boredom by making origami Christmas ornaments with your children.
Click To Tweet
When you are stuck indoors during a holiday season, the kids feel extremely restless. You can't allow your kids to watch TV all day long or play mindless video games. They have already finished reading the novel. How about spending a snowy day working on a creative project? How about indulging in some origami? It is an art of paper folding strongly linked to Japanese culture. With only a few basic origami folds, you can design an elaborate origami craft!
Shoo away the boredom by making origami Christmas ornaments with your children.
1. Origami Santa Claus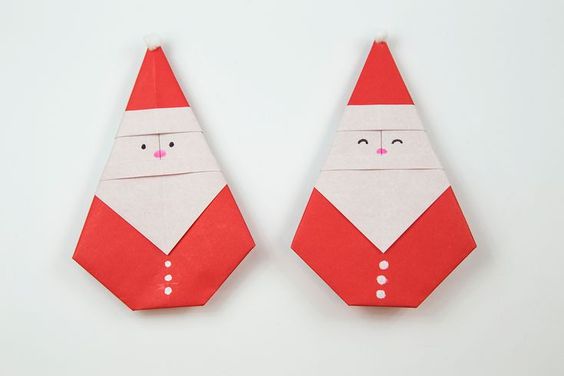 Maybe Santa's not coming to your house anymore, but you can definitely bring his spirit to the winter holidays by creating cute little origami Santas. The Spruce Crafts tells us how you can design the magical Father Christmas at home. You need one sheet of square paper in white. Recommended size is 20 x 20 cm. It'll be a plus if it has red color on one side. If not, children can color in the backside themselves. Create as many Santas as you like and prop them along the fireplace. Who knows the real Santa Claus might fly down to meet them!
How about spending a snowy day working on a creative project?
Click To Tweet
2. Starry Christmas Origami Wreath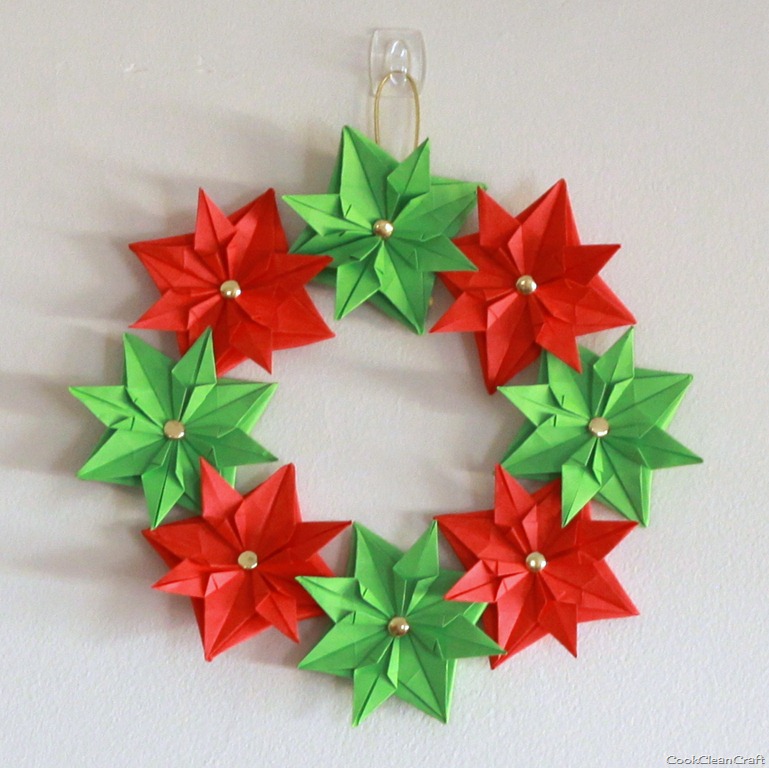 Want to give your house a festal vibe? Get your kids busy by helping them create an origami wreath to hang on your doors. Take sheets of origami paper in two different colors and create 8 stars. Glue them together and attach a loop to hang your fancy door decor. You can follow the complete instructions at Cockle and Craft.
Want a wish to come true this Christmas? Create origami lucky 'wishing' stars
Click To Tweet
3. Origami Christmas Tree
How about placing small Christmas trees on the top of your actual Christmas tree? The following YouTube video features a wonderful tutorial on how to create an origami Christmas tree. You will need two sheets of origami paper; a green sheet for the leaves and a brown one for the stem. The tree is quite complex to make so your little ones will be needing your help and plenty of patience. The end result is worth the trouble!
4. Origami Treat Box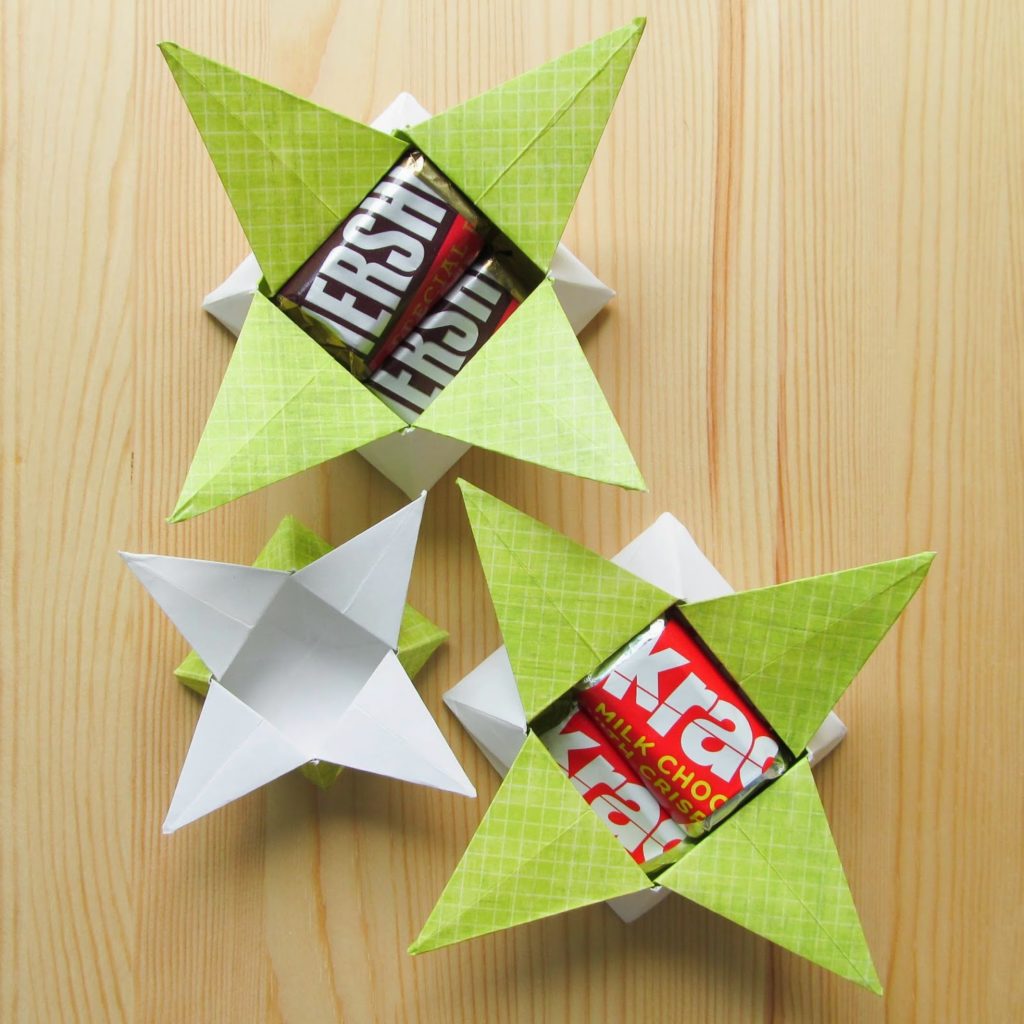 Kids love to snack on chocolates and crunchy candies. Get them pumped up about Christmas Eve by helping them make origami treat box. For each box, you will need a 6 inch by 6 inch square piece of paper. Choose a different color for every box! Fold the paper in four-point star as shown in Muslin and Merlot and fill each box with your children's favorite candies. Place the pretty boxes around the Christmas Tree and wait for the festive day to arrive in anticipation. When guests pay a visit, let your kid gift treat boxes to them.
5. Origami Wishing Stars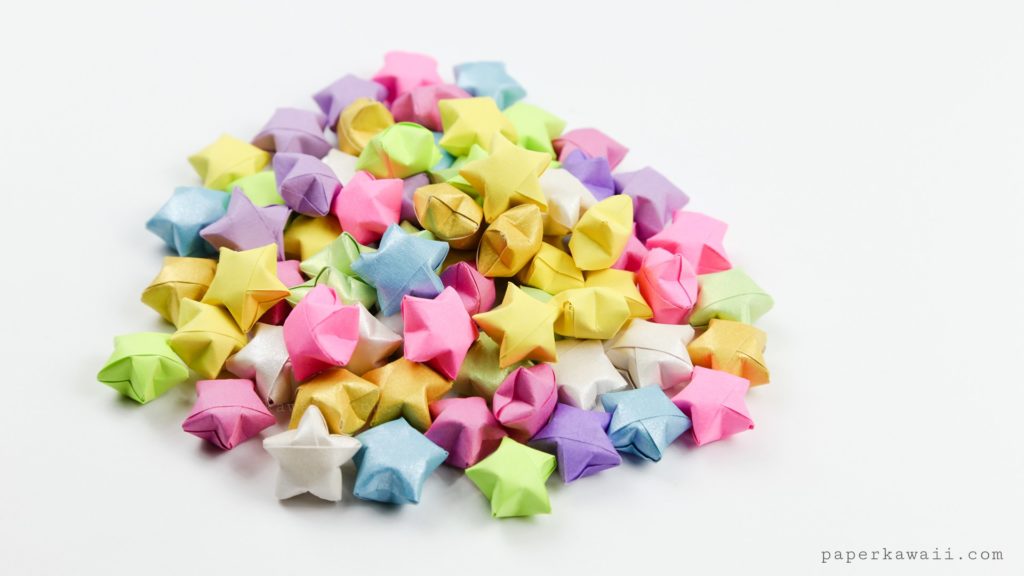 Want a wish to come true this Christmas? Create a star-shaped dish filled with origami lucky 'wishing' stars. For this project, you will need a long strip of paper instead of a square one. Moreover, it is better to use a paper cutter and board instead of scissors as a cutter tends to give neater edges. Paper Kawaii has a wonderful tutorial to make these bright puffy stars. When you are done folding them, insert your finger to 'puff up' the stars. After inflating them, place them in your starry dish. The stars will look quite gorgeous sitting atop a coffee table.
6. Origami Snowflakes
Christmas and snow go hand in hand… And your tree won't look complete without a glistening snowflake. The kids can stick their crafted snowflakes on the presents, on windows and hang them on doorways. The project is quite intricate and there are numerous ways to design the crystal's pattern. Watch the following video by Ezy Crafts that shows various ways to create a snowflake from origami paper. You will need one square origami paper for each snowflake
7. Origami Reindeer and Sleigh
Perhaps Santa is waiting for his pal, Rudolph, to come along and pick him up. Help him out and build some reindeer! Send them off on a sleigh to Santa's house with the bag full of gifts. You can help Santa distribute the presents before the sun rises. For reindeer and sleigh, the recommended size is 15cm x 15cm. Use a colored sheet for both. Follow the tutorial by Jo Nakashima, a YouTube origami artist, to successfully construct a reindeer. The difficulty level is low and with a little help from a grown up, children can easily build the reindeer in a few minutes.
Here is yet another delightful project to keep children occupied on a snowy day...Origami art!
Click To Tweet
8. Origami Bar Envelope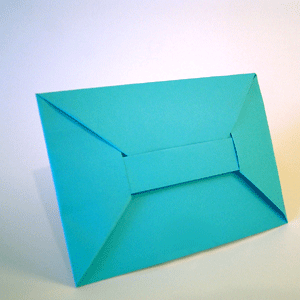 Here is yet another delightful project to keep children occupied on a snowy day. Ask them to make personalized cards for friends and family and keep them inside an origami bar envelope. Crafted with love and care, the envelopes are far more special than your regular plain ones. You can use any paper for it; preferably a square one. For each envelope, use a bright color or a funky print. They are easy to make and don't require any scissors or glue. Check out the full tutorial at Origami Fun.
9. Origami Baubles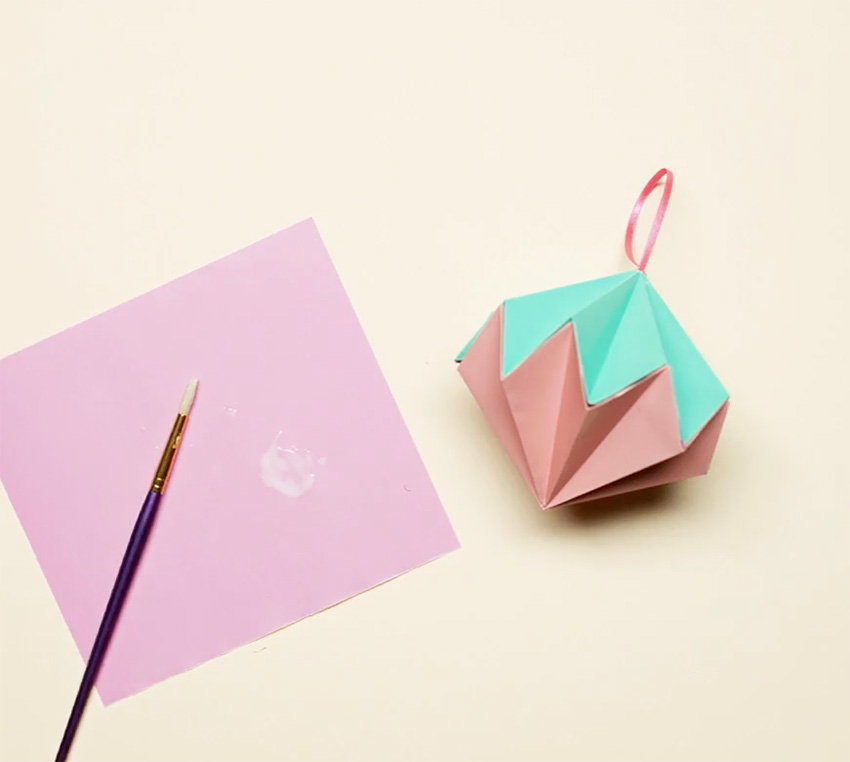 Christmas baubles made from origami paper are a visual delight. All you need is a handful of vividly colored origami paper, ribbon, scissors, and glue. From each paper, your kids can create an absolutely magical and stunning bauble. Hang them all around the house and of course on your Christmas tree, and experience the festive vibes in full go. Paper Chase features a complete step by step guide on how to make origami baubles in different ways.
Ensure your little ones have a rather busy day fashioning Christmas ornaments from origami paper.
Click To Tweet
10. Origami Dancing Santas
Are you looking forward to Christmas full of merriment and joyous laughter? Give way to a festive mood by hanging a chain of dancing Santas on the wall. The video below shows the simple way children can craft the Father Christmas swaying merrily to a song. It is similar to a regular origami Santa.
[youtube https://www.youtube.com/watch?v=fx6_4n3DQ9Q]
Well, that was fun, wasn't it? The little ones had a rather busy day fashioning Christmas ornaments from origami paper. The origami art can be kept for years if stored properly. When Christmas is over, store the lovely creations carefully, and take them out every year and reminiscence the dull day you guys managed to turn into a colourful and happening day.
RELATED: More Origami Resources
Watch Our Video and Share