The new Amazon Fire HD 8 got a much needed upgrade from its 2017 version. Not only did it get the Alexa Hands-Free feature like its bigger sibling the Amazon Fire HD 10 but a whole host of other features including the support for 'wireless charging' with optional dock and Show Mode, a first for Fire tablets.
We jumped at the Amazon Fire HD 10 with Alexa Hands-Free when it was first launched. While we like the idea of summoning Alexa everywhere we go in the house or even outside, we did not want to have Echo Dot and Echo speakers in every room. Amazon Fire HD 10 with Alexa Hands-Free lets us enjoy the video and music streaming service as Prime Members everywhere we go with the bonus of being able to use the voice activated assistant to access content, start apps, control smart devices at home and get any information we need simply by asking. It did not take long for Amazon to pass on that same feature to the new generation Amazon Fire HD 8.
New Amazon Fire HD 8 2018 budget tablet just got better. It gets a faster quad core CPU, upgraded front camera, HD video capture capability, plug-less charging with optional dock, up to 400GB expandable memory and more importantly, Alexa Hands-Free and Show Mode read on to find out more.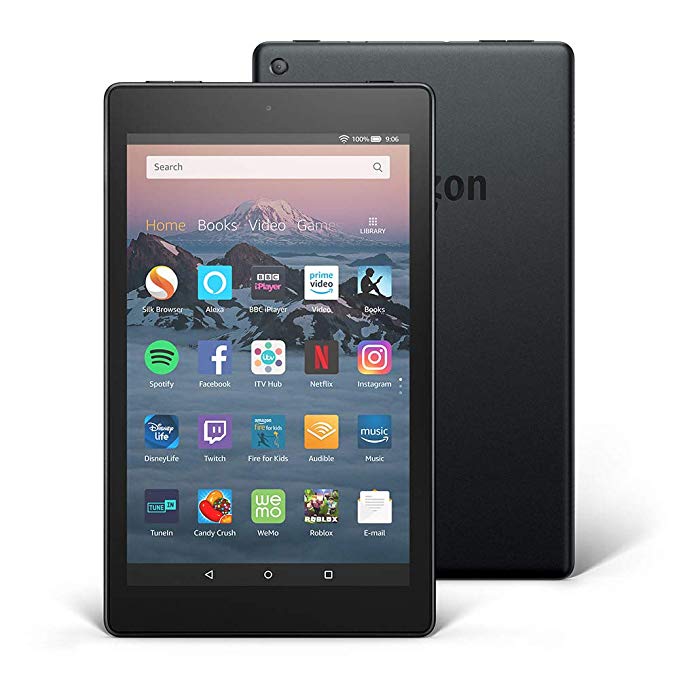 Top 8 Best Features on the New Amazon Fire HD 8 (2018)
The new Amazon Fire HD 8 now features Alexa Hands-free. So what makes the Amazon Fire HD 8 (2018) tablet an even better budget tablet. Here are best features available on the new tablet, blow-by-blow:
Hands-Free support with Alexa voice activated assistant
Front facing camera for web chats is now a 2MP optic sensor from 0.3MP VGA camera in 2017 model
MicroSD card slot that supports up to 400GB expandable storage from 256GB in 2017 model
Support for 'wireless charging' with optional Show Mode Charging Dock
Show Mode for a landscape visual that complements Alexa's responses Echo Show style
2MP rear facing HD camera for captures HD video capture and photos like in 2017 model
Dolby Atmos audio from dual firing stereo speakers better than the mono speaker on Fire 7
Right price for the right size: being an 8-inch HD device, its not too big and heavy nor too small and it doesn't cost as much an an iPad mini.
Other features stayed the same, including the processor, amount of memory, size, Dolby audio, connectivity, life and colour options. Even the size stayed the same while it may have shaved off a small 6 grams from its weight. Battery life on the other hand, took a hit. Instead of up to 12 hours on the 2017 model, the new 2018 model offers up to 10 hours of battery life only. Still, 10 hours is plenty for a tablet this size.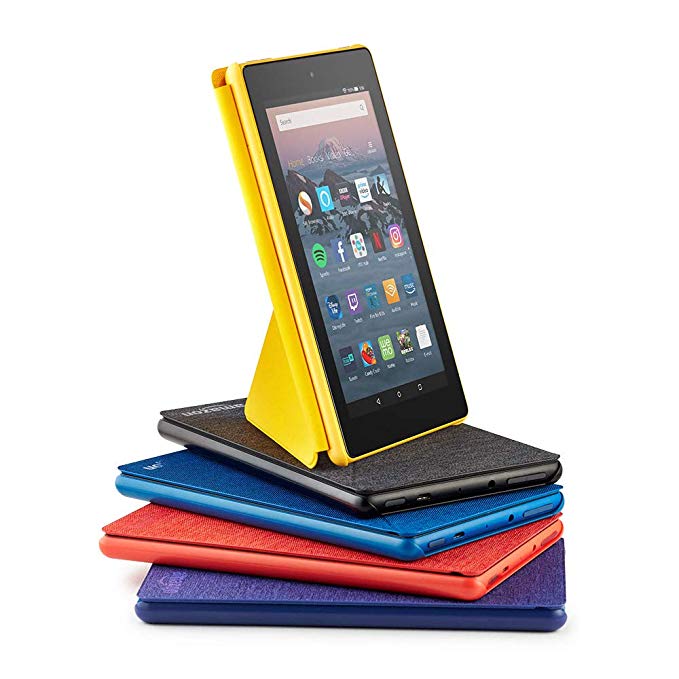 Search Amazon Fire HD 8 Online
Alexa Hands-Free
Arguably the biggest welcome feature on the new Amazon Fire HD 8 might just be a software update. The new Amazon Fire HD 8 now features support for Alexa hands-free. Alexa Hands-Free first appeared on the Amazon Fire HD 10 (7th generation) and I can vouch for how useful this feature is. You can use voice commands to access all the Alexa voice service and control your smart home devices. You can also use hands-free to make video call and send messages to Alexa contacts or as an intercom with other Echo devices around the house. This feature is now available on the new Amazon Fire HD 8 (8th generation).
The new Amazon Fire HD 8 goes beyond just getting the Alexa Hands-Free update but support for Show Mode too. At present, Amazon Fire HD 8 is the only tablet with Show Mode. What is Show Mode? Read on to find out more.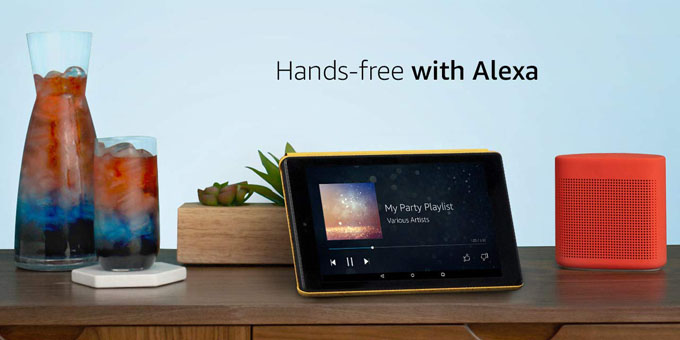 Show Mode
The Amazon Fire HD 8 now supports Show Mode with a software update. You can enjoy amazing landscape visuals and videos to complement the answers that Alexa gives you. Try asking for flash briefing, recipe or the weather. It can also be used to start apps or search for music, video, books, magazine and more with Alexa and get what you want on the screen.
All that for less than half the price compared to the Echo Show. While not as loud, it has a bigger display than the 7-inch first generation Echo Show and more portable than the new Echo Show with a 10-inch display. The Show Mode simply transforms the tablet into an full-screen Alexa, optimised for visibility across the room and dare I say go hand-in-hand with Alexa Hands-Free.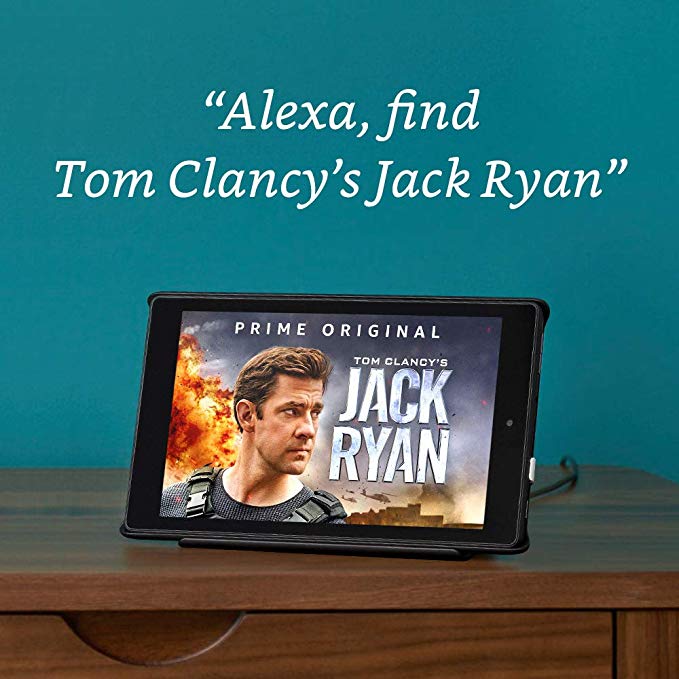 Support for 'Wireless Charging'
Available to purchase separately, you can now complete the Amazon Fire HD 8 with a Show Mode Charging Dock. Something we wish is available for Amazon Fire HD 10. This offers a convenient way to charge the device. The charging dock comes with its own case for the tablet.
The case not only protects the tablet but connects to the existing micro USB charging port on the tablet and wires the connection to two magnetic contacts around the back. Once fitted, all it needs is to place the tablet on the charging dock and slide it into place.
The magnetic contacts will catch on and charge the tablet automatically. It's a step closer to wireless charging, anything is better than fumbling with the non-reversible micro USB connector. Unfortunately, the charging case does not come with a cover to protect the screen.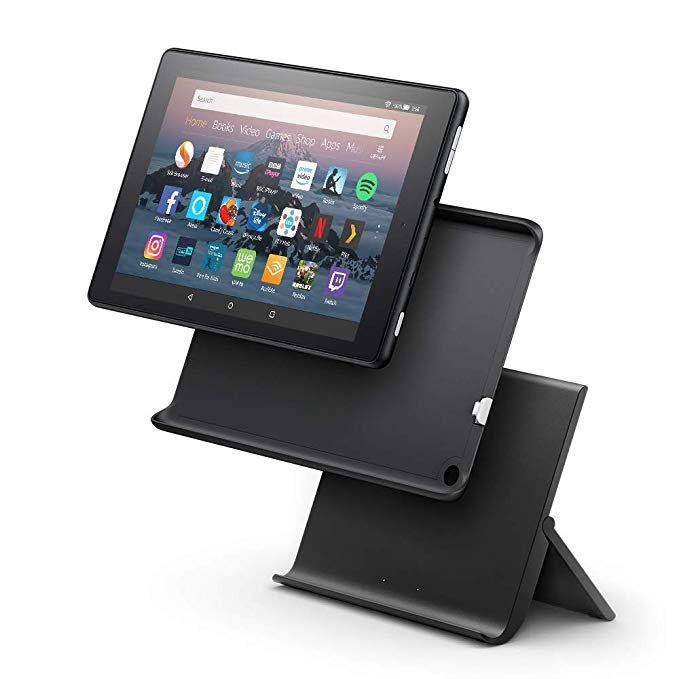 Search Amazon Fire HD 8 on Amazon
Automatic Show Mode
It's not called a Show Mode Charging Dock if it does not support Show Mode. The tablet automatically switches into Show Mode when docked, showing the time, weather and other useful information. When undocked, it returns to the normal Fire OS tablet mode.
Show Mode will not start automatically if you do not use the supplied case, nor does charging. The dock will simply just be a weighted stand with adjustable angle. You can still activate show mode by manually connecting the tablet to the power supply via the microUSB port and enabling Show Mode via the pull down menu or using Alexa.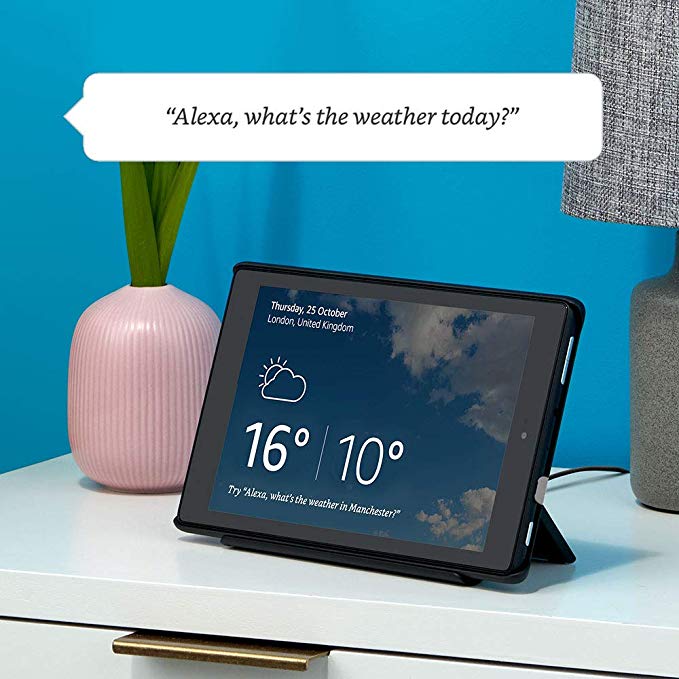 Video Messaging
Another feature we like on the Amazon Fire HD 8 is its ability make video calls to other Alexa contacts hands-free. Ask to speak to a friend or family who have a compatible Fire tablet, Echo Show or Echo Spot and carry out a spot of face-to-face conversation. It's something we have always seen in sci-fi movies but it's high time we get to place a real video call via voice. To make this possible, the new Amazon Fire HD 8 now comes with a 2MP front facing camera, an upgrade from the 0.3MP VGA camera on the previous generation device. Even the 7th generation Amazon Fire HD 10 has to make do with a VGA front-facing camera.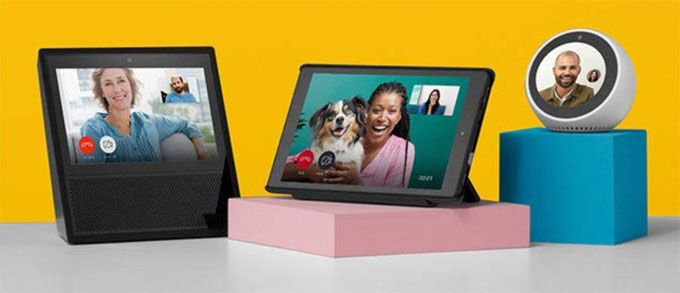 More Expandable Storage
The previous generation Amazon Fire HD 8 like its bigger sibling, the Amazon Fire HD 10 only supports up to 256GB expandable storage via its microSD card reader. If you wish to travel with the entire seasons of your favourite TV shows, movies, music, magazines, books and audiobooks to last you that long haul flight or road trip you are going to want more. The new generation Amazon Fire HD 8 supports up to 400GB of extra storage. You will still have the option of 32GB or 64GB on board storage.
Low Cost Tablet Computing Even Cheaper
I would not recommend carrying around the Amazon Fire HD 10 unless you have very strong arms, a backpack or handbag. On the other hand, the Amazon Fire HD 8 tablet is just the right size to carry around, not too big and heavy and comes with the display that is too small that it gets in the way of you enjoying your content. If you pick the right time to buy, you can even enjoy up to 25% discount or more when Amazon decides to put their devices on offer, during Prime Day or Black Friday sale. This makes the already good value Amazon Fire HD 8 tablet even cheaper.
Display
Okay, so you don't get a Full HD display like that found on the big Amazon Fire HD 10 but it is a High Definition display nonetheless. For a small 8-inch display, it is probably all you need watch movies, check emails, read books, browse the web and access your apps. The screen pumps out vibrant colours with 1280 x 800 pixel resolution. That's a pixel density of 189 ppi. The display features in-plane switching (IPS) technology for wider viewing angle and advanced polarising filter.
What we wish are on the Amazon Fire HD 8
While the Amazon Fire HD 8 is a good budget device, as users, you can't blame us for wanting more. Some of the specifications we would like to see on the Amazon Fire HD 8 to make it perfect are as below:
More powerful quad-core processor equal to that on the Fire HD 10 or between the processors used on the Fire 7 and Fire HD 10. Right now, it has the same speed rating, 1.3GHz quad core as the Fire 7
1.5GB of RAM sounds a bit odd for a tablet. The Fire HD 8 could do with a full 2GB of memory like the Fire HD 10. It's about time for the Fire HD 10 to go beyond 2GB anyway. 4GB of memory on smartphones and tablets are the mainstay now.
Full HD display. The current display is only HD. What we would like to see is Full HD 1920 x 1080 pixel resolution on the Fire HD 8. This will make video and images way sharper and carry more detail.
We get it, to keep the cost down, plastic is used everywhere. Even budget smartphones are getting all metal chassis make-overs. The Amazon Fire HD series could do with a brand new design that includes a new all metal body.
Specifications
We leave you with the specifications of the tablet and how it comes with the Fire 7 and Fire HD 10.
Amazon Fire HD 8 (2018)
Display
8" high-definition touchscreen; 1280 x 800 resolution at 189 ppi, HD video playback, with IPS (in-plane switching) technology and advanced polarising filter
Size
215 mm x 128 mm x 9.7 mm
Weight
363 grams.
Actual size and weight may vary by configuration and manufacturing process
CPU & RAM
Quad-Core: 1.3 GHz, with 1.5 GB of RAM
Storage
16 GB (9.6 GB available to user) or 32 GB (23.8 GB available to user) of internal storage. Add a microSD card for up to 400 GB of additional storage for even more movies, TV shows, music, photos, personal videos and apps. Some apps may require that they are installed on internal storage.
Battery Life
Up to 10 hours of reading, surfing the web, watching video and listening to music. Battery life will vary based on device settings, usage and other factors such as web browsing and downloading content. Actual results may vary. Certain software features or apps may reduce battery life.
Charge Time
Fully charges in under 6 hours using the micro-USB power adaptor included in the box, or slightly longer with other micro-USB power adaptors that you may already have
Wi-Fi Connectivity
Single-antenna dual-band Wi-Fi. Supports public and private Wi-Fi networks or hotspots that use the dual-band 802.11a, 802.11b, 802.11g or 802.11n standard with support for WEP, WPA and WPA2 security using password authentication; does not support connecting to ad-hoc (or peer-to-peer) Wi-Fi networks
4G Connectivity
N/A
Ports
USB 2.0 (micro-B connector) to connect to a PC/Macintosh computer, or to charge your device with the included power adaptor; microSD slot for external storage
Audio
3.5 mm stereo jack and integrated dual stereo speakers with Dolby Atmos audio
Sensors
Accelerometer, ambient light sensor
Camera Specs
2 MP front-facing camera. 2 MP rear-facing HD camera
Location Services
Location-based services via Wi-Fi
Available Colours
Black, Marine Blue, Punch Red, Canary Yellow
Additional Features
External volume controls, built-in Bluetooth with support for A2DP compatible stereo headphones, speakers, microphone and LE accessories support
Accessibility Features
VoiceView screen reader enables access to the vast majority of Fire tablet features for users who are blind or visually impaired using text-to-speech or a connected refreshable braille display. Screen magnifier enables viewers to zoom in and out, and pan around the screen. Fire tablets also include accessibility settings for Subtitles, Font Size, High-Contrast Text, Colour Inversion, Colour Correction, and Convert Stereo to Mono audio. (Subtitles are not available for all content.)
Alexa
Certain skills and services are subject to change or withdrawal at any time, may not be available in all areas and may require separate subscriptions or other fees.
Source: Amazon
Comparing the Fire HD 8 with the Fire 7 and Fire HD 10
Mobile Devices: swipe left to see more.
| Device | Fire 7 | Fire HD 8 | Fire HD 10 |
| --- | --- | --- | --- |
| Display | 7″ | 8″ HD | 10.1″ 1080p Full HD |
| Resolution | 1024 x 600 (171 ppi) | 1280 x 800 (189 ppi) | 1920 x 1200 (224 ppi) |
| Storage | 8 or 16 GB (expandable by up to 256 GB) + unlimited cloud storage for Amazon content | 16 or 32 GB (expandable by up to 400 GB) + unlimited cloud storage for Amazon content | 32 or 64 GB (expandable by up to 256 GB), free unlimited cloud storage for Amazon content |
| CPU & RAM | Quad-Core 1.3 GHz with 1 GB of RAM | Quad-Core 1.3 GHz with 1.5 GB of RAM | Quad-Core up to 1.8 GHz with 2 GB of RAM |
| Battery Life | Up to 8 hours of reading, surfing the web, watching video and listening to music | Up to 10 hours of reading, surfing the web, watching video and listening to music | Up to 10 hours of reading, surfing the web, watching video and listening to music |
| Sound | Mono speaker, built-in microphone | Dolby Atmos, dual stereo speakers, built-in microphone | Dolby Atmos, dual stereo speakers, built-in microphone |
| Alexa-Enabled | Yes, Alexa hands-free is available when the screen is on or device is connected to power | Yes, Alexa hands-free is available | Yes, Alexa hands-free is available |
| Colours | Black, Marine Blue, Punch Red, Canary Yellow | Black, Marine Blue, Punch Red, Canary Yellow | Black, Marine Blue, Punch Red |
| Content | Access to millions of movies, TV episodes, songs, books, apps, games and more | Access to millions of movies, TV episodes, songs, books, apps, games and more | Access to millions of movies, TV episodes, songs, books, apps, games and more |
| Camera | VGA front-facing camera + 2 MP rear-facing camera with 720p HD video recording | 2 MP front-facing camera + 2 MP rear-facing camera with 720p HD video recording | VGA front-facing camera + 2 MP rear-facing camera with 720p HD video recording |
| Connectivity | Dual-band Wi-Fi | Dual-band Wi-Fi | Dual-band Wi-Fi |
| Weight | 295 g | 363 g | 500 g |
| Dimensions | 192 mm x 115 mm x 9.6 mm | 214 mm x 128 mm x 9.7 mm | 262 mm x 159 mm x 9.8 mm |
| Customer Support | E-mail, web and phone | E-mail, web and phone | E-mail, web and phone |