Looking to save yourself some money with one instead of two devices with a laptop that will also replace your desktop? Dell's new Inspiron 17 5000 aims to do just that with a powerful 8th generation processor, generous memory, combination of SSD and HDD storage and discrete graphics.
Dell Inspiron 17 5770 Laptop Review
You do get a lot for your money with the mid-range Dell Inspiron 17 5000 series. While it may not come with the versatility of being a 2-in-1 laptop or more memory like its bigger sibling, the Inspiron 17 7000 series it brings plenty to the table.
Design: Design wise, it is nowhere like the premium 7000 series but close. It adopts the new slim design measuring only 25mm thin with the lid shut, but I won't go as far as to say that it is light. It is after all a 17.3-inch laptop. At 2.79kg, I won't mind lugging it from place to place occasionally but not everyday.
The device does have a big foot print, measuring 415.4mm wide and 279.2mm deep. This is because it has a conventional bezel around the display instead of adopting the new narrow bezel approach like the 7000 series or the near bezel-less style of the XPS series.
You have a choice of premium metallic silver or black finish. Both looking equally sleek and cool although the plastic bezel surrounding the display is black on both colours. The chiclet keys on the full-size keyboard is black which is a huge contrast if you opt for silver finish.
Dimensions: Height: 25mm (0.98″) | 2. Width: 415.4mm (16.35″) | 3. Depth: 279.2mm (10.99″)
Processor: While the model we reviewed comes with a powerful 8th Generation Intel® Core™ i5-8250U Processor (6MB Cache, up to 3.4GHz) which is more than enough for most applications. If you must have more power, consider the faster 8th Generation Intel® Core™ i7-8550U Processor (8MB Cache, up to 4.0GHz). To understand the difference in performance between the two, here are a couple of charts we put together.

From PassMark scores above, the Core i7 processor is 8.75% faster Average CPU Mark and 7.93% faster in Single Thread Rating compared to Core i5. This slight performance gain may persuade you to save some money and stick with Core i5.
| | | |
| --- | --- | --- |
| PassMark | Single Thread | Average CPU Mark |
| Intel® Core™ i5-8250U | 1993 | 7669 |
| Intel® Core™ i7-8550U | 2151 | 8340 |

We see a bigger jump in GeekBench scores. The Core i7 multi-core rating is 17.85% faster than the Core i5. As for the single core rating, the Core i7 is 17.41% faster compared to the Core i5.
| | | |
| --- | --- | --- |
| GeekBench | Single Core | Multi-Core |
| Intel® Core™ i5-8250U | 3585 | 10966 |
| Intel® Core™ i7-8550U | 4209 | 12923 |
Both charts are based on an average of user submitted benchmark results correct at the time of writing. The actual performance of the laptop is influenced by the memory, storage, graphics adapter and more.
Memory: While our review model only comes with 8GB of DDR4 memory, you can upgrade this to 16GB DDR4 2400MHz at or after the point of purchase.
Storage: The model we reviewed has a dual drive configuration combining a fast 128GB Solid State Drive (SSD) with a 1TB Hard Disk Drive(HDD). You can double both storage by going for a dual drive configuration that includes a 256GB PCIe SSD and a 2TB 5400 rpm HDD.
This means that you have plenty of space for both your applications and data, more than what you get on most desktops. In most cases, 128GB and 1TB storage is more than your standard desktop. Should you require more storage, use a microSD/SD card or USB drive.
Graphics Adapter: This is where the laptop excels. We believe that as a desktop replacement machine, a laptop needs to have a discrete graphics processing unit with dedicated graphics memory. Most small laptops and even desktops rely solely on the inferior embedded graphics that shares the system memory or RAM.
Typically, the 8th generation Intel Core i processors are configured with embedded Intel® UHD Graphics 620 GPU. Our Inspiron 17 5000 comes with AMD Radeon 530 Graphics with 4GB GDDR5 graphics memory. The GPU offer overall better graphics, support for multiple external 4K/FullHD display monitors, faster frame rate and smoother gaming experience.
Display: The 17.3-inch Full HD (1920 x 1080) Anti-Glare LED Backlit Display is significantly better than the 15.6-inch Full HD on the Inspiron 15 5000 even though both are from the 5000 series family. It deploys IPS technology for wider viewing angle and better, more consistent colours overall. The contrast is good although the premium 7000 series offer even better contrast. Brightness is average and while good enough for indoor use, under normal lighting conditions, you will struggle under bright sunlight. We like the Full HD resolution for sharper image and crisp detail.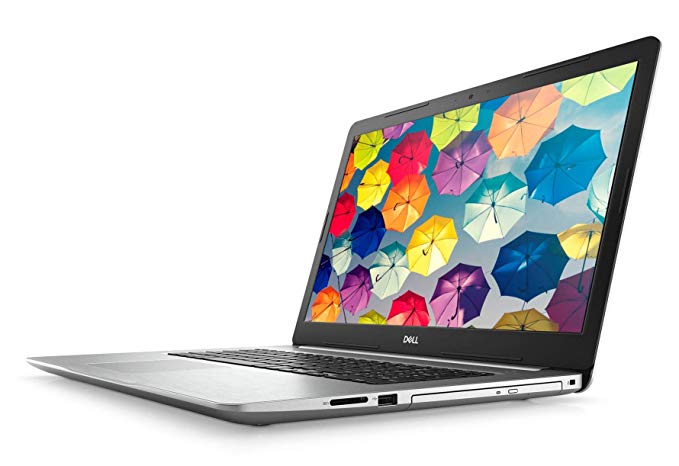 Dell Inspiron 17 5000 on Amazon
Fingerprint Sensor: The power button doubles as a finger print scanner that lets you login quickly and securely. The driver software even supports multiple users so everyone in the family can program the device to remember their ID for quicker access.
Ports: Being a large laptop, the device has a luxury of space and is not short of ports. The interfaces included are reversible USB-C that doubles as data and video output,two USB3.1 Gen 1 ports and a single USB2.0 port. If you are like me and loves to extend your desktop with big monitors, there is also a HDMI 1.4b port ready.
All ports are easily accessible and available on either sides of the laptop. On the right you have the noble security lock slot, the DVD optical drive, a Type-A USB 2.0 port and a full size 3-in-1 ((SD, SDHC, SDXC)) media card reader. On the left you have the power socket, USB 3.1 Gen 1 Type C, HDMI port, 10/100 Ethernet port, two Type-A USB 3.1 Gen 1 ports and audio jack.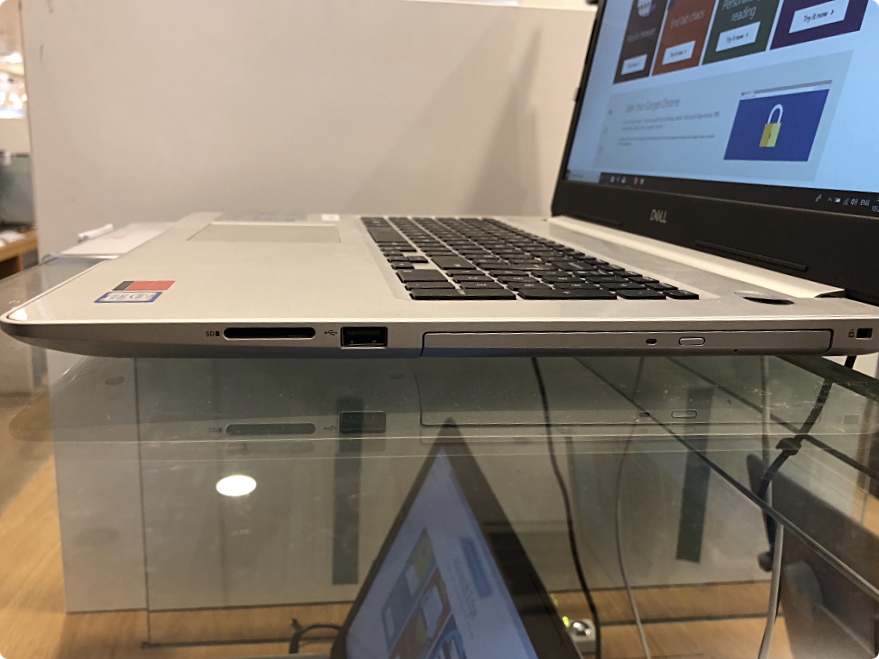 We were told that the single USB 3.1 Gen 1 Type-C port is only available on models with discrete graphics and is capable of supporting PowerDelivery and Video. If a reversible USB-C port is important to you, please check before placing your order. This is useful to hook up more than one external monitor.
Wireless connectivity is pretty straight forward with Bluetooth 4.0 and Dual Band IEEE 802.11ac 1×1 or 2×2 antenna configuration. Our model comes with only 1×1 transmit and receive radio channels. It would have been nice to have a 2×2 (two transmit and two receive radio channels) for higher speed as standard.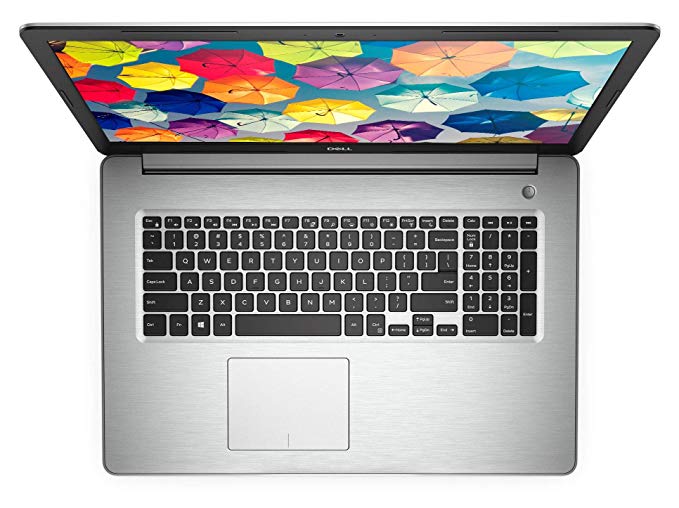 Dell Inspiron 17 5000 on Amazon
Keyboard and Trackpad: Being a full size laptop, you benefit from spacious palm rests and a full size keyboard that includes a full numerical key pad to the right. This also means that the trackpad is off centre to compensate for the num pad. It is not a bad thing as there is plenty of space all around. The keys feel sturdy, offering plenty of feedback with sufficient key travel and support. All this makes for a good typing experience.
The off centre track pad, common with big laptops is responsive and offers good gliding action with sufficient friction from its slightly rough finish but not too much that it stops your finger part way. With a big 105 mm x 80 mm touch area, the track pad offers plenty of input surface, allowing the cursor to glide over the screen. The two clickable corners are marked by a small line between them. These buttons feature short travel and silent operation.
Battery life: Being a big 17-inch laptop, we don't expect much from battery department. Using a 42WHr three-cell battery, the Dell Inspiron 17 5000 lasts at best 5 hours on mixed use before needing charge. At a push, you might get up to 7 or 7.5 hours.
Like we said, this is a good desktop replacement with the occasional off the wall socket use. It might just be enough for a long presentation or a couple of full length movies but that is about it. The battery is also integrated so you can't swap it out with a spare.
If you want longer battery life, consider a 13 or 14-inch device.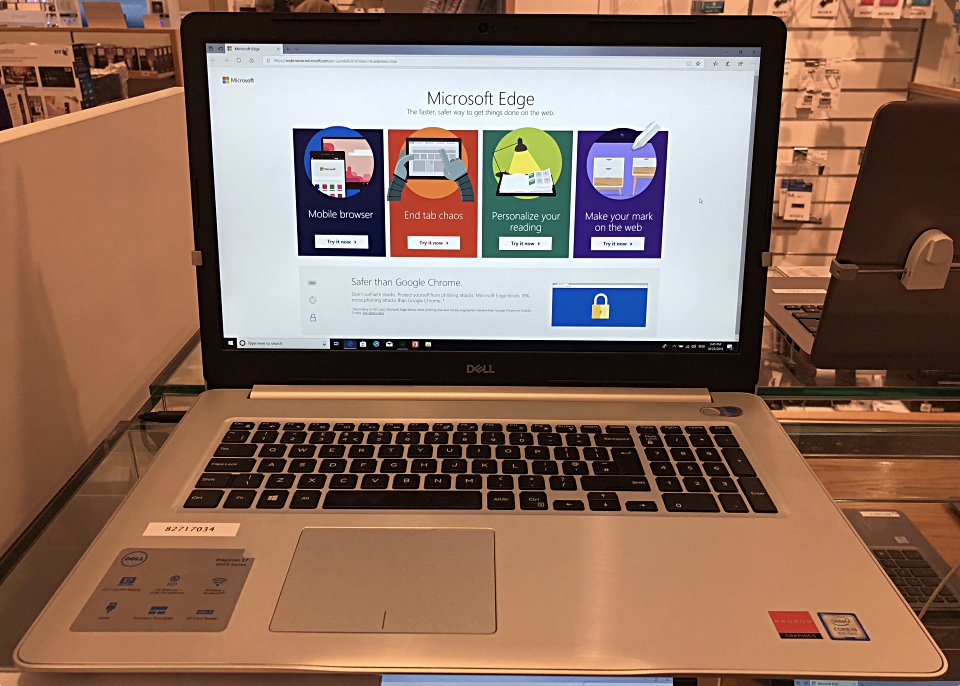 AMD Processor Options
To make the value preposition an even stronger one, Dell is launched the same Inspiron 17 5000 with AMD Ryzen processors. Choose between AMD Ryzen 5 2500U with Vega 8 graphics or AMD Ryzen 3 2200U with Vega 3 graphics. Both are Core i5 and Core i3 equivalent processors promising better graphics performance with on-die Vega graphics architecture.
The AMD Ryzen 5 2500U boast a maximum clock speed of 3.6GHz while the AMD Ryzen 3 2200U has a maximum clock speed of 3.4GHz. The former is a quad core, eight thread processor while the latter is a dual core, four thread processor. AMD Ryzen processor options availability is dependent on the graphical market.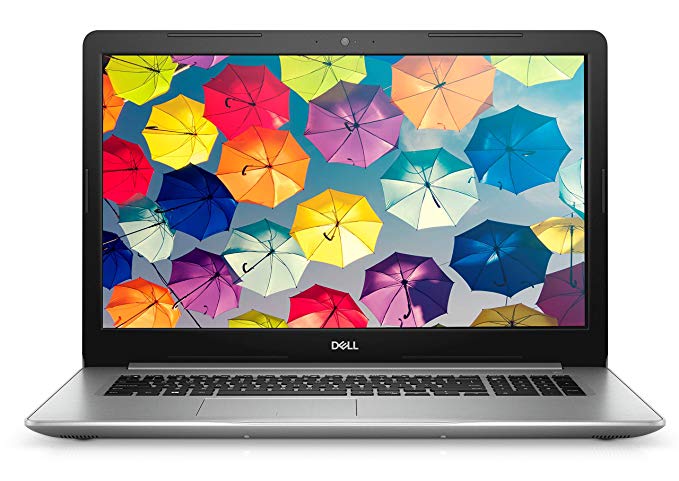 Dell Inspiron 17 5000 on Amazon
Final Thoughts
The Inspiron 17 5000 is a true laptop replacement machine if you pick the right configuration. There isn't a great deal of difference performance gain choosing between the Core i5 or Core i7 processors but what is important is to kit it up with at least a 128GB Solid State Drive. If you want this to be your desktop replacement, stay away from the entry level Core i3 model.
Dell Inspiron 17 5000 Laptop is a worthy desktop replacement given the right parts.
The SSD and generous 8GB or 16GB memory will help improve boot-up and application load time and let you open and run multiple tabs, windows and applications simultaneously.
The discrete GPU with dedicated 4GB of VRAM memory is also a must have if this is going to be your main machine. The performance of the embedded Intel UHD Graphics 620 is still a long way from a discrete Radeon 530 Graphics Card.
While the display lacks brightness, it has good contrast and at Full HD resolution, it offers sufficient sharpness and detail. You can always use the USB-C or HDMI port to hook up a big 4K monitor for a bigger display.