Schooling can be a costly affair especially when it comes to learning technologies. Dell's new Chromebook help takes the edge off if you or your school are suffering from budgeting nightmares.
Not only are these new generation laptops affordable, they are purpose designed for the classroom. The tiny price tag means you can convince the school or parents to invest in personal devices that will assist the children in their learning for years to come.
In teaching and learning, the last thing you want to worry about is budgeting costs. Be it a teacher, family or school, working with budget constraints are no fun. Beyond the initial cost of ownership, one has to consider the cost of maintenance, software licenses, updates, repairs and replacements. Thankfully, with a combination of robust, cost effective hardware from Dell and Google Chrome OS; students, teacher, schools and colleges can keep the total cost of owning personal devices down.
If you need convincing as to why you would consider a Chromebook over Windows or MacOS laptops, see Why Chrome OS and Chromebooks: 12 Reasons for Choosing a Chromebook.
Why You Should Pay Attention to The Dell Chromebook 5190 for Education
While Dell have been in the Chromebook scene since the very beginning and has offered purpose built machines that will withstand the daily abuses a student can dish out at it, we are particularly excited at their most recent launch. Powered by the new generation Intel Celeron dual-core and quad-core processors, the Dell Chromebook 11 5190 laptop and 5190 2-in-1 for education are versatile devices for the classroom and beyond. Here's why we think they are worth your consideration.
1. Performance Factor
Dell's Chromebook family consists of the 3180 series and the 5190 series. While both are 11-inch devices, they use different Intel Celeron N series processors. The cheaper Chromebook 3180 laptop and 3189 2-in-1 convertible are based on the dual-core Intel Celeron N3060. On the other hand, the 5190 series, be it laptop or convertible uses the faster dual-core Intel Celeron N3350 or quad-core Intel Celeron N3450 processors.
| | | | |
| --- | --- | --- | --- |
| | Intel Celeron N3450 @ 1.10GHz | Intel Celeron N3350 @ 1.10GHz | Intel Celeron N3060 @ 1.60GHz |
| Socket Type | FCBGA1296 | FCBGA1296 | FCBGA1170 |
| CPU Class | Laptop | Laptop | Laptop |
| Clockspeed | 1.1 GHz | 1.1 GHz | 1.6 GHz |
| Turbo Speed | Up to 2.2 GHz | Up to 2.4 GHz | Up to 2.5 GHz |
| # of Physical Cores | 4 | 2 | 2 |
On the surface, it may seem like the Intel Celeron N3350 and N3450 may be disadvantaged given its slower clock speed but the real world performance results paint a different picture. We take a snapshot of the benchmark results carried out by thousands of machines using the PassMark software and found that the quad-core Intel Celeron N3450 processor is nearly double the performance compared to the dual-core Intel Celeron N3060. See since thread performance rating and PassMark's CPU Mark benchmark.
| | | | |
| --- | --- | --- | --- |
| | Intel Celeron N3450 @ 1.10GHz | Intel Celeron N3350 @ 1.10GHz | Intel Celeron N3060 @ 1.60GHz |
| Single Thread Rating | 727 | 761 | 538 |
| CPU Mark | 1833 | 1112 | 984 |
Source: www.cpubenchmark.net
In computing terms, you are looking at a machine that is nearly twice as fast and will probably last a couple more years longer in coping with demands of newer operating systems and applications. Something you may wish to factor into when considering the slightly more expensive Chromebook 5190 series over the Chromebook 3180 series. See below, the performance comparison chart between the three Intel Celeron processors.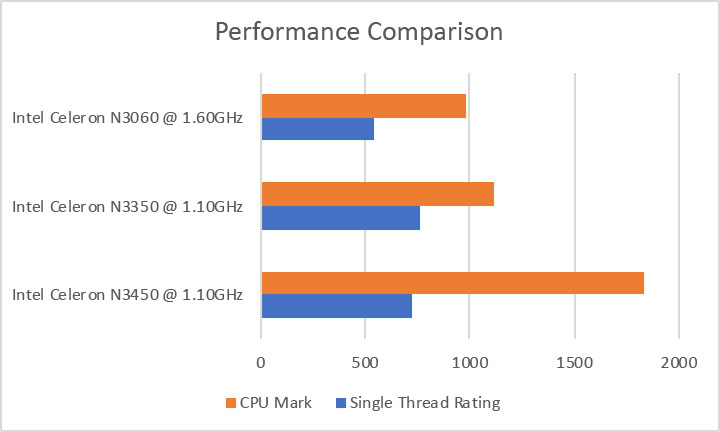 2. Robust and Durable
Next, we look at how these devices will withstand the bumps and knocks of daily school life. You will be glad to know that Dell has all those covered. The Chromebook 5190 devices are school proof and is designed with a sealed, spill resistant keyboard. The chassis is covered with an outer shell made from rubberised material. This acts as a bumper to protect the base and screen of the unit.
Dell boast that the splash resistant keyboard can take up to 12 oz of water spills and the entire unit itself is tested to withstand a 30-inch drop onto a steel surface. This may not sound like a huge amount but considering the number of times when you accidentally let slip your device and it drops to the bottom of your backpack when loading. Or, when your bag falls flat from a standing position when you accidentally knocked it over. None of that matters with Dell's Chromebook.
It is worth noting that the Chromebook 5190 with a laptop form factor does not come with a touch screen option. The 11.6-inch display with 1366 x 768 resolution has only one iteration with anti-glare coating. This differs from the Chromebook 3180 you can pick a touch or non-touch LCD.
If touch interface is what you are after, consider the Chromebook 5190 2-in-1 convertible laptop. It still features a 16:9 aspect ratio screen with 1366 x 768 resolution but comes with touch enabled display protected with Corning Gorilla Glass NBT. The glass cover is designed to protect the display with enhanced scratch and damage resistant. Dell you have you know that it is 10 times more scratch resistant than traditional displays. Knowing how well Corning Glass performs on smartphones, we tend to agree.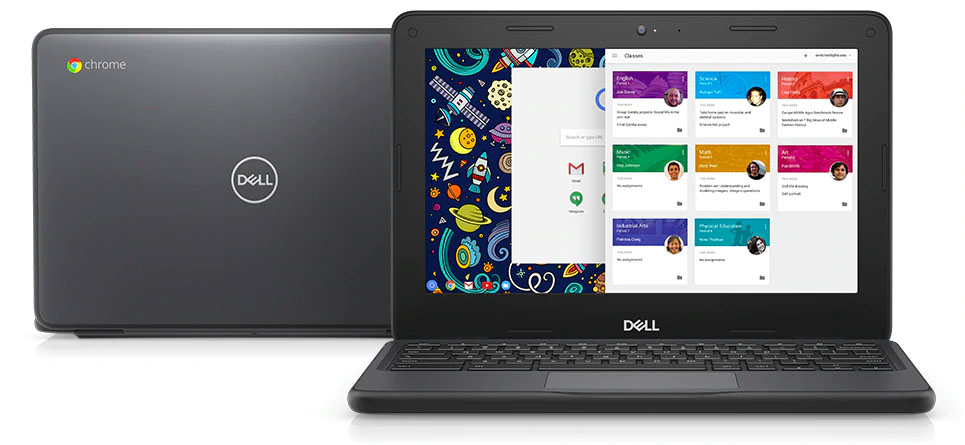 3. All Day Battery Life
The device boast 10 hours of battery life which should be enough to last you through the school day and beyond. Depending on what you do on the machine, you could almost finish your lessons and complete your homework on a single charge.
4. Updated Ports
When you run low of power, simply top-up the charge using one of the two USB Type-C ports found on either side of the device. The new reversible ports make it quicker and easier for little ones to plug in their device with no risk of damage to the ports. These USB Typc-C ports also double up as data and video ports to connect to external accessories. With that, the full size HDMI port that you get on the 3180 and 3189 is absent in the 5190 series.
The new Dell Chromebook now comes with two USB Type-C ports.
Other ports include two full size USB 3.1 Gen 1 ports, again, one on either sides, a microSD card reader and a combo headphone / microphone jack. Aside from ports, there is a power button, volume control rockers and charging indicator light. The other thing missing from the 5190 series is the Dell Activity Light. This could be useful in a classroom environment for teachers to monitor the use of devices during lesson but you can always get the students to shut the lid on their devices.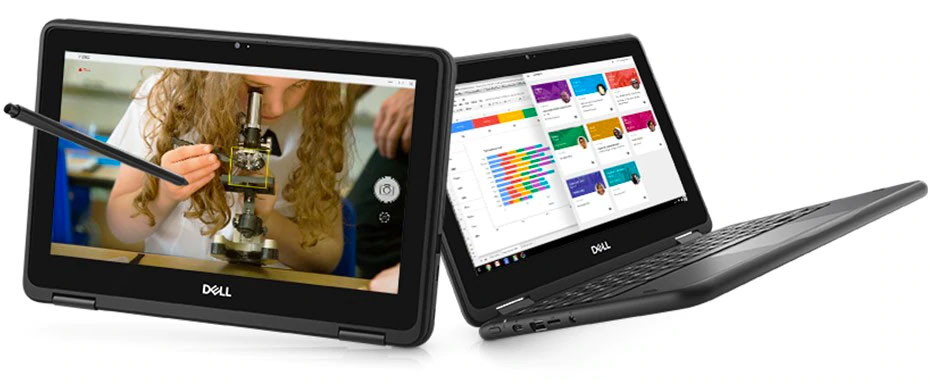 5. Versatile 2-in-1 with Stylus Input Option
The 2-in-1 convertible Chromebook 5190 offers the versatility of using the device in collaborative modes. This is to say, you can open the lid 180-degrees and have it totally flat on the table to share your content with others or go beyond that and have your 2-in-1 stood up as a tend in presentation mode. To take it further, flipping your lid 360-degrees and you have yourself a portable tablet. The high hinge strength supports multiple modes.
The new Dell Chromebook 5190 2-in-1 convertible laptop features stylus support but you have to pick the right screen which is going to cost you more.
When choosing the 2-in-1 convertible Chromebook 5190, look for a display that supports Dell's Active EMR Pen. It may cost a bit more but you get not just touch interface but support for the optional stylus. As this is not an after market upgrade, you can only choose an EMR pen capable device at the point of purchase. In addition to EMR pen support, you will also get a front facing camera on the touch LCD cover for that online interview for your assignment or web chat with your course mates.
Operating System and G Suite for Education
We won't get into the nitty gritty of the Chrome OS safe that it is one of the easier operating system to use. If you know how to drive the Chrome browser, you will have no problem using the system. To better support learning and to take advantage of all the apps and software available for collaboration and learning, schools may wish to sign up for G Suite for Education.
The cloud service comes complete with classroom, administrative, collaborative, personal and communicative tools. Teachers will love the first one as it lets them create and manage classes, hand out assignments virtually, push assessments in the for of quizzes and get feedback from the students. Your IT manager and technician will love how easy it is to support and manage the devices, keeping them secure and safe.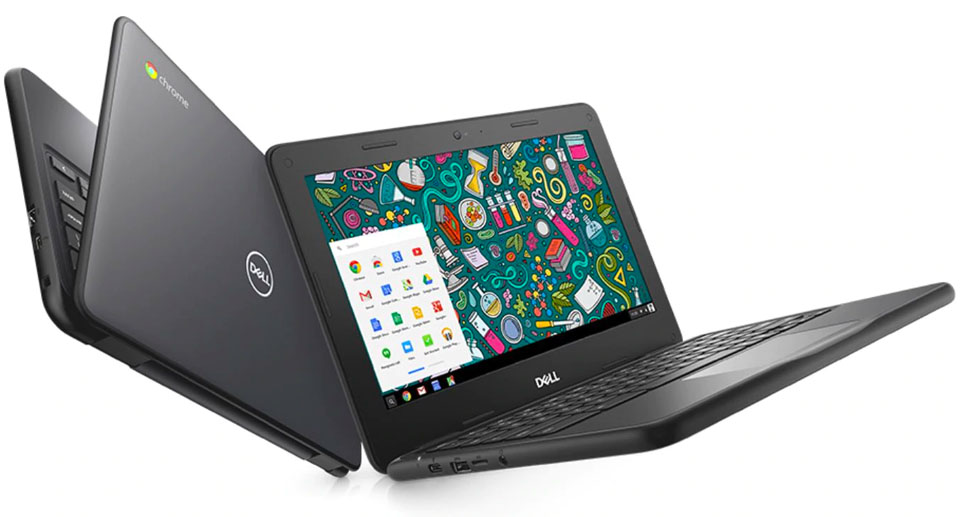 Specifications
Processor: Intel Celeron N3450 Processor (Quad Core, up to 2.2GHz, 2M Cache, 6W)
RAM: 4GB 2400MHz LPDDR4 Non-ECC
Storage: 16/32/64GB eMMC
Graphics: Intel HD Graphics
Display: 11.6″ HD (1366 x 768) Anti-Glare Non-Touch, Camera & Microphone, WLAN Capable
Sound: High-Quality Speakers
Connectivity: Intel Dual Band Wireless AC 7265 (802.11ac) 2×2 + Bluetooth 4.0
Ports: 2x USB 3.1 Gen 1, HDMI, MicroSD Memory card reader, headset/mic combo jack, Noble Wedge lock slot
Input: Single pointing non-backlit keyboard, multi-touch touchpad
Webcam: Integrated webcam with microphone
Battery: 3 Cell 42Whr Battery
Power Supply: 45W AC Adapter, USB Type-C
Dimensions: Height: 20.75mm (0.82″) | 2. Width: 303.9mm (11.96″) | 3. Depth: 207.9mm (8.19″)
Weight: 2.82lb (1.28kg)
I/O: 2x USB 3.1 Gen1, 2 x USB Type-C, Noble Lock, MicroSD card reader, Headphone/Mic jack
---
DELL CHROMEBOOK 5190 LAPTOP & 2-IN-1
For
rugged design
spill resistant keyboard
USB Type-C ports
amazing battery life
2-in-1 offers more versatility
quad-core processor for more power
Against
stylus support costs extra
web cam only on EMR pen capable model
no Full HD resolution
very thick bezel
no backlit keyboard
need USB-C to HDMI adapter for video output