Wireless Mesh Network is the best thing to happen to the wireless technology to help eliminate dead spots but so far the application has been limited to homes only. Can these mesh network designed for home be used in schools.
Mesh WiFi or Whole Home WiFi systems consists of a main router that connects directly to the broadband modem or WAN, and a series of satellite modules, or nodes, placed around the building for full WiFi coverage. They are all part of a single wireless network and share the same SSID and password, unlike traditional WiFi routers.
For those new to wireless mesh network, the technology uses more than one radio nodes organised in a mesh topology to form a single unified wireless ad hoc network. The main advantages are, there is only one broadcasting network and clients do not have to switch manually between Wireless Access Points when moving from one area to the next. More advanced wireless networking involves a wireless controller and access points. The controller offers ease of configuration and management but still requires a network connection to each of the access points.
Can Home Mesh Networks Be Used in a School
The short answer is yes, this can be a dedicated wireless network for an annex or satellite building requiring all round wireless connection. It does not require network cabling which is a cost saving and does not require professional installation. Companion app offers suggestions on how and where to place the nodes negating the need for a professional survey.
Some wireless mesh network come with parental controls, Internet access barring and guest network, perfect for schools. Clients see this as a single network and once connected can roam freely within the coverage area without needing to reconnecting.
The use of Home Mesh Networking brings with it a good few advantages such as good coverage, ease of setup and cost savings, there are several limitations. The main limitation being bandwidth. The mesh network relies on the main router for Internet while traditional access point network comes with its own Internet connection.
For a small to medium building, we recommend using multiple mesh network with more than one main router and several nodes split according to the router they connect to. This eases the burden on one router and client endpoints have access to better and faster Internet connection.
Benefits of Using Mesh Wireless Networking System for Schools
No industrial and commercial strength Mesh Network is yet to be available in the market. However, that doesn't stop schools from using the residential offerings to take advantage of the technology. Here are the benefits:
Single SSID wireless network and access password, unlike wireless extender
Seamless class to class roaming on a single network
Do not require a cabled connection, unlike access points
Better bandwidth between nodes compared to half on range extenders
Consists of a main router and one or more satellite modules or nodes
Can be extended by adding more nodes, currently there is no limit to the number of nodes you can add
Dedicated bandwidth for communications between main router and node as well as node to node
With dedicated bandwidth for router-to-node and node-to-node, client end points enjoy better bandwidth be it 2.4GHz or 5Hz.
Signal and traverse from node to node allowing for wider and further coverage
No cabling between nodes and main router
Easy to setup with mobile friendly app
Automatically or manually choose the best WiFi channel and radio frequency to use to avoid crowded bands
Keep a good wireless signal throughout the school building
Higher models include Multi-User Multiple Input Multiple Output (MU-MIMO) technology for simultaneous serving of multiple wireless clients
Some model allows for prioritisation of bandwidth for certain devices on the network
Use internal antennas and mostly small with desktop, wall or ceiling mounted designs available
The main router and nodes sometimes come with a single Ethernet port
While this is typically used for demanding devices such as big screen TV, set top box and gaming console, they can be used in the school for file servers or wired end points such as printer and workstations.
For more advanced users, there is guest networking, port forwarding and wireless security settings as well as advanced network management settings.
Networking management includes wireless transmission rate settings and firewall settings.
Multiple packages are available for coverage up to 6000 square feet. There is savings to be made with bigger packages for those who need multiple nodes.
Choosing the Right Number of Nodes
Use the coverage guide below for one to three nodes, with each node offering up to 1500sq.ft. Choose the right pack or add more if needed for even wider coverage.
| One: Small Building | Two: Medium Building | Three: Large Building |
| --- | --- | --- |
| one to three rooms | three to five rooms | give to seven rooms |
| 500-1500 square feet. | 1500-3000 square feet. | 3000-4500 square feet. |
Speed Rating
To understand the speed rating, check out the table below.
| | AC3000 | AC2200 | AC1200 |
| --- | --- | --- | --- |
| WiFi Speed | up to 3.0Gbps | up to 2.2Gbps | up to 1.2Gbps |
Remember, there are caveats to how well a mesh WiFi system performs. Just like all wireless networks, there are other factors that can affect the speed of your connection, here are some of the reasons;
1) environmental factors, including building materials, physical objects and obstacles,
2) network conditions, including local interference, volume and density of traffic, product location, network complexity, and network overhead and
3) client limitations, including rated performance, location, connection quality, and client condition. MU-MIMO capability requires both the mesh system and client devices to support MU-MIMO
Top 12 Best Mesh WiFi System
If you are considering a Mesh Network WiFi System for your school, here are some of the best systems out there.
TP-Link is famed for offering budget wireless networking equipments especially wireless router, access points and extender. The TP-Link Deco Mesh M5 WiFi System is another budget option designed to be discrete. Being no bigger than the Echo Dot. Each unit, be it the router or node can be wall or ceiling mounted on left on the desk or shelf.
The three pack option offers up to 5500sq.ft. coverage and is capable of keeping over 100 devices connected at the same time. It also use a unique Adaptive routing technology to automatically choose the fastest path for each device.
Use the companion app to configure and manage your router, nodes and network services such as Internet content filter, parental controls, network management and Trend Micro antivirus subscription. It also supports simple Alexa Voice Control with simple commands.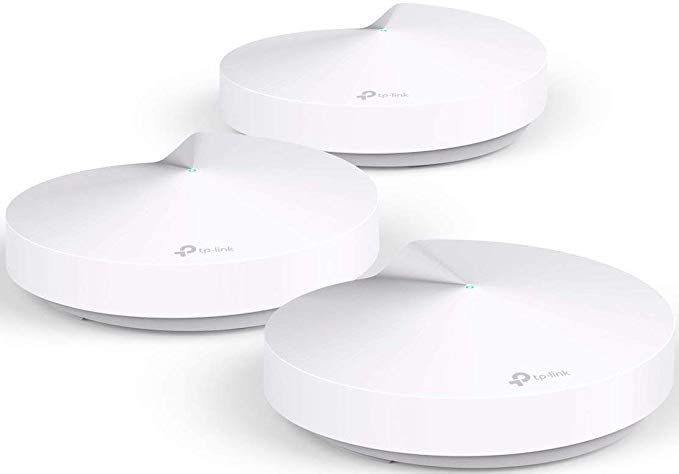 Homecare Support, Seamless Roaming, Dynamic Backhaul, Adaptive Routing
Works with Amazon Alexa
Coverage Up to 5,500 sq.ft.
---
The second generation eero Pro Mesh WiFi System uses TrueMesh technology to create a dependable Internet connection. Like the TP-Link Deco, the eero Pro uses a small but rounded square profile. Each eero Pro offers up to 1500sq.ft coverage, has two auto-detecting Ethernet ports and a second 5GHz radio for a tri-band setup.
To further extend the wireless network, use either eero Pro or eero Beacon. The eero Beacon are smaller wall-plug versions of the eero with up to 1000 sq.ft coverage per unit. It also doubles as LED nightlight complete with ambient light sensor and automatic dinner.

Advanced Tri-band WiFi radios, simultaneous 2.4GHz, 5.2GHz, and 5.8GHz wireless 2×2 MU-MIMO, beamforming, IEEE 802.11a/b/g/n/ac
Dual auto-sensing Gigabit ports for WAN and/or LAN connectivity
---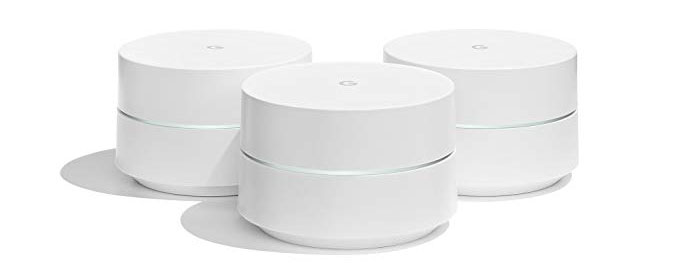 One of the original whole home converage WiFi system, Google's solution is available as single node of three pack with each node offering a coverage of up to 1500 sq.ft. Onboard software reconfigures the settings, choosing the fastest band to keep performance at an optimal level. Other features include a view of connected users, access control, device prioritisation, guest network and more.
Dual band 802.11ac Simultaneous dual-band Wifi (2.4GHz / 5GHz)
2 Gigabit Ethernet ports, one for WAN and one for LAN or both LAN on additional nodes
---
Designed for speed, the NetGear Orbi Ultra Performance RBK50 not only provides coverage for up to 5000sq.ft. but with superior connectivity too. The popular and award winning Mesh WiFi System uses tri-band technology for AC3000 level performance.
Each unit, be it router or satellite comes with 4 Gigabit ethernet port or wired devices. Use the companion app to configure guest network, parental controls, check speed and more. It even comes with its own anti-virus and data theft protection for smartphones and computer for an extra layer of security.
A version with Amazon Alexa and Harman Kardon speaker built-in its satellite extender is also available for integrated smart home functionality. Look for model number RBK50V.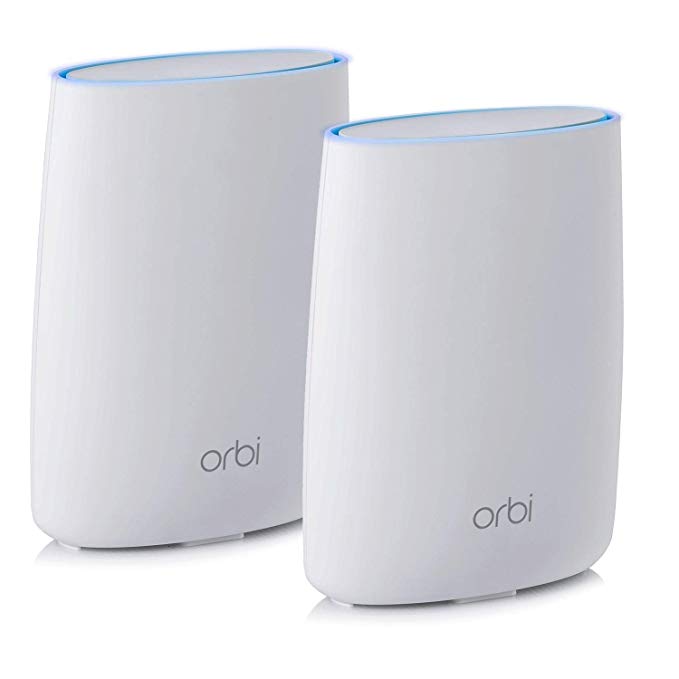 WiFi router and single satellite extender with speeds up to 3Gbps
Coverage over 5,000 sq. feet,
AC3000
---
For ease of installation, as simply as plugging the unit into the wall-plug, the NetGear Orbi Wall-Plug RBK33 is for you. It may not be as fast as the Ultra-Performance variety with AC3000, but the RBK33 supports a reasonable speed of AC2200 with up to 2.2Gbps.
The downside to to choosing the wall-plug RBK33 over the desktop variety (RBK23) is the lack of Gigabit Ethernet ports on the wall-plug nodes leaving you with only 2 wired connection on the router. The RBK23 has 6 Gigabit Ethernet ports in total, two on each node or router.
Still, it works with Amazon Alexa and offers up to 5000sq.ft. wireless coverage and can be expanded with more Orbi nodes.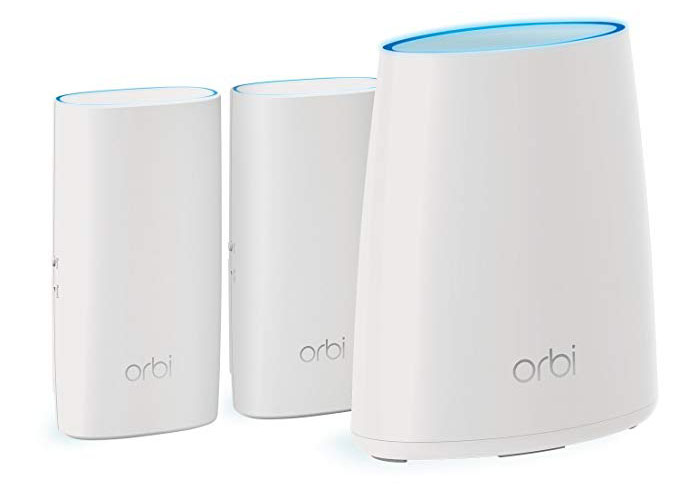 WiFi Router and 2 Wall-Plug Satellite Extenders
up to 2.2 Gbps (AC2200)
Coverage over 5,000 sq. feet, AC2200
---
The tri-band mesh WiFi system is capable of up to speeds of (867 + 867 + 400 Mbps per node). Use the Linksys App to get the WiFi network up in no time. The Velop uses Intelligent Mesh Technology to adapt to the users WiFi need.
Features include Linksys Shield for security, Parental Controls, Device Prioritisation, Guest Network and Speed Test using the Linksys App. Each of the node or router provides up to 2000sq.ft. coverage. Together, the three pack mesh WiFi system offers coverage up to 6000sq.ft. the highest among all the network system here.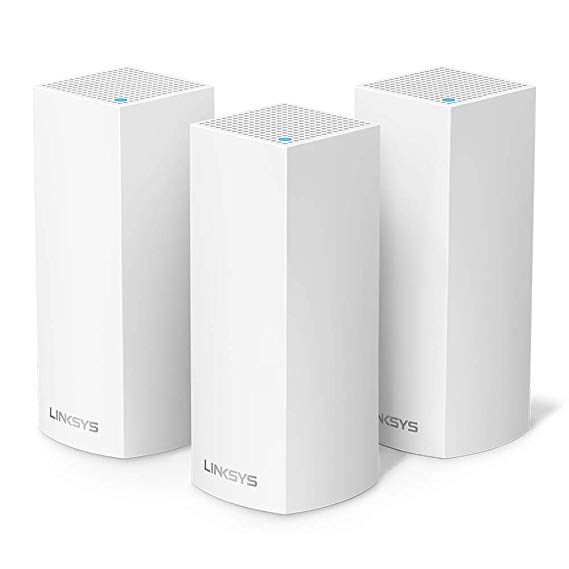 ---
Not exactly cutting edge but the Meshforce Mesh WiFi System is capable of speed of up to AC1200 and supports up to 60 connections. It may look small and compact but the three unit Mesh WiFi System offer up to 4500sq.ft. coverage with the ability to expand the coverage with a further 3 more nodes.
Use the My Mesh app to setup, configure, create a guest network and more. A MeshForce version with one WiFi point and two WiFi Dot based on wall-plug profile is also available.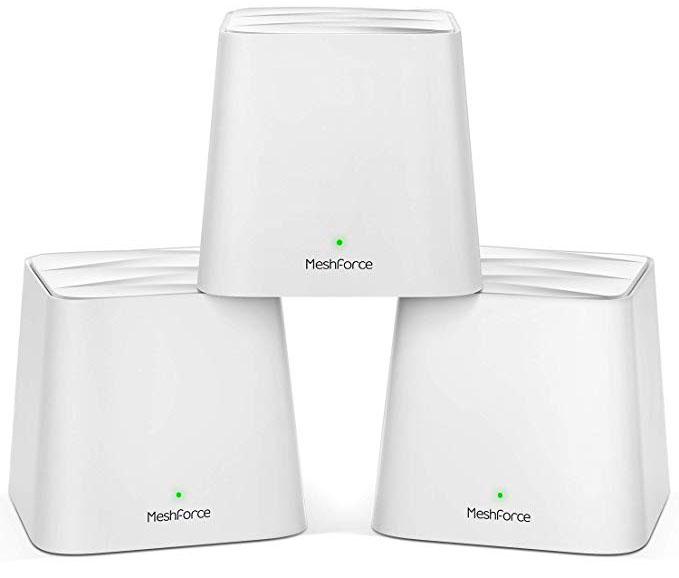 ---
The Gryphon is another high performance Mesh WiFi System that supports tri-band achieving speeds of up to AC3000. Each unit use 6 high powered antennas, 4×4 MU-MINO and Antenna Beamforming for speed of up to 3Gbps.
For ultimate coverage, get the 3 Pack option. With the right subscription, the router can also scan all devices for vulnerabilities, detect intrusion and filter malware. These protection and security is offered by ESET free for the first year.
The Mesh WiFi System offers the aforementioned network protection, parental controls, network management and prioritisation and remote configuration using Gryphon App.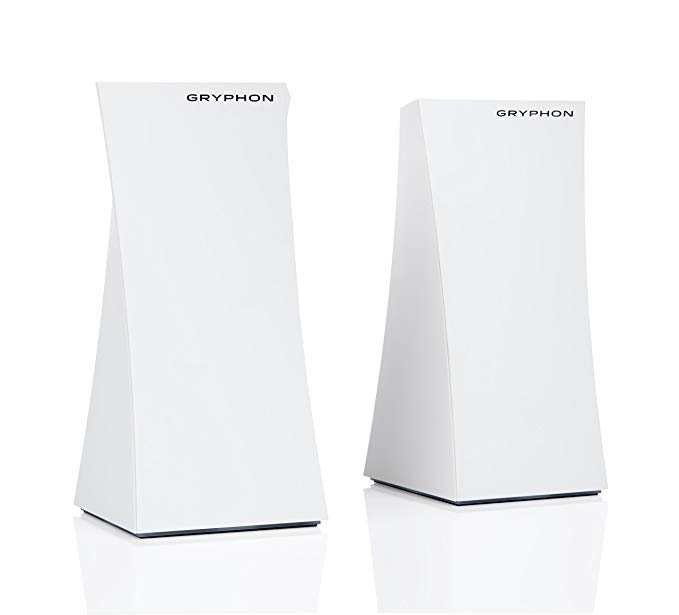 Whole Home Mesh Router, Hack Protection w/AI-Intrusion Detection & ESET Malware Protection, AC3000, Tri-Band – 2PK
---
The TP-Link Deco M4 has a totally different profile to the M3. With a cylindrical shape, the M4 is more suited for the desk or shelf. The three pack option is capable of supporting up to 100 devices with the units working together to form a single wireless network covering up to 5500sq.ft. area. Use the Deco app to setup, secure and control the wireless network with robust parental controls, guest network and network management.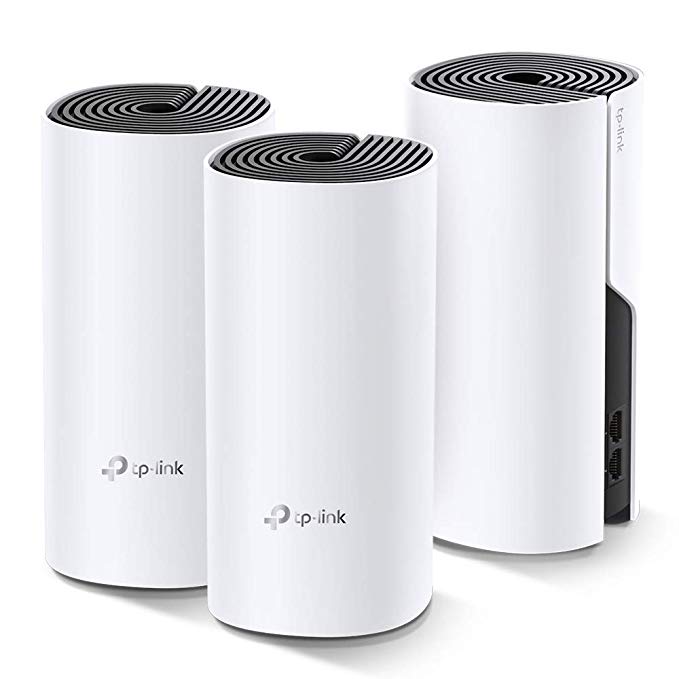 The Wireless Mesh System can also be controlled with voice command via Alexa Voice Control.
AC1200 Dual-Band
Coverage up to 5, 500 Sq. ft. Coverage
Connect Up to 100 devices (Deco M4 3-Pack)
---
10. NETGEAR Orbi Pro Tri-band AC3000 Business Mesh WiFi System (2-Pack) up to 5000 sq ft (SRK60)
A versatile Mesh WiFi System for business, the Netgear Orbi Pro SRK60 can easily be customised for use in schools. Different packages with up to 6 network points are available. Each Orbi Pro Router and Orbi Pro Satellite has 4 gigabit ports for wired devices.
The system allows for traffic separation and dedicated portal for access great for guests, teachers, admin and students with up to three SSIDs. Each node supports up to 40 connections. The 2-pack considered here supports up to 80 connections.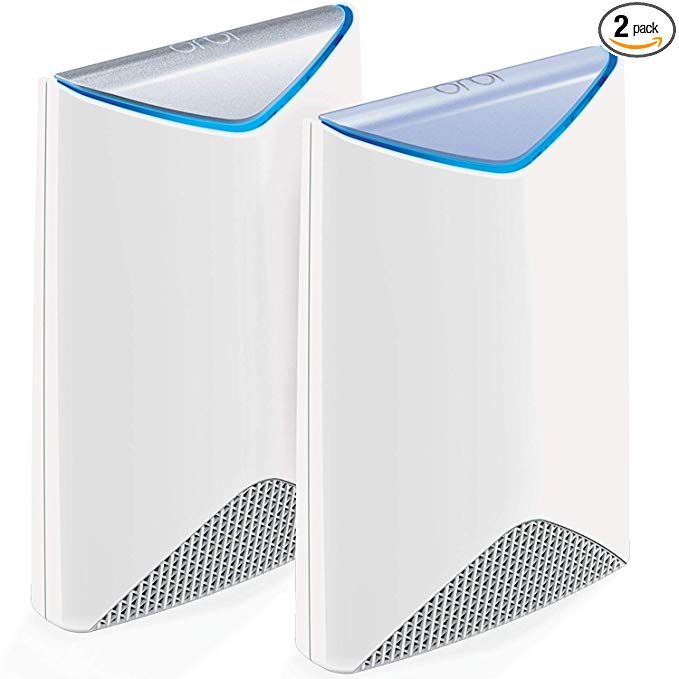 AC3000 Tri-band WiFi with MU-MIMO
Traffic separation up to three separate SSIDs
---
This MeshForce M3 Mesh WiFi System uses a combination of WiFi Point and two WiFi Dot wall-plugs. It can support up to 60 devices with an estimated coverage of up to 4000sq.ft. More WiFi Dots can be added to expand the wireless network coverage.
Use My Mesh app to setup and configure the network, configure security settings, create guest network, control kids Internet access by device and period, manage access and control the WiFi remotely.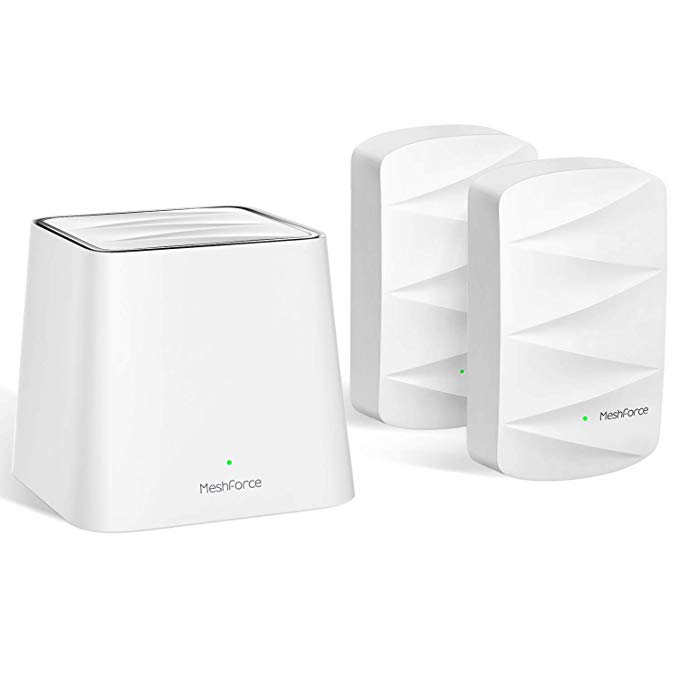 Gigabit Ethernet port

Dual Band AC1200 WiFi
---
Standing out from the rest in terms of design is the Tenda NOVA mesh WiFi system the MW5s. These table top Mesh WiFi is capable of dual band AC with a lower coverage of up to 3500sq.ft. It doesn't come close to the coverage offered by others found here but given its price and support for Nova's Wave 2.0 MU-MIMO and beamforming technology makes this budget Mesh WiFi System an ideal choice for small to medium homes. Tenda WiFi App lets you control the network settings, parental control, create guest network, manage access priority and more.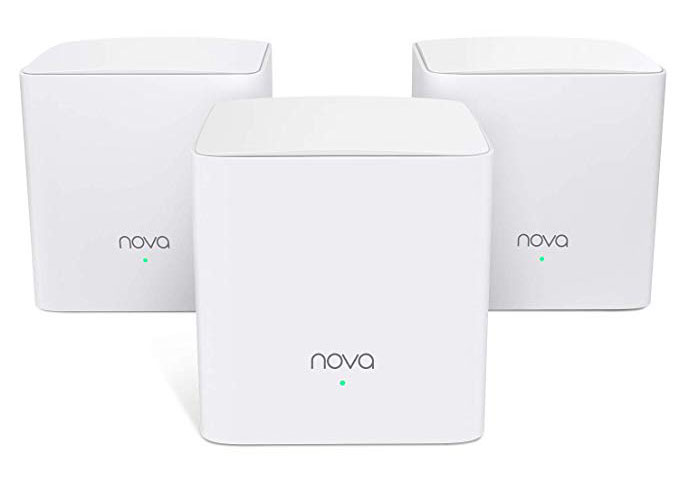 ---