When minimal fuss is what you want from your everyday computing and your primary tasks are based online then one of these cost effective low maintenance Chromeboxes or nettop boxes is your thing.
Yes, Google's little thin client is still alive and kicking. With the recent launch of ASUS Chromebox 3, the mini PC takes centre stage once again and this time with 4K UHD support and practical power over USB type-C connector. But is it enough to convince more users to jump on the bandwagon?
Chrome Box For School
The mini Chrome OS based computer has always been a favourite with the education sector especially small institutions and schools with a limited budget. The low cost of ownership makes these thin client machines a no-brainer. However, you will need to approach this with caution. Unless you are a school that is heavily invested in Google for Education especially Google's barrage of online apps under the G Suite umbrella, there is not much else outside of the browser. Yes, you can install apps on the browser and perform some offline tasks but this still relies on what is available on Google Play, Google's App Store. Note that this now extends to Android Apps as newer Chrome OS now supports it but again there are limitations as to the app's window size and the type of interface as these Android Apps are designed for mobile devices first.
Chrome Boxes can also be used as presentation station or information kiosk in an education setting. The low power consumption, silent operation and low heat dispersion makes it ideal as an energy efficient machine to have anywhere in the school.
If neither students nor staff are familiar with Google's G Suite for Education, a suite of productivity tools designed to help teachers and students interact seamlessly and securely across any devices, then your investment in Chrome Box must include training and in-house brochures to get them up to speed. There are loads you can do on G Suite alone, manage your class, distribute assignments, offer quizzes, and send feedback apart from collaborating on the different office like applications for documents, spreadsheets, forms and presentations. On a personal level, teachers and students can manage their email, to-do list, task reminders and calendar as well as build their own website.
Chrome Box For Home
With most family members having their own laptops and tablets for work, college and school, there is really no need for a full fledge desktop. But, if you still prefers a full size display, keyboard and mouse, a small investment will bring you desktop back to life. I don't mean upgrading your existing machine but replacing it. You can keep your keyboard, mouse and monitor, that should save you some money as all you will be replacing is your slow PC. The cost of which is only about half the price of a standard desktop.
The device is fast enough to do anything and everything on the Internet. With a simple browser interface, there is really nothing that can go wrong with. So, if the bulk of your time on a PC is spent on a browser, including working on Microsoft Office document online then save yourself some of your hard earned cash and get a chrome box. With the purchase, you also get additional online storage for your files. The only downside is the ability to print. While there are USB ports, Chrome OS does not support the installation of drivers so you can't just connect any printer and expect it to work.
Chrome boxes can also double as media centre for the living room. The new generation devices are capable of 4K and will let you stream movies, TV shows and music via the browser or over apps from Google Play store.
Not being able to print is not a bad thing. Think of all the trees you are saving. If you absolutely must print then invest in a network (wired or wireless) printer that supports Google Cloud Print. If you have an old USB printer, hooked up to a computer, you will need Chrome browser installed on a Windows or Mac then set up Google Cloud Print using these Print from Chrome instructions.
1. ASUS Chromebox 3-N017U Mini PC with Intel Celeron and 4K Support
First with 4K support, the ASUS Chromebox 3 is the latest Chrome OS mini PC with more power, storage and memory and uses the new Type-C port. Design wise, it is not very different from its predecessor, the Chromebox 2 albeit thinner. It is however, instantly recognisable by its brushed aluminium effect instead of just plain black plastic finish. The Chromebox 3 is fast at booting up, browsing the web, streaming content in Full HD or 4K UHD as well as streaming music. If you have to, use the Keep Awake chrome extension so the device does not go to sleep and avoid being cut off from enjoying your movie, TV show or music mid-way. Given its size, you can tuck it away easily behind the monitor (mounting plate and screws included) or TV or even keep it in the drawer if there is a way to wire your keyboard, mouse or at least your monitor to it.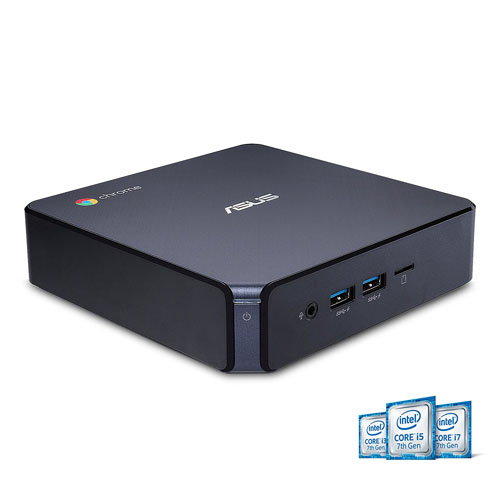 Intel Celeron 3865U 1.8GHz dual-core processor with 4GB DDR4 RAM and 32GB M.2 SATA SSD
Integrated Intel 4K UHD graphics and dual monitor support via HDMI and DisplayPort over Type C
Full support of Android Apps from Google Play on Chrome OS

Share files or stream your favorite media with Intel 802.11ac Wi-Fi, Bluetooth 4.2, and USB 3.1 Gen 1 Type a & Type C Ports

For Internet connectivity, use the onboard Gigabit LAN or integrated 802.11ac WiFi
As with all ASUS systems, the build quality is good and connectivity is great. The front panel offers two USB 3.0 ports, 3.5mm micro/headphone combo jack and micro SD card slot. On the back, you have three extra USB ports (2 x USB2, 1 x USB 3) plus a USB Type-C port. This is a multipurpose port that can carry both data and video signal as well as power up devices with is power over type-C capability. On top of that, there is a HDMI port for video output. With the right cable, you can hook up two monitors and run this simultaneously, a first for a Chrome mini PC.
If you are looking for something with more processing power and memory, consider the N018U or N019U models with Intel Core i3 processor. You can also upgrade the memory and storage if you don't mind opening up the box. There is a free SO-DIMM slot and you can replace the M.2 SATA SSD with say a 128GB or more storage. The latter requires you to have a Google's Chromebook recovery Tool USB stick handy as you will need to re-install Chrome OS on the new hard drive.
ASUS CHROMEBOX 3-N018U Mini PC with Intel Core i3-7100U dual-core 2.4GHz with 4GB RAM, 32GB SSD
ASUS CHROMEBOX 3-N019U Mini PC with Intel Core i3-7100U dual-core 2.4GHz with 8GB RAM, 32GB SSD
2. CTL Chromebox CBX1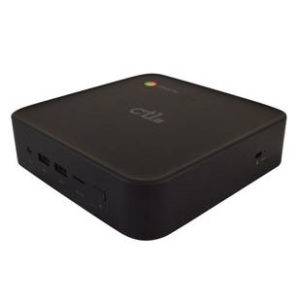 The compact mini computer has everything one wound need to run ChromeOS smoothly and quickly. Using the same Intel Celeron 3865U 1.8GHz dual-core processor found on the ASUS Chromebox 3, the CBX1 is available with 4GB memory, 8GB memory or 16GB memory. Storage wise, you get the 32GB SSD which is sufficient when most of your files and data will be in the cloud anyway. The system includes a built-in dual-band WiFi, allowing for fast streaming HD media and seamless web surfing, Gigabit Ethernet LAN port, plenty of USB ports (2 x USB2.0, 3 x USB3.0) and dual video output in the form of HDMI and 1 x USB Type C port. We can only assume that as it shares the same processor and platform with the ASUS Chromebox 3 that it supports 4K output but we cannot be sure.
3. ASUS Chromebox 2 G095U Mini Chrome OS Computer
The previous generation Chromebox 2 from ASUS is still on the shelves and is available at bargain prices. If you do not have a need for 4K Ultra High Definition output and do not intend to get a UHD display anytime soon then the cheaper, even more affordable Chromebox 2 is for you. Powered by Intel Celeron 3215U, an energy efficient mobile processor running at base frequency of 1.7Ghz combined with 2GB or 4GB RAM and 16GB M.2 Solid State Drive, it offers instant boot-up, access G suite, websites and apps. The box is VESA mountable so it an be fitted to the back of a compatible monitor or TV. If one display is not enough, you can also hook up a second monitor as it supports dual display via the HDMI and DisplayPort, just not 4K. Like the new Chromebox 3, this little machine can stream Full 1080p HD videos without any lag from YouTube, Netflix, Google Movies and Amazon Prime as long as you have a good enough broadband connection and strong WiFi signal.

4. Acer Chromebox CXI2-4GKM Desktop with Keyboard and Mouse NO MORE
Powered by Intel Celeron 3205U clocking in at 1.5Ghz with 2 or 4GB DDR3L SDRAM and 16GB SSD. Unlike the ASUS Chromeboxes, the Acer has a standing profile. A rectangular rather than a square footprint, the unit has a plastic stand to hold it up. On the front of the device, you have your power button, two USB 3.0 slots and a full size SD card slot. On the rear, you get two more USB 3.0 slots, one headphone and microphone combo jack, one DisplayPort and one HDMI port. There is also an Gigabit Ethernet LAN port and a Kensington security slot. For wireless connectivity, the unit spots 802.11ac WiFi and Bluetooth 4.0. Acer has also included a USB keyboard and mouse as well as a VESA mounting bracket with the system. Everything you need to get up and running, simply add your own monitor or TV screen.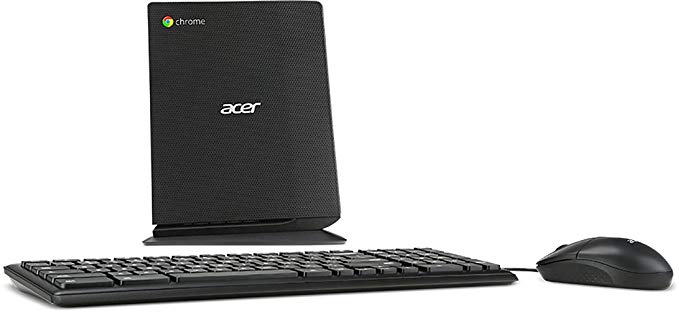 5. ASUS CHROMEBIT CS10 Stick-Desktop PC
Not only is Chrombit the smallest, it is also the cheapest in our line-up. Powered by a mobile chip, the stick based PC runs a RockChip 3288-C processor with 2 GB LPDDR3L memory and 16 GB eMMC storage. It may not have the processing power, memory or storage to compete with other Chromeboxes in the market but the form factor does have a lot of potential for those to want a discreet computer to add to their living room TV, information kiosk or foyer information display. Google Chrome OS ensures that the HDMI based computer dongle operates smoothly and quickly supporting up to Full HD resolution making it great for both productivity and entertainment. For wireless connectivity, you get dual-band 802.11ac WiFi and Bluetooth 4.0. If you need extra storage, use the full size USB2.0 port at the opposite end to the HDMI port to add external storage. The dongle is powered by a dedicated DC adapter and not via the USB port.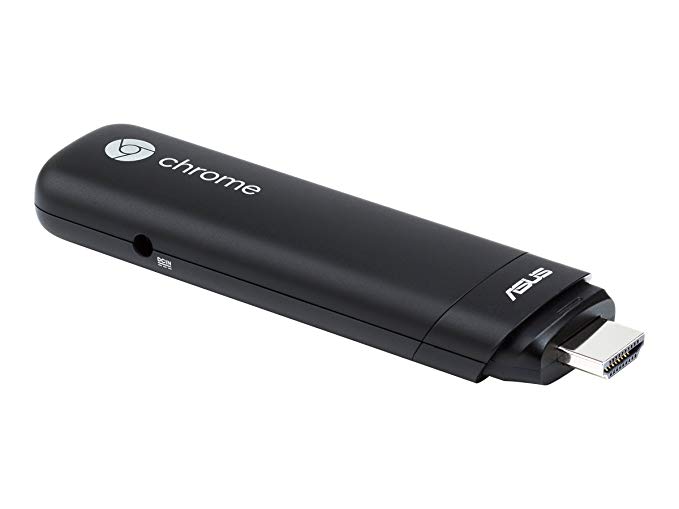 We recommend the Logitech Wireless Touch Keyboard K400 Plus with integrated touchpad should your Chromebit CS10 setup be used as a media centre.