After finishing high school, you go off to college full of hopes, dreams, and aspirations. You bid farewell to your teary-eyed and proud parents, your best friends, and your home. You take a last look around the room you grew up in – The creaking bed, beloved broken toys, dazzling movie posters and old pictures. The walls seem to be calling you. You are going to miss everything, but you also can't wait to start living on your own. Ah, the grown-up life full of responsibilities and duties. How fun it will be! Next thing you know you are in a small and empty dorm room. How are you going to turn it into personal space offering comfort and familiarity with hardly any money?
With some creativity and hacks, you can transform the bland room into a cozy and organized space:
Click To Tweet
With some creativity and hacks, you can transform the bland room into a cozy and organized space:
1. Label the Chargers
When I had a roommate, most of the quarrels we had was on the charging cords. They got mixed up every single time until someone told us to simply put a label on them. We went overboard and decorated each inch of our chargers and cords with decorative Washi tape. Not only did they now appear visually delightful, it was easy to tell them apart. Here are exciting washi tapes you can find on the Internet.
Washi Tape for Labels on Amazon
---
2. A DIY Floating Nightstand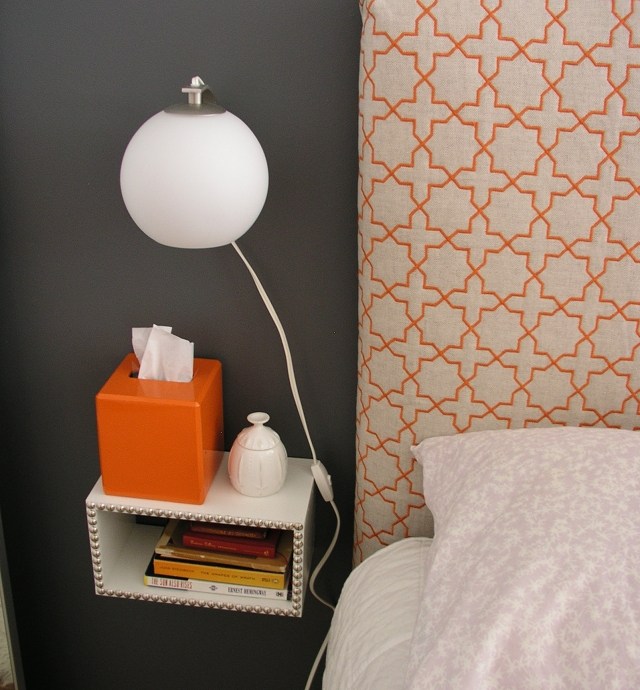 Most probably, there won't be enough space in your dorm room to put a side table next to your bed. To keep things handy like a small lamp, water bottle, car keys, books, a hairbrush, and some other small essentials. But worry not, you can actually build your very own floating nightstand that will take up zero floor space.
We found a fantastic piece of DIY decor at Brettbara to create a beautiful wall-mounted nightstand. It offers space and storage. You need a large piece of wood, glue, L-brackets, nails, a screwdriver, and a hammer. Cut the wood into two rectangular and two square pieces.
Attach the brackets to one rectangular piece, and attach the square ones on its sides, then glue the final rectangular piece atop the square ones with glue. Hammer your newly-constructed shelf onto the wall. You can paint and sand the wood if you wish to. (Note: Do make sure that you're allowed to nail things to your dorm room wall.)
A floating nightstand in your room occupies zero floor space!
Click To Tweet
3. Cozy It Up with Decorating Hacks
The dorm room is far from your cutesy bedroom in your parent's house. It is all cramped, dreadfully devoid of colors and boring. Brighten up your humble abode with a few creative hacks – use colored duct tapes or printed Washi tapes to decorate doors, mirrors and cupboards, create a beautiful picture wall by simply putting up some framed pictures and wall art, use a soft-board to stick notes, to-dos and memories, paste removable wall decor and stickers, place fresh flowers on vases and keep them on a window sill and bathroom shelf, get large mugs to use them as pens and toothbrush holders and hang a colorful banner above your headboard. These quick decorating hacks will instantly glam up your dorm room.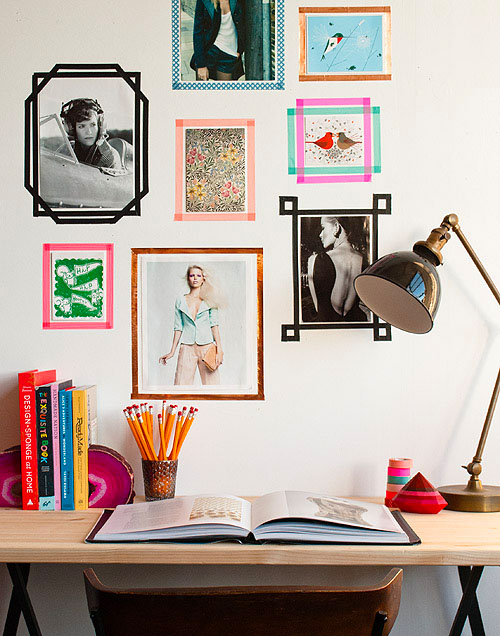 Related: 12 Amazingly Inspiring DIY Room Decor Ideas (on our sister site Colour My Living)
---
4. Folding Chairs for Seating
You can't possibly hang around your desk and bed all day long, and you will definitely have company over sometimes. Buy a couple of folding chairs and keep it tucked under your bed to maximize space. When the need for extra seating arises, voila!
You will have your chairs ready in a jiffy. Buy soft, furry, and plush folding chairs from your local store or online at Amazon. You can drop some bold, vibrantly-colored cushions to enhance the look. When your friends visit or when you simply which to chill, whip out your compact and totally chic chairs.
Alternatively get the butterfly folding chairs that open up in to a really comfortable cocoony-type seat yet takes up almost zero floor space when folded up.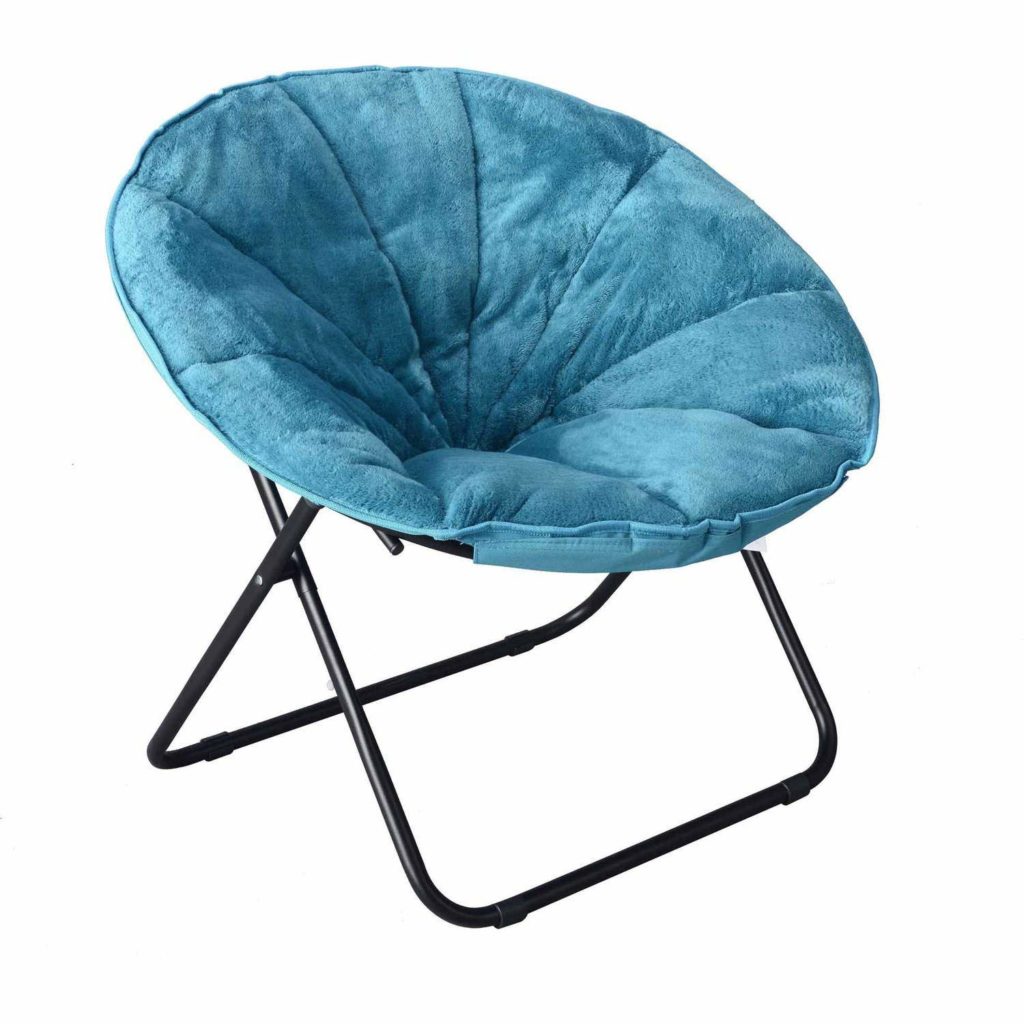 Folding Saucer Chair on Amazon
These quick decorating hacks will instantly glam up your dorm room.
Click To Tweet
5. Mattress or Bedside Caddy for Books
Mattress Caddy are ideal for keeping your favorite novels, course books and notes for last minute revision. When you have to get up early on the day of your exam, don't bother with shelves and drawers. Instead, store the books and important notes at a short distance inside a super-convenient mattress caddy. Quickly revise as soon as you get up. At night, when you can't drift off to slumber and need to catch up on a novel you have been reading, take the book out in a jiffy without needing to get out of the bed!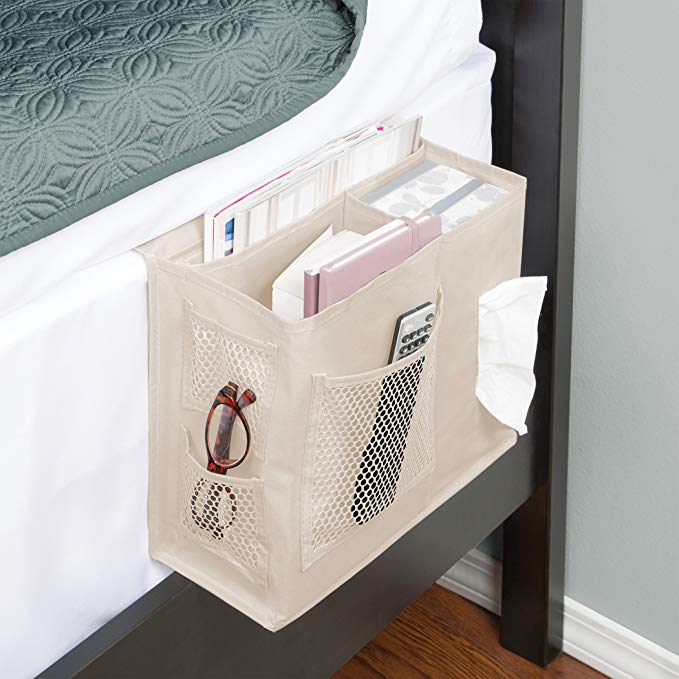 Search Mattress Caddy on Amazon
Buy a couple of folding chairs and keep it tucked under your bed to maximize space.
Click To Tweet
6. Use a Storage Caddy
From your notebooks and backpack to your scissors and pencils, hang a storage caddy on the back of your door or by your bedside to keep everyday stuff easily accessible and organized. When you are running late for class, you will no longer have to waste precious time rummaging through tiny drawers to grab the books you need.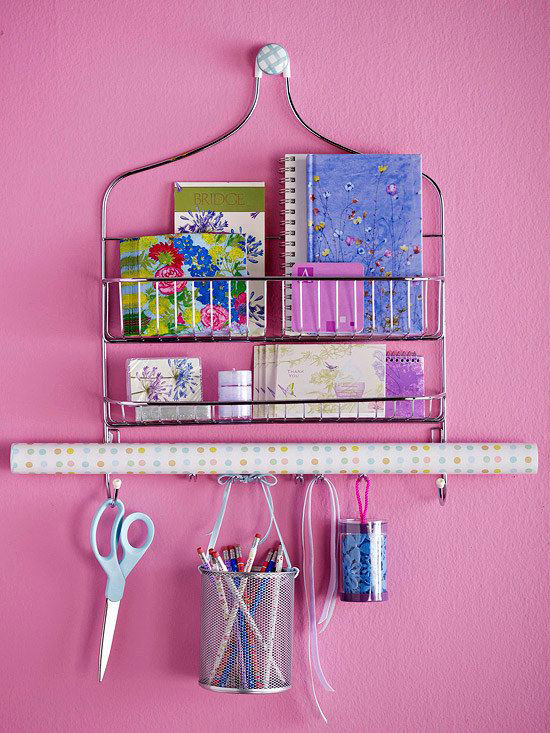 ---
7. Use a Hanging Shoe Organizer
You get up in the middle of the night to use the loo. Half asleep and dazed, you stumble upon a shoe and fall flat on your face. Ouch! Too many shoes lying around here and there? Grab them and stuff them inside a plastic shoe organizer. Hang it up so and free up valuable floor space. If you are prone to losing socks, you can buy a similar organizer for socks as well. From makeup to stationery, shoes organizers can be used for pretty much everything.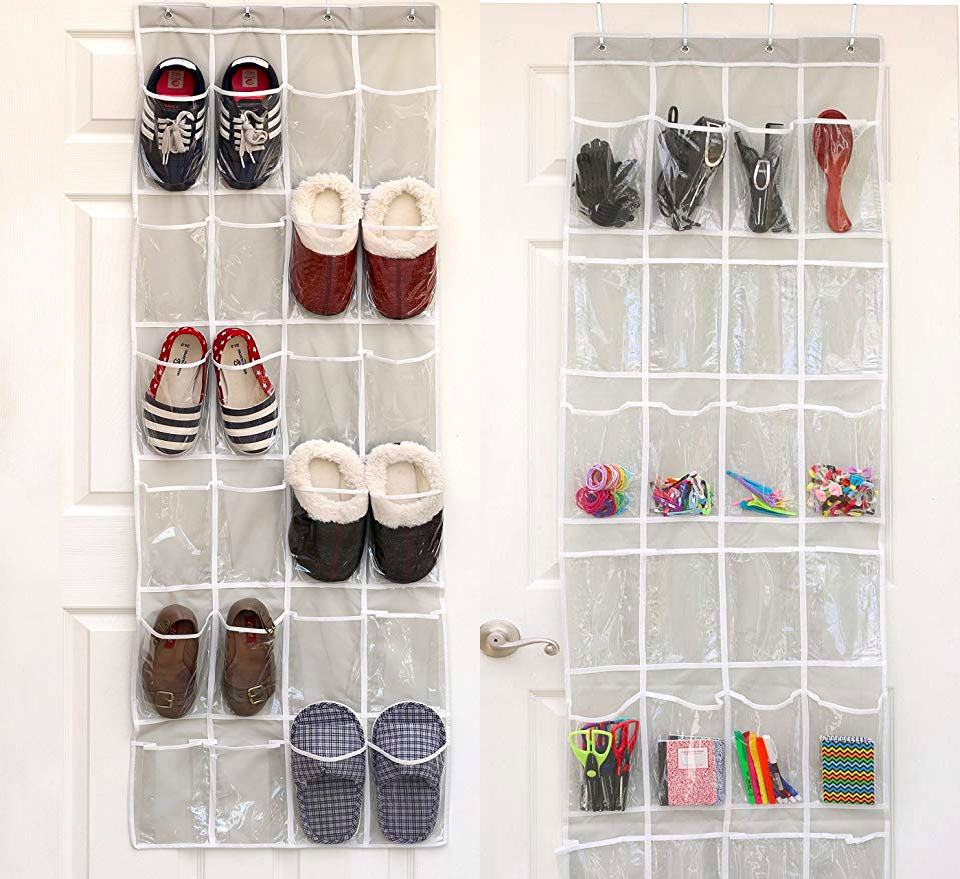 Search Hanging Shoe Oganizer on Amazon
---
8. Make Your Dorm Smell Amazing
Dorm rooms tend to smell dreadful, no matter how much air freshener you spray, they just stink! Keep the air fresh and perfumed by sticking a car freshener on the vents. Alternatively, consider scented oil and reed diffuser. We won't recommend burning incense, scented candles or scented oil warmer due to fire risks. A good scented oil and reed diffuser will diffuse fragrance into the air in a safe and environmentally friendly way. It also lasts longer and may even introduce an air of calmness and zen to your dorm room. Even if your roommate keeps bringing their smelly shoes inside, you no longer have to tolerate the stink. It is also good practice, only if it is completely secure, to open the window to let some fresh air in. There is nothing like fresh air and circulation to move the stale air in the room.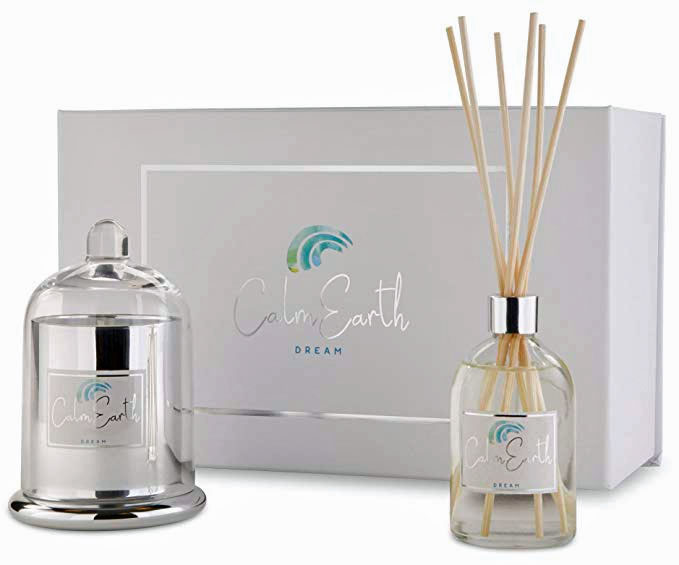 Scented Oil Reed Diffuser on Amazon
---
9. DIY Mini Ironing Board
You need to look your best during interviews, presentations, and functions. Dressed up in neat, crisp, and ironed clothes is a must to make a good impression. Make your own portable DIY ironing board perfect for small spaces. Take a rectangular piece of plywood and attach four cabinet handles on each side. Staple the fabric on the board. Your mini iron board is ready! Tuck it under your bed when not needed.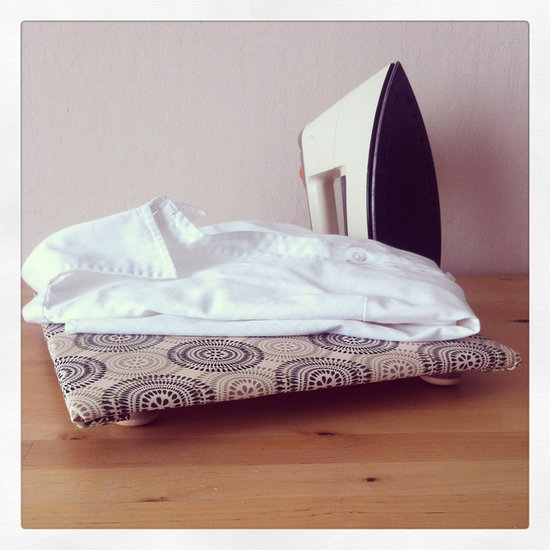 ---
10. Tension Rods for Extra Hanging Space
Dorm closets are usually a cramped, boxy space where you have hardly enough space to hang all of your clothes. Install a tension rod in your closet for extra hanging space without having to fold your clothes with hundreds of creases. Not just clothes, you can organize your majestic collection of shoes, your freshly washed bed linens, belts and stoles and towels.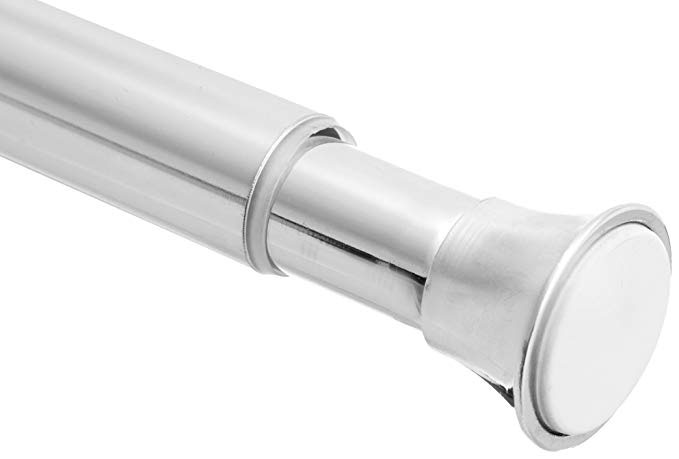 Once you have personalized the dorm room and got the hang of things, it will soon start to feel like home!
Click To Tweet
It can take a while to settle into your dorm room. Once you have personalized the room and got the hang of things, it will soon start to feel like home!