Minimal bezel is not just reserved for smartphones now. Laptop manufacturers are doing the same to their displays. This not only reduces the overall dimensions of the laptop giving it a small footprint making it even more portable but offering an enhanced viewing experience to the users.
The laptop that started it all is the ultraportable Dell XPS 13. Offering what Dell calls an Infinity Edge display, the XPS 13 was the first to introduce a near zero bezel around the display. The bezel-less design meant users are drawn to what is on the screen, for an expansive and immersive viewing experience. This design not only increases the screen to chassis ratio and makes laptops more compact and lightweight but allow users to enjoy their games, movies, TV shows and even work more.
In most cases, bezel-less laptops are nearly the same size as a conventional laptop with smaller display. For example, a 13-inch bezel-less laptop is as small as a typical 11-inch laptop. The same can be applied to a 15-inch bezel-less laptops, these are not much bigger than your standard 13.3-inch or 14-inch laptops. Going bezel-less means having a true ultraportable laptop with slim line design and lightweight package. For the road warriors and people who do most of their work away, on their laptop, we would definitely recommend getting one with narrow to nearly zero bezels.
12 Best Ultraportables with Minimal Bezel or Bezel-less Display
In this post, we explore some of the best ultraportables with infinity display, screens that are wrapped with a very narrow frame that it can be mistaken for being edge free.
Overview
Here is our line-up:
1. Huawei MateBook 13-inch Laptop
The award winning laptop from Huawei is a high-end machine powered by up to 8th Gen Intel® Core™ i7-8565U processor. Huawei boast that the 13-inch laptop has a footprint that is no bigger than a sheet of A4. Size wise, it measures 286 mm width x 211 mm depth and it is only 14.9 mm thin. As an ultra portable, it weighs only 1.3 kg. Slightly on the hefty side but a small price to pay considering the metallic frame and diamond cut corners.
But, what is more important is that the 13-inch wide angle IPS display is virtually borderless with an ultra narrow 4.4mm bezel. This means the screen-to-body ratio is a whooping 88%. It doesn't stop there, the screen pushes 100% sRGB colour gamut using is 2160 x 1440 pixels (2K) resolution and is capable of 1000:1 contrast ratio and 350 nits brightness. Finally, for added protection, the display is fronted with Corning Gorilla glass so it is not prone to scratches.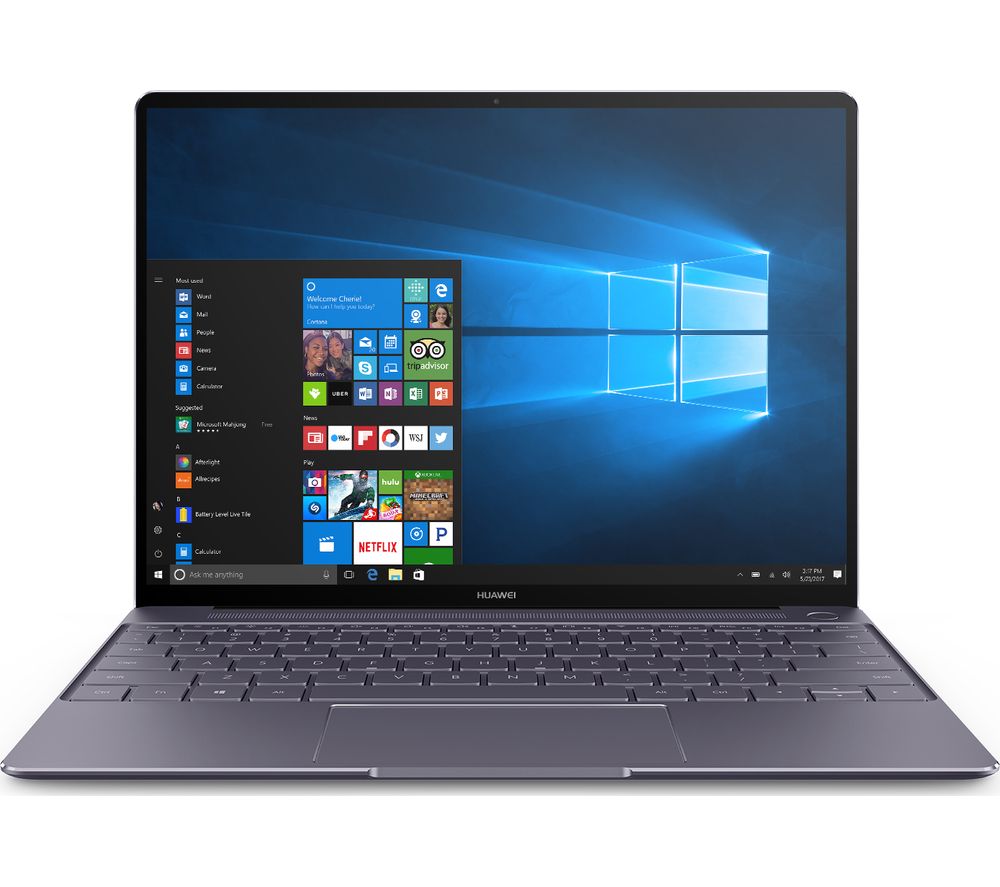 Huawei Matebook 13-inch Laptop (Grey) IPS Screen – (8th Gen Intel® Core™ i5-8265U or 8th Gen Intel® Core™ i7-8565U, 8GB RAM, 512GB SSD, Windows 10 Pro)
Dimensions & Weight: 286 mm width x 211 mm depth x 14.9mm height, 1.3kg
---
2. Huawei MateBook X Pro 13.9-inch Laptop
If you think it's tough to follow-up on the success of Huawei's first attempt at a bezel-less laptop, they have gone and done it again. The MateBook X Pro has a FullView display akin to that on smartphones these days. The laptop spots an impressive 91% screen-to-body ratio with a near borderless display. You can hardly notice the edge or bezel on the device. The top and size bezels are so small, they go unnoticed. While the bottom bezel is slightly bigger, it is still small in comparison to most of the laptops on our list.
The bezel on the MateBook X Pro is even slimmer than the MateBook X, moving the web cam to the keyboard was a bold move and it pays achieving even top and size bezels. Battery life is also significantly better than the MateBook X.
This means the 13.9-inch 3K LTPS touchscreen display with 3000 x 2000 resolution can shine in all its glory. The specs allow it to go against the likes of the Retina display on the MacBook Pro. 100% sRGB colour gamut, 450 nits maximum brightness and 1500:1 contrast ratio is a joy to watch, bringing out all the colours in vivid details. Furthermore, powered by 8th Generation Intel Core™ i7-8565U, the laptop packs plenty of punch especially when it also comes with onboard discrete NVIDIA GeForce MX250 GPU with 2GB of dedicated graphics memory.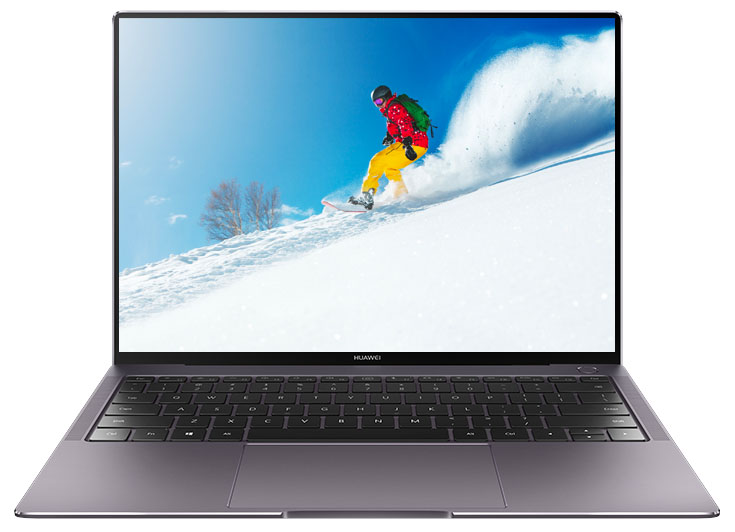 Huawei MateBook X Pro on Amazon
Recommended: Huawei Matebook X PRO 13.9″ Laptop (Grey) 3k TouchScreen LCD – Intel 8th Generation Core i7-8565U or Core™ i5-8265U, 8 GB RAM, up to 1TB SDD, Geforce MX250 2GB GDDR5, Windows 10 Home
Dimensions and Weight: 304mm W x 217mm H x 14.6mm D, 1.33kg
---
3. Dell XPS 13 Laptop
The laptop that started it all. The award winning XPS 13 uses Dell's next generation InfinityEdge display and is powered by Intel's 8th generation Quad Core processors up to Core i7-8550U matching that on Huawei's MateBook X Pro. The new InfinityEdge border is said to be 23% thinner than previous generation making it only 4mm wide achieving a screen-to-body ratio of 80.7%. Dell manages this by moving the web cam and sensors to the bottom bezel just under the Dell symbol.
The XPS 13 may have shed those full size USB ports, but it has improved upon so many thing especially in using the more powerful 8th generation Intel processors and expanded USB Type-C connectivity.
While it can be configured with up to 2TB PCIe SSD storage and 16GB memory, you will have to make do with onboard video card, the Intel UHD Graphics to power the 13.3-inch 4K Quad HD (3840 x 2160) InfinityEdge touch display. The brilliant display is wrapped in machined aluminium chassis and fronted with edge-to-edge Corning Gorilla Glass 4. It is capable of projecting 100% sRGB color spectrum at 1500:1 contrast ratio and 400-nit brightness using an IPS panel with wide viewing angles.
New XPS 13
Things are moving quickly for the XPS 13. In fact so quickly that the new XPS 13 chooses to skip a generation of processors altogether. Choosing instead to use the 10th generation Intel Core i processors, it has given the 9th generation chips a miss. Plus, the location of the web camera has also been improved. Dell has moved the camera to the top bezel while keeping is ultra narrow. It achieved this by using the world's smallest HD web cam measuring only 2.25mm. Back to the CPU, the new XPS 13 can be specced with up to 10th generation Intel Core i7-10510U Processor. This 4 core processor has a boost frequency of 4.9GHz and 8MB of cache.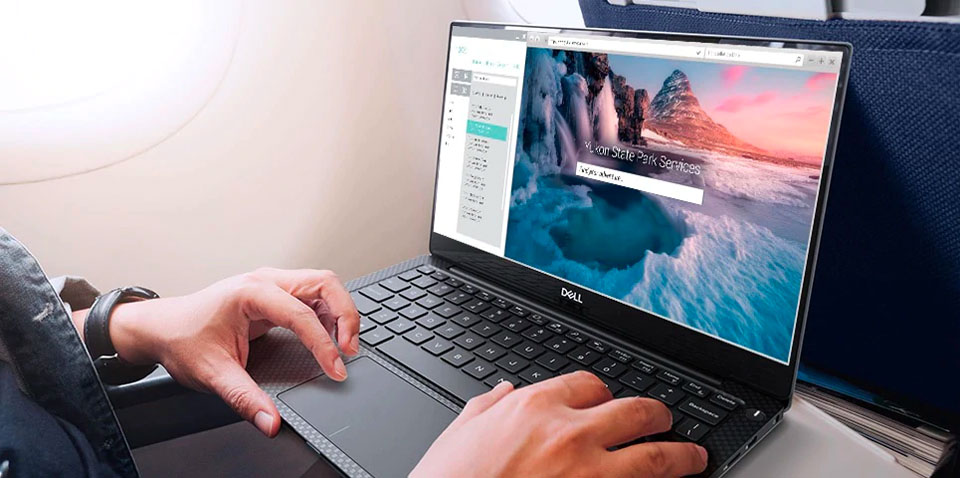 Dell XPS 13 13.3 QHD Touchscreen Laptop – (Up to 10th Generation Intel® Core™ i7-10510U Processor, 16 GB RAM, 1TB GB SSD, Windows 10 Home) – Silver
Dimensions and Weight: 302mm Width x 199mm Depth x 7.8mm – 11.6mm Height, 1.23kg
---
4. Dell XPS 15 Laptop
The bigger XPS15 may not get the same attention as its smaller sibling but it is no less impressive. The bigger 15.6-inch InfinityEdge display is wrapped in slightly ticker bezel at 5.7mm but is still very small for a machine its class. Not only did Dell manage to create that virtually borderless look on the display, it also manages to trim the chassis down to 11-17mm thin and weighing only 1.8kg. Overall, the chassis measures not much more than a typical 14-inch laptop.
The 15.6-inch 4K Ultra HD with 3840 x 2160 pixel resolution InfinityEdge touchscreen display has Anti-Reflective coating, uses IPS technology for wide angle viewing, covers 100% AdobeRGB colour spectrum (wide colour gamut) and brightness of 400-nits. The screen is wrapped in precision cut aluminium back and protected with damage resistant Corning Gorilla Glass 4.
New XPS 15
Like the XPS 13, the web cam has also been moved to the bottom bezel right under the Dell Symbol. This does make the bottom bezel bigger to house both the light source and camera. Beneath the hood, the XPS 15 is powered by 8th Generation Intel Core processors with up to 6 cores using Intel Core i9 processor. On the other hand, newer XPS 15 is powered by 9th Generation Intel Core processors with up to 8 cores.
For graphics, there is the optional NVIDIA GeForce GTX 1050 or GTX 1050Ti with Max-Q Design graphics card with 4GB GDDR5 video memory making the XPS15 an all round machine. However, new XPS 15 with 9th generation CPUs gets the NVIDIA GeForce GTX 1650 with 4GB GDDR5 graphics memory included. The latest XPS 15 also supports up to 1TB M.2 PCIe NVMe SSD storage and up to 32GB DDR4-2666MHz memory.
But, the cherry on the icing has to be the display. Choose the 15.6-inch 4K UHD OLED InfinityEdge display panel when configuring your new XPS 15 for the best viewing experience with true black and deep contrast. In addition to that, it covers a wider colour gamut at 100% Adobe RGB colour and has a brightness of 400-nits.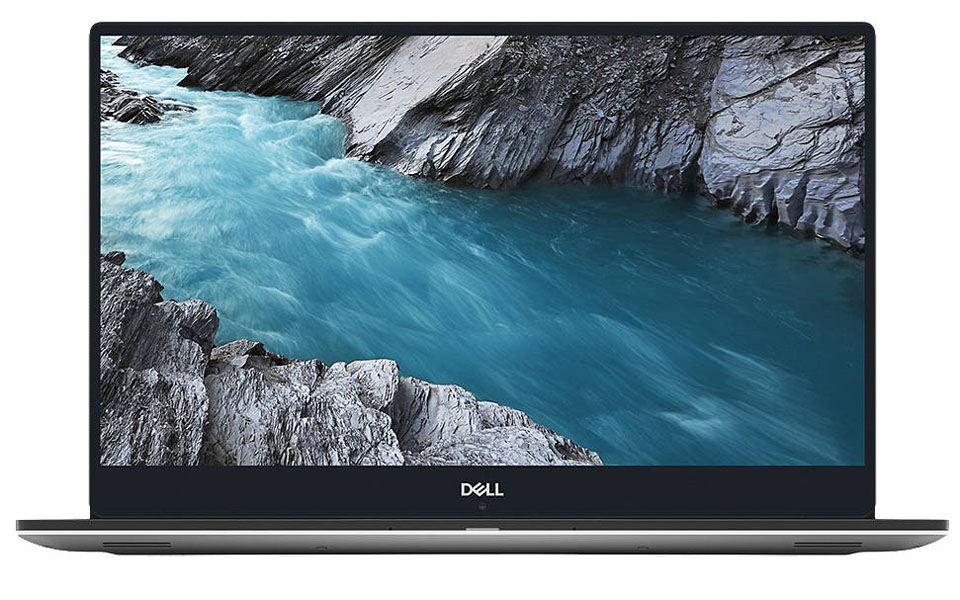 Dell XPS 15, Up to 9th Generation Intel® Core™ i9-9980HK, 32GB RAM, NVIDIA GeForce GTX 1650 4GB GDDR, 1TB SSD, 15.6-inch 4K UHD OLED, Silver
Dimensions and Weight: 357mm Width x 235mm Depth x 11-17mm Height at 1.8kg/2kg
---
5. Lenovo Yoga C930 13.9-inch Laptop
The Lenovo Yoga C930 is a premium entry from the company's vast product portfolio. The convertible laptop has a near-edgeless 13.9-inch 4K Ultra HD 3840 x 2160 pixels display, long-range voice support, high performance components wrapped in premium aluminium wit Mica or Iron Grey finish.
The high-end Yoga 900 series 2-in-1 laptop has dropped the iconic watch band metallic hinge. In its place, a rotating sound bar with Dolby Atmos speaker system integrated into the hinge. The hinge lets you flip the screen 360-degrees to convert the laptop into a writing tablet or use it in tent or presentation mode.
It doesn't stop there, the 4K panel also supports ultravivid imaging with Dolby Vision enabled. Included with the C930 is the bluetooth enabled Lenovo Active Pen 2 that offers a natural writing experience with all its 4096 levels of sensitivity. The digital pen now has a new home in the chassis where it also gets its charge.
The top bezel is a little taller to house the camera but the bottom bezel is way too big for our liking. Still, we are happy to overlook this for the flexibility of being able to use the convertible as a tablet with the stylus. Plus, the web cam now comes with TrueBlock Privacy Shutter, a slider screen that blocks the camera when you want total privacy.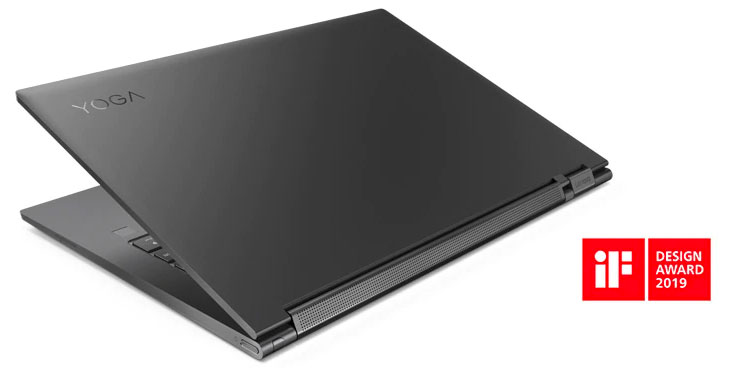 Recommended: Lenovo YOGA C930 Laptop Convertible, Intel® Core™ i7-8550U (1.8 GHz), 16GB, 513GB SSD, 13.9-inch Ultra HD, Platinum, Active Pen
Dimensions & Weight: 322 mm x 227 mm x 14.5 mm (at its thinnest) / 12.7 x 8.9 x 0.57" (at its thinnest), 1.38kg
---
6. Lenovo Yoga S730 13-inch
The Lenovo Yoga S730 13-inch is the affordable mid-range notebook from the Yoga series. Lenovo has updated the chassis to make it the slimmest Yoga notebook in their product portfolio. The notebook only measures 11.9mm thin, that's 2mm thinner than Yoga 730. Still, the ultra portable is not short of features. You get 3-dimensional sound from Dolby Atmos Speaker System, new cooling system, and all day 12 hours battery life. All that in a package that weighs no more than 1.1kg.
Unlike the Yoga C930, the 13.3-inch wide-angle viewing display is only available in Full HD resolution. The vertical bezel is only marginally bigger at 5.9mm again with the top bezel being slightly bigger to house the web cam and that unmistakably huge bottom bezel. Gone are the premium glass back and fancy wrist watch band hinge you see in get in the older Yoga 900 series.
If you are looking for a convertible or 2-in-1 version, check out the Lenovo Yoga C740. While in the past the Yoga name is reserved for convertibles, Lenovo has applied this to both standard laptops and convertibles. To differentiate between them, follow the prefix. The letter "C" points to convertibles. Older Lenovo Yoga convertibles, the Yoga 730 13.3-inch and Yoga 730 15.6-inch are still available.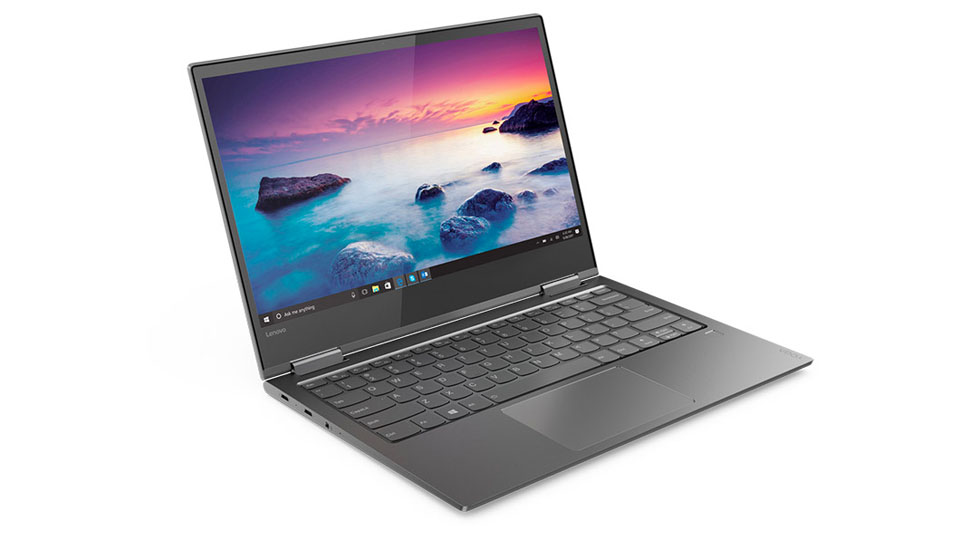 Recommended: Lenovo Yoga 730 13.3-inch Full HD display, Up to 10th Gen Intel® Core™ i7, 16GB RAM, 256GB SSD, Iron Grey or Platinum
Dimensions and Weight: 307 mm x 210 mm x 11.9 mm front edge, 14.1 mm back edge, 1.1kg
---
7. HP Spectre 13
The new HP Spectre 13 in Ceramic White or  is a premium ultra portable with a 13.3-inch 4K Ultra HD touchscreen display. The 4K IPS display is wrapped in micro-edge bezel and edge-to-edge Corning Gorilla Glass NBT. The laptop is thin and crafted from aluminium and carbon fibre. The Spectre is HP's thinnest touch laptop to date measuring only 10.4mm thin and weighing only 1.1kg. The biggest update has to be the disappearing hinge. The hidden coaxial hinge is designed to fold flush and disappear from view.
This is definitely the most sophisticated ultra slim Spectre laptop. It is not only elegant but practical too with a full size edge-to-edge backlit keyboard, relatively spacious touchpad and multi-touch support on the 4K display.
While it is slimmer and lighter than the Envy, it is still capable of 11 hours and 15 minutes battery life with innovative battery design. Fast Charge lets you top it up quickly when the battery runs low. For power, it uses the 8th generation Intel Core i5 or i7 quad core U-series processors, up to 16GB memory and up to 1TB flash storage. To keep it running cool, it employs and IR sensor to capture the skin temperature in real time and regulate the air flow accordingly. Audio is provided by HP Dual Speakers, custom-tuned by Bang & Olufsen.
If you prefer a 2-in-1 hybrid profile, the HP Spectre x360 or HP Spectre 15 are your options with a 13.3-inch and 15.6-inch 4K UHD touchscreen displays respectively. While HP's attempt at minimal bezel and nearly borderless display is commendable, it is still bigger than compared to Dell XPS or Huawei MateBook X series. However, it does this without moving the web camera and sensor from its usual place on the top bezel which some would prefer.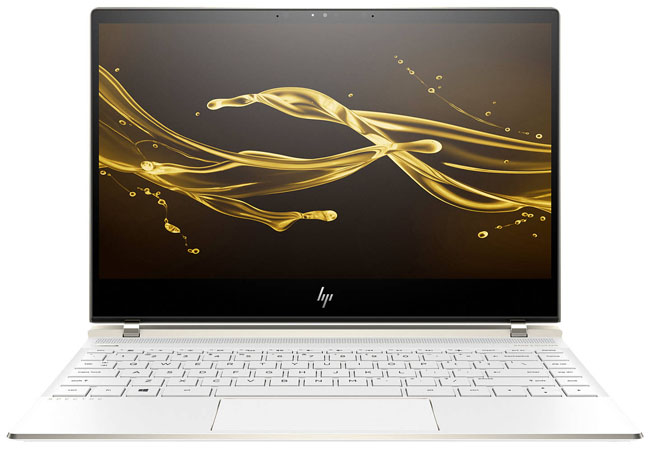 Recommended: HP Spectre 13 Laptop, Intel Core i7, 8GB RAM, 512GB SSD, 13.3″ 4K Ultra HD, Ceramic White/Gold
Dimensions and Weight: 30.82 x 22.42 x 1.04 cm, 1.11kg
---
8. Asus ZenBook
While the ZenBook S and Pro lines already come with minimised bezels, the new mid-range ZenBook and ZenBook Flip are getting a serious makeover. The new ZenBook and ZenBook Flip will come with ultra slim bezels, so small that it rivals that of XPS series from Dell. The manufacturer claims that the screen to chassis ratio is among the highest at up to 95%. The trick is not only to shave off the bezels on the top and sizes of the display but on the bottom side too making it a nearly edgeless design.
Even with the ultra slim bezels, ASUS is still able to squeeze a 3D infrared HD camera into the top bezel. The laptop may not come with a screen for touch pad (ScreenPad) like those found on the ZenBook Pro but you get a choice of glass with LED lit virtual number pad, what ASUS calls the (NumberPad) or standard. The ZenBook is available with different screen sizes, 13, 14 or 15. On all three models, you get to enjoy full size keyboard with long key travel and a keyboard tilting hinge using the bottom of the lid as a stand.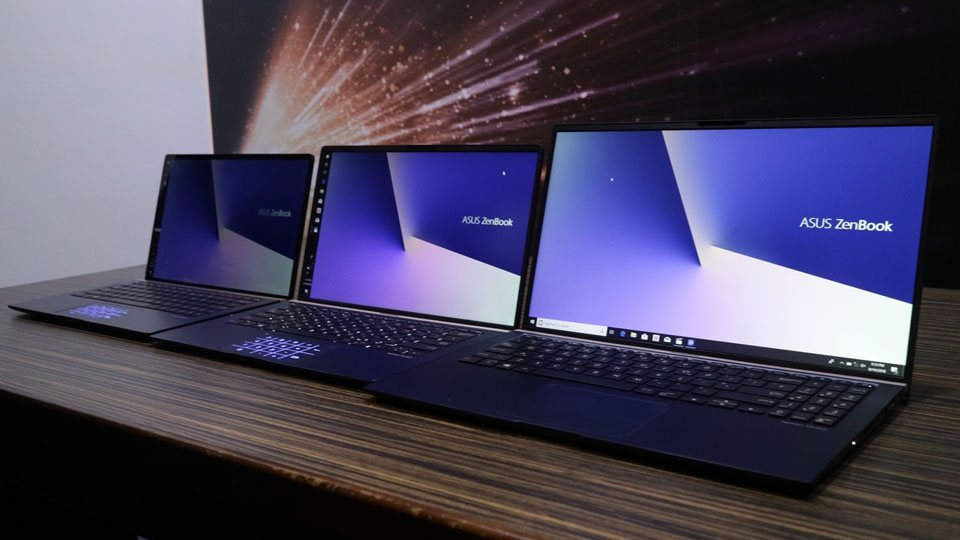 For a balance between portability and size, we would go for the ASUS ZenBook 14.
Recommended: ASUS ZenBook 14 Intel Core i7 (8th Gen) 8565U / 1.8GHz Max Turbo Speed 4.6GHz Quad Core Processor, 8GB RAM, 512GB SSD, 14-inch Full HD NanoEdge Display (1920 x 1080) resolution, Royal Blue Finish.
NanoEdge Bezels: 2.9mm on the sides, 3.3mm at the bottom, 6.1mm at the top
A4 foot print, 15.9m thin, 1.19kg
---
9. Asus ZenBook S
While not as bezel free as the new ZenBooks above, the ultraportable ZenBook S and leading edge ZenBook Pro both have other things to offer. With the ZenBook S, the 13.3-inch all metal unibody laptop has a super slim lid and chasis. The 4K UHD display is wrapped with NanoEdge display bezel measuring 5.9mm, a recorded 85% screen-to-body ratio. The lid doubles as a stand for the base, giving it a 5.5 degree tilt for a better typing position. Asus calls this the ErgoLift hinge. The design is said to also offer better cooling and audio performance. It is not short on performance either, with up to a Core i7-8550U processor 1.8GHz quad-core with boost frequency of up to 4.0GHz and up to 1TB PCIe x4 SSD storage and up to 16GB of RAM, there is nothing this ultra portable can't do.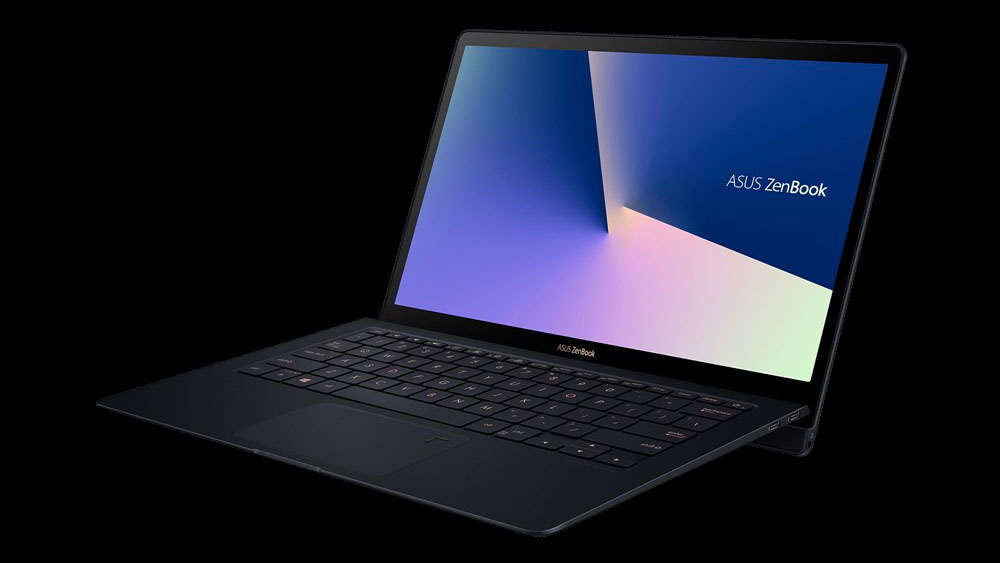 Recommended: ASUS Zenbook S 13.3-inch 4K Ultra HD Intel® Core™ i5-8250U Laptop – 8GB RAM, 256 GB SSD
Dimensions & Weight: 129 x 311 x 213 mm (H x W x D), 1.05kg
---
10. Asus ZenBook Pro
ASUS ZenBook Pro has been the talk of the town. Forget the MacBook Pro's Touch Bar, the ZenBook Pro has a Touch Screen display and a screen pad in place of the conventional track pad as a pointing device. Remember Razer Project Linda, a concept laptop with a dock for the Razer phone, the ZenBook Pro has an integrated 5.5-inch screen pad, a display the size of a smartphone. This effectively makes the laptop a dual screen device with both being touch screen displays. The second touchscreen lets you call up calendar, calculator, fast forward YouTube video and as a quick access bar to open your favourite apps.
Available in two sizes, the ZenBook Pro 14 and ZenBook Pro 15 with the former having a 5.2mm bezel with 86% screen-to-body ratio and the latter having a bigger 7.3mm bezel with 83% screen-to-body ratio. Both laptops are available in multiple configuration but the bigger ZenBook Pro 15 can be had with a seriously powerful Intel Core i9-8950HK or Intel® Core™ i7-8750H processor, a hexa-core processor clocking at 2.9GHz with 12M cache or 2.2GHz with 9MB cache respectively.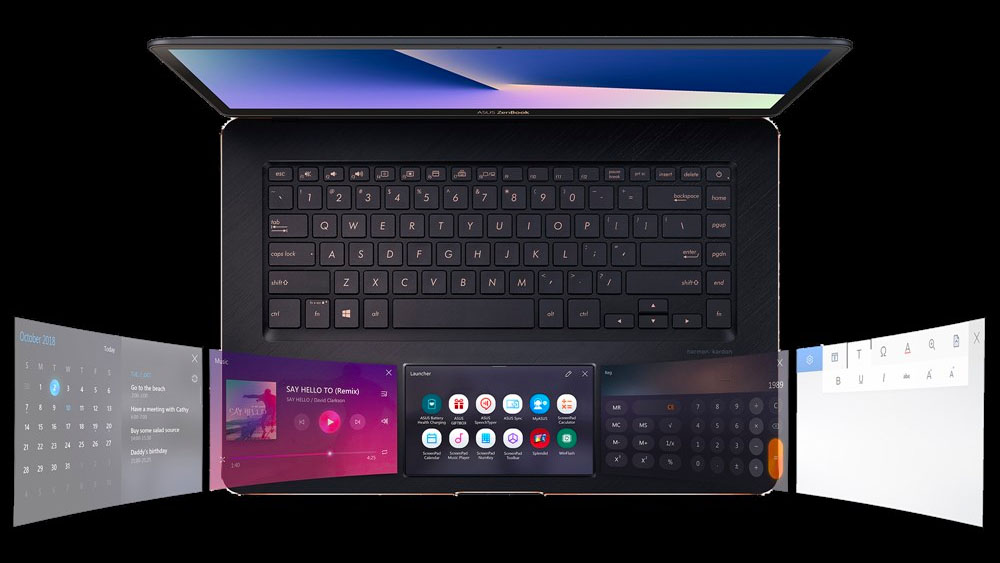 Recommended: ASUS ZenBook Pro 15.6-inch Intel® Core™ i7-8750H Hexa-Core GTX 1050 4GB Laptop – 16GB RAM, 512 GB SSD, Black
Dimensions & Weight: 19 x 365 x 251 mm (H x W x D), 1.89kg
---
11. HP ENVY 13 Laptop and ENVY x360
The HP Envy 13 is an ultra portable laptop that ticks many boxes less the premium price tag. The 13.3-inch Full HD (1920 x 1080) touch screen display is enclosed in micro-edge bezel and covered with Corning Gorilla Glass NBT to protect itself against scratches. Powered by either an Intel Core i5-8265U (1.6GHz boost to 3.9GHz) quad core processor or Intel Core i7-8565U (1.8Ghz boost to 4.60GHz) quad core processor with integrated NVIDIA GeForce MX250 graphics, 8/16GB RAM and 256/512GB SSD storage, you have not only an elegant machine but a very capable one too.
The edge-to-edge Full HD touchscreen delivers an immersive visual experience to any photo, video or game. Throw in the expert tuned Bang & Olufsen audio and you have yourself an entertainment system too. Battery life is an amazing 15 hours and 30 minutes per charge and when you run low, Fast Charging will soon bring you back up. If you are looking for a convertible instead, check out the HP Envy x360.
Recommended: HP Envy 13.3-inch FHD Intel Core i7-8550U Quad Core with NVIDIA GeForce MX150 2GB GDDR5, 16GB RAM, 512GB SSD
Dimensions & Weight: 30.7 x 21.15 x 1.47 cm (W x D x H), 1.2kg
---
Acer Swift Ultra-thin Series 1, 3, 5 and 7
The new Swift Ultra-thin series from Acer now spots ultra slim bezels too. From the budget 1 series to the mid-range 3 and 5 series to the chart topping 7 series, the entire Swift Ultra-thin family now spots super slim side and top bezels. The bottom bezel is big and carries the Acer symbol. Our favourite is the ultra portable and ultra slim, Acer Swift 7 available with a 14-inch touchscreen display.
The multiple award winning laptop is also the world's thinnest laptop (as of 5 January 2018) measuring only 8.98 thin, almost as thin as a smartphone. Being the thinnest means something has to give. The Acer Swift 7 is powered by the 7th generation energy efficient Intel Core i7-7Y75 dual core processor clocking in at 1.3GHz only. With 8GB of RAM memory and 256GB SSD storage, this is sufficient for day to day computing and then some but not quite ready for heavy lifting. While it has decent battery life and built-in LTE option, the super slim and swish design cannot make up for the lack of performance at this price point.
Recommended: ACER Swift 7 14-inch FHD Intel® Core™ i7-7Y75 Dual Core Laptop 8GB, 256 GB SSD
Dimensions & Weight: 328 mm Width x 237 mm Depth x 9mm Height, 1.20 kg (Approx)
---
Others: