Colouring and colour pencils used to be child's play… and real adults with real jobs would not dream of spending their time colouring. These days however, colouring and it's vast benefits from calming qualities, quiet time and meditative effects are wide-spread and it has become a serious leisurely pursuit for many. For this reason, high quality colour pencils are now in great demand. Where before, good colour pencils used to be a specialist art tool, these days the promise of smoother more vibrant colour, has become more generally desired.
Check out these posts on recommended adult colouring books.
Of course, there are many who create amazing works of Art with the simplest tools, including children's Crayola colour pencils, however for those wanting a bit more finesse and more vibrant colour then one of these sets of artists' colour pencils may be the better option.
Almost all the sets listed below come in set sizes ranging from 12 to a hefty 128, with the exception of Caran D'arche SwissColor Luminance which comes in sets of 30, 40 or 76.
Top 7 Colour Pencil Set
Do use the links on the title to access the different colour pencil sets on Amazon.
Tin of 12, Tin of 24, Tin of 36, Tin of 60 or Tin of 120.
The Faber Castell Polychromos is akin to the Rolls Royce of colouring pencils. They are the go-to for many professional artists who focus on colour pencils as a medium. The colours are vibrant and smooth leaning towards the softer side. It is more oily than waxy and because the lead is generally soft. Due to the softness of the lead, these pencils need a good sharpener. There is a recommended Faber Castell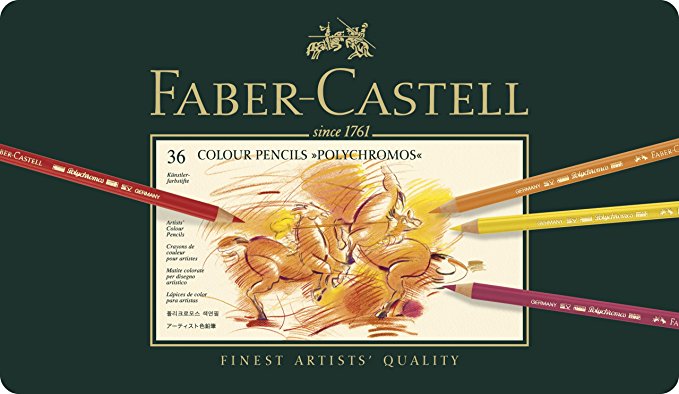 Faber Castell Polychromos on Amazon
---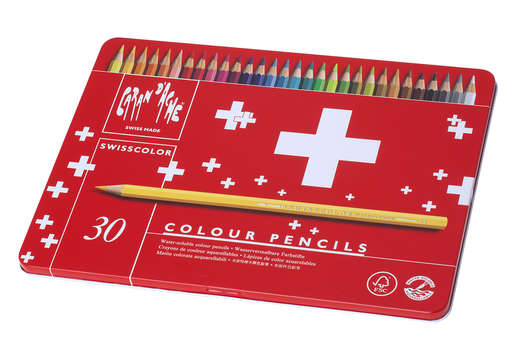 Caran d'Ache Swisscolor on Amazon
ALSO: Caran d'Arche Prismalo Aquarelle
Preferred by artists and creative professionals, the Swiss made Caran d'Ache is no stranger to the colouring and water soluble pencil market with a wide range of offering to suit any user. From architects to graphic designers to illustrators, no matter what your background is, between the Swisscolor and Luminance Caran d'Arche has you covered. The lead is fine, water soluble and light on resistance encased in hexagonal cedar wood.
Available in 6, 12, 18,30, 40 or 80 colours.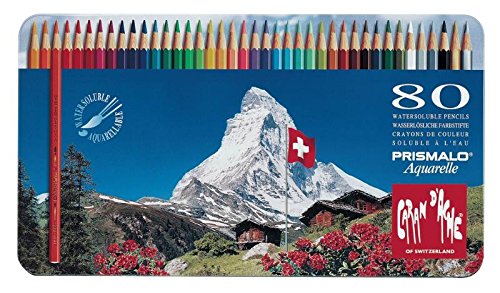 Caran D'arche Prismalo Aquarelle on Amazon
The Prismalo Aquarelle is the water colour option for Caran D'arche pencils.
Other color pencils from Caran d'Ache includes the Pablo, Supracolor Soft Aquarelle and Museum range in a variety of different pack sizes.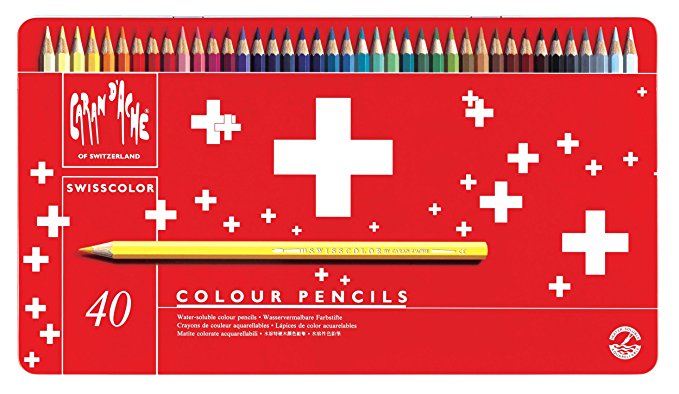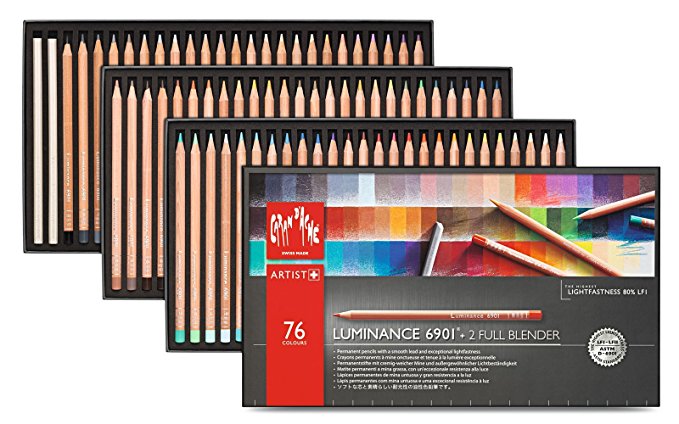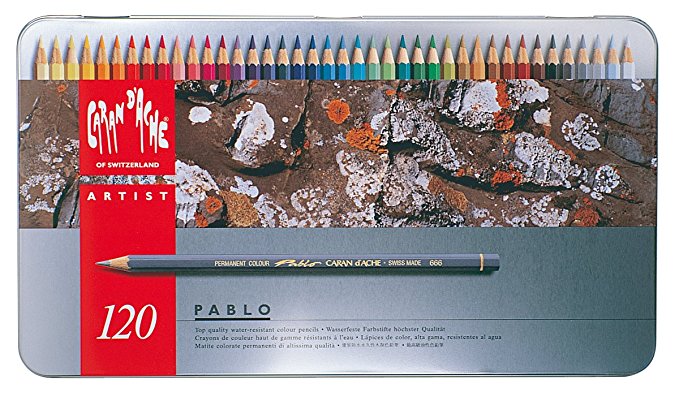 ---
The Sanford Prismacolor is another great option for the more serious colourist. With a large range of colours and options, the colours are bright and vibrant perfect for full image colours. The texture of the colour leans towards the waxy form which is on the soft side. This set of colour pencils will also need a good sharpener.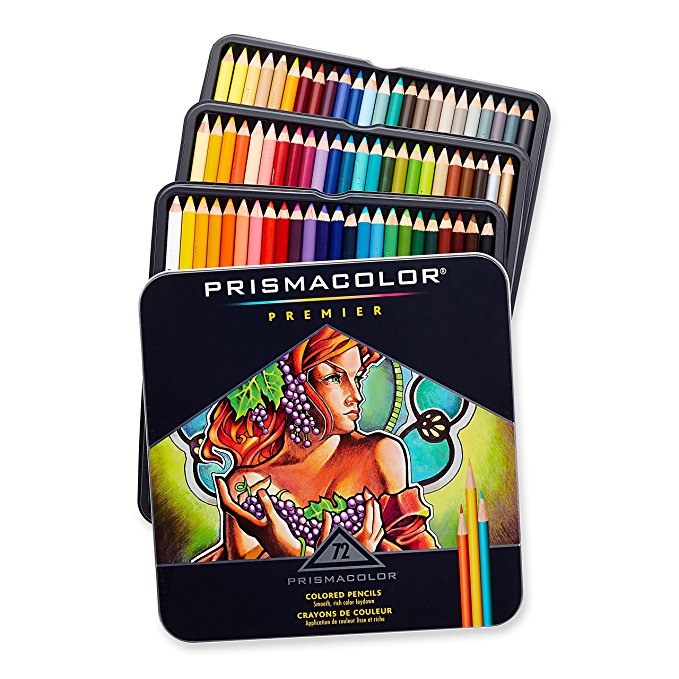 ---
The Koh-i-Noor Polycolor range of colouring pencils are a wooden coated set of fairly soft and oily pastel type pencils. They are strong and vibrant in colour and manage to blend and colour well without smudging. The softness of the lead does mean that care has to be taken when sharpening, as such probably best to get a decent sharpener.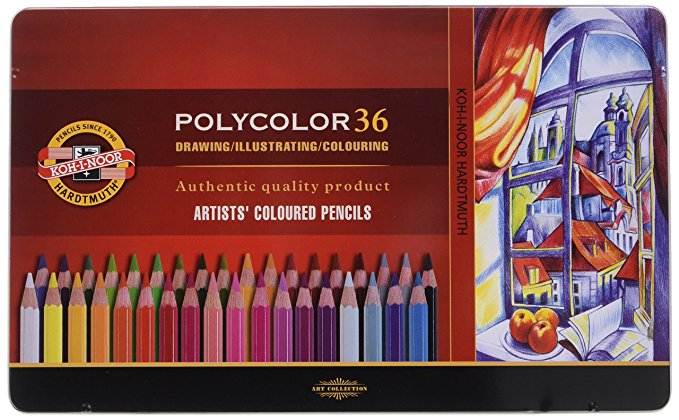 Koh-i-Noor Polycolor on Amazon
---
The Derwent ProColour professional series are versatile colouring pencils offering bold and vibrant colours for a professional finish. The ProColour set is available in metal tin or wooden gift box set and contains 72 colouring pencils. Each colouring pencil has its colour name and number embossed in silver on its easy grip round barrel. The pencils offer high pigment traces and smoothness. This is ideal for detailed work with minimal dusting and a smudge free finish. The ultra smooth texture also allows for better colour blending and layering. Derwent describes the ProColour range as having the covering power of wax yet glides like an oil.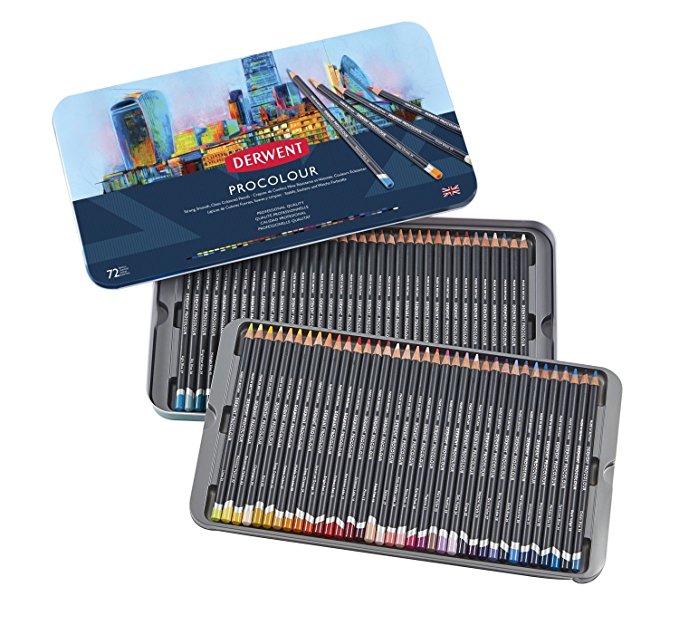 ALSO: Derwent Inktense Permanent
While Derwent do ordinary colour pencils and water solubles, the Derwent Inktense Permanent are more like ink pencils. A well received product in the market, the Inktense range offers professional quality pencils with rich and vibrant colours. You can use it straight as dry pencils or with water for an ink-like effect. The colour is easy to blend and shade. You can use the included white pencil or waxy outliner for pastel effects. As it is permanent, you can even use it on fabric to crate your own design on bags or t-shirts. Available in set of 12, 24, 36, 48 or 72 in either tin or wooden box (48 or 72 colours only).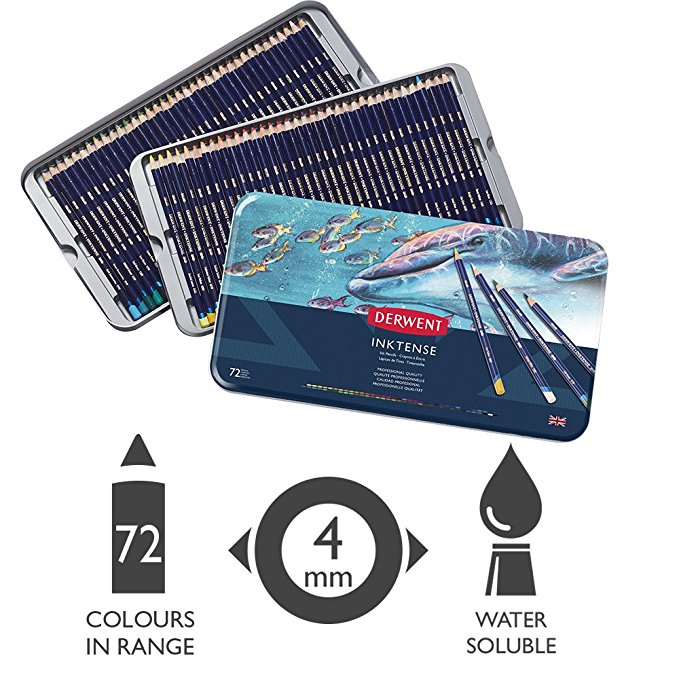 ---
The Lyra Rembrandt Polycolor colour pencils are another great option for  colours.  in Available in 12, 24, 36, 72 and 105 colours. The 105 box comes in a wooden box with a range of accessories you might need for your artistic adventures. Our choice would be the set of 72 in tin. The Rembrandt Polycolor series from the German company offers artists a professional finish; fine and smooth colours, strong core with 4mm diameter and light and water resistant.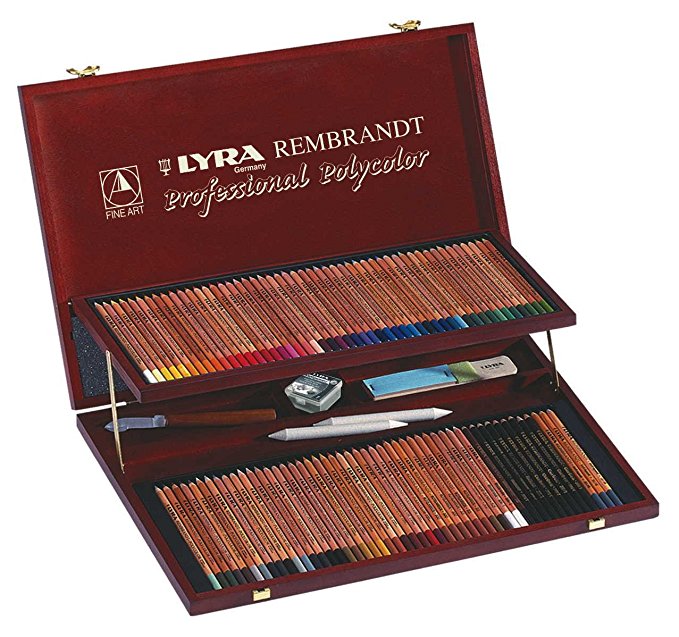 Lyra Rembrandt Polycolor Art Pencils on Amazon
---
The Raffine Color 7100 series is a collection of oil based colour pencils for more luster than water-soluble pencils offering better chromaticity, softness and smooth as well as rich colour pigment. Made from CE Authenticated recycled wood, it sharpens easily, creates a clear and uniform colour when shading and does not fade easily.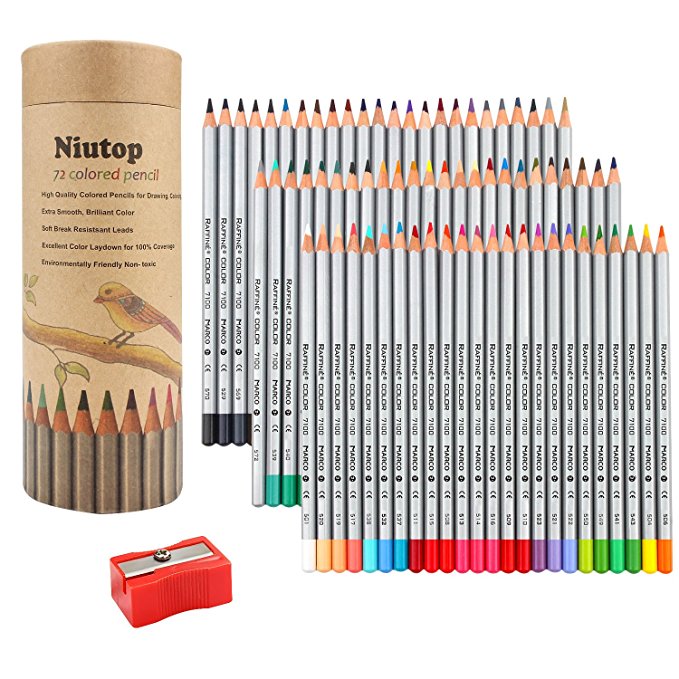 Also available with pencil wrapped pouches.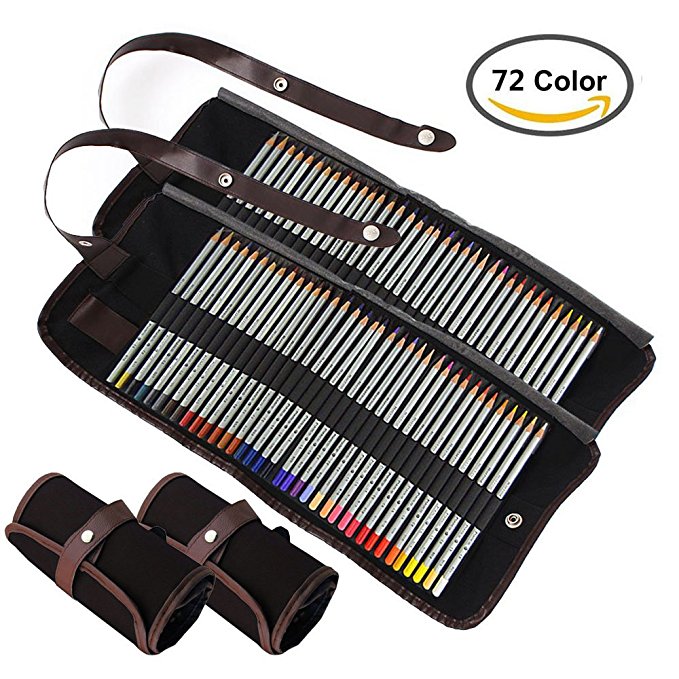 ---
Alternatives
Colleen
Colleen are a well-known brand in Asia. Originally Japanese in origin, these colour pencils are now made in Thailand. They are best recognised from their double-tip two colour system, making each pencil actually half the size of the standard ones. That said, the lead is strong, it sharpens well and the colours go on smoothly with a waxy finish.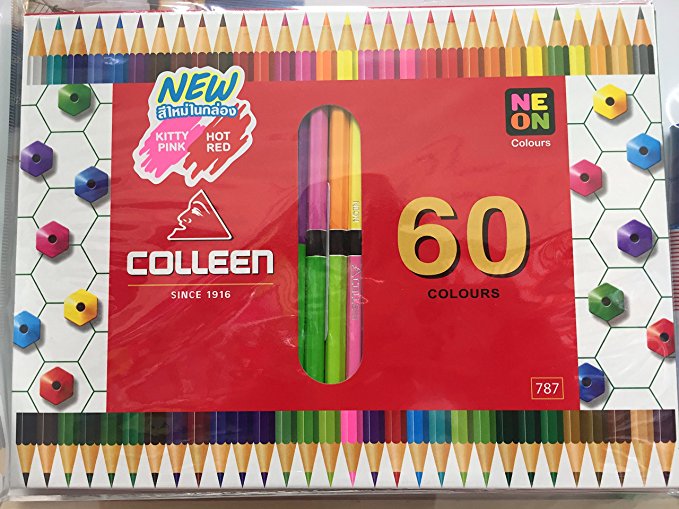 Colleen Coloured Pencils on Amazon
Pentel
Pentel is also another well-known brand in Asia with a smaller presence in the West. Although best known for their pastels, Pentel's colour pencils are reasonably smooth and vibrant. They are more waxy than oily and colours go down well. Boxes of 6, 12, 24 or 36 available.
Crayola
Crayola is almost every child's go-to choice. It's bright vibrant packaging, range of colours and the huge variety of different types of pencils, from straight colour pencils to window crayons to chalk markers, if it can be turned in to something colour related, Crayola have probably done it.
While Crayola are not the typical go-to choice for more serious colourists, they do offer a good product and are definitely at the more affordable end of the market. If you're just starting out and are unsure about whether you would really like to get in to colouring, Crayola may be a good place to start.
Crayola Colored Pencils on Amazon
In conclusion, there are a huge range of options from pencil-lead type, to colour range, to size and shape of pencils for a variety of budgets available to everyone. The key here is really to be able to understand what you want to do with the colour pencils, the look you wish to accomplish in your finished art piece and what budget you have for your colour pencils. Happy colouring!
Essentials for Colouring Pencils
When you have chosen a good set of colouring pencils, consider a good eraser, a set of burnisher and blending colour pencils and a good sharpener. Consider a premium quality eraser with firm feel but soft to not rip the paper. You can also find small point tip erasers in a battery operated eraser pen perfect for precise and fast erasing.
For burnishing and blending colours, choose a set of colourless pencils to help create the effects. These hard colourless pencils when applied over layers of pigment not only offers a polished finish but allows you to create a subtle blending effect of the colours. These are a must have if you work a lot with coloured pencils.
Finally, it is worth investing in a good pencil sharpener to help get the most of our colour pencils. A good pencil sharpener needs to be exactly that, sharp. You also need to consider the diameter of your pencil, tip sizes and the ability to see how much of the lead or pencil you are shaving off. The latter is to avoid over-sharpening and wastage. We would only recommend manual pencil sharpeners as these offer more control over electric or battery powered ones.