The education market is huge and Apple knows this but what about Microsoft. Since Microsoft stopped selling the 10.8-inch Surface 3 tablet back in 2016, there hasn't really been an entry level tablet for the education sector from the tech giant, until now. Surface Go, a 10-inch tablet is going up against Apple's iPad 9.7-inch and Samsung's Android tablets.
Budget Tablets with Pen Support: Priced to sell, these tablets start from $329 and is packed with features and is full of ambition, eager to take on any challenges. The list below shows other tablets currently in the market priced within the $300-$400 mark. Use the links below to find the latest offers.
Judging from the price alone, you can see that this is a device targeted at Apple's entry level iPad. At the time of writing, Samsung is offering a saving of $50 on the Galaxy Tab A 10.1 with S Pen 16GB WiFi makes it the cheapest tablet compared to Microsoft's or Apple's. Prices of Android tablets have always been volatile and manufacturers like Asus, Lenovo and Huawei offer budget tablets to undercut the big three. Microsoft is entering a very competitive market but every student needs a tablet and the education market is big enough for everyone.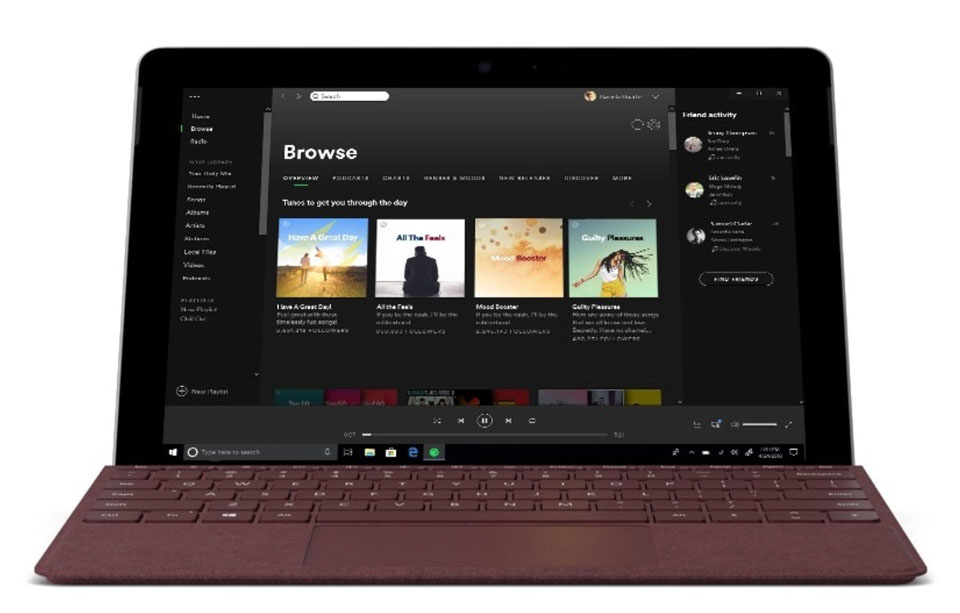 Microsoft Surface Go Designed For Education
The Surface Go is Microsoft's latest hardware offering to complete the family of Surface products from the company. It is also the most affordable Surface device with the promise of a big seller aiming at those who want nothing less than premium design and solid build quality.

Microsoft Surface Devices on Amazon
It's easy to see how this little tablet is going to be a run away success. Based on tried and tested slate design with kick stand, the Surface Go looks like a shrunken down Surface Pro. It has that iconic angular edges and clean curves. It is designed to support a detachable keyboard with touchpad, turning it into a hybrid 2-in-1 PC together with the new generation Surface hinge.
One of the biggest plus of the Surface Go is its display. With 100% SRGB and 75% Adobe RGB colour accuracy projecting at 405 nits peak brightness, it's one of the most colour accurate display in the market.
The touchscreen is protected by tough Gorilla glass 3 and the 10-inch display panel outputs a respectable 1800 x 1200 pixel resolution, that's 217 PPI pixel density to ensure that everything looks sharp. It even uses the same 3:2 aspect ratio the company used for the Surface Pro. In fact, it also shares the same graphics processing unit (GPU) with the entry level Surface Pro, the Intel HD Graphics 615.
Just as Apple introduced Apple Pencil support for the entry level iPad, Microsoft is not about to miss the boat. The Surface Go too, supports a pen input device, the Surface Pen, making it a great tablet for annotating, doodling, writing and showing off your artistic prowess. Like its bigger sibling, the touchscreen supports 4096 levels of pressure sensitivity to ensure that you get a smooth and responsive writing experience.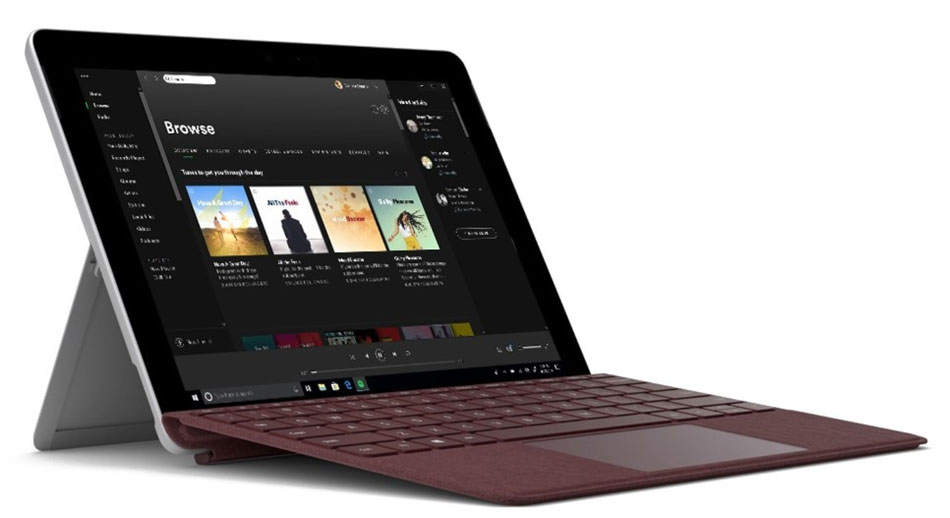 Some of the similarities goes skin deep between the Surface Go and Surface Pro goes beyond the looks. The Go also has a 3.5mm headphone jack, Surface connect port and Surface Cover port and microSDXC card reader. What it doesn't have is a Mini Display Port and Full size USB 3.0 port but it makes up for these with a USB Type-C port. The latter is not a Thunderbolt 3 port so you can't use it as a display or connection to external GPU. The device is also said to be compatible with Surface Dial off-screen interaction.
In the optics and audio department it again shares the specification of its bigger sibling with a 5.0MP front and 8.0MP rear camera both capable of Full HD 1080p video capture. The slight difference here is that the Go spots a single microphone while the Pro has a dual microphone setup. It does make up again for this with a 2W dual front firing speakers with Dolby Audio Premium. The Pro has a slightly less powerful 1.6W variety. The sound it makes is enough for one in a dorm but don't quite cut it in wide open spaces.
As sensors go, you get your standard ambient light sensor, accelerometer, gyroscope and magnetometer. But the biggest selling point for this device has to be how compact and light the device is. It measures 245 mm x 175 mm x 8.3 mm (9.65 " x 6.90 " x 0.33 ") allowing it to fit easily in your bag even with the Surface Type Cover. Having a smaller screen also meant the device is able to shed some load. It weighs only 522 grams compared to Surface Pro weighing from 768 grams.
How Does It Perform
The big difference is in the heart of the device. The Surface Pro uses the Intel Pentium Gold Processor, a dual core Kaby Lake CPU clocking at a base frequency of 1.6Ghz. This is paired with either 4GB memory and 64GB storage or 8GB memory and 128GB storage. Performance wise it is a processor designed for light computing tasks, such as web browsing, text and spreadsheet processing, movies, and light casual PC games. It lags greatly behind the entry level processor used on the Surface Pro, the power-efficient Intel Core m3-7Y30 as you can see from the chart below (source: cpuuserbenchmark.com).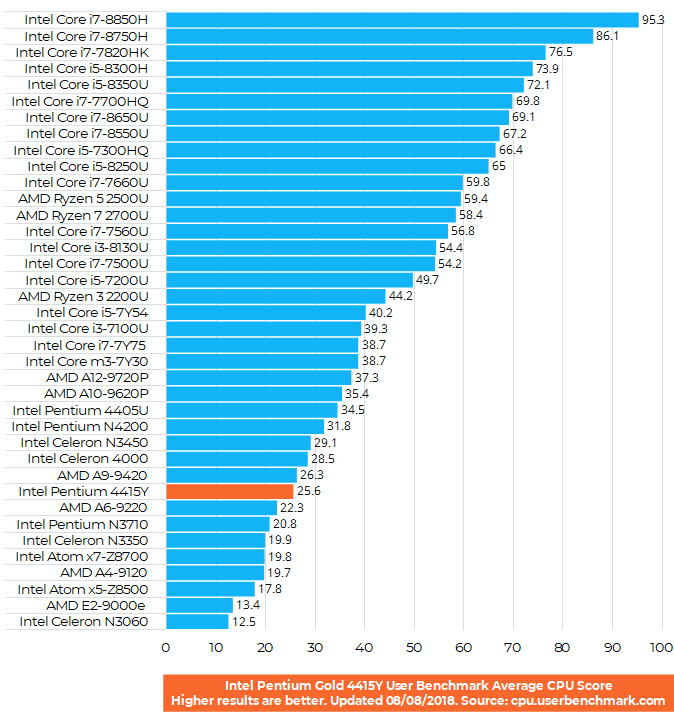 Now, biggest question is will it cope with the daily demands as a tablet and sometimes a laptop. Running a skinny version of Windows 10, the Windows 10 in S mode first introduced in the Surface Laptop, the device is limited to only apps from the Microsoft Store within Windows. The 'S' in S mode stands for Streamlined. A sort of cut down version to work more efficiently on smaller, less powerful platforms.
Reviews using the 8GB memory and 128GB SSD storage edition ran smoothly with no lag, even with multiple tabs in a Chrome browser, Photoshop, Microsoft Word and Music playing in the background. Even with that many applications loaded in memory, it was able to cope with pinch and zoom and scribble with Surface Pen on Photoshop with hardly any noticeable latency. However, the same cannot be said for the 4GB memory and 64GB eMMC version.
Locking down access to apps gives Microsoft more control over what you can do on the device and we can safely say that it's not a lot. Compared to Apple's App store with around 2 million of apps and Google Play store with nearly 4 million (3.8 million) apps, Microsoft Store only around 700,000 apps based on Quarter 1 2018 data. This will probably be enough for most users but power users may wish to consider a more powerful device such as the Surface Pro. See our recommendation below.
Obviously, you are going to want to manage your expectations and not have too many things open at the same time to improve on performance. Certain types of games and light Photoshop editing will run on the device but don't expect to edit 4K video editing or 3D studio. It's going to struggle big time. Remember, the Surface Go, while it offers the versatility of a 2-in-1 PC, it is a tablet first and a secondary device at that. Meaning to say, it is definitely not a laptop or desktop replacement but a tablet at best.
Microsoft claims that the Go's battery will last up to 9 hours. With average use, it is unlikely to hit the mark. It all depends on what you do on it. Still, a promise of a full days use with plenty of connectivity options, support for keyboard and pen input and even Microsoft's fancy dial albeit off-screen will appeal to many as the device to have in between the laptop and the desktop.
Note that while you can upgrade to a full version of Windows, we would strongly advise you against doing this. Play to the strength of the device, as a tablet first. Don't try to make it do too much. Don't expect it to replace your laptop. You will just end up with an expensive tea tray or chopping board or a super expensive digital photo frame. Use it to complement your laptop or desktop.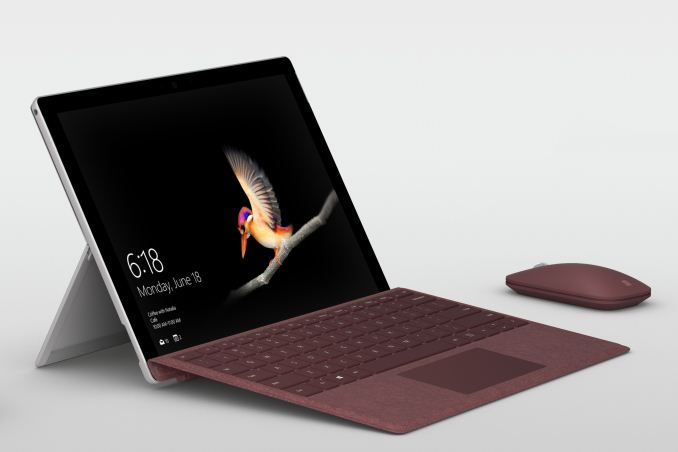 Surface Go for School
Use the Surface Go for school work and home projects, managing your emails, reading ebooks, browsing the web, catching up on your TV shows and connecting with friends. The keyboard, mouse and pen are available separately so factor those into your budget when considering the device. These accessories may give you a false impression that it is a do-all gadget but keep your expectations in check. While it is a great tablet for day-to-day software and apps, capable of running MS Office and even Photoshop with the input devices; Surface Go Signature Type Cover, Surface Mobile Mouse and Surface Pen, it is ultimately a tablet first not a desktop or laptop replacement. I could not stress this point more.
To ensure the longevity of the device, given that both model uses the same processor, we would recommend going for the 8GB memory and 128GB SSD storage model as oppose to the 4GB memory and 64GB eMMC model. You are going to benefit greatly from doubling both the memory and storage when multitasking or having more apps, windows and browser tabs open. It should keep your machine going for a couple more years. If you need more storage for data and files, use the microSD card slot. It supports up to 1TB of extra storage.
Surface Go accessories are available in four different colours Black, Platinum, Cobalt Blue or Burgundy. Surface Go Signature Type Cover, Mouse and Surface Pen are sold separately.
Surface Go Alternatives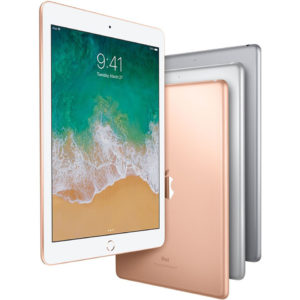 Apple added stylus support to their latest iPad 9.7-inch (2018) bringing with it a value proposition that rivals even its own iPad Pro. The entry-level iPad 9.7 spots a new A10 Fusion chip, powerful enough to support 4K video editing, playing graphics intensive games and using the latest augmented reality apps, something we wouldn't dare attempt on the Surface Go. The multitasking ability brings it closer to the experience you would get from Windows 10 operating system but not perfect. You can have two panes side by side and switch between apps with simple gestures but that is about it. Throw in the optional Apple Pencil and Smart Keyboard cover, and you've got yourself a super competent tablet that also lets you use it like a laptop. Retailing from $329, it is cheaper than the Surface Go and will appeal to many students but like the Surface Go, one must factor in the pricey Apple Pencil and Smart Keyboard cover as part of their budget when considering the tablet.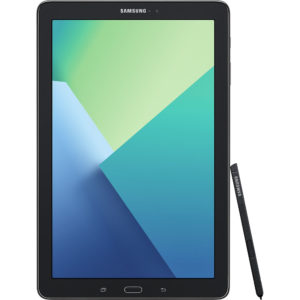 Cheaper of the two Surface Go alternatives given current offers, the Galaxy Tab A 10.1 with S Pen is Samsung's mid-range tablet originally priced to compete with the entry level iPad. A premium alternative to the Tab A would be the company's Tab S3 and the upcoming Tab S4 armed with top of the line specifications to go against the iPad Pro. The Tab A 10.1-inch tablet is a direct competitor to the Surface Go. Some retailers are offering the tablet with the optional S Pen. Like the iPad, it supports split screen multi-tasking but with support for up to 4 applications open on the screen simultaneously but again, it is no where near the type of multi-tasking that Windows offers. The WUXGA or 1920 x 1200 Full HD display is slightly higher than that on Surface Go. Throw in the optional keyboard cover and Microsoft 365 subscription and you have a truly viable Surface Go alternative with Office suite of apps for school and work. We recommend getting the 32GB version and additional storage in the shape of microSD card.
Other Premium Tablets
If you are looking for something with more power under the hood, check out these bigger siblings:
Please note that the prices listed above are Recommended Retail Price (RRP). You can find the latest offers on Amazon by click on the links above.
Remember, both Apple and Microsoft offers special pricing for eligible students, parents and teachers however, there are times when you can find cheaper deals on the Internet.