Flagship smartphones are pushing the boundaries of phone photography with each release performing better than the last. Incredible AI, use of multiple lenses, camera sensors and software are turning the phone in your pocket into a little pro-shooter.
DXOMARK
, an independent benchmark for image quality. There you will find how your phone or your next upgrade ranks in their
DXOMARK Mobile
benchmark table. See table for the top 10 best camera phones in Q3 2018.
Some of the top smartphones with incredible camera features and performance include Huawei P20 Pro with its triple camera setup, HTC U12+, Samsung Galaxy S9 Plus, Xiaomi Mi 8, Google Pixel 2 and Apple iPhone X, Huawei Mate 10 Pro, Xiaomi Mi MIX 2S and OnePlus 6.
Essential Mobile/Smartphone Photography Accessories
But having the best camera phone does not automatically means you can take the best photos. What smartphone cameras lack compared to its DSLR counterparts can be made up with these essential accessories to remove some of the limitations allowing it to taken even better photos.
1. Lenses
DSLRs and Mirrorless cameras are not the only ones having all the fun with interchangeable lenses and filters. You can do the same with smartphones too. The problem with smartphone lenses are that they have fixed zoom. While you may get a second telephoto lens or a wide angle lens in a dual camera setup, for optical zoom or wide angle view, these lenses are just that, as it comes with the phone.
With add-on lenses, ones that go over your existing lens, you can take advantage of fisheye, super-wide angle or macro shots beyond your standard point and shoot. Some add-ons even offer interchangeable lens system that lets you swap lenses quickly. The trick is to choose the snap-on or clip-on lenses that work with your phone and for the kind of photography you wish to do.
Some of the popular and low cost smartphone lens kits from AMIR, MPOW, NELOMO and Xenvo are shown above. Here is what you can achieve with add-on or clip-on lenses:
telephoto: some phones may already have a telephoto lens, for the rest, you can get telephoto lens that offer 2x to 12x zoom to get you real close to your subject. At 12x you probably need a tripod or table stop stand.
fisheye: 180° spherical effect
macro pro lens: with up to 21x magnification for super duper close-ups. 2x, 7x, 14x and 15x options are also available.
super wide angle lens: with over 120 degrees, up to 155 degrees of field of view on some achieved through the use of 4 element lens
Other lens kit may include filters such as the starburst filter, radial filter, polarized lens (CPL) filter, flow filter, kaleidoscope x3 and x6 for even more effects. Here are a couple of good examples of lens kit with filters.
Most of these lens are even designed for work on the front facing or selfie camera. What you need to watch out for is how these lenses will cope if you have a case on your phone. Most slip-on or snap-on lenses are designed to work on the phone only, so you may need to ditch your case. Other are designed to work with third party cases or a compatible phone case is offered as an option.
While you can buy just about any clip-on lenses for any smartphone at reasonably low prices, the ones that are designed specifically to work with a certain model are those that will offer the best quality. Olloclip has lens kits designed specifically for iPhone 7, 8 and iPhone X with a wide range of functions but it will only work with their own phone cases which are optional.
olloclip Lens Box Set on Amazon
---
2. Lights
While most smartphones promises low light performance with bigger aperture, nothing beats an extra light source to reduce noise and grain in your photos while ensuring better detail and contrast. Relying on the onboard LED flash alone for low light shots and videos can only mean one thing, an over exposed portrait shot or hardly enough light for a group photo.
A constant light source is what you need and if you do not have a 3 point studio lighting kit handy, one of these portable LED light source is going to be better than your standard LED flash. These LED light boxes use up to 8 LEDs or more to produce daylight balanced lighting. More advanced illumination options offer optional filter pack, diffusion pack and Bluetooth connectivity via companion app.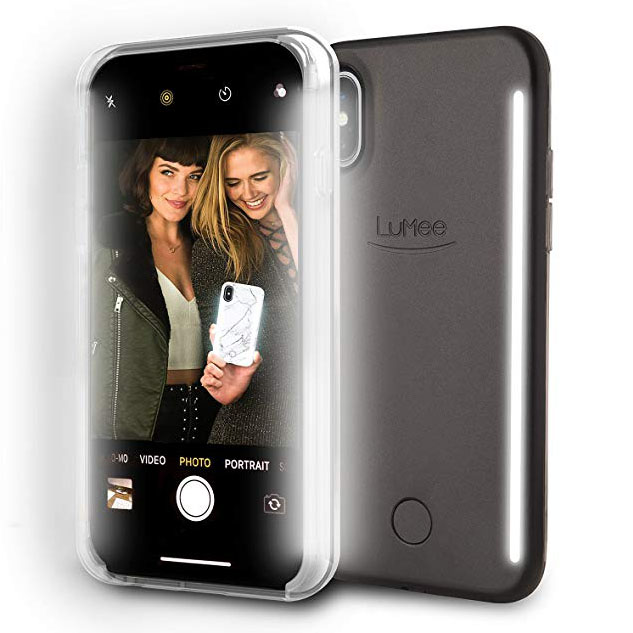 LuMee Duo LED Lighting Case on Amazon
---
3. Tripods
Table top tripods are the cheapest, lightest and smallest tripods to have that lets you stand your phone on any flat surface and take completely steady shots so you never have to worry about blurry images. An alternative to table top tripod is the GorillaPod Stand. The table top tripod comes with a universal clamp for any smartphone and is designed to work not only as a stand but to secure to any bar or pole with its wrap-able rubber legs. Group the legs together and it works as a grip mount just like the standard table top tripod but flexible.
Benro Table Top Tripod on Amazon
Often you can find multi functional grip sticks that combines desktop tripod, grip handler, monopod and mini tripod all in one. iKlip Grip Pro Multifunction Camera Stand and Joby GripTight PRO TelePod Tripod are good example of multifunction tripods.
The Joby GripTight PRO TelePod Tripod is 4 accessories rolled into one. It first glance, it looks like a table top tripod, but extend the mount and you have an elevated tripod. You can close the legs and use it is a handle with the mount extended and it becomes a sturdy selfie stick. Close both the legs and extended mount and you get a hand grip for taking close shots.
Compact full size tripods are a great addition to your phone photography armoury. Tripods are essential to help you take better photos when you are out and about. It's perfect for taking landscape photos and photos using the telephoto lens. Just remember to get a smartphone mount if one is not included.
---
4. Universal Tripod Mount
All tripods will need a universal tripod mount to hold your phone. These mounts can be screwed to the tripod and come with a bracket holder that you can use to clamp and secure your phone. Some that lets you change the orientation of your phone from landscape to portrait with a simple turn action. Others offer a flash shoe mount so you can mount your mobile camera lights to the top of the phone.
---
5. Storage
When you go away for a long trip or intent to take lots of photos and videos on your smartphone, it pays to have backup on the move and a way to add more storage to your phone. You should not be held back by the internal memory of your phone. Continue to do what you love without worrying about running out of space with a mobile storage solution. Having a mobile storage option means you are not held back by the lack of space on your phone.
SanDisk Ultra 32/64/128/200/256/400GB microSD (Full HD video recording)
For most Android smartphones, it is as simple as adding a MicroSD storage card to a a microSD card slot or free SIM slots that doubles as a storage expansion slot. Not all microSD cards area created equal. Some cards are faster at reading and writing than others and are more suited for saving high quality images and Full HD or 4K video footage. SanDisk Ultra is one such card. But, before you order your microSD card, be sure to check the maximum size readable on your smartphone.
What if your phone does not support microSD cards
For the iPhone or Android smartphones without storage expansion slots, get a flash drive with lightning, USB Type-C or MicroUSB to USB interface. Such a device lets you plug straight into the smartphone's charging and data port, instantly adding more storage to your phone. You can then either backup your photos and free up the space on the internal memory or take photos and videos and save them directly to the flash drive. The latter may require the use of the camera function on the companion app.
---
What else is there to back up my photos on the move
The other option is to invest in a mobile hard drive or portable wireless hard drive. These wireless hard drives are self-powered with its own built-in rechargeable battery and together with the companion app, allows you to backup all your phones over WiFi without incurring a any mobile data charges one would do when backing up to the cloud.
A similar solution that also lets you backup your photos and data wirelessly is to use a Wireless Travel Router. Complete with its own rechargeable battery, the router behaves as a file server letting you access your SD card via the SD card slot or portable storage (USB hard drive or flash drive) wirelessly and with the companion app, helps you backup all your photos.
Both portable wireless hard drive and travel router lets you stream and share media to multiple devices simultaneously, typically up to 8 devices.
Finally, if you have one of those mobile plan with unlimited data is to backup your photos and videos to the cloud. This option would require that you have one of the cloud backup subscription as I am pretty sure the free cloud storage options will fill up very quickly.
---
BONUS: Camera Rig
There is only one thing left to do now that you have the lens, lights, tripod, stand and mount to make your phone a close substitute to a DSLR camera that is to get an accessory bar that holds them together. This is especially useful and convenient for photographers who want to capture not just amazing stills but video shots too. These camera brackets or accessory bars as they are sometimes called have multiple attachments and cold mount mount to quickly mount all the different accessories. As rigs go, it's a convenient way to use your phone for photography and look the business.
RELATED: Budget Smartphone Rig for Video (and Stills)
---
BONUS: Smart Camera Lens
You can also strap an entire WiFi camera minus the screen on your smartphone. These advanced smart camera lenses are small enough to carry around and adds a whole new dimension to mobile photography. You can enjoy the connectivity and ease of use on your smartphone while taking advantage of real optical zoom, optical image stabilisation and wide angle shots without any clip-on lenses. Here is a good example.