What better way to prepare your kids for a future driven by technology, software and programming than to start them young and give them every opportunity to explore and learn coding and programming. 
The Skills They Will Learn from Coding and Programming
Problem solving: The biggest part of coding is critical thinking and problem solving. Even if your child does not grow up to be a programmer, software engineer or software developer these skills are applicable across all aspects of the curriculum including maths, reading and writing.
It does not stop there, the skills they learn from coding and programming also extend to outside of school with extra-curricular and after school activities. Children will be able to apply what they have learnt from coding and programming in more ways than you can imagine.
Learn about sequences: From an early age, children understand that things sometimes happen in sequence. This is reinforced in programming. Not only do children learn to identify the sequence, in time they too can create sequences of their own and teach others to do so.
The transferrable skills in understanding sequences include knowing how and when to perform certain tasks, what order the task needs to run and how to document and teach others to do it. It's the basis of learning, understanding and applying.
Goal oriented: A great example of learning and creating sequences is knowing the destination and creating turn by turn directions and steps (commands and sequences) to get there. Once they have achieved their goal, they can then learn to give directions and instructions to others to achieve the same goal in a coherent manner.
Most visual programming applications make it easy for children to understand with steps represented by blocks or puzzle pieces that you piece together in a sequence to accomplish a set of tasks. There are also games that let the child choreograph their moves or dance steps, setting this up as instructions for a robot or his or her opponent to carry out to score points.
Working with computer: I remember using Amazon Alexa, the voice driven virtual assistant for the first time and asking it questions that it is prepared to answer. When it was my daughter's turn, I realised that she was not thinking like a computer and issued commands and requests that are overly complex. This returned a "hmm.. I don't know that response".
The same frustration appeared when she was learning to use a software package. She had in her mind what she wanted to do but could not understand why the application cannot manage this. She ended up hammering the keyboard. It was not the fault of the computer or the application but not knowing how computers and programs work.
Exposing them to coding and programming will save them from a full blown panic when they come face-to-face with a problem on their computer. They will understand how computers and software are designed to take commands and directions in a certain order and how best to use it.
Think logically: learning coding and programming not only help kids with problem solving but encourage them to think logically. They learn to understand the limitations and boundaries within a system and come up with a logical solution to their problem.
The solution can be seen as an algorithm that can then be applied over and over to solve the same or similar problems. Using properly formulated steps, watching out for rules and conditions, they can learn to accomplish their goals in very much the same way a piece of code is designed to tell a computer what to do.
Here are some of the benefits of teaching kids programming from an early age
Click To Tweet
Top 10 Best Toys & Gadgets to Encourage Coding & Programming for Kids
So how does one go about introducing their little ones to coding and programming from an early age. Here are 10 simple toys and gadgets that will get them thinking and solving problems while they play.
Use the links below to access the gadgets on Amazon
What is it: Giant Board Game
Age Group: 5 and over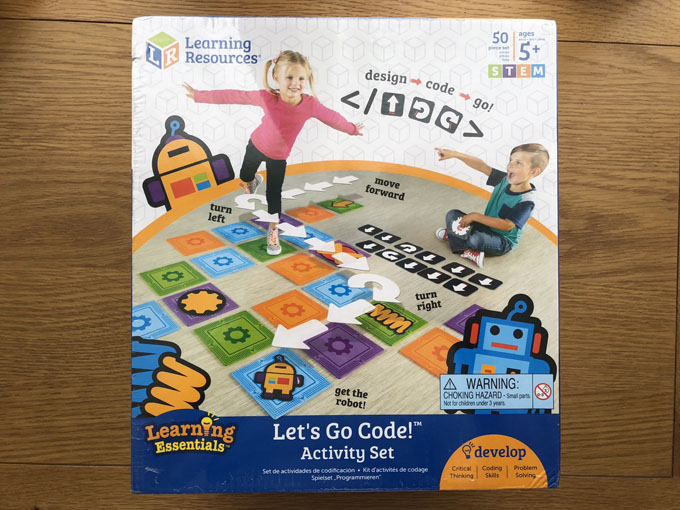 Let's Go Code! Activity Set on Amazon
The giant activity board game is an excellent starting point to introduce the little ones to coding and programming in a fun and playful way. There are altogether 50 pieces of car in bright and attractive colours in the box. 20 of these are double sided coding cards while the other 20 are foam maze mats that you place on the follow. The otehr pieces are, 2 robots and 8 action cards. Players take turn to design and offer directions to one another and the goal here is to get to the robot. The Let's Go Code! Activity Set promises hours of fun and is definitely a great way to get kids into thinking like a coder, building their motor skills, enhancing their directional sense or simply to get their bodies moving and prying them off their screens.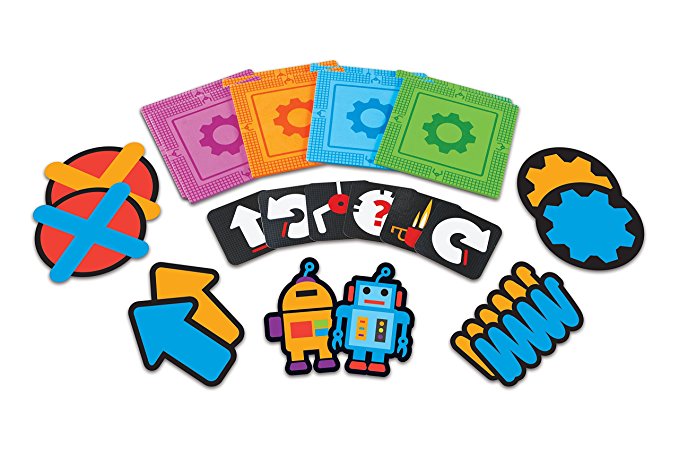 Let's Go Code! Activity Set on Amazon
---
What is it: segment by segment programmable caterpillar
Age Group: 3-6 (pre-school)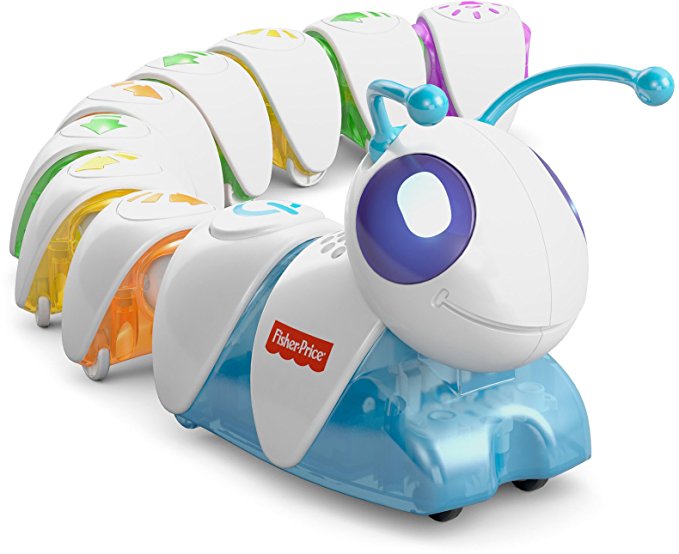 Fisher Price Code-a-Pillar on Amazon
The object of the game is easy, use the 8 easy to connect segments to program the caterpillar. These segments set instructions for the motorized head. The segments are colour-coded and carry an easy to understand symbols. These can be the direction of motion i.e. to go forward, turn left or right  or to make a noise.
Once the segments are connected and ready, simply press the power button to see the action carried out. The caterpillar will come to life with sounds and blinking eyes with each segment will light up as the action happens. Use the Think & Learn Code-a-Pillar and create challenges for the little ones and watch them reach their goal.
To make it even more interesting, throw in a couple of expansion packs. The sounds and lights expansion pack and master moves adds more actions for the code-a-pillar.
---
What is it: Screen-less kid friendly programmable cube robot, no tablet and no coding required
Age Group: 3 and over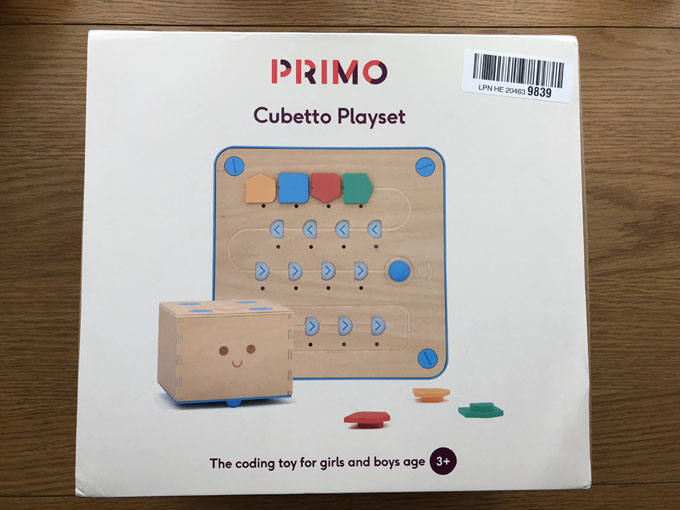 Primo Cubetto Playset on Amazon
Another early years' introduction to programming and robotics, the Primo Cubetto Playset offers kids a way to think in terms of programming from an early age. Centre to the set is a cute little wooden robot. The cube shaped robot is controlled wirelessly by a coding pad or what Primo likes to call, the interface board. Also included are action blocks used to program the robot, a world map, adventure book and instructions.
All the kids need to do is to drop the action blocks into the interface board in the desired sequence and run the program. There is nothing to break or screen to distract them. The best part is they can learn story telling, problem solving, direction and spatial skills as well as logical thinking and more. Start them young and get them thinking like a programmer through play with the Cubetto Playset. We love how kid friendly and approachable the wooden play set is with its natural wood finish and bright colours.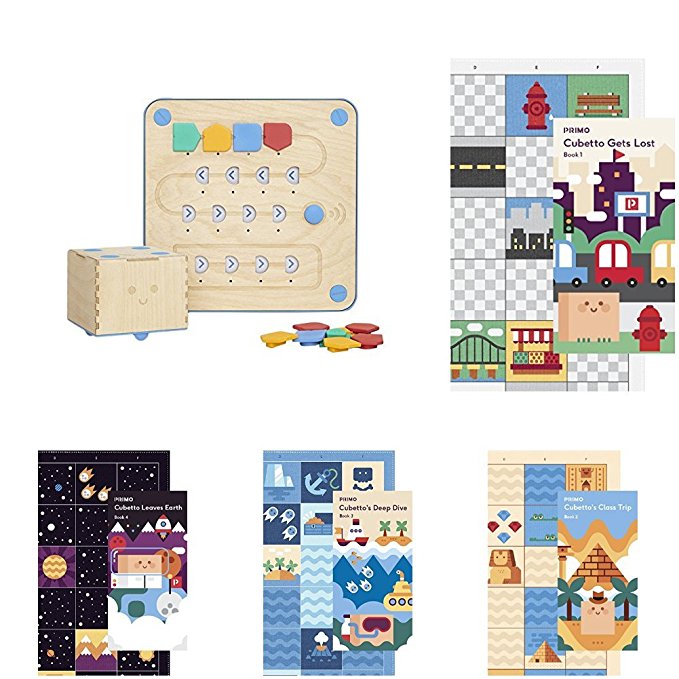 Cubetto Adventure Packs on Amazon
Also available are the optional adventure pack that includes one map and one story book each with new coding challenges. The themed adventure packs are Ancient Egypt, Big City, Blue Ocean, Deep Space, Polar Expedition and Swarmy Swamp.
---
What is it: Card Game
Age Group: 4 and above
The card game not only introduces the little ones to the fundamentals of computing and coding but does so in a fun and easy to understand way. With its bright colours and illustrations, it engages the minds and encourages them to learn computational thinking through play. With each game, they will grasp computer concepts that even some adults are unaware of such as algorithms and sequence of instructions. The idea of the game is teach children problem solving skills that they can take with them through their school and adult life. The creator, Andrew Mills has this to say;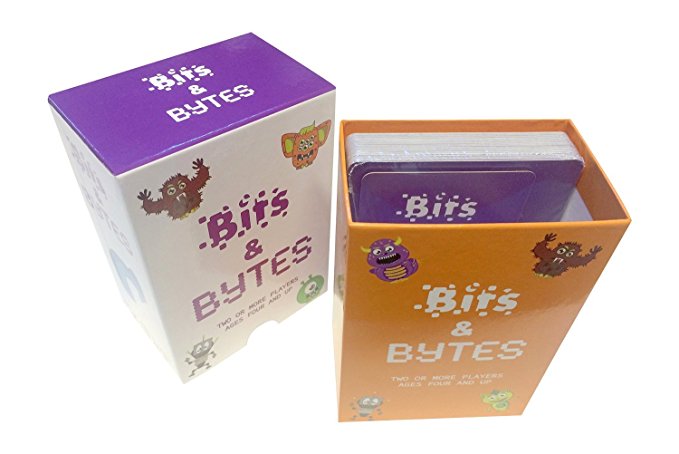 Bits & Bytes Card Game on Amazon
"There were websites and apps that could teach them coding but I wanted something to teach the mindset without using a computer so when they started using Scratch, etc they would already know what to do."
---
What is it: Simple Screen-less Programmable Robot Mouse
Age Group: 4 and over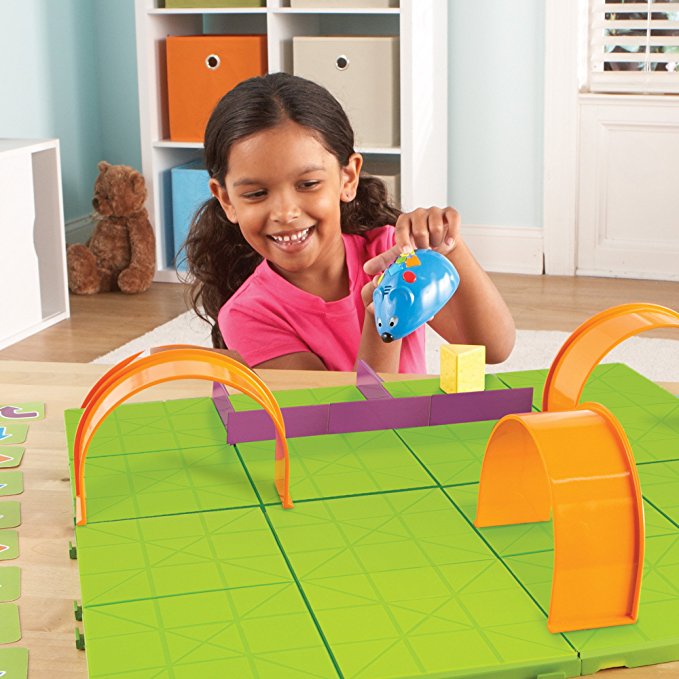 Code & Go Robot Mouse Activity Set on Amazon
You can get the Code and Go Robot Mouse on its own but where is the fun in that. The Activity Set is a 83 piece learning through play kit that lets children learning coding. It does so by allowing them to build their own maze for the mouse and then program the mouse to go through the maze to get to the cheese. This allows them to think critically, learn problem solving, understand the basics of programming and sequencing as well as learn to give and take directions.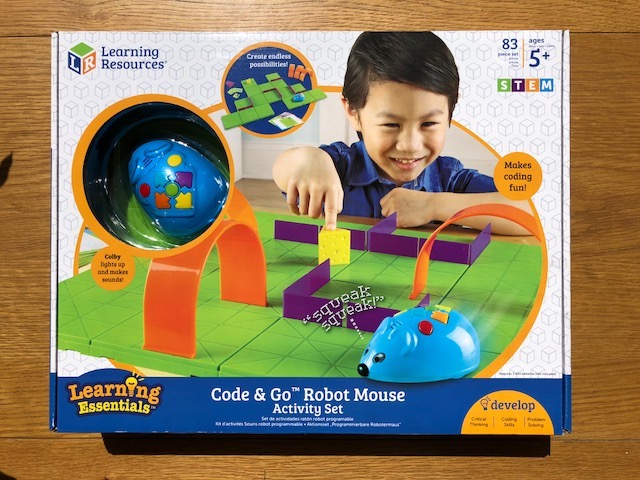 Code & Go Robot Mouse Activity Set on Amazon
Brightly coloured, the activity set will appeal to children and is suitable for kids from 4 years onwards. The set can be played on its own or in a group taking turns to set up the maze using the activity card, 'write' your program using the coding cards or program the mouse. The 16 maze grids, 22 maze walls and 3 tunnels lets you create maze boards up to 20-inch by 20-inch in size supplied with activity guide to get the little ones a head start. Note that the mouse can take up to 40 programmed commands which is plenty to go with the guided coding card activities.
What is it: Programmable and interactive robot via App
Age Group: 6 and above
This cute, alien looking robot makes learning to code fun for the little ones. Dash, the robot works out of its box with rechargeable batteries built-in. It works as a stand alone toy that responds to voice, navigate, dance and sing as well as with mobile apps available for the Kindle, Android or Apple platform. The mobile apps are where things get interesting.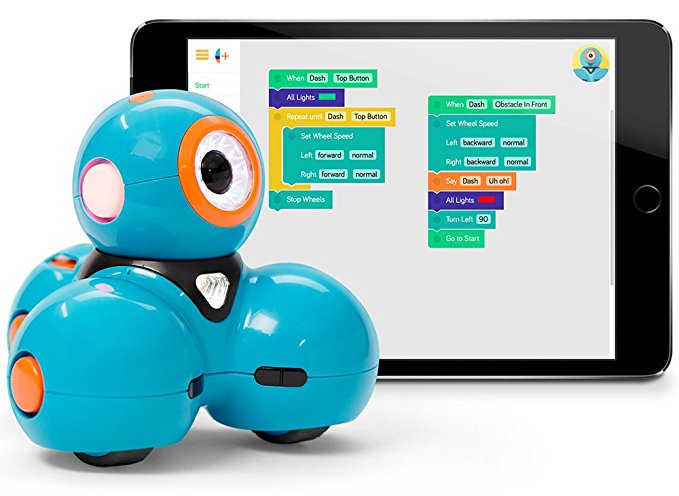 There are three Wonder Workshop mobile apps to get you going with hundreds of projects, challenges and puzzles between them. The Go app lets you control the robot; moving it, switching the lights on or off, make noises and record and playback your voice. The Path app lets you use your Dash to follow a path that you draw. The Blockly app offers a drag and drop coding interface to program your Dash, making them dance, record and playback your voice, play tag and more.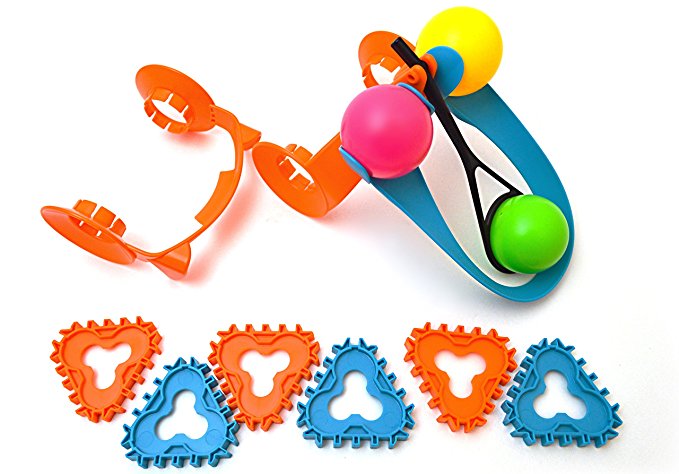 While it already has two building brick connectors compatible with LEGO and LEGO Technic for your own custom attachments, you can also find add-on and accessories such as the catapult and arms above and xylophone for more creative play. Finally there is also freeform plays for unlimited possibilities.
What is it: Screen-less Programmable Robot
Age Group: 5 and over
From the same people that brought us the Code and Go Mouse, here is a more advanced version, Botley the coding robot. Again, bundled as an activity set, the 77 pieces playset ensures that you kids enjoy hours of interactive learning through play. No need for app or a separate screen to distract your kids, Botley can be programmed directly using the included remote programmer.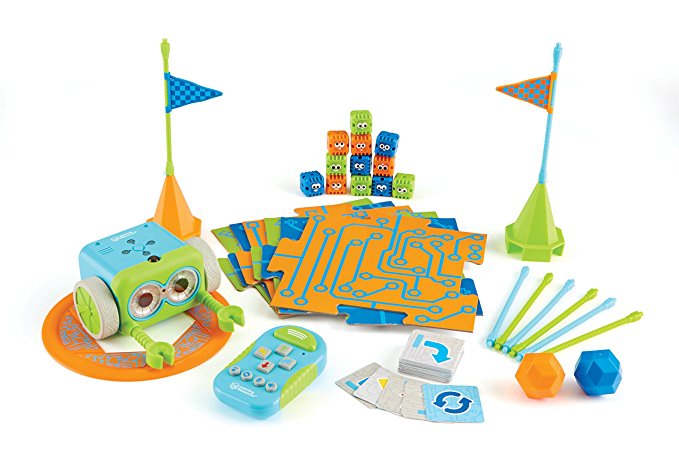 Botley Coding Robot Activity Set on Amazon
The activity set promotes STEM learning and introduces kids to coding, encourages critical thinking and instill problem solving skills. Unlike the Code and Go Mouse, Botley is more advanced in that it can detect objects in front of it and avoid them. The coding system also lets you loop the commands, take on obstacle courses and follow a black line either one that you draw or one that is set up using the double-sided tiles.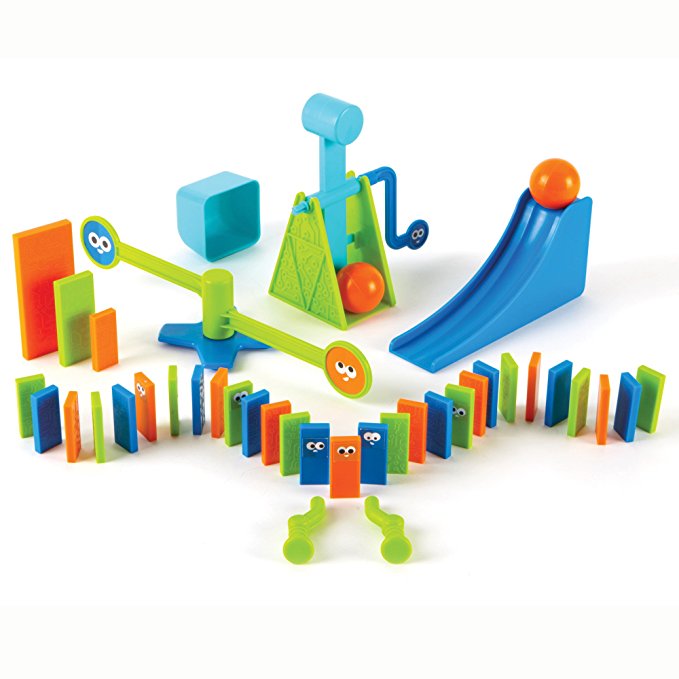 Botley Coding Robot Activity Set on Amazon
Go beyond the tiles and set up your own obstacle course or follow the coding challenges in the starter guide to get going. Apart from the starter guide, the activity set includes 40 coding cards, 6 double-sided tiles and 27 obstacle building pieces. While the activity set has plenty going for it on its own, you can also get action challenge accessory set above for even more challenges.
What is it: Board game with beginner to expert or advanced play
Age Group: 8 and over
Code Master Board Game on Amazon
Another screen-less game that teaches programming logic, the Code Master board game contains 10 maps and 60 different levels to help you cultivate planning, programming and problem solving skills. The object of the game is to use Action Tokens to create your own program that will lead your Avatar to collect all the Crystals on the map and land at the Portal.
It gets more challenging as you progress introduces more complex programming principles and coding concepts. These including loops and conditional branching. The game is easy to learn with clear and easy to understand instructions to get your started immediately. Apart from the 10 maps, the box includes 12 guide scrolls, 12 action tokens, 8 conditional tokens and instruction booklet.
---
What is it: Programmable Spherical Robot, Requires Tablet
Age Group: 8 and over
The education version of the connected spherical robot, the SPRK+ has a see-through body, revealing what goes on inside. While the company has been creating and selling programmable spherical robots since 2011, the smart connected toys were made popular in 2015 with the droid character in Star Wars: The Force Awakens.
There are three ways to program the robot, you can simply draw on the app, use drag and drop blocsk for the different actions or text coding for the advanced programming. You will need Sphero Edu, the app that is jam-packed with STEAM activities to complete with the bot.
The robot is super durable, scratch resistant and can withstand drops and shocks. It is also waterproof and can float as move on water. Not only can you program it to move, there are programmable on board sensors too like the motor encoders, gyroscope, accelerometer as well as LED lights. When the juice runs low, drop it on the included inductive charging dock to top it up again.
Other Sphero Products
We won't go into movie merchandises such as those for Star Wars, Marvel and Pixar but here are a few of Sphero's other offerings:
---
What is it: Programmable Robot, Requires Tablet or Desktop Required
Age Group: 7 and over
The mBot Educational Robot Kit is a combination of open source components and programming platform that are already out there. The bundling of these together with connectivity in the form of Bluetooth (or 2.4GHz wireless depending on the version) makes this an easy to build and program all-inclusive robot kit. The kit is easy to assemble and can be completed in under 10 minutes. It is made from sturdy aluminium parts. These are compatible with other MakeBlock add ons and some Lego parts. At the heart of the robot is an Arduino C board. To program the robot, you can pick from one of three programming tools. There is mBlock drag-and-drop (a programming tool based on Scratch 2.0) available for MacOS and Windows. For those who prefer working on iPads, get mBlocky for mBot on your tablet. Finally, there is Arduino IDE for the adventurous.
MakeBlock mBot V1.1 Bluetooth on Amazon
The mBot kit will offer hours of fun and learning with free lessons and projects using three of its pre-set control modes; wall avoidance, line following and manual control. Manual control can be achieved via an app or  Introducing children to programming couldn't be easier when combined with the programming tools. It doesn't end there. Children can get creative with the expansion packs listed below (sold separately) for the even more projects or combine their robot with their LEGO blocks. Remember, the teaching and learning resources are continually being developed and gradually expanding so there is no short of educational resources.
Expansion Packs
---