Gone are the days when 4K UltraHD Monitors cost an arm and a leg. While still expensive compared to Full HD displays, 4K UltraHD Monitors are now more affordable. Prices have dropped since more 4K UltraHD become available and 4K TVs went mainstream.
Before you go out and grab yourself a 4K UHD monitor, make sure that your laptop or desktop's graphics card supports this resolution.
There are plenty of choices when it comes to budget 4K monitor especially those around the 27 or 28-inch mark. The cheapest 4K UltraHD monitor also happens to be the smallest at 24-inch if you are short of space or would like a second 4K display in a multi-monitor setup.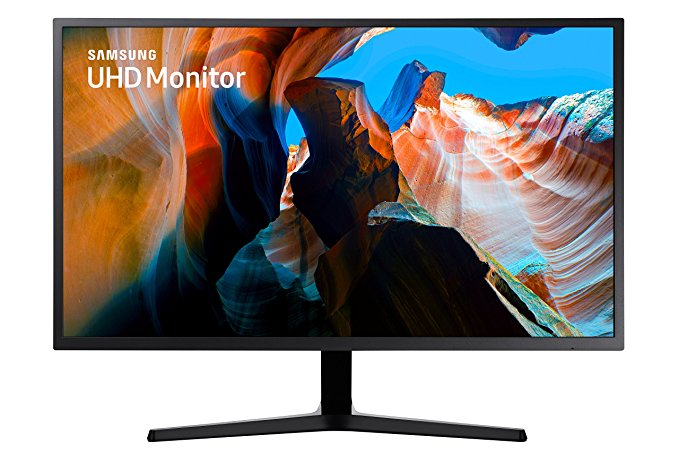 Reasons for Choosing a 4K UltraHD Monitor
Going big with monitors may not necessarily be good if the display panel is not backed by enough pixels. On Full HD resolution or 1080p, anything bigger than 25-inch causes the image and video on the screen to look pixelated. The only way around this is to increase the pixel density by picking or upgrading to a 4K or 5K display. There are many reasons to pick a 4K UltraHD monitor, here are just a few of them:
1. Sharper Images: 4 Times Higher Resolution Compared to Full HD
UltraHD or 4K monitors are four time sharper than a Full HD monitor. When considering monitors of the same size, a 4K monitor has a resolution of 3840×2160 pixels (UHD) versus a Full HD monitor with only 1920×1080 pixels (FHD). This means the pixel density is higher and there are more pixels per square inch, offering more details and sharpness. For bigger displays panels, anything bigger than 25-inch, Full HD resolutions just do not cut it anymore.
2. More Space on the Desktop
Think of it like your work desk, the more space you have, the easier it is to arrange your documents and open books side by side so you can reference and work on them. 4K Ultra HD monitor allows you to arrange your application windows side by side or in a tiled fashion so you can hop from one to the other without opening and closing or toggling between them. You can have sight of the different windows for your research work or to keep an eye on monitoring software or video.
I remember trying to 'downsize' from a triple monitor setup to free up some desk space. Instead of having multiple Full HD monitors, I chose a single 5K display. This was enough for me to put two app windows side by side comfortably without needing to flip between them.
3. Comes with Display Scaling
At 4K resolution, it doesn't mean that the monitor will display icons and applications in its native resolution. Everything will look really small if that happens. Just like the modern big screen TV, operating systems are smart enough to scale the icons and applications so they look in proportion and the right size on a high resolution display. MacOS and Windows OS as well as some Linux desktop OS have display scaling support. You get the added real estate without compromising on usability.
4. Higher Refresh Rates, Quicker Response Time and Higher Contrast Ratio
These high resolution monitors are not only packed with more pixels but come with higher refresh rate, typically 60Hz or more and quicker response time typically 4 ms or less. Gamers will appreciate FreeSync for seamless video experience, minus the stuttering and tearing perfect for high action games. It achieves this by synchronising the graphic card's frame rate with the monitors refresh rate. The technology behind these screens also allow them to have higher contrast ratios and wider viewing angles as well as better colour accuracy with a smooth colour palette.
5. 4K Gaming Bliss
If you are into gaming, there are some really cool 4K UltraHD gaming monitors out there that will let you take advantage of games written and optimised for 4K. Like the new PlayStation and Xbox One X that supports 4K gaming for a more immersive gaming experience and better in-game visuals, 4K game titles are now available for PCs too. If you have a suitably spec'd PC with a powerful GPU capable of 4K video output, then all you need is a 4K UltraHD gaming monitor to go with it. The monitors also support multiple input allowing you to also connect your gaming console to one of the video ports and game on.
RELATED: Best Portable USB Powered LCD Monitors
Top 10 Best Budget 4K Ultra HD Monitors
To make it easier, we have included the available ports for each monitor in the list below, click on the links to access more information about them on Amazon:
Let's take a closer look at each of these 4K UHD monitors.
The smallest 4K UltraHD monitor in our list thereby making it the cheapest, the LG 24-inch 4K UltraHD monitor uses an IPS panel for better wide angle performance and has FreeSync to better handle high paced games. The on-screen control lets you set game mode, dynamic action sync and black stabilizer for gaming as well as Screen Split 2.0, ability to customise your monitor layout, resize and display multiple windows at the same time. It's a small monitor packed with amazing features.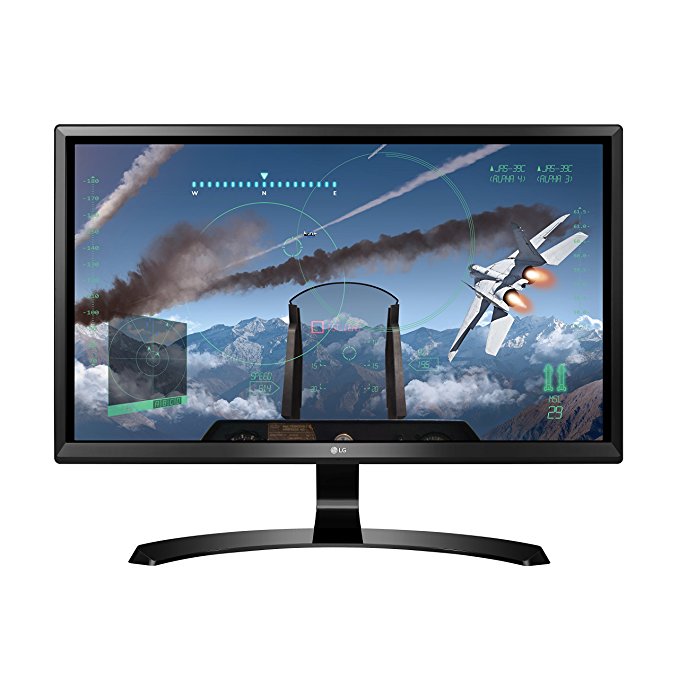 The Benq 28-inch 4K gaming monitor is remarkably good value given that it comes with FreeSync to keep the gamers happy and support for HDR10. The latter produces brighter, more vivid colours with better contrast by increasing the dynamic range between black and white for clarity especially when displaying 4K content. The display also features an amazingly low response time of 1ms. This helps eliminate motion smear, allowing for smoother video especially when there is fast moving action and better dramatic transitions. The other thing we like about the display is the Brightness Intelligence Plus Technology. It senses the light around you and goes about setting the right colour temperature and brightness automatically to reduce eye strain. You can also set this manually to cool white for productivity and warm white for comfort.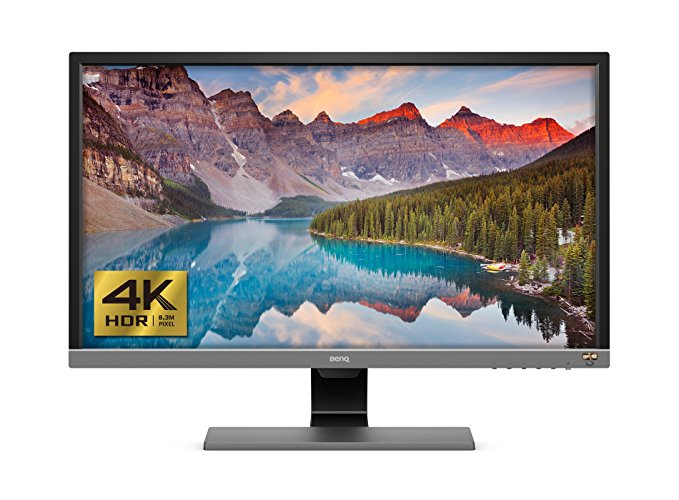 Another 28-inch 4K display, this time from Acer. The RT280K is no slouch. It also features a 1ms GTG response time. If you are working long hours at a time, you will be glad to know that the Blue Light Filter helps reduce eye strain. The panel has a high contrast ratio of 100 million and supports 1.07 billion colours.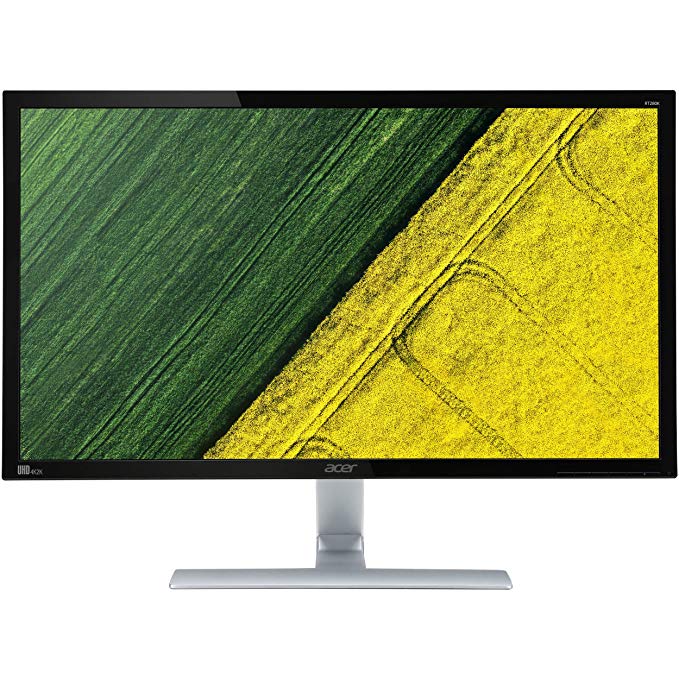 I am a big fan of LG as a company, always coming up with feature rich products at reasonable prices. I first got to know about LG's 4K monitor when I visited the Apple brick and mortar store. It was used as the monitor of choice for Apple's Mac mini. It is still today and if you visit the online store, you will find that they only sell LG monitors since they stopped selling Apple's own flat panel displays. The LG 27-inch 4K Ultra HD Gaming Monitor featured here may not be the top end model obviously because we are looking only at monitors with sensible price tags but it is still very good. The higher UD68 model kicks things up a few notches and it shows in the price but we are happy with what is on the table with UD58 and so are many of its satisfied customers. For your money, you will get LG's barrage of features from IPS, FreeSync, On-Screen Control, Screen Split 2.0, Game Mode and advanced gaming features like Black Stabilizer and Dynamic Action Sync.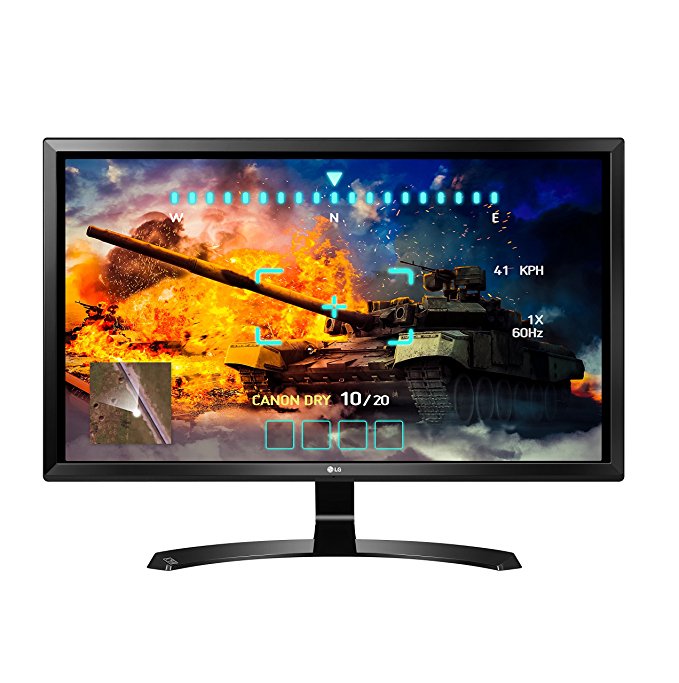 ASUS is no stranger in the gaming work, famous for its souped up graphics card and motherboards in its early days. It now dabbles in everything from laptops, tablets, smartphone and this gaming monitor. At 28-inch, it hits the sweet spot in terms of size, not too big that it will take over your desk, and not too small that at 4K resolutions, things look a little too small. The unit features Adaptive-Sync technology for smoother visuals and has a super quick response time of 1ms. There is a 5-way OSD joystick on the back of the display and the flexible stand lets you adjust the height of the display as well as tilt, swivel and pivot to your heart's content. The latter (pivot) lets you switch from landscape to portrait mode easily without the need to unscrew anything. Gamers will appreciate ASUS's GamePlus technology with features like overlay crosshair, timer, frame rate counter (FPS) and more. It also has tonnes of connectivity options; 2 HDMI 1.4, 1 x DisplayPort, 1 x HDMI 2.0 and 2 x USB3.0.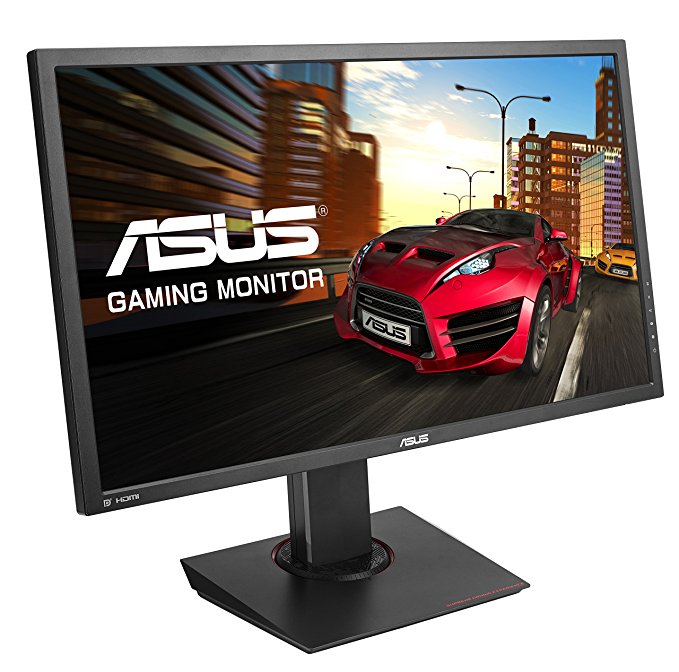 At a whooping 32-inch, a big size for a computer monitor, the LG 32UD59 is still reasonably priced. Diagonally, it may be 4-inch bigger than your 28-inch display but it translate to a much bigger display overall. The 32-inch 4K Ultra HD monitor is not only big but has everything going for it including the ability to project 95% of the DCI-P3 colour gamut. For gamers, it supports AMD FreeSync Technology, Black Stabilizer and Dynamic Action Sync. For the productive sort, the on-screen control lets you access Screen Spilt 2.0 and Dual Controller. Screen Split lets you resize and display multiple windows at once with 14 different options including 4 Picture-in-Picture options so you take multi-task in more ways than one. A newer 2018 model is also available which at the time of writing is offered at the same price, the LG 32UD60 is just equally as impressive.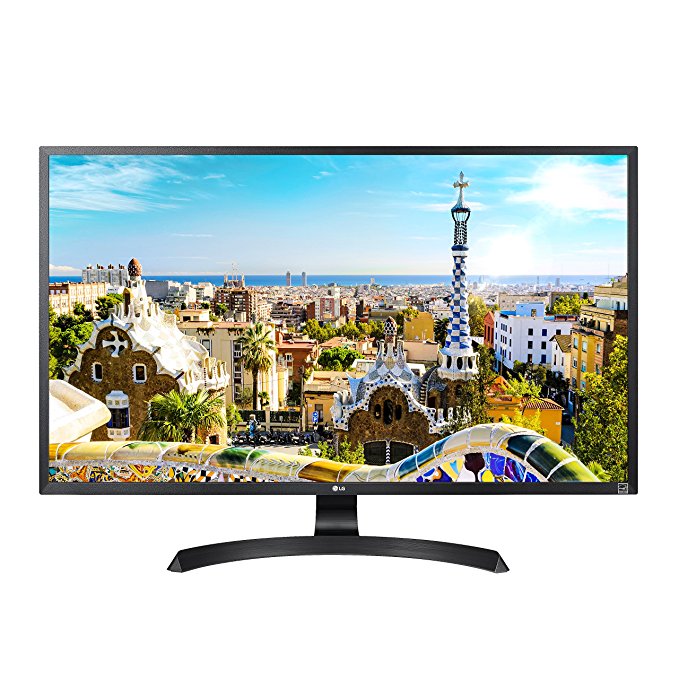 Some of the best office and productivity monitors are from Dell. The best example being the Dell UltraSharp U3415W, the 34-inch super wide curved monitor. For something more affordable, take a look at the Dell U2715Q 27-inch or the slightly higher Dell U2718Q both are 27-inch 4K Ultra HD LED monitor worth of a place on your work desk.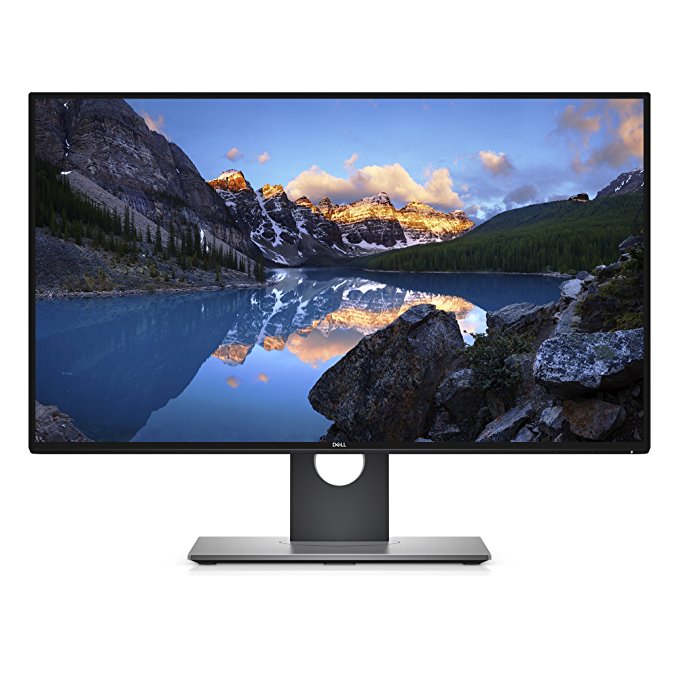 The biggest 4K Ultra HD monitor on our list with IPS technology for ultra wide viewing angle (178° horizontal and vertical), the ET430K is a serious 4K Ultra HD desktop monitor that could be mistaken for a big screen TV. It does not have a super quick response time but still a fast one at 5ms and can manage 350cd/m² brightness with enhanced picture quality. The 10-bit colour table lets the unit support up to 1.07 billion colours. But, at a size this big and sitting right up to the monitor for work means you will unavoidably notice some pixels even for the 4K resolution. Still, you can count on the monitor being both your computer monitor and the entertainment unit if streaming movies and TV shows are your thing instead of broadcast TV.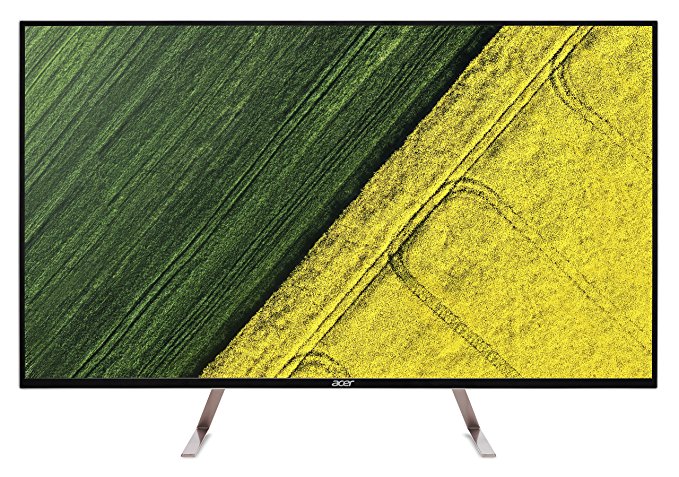 This 28-inch UHD monitor supports AdaptiveSync and AMD FreeSync, perfect for gamers. It also comes with ASUS Eye Care technology that lowers the blue light and eliminates flickering to reduce eyestrain. There is a red joystick on the back of the monitor, similar to those found on ThinkPad laptops, the red TrackPoints. This is used to navigate the on screen menu and controls letting you access options such as ASUS GamePlus and GameVisual settings for enhanced game play.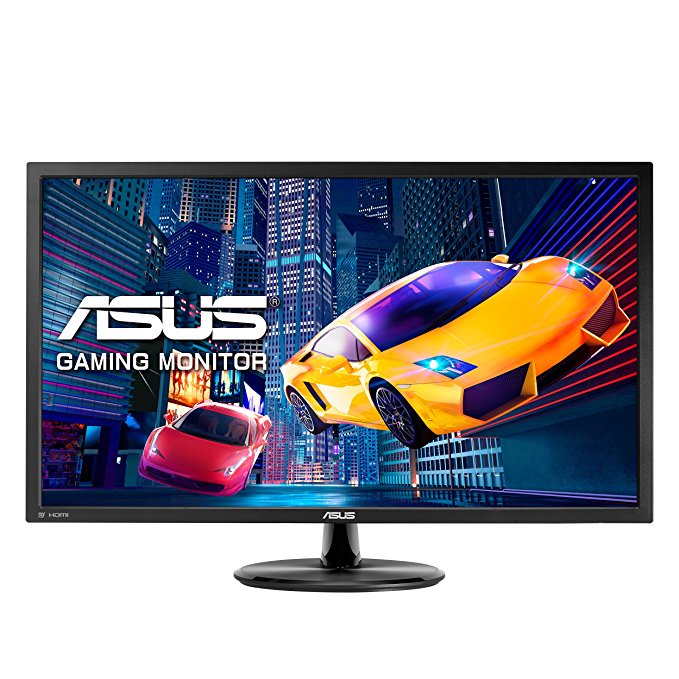 The 32-inch UHD monitor from Samsung supports AMD FreeSync synchronisation to match the refresh rate of the monitor with your graphics card. The panel pushes an incredible 1 billion colours, a wide colour gamut to ensure that everything looks as natural and as realistic as possible. The 2 HDMI port lets you switch between your PC and gaming console. An additional DisplayPort input lets you connect your laptop making it easy to switch between the different sources. The monitor also supports Game Mode, Picture-in-Picture(PIP) and Picture-by-Picture (PBP). The latter is different to Picture in Picture in that it deals more with maintaining the original quality of the connected sources.