Just getting to know Raspberry Pi and wondering what else you need the get started? we list the must have accessories and add-ons for the small and affordable computer, now in its third generation, the Raspberry Pi 3 B+.
You've got yourself (or thinking of getting) the latest mini computer from Raspberry? The Raspberry Pi 3 Model B+ is not only faster with a 64-bit processor running at 1.4GHz (Broadcom BCM2837B0, Cortex-A53), it also comes with dual band 2.4GHz and 5GHz wireless LAN, Bluetooth 4.2 BLE, faster Ethernet and Power over Ethernet support. It is essentially a complete mobile computer great to learn programming or to use as a dedicated gadget with some custom add-ons designed for the system.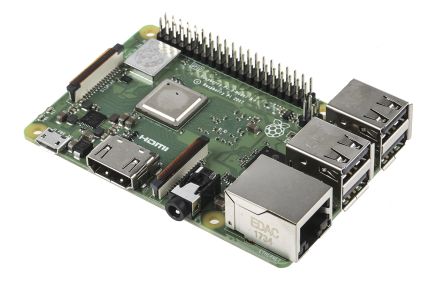 Here are some of the things you can do with your Raspberry Pi.
A dedicated desktop computer running Raspberry Pi Desktop, Ubuntu Mate, Snappy Ubuntu Core, Windows 10 IOT Core, OSMC, PINET, RISC OS and more
A retro Arcade complete with colour coded buttons, joy stick, amplifier and speaker
A gaming console complete with dual gamepads
A roving robot or robot cat
A tablet computer
A surveillance camera
A set top TV box
A scrolling message display
A connected smart home kit
and more
There are many Raspberry Pi 3 B+ Starter Kits out there depending on the manufacturer. These have everything you need to get started. They typically include:
Power supply
Case for your Raspberry Pi or case with room for hardware attachment on top (HAT)
HDMI Lead
Micro SD card with NOOBA software pre-loaded
All you need to then is your own USB keyboard, mouse and monitor or TV.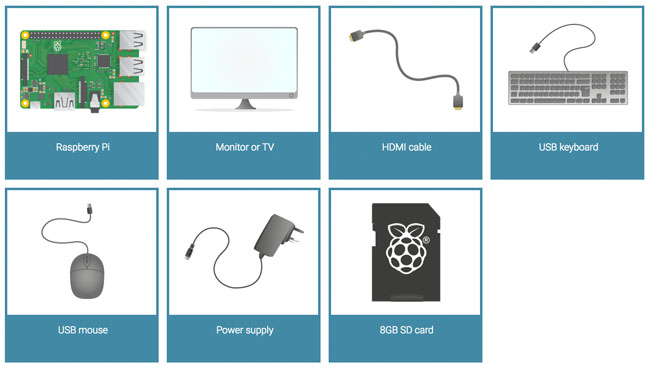 Raspberry also has its own starter bundle, the Official Raspberry Pi Starter Kit with the following:
A Raspberry Pi 3 Model B
An 8GB NOOBS SD card
An official case
An official 2.5A multi-region power supply
An official 1m HDMI cable
An optical mouse and a keyboard with high-quality scissor-switch action
A copy of Adventures in Raspberry Pi Foundation Edition
Both lists serve as a rough guide as to what you will need for your Raspberry Pi. We'll take a look at each of these in turn
A Case or Two to Protect Your Small Investment
To protect your small investment, a case is essential. There are many different cases out there from the official case to cases that support HAT (hardware attachment on top), value see-through cases made from clear plastic or acrylic, cases with heatsink and fan as well as cases that are compatible with Lego building blocks. These cases are quite affordable so you might think of getting a couple to suit different projects. Here are six different cases to meet different requirements. Use the links below to learn more about these cases on Amazon: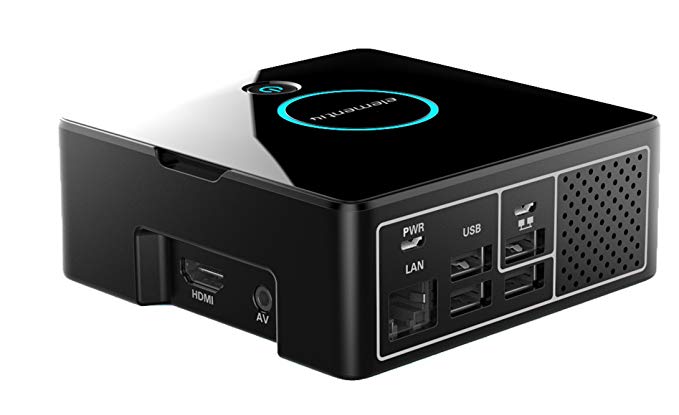 Raspberry Pi Desktop Computer Case on Amazon
---
Power Supply and HDMI Leads
Official Raspberry Pi Power Supply with international adapters (UK, US, EU and AU) and 1.5 meter micro USB lead is recommended but there is nothing stopping you from using your own phone or tablet USB adapter with the right cable. While the Pi 3B+ draws a much higher current compared to its predecessors depending on what you do with it (RasPi.TV has a chart to compare the current draws), chances are, your standard adapter will work just fine. The Official Raspberry Pi has a rating of 5V 2.5A. If you are unsure, check the rating on your adapter.
Official 5V 2.5A Power Adapter for Raspberry Pi 3
---
Displays
Your Raspberry Pi 3 B+ like its predecessor supports HDMI output. Meaning you can easily hook up a TV or display you have lying around. If you would rather have a dedicated display for your projects and not interfere with the family's TV time then here are some standalone LCD displays. Like the Pi, these displays have different housing or case to choose from. Start with the 7-inch touchscreen display and choose a case to suit. Use the links below to learn more about these products on Amazon.
Pi-Top v2 DIY Laptop Kit on Amazon
Pi-Top CEED All-in-One Desktop Kit on Amazon
---
USB Keyboard, Mouse, HDMI Cable and MicroSD card
To interface with your mini computer, you will not only need a display or TV, but the following peripherals and a memory storage card; USB Keyboard, Mouse, HDMI cable and MicroSD card. In essence, you need a way to load an operating system and to use it, be it the official Raspbian either by downloading it on the Raspberry Pi website or using NOOBS, the installer program for Raspbian.
Pre-installed NOOBS SD card is also available to purchase from different vendors. Once loaded, NOOBS lets you choose different operating system to install via a selection menu. You can also find third party operating system images such as Ubuntu, Windows 10 IOC Core, OSMC, LibreELEC, PINET and more. While some of these operating systems are available via NOOBS's easy operating system installer menu, others will need to be downloaded and written to your memory card to load on Pi.
Remember, the memory card will need to be at least 8GB as the full NOOBS easy installer also contains Raspbiand and LibreELEC. Use the software installer guide to help you with the installation. Operating system permitting, you can also take advantage of the onboard Bluetooth adapter and set yourself cable free with wireless keyboard and mouse.
---
Raspberry Pi 3 B+ Starter Kits
If you would rather not have the hassle of picking and choosing the different components and perfer to hit the ground running then a starter kit is for you. Here are some very highly recommended kits available online. These may not always have everything you but you can always get add-ons and accessories to go with it. In most cases, you will still need at least a keyboard, mouse and/or display unless these are included.
1. CanaKit Raspberry Pi 3 B+ Complete Starter Kit
Easily the most complete starter kit, the CanaKit is popular with those who want an easy start. It has everything one would need to get up and running except for the keyboard, mouse and display. For the price, you get heatsinks, HDMI cable, card reader on top of the basic case, power and MicroSD card.
Raspberry Pi 3 Model B+
32GB EVO+ Micro SD Card preloaded with NOOBS
Premium Black Case
2.5A USB Power Supply and Micro USB cable with noise filter
HDMI cable
2 x Heatsink
GPIO Quick Reference Card
CanaKit Full Colour Quick Start Guide
---
2. Raspberry Pi 3 Official Starter Kit (Available in Black or White)
A little thin on bits given that the CanaKit included heatsink, HDMI cable and MicroSD reader, the basic Official Starter Kit is put together by Element 14 using only official case and adapter. One of the cheaper options if you already have your own HDMI cable or MicroSD card reader.
Raspberry Pi 3 Model B
Official Raspberry Pi 3 HAT comptible case with easy snap fit assembly
16GB Class 10 MicroSD card with NOOBS installer
Official Raspberry Pi 5.1V 2.5A Power Supply
You can find a more complete Official Raspberry Pi 3 Starter Kit put together by the Raspberry Pi Foundation but based on the Raspberry Pi 3 Model B with 8GB NOOBS SD card, case, power, HDMI cable, MicroUSB cable, keyboard and mouse. The starter kit also includes a copy of Adventures in Raspberry Pi book filled with fun guides to learn programming.
---
A bigger version of the Kano Computer Kit, the Kano Computer Kit Complete comes with a 10.1-inch touchscreen and case that lets you turn your Raspberry Pi 3 into a desktop computer or tablet complete with battery and wireless keyboard.
But, the real treat is the custom operating system that includes exclusive coding challenges, perfect for STEM learning. When you are not learning programming to take over the world it serves as a tablet letting you browse the Internet and use apps like YouTube, WhatsApp, Google Docs, Maps, Codecademy, Wikipedia and more.
Kano Computer Kit Complete on Amazon
Raspberry Pi 3
10.1-inch HD Touchscreen Display
Battery
Speaker
Wireless Keyboard with Touchpad
Case and stand
Memory Card
HDMI and power cables
Sound sensor
---
4. V-Kits Raspberry Pi 3 Model B+ Complete Starter Kit
Like the CanaKit, the V-Kits complete starter kit comes with everything you need to get up and running. Just plug in your keyboard, mouse and display and you are good to go. Apart from the latest Raspberry Pi 3 Model B+, the kit comes with the official Raspberry Pi Foundation five part enclosure, designed with Pi HAT's in mind, 32GB Evo Plus (Class 10) MicroSD card preloaded with NOOBS, 2.5A USB power supply complete with Micro USB cable and noise filter. On top of that you get heat sinks, HDMI calbe, USB microSD card reader and Quick Start Guide with media center and retro gaming instructions.
V-Kits Raspberry Pi 3 Model B+ Complete Starter Kit on Amazon
Official Raspberry Pi 3 Model B+
Samsung 32GB Evo Plus (Class 10) Micro SD Card with NOOBS pre-loaded
Official Raspberry Pi Black Enclosure Case
Certified 2.5A USB Power Supply with Micro USB cable
HDMI Cable
2 x Heatsinks
Vilros Quick Start Guide
A basic kit with a see through case, heat sinks, power supply and Raspberry Pi 3 Model B+ board as well as the Vilros Quick Start Guide is also available at a lower cost.
V-Kits Raspberry Pi 3 Model B+ Basic Starter kit on Amazon
You might also want to consider the SNES Classic USB Gamepad if you intend to turn your Raspberry Pi into a retro gaming console.
SNES USB Game Pads for Raspberry Pi on Amazon
5. NeeGo Raspberry Pi 3 B+ Plus Ultimate Starter Kit with 7-inch Touchscreen Display and Case
As a starter kit, you can not get more complete that this. The NeeGo Raspberry Pi 3 B+ Ultimate Starter Kit stands out from the rest in that it includes a 7-inch Touchscreen display and case as well as a bluetooth keyboard with integrated touchpad. This is on top of the standard kit such as the Raspberry Pi board, 16GB microSD card with NOOBS preloaded, Power Adapter, Heatsinks, HDMI cable and Quick Start Guide. You may notice that it does not come with a microSD card reader. This you will have to sought for yourself.
NeeGo Raspberry Pi 3 B+ Plus Ultimate Starter Kit on Amazon
Learning Resources
Finally, we leave you with a great many online resources for Raspberry Pi to keep you busy now that you have your very own mini computer.