Everyone loves a multi monitor setup. Why work on one screen when you can have two or more displays. Here are the multi monitor stands you will need to hold all those screens up freeing those previous desk space.
Admit it, every time you see someone with more than one display on their desk, you feel a little green monster growing in you. Two monitors or even more really do increase your productivity and make multi-tasking that much easier, not having to toggle between windows. But the more monitors you add to your multi-screen setup, the more space it is going to take on the desk. So what can you do?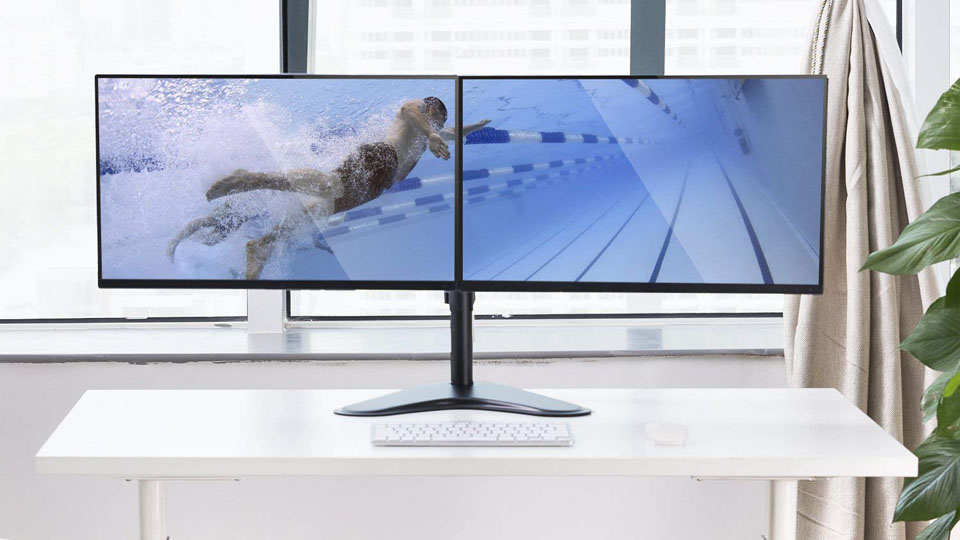 Luckily there is a solution in the shape of screen bracket that holds multiple monitors. These affordable mounting brackets can hold up to 6 LCD displays and take very little space on the table. It will either require a foot print of a single monitor for the free standing type or a very small corner of your desk with the desk clamp type.
There are two types of monitor stand as shown above. Both types of mounting bracket will help free up tonnes of space on the desk and help you arrange your displays to suit you. These brackets lets you orientate and angle your screens easily. For instance, the three monitor mount allows you to have all your monitors in a row centred around you, so you can have a wrap-around arrangement to mimic a curved display.
RELATED: Budget 4K Ultra HD Monitors: Big on resolution, small on price
What You Need to Consider
MOUNT OR STAND: We established in the previous section the two main types of monitor stands, the free standing type and the desk clamp type. The clamp type can sometimes be offer with fixed screwing plates that lets you fix the stand to the desk. Others might offer the option of fixing in the grommet of the work desk, those holds that let you pass cables through.
COMPATIBILITY: Before you rush out to get your monitor stand, you need to know if your monitor will support a VESA compatible mount. These are typically available on the back of your monitor. You may have to remove your existing monitor stand to reveal the VESA mount. They come in either 100 x 100mm or 75 x 75mm or both. As the VESA mounts are square, you can decide to mount your monitor horizontally in landscape mode or vertically in a portrait mode but check first that the design of the arms allows for portrait mode. You can also find stands that let you rotate the screen post installation so you can change between landscape to portrait mode easily.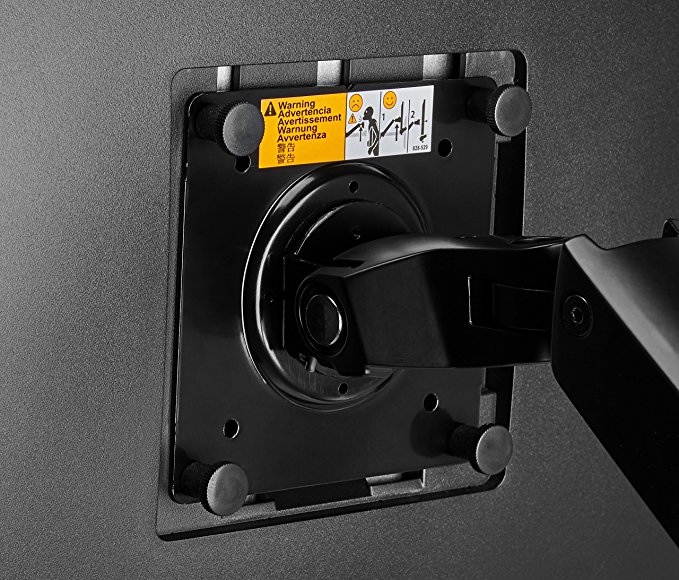 MONITOR SIZES: Next you need to establish the monitor sizes for your multiple monitor setup. The stand need to be able to mount your monitors without suffering from stress or overload or worst, damage. Most stands are build to hold up to 27-inch displays but some can support up to 32-inch. Make sure you check with the manufacturer for the loading capacity and the weight of your monitor.
CONFIGURATIONS: How you like your monitors to be arranged is another factor for consideration. Even with a dual monitor setup, you can have a horizontal (side by side setup) or a vertical (one on top of the other) configuration. Likewise, three monitor setup can have all three monitors side by side or one on the top row and two on the bottom row side by side. For a four monitor setup, a two by two setup is most common. Two monitor side by side in a row with one row on top of the other.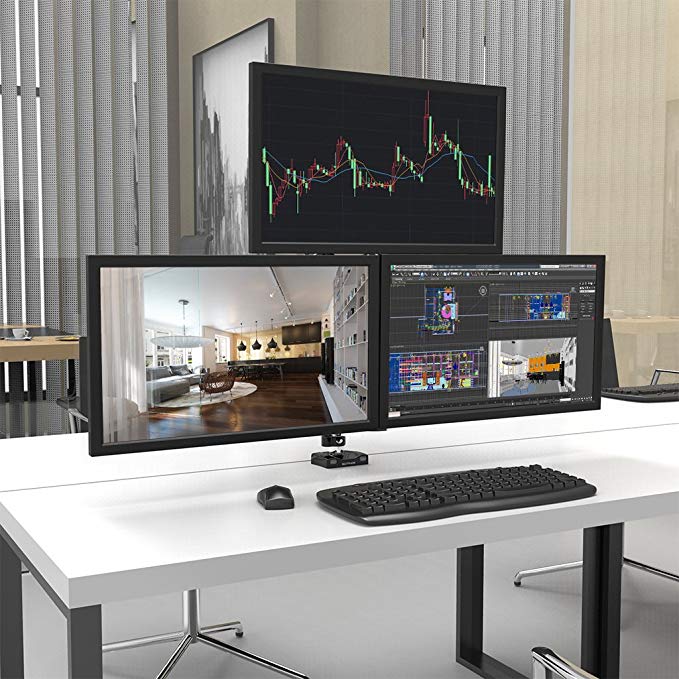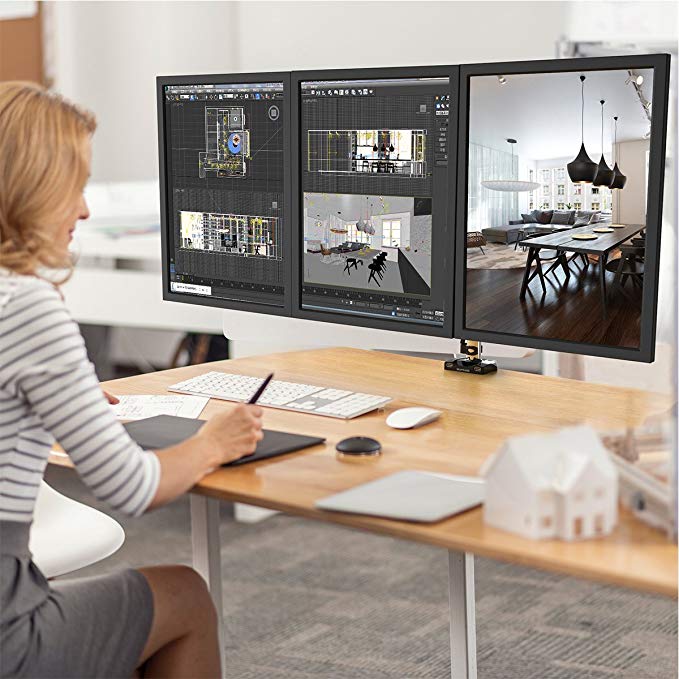 Three Monitors in Portrait Mode
FLEXIBILITY: Lastly, you want to consider the flexibility offered by the arms. More rigid stands are pole based with the central arm made from a single sturdy pole. Sometimes a second pole or bar is added horizontally to hold more than two monitors. Premium monitor stands offer full motion swivel with articulating gas spring arms. These let you move, swivel and tilt the screens to suit your viewing angle and avoid glare, offering maximum flexibility.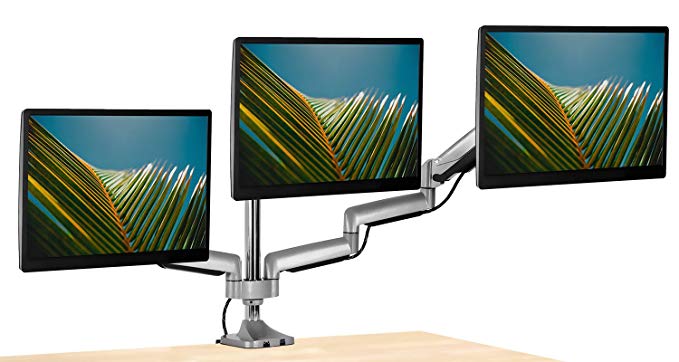 RELATED: Ultra Wide Monitors to take on the Multiple Screens Setups
Best Dual Monitor Stand – Arms to Mount Two Displays
Arguably the most popular multi monitor stand and also the most affordable for any multi-monitor setup, the dual monitor stand mounts two displays horizontally. There are some that mounts vertically while others let you rotate the display so you can have them in an 'L' orientation. You also get a choice of free standing or desk mount variety. Use the links below to access the different dual monitor stand on Amazon:
---
Triple Monitor Stand – Arms to Mount Three Displays
The most common triple monitor stand are those that holds the monitor in a row horizontally. You can find the odd one that has a 2+1 configuration with two monitors mounted side by side while the third monitor goes above the two in the middle. As with the dual monitor stands, you can get either a free standing version or a desk clamp mount. For more information about these stands, click on the links below to access the product page on Amazon.
---
Quad Monitor Stand – Arms to Mount Four Displays
These mounts and stands are capable of holding up to four monitors with a few different configurations. You can find the odd 1+3 configuration where you get three monitor mounted side by side horizontally while the fourth monitor is mounted above the middle monitor. The other popular configuration is the 2+2 with two monitors in a row with the stand capable of holding two rows, one on top of the other.
---
Penta Monitor Stand – Arms to Mount Five Displays
Not as common as the other mounts and stands, Penta Monitor mounts are available in free standing or desk mount versions. These mounts will carry your monitors in two rows, the top row features two monitors side by side while the bottom row features three monitors side by side. This is the only configuration you will get for a five monitor setup.
NavePoint Penta Monitor Stand – STAND
NavePoint Penta Monitor Mount – CLAMP
---
Hex Monitor Stand – Arms to Mount Six Displays
Like the five monitor brackets, you get two rows, with three monitors in each row. With the same monitors, the configuration offers a 3+3 configuration, a perfect rectangle. It's not always
Mount-It! Hex Monitor 3+3 Mount – CLAMP
VIVO 6 Monitor 3+3 Stand – STAND
NavePoint Hex Curved Monitor Mount – STAND/CLAMP