One of the most annoying things I had to encounter as a student was sharpening a pencil until I got the desired pointy standard tip. Unfortunately, it hardly ever happened. Fingers blackened with pencil's shavings, wood coming off, the blunt tip creating funny noises as I wrote and then suddenly breaking into half… Oh, the horror! It was worse when coloring pencils had to be sharpened. It seemed as if my whole life revolved around a sharpener and a pencil. I am not exaggerating when I say that an eternity was wasted perfecting these two stationery items.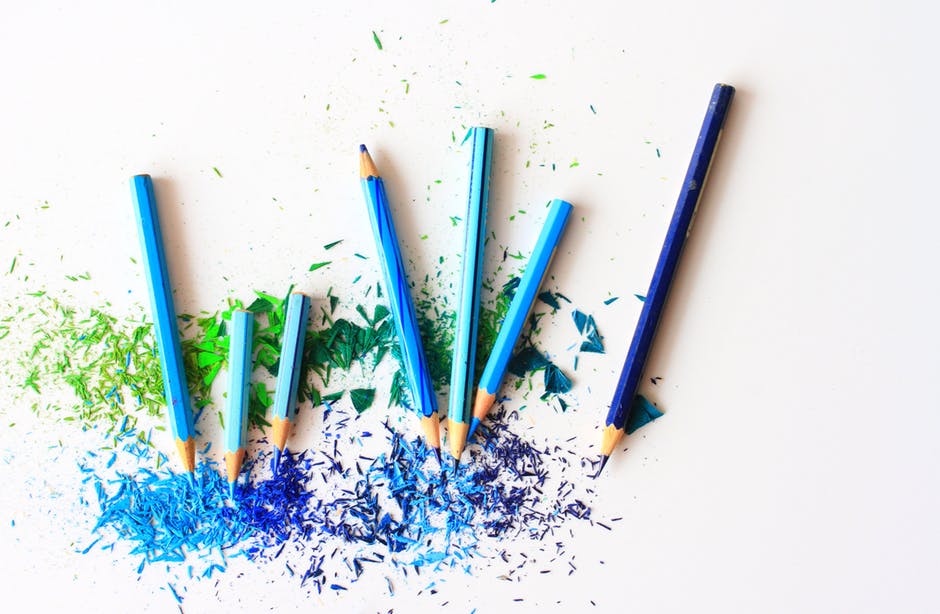 Welcome to the world of electric sharpeners! They are a life-saver!
Click To Tweet
Lo and behold… Welcome to the world of electric sharpeners! They are a life-saver for students, artists, calligraphers, and even random doodlers. Check these top 10 electric pencil sharpeners and choose the one you like best!
NOTE: Use the links below to search for the pencil sharpener of your choice on the Internet.
Top 10 Best Electric Pencil Sharpeners
We have also made clear the power option(s) for these pencil sharpeners. There are those which are battery powered, mains powered or have the option of using it on battery or mains plug-in electricity. These pencil sharpeners come highly recommended and are among the best in the market.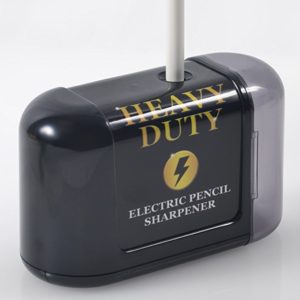 If you are at your wits end and completely frustrated to the core because of weak pencils and blunt sharpeners, Artist Choice will make your life stress-free. The high-end battery-operated electric sharpener can save the lives of every stubborn pencil you were thinking to throw out. It features a helix stainless steel cutter that creates a smooth and consistent tip each time!
The sharpener is child-proof, so you can easily use it around kids. Thanks to its compact design, you can fit the sharpener anywhere – from your desk to your backpack. A small box is attached to it into which all the shavings are caught. Simply remove it to clean it out. Artist Choice Electric Pencil Sharpener is geared towards students, artists, engineers, and sketchers.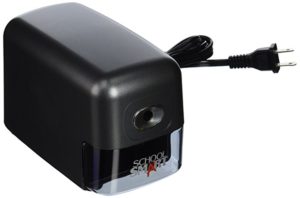 Ideal for classrooms, offices and homes, the high-speed sharpener calls itself 'heavy-duty'. It has a contemporary design that prevents tip-overs and blends well in any setting. The unit has a large receptacle for shavings. When the receptacle is removed to be emptied, the sharpener becomes non-functional.
In my opinion, it is a rather important feature that will prevent horrible mess and parents/teachers running around to pick up the scrapes. The helical blade is made of steel with an auto pencil tip that ensures a perfect tip every time! It comes in two neat colors; black and grey.
These top 10 electric sharpeners are perfect for all pencil-lovers!
Click To Tweet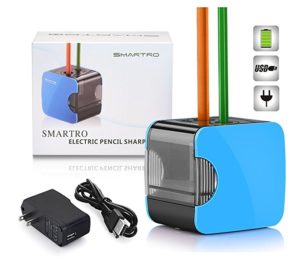 I have noticed my nieces enjoy their homework more when they use cute, colorful stationery. An eye-catching electric sharpener was a perfect addition on their study desks. Compact and bright blue in color, SMARTRO sharpener comes with an
AC adapter
 as well as the option to use 4X AA
batteries
offering the flexibility of use.
The double hole arrangement lets it accommodate every kind of pencils, particularly No.2 2H colored charcoal pencil. One hole is dedicated to 6-8 mm diameter while the other is for 9-12 mm diameter. Within 5 seconds, you will have a sturdy, perfectly pointed tip.
The design is meant to be portable, and is suitable for students, artists, engineers, architects, and fashion designers. It will definitely make your coloring woes disappear.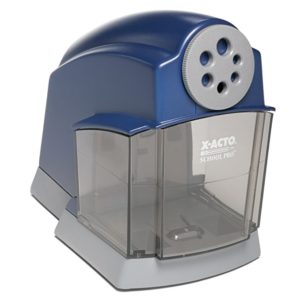 Do you have plenty of pencils of different sizes? If yes, buy yourself an X-Acto Sharpener. Featuring 6 slots of different capacities and sizes, the sharpener quickly produces a sharp point super-quietly with its helical steel cutter.
The receptacle for shavings is also large enough to last a few days. The heavy-duty sharpener has a durable body that will stand forceful impacts and wear and tear. The design is specific to classrooms and the quiet motor system doesn't disrupt the peace.
When the pencil has sharpened, the flyaway cutter system stops the cutter automatically. For busy art classes and large student body, X-ACTO School Pro Classroom Electric Pencil Sharpener is an ideal choice.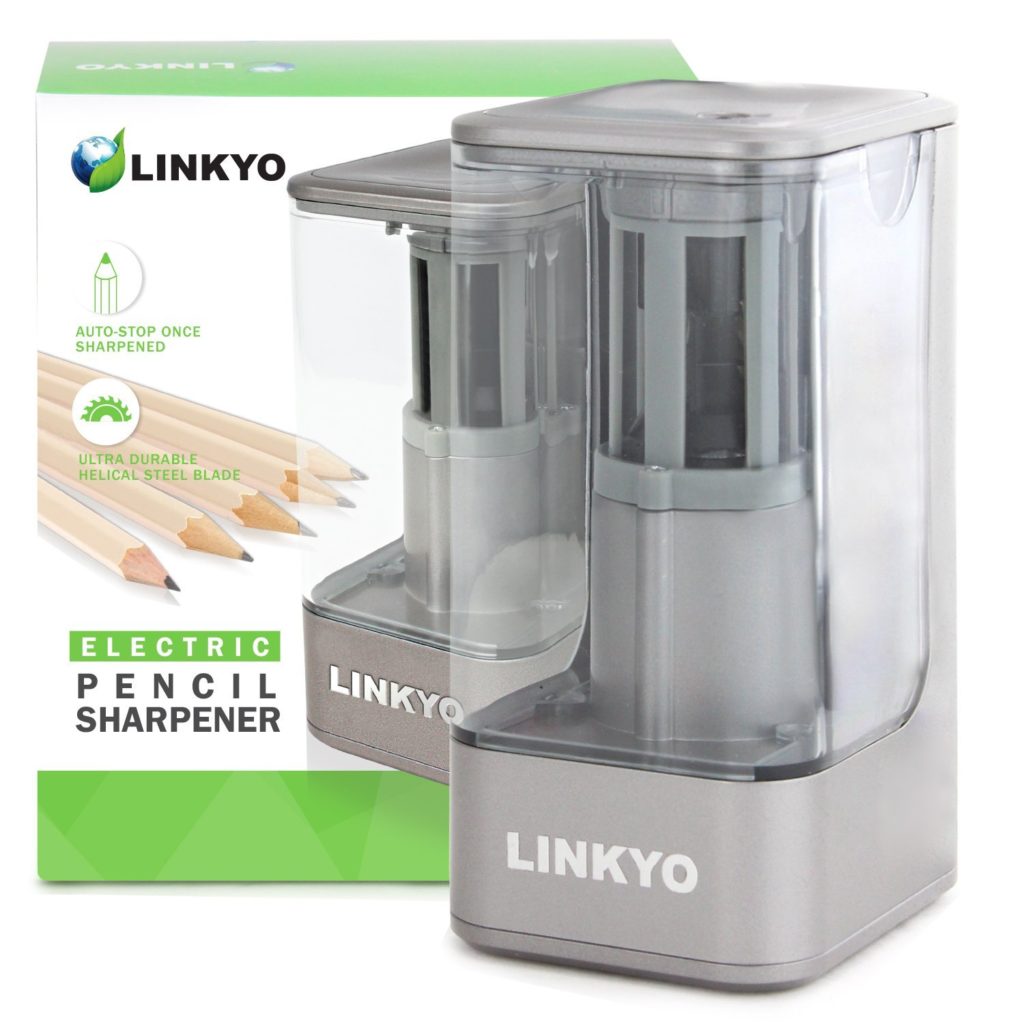 Taking only 3 seconds to sharpen a dull pencil and 7 seconds to sharpen a new pencil, LINKYO brings you an ultra-durable, heavy duty sharpener ideal for classrooms, homes, and office use. It has a built-in smart sensor that automatically turns off the sharpener when pencil reaches the perfect sharpness.
LINKYO comes with an extra-large reservoir that can contain up to 100 shavings! There is a safety guard that powers down the running sharpener once the lid is removed. The technology makes it safe to use around the kids. While the manufacturer calls it heavy-duty, it is actually very light-weight and delicate. Sometimes, shavings tend to get stuck in the blade which can be removed after a tap or two.
X-Acto or Linkyo? Which one should you go for? Find out!
Click To Tweet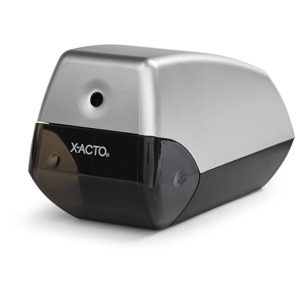 If you want a straight forward, no-fuss, mains-powered electric sharpener, then the X-ACTO Electric Sharpener is for you. There is nothing to fiddle, all you need to do is to simply insert your pencil and it will do the rest. However, do not be deceived by its understated and simple design. Using a strong and long lasting helical blade cutter it goes to work, giving you a precisely sharpened pencil every time.
It also employs what it calls the PencilSaver technology, a system that stops your pencil from being over-sharpened, great for extending the life of your pencil and prevent wastage. There is also an Auto-Reset and SafeStart function that protects the motor and stops it from overheating and keeps the user safe. If you share an office space or room with others, you will be glad to know that the pencil sharpener operates with minimal noise from the electric motor perfect for maintaining a quiet and peaceful working environment and keeping minimal disruption.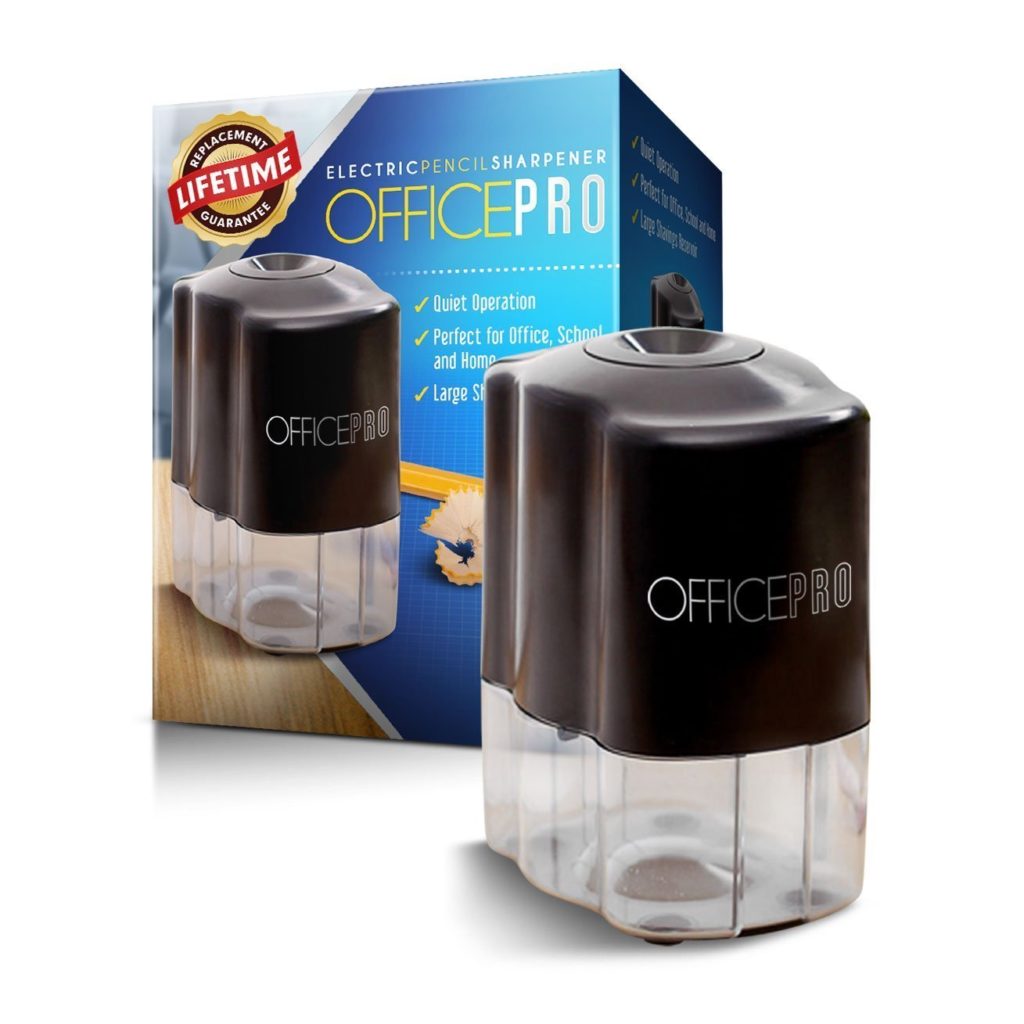 The compact, battery-operated sharpener will bring a wonderful change in your office, classroom, workshop, or home. The portable design makes it easy to carry it along with you. It has a helical stainless-steel blade with an automatic stop feature that generates a precise tip every time. Mind you, it doesn't have a plug-in option. However, I feel standard AA batteries make it quite convenient to use anywhere. Should you run flat, you can always find replacements at your local stores. The best part is OfficePro sharpener comes with a lifetime warranty. If it ever stops functioning, you can replace it for free!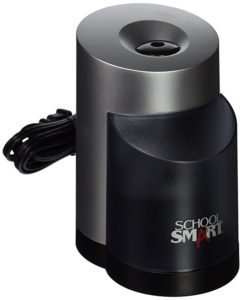 School Smart Vertical Pencil Sharpener is a bit pricey as compared to other electric sharpeners. Are you wondering what is so neat about it? Well, it is worth it. Battery-powered and corded, the sharpener has a contemporary, vertical design that holds the pencil in firm grip without having to struggle to hold it properly.
It gives a perfect tip without breakage and eating up your pencils. The reservoir for shavings is large to last you through a very busy day. It is ideal for students and artists who have to sharpen their pencils a lot. Both regular and colored pencils can be used.
No more losing colored pencils and no more shavings on the floor. Get an electric sharpener!
Click To Tweet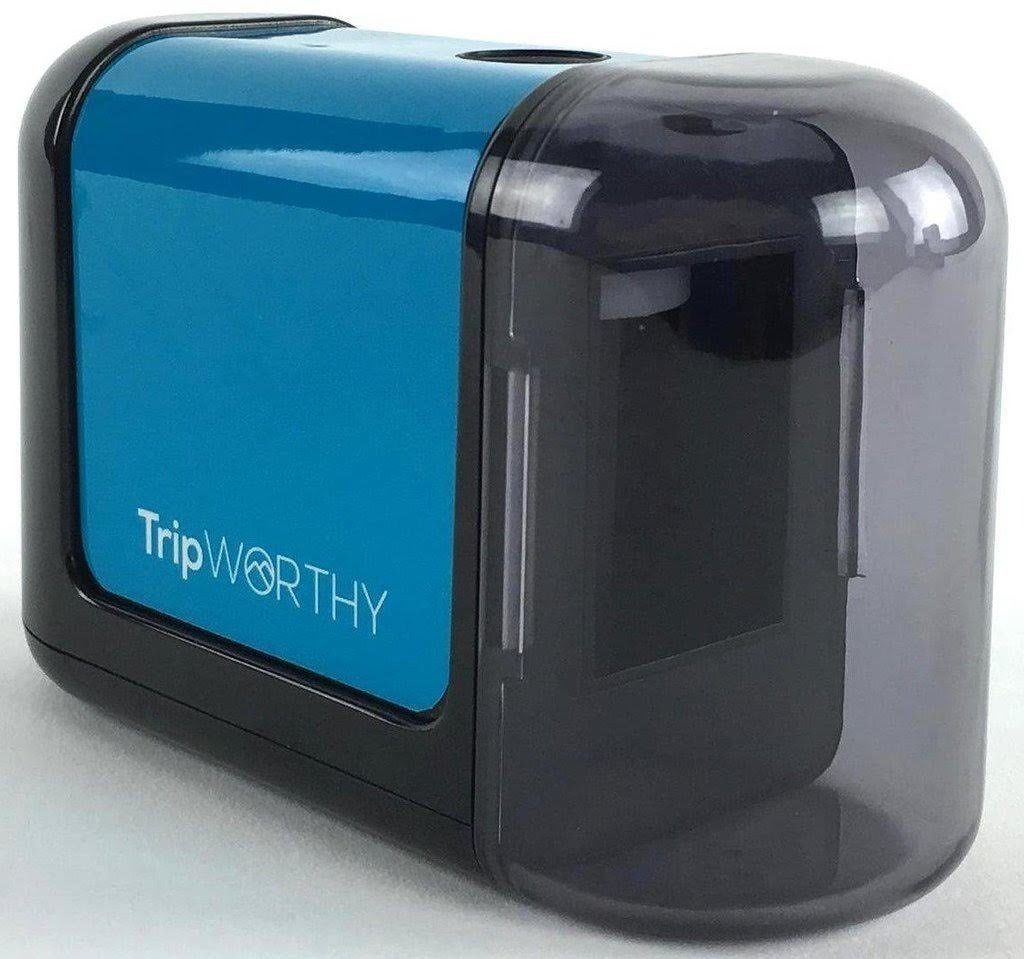 TripWorthy's battery-powered sharpener can be used in any setting – from classroom to home; from an office to a carpenter's workshop. Whether you need a pencil for drawing, coloring, or writing, the sharpener generates a sharp tip that allows you to do your work with ease.
It has an auto-stop safety feature that prevents any freak accidents to happen. No hurt fingers! Moreover, the pencil sharpener can handle No. 2, colored and soft lead pencils easily. It comes with a manufacturer's warranty so if you face any issue, you can get it checked.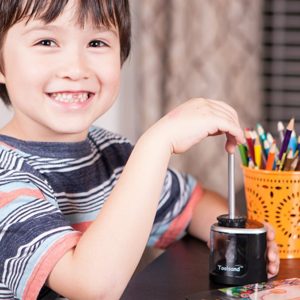 Toolsand brings you a portable, battery-operated pencil sharpener that is adult and child-friendly. It has a vertical design that makes sharpening a smooth process with a firm grip. When the blades dull over time, the company sends a replacement on your request.
It also has a patented two-mode operation. The manual function which will come handy in case you run out of batteries. Toolsand sharpener can accommodate all standard 8mm pencils.
Electric sharpeners will make your life hassle-free! Check these out...
Click To Tweet
Up till now we have explored electric plug-in and battery powered pencil sharpeners. What if you prefer the old fashioned, hand cranked, manual pencil sharpener? We have just the one for you.
This sharpener is a perfect solution for people who don't want their stationery items to be misplaced. Mount it on the wall and save yourself from the trauma of a frantic search. No matter how hard those pesky little things will try to pull it off, the sharpener won't budge. It has adjustable slots that can accommodate up to 8 sizes, a manual operation for children and a dual helical blade for precise sharpening that is made to last 33 times longer!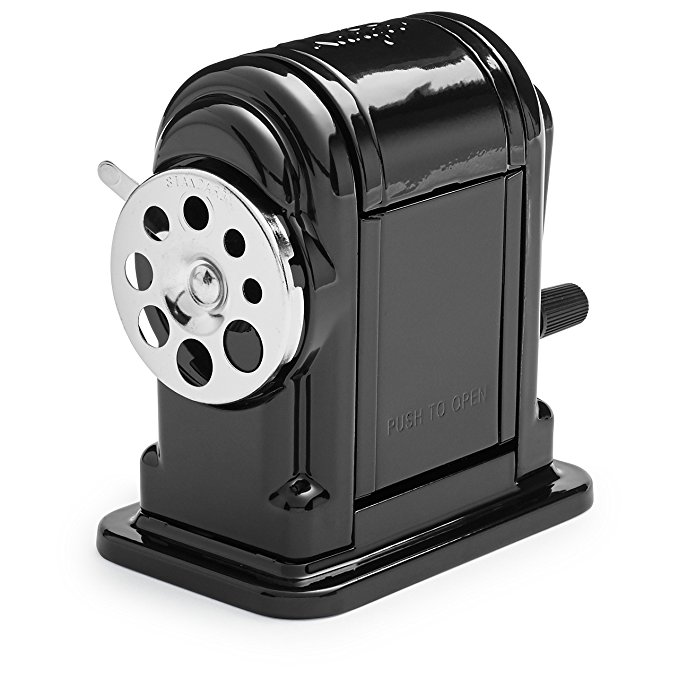 The key to its proper functioning is to install it on a flat surface where it doesn't move. The screws for fitting are included in the set. It does not require a wall socket or batteries to operate either. Yes, our list is about electric pencil sharpeners but we could not help ourselves being nostalgic about the a manual pencil sharpener especially one that has a retro feel to it. X-ACTO also offers the KS, Model L and one with a Vacuum Mount, all with that vintage feel to its design.
Whether you are a student sick of sharpening blunt pencils, a teacher tired of complains about broken tips, a parent bored of picking shavings off the floor, a busy carpenter working on a project, or an artist who doesn't want to lose more coloring pencils to dull blades, electric sharpeners will make your life hassle-free!
If you have experience with any of the pencil sharpeners featured here, please do share your thoughts by leaving us your comments below. If there are other electric or battery powered pencil sharpeners that we have not featured here, and in your opinion, we ought to highlight, please also let us know.