Here is our line-up of Chromebooks with a convertible profile. These 2-in-1 devices allow you to embrace the ChromeOS and all that Google G Suite and Android Apps have to offer. With various levels of performance and size, which of these is the best for you.
In an exciting move by Google, the search giant has offered support for Android Apps on the Chromebooks. This means you can now run install and full-blown Android Apps, those that you are used to on your Android Smartphone or Tablet on ChromeOS. The move just made Chromebook even more appealing as a device that could potentially replace your Windows laptop for education.
More Than Just an Operating System Based on a Web Browser
This means that you can now run apps that you bought from the Google Play Store for Android including games, social media apps, music streaming, video streaming, news, booking and shopping apps on your convertible laptop.
Imagine playing Super Mario Run or GT City Racing game on the big screen, catching up with your friends on Facebook, WhatsApp Messenger, Instagram, Twitter and Hangouts, using Netflix or Spotify for videos and music or actually doing some work on Google Docs, Sheets, Slides, Keep, Drive, Calendar and Mail. You can do all that and more on the Chromebook.
With bigger storage and a microSD card, you can even download and cache music, movies and TV shows from Spotify or Netflix locally for offline viewing just like you do on your tablet.
The catch here is that you need to be fully acquainted with Google and has a Google account to start. If you already use Google Mail as your primary email account or used the Google Chrome browser then you are pretty much there. The Chromebook will sync your settings, bookmark, web extensions and add-ons straight away.
Coping with Work
You can then access the Google Play store to download your apps. If you are more familiar with Microsoft's Office suite of apps and is not completely weened off your dependence of the productivity suite, you can still access Word, Excel, PowerPoint, Outlook, OneNote and OneDrive. Simply download and install the relevant Android Apps and run these on your laptop.
The other plus is that Google Assistant is now fully integrated and can be summoned with a press of a button. With voice command, you can control common tasks searches, sending an email or checking the weather. And, if you are fully invested with Google Home and smart home automation, you can download the Google Home app and start Chromecast, speakers and other compatible devices form there.
Peformance
Given that these Chromebooks come with 4GB of memory and the same 64GB eMMC (sometimes 32GB eMMC) storage, the performance of these devices rely solely on its' processors. Here, we take a look at the different processors in use and how to compare with each other.
Mobile Devices: swipe left to see more.
| | Ave CPU Mark | Single Thread | Cross Platform Rating | Typical TDP | TDP Down | TDP Up |
| --- | --- | --- | --- | --- | --- | --- |
| Intel Core i3-8130U @ 2.20GHz | 3794 | 1892 | 6775 | 15W | 10W | NA |
| Intel Core m3-8100Y @ 1.10GHz | 2898 | 1858 | 5468 | 5W | 4.5W | 8W |
| Intel Pentium 4417U @ 2.30GHz | 2302 | 1323 | 4315 | | 15W | 12.5W |
| Intel Pentium 4415U @ 2.30GHz | 2027 | 1143 | 4050 | 15W | 10W | NA |
| Intel Celeron N3450 @ 1.10GHz | 1883 | 755 | 3056 | 6W | 4W | NA |
| Intel Celeron N4000 @ 1.10GHz | 1527 | 1110 | 2777 | 6W | 4.8W | NA |
Source: cpubenchmark.net
To understand the performance of the processors, we refer to results submitted machines out there in the real world using PassMark CPU benchmark software. An average CPU mark is then derived, see Average CPU Mark column in the table above. The top three best performing processors and most efficient processors are marked in the table. This gives us an understanding of the level of performance offered by the CPUs. To illustrate, we come up with the performance comparison chart below.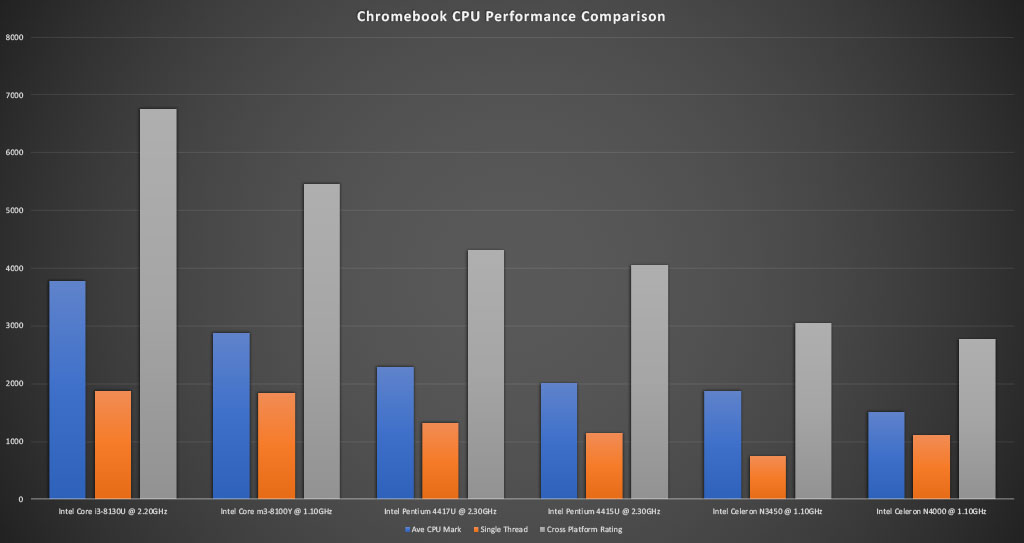 Taking the Intel Celeron N4000 as baseline, the fastest processor in the list is the Intel Core i3-8130U. This leading CPU is nearly 2.5 times while the next fastest, the Intel Core m3 is 1.9 times faster. For a balance of performance and price, budget Chromebooks use Intel Pentium and Celeron processors. The Intel Pentium 4417U is 1.5 times faster while the Intel Pentium 4415U is around 1.3 times faster than our baseline. This leaves us with the quad-core Intel Celeron N3450 which is rated at 1.23 times faster than the Intel Celeron N4000.
Convertible 2-in-1 Chromebooks
Unlike its conventional laptop counterpart, the convertible 2-in-1 Chromebook offers maximum flexibility 360 degree hinges. It gives the device acrobatic feats to let you use it in four different modes as seen below. These modes are typically known as laptop, tent, presentation and tablet. Effectively, in choosing a 2-in-1 device you get a laptop and laptop and everything in between from a single unit.

Top 5 Best Hybrid 2-in-1 Chromebooks
We look at a range of budget Chromebooks from Lenovo, ASUS, Acer and HP that uses different processors and display sizes.
BONUS: HP x360 14-inch 2 in 1 Chromebook – Intel Core i3 64GB eMMC – BALANCE ALL-ROUNDER
We start with the fastest and biggest 2-in-1 Chromebook, the Lenovo C340 (15). Powered by 8th generation Intel Core i3 with Turbo Boost, the chip is enough to push a lightweight operating system like ChromeOS to a level of performance that will satisfy even the most demanding users. It is only limited by the amount of memory, but you can easily upgrade this to 8GB.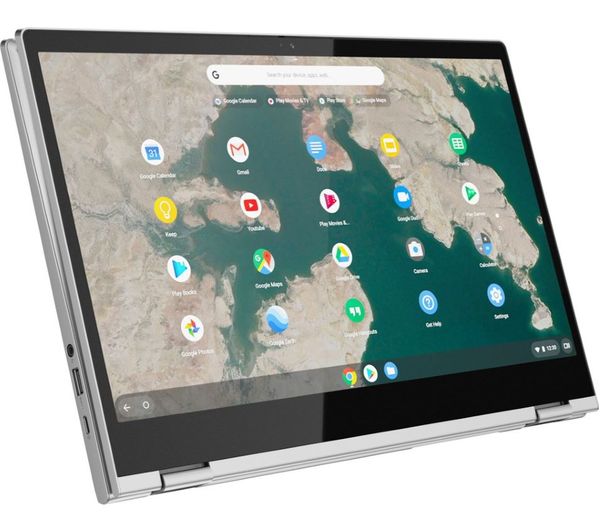 While the ultra-narrow top and side bezels near the display keep the footprint of the device small, make no mistake, this 15.6-inch device is big, hence not so great for portability. Elsewhere the Lenovo C340 supports the digital pen on selected models, up to 10 hours of battery life and TrueBlock Privacy Shutter to physically close the webcam.
Lastly, you get 2 x USB Type-C port, 1 x USB 3.1, 3.5mm combo jack, microSD card reader and Bluetooth 4.2 for expansion and connectivity.
Specifications
Intel® Core™ i3-8130U Processor Dual Core 2.2/3.4GHz 4MB cache
RAM: 4 GB / Storage: 64 GB eMMC
15.6-inch Full HD screen 1920 x 1080p
Battery life: Up to 10 hours
Dimensions & Weight: 18.9 x 361.5 x 248.8 mm (H x W x D), 1.98kg
Also available Lenovo Chromebook C340-15 with Intel Pentium Gold 4417U processor.
The second fastest Chromebook in our list is not only fast but uses the energy efficient Intel Core m3 processor with a typical thermal design power of only 5W, one third that of the Intel Core i3 processor used in the previous Chromebook. Cost wise, as it is a premium class device, it is the most expensive device on our list with good reasons.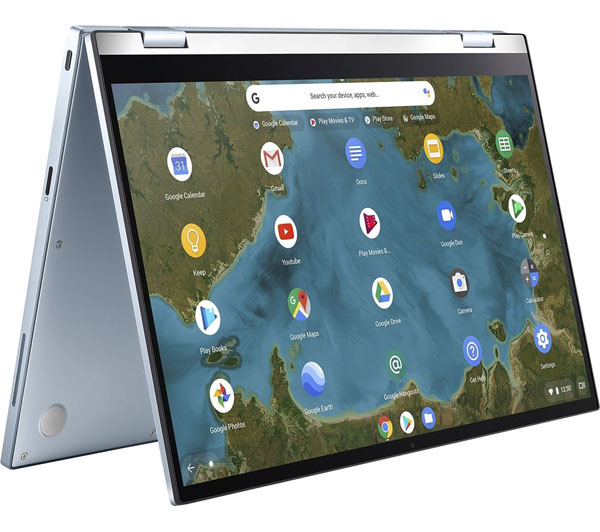 The lightweight body is made from aluminium alloy and features elegant diamond cut edges. The chassis measures a mere 16.5mm when closed or in tablet mode and weighs only 1.5kg. It has a 14-inch display but thanks to its super narrow bezels (85% screen to body ratio), it comes in a body equivalent to a 13-inch device.
Other clever features include ergo lift hinge that improves the typing position by lifting the keyboard at an angle in laptop mode and USB Type-C port that supports multiple screens setup. Again, there are two USB Type-C ports and one USB3.1 port for expansion. It goes further to offer a DisplayPort 1.2. It supports Dual-band AC WiFi and Bluetooth 4.0 for wireless connectivity.
Specifications
Intel® Core™ m3-8100Y Processor Dual-core 1.3/3.9GHz 4MB cache
RAM: 4 GB / Storage: 64 GB eMMC
14-inch Full HD screen 1920 x 1080p
Battery life: Up to 10 hours
Dimensions & Weight: 15.7 x 321 x 202 mm (H x W x D), 1.5kg
This HP x360 2-in-1 Chromebook with 14-inch display is powered by a mid-range Intel Pentium processor, the Intel Pentium Gold 4415U. It has a slim and lightweight body, second only to the ASUS Flip C433TA above for a lot less money.
Weighing only 1.6kg and 16mm thin with up to 14 hours of battery life, you couldn't get any better than this. Plus, it comes with dual band AC WiFi and Bluetooth 4.2 for wireless connectivity. As for expansion, there are two USB Type-C ports and three USB3.1 ports, the most number of posts we have seen on a device so far.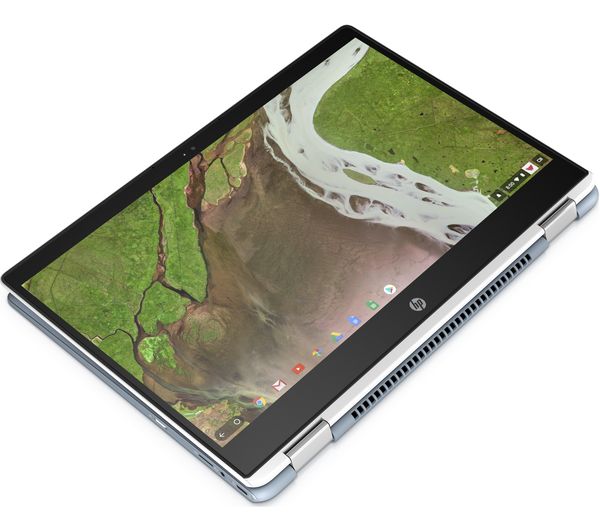 Intel® Pentium® Gold 4415U Processor
RAM: 4 GB / Storage: 32 GB eMMC
14-inch Full HD touchscreen 1920 x 1080p
Battery life: Up to 14 hours
Dimensions & Weight: 16 x 226.8 x 325.4 mm (H x W x D), 1.6kg
For portability, choose a Chromebook with 12-inch or smaller display. The HP x360 12-inch 2-in-1 Chromebook fall under this category. Not only is it small and lightweight, it features a 360 degree hinge, touch HD+ display with micro-edge bezels and 3:2 aspect ratio screen preferred by some over the wide displays. The Dual core Intel Celeron processor isn't the fastest but enough for the standard day-to-day tasks. Even with a smaller chassis and battery, it still holds up to 11 hours of usage time per charge. Definitely a device to go for with portability and all day use that go hand in hand.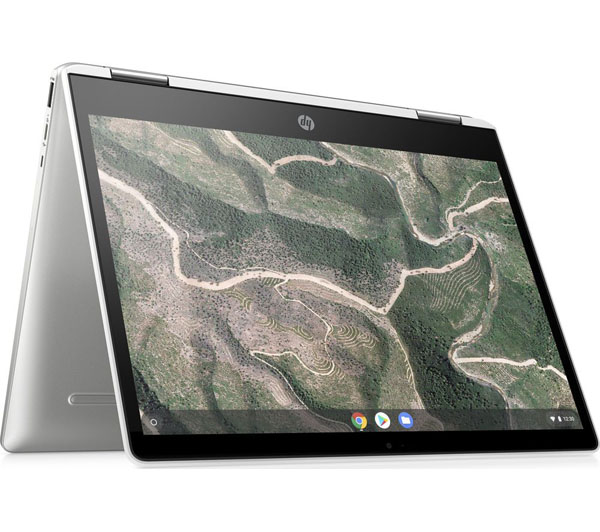 Specifications
Intel® Celeron® N4000 Processor
RAM: 4 GB / Storage: 64 GB eMMC
12-inch HD Ready 1366 x 912p
Battery life: Up to 13 hours
The smallest 2-in-1 Chromebook in our list. This one is powered by a quad-core Intel Celeron N3450 processor. It performs significantly better than the dual core Intel Celeron N4000 but uses more power. Unfortunately, the device has only half the storage at 32GB eMMC compared to the 64GB eMMC all the other devices here have. But the upsides are portability and the inclusion of a stylus on top of the touch sensitive screen. For those looking for an ultra compact, super lightweight 2-in-1 Chromebook, you can't really fault this.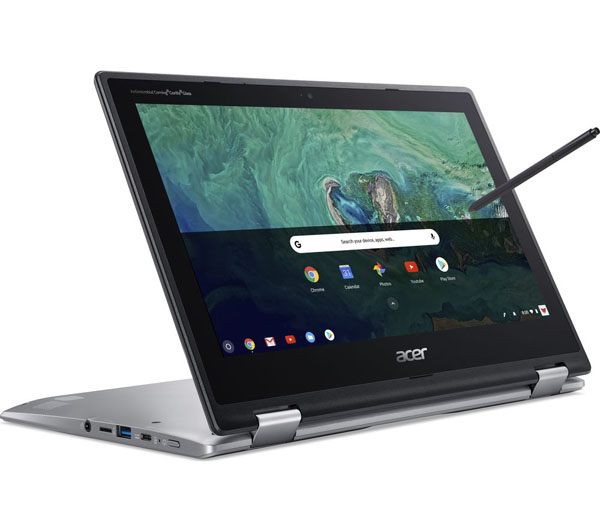 Intel® Celeron® N3450 Processor
RAM: 4 GB / Storage: 32 GB eMMC
11.6-inch HD Ready 1080 x 720p Touch screen
Battery life: Up to 10 hours
Dimensions & Weight: 19.99 x 206 x 296 mm (H x W x D). 1.25kg
Another Chromebook that uses the 8th generation Intel Core i3-8130U, this here is the third HP x360 2-in-1 in our list. In fact it looks identical to the HP x360 14 with Intel Pentium processor above but comes with a lot more fire power. The Core i3 as we know from the performance chart above is the most powerful processor in our line-up. Together with generous 8GB RAM memory, the only Chromebook in our list to feature double memory and 64GB eMMC, it's future proof. Plus, the onboard battery lasts up to 13 hours on a full charge. Other notable features include dual firing stereo speakers tuned by B&O PLAY, dual array microphone and 14-inch Full HD micro-edge multi-touch display.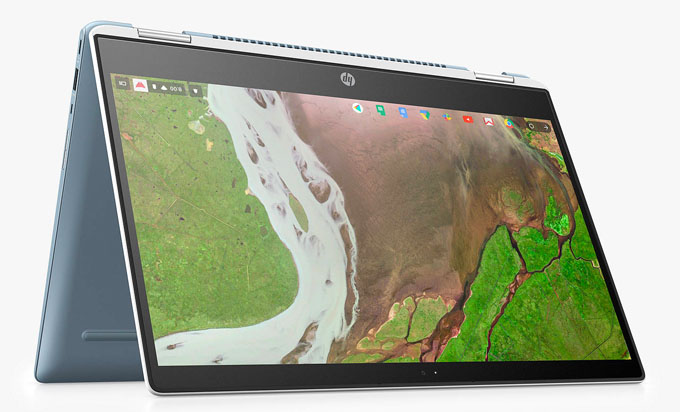 Intel® Core i3® Processor 2.2GHz to 3.4GHz with Turbo Boost
RAM: 8 GB / Storage: 64 GB eMMC
14-inch Full HD touchscreen 1920 x 1080p
Battery life: Up to 14 hours
Dimensions & Weight:

H32.54 x W22.68 x D1.6cm, 1.68kg
OTHER CHROMEBOOKS
Continue to the next page for more 2-in-1 Chromebooks