Although the saying goes, 'A picture paints a thousand words', a thousand words also does make a pretty picture. There was a time when word clouds used to sit in the sidebar of most blogs, listing the Categories or Tags in a playful visual.
While no longer as popular a website tech-innovation, using words to create visuals do go quite a long way in making words more 'friendly', particularly in schools, educational establishments and even in the home. Children who find words daunting, may (or may not) be enticed by the whimsical nature of the word arrangements.
The ability to make some of the text larger than others based on the frequency in which the text appears, may be a useful starting point to discuss size and emphasis with younger children. For the older ones, it may even be a great way to do a 'which word jumps out at you' type activity.
The fact that these websites are easily accessible and available also means that students could make use of them in a fun way to create their own word clouds and learn words perhaps from a spelling list even.
Word Cloud Generators Online
Here are some of the greatest word cloud generators you can use for free online.
Word Art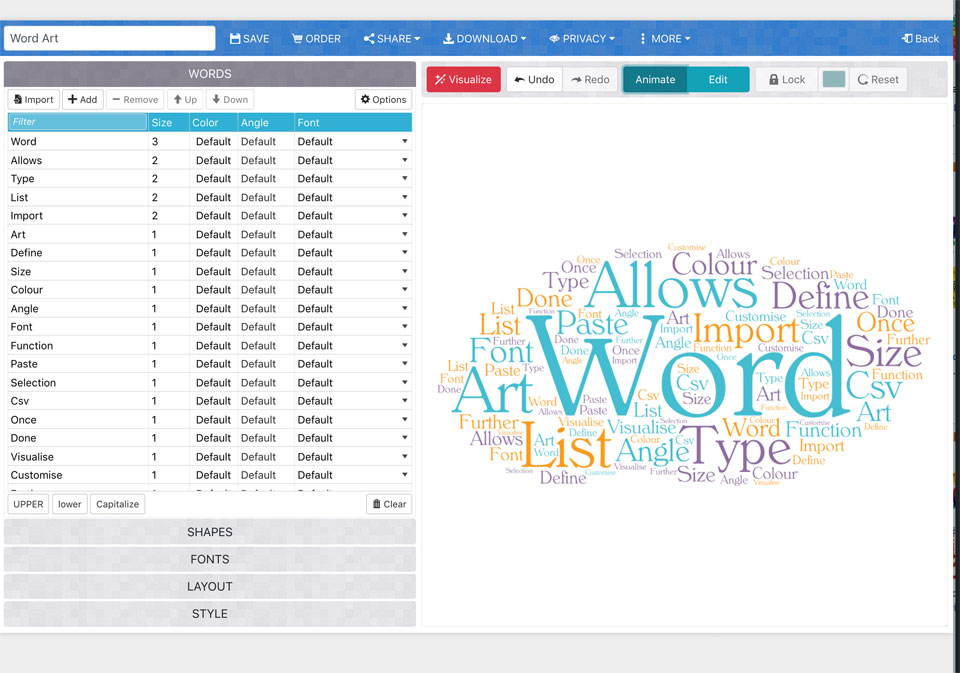 Word Art allows you to type in a list of words and define the size, colour, angle and font type. It also has an import function that allows you to either paste a selection of words or import a list from CSV. Once that is done you can then visualise and customise it further with shapes. There even appears to be an Animate function, although we aren't quite sure how it works.
Once you have created your Word Art, you can download the image in a variety of image formats and if you absolutely love your creation, you can even get it printed on a T-shirt, mug, poster directly from Zazzle.
Wordle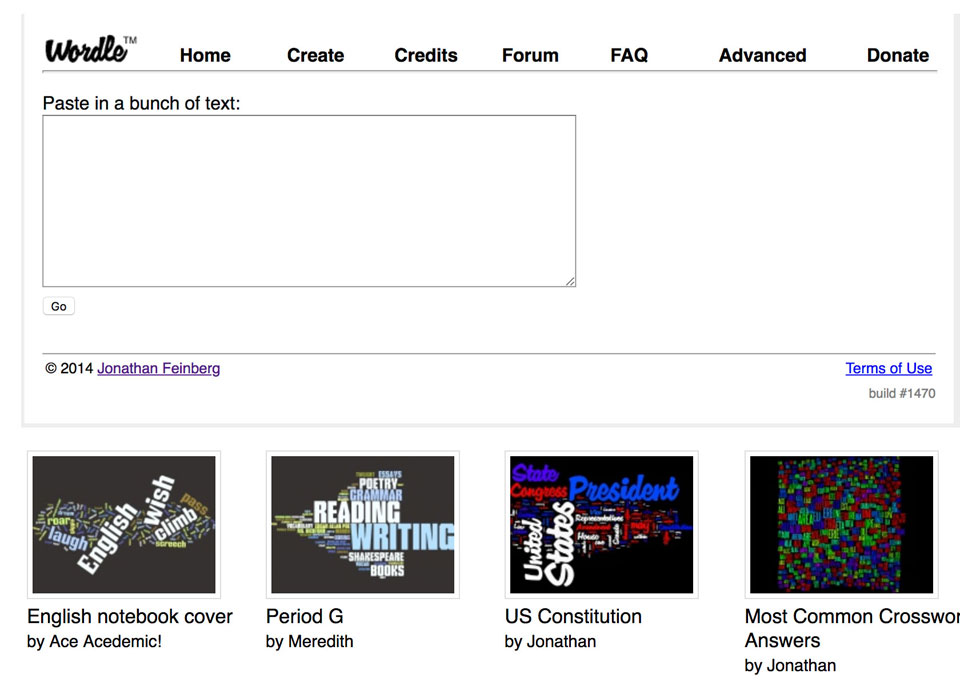 Wordle as described by it's creator Johnathan Feinberg is a toy for generating word clouds from text that is provided. The words are again given prominence based on the frequency in which it occurs in the passage of text. Very easy to use, it is simply a case of pasting a passage of text in to a text box on the website, and a word image is then generated. With much few options to play with, it's strength lies in it's simplicity.
To get it working though, it requires a Java plug-in and without this the word cloud will not generate.
Word Cloud Generator (Jason Davies)
https://www.jasondavies.com/wordcloud/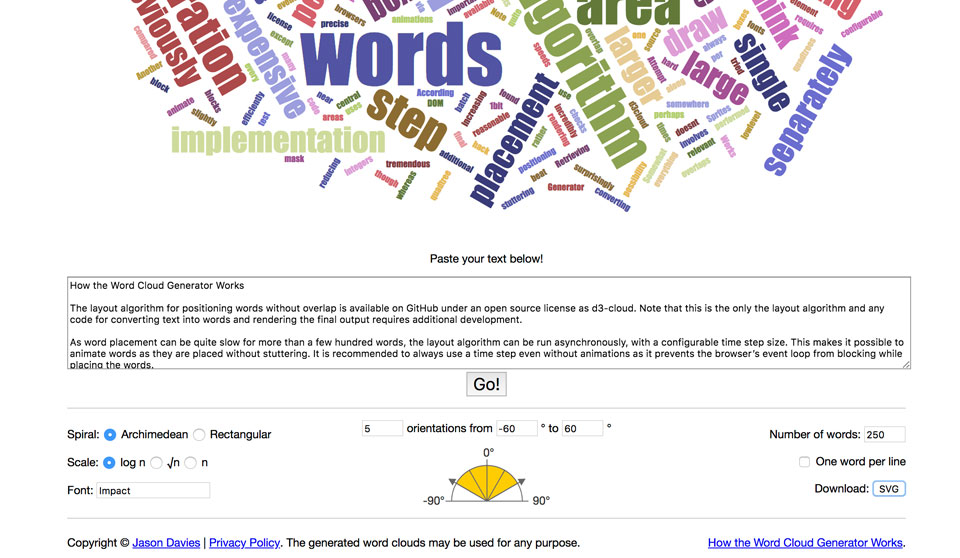 This Word Cloud generator is a brilliant insight in to understanding the more mathematical aspects of display. While it is very textual, and it's word placements are based on a variety of mathematical functions, it allows the user to better understand how the changes in their selection will be displayed.
Although fairly limited in display functions, you can decide between the Arhimedean or Rectangular Spirals, whether you want the Scale in log n, n or root n, and how many orientations of the words and the angles in which they are to appear.
The number of words is also a variable and the image files can be downloaded as SVG which can easily be converted in most standard imaging software.
Other Word Visualisations
Visuwords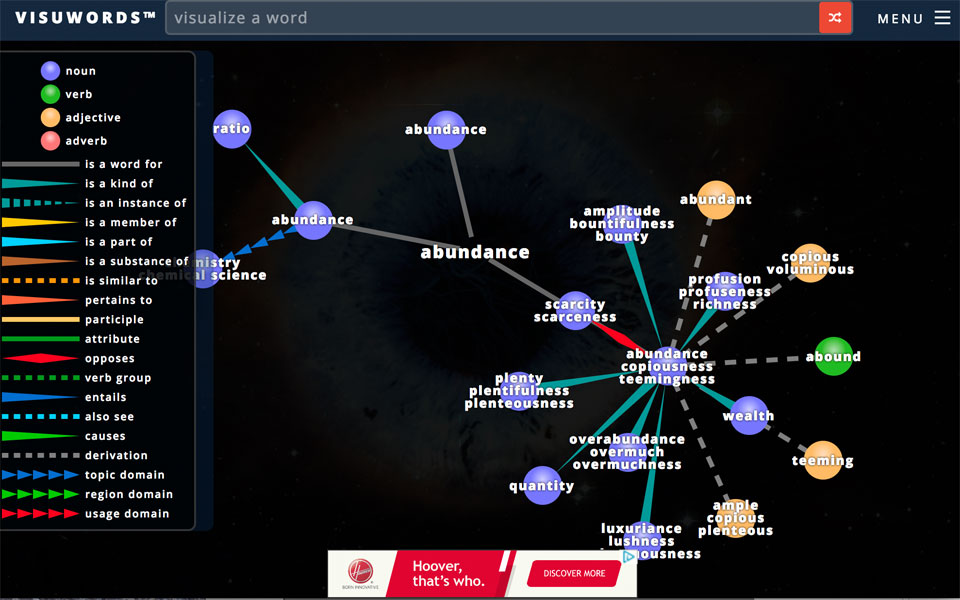 Visuwords is probably one of our favourite word visualisations. Colourful, highlighted on a black background, with a potentially extended range of connections, Visuwords allows a range of directly related and indirectly related words to be graphically connected.
As connections and grammar groups are highlighted in a range of colours and extended
Visual Thesaurus
https://www.visualthesaurus.com/app/view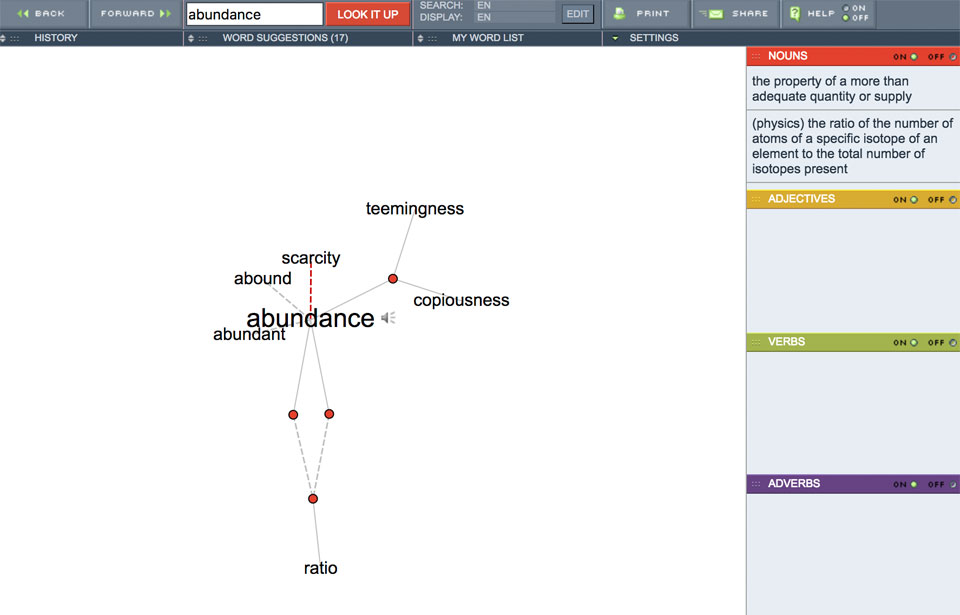 The Visual Thesaurus provides a web of words related to the particular word that is typed in. On the left sidebar, it classifies each of the words according to their grammar groups. You can also click on any word in the web and it will redraw a new web, providing a new visual of related words. A small speaker icon on each looked up word, allows you to hear how that word is pronounced.
With a white background and words in all black and varying degrees of font size to denote relationship, this website may prove to be a great way to learn about words and their connections to each other.
Merriam-Webster Visual Dictionary
http://visual.merriam-webster.com/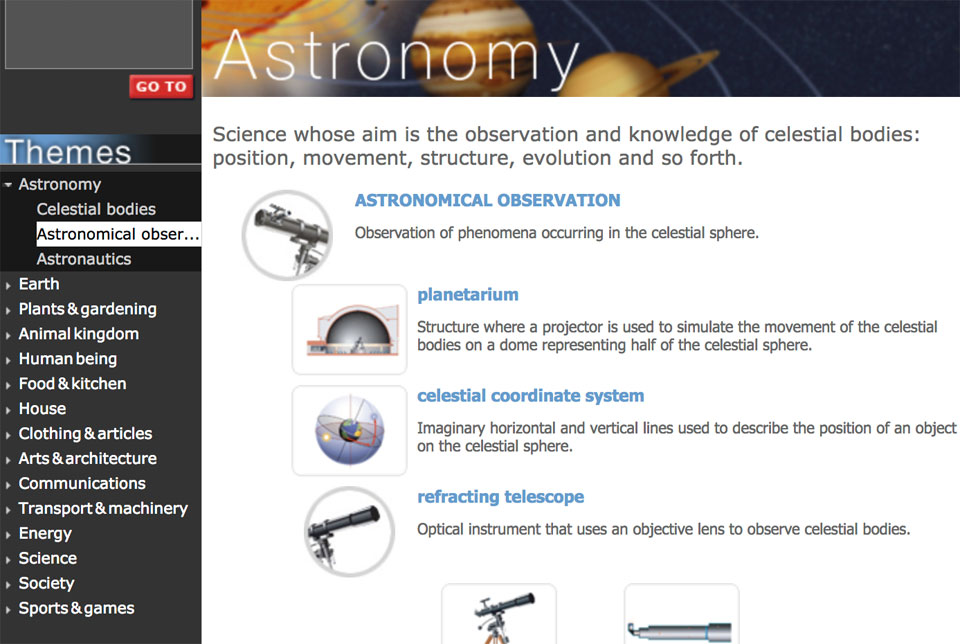 The Merriam-Webster Visual Dictionary offers a way of visualising words related to the following fields. Much like a child's first picture dictionary, this visual dictionary provides distinct images and descriptions for it's words.
The fact that further descriptive and explanatory detail is available on clicking through is impressive. While it may not be a complete or exhaustive list, thought and detail has gone in to the information available and for younger children, it certainly looks like a good place to start for many subjects.
When we think of words and writing, we do not naturally think of them as images, but with these options, we can now literally make a picture say a thousand words.