Tired of the 'stock' browser that comes with your machine, here are your speedy, more secure and highly configurable options that will trump your stock browser and take your Internet browsing to a whole new level.
A browser is the most used piece of application on your computer. I know the first thing I do when I switch on my computer is to fire up the browser. But why would one consider an alternative browser? Here are some of your reasons:
Looking for a fast browser that is capable of shaving seconds of page loads, minutes of your day, potentially hours in a year (it all adds up).
Want a fresh, clean and modern interface that is both easy to use and user friendly
Would like more control over privacy settings for safer browsing including real Private Mode
Access to a choice of Add-ons and Web Extensions that greatly enhances the way you use the browser
Looking for more customisable browsing experience, settings, tabs and all.
Consider the following; search, sync, security, speed and features when choosing the right browser for you.
Finally, you are not afraid to try new things, is adventurous and would rather do things your own way than to stick with the norm. Whatever your reasons are for choosing a different browsers, we have you covered with these top alternative browsers.
Top 5 Best Browsers on the Internet
In this post, we look at 5 of the best performing browsers on the Internet right now. These are browsers you can download and install for free, allowing you to access all its features and functionality with no extra.
1. Chrome
Fastest browser, crunching the most number of operations per minute compared to the other browsers in our list here, Chrome is our champion and most favoured browser for both Mac and PC.
You can truly feel the speed of page loads and start up, as long as you keep the number of add-ons low to none. Even without add-ons, there are many useful features like form filler, spellchecker, onboard translator, voice control  and password manager that ties in with your Google account including.
Being Google, Chrome is at the forefront of support for the latest web technologies and standards. Updates are available now and then to bring compliance and new standards on board. Logging in with your account also meant that you can sync your searches, bookmarks, history, password and add-ons between different devices.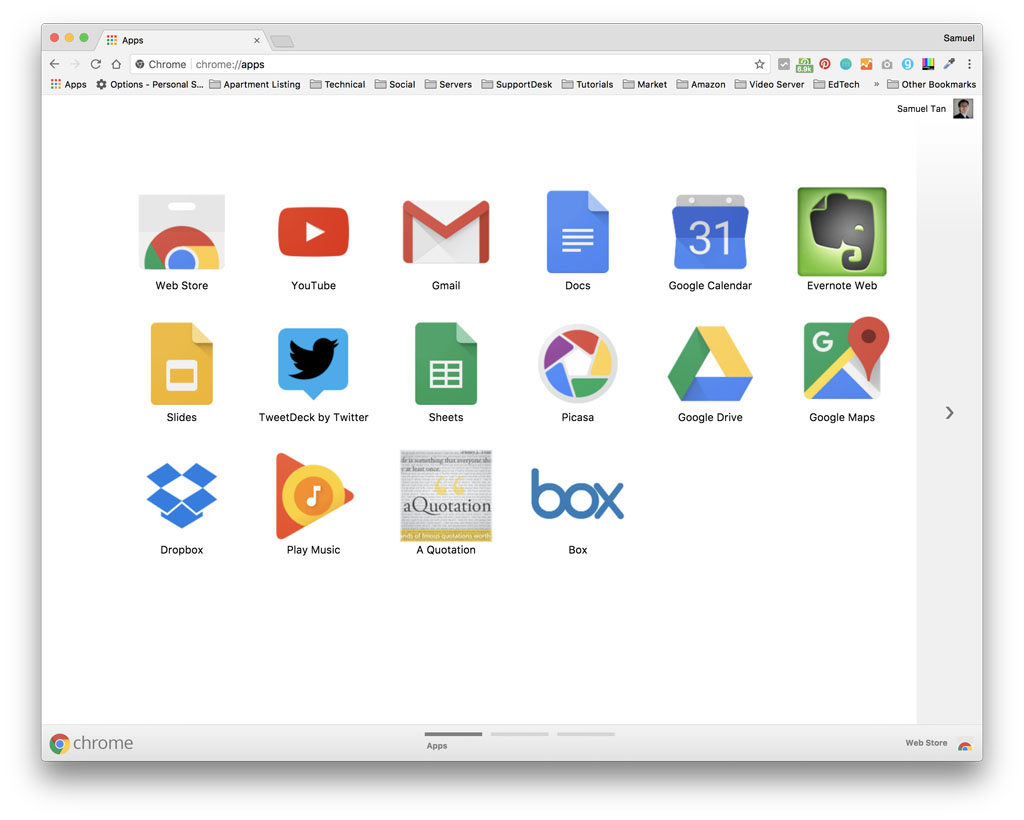 For enhancements and customisation, you get a huge list of extensions and add-ons from Chrome Web Store that you and download and install on the browser. Some of these are merely links to web resources and online tools such as photo editors and social sharing tools. Others like Clipboard History, Wallpaper, screenshot makers and Google Docs Offline.
The downside to Chrome is that it uses a huge amount of system memory as each tab requires a separate background process. Plugin and extensions takes up resources too so watch out for those. Don't be carried away adding a long list of add-ons as they will slow down the browser.
2. Vivaldi
Second in the list but not far off, Vivaldi can cook up almost as many operations per minute as the Chrome browser, just marginally lower. This means that it is just as fast as our champion and allow its users to perform many actions quickly.
The one thing that stands out is the ability to customise its interface. There are some attractive themes to pick from to immediately transform your Vivaldi browser to a sophisticated piece of software with background picture to match. So, don't just settle for the standard look.
Go through the setup wizard to customise the browser, starting with 6 different themes to choose from, then tab bar position; top, left, right or bottom and finally background picture for the Start Page. With the left and right aligned tabs window, opened web pages are shown as thumbnails. With top and bottom mounted tabs, thumbnail opened web page will pop-up on hover.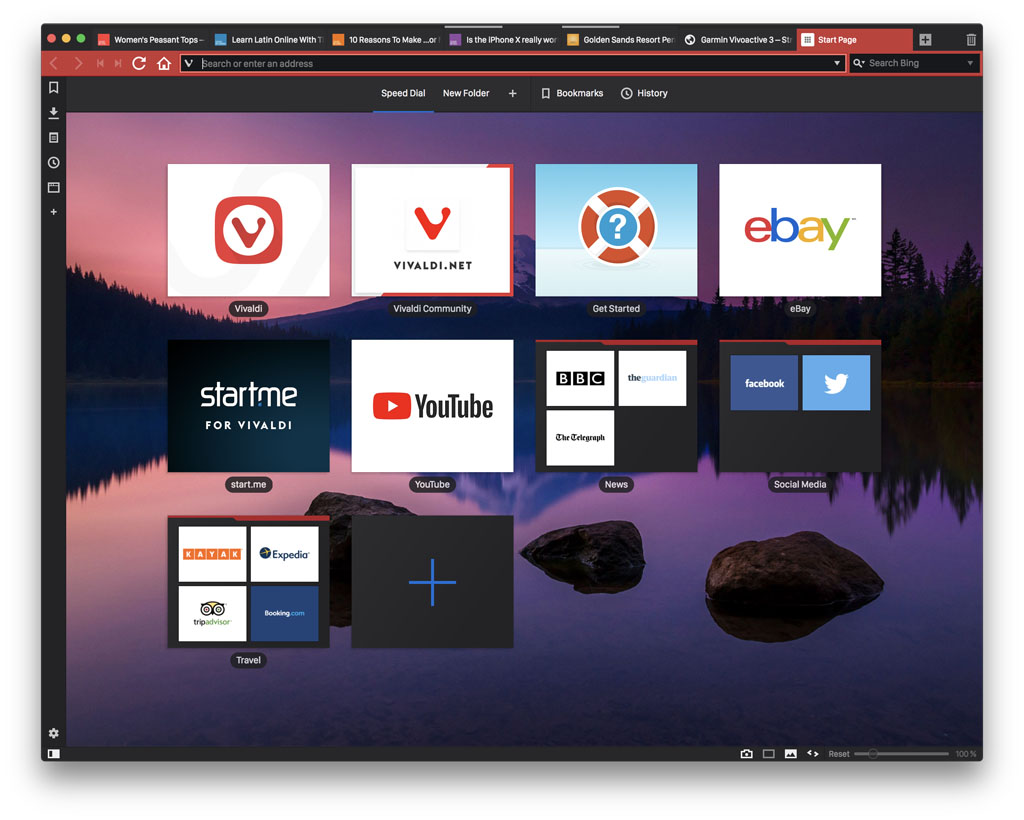 The interface is simple, lines are kept to a minimum and icons are self explanatory and clear. This makes the browser not only perform well, but easy to use. Other features include handy pull out panels, mouse gestures for navigation, annotation, screen grab tool, a neat tab staking or grouping tool and notes. The later lets you write notes, append screenshots and add links and attach files much like a simplified Evernote.
The start page shows an array of Speed Dial thumbnails to quickly access your favourite sites. You can change this, organising Speed Dials into sub-folders under Bookmarks. You can also find other useful links already organised under Bookmarks.
What we find most interesting is the browsing history. statistics shown in colourful graphs and organised by day in a calendar layout something that the competitions do not have. Here is where you can quickly find where you have visited last.
Apart from stock browsers (Safari and Edge), if an alternative to Chrome Browser is what you are after, then Vivaldi is the one to go for. The one sticking point is, Vivaldi does not have its own extension or add-on store. You will need to rely on Chrome Web Store for add-ons. Also, there are no syncing feature which means all your bookmark and history is stuck on one machine.
Availability: Windows, Mac and Linux
3. Opera
Opera has always pushed minimalistic and simplicity as a browser and in this case, it has proven to be a fast enough browser coming in at third place in crunching up the amount of operations per minute but has grown. It doesn't lack behind Vivaldi or Chrome too much.
Setup is quick and easy and is quick to import all bookmarks from existing browser(s). The interface looks fresh and modern. There is a single line sidebar with access to Facebook Messenger and WhatsApp apart from other tools and access to Snapshot, Speed Dial, News and History.
Unlike Vivaldi, you can create an account to handle synchronisation of your browsing history, bookmarks and more. If you are using the browser on a laptop, you will appreciate the power saving mode that lets you browser for up to 50% longer when enabled.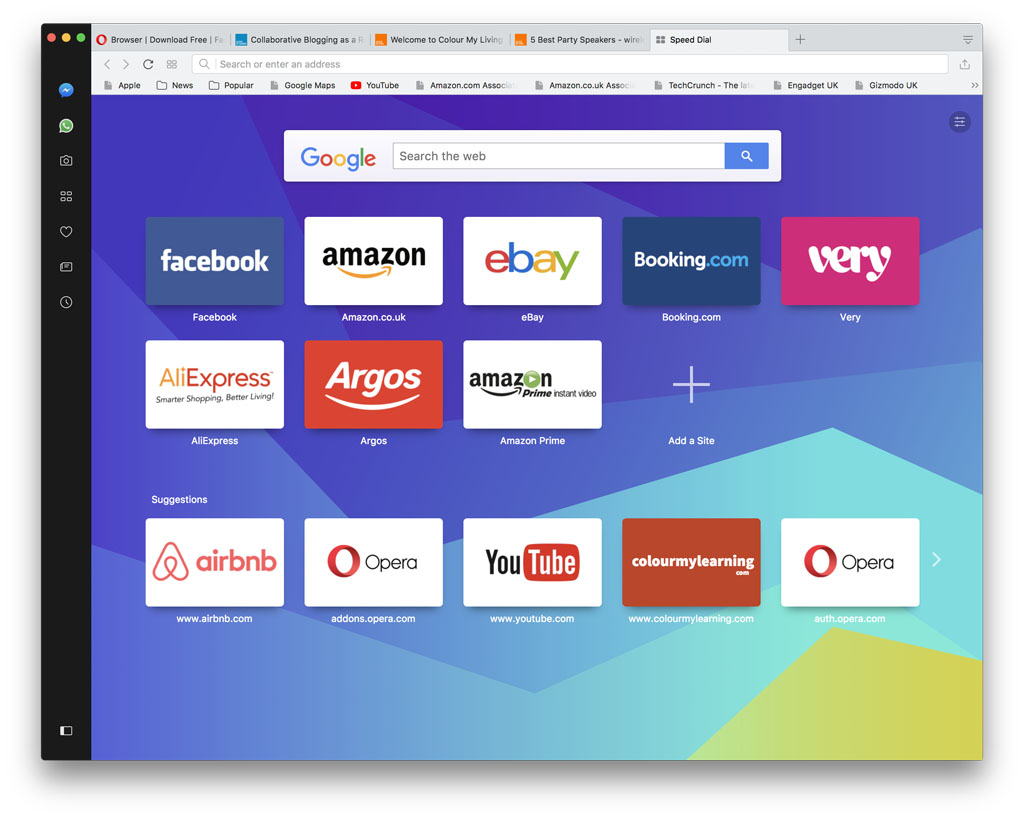 Like all the other browsers listed here, you can turn on Private Browsing to remove any traces and your browsing history but for even more privacy, you can enable VPN (under Preferences > Privacy & Security). This allows you to connect to websites using various servers around the world. You get to choose between optimal location or specify a region. This stops websites from knowing your true location.
As Opera is all about speed, you can also turn off all the ads, reducing the amount of data the browser needs to load and making browsing the web up to three times faster. It also uses less memory compared to Vivaldi and Chrome which is always good for managing power on mobile devices.
Lastly, there is no short of Extensions or add-on for the browser. Just like Chrome extensions, Opera has a healthy list of add-ons to satisfy even the most powerful surfer.
Availability: Windows, Mac, Linux, Android and iOS
4. Brave
Little is known about the browser but Brave managed third place in performance behind Opera. The browser shows plenty of potential boasting a good number of operations per minute in Speedometer test.
The browser is created by the former CEO of Mozilla with plenty of security features. It protects or shields and block all cookies, ads and scripts in private mode stopping websites from tracking you activity on the web.
The interface is easy to use and design is pleasing and inviting with easy access to useful options and web page preview. To extend the features, you get 9 tools to get you started but no option for further add-ons.
The inability to install add-ons allows it to maintain its high level of security and performance but compromises on features and customisability.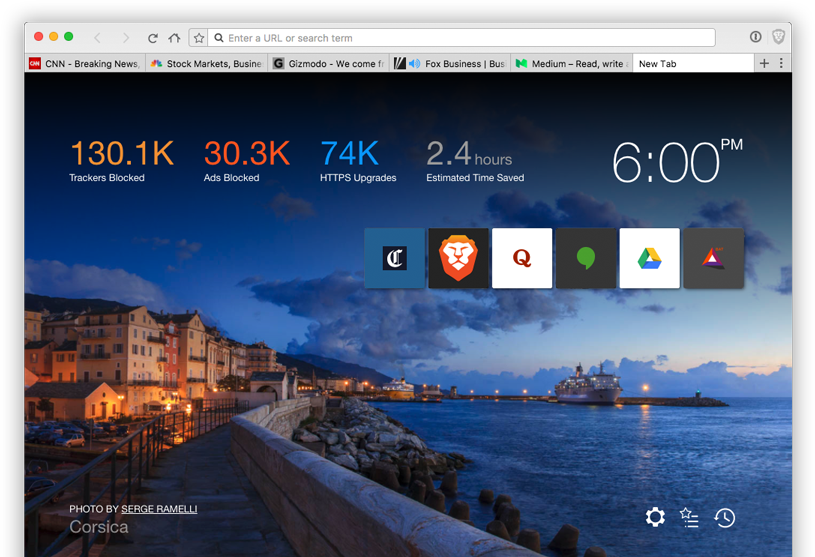 Availability: Windows, Mac, Linux, Android and iOS
5. Firefox (Quantum)
Finally, there is the good old Firefox, the go-to browser for a lot of people who choose to stay away from the main stream browsers from Apple, Google or Microsoft. Firefox did not do badly in terms of the number of operations it is capable of completing per minute.
The favourite browser has gone through several generations of update with the latest code-named Quantum, a much improved browser that takes advantage of multiple processor cores and a new CSS engine to reduce memory and power usage.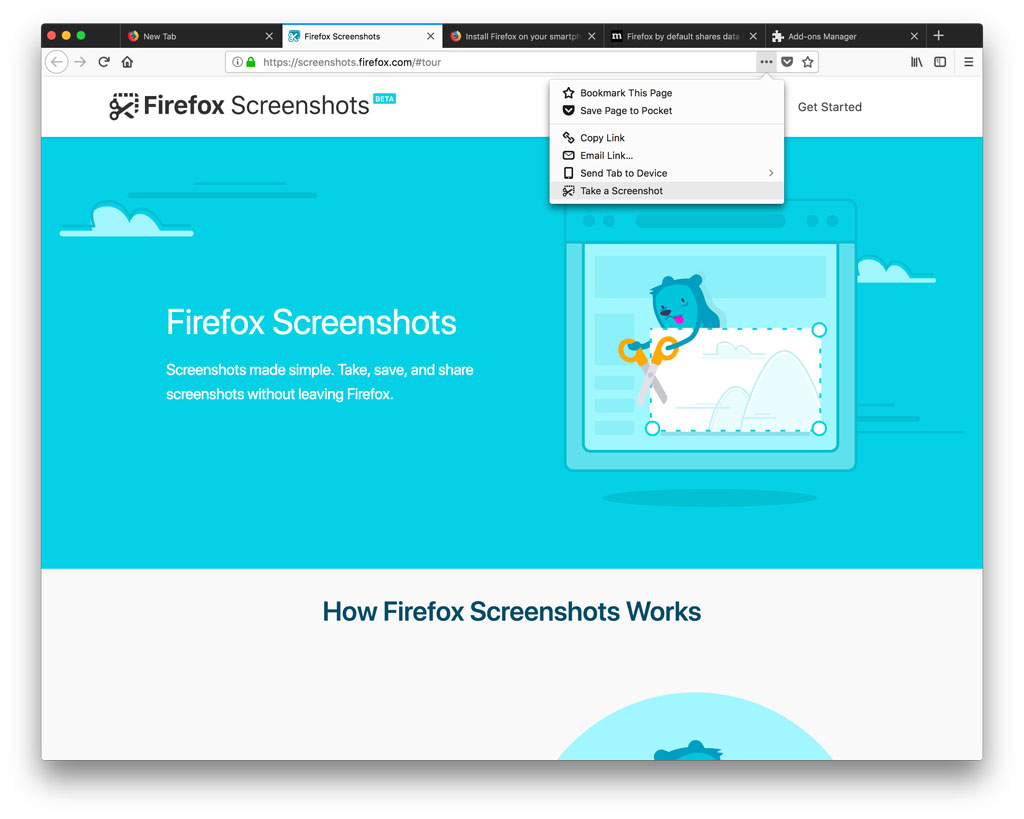 Page loads are significantly faster on the latest update. Tracking Protection is also enabled by default protecting your privacy. This can be changed under privacy settings. It also has, integrated, Pocket tool to or mark web pages to come back and read it later.
Nifty built-in features include handy sidebar for Bookmarks, History and Synceed Tabs. There is also a screenshot tool perfect for those reviewing a design or website. You can customise this further to your hearts contend with the tonnes of web-extensions and tools from the mozilla library.
Availability: Windows, Mac, Linux, Android and iOS
How to Benchmark Your Browser
Every browser and machine is different. If you would like to know which is the best browser on your machine with nothing to install, fire up your browsers one at a time and visit the Speedometer page by Browser Bench. Take your browser speed test there and note your readings. You can then compare and decide for yourself, which is the best and fastest browser on your machine.
Other Browsers
Other browsers that did not make the cut coming up to only 20 operations of less per minute in order of performance and speed is as below