When you think how small, thin and light laptops are these days, those same components inside them have found their way to the desktop. Giant beige towers are a thing of the past. If you are conscious about room and space on the desk, it's time to consider a mini PC.
Not only are they cheaper than a full size desktop, mini PCs are great as set top or entertainment center for the living room or bedroom. You can even use it as a secondary machine or a dedicated computer to run certain applications such as a smart home console, a video surveillance terminal, a web kiosk, a light gaming machine, a presentation system, a checkout machine and more.
Depending on the manufacturer, these are sometimes sold as barebone machines; without memory, storage and operating system or even CPU, leaving PC enthusiast with choices of hardware to use and upgradeable options. PC builders get to choose the type of processor, memory, storage and flavour of operating system to install. This allows them to make the PC truly their own with parts of their choice based on their budget.
If configuring and building your own PC is your thing, some mini PCs are offered as base unit that requires memory, storage and operating system to complete the system. You can decide on the type of memory and storage, be it hyper fast memory, ultra fast SSD storage or simply basic components and the type of operating systems to go with. This can be one of the many different flavours of LINUX, Windows 10 or ChromeOS. If you are adventurous, you can even try your hands on dual booting, installing two operating systems in the same box.
Now back to the first reason for choosing a mini PC, its dimensions. Some of these mini PCs are so small, they can be mounted on the back of a display turning your computer monitor into an integrated desktop PC with the right mounting kit. Others are slim and small enough to set hidden in your entertainment console among other things like your Blu-Ray or DVD player, gaming console and such.
Top 8 Best Mini PC
We look at 5 of the best miniPC in the market right now. Here is a quick look at our mini PCs.
RELATED:
1. Asus VivoMini –

BALANCED PERFORMER
Powered by Intel Core i3, i5 or i7  processor with up to 32GB of RAM and high performing Solid State Drive (SSD) storage together with a 1TB SATA3 Hard Drive with Vivo DualBay, the VivoMini is a mid-range mini PC that packs plenty of punch.
It has tonnes of connectivity that lets you connect up to 6 USB devices (2 x USB 3.1 and 4 x USB 3.0), built in 802.11ac WiFi and Gigabit Ethernet cabled connection. The generous specification and high performing components used in this machine meant it is suitable as a main machine as well as an all purpose desktop for any home.
The VivoMini has a 4K capable GPU (the NVIDIA GeForce 930M with 1GB or 2GB graphics) with dual monitor connections, one HDMI and one DisplayPort so you could even have two monitors running simultaneously.
Finally, VESA compatible mount lets you mount the miniPC behind a monitor, keeping your desk space free. If you want a bit more punch from the graphics department, consider one with a discrete GPU.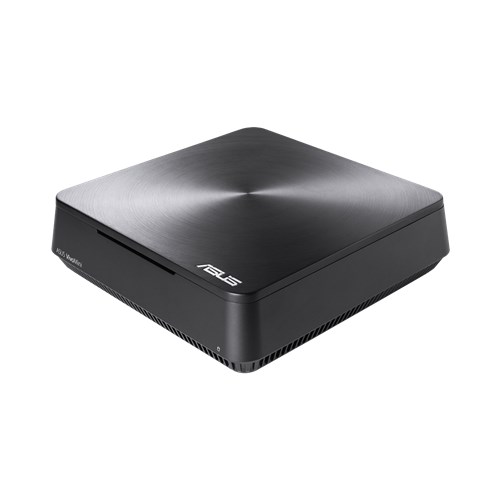 Dual-core 2.5GHz Intel Core i5-7200U
8GB DDR4 Memory upgradeable to 32GB (2 x SO-DIMM)
128GB SSD or bigger, 1TB Hard Drive or bigger with support for combination drive using Vivo DualBay
Intel HD Graphics 620 4K UHD Graphics or NVIDIA GeForce 930M 1GB or 2GB
2 x USB3.1, 4 x USB 3, 1 x HDMI, 1 x S/PDIF output, 1 x Kensington Lock, 1 x DC-in, 1 x DisplayPort, 2 Audio Jacks (mic in and headphone out)
802.11ac WiFi, Gigabit Ethernet
SD Card Reader
190 x 190 x 56.2 mm, VESA-mount-compatible design, 1.2kg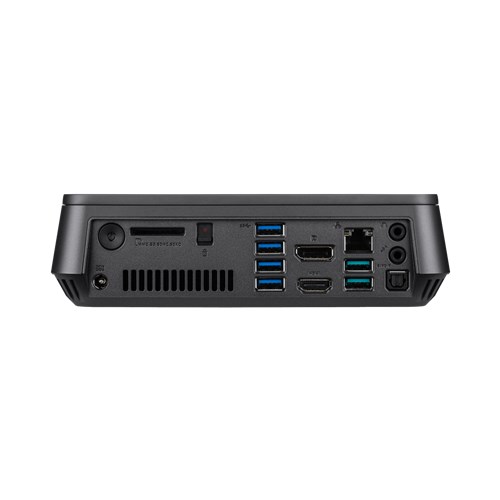 Model Number: VM65N. Intel Core i7, i5 or i3 options available and can be purchased as barebone PC requiring memory, storage and operating system. Discrete NVIDIA GeForce graphics options available for smoother 4K UHD experience and faster gaming performance.