From classroom, stage, office, studio to reception, these adjustable tablet mounts let schools, colleges and universities use the tablet in more ways than one.
12 Ways to Use a Flexible Tablet Mount in School
Here are some examples for ways in which you can use the tablet mount with extendable arm:
Use it at the reception as an information kiosk and to book an appointment
In the classroom to register attendance, check timetable, book a room or more.
As a work desk companion, mounting and adjusting the tablet for best viewing height and angle for ease of working
On stage, at the podium as a prompter, for notes, for instant access to information and more
In performing arts and drama to assist with scripts, practices, lines, songs and direction.
In the recording studio, for lyrics, for instrument controls, for music notes, to interfacing with musical instruments such as keyboard, piano and sound systems.
In the media room as a flexible stand for video and sound recording
In the food tech room to offer steps, recipes and information on ingredients while keeping it away from spills and splashes.
In the library to check out or return books and resources, to access e-books and e-learning environment and more.
In the canteen at the checkout, for todays menu, price list, allergy information and more.
In the gym for information about each gym equipment and instruction as well as coaching.
In the science labs to access experiments and useful charts and diagrams to aid learning.
You may have other ways to use the flexible mount, do share this with us by leaving your comment below.
Top 8 Best Tablet Mounts with Adjustable Arm for Education
To make it easy for selection we mark the list by the different fittings; for cabinet, desk stand or desk clamp. Here is our line-up:
Now for a closer look at what the different tablet stands have to offer.
Solid aluminium base with swivel arm suitable for desktop applications. Also comes with a ¼" DSLR Camera Adapter to convert the clamp into a camera or projector stand.
Tablet Display Sizes: 4 to 11-inch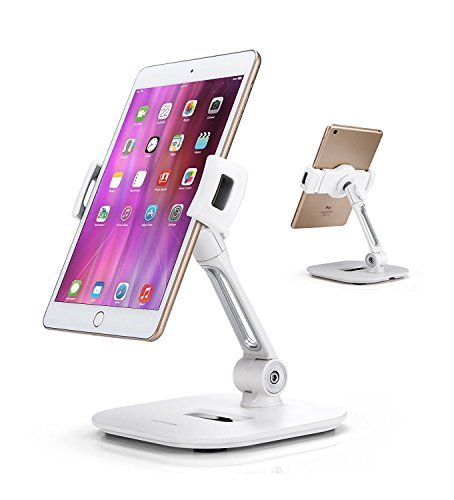 Foldable 2-in-1 desktop stand and cabinet or wall mount tablet holder. It includes two under cabinet or wall mounting plate to easily move the mount from the desk to the wall or under the cabinet.
Tablet Display Sizes: 7 to 13-inch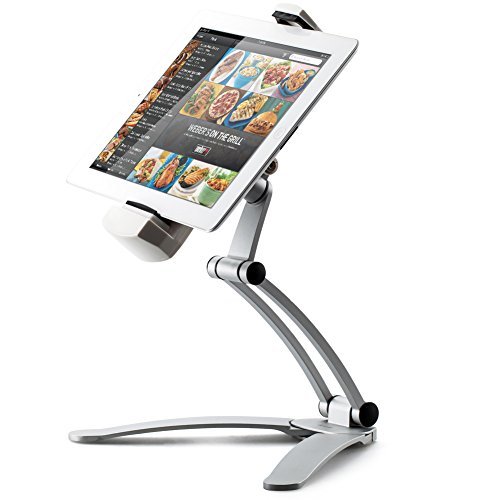 ALSO: CTA Digital 2-in-1 Kitchen Mount Stand – DESK STAND / CABINET MOUNT
The ChargerCity Heavy Duty has a C-clamp base with two segment adjustable arm and a rotating ball joint near the tablet. It's perfect for the desk or to clamp on the microphone stand. A short gooseneck variety is also available.
Tablet Display Sizes: 7 to 12-inch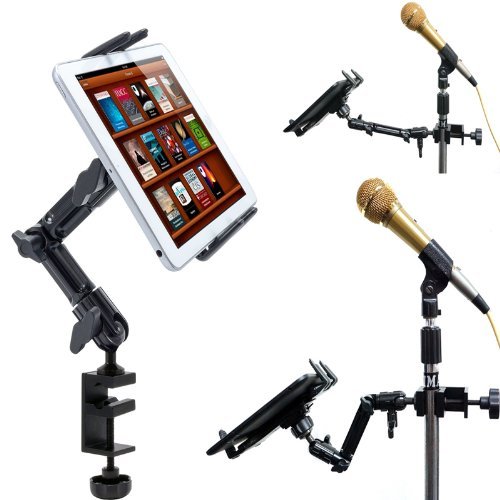 Tryone is the first Gooseneck tablet holder in our line-up. While gooseneck mounts offers maximum flexibility in terms of positioning, it may not be suitable for large or heavy tablets. We recommend bending it in an "S" shape or looping it for more stability. The C-lamp fits desk or counter top up to 3-inch thick.
Tablet Display Sizes: 4 to 12-inch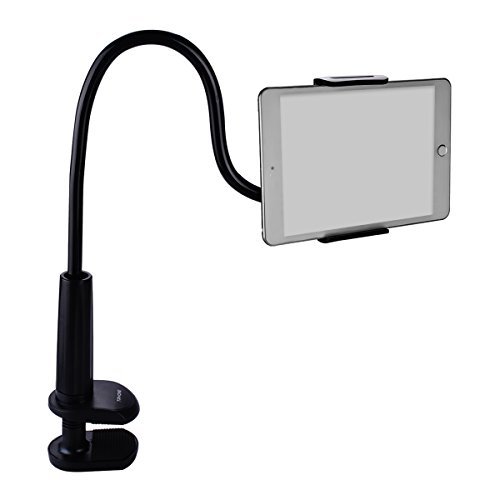 The AboveTEK Heavy Duty Aluminium Gooseneck Tablet Holder is the only gooseneck mount with a metal C-clamp for added rigidity. Other Gooseneck mounts have plastic c-clamps. The sleek silver aluminium arm gives it an added industrial look. The C-clamp fits desk or counter top up to 1.8-inch thick.
Tablet Display Sizes: 3.5 to 10-inch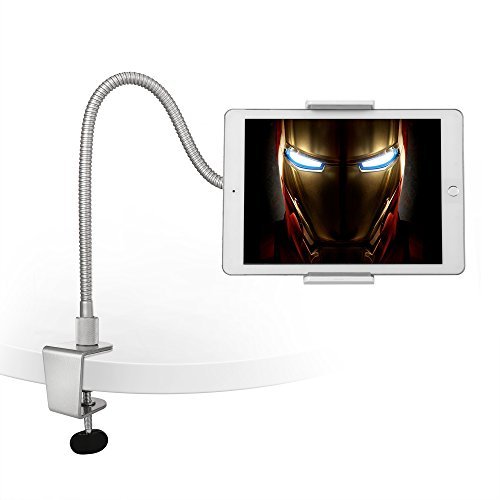 The two-in-one tablet holder can be used as a desk stand with a weighted metallic base or adapted for use with a wall mount. The wall mount is included and can be secured separately to the wall or under the wall hanging cabinet. The tablet jaws rotate freely to change from portrait to landscape view.
Tablet Display Sizes: 7 to 12-inch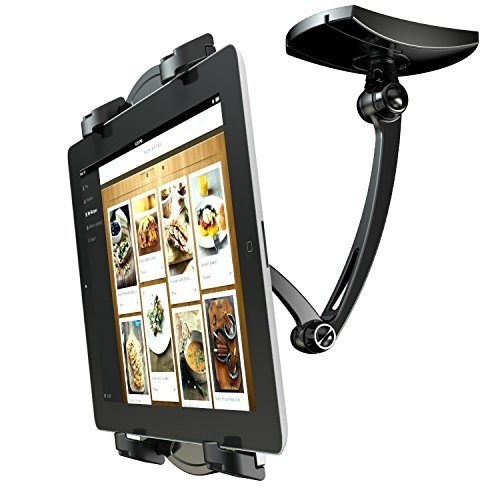 Another gooseneck tablet stand, the GEEPIN extends up to 1 meter tall. The tablet jaw holds devices from 12cm to a maximum of 20cm. A ball joint near the tablet end offers 360° plane rotation and 270° adjustment for best viewing angle. The C-clamp fits desk or counter top up to 3-inch thick.
Tablet Display Sizes: 4 to 12-inch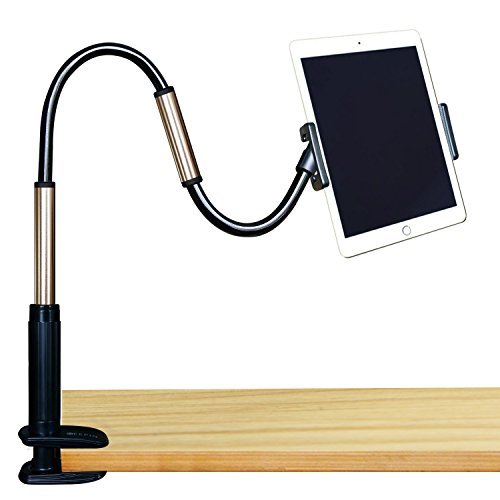 Taking its cue from work lamps and studio microphone stands, the TaoTronics Tablet stand has a spring loaded two stage arm that offers more precise positioning. Together with two 360° joints, one on the base and the other at near the tablet holder, it offers maximum viewing angles and positions. The C-clamp fits desk or counter top up to 2-inch thick.
Tablet Display Sizes: 7 to 10.5-inch