The Samsung Galaxy Note 8 could be the only device you need; a smartphone, a tablet with stylus, laptop when paired with an optional keyboard and desktop when docked with Samsung DeX station.
This phone is going to make you forget about the exploding battery issue on its predecessor, and if you still have one of those lying around, you can trade it in for the new one.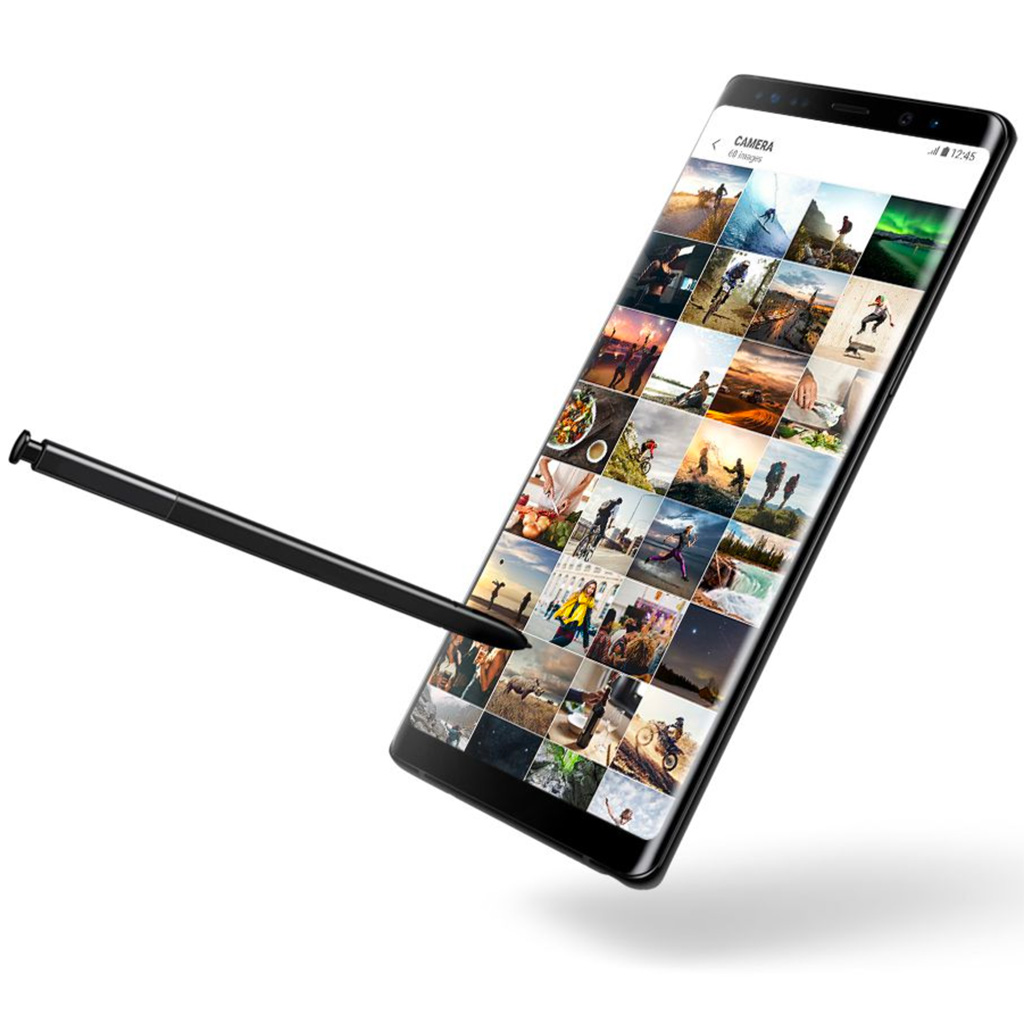 12 Top Things You Need To Know About the New Samsung Galaxy Note 8
Design: The look and finish of the phone is nothing short of astounding. It has a sleek finish and premium styling with generous glass both front and back that falls seamlessly together. Depending on the chosen colour, the back is either gloss Midnight Black or Maple Gold. The cameras and finger print scanner stay flushed in the chassis, with no awkward protruding lenses. Being fully covered by glass meant it is a finger print magnet.
Handling: There is no question that this is a big phone with a 6.3-inch display but not much bigger than the Samsung Galaxy S8 Plus with 6.2-inch display and certainly bigger than the Samsung Galaxy S8 with 5.8-inch display.
Even with the biggest display in the history of Galaxy Note, it has a narrow and tall profile for easier grip thanks to its 18.5:9 aspect ratio display. The side edges tapers off to form a rounded frame making it comfortable and manageable in the hand.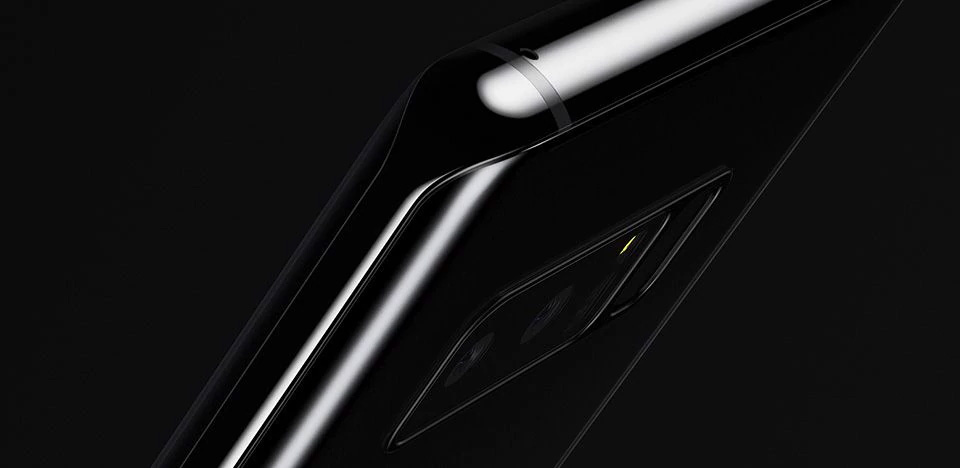 Display: The display looks stunning using the same bezel-less curved design as S8 and S8+ and Samsung's Super AMOLED technology for real black and vibrant colours. While slightly bigger than the S8+, the resolution is the same at 2,960 x 1,440 pixels with the pixel density not far off at 521ppi. It does however have steeper and sharper edges to lower image distortion, and lessen misses when used with the S Pen.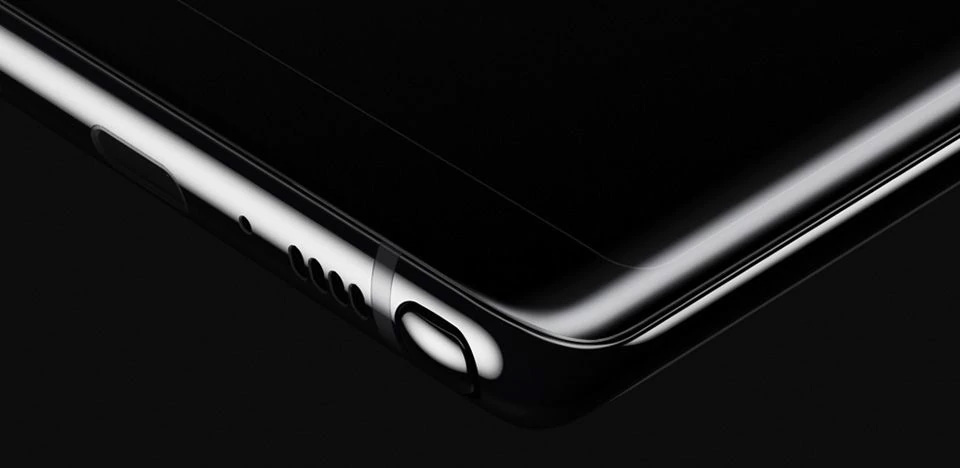 Processor: Underneath the hood, the device is powered by Exynos 8895 the same processor powering the S8 and S8+. For memory and storage, it has 4GB to 6GB of RAM memory and 64GB or storage respectively with a microSD slot that can take up to 320GB of extra storage.
Depending on country and carrier, the processor speeds are as below:

Octa-core (4x2.3 GHz & 4x1.7 GHz) – EMEA
Octa-core (4x2.35 GHz Kryo & 4x1.9 GHz Kryo) – USA & China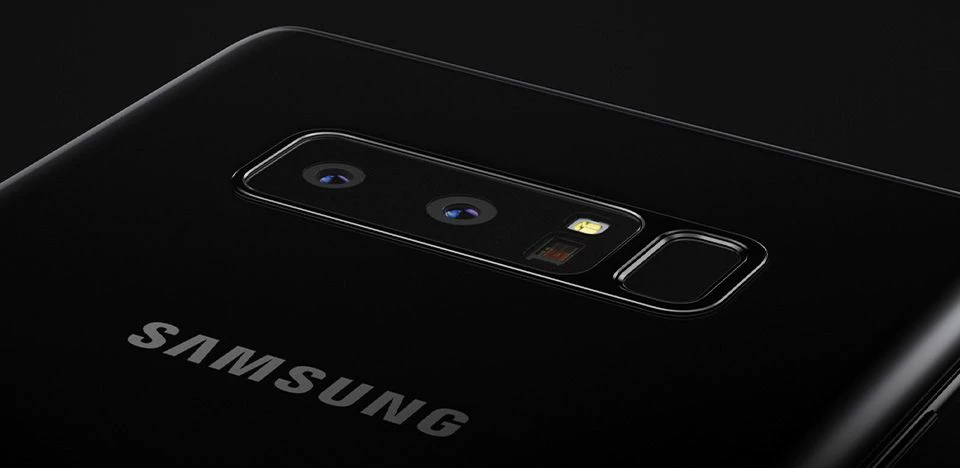 Cameras: While dual camera setup is not new to Samsung Galaxy devices, first being on a Galaxy C10, it is the first rear dual camera setup on a Samsung flagship. If you are disappointed that the Galaxy S8 and Galaxy S8+ felt short in this respect, the Galaxy Note 8 makes up for it with a dual 12MP camera combining a f/1.7 wide-angle lens with an f2.4 telephoto lens with up to 2x optical zoom. The Galaxy S8 and S8+ has the same single rear camera with 12MP F/1.7 lens with large 1.4µm pixels (Dual Pixel) sensor perfect for night shots but no optical zoom, this is easily the best camera pair on any smartphone.
The dual cameras on Note8 also employs Dual Pixel sensors for faster focus and combined with bright lenses, offer crisp, sharp and vivid shots.

1/2.55″ sensor size, large 1.4 µm pixel size @ 26 mm –

WIDE ANGLE, MORE LIGHT, FASTER FOCUS

1/3.6″ sensor size, 1.0 µm pixel size @ 52 mm
So, not only do you get 2x optical zoom working with images captured simultaneously by the a wide angle and a telephoto lens, but bokeh effect using software that manipulates the images to change the depth of field. You can choose to focus on the different subjects after shooting picking between near focus, far focus or pan focus great for portraits using Live focus. What's more, both cameras come with Optical Image Stabiliser for shake free shots. Dual Capture lets you take photos outside the frame especially when using Live focus to capture the bigger picture.
Camera Modes: Offering more of what consumers like; take photos using one of the many camera modes; Food, Pro, Panorama, Slow motion and more. Take Selfies with the 8MP front facing camera complete with bright f/1.7 lens, smart auto focus with large pixel sensor that tracks faces and great low light performance.

Front Facing 8 MP, f/1.7, autofocus, 1/3.6″ sensor size, 1.22 µm pixel size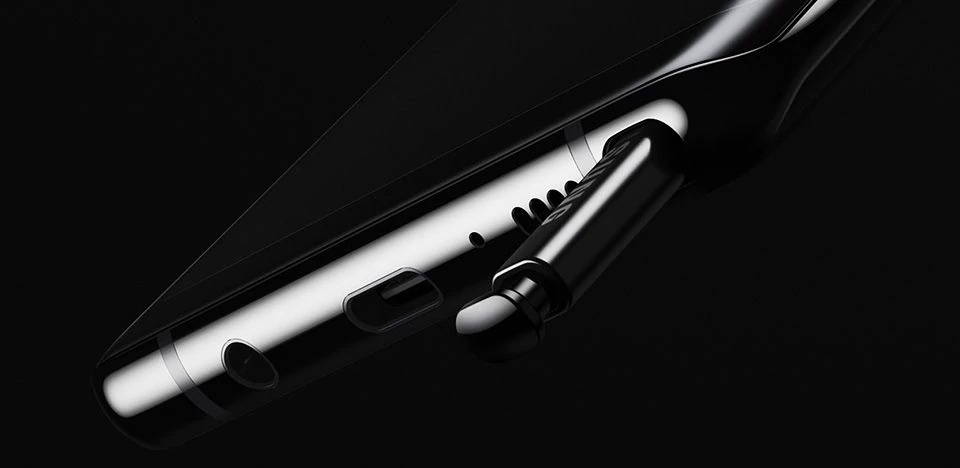 Stylus: There is now more functionality pegged to the S Pen stylus, allowing users to take notes even with the screen off, convert handwriting and doodles and even drawn your emoji. There is also a nifty hover function that lets you translate and currency simply by hovering over the text.
Battery: Due to the device needing a silo for the stylus, the Note 8 being the biggest smartphone compared to the S8s has only a 3300mAh battery. The S8 has a 3000mAh while the S8+ has 3500mAh. Still, if it is anything to go by, anything from 3000mAh like the S8 and above, should give the phone enough juice for all day use.
Fingerprint Sensor: The biggest problem that most consumers are going to have with this phone is the placement of the finger print scanner. Like the Galaxy S8 and S8+, the fingerprint scanner is placed next to the rear facing camera making it difficult to reach. Being narrower and taller does not help. Even if you can reach it, with extra long finger or some clever manoeuvre, chances are you are going to leave finger prints on the camera lenses.
You can't blame Samsung for moving the sensor to the rear for the much needed real estate at the front to make its Infinity Display a reality but it could be placed better like in the middle under the cameras or even lower to make it reachable when held with one hand.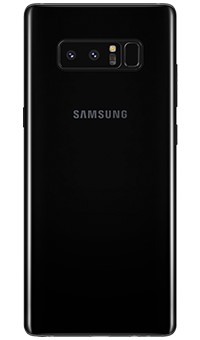 Iris Scanner and Facial Recognition: The saving grace for the phone are the iris scanner and facial recognition features. Both play a role in allowing you to login quickly without using the fingerprint sensor simply by lifting the phone and looking at the front facing camera.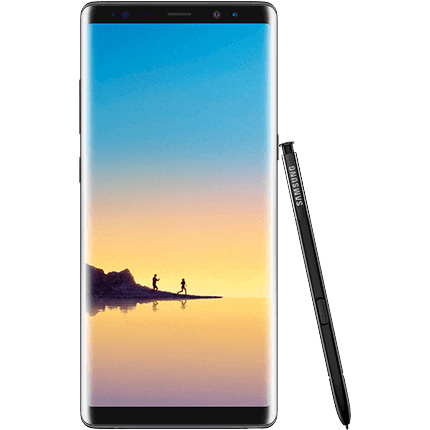 Software: Some useful software features integral to the Note that takes advantage of the S Pen
write on the screen without unlocking the phone saving up to 100 pages of notes.
when ejecting the S Pen, the phone automatically becomes aware and adds a bunch of stylus oriented features accessible from a disc of icons.
Live Messaging lets you send scribbles instead of text like iMessage
The S Pen is pressure sensitive up to 4096 levels with a fine 0.7mm tip for better accuracy and controls
and more.
Some useful software features that takes advantage of the curved edges, similar to those on its predecessor
It can show notifications, flashing in different colours
Swiping from the edge also lets you access a bunch of apps
It can turn into a ruler given its tapered edge, making the marking closer to what you are measuring
swipe from the bottom edge and add a second add to the screen for multi tasking
dual browser or app windows using the same swipe action above
and more.
Then there is Bixby, an improved voice assistant that first appeared on the Galaxy S8 and S8+. The virtual assistant is Samsung's answer to Alexa, Siri and Google. To activate it, simply use the wake up phrase, "Hi, Bixby" or use the dedicated hard button, much like any other voice activated assistants.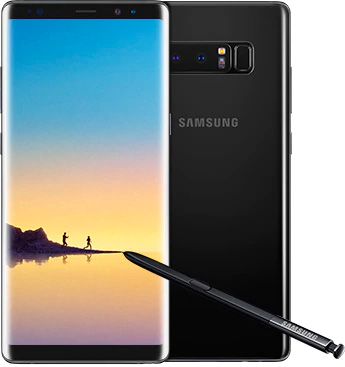 Dimensions and Weight
Size wise, the Samsung Galaxy Note 8 is bigger in all directions when compared to the Galaxy S8 and S8+ most notably taller; 2.5mm taller than S8+, 13.5mm taller than S8. It is also the widest in the flagship category; 1.8mm wider than S8+ and 6.8mm wider than S8 It has almost the same thickness as the rest; by 0.5mm compared to S8+ and .6mm compared to the S8. The phone is also the heaviest at 195grams compared to 173grams on the S8+ and 155grams on the S8. See comparison table below.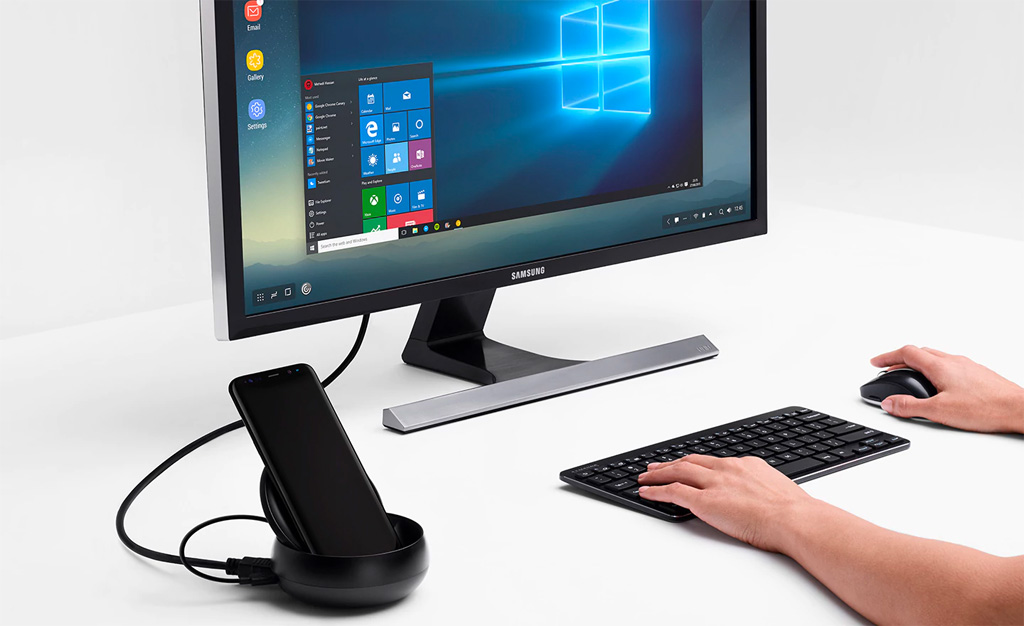 Desktop: to complete the whole convergence experience from smartphone to tablet to laptop (see accessory cover below) to desktop, there is the optional Samsung DeX Station. Essentially a docking station with monitor, wireless mouse and keyboard connectivity, the dock turns the Note 8, Galaxy S8 and S8+ into a full fledge desktop offering PC-like interface and access to all your apps on the big screen. Purchase and download Microsoft Office suite and you might just have a viable productivity desktop, for emails, calendar, notifications, documents, presentation, spreadsheet, browsing the web, accessing the photo gallery, copy and pasting between apps, multitasking and more.
To truly take advantage of DeX Station, you will need to fire up desktop optimised apps such as Samsung's own e-mail client, Samsung Internet and Samsung Focus. Third party apps that supports the desktop environment include Microsoft Excel, PowerPoint, Excel, OneNote, OneDrive, Skype, Outlook, Adobe Acrobat Reader, Photoshop Express, Photoshop Mix, Photoshop Lightroom, AutoCAD mobile, Soundcamp and more. Notable feature include keyboard shortcut key support, drag and drop as well as right click to complete the whole desktop experience.
If that is not enough, use the phone as a thin client and access your desktop at work or at home remotely using Virtual Desktop Infrastructure solutions such as Citrix, Receiver, WMware Horizon Client and Amazon WorkSpaces (separate licenses required).
It is worth noting that the DeX station also doubles as a charger and has built-in cooling fan. For a limited time, Samsung has thrown in the DeX Station as part of the Note 8 bundle.
If you consider it as a convergence device; smartphone, tablet, laptop and desktop rolled in one, then you might justify the hefty price tag.
BONUS: Both the Galaxy Note8 and S Pen are IP68 rated, meaning they can both be submerged in water for up to 30 minutes to the depth of 1.5 meters in a pool of fresh water. The device is completed protected against dust and is water resistant just like the Galaxy S8 and S8+.
Display and Dimensions Compared
| | | | |
| --- | --- | --- | --- |
| | Samsung Galaxy S8 | Samsung Galaxy S8 Plus | Samsung Galaxy Note 8 |
| Display size, resolution | 5.8-inch; 2,960×1,440 pixels | 6.2-inch; 2,960×1,440 pixels | 6.3-inch; 2,960×1,440 pixels |
| Pixel density | 570ppi | 529ppi | 521ppi |
| Dimensions (Inches) | 5.9 x 2.9 x 0.31 in | 6.3 x 2.9 x 0.32 in | 6.40 x 2.94 x 0.34 in |
| Dimensions (Millimeters) | 149 x 68 x 8 mm | 160 x 73 x 8.1 mm | 162.5 x 74.8 x 8.6 mm |