When building or customising your home Network Attached Storage (NAS) be it for entertainment media, surveillance video or files, the best way to maximise your storage space is to go for the biggest hard drives.
There are NAS compatible hard drives and there are standard hard drives; with modern storage technology, manufacturers are now able to squeeze 25% more storage to the previously highest storage per hard drive. This pushes the available storage from 8TB to 10TB.
With 10TB HDD – a 16 bay NAS, we are talking a sizeable physical storage or 160TB. Even if you have a 2 bay NAS, you would be able to have up to 20TB.
Technologies such as 3D Active Balance Plus by Western Digital (WD) enhances the balance and improves the overall performance and reliability of the hard disk. This allows for high spin rate with 5400 RPM for small office home office (SOHO) applications and 7200 RPM for small to medium business (SMB) applications especially related to NAS.
Not all hard disk drives are created equals. Depending on your requirements, you may choose a high capacity hard disk tuned specifically for write intensive applications such as a video surveillance recording system or one with maximum reliability and error recovery controls to protect your data. There are even hard drives designed with enterprise servers and datacenter servers in mind, offering both reliability and high workload capabilities. These are optimised for heavy application workloads to take on some of the most demanding tasks in your chosen applications
Typical applications requiring NAS with large storage:
Video Surveillance Security System recording feed from IP cameras
MAC OS Time Machine or PC Backups
Virtual Machines, Virtual Machine Snapshots and Settings Backup
Home Entertainment Media (Music, Video, Movies, TV Shows and Home Video) Backup
Video Editing – video clips, captured footage and movie library
Music Editing – studio recording, mixes, demos and versions
Photo Editing – RAW photos, original and edited shots
CD Media / Software Backup
Top 8 Large 10TB Hard Disk Drive for NAS for both SOHO and SMB Applications
Western Digital and Seagate are the two fore-runners offering big capacity, 10TB hard disk drives. These 3.5-inch form factor SATA hard drives are designed specifically for NAS; some specifically for Surveillance System and Datacenter application.
WD Purple 10TB Surveillance Hard Disk Drive – WD100PURZ
WD Red 10TB NAS Hard Disk Drive – WD100EFAX
WD Gold 10TB Datacenter Hard Disk Drive Class (WD101KRYZ)
Seagate 10TB BarraCuda Pro Hard Disk Drive  (ST10000DM0004)
WD Red Pro 10TB NAS Hard Disk Drive WD101KFBX
Seagate 10TB IronWolf Pro Hard Disk Drive  (ST10000NE0004)
Seagate 10TB IronWolf NAS Hard Disk Drive (ST10000VN0004)
Let's take a closer look at each of these hard drives.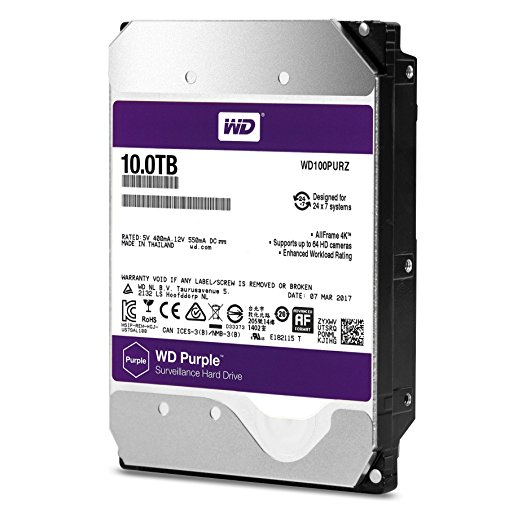 Rotational Speed: 5400 RPM
Interface SATA 6 Gb/s
Cache: 256MB
Workload rating: up to 180 TB/yr
Camera support: up to 64 cameras

Tuned for write-intensive, low bit-rate, high stream-count applications typical to most surveillance applications. 

Prioritized write-operations for maximized surveillance performance. 

TLER & ATA streaming support. Optimised with AllFrame 4K technology

Model: WD100PURZ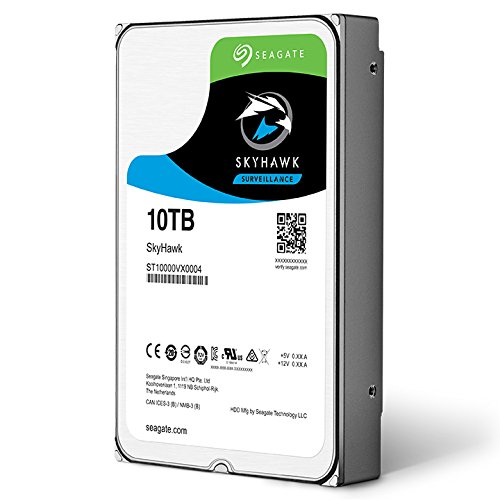 Rotational Speed: NA
Interface: SATA 6 Gb/s
Cache: 256 MB Cache
Speed: up to 210 MB/s
Workload rating: up to 180 TB/yr
Camera support: up to 64 cameras
MTBF: 1M hours
improves reliability by up to 30% over traditional desktop drives, built to take on 3 times the workload rating of desktop drives. Perfect for DVR or NVR systems and RAID environements. Complete with Rotational Vibration (R/V) sensors with low power consumption and low heat output.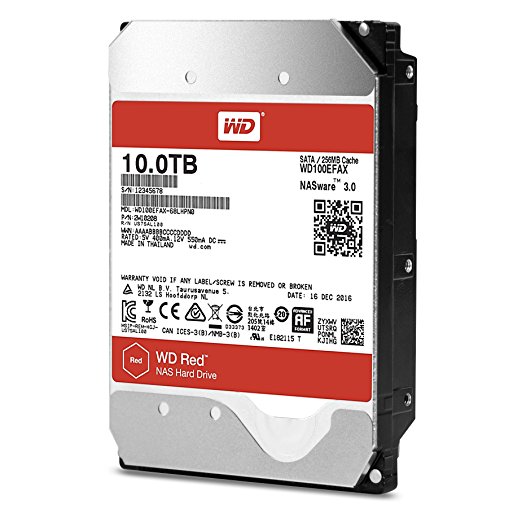 Rotational Speed: 5400 RPM
Interface: SATA 6 Gb/s
Cache: 256MB
Workload rating: up to 180TB/yr
Designed for use in NAS systems with up to 8 bays
NAS drives designed for always-on environment of a NAS or RAID environment while running cool and quiet and optimum compatibility.
Model: 3.5″ – WD100EFAX
ALSO: WD Red Pro for NAS systems with up to 16 bays (see below)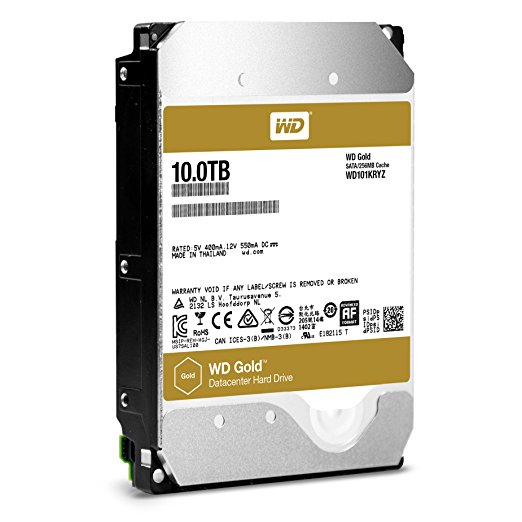 Rotational Speed: 7200 RPM
Interface: SATA 6 Gb/s
Cache: 256MB
Workload rating: up to 550TB per year, up to 2.4M hours MTBG
Other Features: 4th generation HelioSeal technology, RAFF technology for vibration protectoion, RAID-specific time-limited error recovery (TLER)  (WD101KRYZ)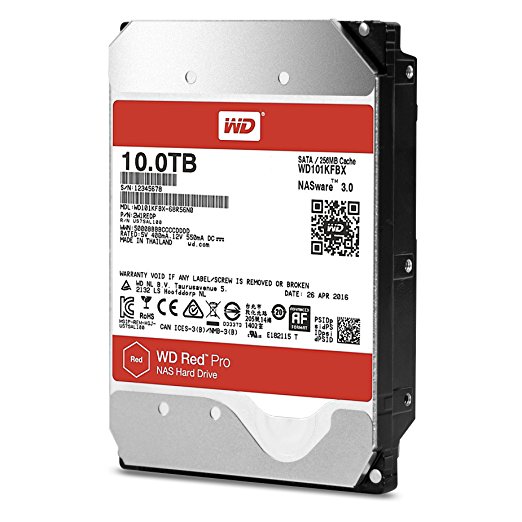 Rotational Speed: 7200 RPM
Interface: SATA 6 Gb/s
Cache: 256MB
Workload rating: up to 300TB/yr
Designed for use in NAS systems with up to 16 bays
NAS drives designed for always-on environment of a NAS or RAID environment while running cool and quiet and optimum compatibility.
Model: 3.5 Inch – WD101KFBX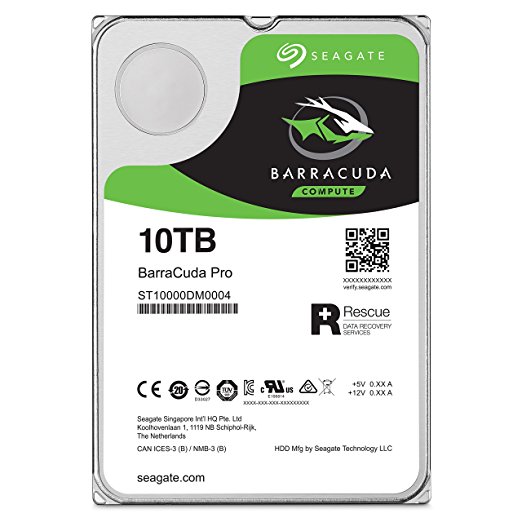 Rotational Speed: 7200 RPM
Interface: SATA 6GB/s
Cache: 256MB
Workload rating: 300 TB/yr
3.5-Inch Internal Hard Drive (ST10000DM0004)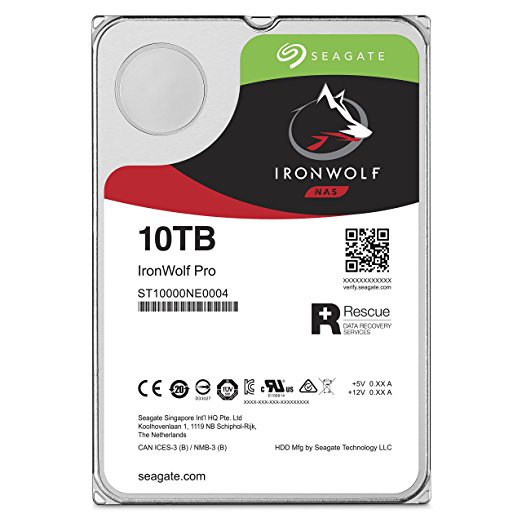 Rotational Speed: 7200RPM
Interface: SATA 6Gb/s
Cache: 256MB
Optimised for up to 16 bay NAS enclosures
Workload Rating: 300 TB/yr
MTBF: 1.2M hours 
The IronWolf series is built for always on, always accessible application. AgileArray technology and standard Rotational Vibration (RV) sensors offer optimal reliability and system agility. 1- to 16-bay NAS systems for small office, creative pro and small to medium enterprise businesses
Model: 3.5-Inch NAS Hard Disk Drive (ST10000NE0004)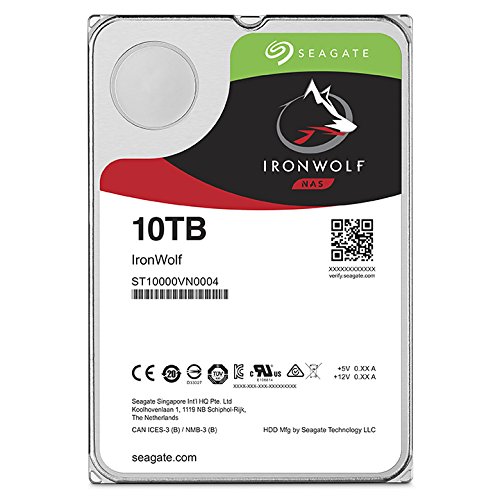 Rotational Speed:
Interface: SATA 6Gb/s
Cache: 256MB
Optimised for up to 10 bay NAS enclosures
Workload Rating: 180 TB/yr
MTBF: 1M hours 
1-to 8-bay NAS systems for home, small office and small business
Model: 3.5-Inch Internal Hard Drive (ST10000VN0004)