Modular phones are picking up steam. Since LG G5 and Moto Z, Android's creator, Andy Rubin joint the game with his smartphone simply called Essential Phone. It has magnetic contacts for snap-on accessories cementing the trend.
While Essential Phone only has a snap-on 360-degree camera on offer, Motorola has a whole host of accessories for their Moto Z family of high-end and ultra slim smartphones. They range from simple snap on shells to extended battery to portable projector extension to full size cameras with real zoom and more.
5 Must-have Motorola Mods for the Moto Z Family
Here, we explore five of the must have, essential accessories for the Moto Z family of devices, be it the original Moto Z, the long lasting 50 hours Moto Z Play, the shatterproof Moto Z Force and new generation Moto Z2 Play and Moto Z2 Force. We list our must have add-ons for Moto Z based on your interest and what you wish to achieve with your phone be it for entertainment, for music, for the camera bug, for the Internet or simply for the videographer.

The moto insta-share is great for both entertainment and business. The portable projector snap-on accessory lets you project onto any flat surface turning it into a big display. Depending on the distance from the surface, you can have up to 70-inch image. The projector has its own battery for up to one hour of screen time before it starts to use the phone's power. It also comes with its own kick stand so you can display your video or PowerPoint presentation at any angle. It uses DLP projector technology with long lamp life of 10,000 hours, 50 lumens, 400:1 contrast, 16:9 aspect ratio, WVGA resolution and 1.2 throw ratio. The best part is it ways only 125grams and is only 11mm thin with its footprint no bigger than the Moto Z.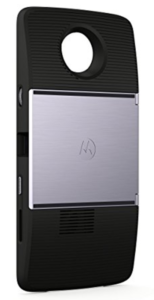 If you love your tunes then you will love the JBL SoundBoost 2 add-on. It pumps out immersive JBL stereo sound for your music, videos and speakerphone calls. There is a handy built-in kickstand that props your phone up so the sound travels around the phone to you. Inside, you don't only get speakers and amplifiers for the sound but a built-in 10 hour battery keeps you going for the whole day. The new generation speaker now has splash proof coating to protect your speaker against spills and light rain. As it connects directly to your smartphone, no pairing is necessary and having its own battery meant it won't drain your on-board battery.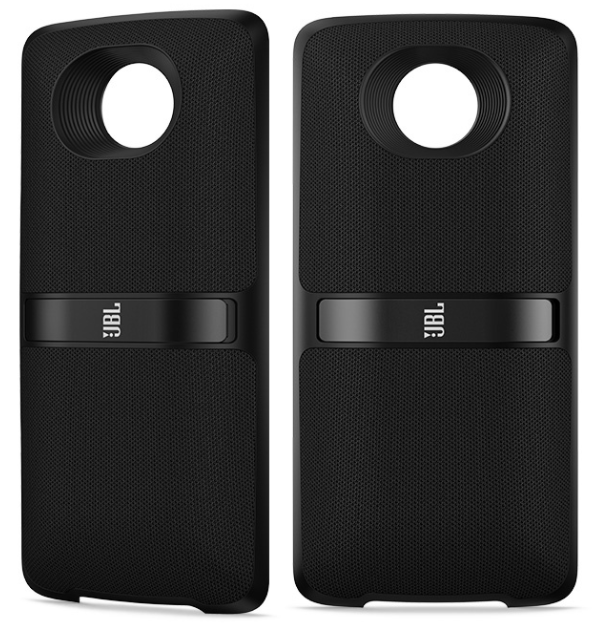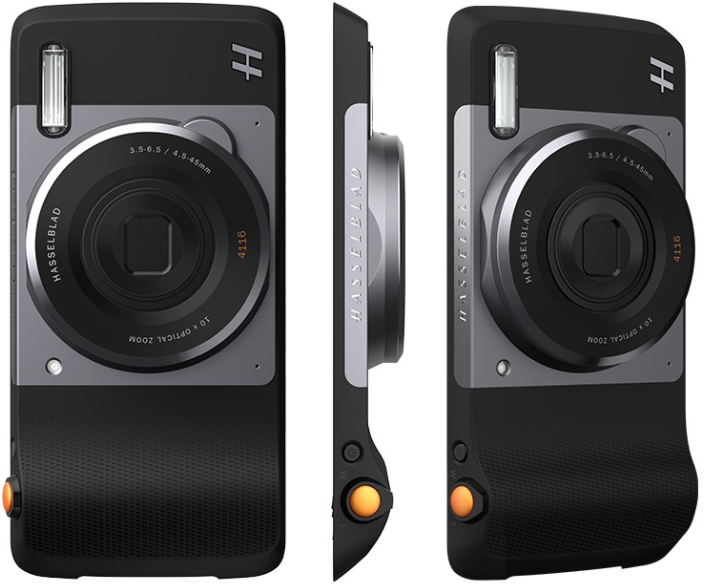 No smartphone cameras come close to a camera with real optical zoom and full size lens. With the Hasselblad True Zoom Camera, that's what you get. Snap-on the Hasselblad True Zoom Camera and you get up to 10 times optical zoom. And if LED flash doesn't do it for you, it also comes with real Xenon flash for even better shots even in low light. The accessory has a well thought through design with familiar grip and button placement for a real imaging experience. For the shutter bug, the camera shoots in RAW format, for the highest level of image quality and brightness. The 12MP camera can also shoot Full HD video at 1080p 30fps, has 2 mics, uses a 1/2.3-inch 1.55um pixel size sensor and if the phone storage is not enough, use the microSD slot for up to 2TB extra storage or unlimited cloud storage with Google Photos.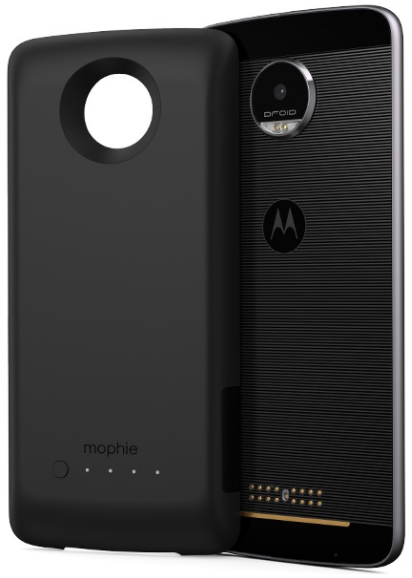 While the Moto Z has up to 30 hours battery life, the Moto Z Play up to 50 hours battery life, Moto Z2 Play up to 30 hours battery life and Z2 Force up to 24 hours battery life, for the avid Internet user that streaming junkie (both video and audio), the Mophie Juice Pack accessory. It offers more juice than Moto's own Turbopower Pack or Incipio offGRID PowerPack, both offering around 50% more battery. The Mophie Juice Pack with its 3150mAh battery pushes 60% more battery and support fast charge. It's only 8.4mm thin and weighs only 112 grams.
ALSO: Moto Turbopower Pack (up to 24 hours), Incipio offGRID PowerPack (up to 22 hours)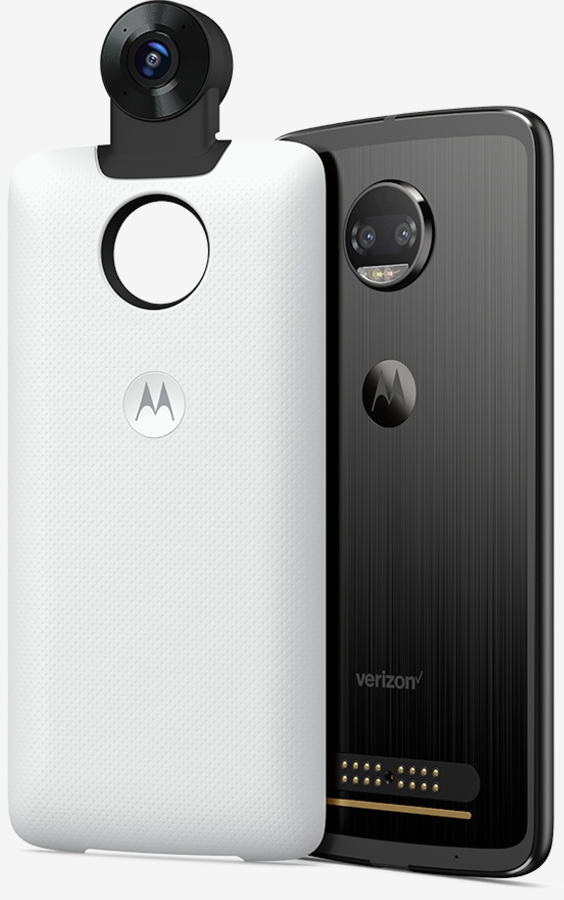 Perfect for any events, concerts, theatres, roadshows, trips, actionshots or holidays, the 360 camera captures not only the main subject but the surrounding giving an immersive and true to life experience of the moment so you can relive it over and over, even better with a VR headset for your phone. The front and rear lenses each capture 180 degrees horizontally and vertically, then stitch together for a complete 360-degree field of vision. Use it to capture stills, video and audio in Ultra HD (4K) with 3D sound and share it instantly to social networks. For standard photos, use the ultra wide-angle 150-degree lens for bigger field of view. The companion software lets you edit on the go or simply go live and stream straight to the web.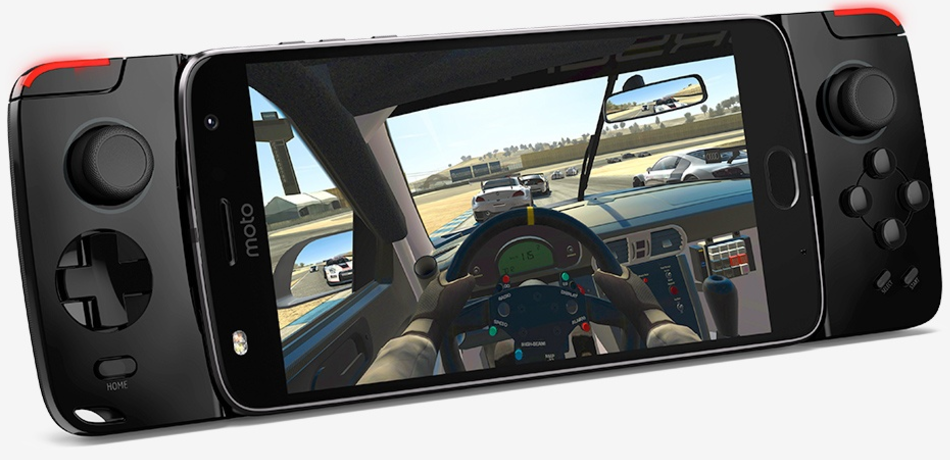 One more for the road. And this time for gamers. There is nothing more satisfying that pushing tactile buttons when you are playing your favourite games on the smartphone. With similar button arrangements to major console controllers, the snap on moto gamepad offers dual control sticks, a D-pad and four tactile action buttons for real game controls and experience. The device comes with its own 1035mAh built-in battery for up to 8 hours of gaming. It weighs no more than 140 grams and has two cool red LED lights that respond to control.