Unlike flat displays, curved monitor offers a better wraparound effect consumers try to achieve with multiple monitors. With one of these ultra wide 34-inch or bigger monitor, you can forget about those extra monitors.
Wide curved monitor especially those at Wide Quad High Definition+ (WQHD+) resolution is four times clearer than the standard HD and delivers advanced graphics with plenty more details at 3840 x 1600 pixels resolution.
Why Do I Need a Curved Ultra Wide Monitor
Curved UltraWide QHD+ Display is ideal for designers, photographers, producers and other creative professionals who need more room for big ideas. For power users, there is nothing worst than shuffling between your app windows when working.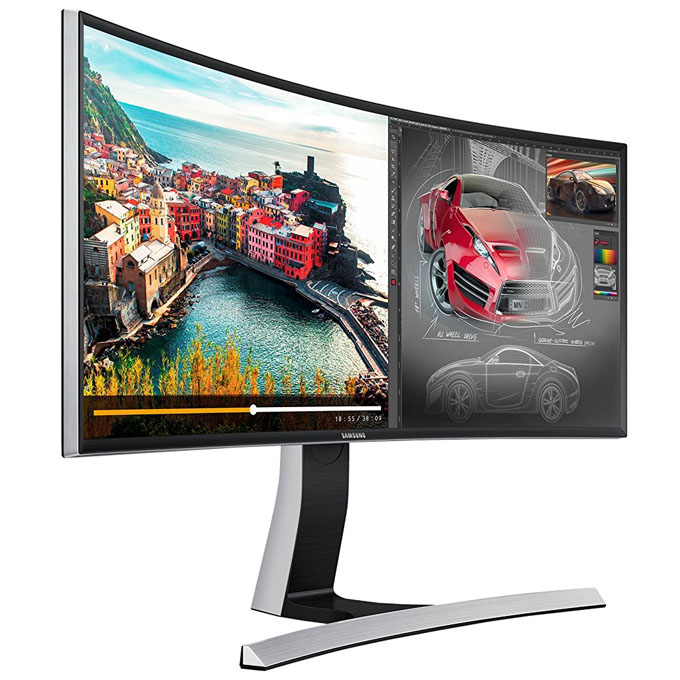 The key is multitasking, with one of these, you can basically have your windows open side by side or tiled so you can see them all without faffing around trying to find the right one. From students to business executives to graphic designers and professional creative talents, there is no better monitor to have than a curved ultra wide monitor.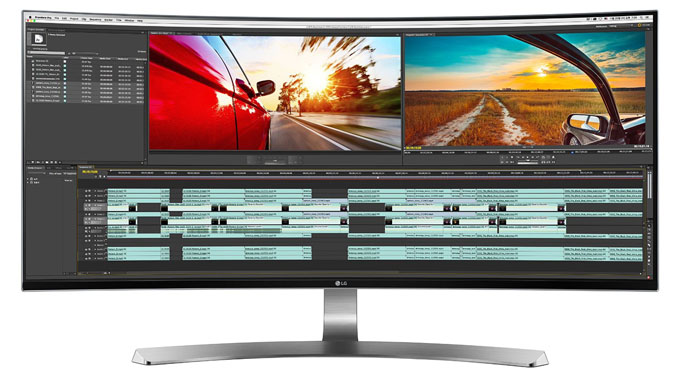 Features to Look for in Curved Ultra Wide Monitor
Here are some of the key considerations when choosing a curved ultra wide monitor.
Monitor's Response Time
Modern displays are faster with quicker response time to reduce blurring, shadows and ghosting especially when displaying fast action sequences in a movie or game. Good monitors have a small response time, as little as 1ms. This allows for more precision and high level accuracy when working on the display. Motions and actions are smoother when rendering 3D models or scrolling over long pages.
Curvature
When considering a curved display, the thing that is seldom ignored is the curvature of the display itself. Manufacturers may claim that the display is curved but by how much?Curvatures is often indicated as a ratio or R number. In the description of the technical characteristics, a curved screen has a curvature parameter screen 4200R, 4600R or 5000R. 4200R indicates that the TV screen is curved with a radius of 4.2 meters, or 165 feet. Desktop or personal curved monitors have a lower R number as the size of the display is smaller and you are meant to seat closer to the display. This typically falls around 1500R to 2000R.
USB Type-C & USB 3.0 Quick Charge Ports
HDMI 2.1 and even more so, USB Type-C Display ports are the go to interfaces for 4K video. Hook up your laptop or desktop to the display via USB Type-C Display port and you are good to go. USB Type-C also doubles as transfer data and charging port for a laptop or mobile device. You can achieve all this from a single cable with USB Type-C.
Some display also comes with USB hubs capable of data and charging. Charge the battery of a connected device be it a smartphone or tablet using the USB 2.0 or USB 3.0 port. USB 3.0 port will charges compatible devices much faster than typical USB 2.0 so while not necessary, a USB 3.0 port will not only be faster at transferring data but will cut down on charging time too with USB Battery Charging 1.2 (BC1.2).
Constrast Ratio and Graphic Card Sync
Just like when you are considering a wide screen TV, a higher ratio means black appears deeper and colours appear brighter. The ratio of around 1000:1 is good, anything higher is a bonus. The other thing to consider is the ability of the display to synchronise with the graphic card signal. When graphic card's frame rate goes out of sync with monitor's refresh rate, things starts to get ugly. You will experience tearing and stuttering on the screen especially when showing high paced motion video. Display technology such as AMD FreeSync and NVIDIA G-SYNC eliminate screen tearing, minimising display stutter, and reducing input lag.
Others: Bluetooth Audio with Rich Bass
These are what we deem non-essentials but nice to haves. Certain monitor comes with a Bluetooth connection so you can take advantage of the built-in speakers and listen to your tunes from your smartphone or tablet. Other monitor has powerful speakers complete with woofer and bass reflex for high quality, richer and more vivid sound. While these are easily obtainable with separate external speakers or Bluetooth dongle, they are as we say, nice to haves.
Top 8 Best 34-inch or Bigger Curved Wide Screen Monitor
Here is a quick run down of our line-up.
ASUS ROG SWIFT Curved PG348Q, 34-inch UWQHD (3440×1440) Gaming monitor, IPS, up to 100Hz, DP, HDMI, USB3.0 , G-SYNC
LG 34UC98-W 34-Inch 21:9 Curved UltraWide QHD (3840 x 1440) IPS Monitor with Thunderbolt
Acer Predator X34 34-inch Curved UltraWide QHD (3440 x 1440) NVIDIA G-Sync Widescreen Display
Samsung S34E790C – 34-Inch Curved WQHD Cinema Wide (3440 x 1440) Professional LED Monitor
LG 34UC79G-B 34-Inch 21:9 Curved UltraWide IPS (2560 x 1080) Full HD Gaming Monitor with 144Hz Refresh Rate
Samsung C34F791 34-Inch Curved Ultra WQHD (3440×1440) Widescreen Monitor
BenQ XR3501 35-Inch Curved LCD Gaming Monitor, 144Hz (2560 x 1080), 2000R Curve, 21:9, 2000:1 4ms, HDMI, DP, miniDP
BONUS: LG 38UC99-W 38-Inch 21:9 Curved UltraWide QHD+ (3840 x 1600) IPS Monitor with Bluetooth Speakers
ASUS ROG SWIFT Curved PG348Q, 34-inch UWQHD (3440×1440) Gaming monitor, IPS, up to 100Hz, DP, HDMI, USB3.0 , G-SYNC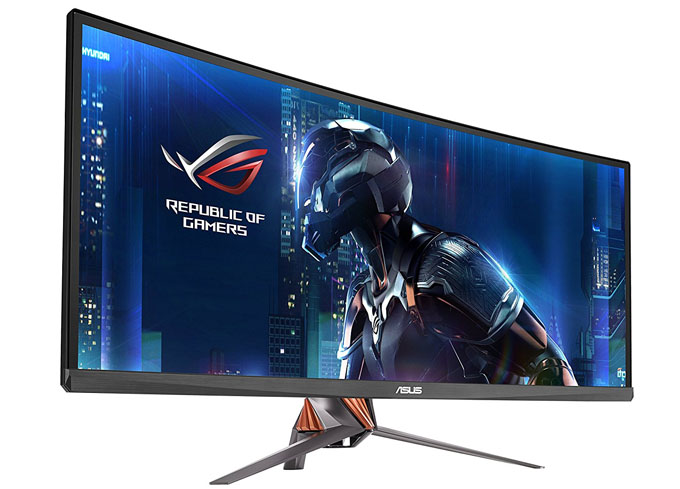 34-inch 1440p 

Ultra-wide QuadHD (3440 x 1440) curved monitor

21:9 Aspect Ratio 

IPS Panel displays full sRGB gamut

NVIDIA G-SYNC Technology and 100Hz Refresh Rate 

ASUS Eye Care technology lowers blue light and eliminates flickering

5-Way OSD Joystick delivers the most intuitive control scheme for a monitor

Tilt, pivot, swivel, and height adjustments
---
LG 34UC98-W 34-Inch 21:9 Curved UltraWide QHD (3840 x 1440) IPS Monitor with Thunderbolt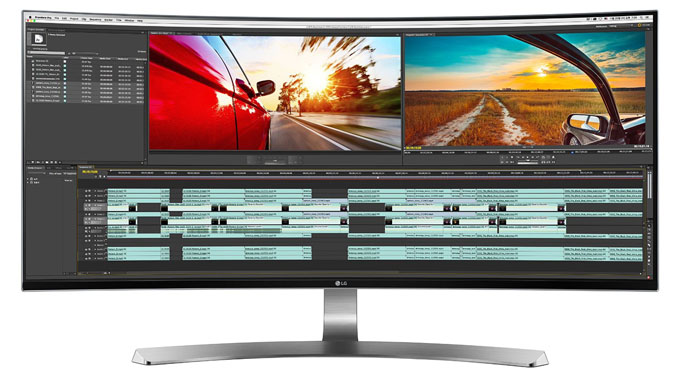 34-inch 21:9 Curved QHD IPS Monitor

sRGB over 99% colour gamut / Color Calibrated, AMD FreeSync

Height / Tilt Adjustable Stand

Screen Split 2.0 (with PIP Mode)

Thunderbolt 2.0 (x 2), HDMI 2 and DisplayPort x 1
---
Acer Predator X34 34-inch Curved UltraWide QHD (3440 x 1440) NVIDIA G-Sync Widescreen Display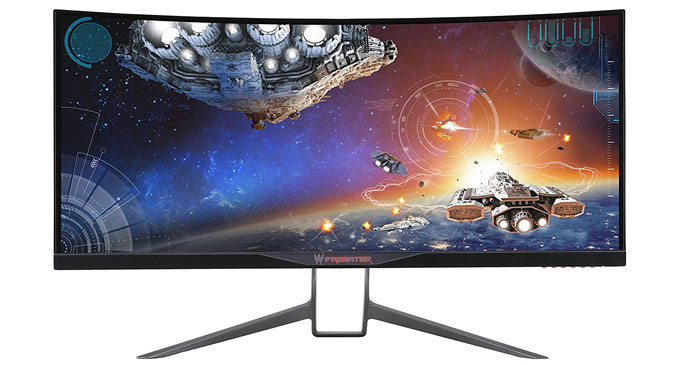 34-inch Curved Display (21:9 Aspect Ratio)

3440 x 1440 (native and maximum) Resolution. 233mm Pixel Pitch

60Hz (Overclocking up to 100Hz)

Signal Inputs: 1 x Display Port and 1 x HDMI 1.4 Port

5 USB 3.0 Ports (1 Up, 4 Down)
---
Samsung S34E790C – 34-Inch Curved WQHD Cinema Wide (3440 x 1440) Professional LED Monitor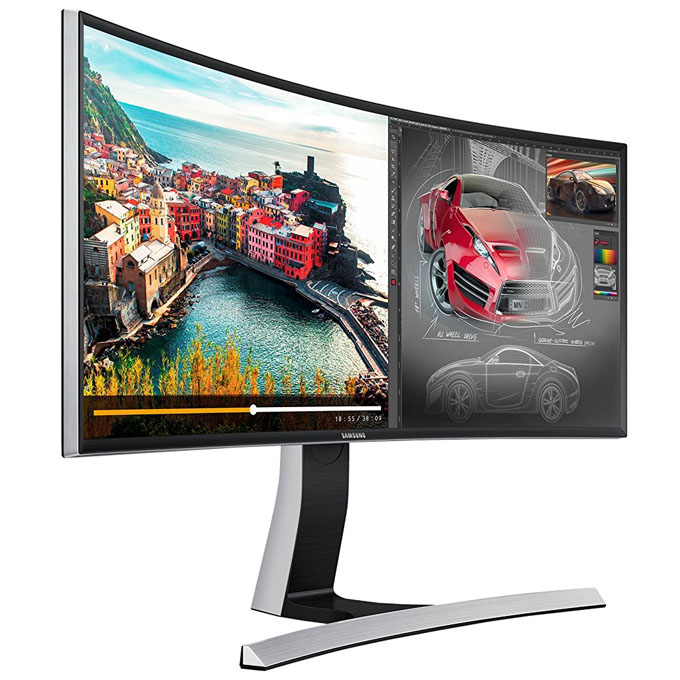 21:9 Ultra-wide & Ultra WQHD Curved Display

Wide Quad High Definition (3440×1440)

Ergonomic, height adjustable stand with Tilt functionality

4-port USB hub for easy access to peripherals

Picture-by-Picture for split screen multi-source viewing
---
LG 34UC79G-B 34-Inch 21:9 Curved UltraWide IPS (2560 x 1080) (Full HD) Gaming Monitor with 144Hz Refresh Rate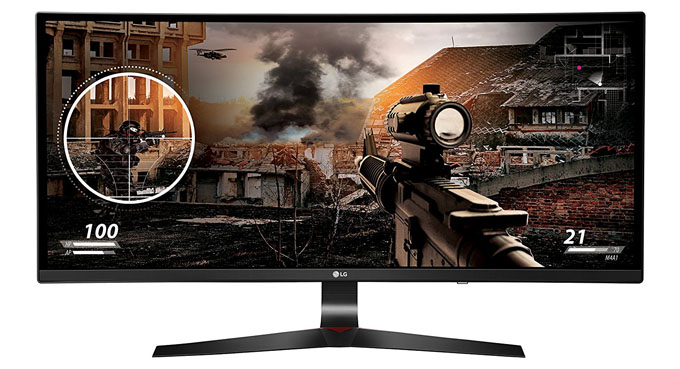 34 inch 21:9 ultrawide curved IPS gaming monitor

Full HD resolution 2560 x 1080
AMD FreeSync technology

1ms motion Blur reduction, 144Hz refresh rate

USB 3.0 Quick Charge
---
Samsung C34F791 34-Inch Curved Ultra WQHD (3440×1440) Widescreen Monitor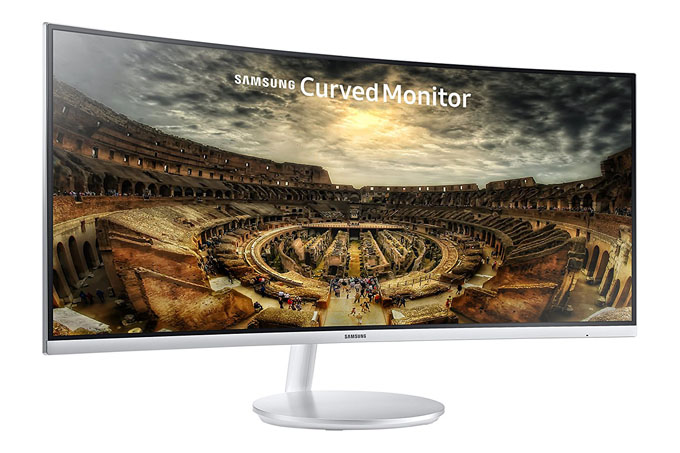 34-inch curved widescreen Ultra WQHD 3440×1440 monitor

Quantum dot technology supporting sRGB 125% colour gamut

21:9 aspect ratio for powerful multi-tasking

100h Hz Screen Refresh Rate & 4ms Response Time

Picture-by-Picture (PBP) function lets you connect two input sources using HDMI and DP
Picture-in-Picture (PIP) you can resize the second image to cover up to 25% of the screen and position it anywhere
2 HDMI, 1 DP, and 2 USB ports
Functional swing-and- tilt height adjustable stand
---
BenQ XR3501 35-Inch Curved LCD Gaming Monitor, 144Hz (2560 x 1080), 2000R Curve, 21:9, 2000:1 4ms, HDMI, DP, miniDP
35-inch Ultra wide monitor requires 2560×1080 graphics driver – SMALLER

21:9 Ultra wide & High Resolution

Color Vibrancy, Black equalizer

Ban's Revolution Eyes- Zero Flicker and Low Blue Light

3 game modes; PIP and PBP
---
BONUS: LG 38UC99-W 38-Inch 21:9 Curved UltraWide QHD+ (3840 x 1600) IPS Monitor with Bluetooth Speakers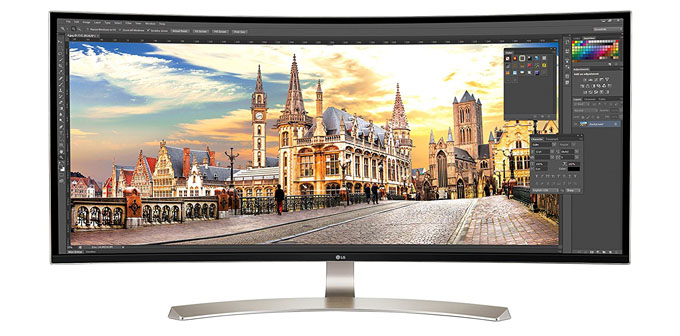 38-inch 21:9 UltraWide Curved WQHD+ 3840 x 1600 IPS Display – BIGGER

Response Time: 14ms / 5ms GTG, 1ms Motion Blur Reduction

sRGB Over 99% colour gamut

USB Type C & USB 3.0 Quick Charge

AMD FreeSync Technology

Bluetooth Speakers with Rich Bass (10W x 2)