The stylus is back with a vengeance. While the pen input have been around for as long as we can remember it wasn't until Microsoft decided to build their own tablet, the Surface Pro, that the stylus had a reboot. Apple joint the stylus game with iPad Pro and have since made it available across the iPad range including their entry level tablet.
Back then, Apple insisted that finger and not stylus is the only thing you need. Fast forward to today, they have followed Microsoft in introducing the iPad Pro 12.9 and then iPad Pro 10.5, both with support for stylus or Apple Pencil as it is known. Then later iPad Pro 11 and iPad 12.9 both with support for new generation Apple Pencil 2.
For the creatives, there is no doubt that the stylus does add more functionality and use on the tablet. You can sketch, draw, annotate, design and draft straight on the portable device without needing a separate tablet input and a huge desktop. Using the stylus directly on the screen also meany that you don't work 'blind' on pen input devices that act more like a pointing device for the big screen.
For schools, colleges and university students, the education sector in general, being able to just jot down notes or sketch on the tablet is a godsend. We all know how difficult it is to type on the small tablet screens especially the 10-inch devices. Knowing that you can later convert your handwriting into text meant you don't have to type out your notes later. More time to listen during class or lecture and straight on to revising using the notes.
We could say the same for entrepreneurs, business and corporate users, the same can be said about having the ability to take meeting notes and jot down ideas.
Browsing with the stylus also help offer an alternative to those who suffer from RSI (repetitive strain injury). Tablet users have complained about aches and pains in the hand and fingers, dubbed the iPad hand. Pro-longed use of any of these input methods (finger or mouse) will ultimately cause discomfort, having the open to change to natural writing maybe the answer especially when the technology is able to reject the palm of your hand, so you can rest easy on the screen when drawing or writing.
We Are Sold On The Idea, Just Show Us The Options
With stylus becoming a common place among laptops, convertibles and tablets, naturally, one would ask what are my options when in the market for such a device. To make it easier to search for equivalent devices, here have split our line-up into two groups.
Best Apple iPad Pro 11 Alternatives
The smaller 11-inch alternatives are based on Apple's own iPad Air 4th generation with 10.9-inch display and Android based tablets such as the Samsung Galaxy Tab S7, Lenovo Tab P11 Pro slightly smaller HUAWEI MatePad Pro 10.8. These are all pretty close to the iPad Pro's 11-inch profile and they show plenty of promise especially when these too support multi level sensitivity stylus like those on the Apple Pencil 2. Plus, the tablets themselves come with a plethora of apps that support the stylus.
Apple iPad Air 2020 (4th Gen) 10.9-inch
Samsung Galaxy Tab S7 11-inch
Lenovo Tab P11 Pro 11.5-inch
HUAWEI MatePad Pro 10.8-inch
1. Apple iPad Air 2020 (4th Gen) 10.9-inch
Launched at the end of 2020 and after the iPhone 12, the 4th generation iPad Air shares the same chip as the iPhone, the A14 Bionic with 6 CPU cores and 4 GPU cores. In contrast, the iPad Pro 11 launched early in the same year, features a beefed up A12Z Bionic with 8 CPU core and 8 GPU cores. The A12Z, a 7-nano part is designed for performance, while the A14 is designed for efficiency.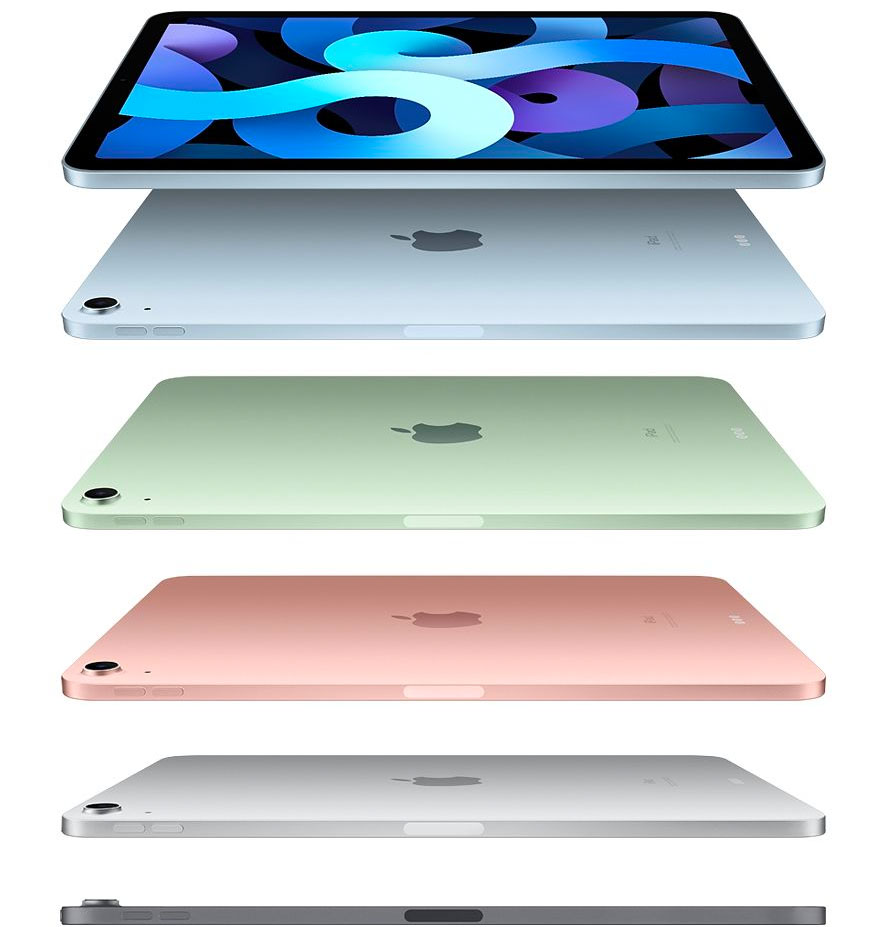 Search Apple iPad Air 4 on Amazon
Based on clock speed, the single core performance of the A14 still outperforms the A12Z but it is in multi-core benchmarks that the A12Z were able to make the most of its extra cores, giving it an edge. Same goes to graphics performance, more cores win especially when comparing iPad Pro 4 to iPhone 12. But there have been reports of iPad Air 4's graphic performance outperforming the iPad Pro 4 possibly due to better thermal and power management. The bottom line is, the iPad Air 4 is still a very good tablet and the difference in size of the display is negligible. It shares the same design language as the iPad Pro 4 which is a good start. It has the latest 5nm chip and it does everything super quick and is capable of capturing and editing 4K video, play games and run CPU intensive apps. If you are wondering what you are missing out going with the iPad Air 4 over iPad Pro 11, check out the article below on our sister site.
RELATED: Much Improved iPad Air 4th Generation: Why I would buy this over iPad Pro 11 2020
---
2. Samsung Galaxy Tab S7 11-inch
Next we have the flagship tablet from Samsung, the Galaxy Tab S7. A mirror of Apple's pro-level offerings down to the design, this is the smaller of the two tablets with 11-inch display. But, while both iPad Pro 11 and 12.9 shares a complete set of innards, differing only in screen size, the Tab S7 uses an LCD panel versus the Super AMOLED found on Tab S7+, so no HDR+ or NTSC colour range. You are going to have to make do with DCI-P3 colour gamut. Unlike the iPad Pro 11, the S Pen stylus is included but not the book cover keyboard.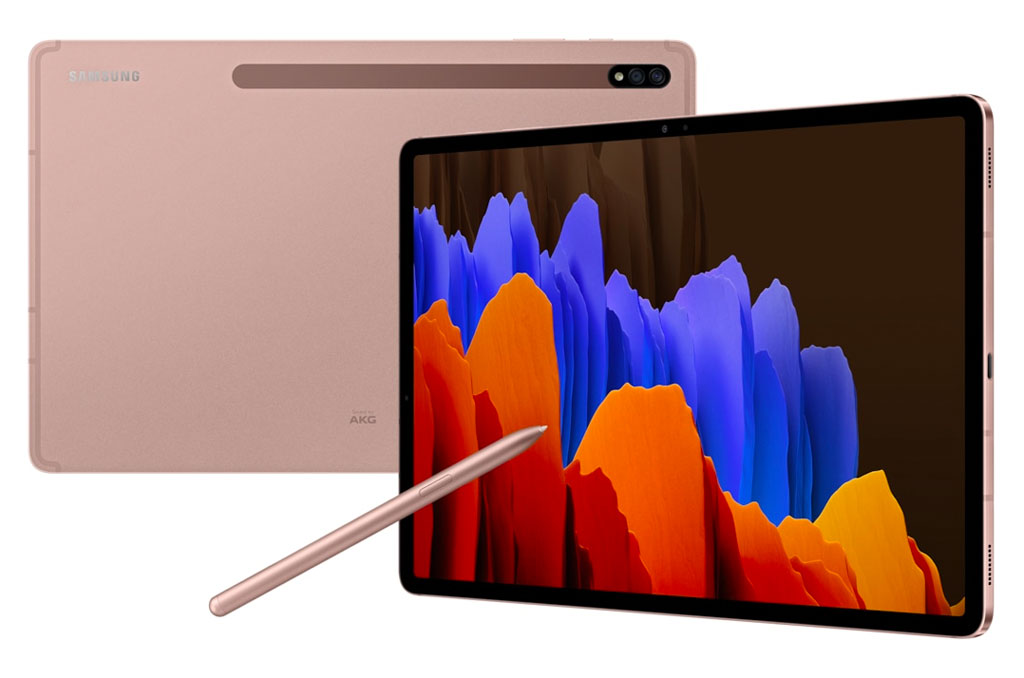 Search Samsung Galaxy Tab S7 on Amazon
Still, both panels sharp and capable of up to 120Hz, fast refresh rate for gaming and to ensure that everything appears silky smooth on screen. Beyond that, both tablets are powered by Snapdragon 865 Plus, comes with 6GB RAM and 128GB storage and supports up to 1TB extra storage via microSD slot. For entertainment, the 4 speaker sound system is tuned by AKG and has support for Dolby Atmos while the 8000mAh battery can let up to 14 hours. Finally, for optics, the tablet comes with a dual 13MP and 5MP camera capable of 4K video capture and various camera effects.
RELATED: Samsung Galaxy Tab S7 and S7+ Cathing Up With Apple iPad Pro 11 and 12.9 and more
---
3. Lenovo Tab P11 Pro 11.5-inch
The fact that it comes with the word Pro in its name means it is up there with iPad Pro 11 and the specifications proofs it. It is powered by an Octa-core processor complete with 6GB memory and 128GB storage, pretty much what all the Pro-level tablets above are equipped with. The 11.5-inch display is bigger and is matched by a high 2K resolution (2560 x 1600 pixels), and if that is not enough, it is also an OLED panel capable of Dolby Vision and flanked by quad JBL speakers that support Dolby Atmos, a true entertainment tablet. Above the display is a pair of 8MP front facing camera. Around the back, you will find a space to charge the stylus, fold out kick stand and dual main camera with 13MP and 5MP sensors.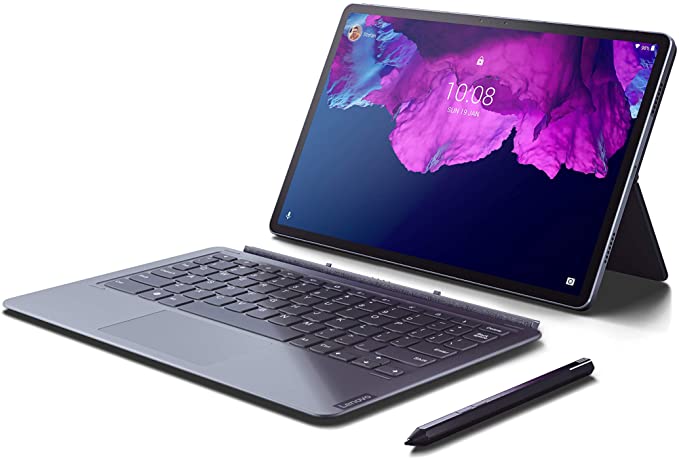 Search Lenovo Tab P11 Pro on Amazon
Under the hood, the tablet is powered by Snapdragon 730G mobile chip, an 8nm process that balances performance and efficiency. Wrapped in an ultra slim 5.8mm thin aluminium alloy unibody chassis, featuring an all screen design with ultra narrow bezel, you could mistake it for a more expensive tablet but on the contrary. Just like the MatePad Pro, this is an affordable tablet with pro performance to boot. Plus, the Lenovo Precision Pen 2 and ultra-thin keyboard is included so you don't have to spend any more money beyond paying for the device.
---
4. HUAWEI MatePad Pro 10.8-inch
If you must have Google Mobile Services, a collection of Android apps from google such as Search, Chrome, YouTube, Google Maps, Gmail, Drive etc. and access to Google Play Store, then give the HUAWEI MatePad Pro a skip. However, there are ways to get those apps or alternatives even if you decide to go with the tablet. For value, the MatePad Pro is second to none, powered by Kirin 990 chip with 6GB RAM and 128GB storage, the tablet is super fast. Other storage options are also available depending on the geographical market. There is also a WiFi only and WiFi plus LTE options. At the time of writing, Huawei includes the MatePad keyboard for free but the M-Pen stylus will still cost you. Like the iPad Pro, the M-Pen charge by magnetically attaching to the side of the screen and like the Galaxy Tab S7, it also supports PC mode.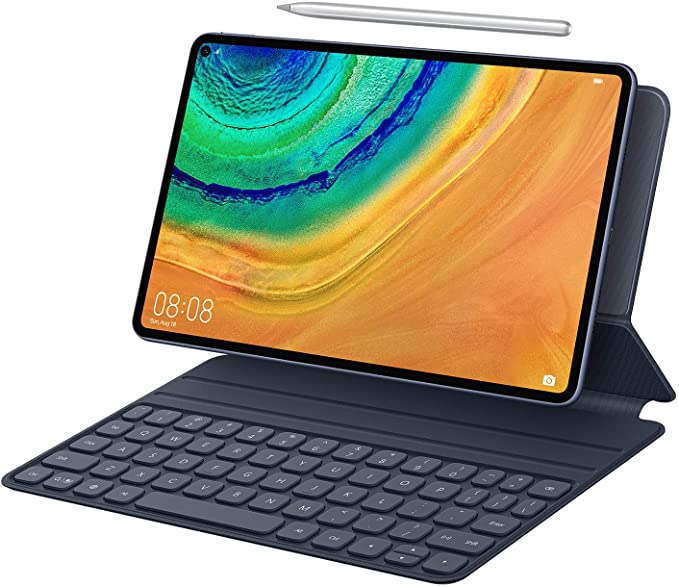 Search HUAWEI MatePad Pro 10 on Amazon
Premium features include all-screen design with super narrow bezel (4.9mm) for 90% screen-to-body ratio, punch hole front facing camera (a first for tablet) and 2K QHD LCD display with DCI-P3 wide colour gamut. There is a single rear 13MP camera for up to 4K resolution video and an 8MP front facing camera capable of Full HD video capture. The 7250mAh battery offers up to 12 hours of use and can be shared wirelessly (15W supported) or via supplied 20W fast charger. It even supports 7.5W reverse charging for Qi compatible gears. All that and it still weighs only 460 grams.
---
Best Apple iPad Pro 12.9 Alternatives
Bigger tablets or tablets with detachable keyboards (sometimes known as detachable) and hybrids, laptops with 360 degree hinge that lets you convert it into a tablet by flipping the cover over. These machines are based on Windows operating system offering full desktop experience with the keyboard or tablet mode when detached or converted. Here is the overview:
Microsoft Surface Book 3 13.5-inch Windows Detachable
Microsoft Surface Pro 7 12.3-inch Windows Tablet
Samsung Galaxy Tab S7+ (WiFi and 5G) 12.4-inch
Microsoft Surface Pro X 13-inch
HP Elite x2 G4 (12.3-inch or 13-inch)
1. Microsoft Surface Book 3 13.5-inch Windows Detachable
We start off with a detachable, one of those laptops with a detachable screen or tablet with a keyboard base, whichever way you look at it. The Microsoft Surface Book 3 boasts a 13.5-inch PixelSense 10-point multi-touch display with a resolution of 3000 x 2000 pixels. It is the highest resolution tablet and at 13.5-inch it is also the biggest tablet in our list that supports a stylus, also known as the Surface Pen. It's great for presentations, update excel sheets and create documents with ease. With 256GB solid state flash memory (option for 512GB and 1TB) and 8GB RAM (option for 16GB or 32GB) coupled with either an Intel Core i5 or Intel Core i7 processor, this tablet is super fast.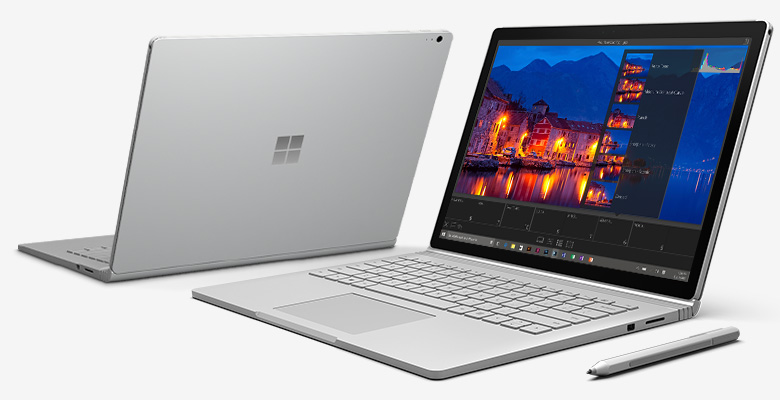 Search Microsoft Surface Book 3 on Amazon
When detachable, the display screen works in perfect harmony with Microsoft's OneNote and Surface Pen. As mentioned before the standard unit without performance base averages up to 15.5 hours between charge although real world use yields less hours. Finished in silver and made from magnesium alloy, the chassis has a minimalist design with the only physical buttons being the power and volume. Surface Pen is available separately.
---
2. Microsoft Surface Pro 7 12.3-inch Windows Tablet
The seventh generation Surface Pro launched at the end of 2019, has the same profile as its predecessors. Using the proven kick-stand, now with even lower working pitch for Studio Mode, the higher powered models based on Core i7 supports Microsoft Surface Dial just like the Surface Studio desktop. Like its predecessor, the Surface Pro is available in a variety of processor, memory and storage combinations.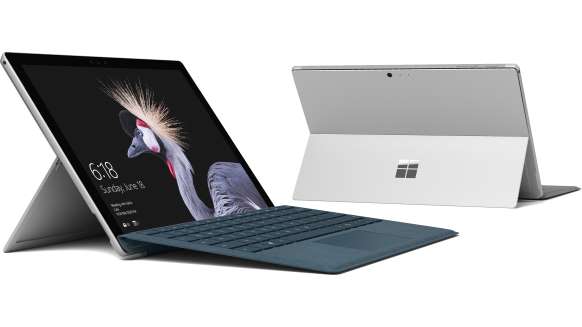 Search Microsoft Surface Pro 7 on Amazon
The tablet or rather laptop as what Microsoft would have you know with the tagline "The Most Versatile Laptop" has a high resolution 12.3-inch PixelSense touchscreen 2736 x 1824 (267 PPI) display that supports both Surface Pen and touch. The battery lasts up to 10.5 hours per charge enough to power you through the day but again, real world us reports differently. The best part of the Surface Pro, like other Windows Tablets and 2-in-1 laptops in the line-up is that it lets you run full desktop apps. Pick the right package for your budget and the optional Surface Keyboard, Surface Mouse and Surface Pen and you have a complete all-in-one device, your laptop, tablet and desktop replacement rolled into one.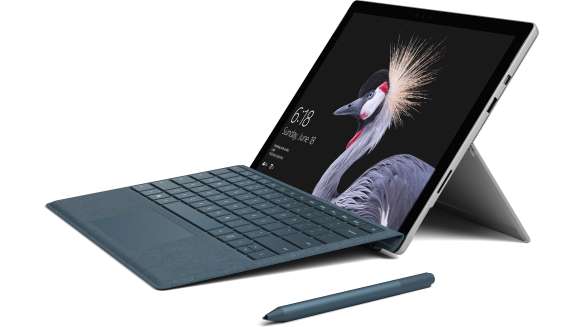 ---
3. Samsung Galaxy Tab S7+ (WiFi and 5G) 12.4-inch
Next, we have a large android tablet with 12.4-inch touchscreen that also supports pen input. The Samsung Galaxy Tab S7+ is also the first with 5G connectivity option. Boot it up and you will immediately see why this is a premium device. Fronted by a Super AMOLED display with high-end laptop refresh rate of 120Hz, everything looks super crisp with high contrast and butter smooth motion.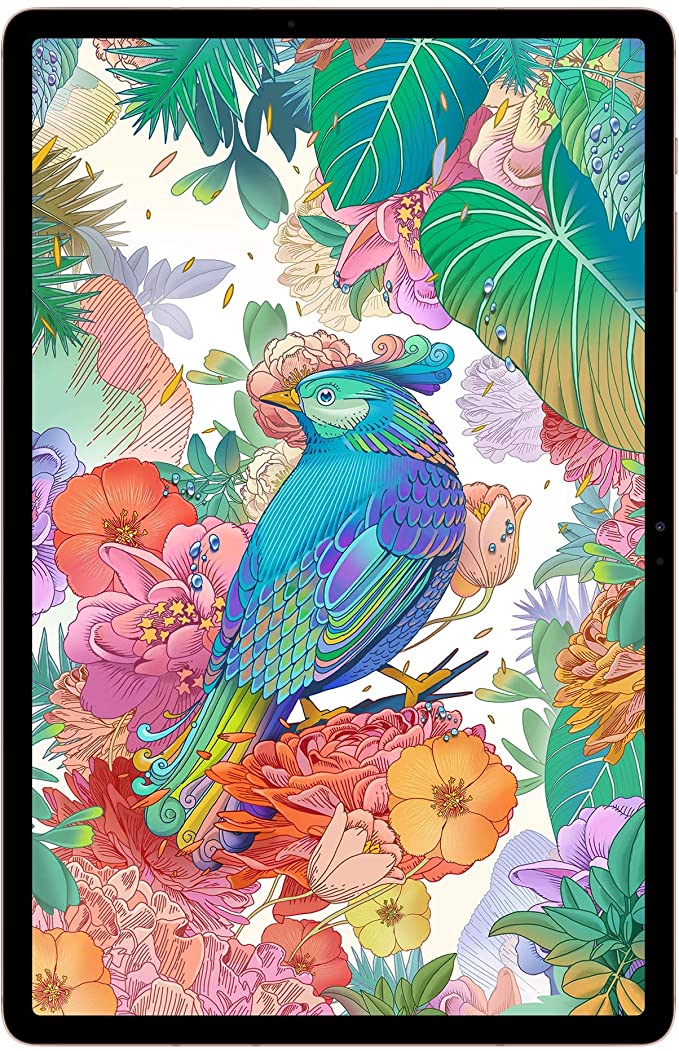 Search Samsung Galaxy Tab S7+ on Amazon
Beyond the display and 5G connectivity, it boasts, high quality audio with AKG sound from its four stereo speakers, long battery life of up to 14 hours playing video and up to 8 hours growing the web. The pro-level tablet also included dual rear camera with one wide and one ultra wide lens, great for studio recording with the right lighting setup.
But what really does it for us is the sleek design with four colour options (black, bronze, silver or navy), ultra slim 5.7mm profile and ultralight weight at 575, definitely out to challenge the Ipad Pro 12.9 (5.9mm slim and 641 grams). Finally, it is super versatile too. With the optional keyboard, you can quickly turn this into a laptop with Windows-like desktop experience. Just use the DeX button on the keyboard to switch to DeX mode.
---
4. Microsoft Surface Pro X (13-inch)
Remember the Surface RT, Microsoft's first jab at using an ARM chip to power their operating system way before Apple decided to us their ARM chip to power MacOS? Well, they are back at it again, this time with Microsoft Surface Pro X. There is a lot more attention to detail this time around when it comes to design. The slate feels premium, is ultra light (774 grams) and super slim (7.3mm). It even has the same integrated kickstand as Surface Pro 7.

Search Microsoft Surface Pro X on Amazon
What it managed to do is to stretch the display to the edge making it a 13-inch display with ultra narrow bezels. These are the sort of bezels, you wish were on the Surface Pro 7. Aside from limited native apps, the slate has everything going for it, with 4G LTE connectivity, Windows Hello face recognition and decent battery life. Though, the Surface Pen (slimmer for the Surface Pro X) and Type Cover (with stylus holder) are separate investments. Lastly, you will be glad to know that even with those tiny bezels, Microsoft was able to squeeze a Full HD 1080p web cam up front while the main shooter uses a 10MP sensor capable of 4K recording although the quality from both cameras are nothing to shout about.
---
5. HP Elite x2 G4 (12.3-inch or 13-inch)
Targeting business and enterprise users, the next detachable tablet takes on the same profile as the Surface Pro 7. Just like the Surface Pro X, it has made substantial reduction to its side bezels to keep the footprint tight. But unlike the Surface Pro X, it also managed to squeeze 2 x Thunderbolt pots, one USB-C and Fast WiFi 6 wireless connection on top of 4G LTE making it the most versatile in terms of connectivity. The kickstand here is the picture frame type instead of a full metal flap but it works. It is after all military grade tested so the entire slate should withstand your daily grind. While the keyboard is included, the HP Rechargeable Active Pen G3 is optional.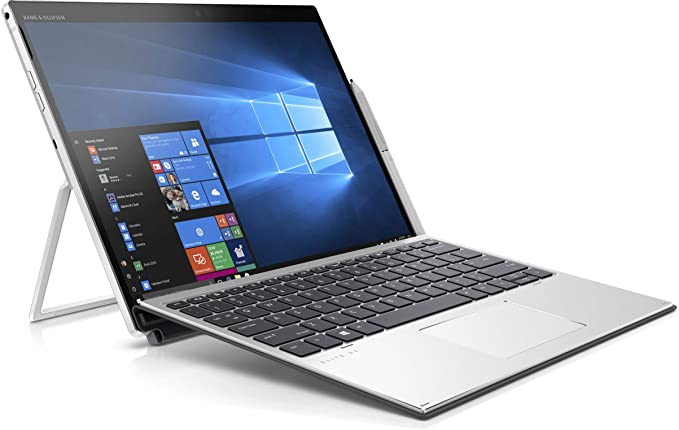 Search HP Elite x2 G4 on Amazon
The 12.3-inch version could go head-to-head with Surface Pro 7 with 12.3-inch display but you really want the 13-inch version as a viable alternative to Ipad Pro 12.9. That's because, not only is it a premium device, it also comes with high resolution with 3000 x 2000 pixel capable super bright 1000nits images. Even the Ipad Pro 12.9 can only muster 600nits. The average is around 400-500nits. Again, HP claims that the 13-inch model boast up to 12 hours and 15 minutes battery life but real life usage will see a lot less than that. There is one downside, and that is the HP Elite x2 G4 is powered by 8th generation Intel Core i5 or i7 processors when the world is moving on with 11th generation processors.
---
Older Generation Tablets with Stylus Support
Samsung Galaxy Tab S3 9.7-inch Android Tablet –

STYLUS INCLUDED
Samsung Galaxy Tab S3 has a smaller 9.7-inch AMOLED display. Depending on the model it comes with either a QXGA or 4K UHD AMOLED resolution. The tablet has a superbly precise and pressure-responsive Samsung S Pen Stylus which never needs to be charged. The stylus has great angle sensitivity (4096 pressure sensor level) with the intelligence to translate, magnify, navigate and create with a full palette of brush and pen types. This premium tablet has a glossy glass front and back giving it a stunning look.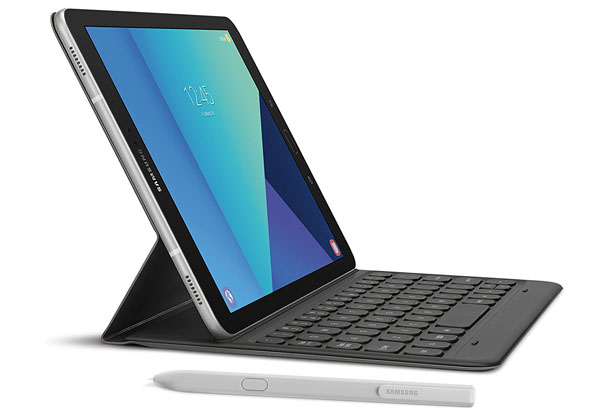 In the audio department, you get a powerful quad speakers, tuned by AKG, calibrate with your movements as you rotate the Galaxy Tab S3, and intuitively reflect what's playing on-screen. You can easily switch from touch to type with a feather light keyboard although the keyboard is sold separately. The keyboard automatically pairs with the tablet when come into contact and never needs charging.
The biggest plus for the Samsung Galaxy Tab S3 is the High Dynamic Range on a Super AMOLED display, the Galaxy Tab S3 delivers cinematic vividness, detail and deep contrast to a screen that fits in your hands. It has a maximum resolution of UHD 4K (3840 x 2160)@30fps. Some models are QXGA AMOLED (2048 x 1536 pixels).
Display: 9.7-inch QXGA (2048 x 1536) sAMOLED
Processor: Qualcomm APQ 8096  (2.15GHz + 1.6GHz) for WiFi model or Qualcomm MSM 8996 (2.15GHz + 1.6GHz) for LTE enabled model
Memory & Storage: 4GB RAM memory + 32GB storage and microSD card slot support up to 256GB
Battery Life: up to 12 hours
Cameras: 5MP F2.2 front facing and 13MP AF (F1.9) main camera
Dimensions & Weight: 237.3 x 169.0 x 6.0 mm, Wi-Fi: 429g, LTE: 434g
Check Price on Amazon: Samsung Galaxy Tab S3
---
Samsung Galaxy Tab A 10 10.1-inch with S Pen Android Tablet –

STYLUS INCLUDED
Another entry from Samsung, this time the budget tablet Galaxy Tab A with 10.1-inch display and S Pen. The S Pen allow you to take note, draw on photos, create custom animated GIFs and more. With the S Pen, you have so many ways to express yourself. Write, draw and edit with precision. Take screenshots. Select brush and color options to draw on photos or create custom animated GIFs. Plus, you can jot down a quick note without unlocking your screen and even translate unfamiliar words while traveling.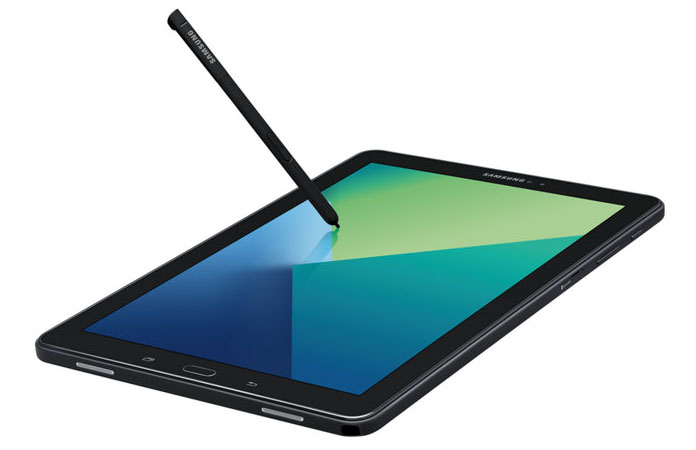 The stunning 10.1-inch Full HD high-resolution screen lets you binge-watch your favourite show or video-chatting with friends. Powered by an Octa-core processor and together with a long-lasting battery, it offers continuous use of  up to 14 hours of internet time. Given its budget price point, it only comes with 16GB internal storage but it does have a microSD slot that supports up to 256GB of extra storage, enough to store movies, music and photos. Samsung's custom Android OS lets you multi-task. Open two apps side by side so you can do two things at once. Chat while you're watching shows or email while you're gaming. Not sure how you can manage the later, perhaps with great difficulty.
Display: 10.1-inch WUXGA(1920 x 1200) TFT PLS display with S Pen support
Processor: Octa-Core(1.6GHz), Exynos 7870
Memory & Storage: 3GB RAM memory and 16GB ROM storage. MicroSD supports up to 256GB
Battery Life: 14 hours internet use, 13 hours video playback
Camera: 2MP front, 8MP rear facing camera (AF with flash and Full HD 1920 x 1080 recording at 30 fps)
Dimensions & Weight: 10.0" x 6.46" x 0.32" and 1.22lbs
---
ASUS Transformer Mini T102HA 2-in-1 PC 10.1-inch with Stylus Windows Detachable –

STYLUS INCLUDED
This razor thin and feather light tablet from ASUS, the ASUS T102HA 2-in-1 tablet is ultra portable and exceptionally adaptable. Built from magnesium-aluminium alloy for durability, it is fitted with a 2-cell battery that'll last up to 11 hours. With its integrated kick-stand, it looks pretty much like a mini Surface Pro. The Smart Hinge design offers stepless kickstand up to 170° of movement so you can set the display at any angle for typing, browsing or watching. The tablet also has an auto-scanning fingerprint sensor and support Windows Hello to unlock your device.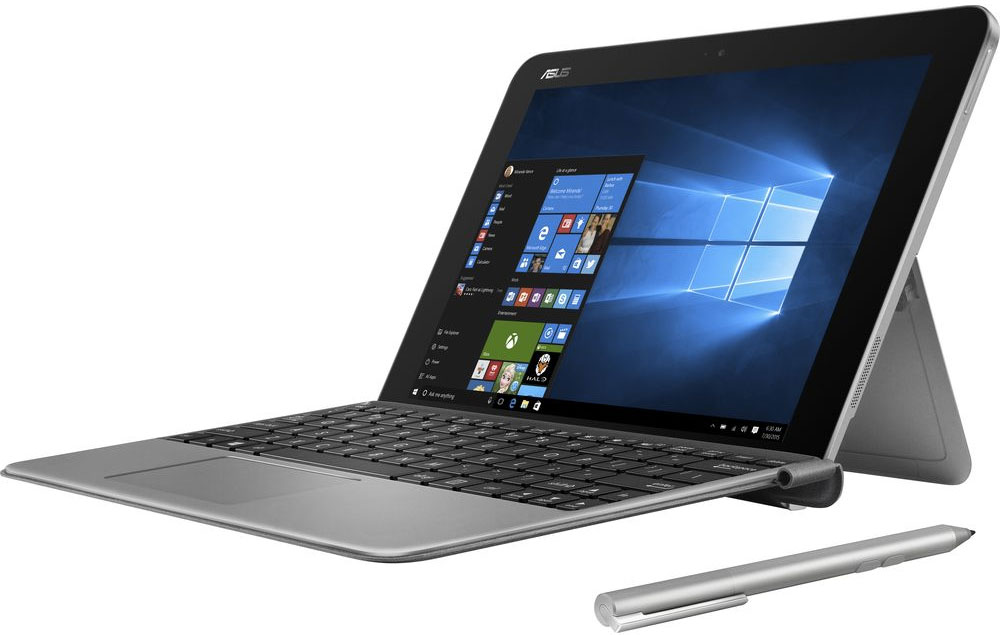 The display pushes up to 400cd/m² brightness for bright, vivid and clear images. The dual side-mounted stereo speakers create an immersive surround-sound effect, and exclusive ASUS Tru2Life video enhancement and TruVivid direct-bonding technology make sure you always see the best possible images, with sharp, realistic videos and fewer annoying reflections.
The device has an ultra-slim keyboard design to help keep it compact and light. The precision touch pad has palm-rejection technology and Windows gesture support for speed and comfort. The keyboard has 1.5mm key travel, making it a real pleasure to use, and an anti-dust fibreglass construction to keep it looking clean.
Display: 10.1-inch LED Backlit 1280 x 800 pixels
Processor: Intel® Atom™ x5-Z8350 Processor 1.44 GHz / 1.92 GHz (Turbo Boost)
Memory & Storage: 4GB RAM memory and 64GB ROM storage
Battery Life: up to 11 hours
Camera: 2MP web cam
Dimensions & Weight: H1.4 x W25.9 x D17cm 790 grams
---
Lenovo Yoga Tab 3 Pro 10.1-inch Android Tablet –

PROJECTOR, ANYPEN TECHNOLOGY
It may not come with a stylus but you can use almost any object as a stylus on the touchscreen with Lenovo AnyPen technology. It is powered by a quad-core 2.4GHz Intel processor and it has an amazing battery life of up to 18 hours. The best thing has to be that it comes with a built-in projector great for entertainment or business presentation capable of projecting image of up to 70-inch in size on the wall or ceiling. That's not all, it also has 4 JBL speakers to deliver the audio you need, truly a portable cinema system. Remember, you can use pencil or basic plastic stylus so you do not need to pay over the odds for an optional stylus.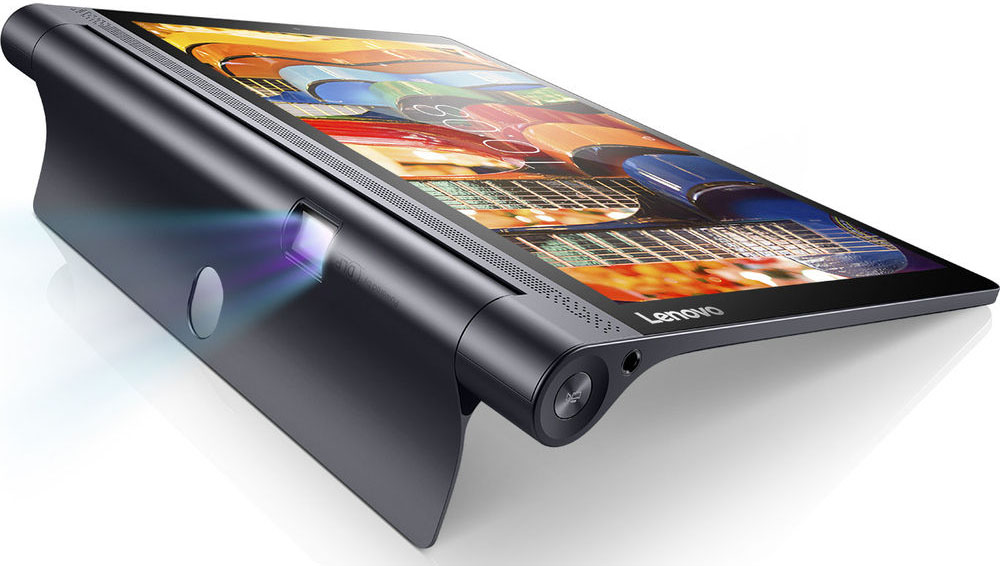 Display: 10.1-inch IPS with 2560 x 1600 pixel resolution (299PPI)
Processor: Intel® Atom™ Processor x5-Z8550 2.44GHz Quad-Core
Memory & Storage: 4GB RAM memory, 64GB Storage and up to 128GB microSD card
Battery Life: 18 hours
Camera: 5MP
Dimensions & Weight: 179 x 247 x 4.68 mm (H x W x D), 665 grams.
---
HUAWEI MediaPad M2 Premium 10-inch Android Tablet –

STYLUS INCLUDED
Huawei is marketing this as an entertainment tablet with four speakers (2 treble and 2 bass) for surround sound with advanced Harman Kardon technology. Apart from Apple's iPad Pros the MediaPad is also the only tablet in this line-up that features a fingerprint sensor for secure identification, seamless login and access to apps with support for multi-users.
Like Apple's Pencil on iPad Pro, the M-Pen stylus is an ultra-sensitive pen with 2048 pressure levels to simulate the friction of pen on paper. For multi-tasking, you can use gesture control; swipe left to go back to previous screen and right for multitasking management screen and move on to the next page.
While the 16GB model is affordably priced, the 64GB variety pushes the price up. Still you get a well designed tablet with non-conductive vacuum-coated metallic unibody at 7.35mm thin with the thinness edge measuring only 5mm. Available in Luxurious Gold and Moonlight Silver. Again, the best thing here is the stylus is included and not an optional extra.
Display: 10.1-inch IPS 1920X1200 FHD Display
Processor: Hisilicon Kirin 930, Quad 2.0GHz + Quad 1.5GHz processor
Memory & Storage: 2GB (standard edition) / 3GB (premium edition) RAM, 16GB (standard edition) / 64GB (premium edition) storage
Cameras: 13MP rear facing autofocus F2.0 camera with flash, 5MP front facing camera
Battery: 6600mAh battery
Dimensions & Weight: 239.8mm x 172.75mm x 7.35mm, approx. 500 grams
---
Lenovo Yoga Book 10.1-inch 2-in-1 PC Windows Tablet
The Lenovo Yoga Book takes stylus input seriously, with a dedicated writing space, a digitiser, a stylus that doubles as a real writing pen, various apps that support writing, sketching and drawing and fold flat profile that supports display and writing side by side.
At just under 2 lbs, the Lenovo Yoga Book is the world's thinnest and lightest 2-in-1 android tablet. A Windows 10 Pro 64-bit version is also available. On-Demand Halo Keyboard With Haptic Feedback  makes every task easier. You can make notes or sketches using a stylus with real ink. All notes are instantly digitized when you write with the Real Pen stylus.
Type on the Halo keyboard that appears when you need it – and vanishes when you don't. Get things done on our custom version of Android that lets you be productive like never before. Thin, light, and stylish, 10.1 inches Yoga Book sets your imagination free – anytime, anywhere.
Do more with one notebook: type, take notes, browse the web, even draw. With up to 15-hours of battery life, it's designed to go all day. Its maximum screen resolution is 1920 x 1200 pixels. 2.4GHz Intel Atom processor, 64GB SSD and 4GB RAM let you enjoy Cinema-Level Sound and Video.
---
Microsoft Surface Pro 4 12.3-inch Windows Detachable
The predecessor to the fifth generation Surface Pro, the Surface Pro 4 is still available in the market at reduced prices. Even Microsoft Store is doing a deal, bundling it with Bower & Wilkins P3 Series 2 On-Ear headphones. Based on the 6th generation Intel processors, it still has plenty of life. If you can put up with shorter battery life and rather save some money, you can't go wrong with the Surface Pro 4.
Display: 12.3-inch PixelSense display, Resolution: 2736 x 1824 (267 PPI), Aspect Ratio: 3:2, Touch: 10 point multi-touch
Processor: 6th Gen Intel Core m3, i5, or i7
Memory & Storage: 4GB, 8GB or 16GB RAM and 128GB or 256GB SSD Storage
Cameras: 5.0MP front facing HD camera, 8.0MP rear facing autofocus camera with 1080p HD video recording
Battery Life: 9-12 hours of video playback depending on configuration
Dimensions & Weight: 11.50 x 7.93 x .33 in (292.10 x 201.42 x 8.45 mm), i5/i7: 1.73lbs (786grams), m3 1.69lbs (766grams)
---
HP Spectre x360 2-in-1 PC 13.3-inch Windows Hybird –

STYLUS INCLUDED
The hybrid PC has a 360-degree hinge, the HP Spectre x360 Convertible 13 flips from you conventional laptop to stand mode to tent mode to tablet mode effortlessly. The reason for it being on this list is simply because it comes with stylus and sleeve. It features the new 7th Gen Intel Core i7 processor and 512GB SSD, enough to take on anything you can throw at it.
Notable features include the razor-sharp 13.3-inch Full HD 1920 x 1070 pixel resolution touchscreen to make it easy to zoom, flick, or tap your way through all your content and up to 16 hours battery life per charge to power you through all day and into the night. It does not stop there, the 2-in-1 PC comes equipped with Bang & Olufsen HP Audio Boost quad-speakers to match that screen for superb entertainment and gaming.
Processor: Intel Core i7-7500U 2.70GHz with Turbo Boost Technology up to 3.50GHz
Display: 13.3-inch diagonal Full HD IPS BrightView WLED-backlit touchscreen (1920 x 1080), 10-finger multi-touch support
Memory & Storage: 8GB/16GB RAM memory and 512GB/1TB SSD storage
Battery Life: Up to 16 hours battery life
Camera: HP TrueVision FHD IR camera with dual array digital microphone
Dimensions & Weight: 307 x 218 x 13.90 mm and 1.32kg
 HP Spectre x360 2-in-1 PC on Amazon
ALSO: A bigger 15.6-inch HP Spectre 2-in-1 Hybrid PC is also available.
---
Asus Transformer 3 Pro T303 2-in-1 12.6-inch Windows Detachable –

STYLUS INCLUDED
ASUS Transformer 3 Pro feels a little bulky than compared to say Samsung Galaxy TabPro S, Huawei Matebook or iPad Pro 12.9-inch. At first glance is looks a lot like the Surface Pro and Surface Pro 4 with those square edges, the kick stand and magnetic keyboard. It goes surface deep with a lot of fire power inside, the sixth generation Intel Core i7 processor and PCIex4 Gen 3 SSD storage and SATA3 interface. To push it further, you can even connect an optional ROG XG Station 2 for gaming grade graphics or Audio Pod for better audio with quad-speakers, 360° surround sound and 5.1 channel virtual surround.
It weighs a bit more compared to Surface Pro or Surface Pro 4, but not by a lot, at 800 grams and measures 8.35mm thin. The integrated metal kickstand has a 155° step less hinge and can go up to 170° angle. What really makes the Transformer 3 Pro stands out from the rest is the 3K display, packing 2880 x 1920 pixels with an extra-wide colour gamut of 121% sRGB and 85% NTSC for more vivid and accurate colours. The high-precision ASUS Pen with 1024 levels sensitivity lets you jot down your notes and ideas, annotate photos that you've taken with one of ASUS Transformer 3 Pro's two cameras, front or back.
Display: 12.6-inch (16:9) LED backlit WQHD+ (2880 x 1920) 60Hz Glare Touchscreen with 85% NTSC
Processor: Intel® Core™ i5 6200U Processor or Intel® Core™ i7 6500U Processor
Memory & Storage: 4GB / 8GB LPDDR3 2133MHz SDRAM Onboard Memory and 256GB/512GB SATA3 M.2 SSD storage with multi-format card ready
Cameras: 2MP front facing IR camera and 13MP rear camera
Battery: 39 Whrs Polymer Battery with quick charge 60% in 60 minutes.
Dimensions & Weight: 298.8 x 210.1 x 8.35 mm (WxDxH), 800g
---