The new iMac 5K 27-inch launched in the middle of 2017 brought a lot to the table, we take a look at how it stacks up when compared to other All-in-One desktops?
All-in-One desktops offer a sleek profile and space saving setup with all components built into the back of the display. Not having to deal with a base unit be it on the desk or floor one of the main reasons why one would opt for an AiO. The new iMac with 5K display at 27-inch offers even more reasons as a buyer's choice when compared with its predecessor
here
, with faster component, brighter screen and better value.
Before we delve into the nitty gritty of who is offering what, let's look at what the competitors are up against.
There is truly nothing that come close to Apple's display, with iMac 2017, this is further improved with more brightness and wider colour gamut. The processors also received an upgrade, but you will have to make do with Core i5 processors unless you start configuring your iMac. This paired with 8GB of RAM memory and powerful GPU with 4GB or 8GB of VRAM packs plenty of punch to deliver desktop level performance that lets you tackle everything. And, if 8GB of RAM is not enought, you can go crazy with the four user accessible memory slots on the back of the screen that lets you upgrade up to 64GB of RAM. While fusion drive is available across the board now with the 2017 release, you will still need to configure your iMac at the point of order if you want the performance of a Solid State Drive.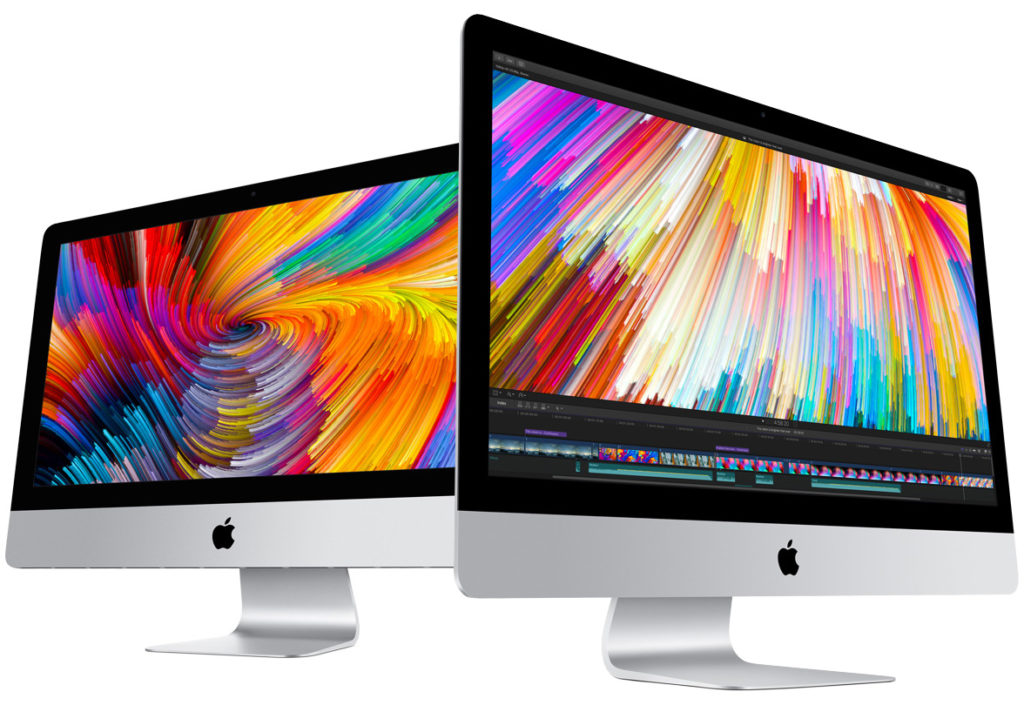 27-inch Retina 5K display 5120 x 2880 resolution 500 nits brightness Wide colour P3
Intel Core i5 3.4GHz / Turbo Boost to 3.8GHz or Intel Core i5 3.5GHz / Turbo Boost to 4.1GHz or Intel Core i5 3.8GHz / Turbo Boost to 4.2GHz
8GB RAM (user upgradeable up to 64GB), 1TB or 2TB Fusion Drive configurable to 256GB / 512GB / 1TB SSD.
Graphics: Radeon Pro 570 4GB VRAM or Radeon Pro 575 4GB VRAM or Radeon Pro 580 8GB VRAM
Top 5 Best iMac Retina 5K 27-inch 2017 Alternatives
Apple's biggest competition in this space are alternatives from HP and Dell with all based on Windows 10 operating system.
An AIO with premium design, sleek bold lines and dark finish, the HP ENVY 27 All-in-One PC comes with 4K touch display, an interface that Apple resist putting on their iMac. Even the chart topping super computer, the iMac Pro do not have a touchscreen. The Core i7 model comes with dual storage, a conventional 1TB HDD and 256GB SSD storage and has a whooping 16GB RAM memory. For audio, it spots integrated quad speakers pumping out Bang & Olufsen sound.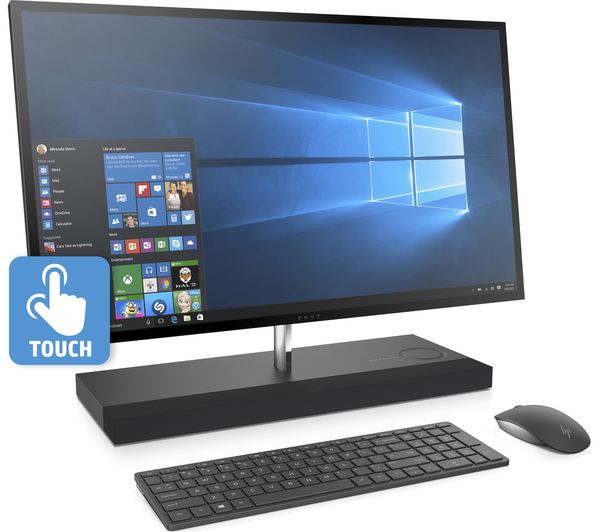 27-inch IPS WLED 4K 3840 x 2160 screen with anti-glare coating
Intel® Core™ i7-7700T Processor 2.9 GHz / 3.8 GHz (Turbo Boost)
RAM: 16GB / Storage: 1TB HDD & 256GB SSD
Graphics: NVIDIA GeForce GTX 950M 4GB VRAM
If you like the HP ENVY 27-inch, also consider the HP ENVY 34 Curved All-in-One Desktop Computer
---
Another AIO with 4K touch capable display, this time from Dell, the Dell XPS 27 may not have the good looks and premium design of the HP ENVY 27 but it comes pack all the same with even faster Core i7 processor and all SSD storage. It doesn't stop there, the AIO comes with integrated Waves MaxxAudio Pro sound bar powered by 10 integrated speakers. Its edge-to-edge multi-touch glass panel lets you control the action with confidence using just your fingertips. For added convenience, the fully flexible stand allows the display to be moved up and down and can also be folded down, allowing you to work and play at a more comfortable angle.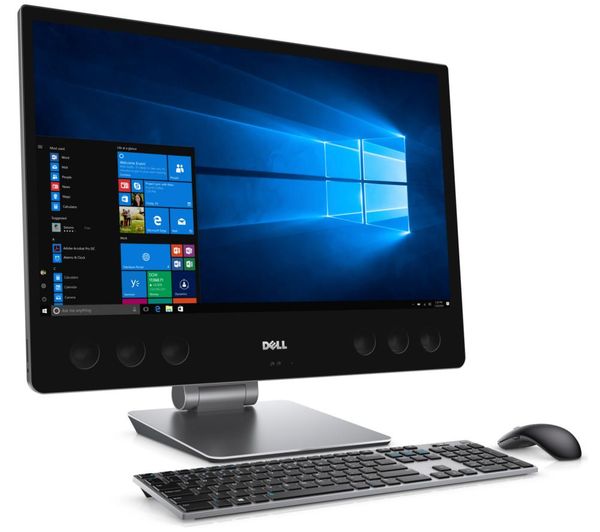 27-inch Ultra HD 4K touchscreen 3840 x 2160 display
Intel® Core™ i7-6700 Processor 3.4 GHz / 4.0 GHz (Turbo Boost)
RAM: 16GB / Storage: 512GB SSD
Graphics: AMD Radeon R9-M470X
---
For a cheaper alternative to the HP ENVY, the HP Pavilion 27 is your answer. If you can live without a 4K display and is content with a non-touch capable Full HD screen as well as conventional hard disk drive storage, HP Pavilion 27 is not only good value but comes with powerful Intel Core i7 processor paired with 16GB of RAM memory. For entertainment, it spots dual front firing B&O Play speakers and software.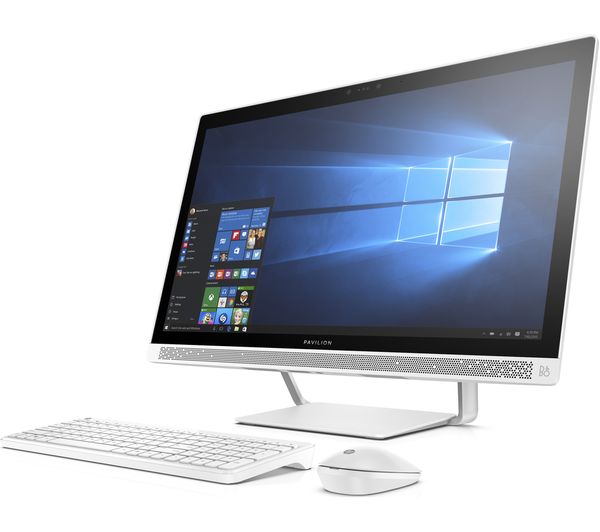 27-inch IPS Full HD display 1920 x 1080 resolution
Intel® Core™ i7-7700T Processor quad-core 2.9 GHz / 3.8 GHz (Turbo Boost)
RAM: 16GB / Storage: 2TB HDD
Graphics: Intel H170
---
The 27-inch display offers Full HD resolution with touch support and is driving by NVIDIA GeForce GPU for optimum performance across all applications be it for gaming, image or video editing or simply watching movies. The Core i7 version comes with dual storage 1TB HDD and 128GB SSD and 16GB RAM memory while a cheaper configuration with Core i5 comes with 1TB HDD and 8GB RAM memory only. The AIO is equipped with Intel RealSense 3D camera with face recognition software to let you login securely using Windows Hello and support hand gestures and facial expression controls. With the right application, the camera's real power is in the ability to capture objects and people in 3D. It is worth noting that the hinge that holds the display is designed to fold flat so you can use the touchscreen horizontally.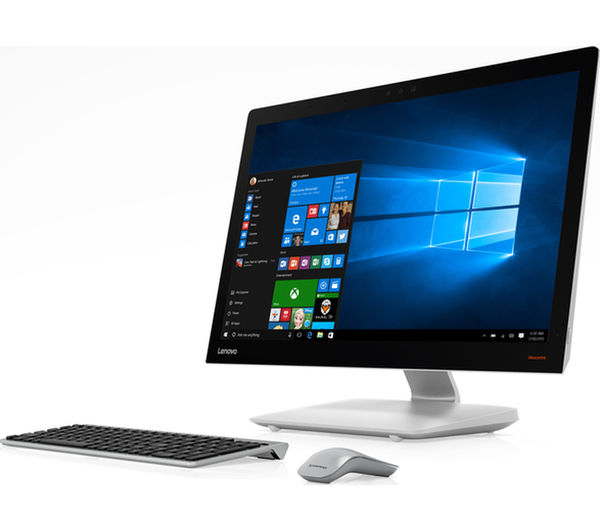 27-inch Full HD 1920 x 1080 LED touchscreen backlight IPS anti-glare display
Intel® Core™ i7-6700T Processor quad-core 2.8 GHz / 3.6 GHz (Turbo Boost) (Core i5 version available)
RAM: 16 GB / Storage: 1 TB HDD & 128 GB SSD (8GB RAM and 1TB HDD option available)
Graphics: NVIDIA® GeForce® 940M
Intel RealSense 3D camera
---
The Surface Studio from Microsoft is the tech giants first jab at the desktop market and it doesn't disappoint. While it has everything going for it including the Zero Gravity Hinge that lets you lower the screen to near flat and at an angle suitable to work on, much like a drafting table, the price points can often be prohibitive. Starting with Intel Core i5, 8GB RAM, 1TB Hybrid Storage and 2GB GPU, you have a choice of two other configurations, the Intel Core i7, 16GB RAM, 1TB Hybrid Storage and 2GB GPU or the chart topping Intel Core i7 32GB RAM, 2TB Hybrid Storage and 4GB GPU.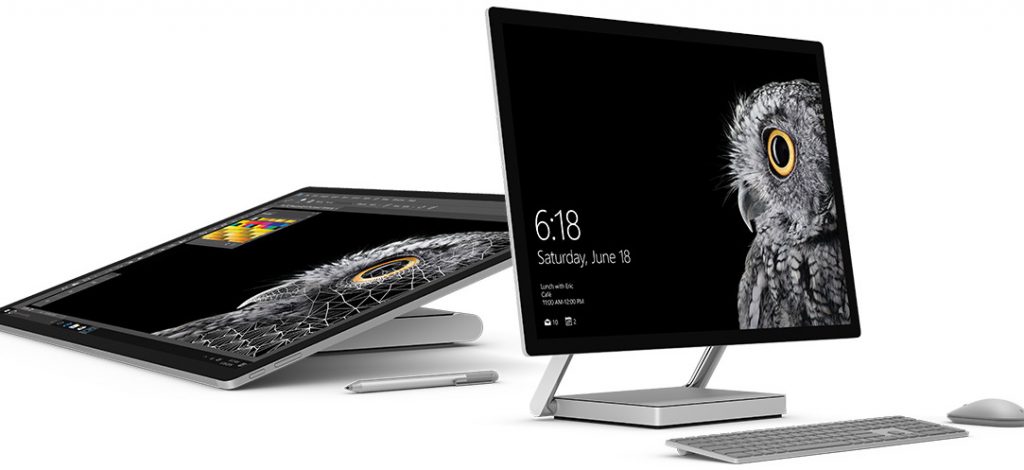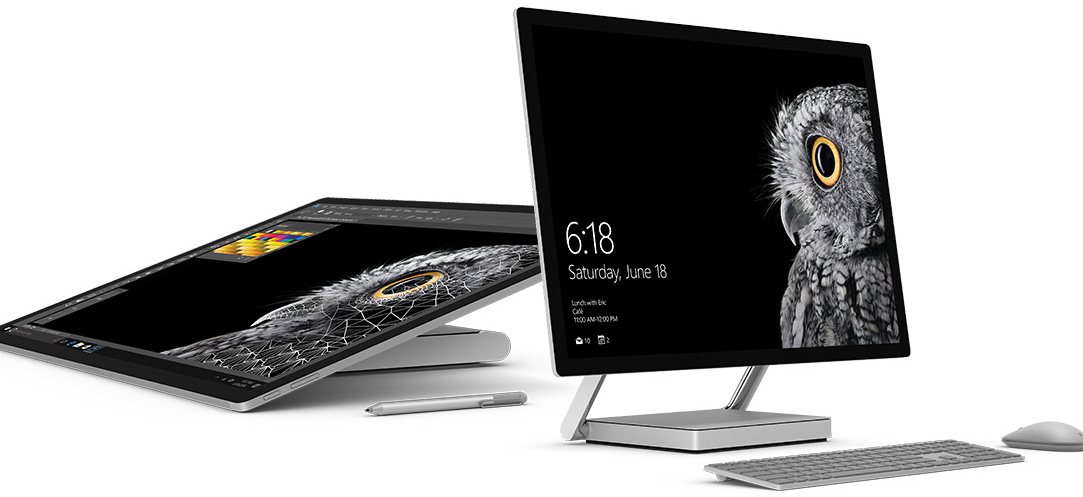 28-inch PixelSense Touchscreen Display 4500 x 3000 (192 DPI) 3:2 aspect ratio with Zeo Gravity Hinge and support for Surface Pen
Intel Quad-Core 6th Generation Core i5 or i7
RAM: 8GB, 16GB or 32GB RAM / Storage: Rapid hybrid drive options: 1TB or 2TB
Graphics: NVIDIA GeForce GTX 965M 2GB GPU GDDR5 memory or NVIDIA GeForce GTX 980M 4GB GPU GDDR5 memory

The screen also supports the Microsoft Surface Dial, a pug like device that you place on the display that lets you dial into different features currently supported on applications like Adobe Creative Cloud, Mental Canvas, Bluebeam, Sketchable and StaffPad.
This article was originally published on our sister site, Colour My Tech and is adapted for our audience here.