For instant gratification, use one of these portable instant photo printers and hand your favourite snap printed in under a minute no matter where you are.
No more waiting to go to the photo and camera shop to get your photos printer. Get it done wherever you are on the go with one of these lightweight, compact and portable printers. As we are more likely to take photos using our smartphones, we also tend to leave them in the phone or backed up to the cloud never to see the light of day again. These photo printers will let you print photos straight away and is perfect to make your memories and special moments last even longer. These photos can then go into your conventional photo album, scrap book or project portfolio.
Top 5 Best Portable Wireless Instant Photo Printers & Consumables
Here is our quick line-up for some of the best instant photo printers in the market:
BONUS:
Before we start, lets look at the different print sizes that these printers produce. Apart from FujiFilm Instax Share SP-2 prints, which are mounted on a film hence a fixed border, other prints produced by these printers are borderless. However, you can use the companion app and apply different templates which includes leaving a border if you wish.
BONUS: PICKIT20 Portable Instant Mobile Photo Printer & Lifeprint Photo and Video Printer
The Instax Share uses the same Instax mini self developing films as those used on Instax mini cameras. You can buy them in packs of 10 or 20. Use the mobile app to select your best shots from the smartphone and edit it or simply send it to the printer via WiFi. You can also print images from your Instagram and Facebook accounts.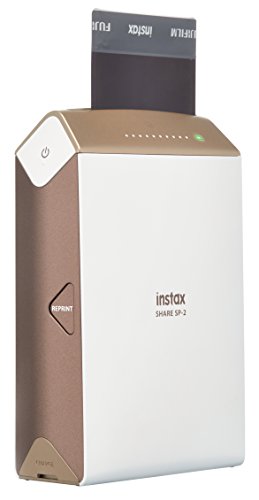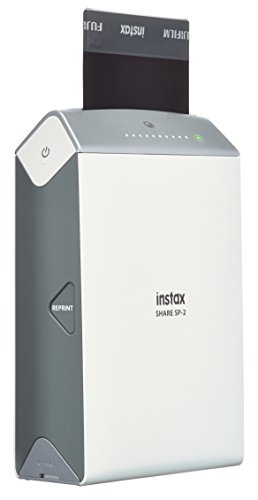 ---
Consumable: Fujifilm Instax Mini Film 2.1 x 3.4-inch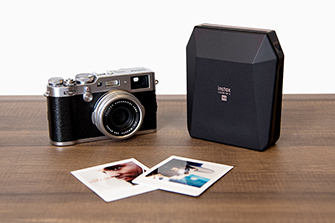 A new
Fujifilm Instax Share SP-3 SQ
is now available. Instead of the 2.1 x 3.4 ratio prints, it churns out square photos quickly using only 13 seconds a pop. Fujifilm applies what they call laser exposure system for a faster and quieter printing.
The prints are 800 x 800 pixels on 62 x 62mm or 2.4 x 2.4-inch films. The companion app, instax SHARE lets you print from Facebook, Instagram and Snapchat and you can choose from a variety of photo templates to go with your photos.
If you are old school, it can even pull photos from Google Photos, flickr and Dropbox. Other features via the app include splitting your photo over two prints or combining multiple photos to make collages as well as applying custom filters. Once you are done tinkering with your photos, simply send your photo to the printer via WiFi.
---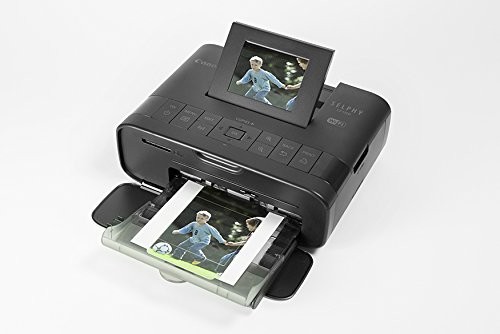 Easily the most complete portable instant photo printer with built-in colour LCD display, battery pack option and a great range of media choices, the Selphy CP1200 produces great prints that is guaranteed to last for up to 100 years. The media comes in cartridges that also carries the ink it needs. Print over WiFi or AirPrint from iOS devices. It is also the only portable printer capable of printing the more conventional 6 x 4-inch prints.
---
Consumable: Selphy CP1200 Media and Cartridge
---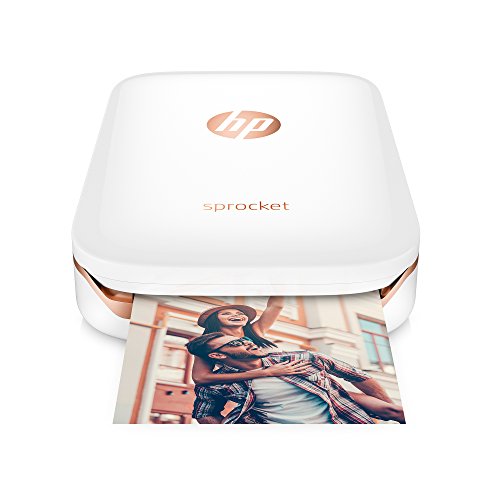 The popular HP Sprocket instant photo printer uses ZINK thermal paper eliminating the need for ink cartridges. The printer spots a stylish design and is available in two colour options. It is small enough to fit in the jacket pocket (hence the name Sprocket) or back pack and the battery will last up to 30 prints per charge. Pair it up with your smartphone and it can instantly print out your special moments without waiting to go back to the printer at home. Software updates let you add overlays such as text and emojis to your photo before printing. Prints measure 5 x 7.6 cm (2 x 3-inch) and it available in packs of 20 or 50.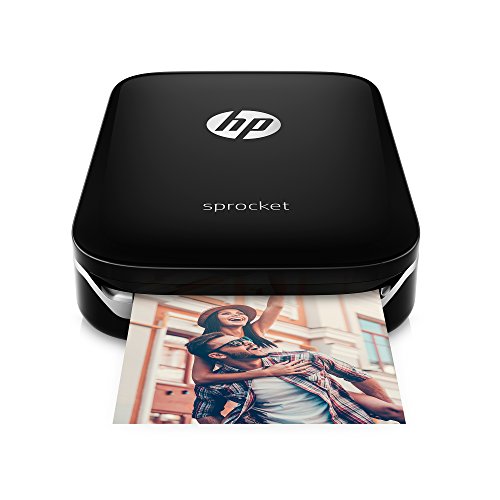 Consumable: HP ZINK Photo Paper
---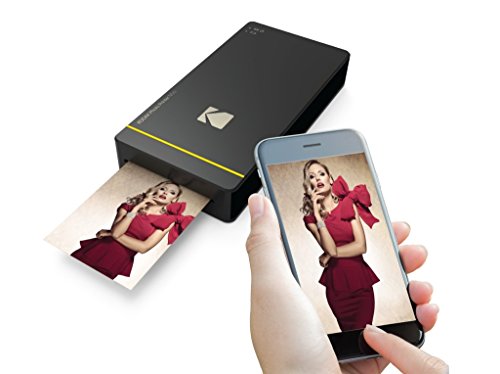 Kodak Mini Mobile Printer uses a combined ink and paper cartridge to produce up to 10 prints per cartridge. The prints have an added 4th layer overcoat that locks in the color to preserve its quality. this protects it from humidity and fingerprints, keeping it bright for up to 10 Years. Use the NFC one touch to launch the Kodak app on Android or print over WiFi from iOS devices. When finished, the used cartridge can be ejected and a new one replace. Refill packs are available in 20, 30, or 50.
Consumable: Kodak Mini Photo Print Cartridge
---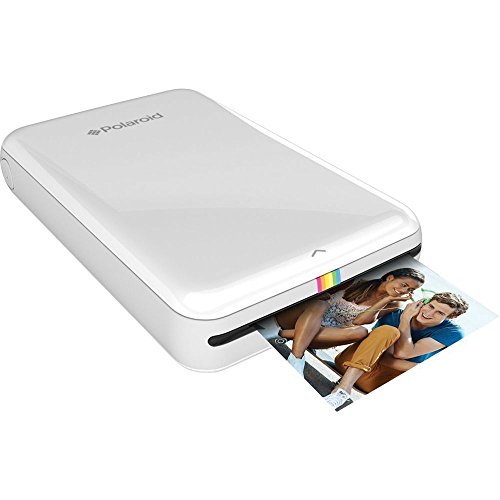 Available in four different colours; red, blue, black and white (shown above), the Polaroid ZIP printer uses ZINK (Zero Ink technology) to produce prints on ZINK thermal paper. It also features NFC on touch for quick access and prints over Bluetooth. Like the ZINK paper used on HP sprocket, the prints measure 2 x 3-inch and like the HP sprocket, it has a compact dimension, measuring 2.9 x 4.7 x 0.9-inch.
Consumable: Polaroid ZIP ZINK Thermal Paper
---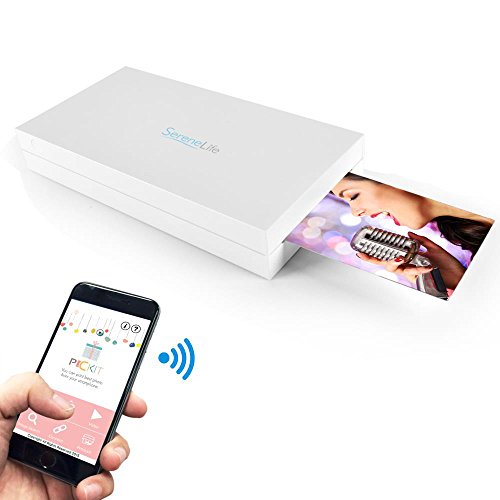 It may seem blocky but it is small enough to fit in your jacket pocket. The PICKIT M2 shares the same all-in-one cartridge like those used in KODAK printers with 10 prints a pop. The built in battery takes an hour and half to charge and lets you print up to 25 prints before needing to charge again. Download the PICKIT mobile app to setup and connect to the printer via WiFi.
ALSO: PICKIT M2 Portable Instant Mobile Photo Printer
Consumable: PICKIT Photo Cartridge
---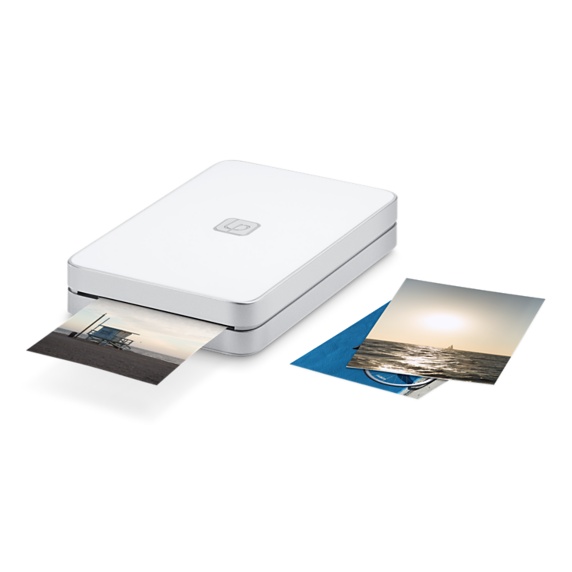 Lifeprint Instant Photo Printer is an augmented-reality photo printer with a free app that allows you to instantly print your favorite photos and videos from your iPhone. Apart from Apple Life Photos, it prints Vines, GIFs and videos, well not quite videos but it will print a frame, you can then use the app and point your smartphone camera at the print out and it will play the video on your screen with augmented reality viewer. The print also supports printing GoPro videos.
Consumables: 10, 30 or 110 pack ZINK Thermal Paper 2 x 3 inch prints
---
For a bigger print, bigger than your average 2 x 3-inch, the new Lifeprint 3 x 4.5 is your option. The bigger printer is still very much portable and has full wireless connectivity via Bluetooth and WiFi. Combined with the Lifeprint AR app and the camera on your phone, your printed photo is capable of calling up the video it was printed from and you can see the photo 'come to live' on your screen. Definitely more fun than just looking at still images.