For bigger build area, smoother and higher resolution output and better support, it has to be one of these high end 3D printers.
3D printers are becoming increasingly common these days especially desktop 3D printers. These are limited by its size and can only print small 3D models with its small build envelope. Enter, high-end 3D printers that does it all and capable of producing big 3D models with models up to 10-inch big.
Top 5 High End 3D Printers
Its all about the build envelope when it comes to paying for a 3D printer. You want to be able to go big, our list below shows the build envelop for each of the printers in our line-up.
1. Sindoh 3DWOX DP200 3D Printer: 7.9 x 7.9 x 7.3 inch (200 x 200 x 185 mm)
2. FlashForge 3D Printer Creator Pro: 8.8 x 5.7 x 5.9 inch (225 x 145 x 150 mm)
3. MakerGear M2 Desktop 3D Printer: 8 x 10 x 8 inch (200 x 250 x 200 mm)
4. QIDI Technology TECH I Dual Extruder Desktop 3D Printer: 8.8 x 5.9 x 5.9 inch ( 225 x 150 x 150 mm)
5. LulzBot Mini Desktop 3D Printer: 6 x 6 x 6.2 inch (152 x 152 x 158 mm)
BONUS: MakerBot Replicator+ 3D Printer: 11.6 L x 7.6 W x 6.5 H in [29.5 L x 19.5 W x 16.5 H cm]
Best 3D printers above $500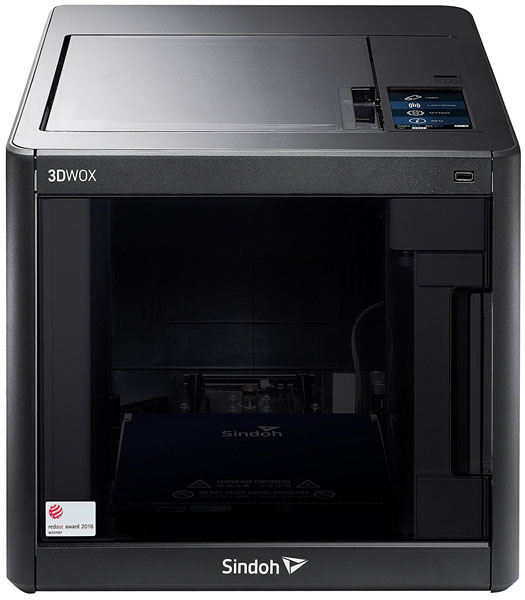 The Sindoh 3DWOX DP200 is an award winning 3D Printer. The 3DWOX DP200 3D Printer produces smooth and high resolution output with fully automated loading. It is easily one of the most complete and well thought out 3D printer with a wide ranging function and stylish user oriented design. The elegant enclosed structure maintains a consistent temperature for high quality printing. Here, all moving parts are safely enclosed for safe operation and noise reduction.
With its assisted bed levelling feature, it ensures that the print bed is perfectly levelled every time you print. The printer displays clear instructions to set the perfect level. For users who 3D print for their first time, there is an easy mode which users can use to easily modify and slice a model. It also shows you the best direction for printing and allows you to send a job and monitor the printing process while sitting at your desk. Integrated camera and LED lighting for remote monitoring of the printing process day or night.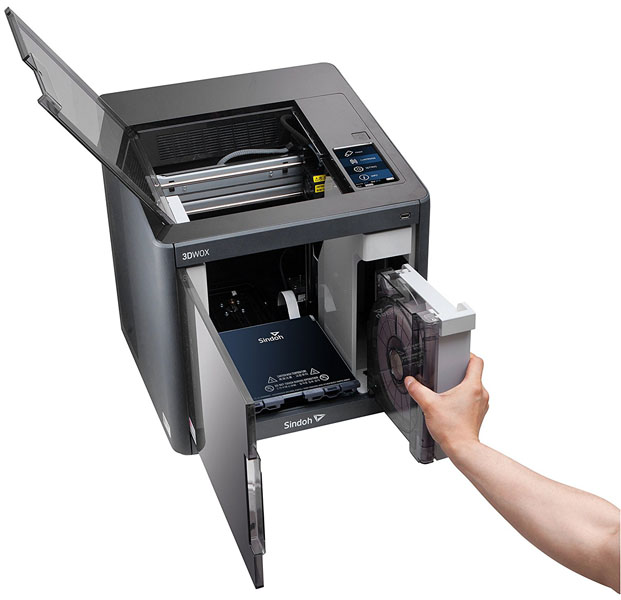 Features:
Offers automatic loading and unloading of filament; Insert a cartridge and 3DWOX will do the rest
Offers users the assisted leveling system; 3Dwox calculates and assists user in bed leveling
Maximum Build Size: 7.9″ x 7.9″ x 7.3″ (200 x 200 x 185 mm)
Layer Thickness: 0.05 ~ 0.4 mm
Material & Colour Availability: PLA, ABS – White, Black, Red, Yellow, Blue, Green, Gray, Pink (PLA Only), Purple (PLA Only)
Includes a wide range of connectivity options (USB Flash Drive, Ethernet, Wi-Fi, USB Cable)
Internal monitoring camera for remote viewing via PC, Laptop and Smart Phones
5-Inch LCD screen equipped with the full color touch screen menu and user friendly instructions
Supports 3DWOX Desktop, SOLIDWORKS 2016 or above, CURA 15.04.6 or under
Shows optimized direction for printing
Supports easy mode for beginners
Various features allow the user to adjust both the model and the printer
Metal Frame Structure, Acrylic Covers, Optimized Build Platform, Dual Extruder W/2 Spools, Works with ABS and PLA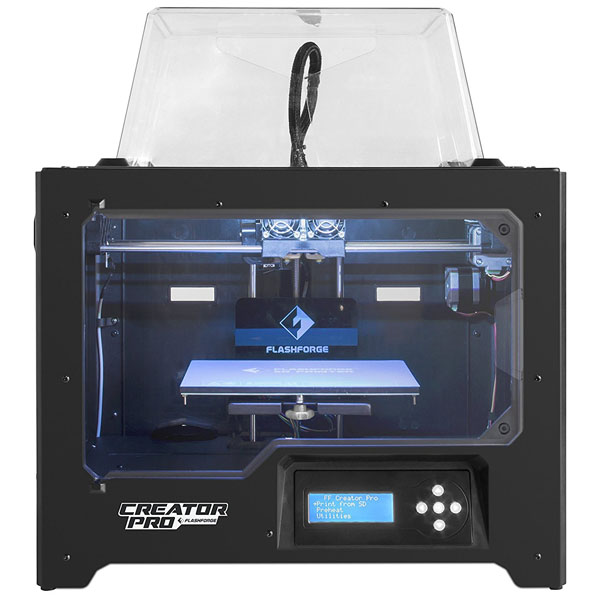 FlashForge 3D Printer Creator Pro has a sturdy metal frame with the build platform based on aviation level aluminium plate with a thickness of 6.3m to ensure that the surface is flat and not warp during heating. For the platform support, it uses a pair of 10mm guide rod to ensure a precision Z axis movement and to prevent the platform support arm from deforming. The printer uses FlashForge's own software, FlashPrint so there is no need for expensive aftermarket software purchase.
It has a superb power supply from Delta-the world's leading power supply maker. The printer's voltage control sets automatically to match region. The new front door comes pre-installed, and has been re-designed to provide easier access to prints. The new injected PC top cover comes in one solid piece, making it stronger and more effective at regulating temperature. With a larger platform adjusting screws is easier. The extruder wiring router can protect wiring from wear and tear efficiently. It can print from SD card or over USB.
Features:
Printing Build envelope: 225 x 145 x 150 mm (8.8″ x 5.7″ x 5.9″)
Build volume: About 5 liters
Layer thickness: 0.1-0.3 mm (adjustable)
Nozzle diameter: 0.4 mm Materials
Works well with 1.75 mm ABS, PLA
Uses FlashPrint and ReplicatorG software
Input file type: STL, gcode
Enclosed chamber insulates and protects ABS prints
---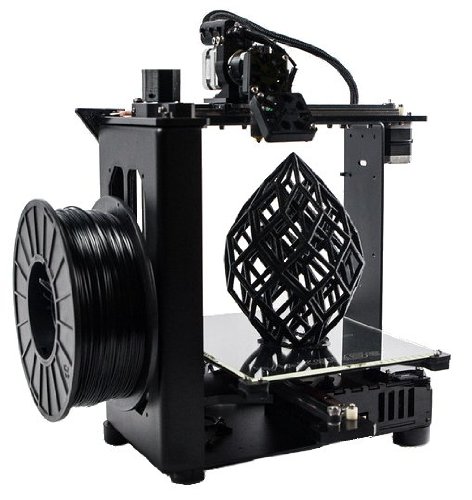 A great machine to create prototypes and products for business, classrooms, backyards, labs, and the marketplace. Known for its ease of use, reliability, excellent prints, high-quality construction and components, and  real support from M2 experts. It can print with a range of filaments including PLA, ABS, PET, flexible, polycarbonate, composites and various others. It is engineered and manufactured to provide industrial level precision with a small footprint.
The unit is very reliable owing to its steel frame and CNC machined cast aluminum construction. The new four-point print bed is easy to level, stays level, and removes the need for z-compensation (aka 'auto-leveling'). It is compatible with many open-source and commercially available modeling, slicing, and printer control software available for Windows, Mac, and Linux. While MakerGear filament is recommended, you are free to use the filament of your choice. The M2 also uses open-source electronics and firmware. When you purchase an M2, you become part of the thriving MakerGear community – an enthusiastic, engaged and helpful group.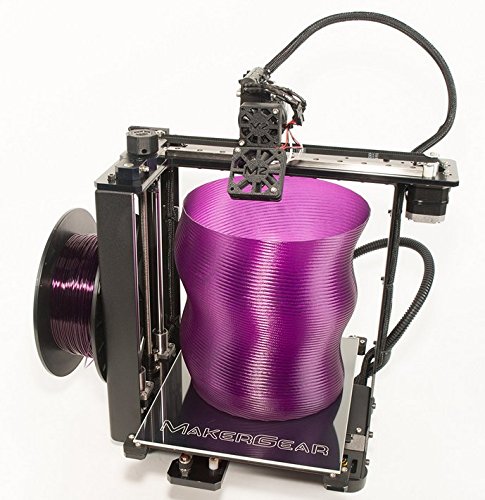 Features:
Build Envelope: 200 mm (8″) x 250 mm (10″) x 200 mm (8″) –

LARGE

Nozzle: 0.35 mm brass (0.25mm, 0.5mm, 0.75mm brass and 0.35mm and 0.50mm steel are available on the MakerGear website)
Material: 1.75 mm. PLA, ABS, PET, HIPS, TPU (i.e., flexible filament), Polycarbonate, composite (Metal-, Carbon Fiber-, or Wood-Filled), and many more!
Resolution: <50 micron to 0.25mm with a 0.35mm nozzle
Speed: 80 – 200 mm/sec for best print quality. 450 mm/sec max.
CNC Machined Precision Hardware On A Rigid Fabricated Steel Frame
Open Source Electronics And Firmware
Compatible with 3D CAD software that produces STL files, slic3r, Simplify3D and other open source and proprietary slicing software.
Constructed using precision machined cast-aluminum, fabricated steel and true linear motion components.
QIDI TECH I, Fully Metal Frame Structure, Acrylic Covers, with 2 Free Filaments, Works with ABS and PLA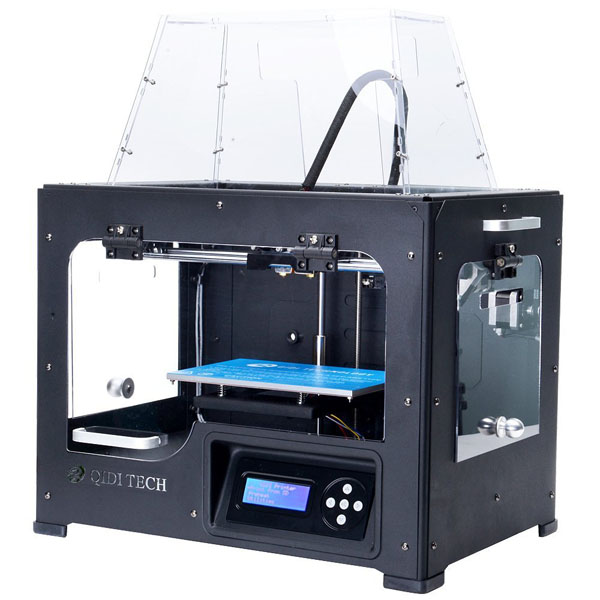 A very precise and dependable 3D printer, the QIDI Tech is similar to the FlashForge 3D Creator Pro apart from the front access door. Each 3D printer is levelled, fully calibrated and operated for 8 hour before delivery. It uses state of the art software for working with triangle meshes.
The unit has a fully metal frame construction with a fully enclosed design to offer constant temperature inside when printing ASB filament for better result. Note that when printing iwth PLA filament, ventilation is required. Its motherboard uses the latest processing craft, Sailfish 7.8 version, ATmega 2560. It is based on Dual Extruder: CNC Machining Process. Has a Turbofan with cooling function.
Features:
FDM technology; Dual Extruder
Platform: Aviation level aluminum plate its surface is completely flat and will NOT warp during heating process
Build Size: 225 x 150 x 150mm (8.8 x 5.9 x 5.9 inch)
Nozzle size: 0.4mm
Layer resolution: 0.1-0.2mm (adjustable) 100 Micron
Material: ABS/PLA
Filament size: 1.75mm
Easy operated, high quality printing result
Easy to Use software for simple customization of 3D models
New high heat resistant metal platform supports replace plastic supports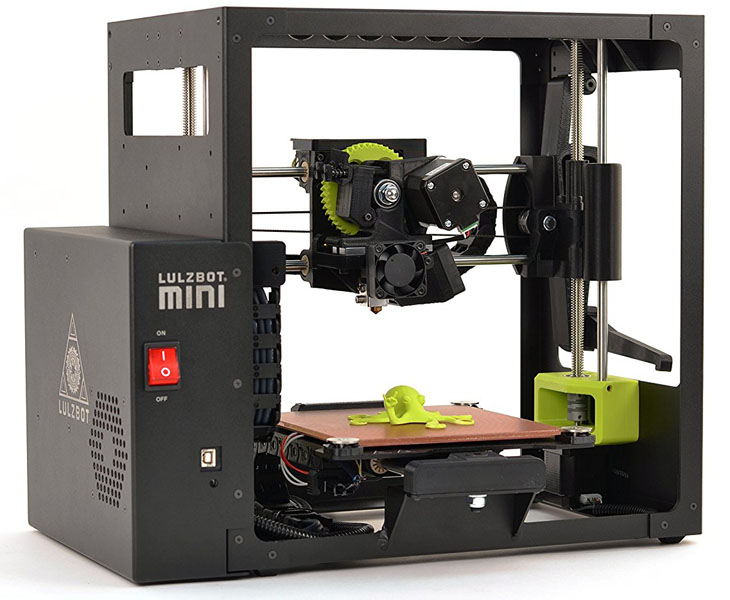 A high performance desktop 3D printer with Open Source Hardware, certified by the Free Software Foundation, the LulzBot Mini Desktop printer is capable of building complex 3D models. There are no restrictions on how you use and operate the equipment you own both as a beginner and expert user. With its versatile .50-millimeter nozzle, the printer excels at printing 'filled' filaments that are mixed with real wood, stone, or metal with ultra-reliable and proven extruder.
If you want a 3D printer capable of printing with industrial grade materials, LulzBot is the one to go for. Even when operating at temperatures up to 300 degrees it adopts a PEI surface on the heated glass bed keeps prints in place without the need for solvents or glues. Starts each print with a nozzle cleaning and probing sequence that ensures a clean and perfectly level first layer. Here is a printer that your turn you into a master builder.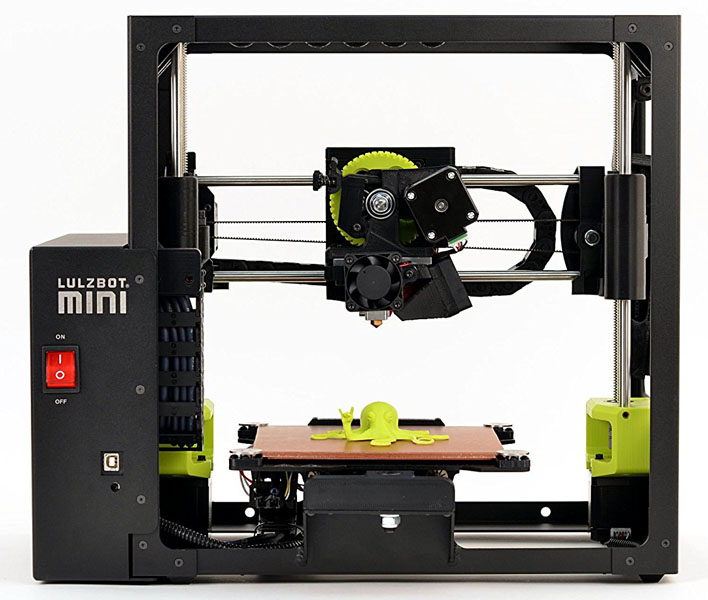 Features:
Enjoy awesome ease-of-use features including auto-bed leveling, auto-nozzle cleaning, an easy carry handle, new Cura software, and a low maintenance PEI print surface
Capable of printing ABS, Nylon, Polycarbonate, and Polyester filaments.
The all-metal LulzBot Hexagon hot end delivers fast heat-up and stable print temperatures.
Print Volume: 6in x 6in x 6.2in (152mm x 152mm x 158mm)
Filament Diameter and Nozzle Diameter: 3mm / .50mm
Layer Thickness: From 0.05mm to 0.50mm (0.002in – 0.020in)
Layer resolution as fine as 50 micron and as coarse as 500 micron, depending on part geometry and speed/finish requirements
Maximum temperatures of 300°C (572°F) for the hot end and 120°C (248°F) open a world of material possibilities
Modular tool head carriage design allows plug-and-play with different print heads for growing selection of 3D printing filament materials
Freedom to use any number of 3D printing software programs, Cura LulzBot Edition comes standard. Other compatible software includes OctoPrint, BotQueue, Slic3r, Printrun, MatterControl, and more
Getting great print quality is easy with Cura LulzBot Edition
From MakerBot comes the Replicator+ 3D Printer, MakerBot's mid-size offering that it both fast and reliable. The unit features streamlined workflow function, Smart Extruder+, a full-color LCD display, Wi-Fi connectivity, and an on-board camera for remote monitoring via MakerBot Mobile app. It boasts a faster printing time and volume printing capability for those looking to make large quantities of the same model using the lowest possible time.
The included software, MakerBot Print 3D Printing helps you store, organise and access your 3D designs in a cloud enabled library and is compatible with both MAC and PC and supports Native CAD files. Once you got your printing going, you can also monitor it remotely over the internet via MakerBot Print and MakerBot Mobile to check up progress.
If you are starting off and just want to test out the printers capabilities, head over to MakerBot Thingiverse where you can find millions of free downloadable pre-made 3D models and have your printer starts churning them out. And, if you are printing a big model, the slicer algorithm automatically adjusts slice settings and smart extruder type as well as help verify your design details before printing including adding rafts and supports.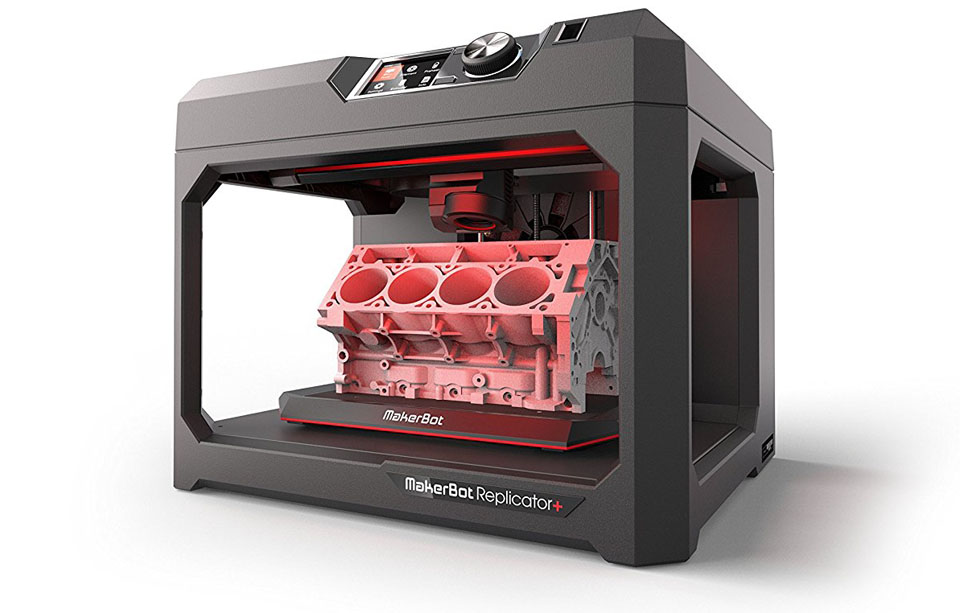 Features:
Build Volume: 11.6 L x 7.6 W x 6.5 H in [29.5 L x 19.5 W x 16.5 H cm]; 573 in3 [9492 cm3]
Filament Compatibility: MakerBot PLA Filament, MakerBot Tough PLA Filament
Min Layer Height: 100 micron (0.1 mm)
Build Surface: Grip Surface
Remote Monitoring and Colour LCD Interface
Connectivity: WiFi, Ethernet, USB-Stick, USB-Cable
Extruder: Smart Extruder+, Tough PLA Extruder
Click Here for Affordable Desktop 3D Printers