With more and more 3D printers in the market, prices have come down making them affordable to small schools, small businesses and even homes.
Perfect as personal desktop printers, they not only look the part but perform well too. A definite must-have for designers, inventors and creators.
Cheap Desktop 3D Printers
These cheaper alternatives uses the same printing technology as its more expensive counterpart, including support for PLA and filament ABS, USB and sometimes wireless connectivity and high printing resolution. The limit may be that some of these being cheaper and smaller have a lower maximum build area. This means the output would be smaller but you can always print to a smaller scale. Most 3D printers use Fused Filament Fabrication (FFF) technology with some using variations of the same thing. It then comes down to a case of choosing the right printer and price for your application.
Full metal construction with a closed frame design and 3.5-inch touchscreen control.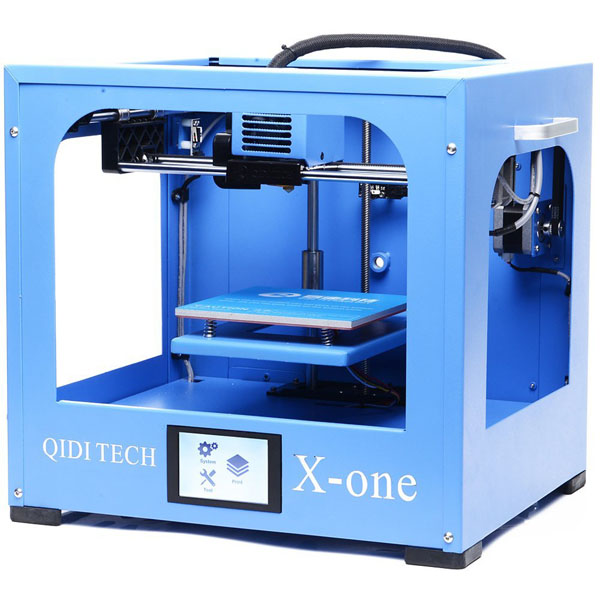 A high quality 3D printer, the X-one uses FDM (Fused Deposition Modeling) Printing Technology. Double layer metal construction makes the 3D printer strong and the printing process more stable. It comes fully assembled and easy to setup with the unboxing operation taking up no more than an hour, allowing you to make your first 3D print job quickly. The 6mm CNC machined aluminium alloy platform offers a solid build space, one that does not deform easily. The heating function supports printing with ABS or PLA filament. The base of the front panel houses a 3.5 inch touch screen to make the operation very simple.
Features:
Heating bed can be heated to 110C, this will support printing both PLA or ABS filament.
Build Volume: 140 L X 140 W X 140 H mm
Layer Resolution: 100 – 500 microns
Filament Diameter: 1.75mm
Nozzle Diameter: 0.4mm
New designed double layer metal structure used for the enclosure makes printing very stable.
Metal platform support: CNC machined aluminum alloy build platform with a thickness of 6mm gurantees the surface will be completely flat.
Upgraded 10mm guide rod ensure a precise Z axis movement and prevent platform arm from deforming.
3.5 inch touch screen is a simple,user-friendly interface and easy to operate.
10MK nozzle,10mm rod, switching power supply and high quality motor
Software compatibility – QIDI Print, Cura, Simplify 3D
---
Completely enclosed frame professional 3D printer
A compact 3D printer for professionals, the da Vinci Jr. 1.0 is the entry level 3D printer from XYZprinting. Compatible with 3rd party 1.75mm PLA filament, it has adjustable temperature settings for the extruder nozzle and auto-loading filament system. You can adjust the temperature settings for the extruder nozzle to makes it compatible with 3rd party 1.75mm PLA filaments.
The 3D printer comes with free XYZmaker 3D design software, free XYZware 3D printing software and free XYZprinting STEAM 3D printing curriculum. It is equipped with Easy Z-offset calibration to adjust the print bed with ease on the LCD screen so no fiddling with 3 or 4 knob calibration system typical of units in this price range.
With the Z Offset calibration, you can adjust the distances between the extruder and the print bed, making sure that each print comes out perfectly. Uses non-toxic PLA in easy-to-install filament spools so that you don't waste anything with your prints. The print build size is 5.9-inch cube and it can print up to 100mm per second at a print resolution of 100 to 400 microns.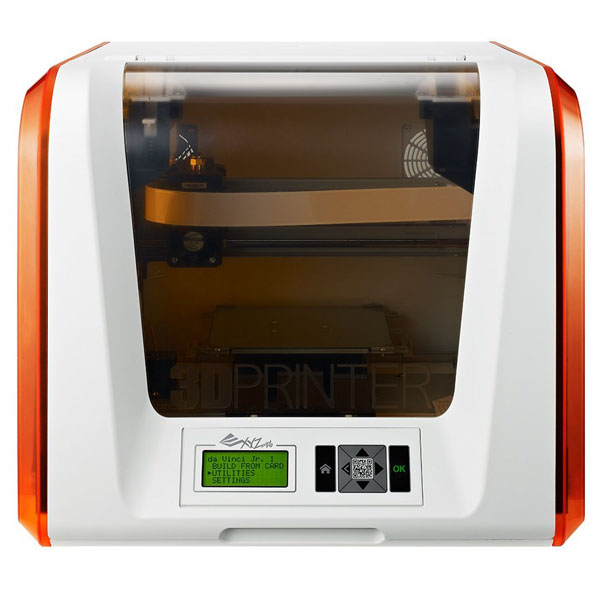 Features:
Uses non-proprietary 1.75mm PLA filament
Built volume: 5.9" x 5.9" x 5.9″
Print Resolution: 100 to 400 microns. 
New Wind Duct Extruder Design
Fully enclosed design
Thousands of 3D models can be downloaded on the XYZ 3D Gallery and their colors can be mixed to unleash creativity.
Auto-calibration System and Auto-loading filament
Optional laser engraver module available separately.
---
The Finder is a closed frame 3D printer with a 3.5-inch full colour touch screen control and intuitive icons for easy operation.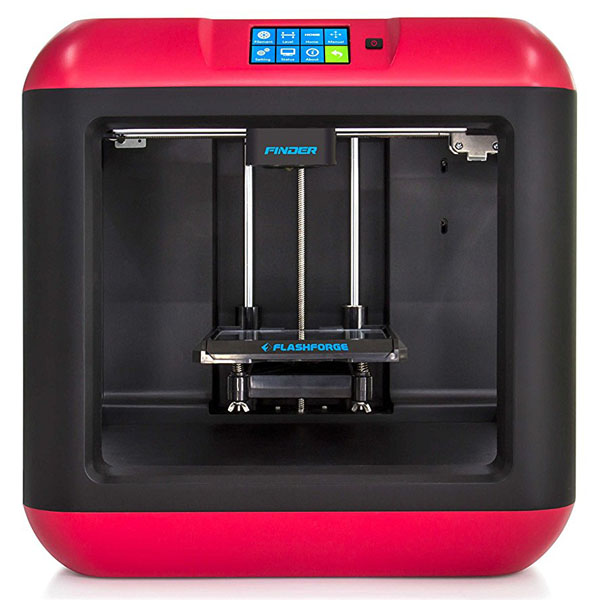 A user-friendly, home-friendly, and wallet-friendly 3D printer that looks the part and perform well too. Loaded with easy-to-use features, and designed to be at home in kids rooms or in the classrooms, it has a sturdy plastic alloy construction for stable printing.
Slide-in build plate, assisted bed-leveling, and intuitive color touchscreen on the top of the unit completes the printer. It uses non-heated build plate making it safe for children. The Finder uses only non-toxic PLA, and the heated components are safely encased.
Like other 3D printers here, it uses FDM (fused deposition modeling) printing technology, comes with Flash software and supports STL and OBJ file types. It does a decent job at printing and the 3.5-inch touchscreen display makes it easy to operate and even shows you a preview of your model.
Features:
Slide-in build plate allows printed objects to be easily removed
3.5-Inch full color touchscreen with intuitive icons makes for easy operation
Sturdy, plastic alloy construction ensures stable prints
Safe, non-heated build plate
Wi-Fi, usb and flash drive connectivity
1 roll of 600 G PLA filament included in the package
1 sheet of platform sticker already installed on the glass plate before packing.
Build volume: 140 L x 140 W x 140 H mm
Layer resolution: 100-500 microns
Positioning precision – 11 microns on X and Y and 2.5 microns on Z
Filament diameter – 1.75 mm
Nozzle diameter 0.4 mm
Product dimension: 420 x 420 x 420 mm
Plastic and alloy extrude frame and body
A quick start guide to help you start printing within minutes
Parents and teachers appreciate its quiet and safe operation.
A great machine to explore the creative world of 3D printing
---
Assembled home and office desktop 3D printer with strong metal frame and support for multi-filament.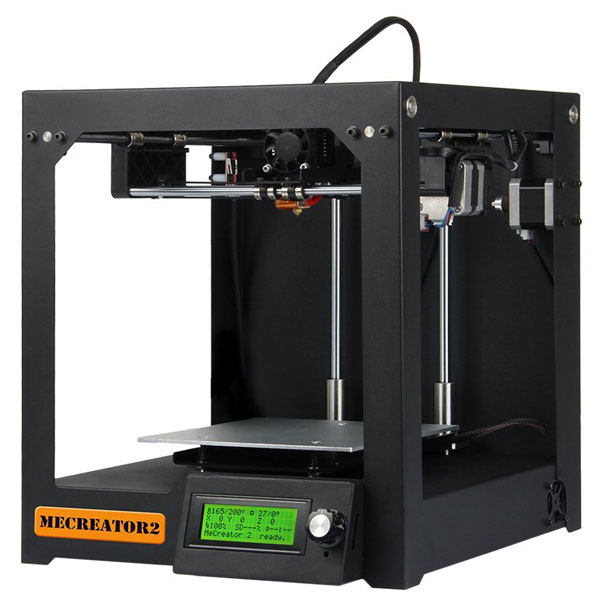 MeCreator 2 is a superb desktop 3D printer with half-opened and box-type design with state of the art technology. It supports various filaments including ABS, PLA, flexible PLA and even wood-polymer filament. Its high-quality steel chassis makes the printer firm and durable, as well as attractive in appearance.
A LED strip inside the printer gives out blue light offering a clear view of the model being printed. It weighs 25.8 pounds and can be used in ordinary household, education to advanced applications, such as Product Prototype Design, medical treatment, and other sophisticated areas.
Features:
Safe, stable and space-efficient 3D printer built using high-quality steel chassis for firm and durable printing.
Print technology: FDM
Build volume: 160 x 160 x 160mm
Printing precision:0.05mm
Positioning precision: X/Y:0.05mm. Z:0.02mm
Print Speed: 60-80mm/s
Filament diameter: 1.75mm
Nozzle diameter: 0.4mm
Filament type: ABS/PLA/flexible PLA/wood-polymer
---
Alloy Framework with high accuracy printing and large build size.
Known for easy operation, dazzling outlook, and unique one-touch printing design, the Einstart-S desktop 3D printer meets all the needs of 3D printing. It is a second generation desktop 3D printer designed for personal or home use.
It has a unique one-touch printing design and an upgraded 4.4-inch OLED operation screen which can be used to control the printer without connecting to the PC. Full metal frame ensures the stable and good print quality. Colorful front acrylic panel and lighting completes the appeal of the printer.
Print accuracy is at 0.15-0.35mm. Users can set their own requirement for accuracy and speed in the print software. The printers can be used in office, library, or at home given the child friendly design and use of environment-friendly PLA filament.
Features:
Easy to use no PC connection needed. Full metal framework ensures high print quality. Pre-assembled.
Small body(12″  x 13″ x 15.6″), but big print envelope (6.4″ x 6.4″ x 6.4″)​​.
Support .stl file from all design software. Support all 3rd party 1.75mm PLA filament.
Non toxic filament, protected print head, safe for open environment usage. No calibration needed.
Smart Control Software offers print pause, filament change, temperature/ sprint speed adjust.
Innovative printing technology offers more delicate printing, smoother surface and easily removable.