While the stylus is nothing new, in response to stylus totting devices from Microsoft (Surface Pro 7 and Surface Book 2), Apple has come up with its own Apple Pencil, made this only for iPad Pro and eventually added support to the entire iPad family. Other manufacturers are following suit, bringing back the pen input.
Major players such as Samsung, Apple, Microsoft and Lenovo, all have one thing in common, they offer tablets with stylus input. This spells one thing: that stylus is here to stay.
Microsoft has the Surface Pen, Apple has the Apple Pencil, Lenovo has the Active Pen and Samsung has the S Pen. Call it what you want, advances in stylus or pen input has come along way since those plastic sticks you use on the PDAs. Pressure sensitive screens and tips allow software developers to make better use of the pen not only for writing but for sketching, drawing, colouring and more.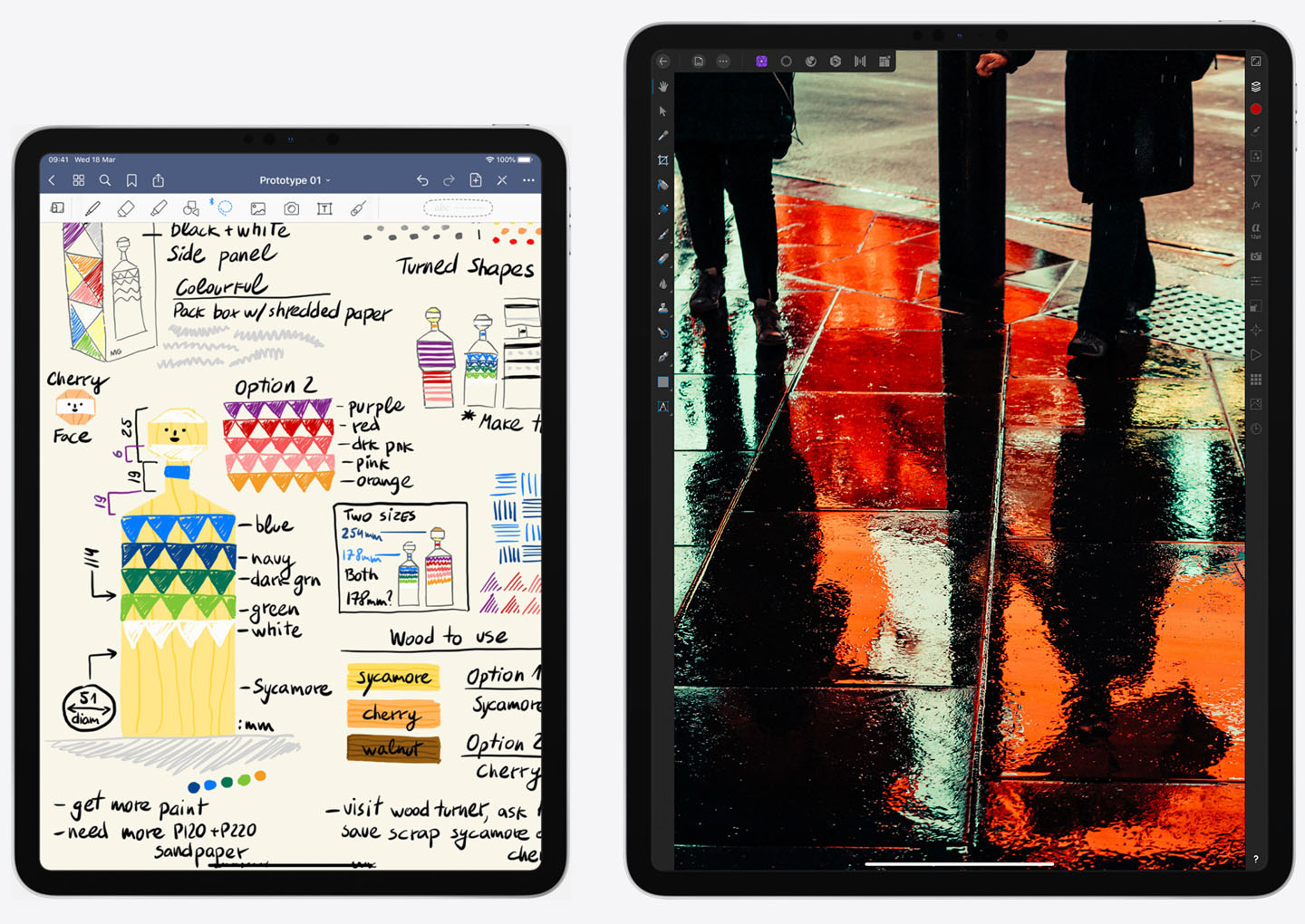 Having the input option is great for those looking for more control of the input with a pen tip rather than a stubby finger. For designers and studio applications, this presents a much needed replacement for the digitizing tablet. One that combines a display and digitizer for pen on screen input. Even big names in the input device accessories market like Wacom are moving towards a writing tablet with a screen such as the Wacom Cintiq Pro and Cintiq or simply known as Pen Displays.
With a tablet or convertible laptop that supports a stylus, who needs a separate external writing and drawing tablet when you have one built right on the device.
Best Tablets with Stylus
From Apple iOS to Android to Windows, if you are in the market for a tablet with stylus, you may just be spoilt for choice, choice in OSes, choice in profiles and choice in brands. Here is what we will be looking at:
The entire Apple iPad family now supports pen input. The standard iPad, iPad mini and iPad Air supports the first generation Apple Pencil while the new iPad Pro 11-inch and 12.9-inch supports the second generation Apple Pencil. This is welcome news from the company bringing more applications and stylus driven apps to the consumers.
The iPad Pro 11-inch and the successful iPad Pro 12.9-inch are taunted as a laptop replacement. To complete that task, you will need to buy the optional Apple Smart Keyboard or Apple Magic Keyboard and Apple Pencil 2nd generation to complete the input options.
The Apple iPad Air was revived, a marketing move that sees Apple introducing a mid-range device for those who can't afford the iPad Pro but still want higher level of performance with the A12 bionic chip from a proven design. The iPad Air brings back ultra slim case at 6.1mm slim and a slightly bigger bigger display at 10.5 vs 10.2 on the entry level device.
With that, the iPad portfolio now consists of entry level iPad powered by A10 Fusion chip, mid-range iPad Air and iPad mini both powered by the A12 Bionic chip and the top end iPad Pro 11 and 12.9-inch with the chart topping A12Z Bionic. This allows the company to corner all segments in the market  from premium, do all tablet, to the cut down iPad, a cheap and cheerful alternative allowing everyone to enjoy the iOS experience plus the use of pen input with the Apple Pencil.
If you are in the market for a tablet that just works with not a lot of money, the iPad Pro 10.2-inch is for you. And, if you are looking for something bigger with more memory, then you can't go wrong with the new iPad Pro 12.9-inch or any other tablets in between.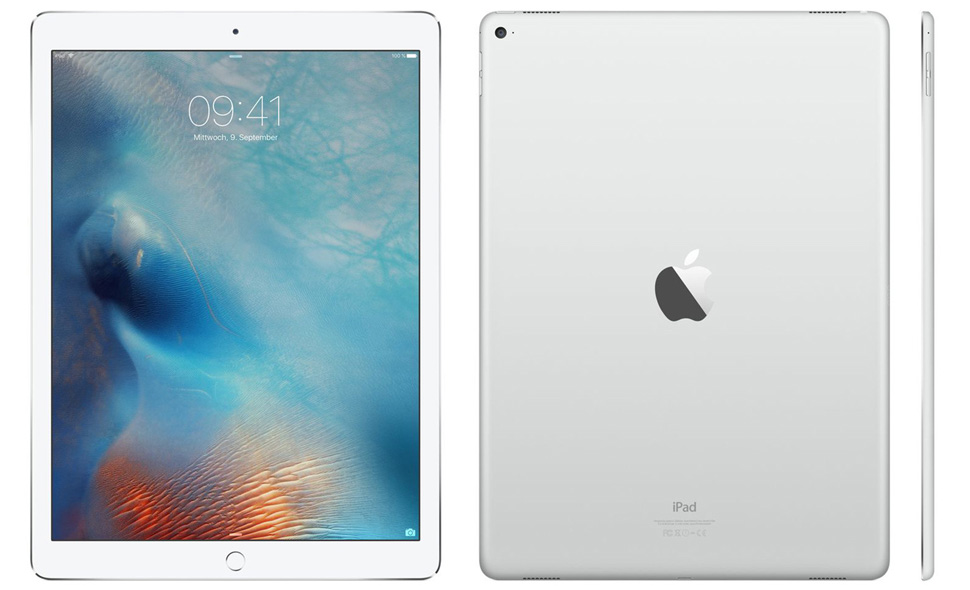 Microsoft Surface Book 2 boasts a 13.5-inch PixelSense 10-point multi-touch display with a resolution of 3000 x 2000 pixels is the highest resolution tablet and at 13.5-inch it is also the biggest tablet in our list that supports a stylus, also known as the Surface Pen. It's great for presentations, update excel sheets and create documents with ease. With 256GB solid state flash memory (option for 512GB and 1TB) and 8GB RAM (option for 16GB) coupled with either an Intel Core i5 or Intel Core i7 processor, this tablet is super fast, a true powerhouse and desktop replacement especially when you pick the chart topping 7th generation Intel Core i7-8650U quad-core processor with up to 4.2GHz turbo frequency coupled with a discrete graphics engine from NVIDIA, the GeForce GTX 1050 GPU with 2GB GDDR5 graphics memory.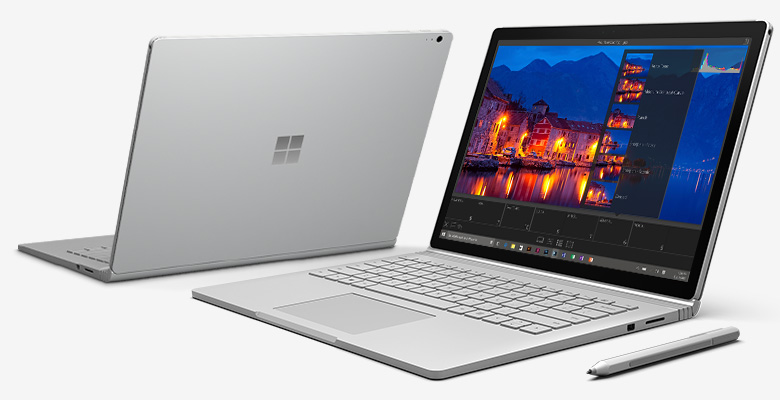 The battery life sees the biggest improvement from up to 12 hours in the first Surface Book to up to 17 hours in the new generation Surface Book 2. That's 5 whole hours of binging on your favourite TV shows. Ports include two full size USB 3.0, USB Type-C (new), Ultra high speed Full Size SD card reader, headset jack, and two Surface Connect ports for keyboard or performance base. Both keyboard and tablet connects using a one of a kind proprietary hinge.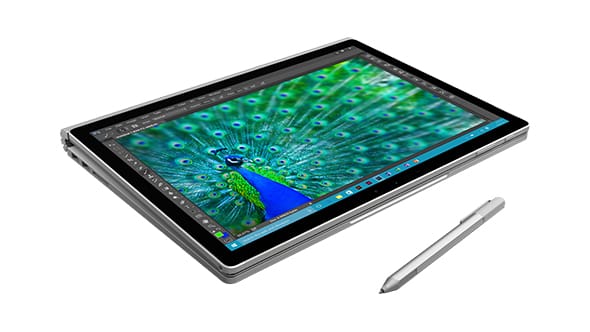 When detached, the display screen or tablet works in perfect harmony with Microsoft's OneNote and Surface Pen. Finished in silver and made from magnesium alloy casing with a minimalist design with the only physical buttons being the power and volume, there is plenty to like.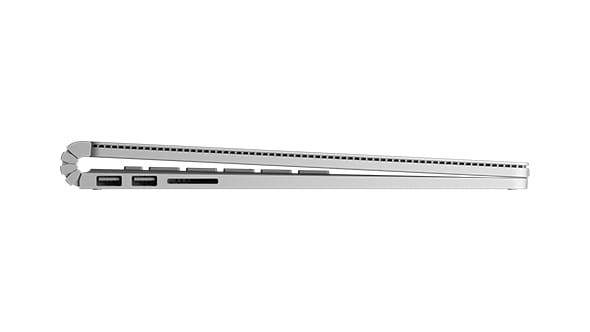 And, if the Surface Pro 2's 13.5-inch display is not big enough, pick the Surface Pro 2 with 15-inch. Also with a detachable display, it turns itself into a 15-inch tablet, the biggest tablet from the tech giant that also supports the Surface Pen stylus and Surface Dial.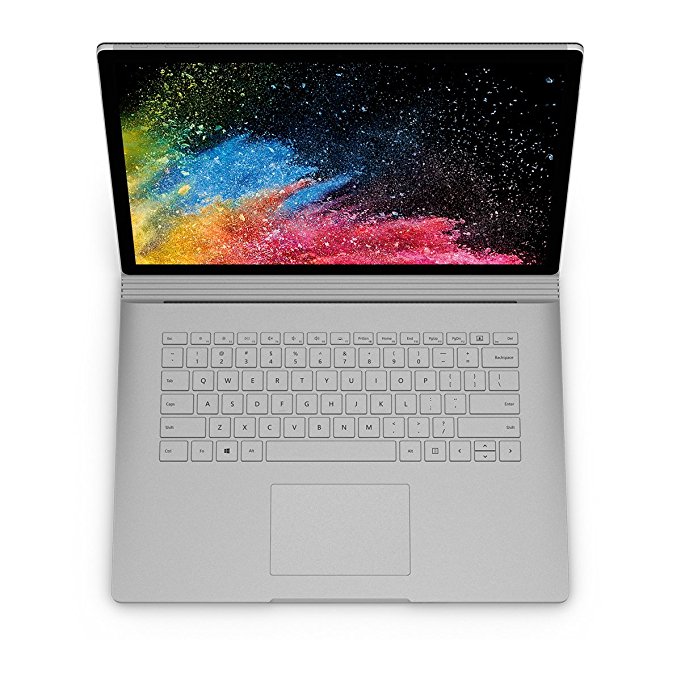 Search Microsoft Surface Book 2 on Amazon
A direct competition to the Apple iPad Pro 11, the Galaxy Tab S6 is in the same class as the iPad Pro with Galaxy Tab A and Galaxy Tab E covering the mid to low end or budget sectors. True to all S class devices from Samsung, nothing is held back.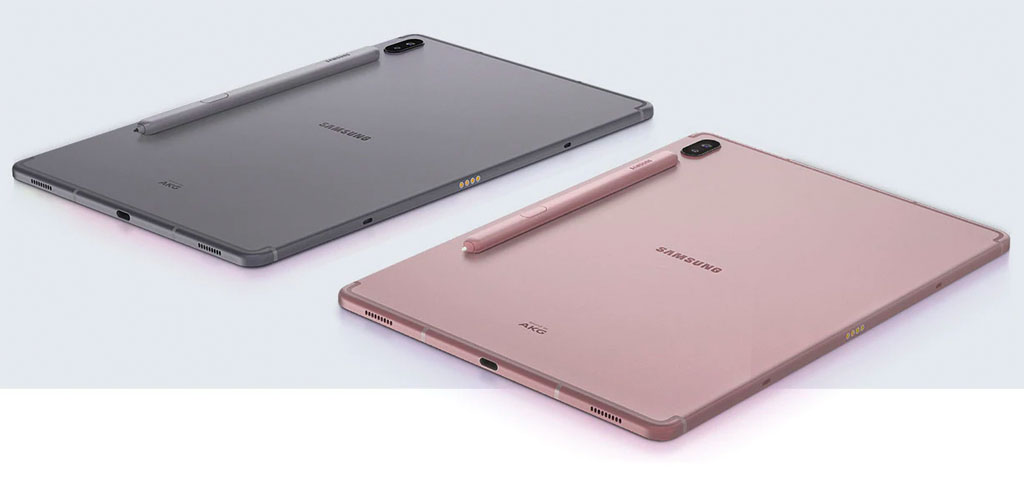 The Samsung Galaxy Tab S6 is a 10.5-inch Super AMOLED tablet with everything going for it. Everything about the device oozes quality, charm and premium design. From its slim 4.7mm, lightweight 420grams and solid metallic chassis covered in brush aluminium with detailing to its rounded corners and rolled edges, it is simply stunning. The tablet is available in mountain grey or rose blush.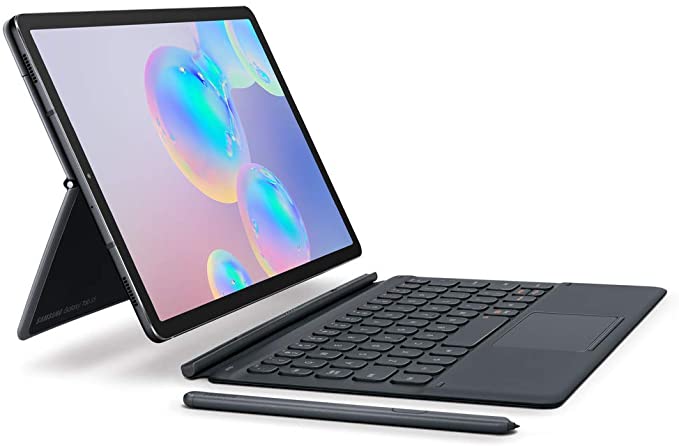 The renowned Super AMOLED display from Samsung is now features High Dynamic Range to deliver cinematic vividness, detail and deep contrast to a screen that fits in your hands. This makes every 2560 x 1600 pixels work doubly hard to pump out the best visual experience for entertainment or work.
The tablet has a superbly precise and pressure-responsive Samsung S Pen Stylus now comes with built-in Bluetooth sensor so you can use it as a remote to control your presentation or video playback with gesture commands. When attached magnetically to the back of the tablet, it charges wirelessly like the second generation Apple Pencil.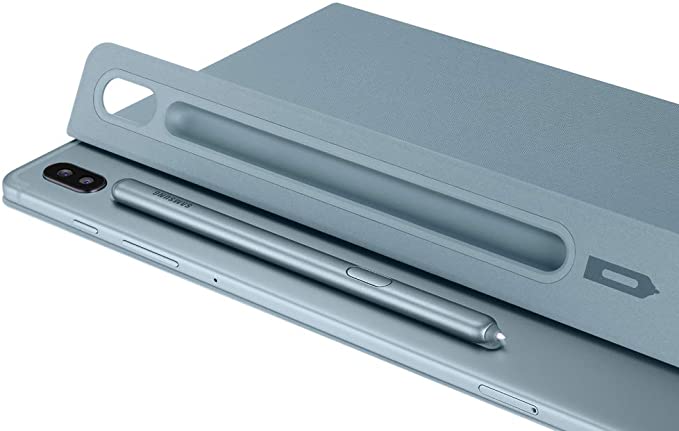 The stylus has great angle and pressure sensitivity with 4096 different levels. It is designed with the intelligence to translate, magnify, navigate and create with a full palette of brush and pen types. Powered by a next generation processor with accelerated neural network processing for efficient AI, the 2.8GHz, 2.4GHz, 1.7GHz octa-core processor ensures everything loads lag-free, a huge 6GB of RAM and ample 128GB storage expandable with microSD card up to 1TB, it's everything you ever want in a tablet. For even bigger memory and storage, choose the 8GB and 256GB combination.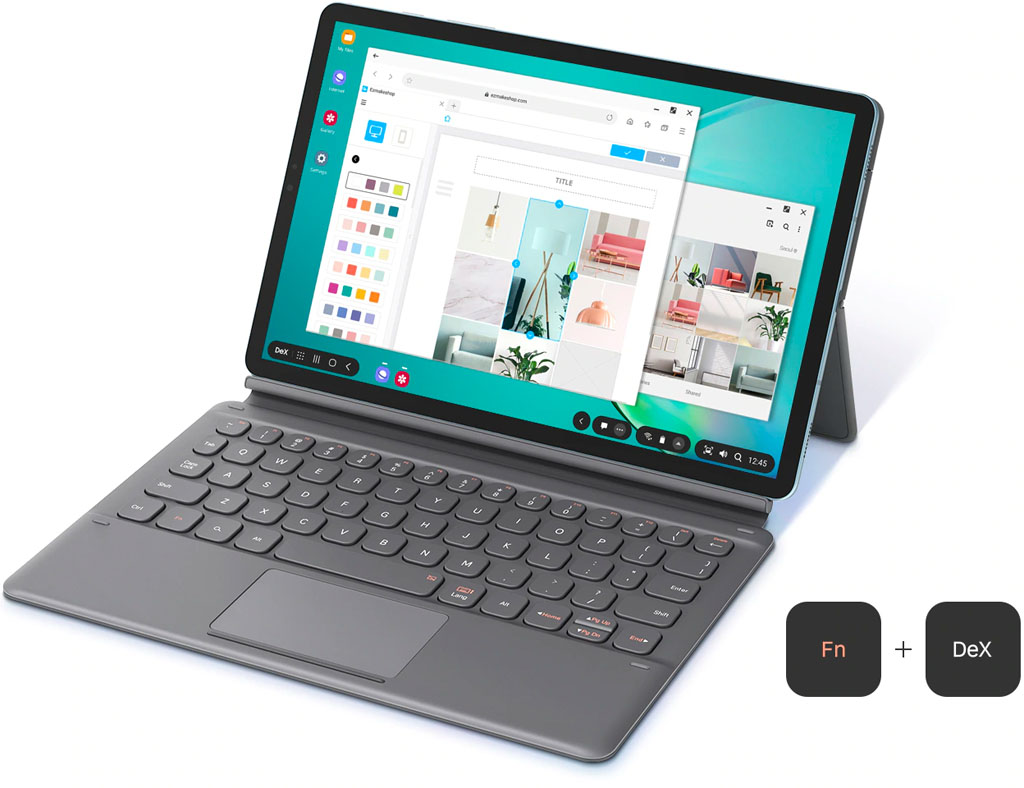 Notable features include:
support for split view to work on multi windows at the same time
desktop experience with Samsung DeX mode. The new keyboard cover even comes with a dedicated DeX key to switch between tablet and desktop experience and come with a mouse pad. Desktop interface features include drag and drop, multitask and VDI (Virtual Desktop Interface) support allowing you to access the tablet from your desktop.
first dual camera on a Galaxy Tablet with rear facing 13MP and 5MP. Front MP camera.
high capacity 7040mAh battery for up to 15 hours video playback
onscreen optical fingerprint scanner
USB-C and fast charging support
super fast WiFi (download up to 867Mbps, upload up to 1.2Gbps)
always on Bixby voice activated assistance
syncs seamlessly with Galaxy smartphone
WiFi only or LTE option available
The Surface Pro 7 hasn't changed much in terms of design. Powered by 10th generation Intel Core i3, Core i5 or Core i7 processors, it is more powerful than before and is quieter, runs cooler, and is even more efficient. With all that processing power and memory and storage options, it has the capacity to replace your laptop. Even with 10th generation processor, it still only features 4GB, 8GB or 16GB memory options and a 128GB, 256GB, 512GB or 1TB solid state drive storage options, it is more powerful than its predecessor almost the same weight 775 grams for the i3 and i5 model and 790 grams for the i7 model.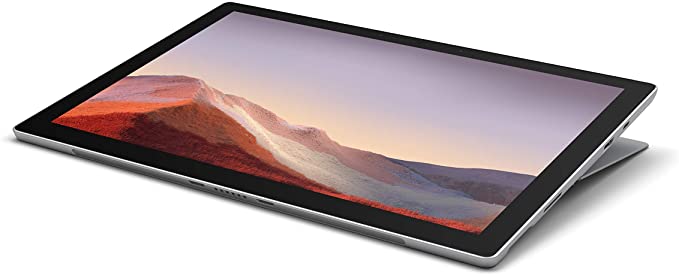 The amazing 12.3″ PixelSense touchscreen display is maintained with 2736 x 1824 resolution has extremely high contrast and low glare. The device now features one USB-C port and one full size USB 3.0 Port. Apart from that there is a Surface Connect port, Surface Type Cover port, 3.5mm combo jack and microSDXC card reader. Like the Surface Book, its has the widest choices of processor, memory and storage combinations of all the tablets in our list. Surface Pro powers through everything you need to do, while being lighter than ever before.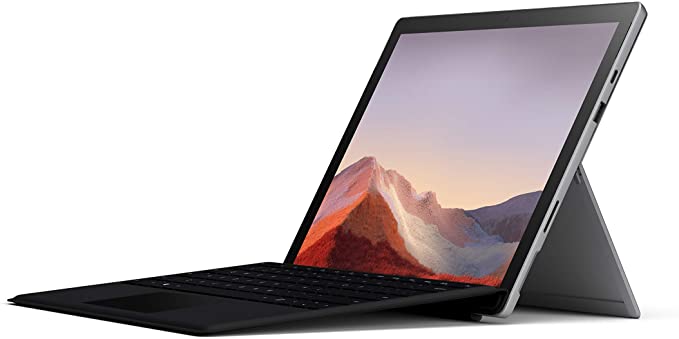 Use the included Surface Pen to mark-up presentations, sign documents, take notes and much more. The average battery life is much improved from 9 hours on Surface Pro 4 to up to 10.5 hours of typical usage. It will get you through the day without needing to be tethered to the wall. A Rear camera with resolution of 8 MP will meet most requirements with 1080p full HD video recording capability and dual far-field studio microphones. The front facing 5.0MP camera is great for Skype HD calls and Windows Hello face authentication.
The Surface Pen and Keyboard are sold separately.
Search Microsoft Surface Pro 7
Price as an alternative the Apple's entry level iPad but performs more like the mid range iPad Air, the Galaxy Tab S6 Lite is a cut down version of the premium offering from Samsung, Galaxy Tab S6 above. At around half the price of its high-end sibling, the Tab S6 Lite uses a mid-range processor, the Exynos 9611 in place of the chart topping Snapdragon 855 chip. Tests confirm that the Exynos 9611 is powerful enough to take on Fornite at 30 fps with no issue. So the device is even capable of some light gaming.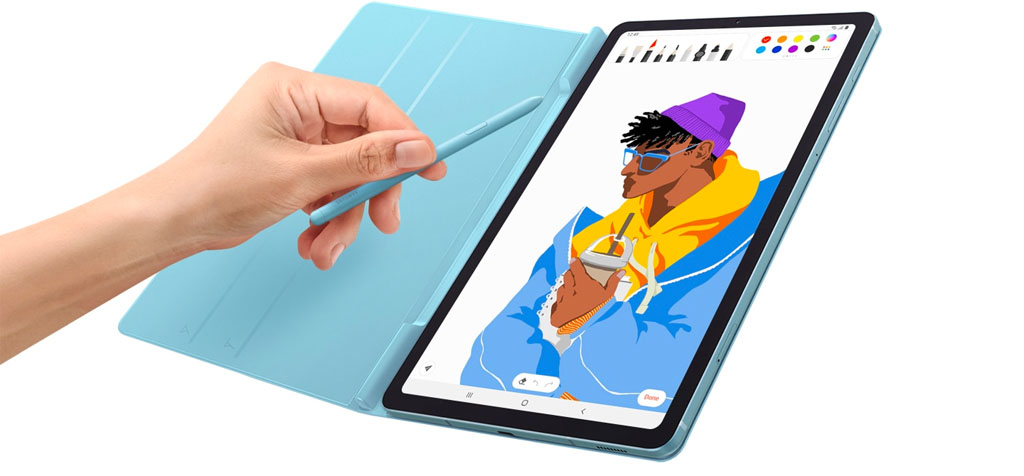 In order to keep the cost down, Tab S6 uses a 10.4-inch TFT panel versus the more superior Super AMOLED penal. Next, it cuts down on memory and storage, leaving only half compared to the Tab S6, at 4GB RAM and 64GB storage, respectively. Samsung also left out the on-screen fingerprint sensor but the facial recognition for secure unlocking lets you access your device in a flash.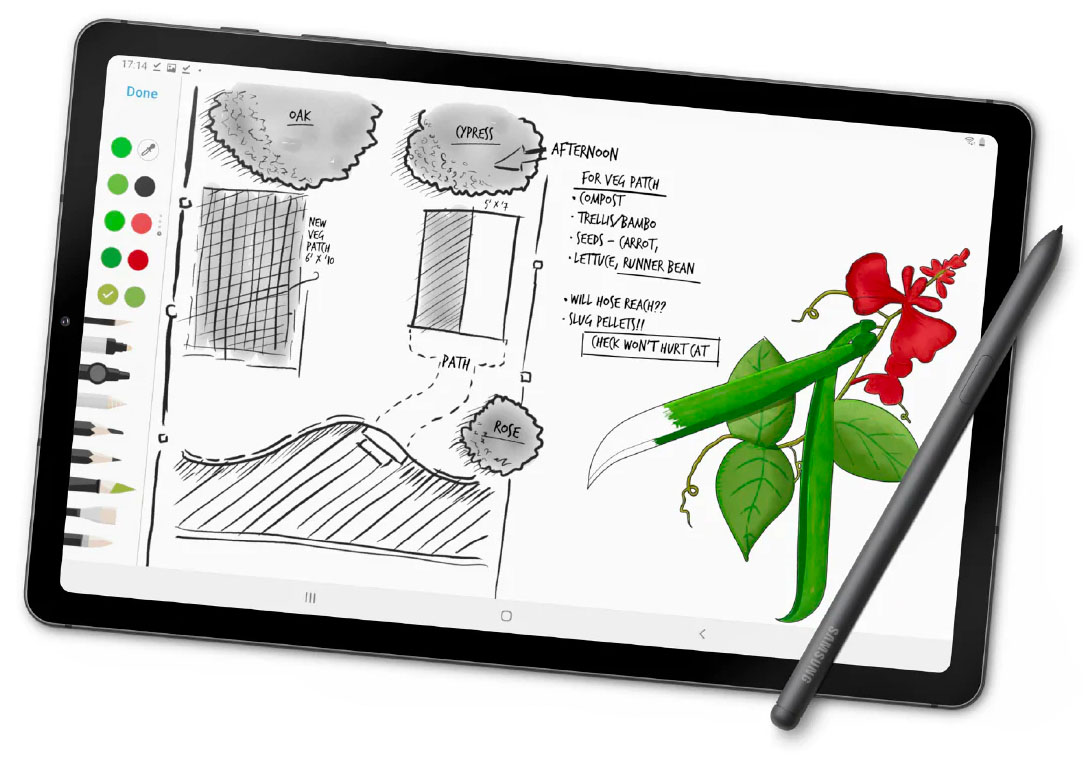 Those narrow bezels and display with rounded corners makes it look very iPad Pro like. Unlike the Tab S6, the S Pen is longer and now attaches to the long edge of the tablet albeit off-center instead of the back of the device. Not bad for the price of a standard iPad. Even more so when the S Pen is included in the box, whereas Apple makes you pay for the Apple Pencil, an added cost to the bill.
Finally, it has a reduced function S Pen with no Bluetooth gesture support and dual instead of quad firing speakers. It also has a single 8MP camera on the back and 5MP camera in front. We like that, the Tab S6 Lite supports 3.5mm headphone, microSD slot for storage expansion up to 1TB and offer great battery life of up to 13 hours.
Search Samsung Galaxy Tab S6 Lite on Amazon
IdeaPad miix 510 houses a powerful 2.3 GHz Intel Core i5-6200U processor with Core i7 option available and supports 802.11bgn and Bluetooth Wireless connectivity with LTE option available for mobile. It has a screen size of 12.2 inches and max screen resolution of 1920 x 1200 pixel, that's more than Full HD (1920 x 1080). The 12.2 inch FHD+ IPS GL touch display is impressive.
But what is even more unique about the tablet is the backlit detachable keyboard option. Apart from the standard travel keyboard that doubles as a folio case, you can also get a backlit keyboard with, both with precision touchpad. The tablet is being sold as a 2-in-1 laptop. However, the tablet has a similar profile to the Surface Pro 4 with a kickstand.
It does not have just any kickstand but a kickstand based on Lenovo's special watchband hinge. The kickstand is attached to the body of the tablet with 280 individual pieces of stainless steel offering complete flexibility and strength giving you a working and viewing angle of up to 150°, so you can get from touchscreen typing to viewing a video in style.
Complete with Windows 10 Professional as the OS this is a do anything kinda machine. We favour the 256GB PCIE SSD hard disk and 8GB DDR4 2133 SDRAM option with a smaller model; half the memory and storage also available. Both versions come with the i5-6200U processor.
Other features include the 2MegaPixel front camera, 5MegaPixel rear camera, Dolby enabled stereo speaker and the all important Lenovo Active Pen stylus. There are 2 USB ports, a USB 3.0 Ports Type-C and one USB 3.0 Port to attach accessories. It uses a 2-cell Lithium Ion battery offers 8 hours of battery life between charge. Available in Platinum Silver or Ebony black finish.
OTHERS
Lenovo Yoga Book –

CONVERTIBLE LAPTOP
FHD 10.1″ Android Tablet – 2 in 1 Tablet (Intel Atom x5-Z8550 Processor, 4GB RAM, 64GB SSD), Gunmetal, Champagne Gold or Carbon Black (Windows only)
At just under 2 lbs, the Lenovo Yoga Book is the world's thinnest and lightest 2-in-1 android tablet. On-Demand Halo Keyboard With Haptic Feedback makes every task easier. The keyboard also doubles as a writing tablet, digitiser and drawing and sketching area. You can make notes or sketches using a stylus with real ink. All notes are instantly digitized when you write with the Real Pen stylus.
Type on the Halo keyboard that appears when you need it – and vanishes when you don't. Get things done on our custom version of Android that lets you be productive like never before. Thin, light, and stylish, 10.1 inches Yoga Book sets your imagination free – anytime, anywhere. Do more with one notebook: type, take notes, browse the web, even draw.
With up to 15-hours of battery life, it's designed to go all day. It has a maximum screen resolution of 1920 x 1200 pixels. Powered by a 2.4 GHz Intel Atom processor, 64GB SSD and 4GB RAM, there is plenty of power and room for anything you throw at it. It also lets you enjoy Cinema-Level Sound and Video with Dolby Atmos speakers.
Access Google Play and download your favorite Android apps onto the tablet. The hinge opens 360º allowing the Yoga Book to be used in 4 modes:
Lie-flat Create Mode for note taking and drawing;
Browse Mode as a compact 10.1" tablet;
Watch Mode for entertainment;
Type Mode as a productive laptop.
You can even be more creative by using two hands: one on the screen to select tools, pan, and pinch-to-zoom the other hand using the Real Pen to draw on the Create Pad. You can use the included Book Pad clipboard to magnetize your papers and easily keep them in place. Do it while looking at your screen and seeing your notes being digitized before your eyes, or using the Lenovo NoteSaver application to use your Yoga Book as a smart paper pad—folded open for the most natural way to take notes.