Note taking app is one of the must have essential apps for school, college and university. Even more so when attending lectures and working on an assignment but which app is best to help you make the most of learning.
We take a look at 5 different note taking apps for tablet and laptop. While some develop develop app specific for the desktop and laptop OS, Mac and/or Windows others choose a neutral approach of going with web access. This meant that you can access your notes, typically saved in the cloud, from any machine with a browser whether it is a desktop, laptop or tablet.
Most note taking apps are free and simply require you to install, sign-up and go. Others offer a paid service with increase features and storage.
Top 5 Apps for Taking Notes on the Tablet & Laptop in Schools
Whether you have a Windows, Android or iOS device, these apps are fully compatible and will work on the smartphone, laptop or tablet. They also take advantage of the cloud allowing you to use it on multiple devices running different operating systems such as iOS, Android, Mac, Windows or on their website while ensuring that you have the latest version. There is one exception, proprietary software from Apple only works on their iOS devices but even that, they offer web access which means you can access it over the Web even on the PC, Chromebook or Android device.
1. Evernote – iOS, Android, Mac, Windows, Web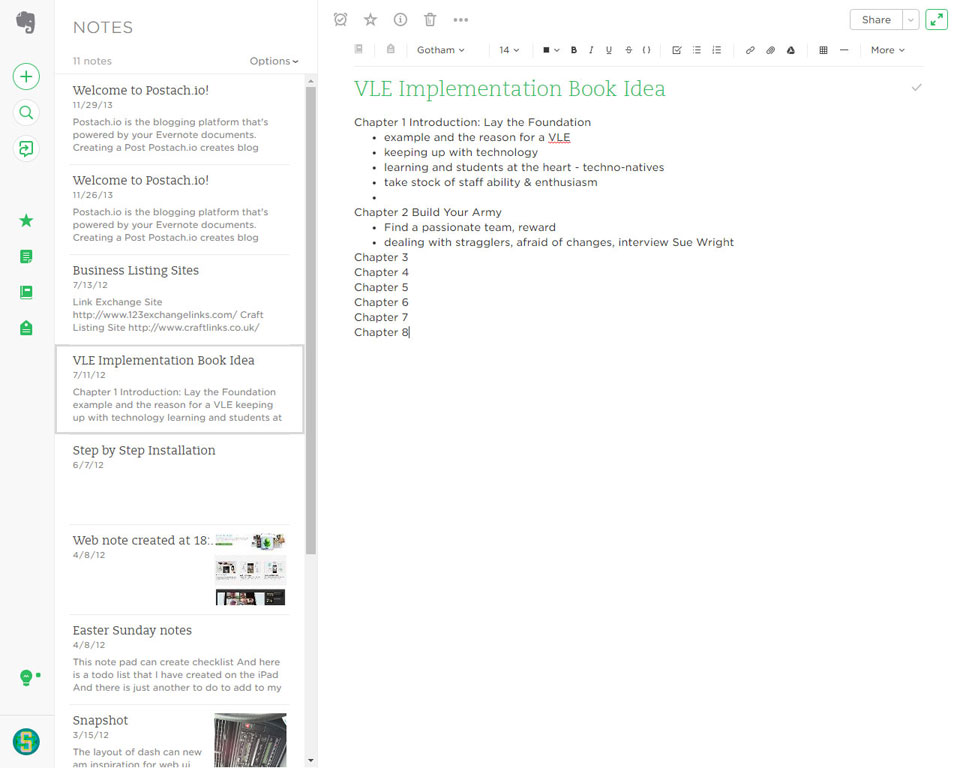 Evernote Features that are FREE
Here are the features you will once you sign up for free.
share across 2 devices
store and organise documents according to subject in notebooks
upload up to 60MB per month, 25MB note size
save articles and web pages with browser extension
ability to share notes with others
add a pass code lock on mobile devices for security
Evernote Features when you PAY
To take your note taking task further, here are some of premium features with Evernote.
ability to annotate on PDF documents to add your own notes
forward emails into notes
search in office documents and attachments
scan and digitise business cards
discover related contents
browse history of your notes
---
Evernote has been around in the note taking game since like forever. Still a strong and worthy app for taking notes for schools and colleges, it lets you store and share your notes with others. While the free version is a little restrictive, it still has sufficient functions to just get on with the business of taking notes in classrooms and lectures. To start, create a Notebook for each subject, then add your notes there. You can move your notes between notebooks easily. Also, don't forget to tag your documents to make them easy to sort and filter. Lastly, when sharing your note or notebook with others, you can also start a chat with them inside the app.
2. Microsoft OneNote – iOS, Android, Mac, Windows, Web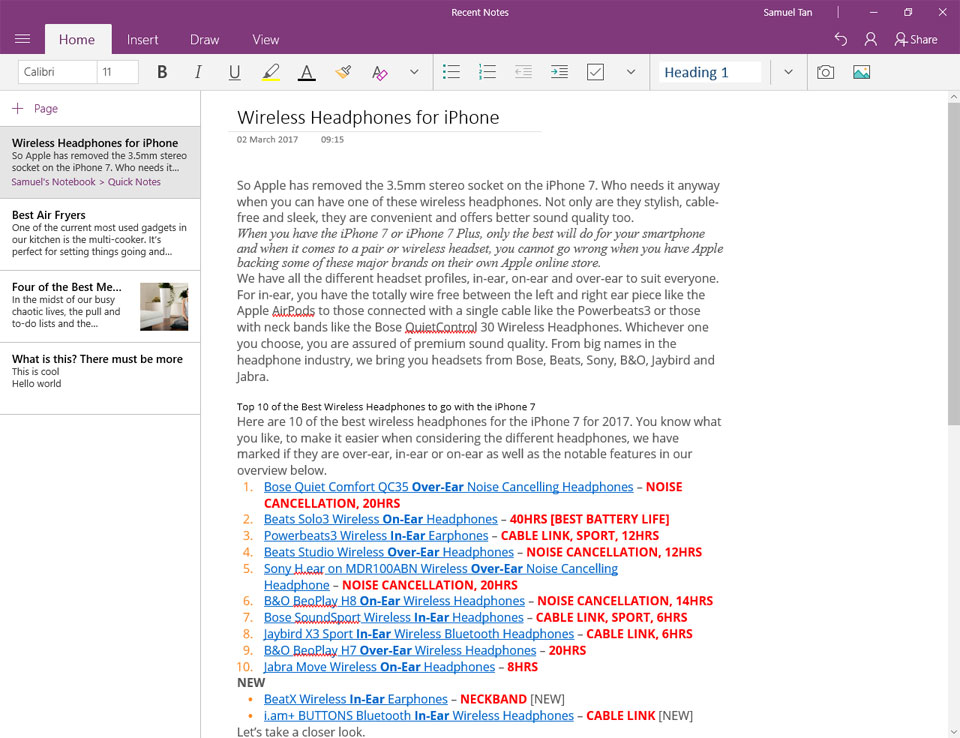 Taking notes and filing using OneNote could not be easier. Works best with tablets that support stylus, the note taking app from Microsoft lets you draw, write, type as well as search and clip from the web. I remember using OneNote on my old Toshiba tablet. Fast forward to today, OneNote is available on any devices under the sun.
OneNote Features
draw, sketch, write, type and store your notes with global search function
pairs with OneDrive for 15-30GB of free storage space
convert handwritten notes to typed text
clip from the web with Clipper – take notes right on the web using Microsoft Edge
audio and video recording then automatically link to notes and time taken
capture images using the phone and Office Lens, a nifty little app for Windows Phone, iPhone and Android that lets you capture notes and information from whiteboards, menu or signs and optimise this for…
Optical Character Recognition (OCR) from images so OneNote can index text from screenshots or photos
free add-in for OneNote that adds even more features
highlight ideas with colours and shapes
collaborate real-time over OneDrive, OneDrive for Business or SharePoint
works with MS Office applications so you can get details pulled from or pushed to Outlook, Excel, PowerPoint or Word.
connect in the classroom using collaborative space to bring students together
organise lessons, handouts, notebooks, and even assignments distributed from a central content library with Class Notebook.
Teachers can provide real-time feedback and coaching over Class Notebook
works on any device; desktop, tablet, phone across any platform; Mac, PC, Android, iOS, Web
take it one step further and use it with IFTTT (if this, then that) that lets you automate things.
To start using OneNote for free, get a personal email account with Microsoft. If you have a Windows 10 device tablet of laptop, here are the features in OneNote for Windows 10:
View all your notes sorted by when you last updated them
Preview your notes without having to open the page
Transform your drawings into shapes automatically
See who's working with you in a shared notebook and jump straight to the page they're on
Share a single page instead of the entire notebook
Replay your handwriting forward and backward to hide and reveal content, to provide step-by-step instructions
Write out an equation, and OneNote will help you solve it step-by-step with the Ink Math Assistant
Use pencil ink to draw or sketch (requires the free Windows 10 Anniversary Update)
Jazz up your notes and annotations with new ink colors like rainbow, galaxy, gold, and more
Windows 10 integration, including:

Click the button on a digital pen to open OneNote and take a note, even when your device is locked
Tell Cortana to take a note for you with your voice
Quickly jump to a new page by selecting the Note button in the Action Center
Write on a webpage in Microsoft Edge and save your annotations to OneNote
Share notes with any app with the Share button
Use your device's camera to capture documents, whiteboards, receipts, and more right into OneNote

Maximize drawing space by hiding the page list and Ribbon
---
The go to app for those with a Windows tablet when it comes to taking notes. It works well with other office applications and best with stylus. You would use the stylus not only to draw, write and sketch but to highlight, annotate, write equations with Ink Math Assistant (great for Maths lessons) and navigate your way around. Now, if you are short of time and can't take your note quick enough, simply take a photo of the whiteboard or slide and OneNote will convert it to text for you. If you use OneNote in school, especially for teachers, use the Class Notebook feature for collaborative working.
3. Google Keep – iOS, Android, Web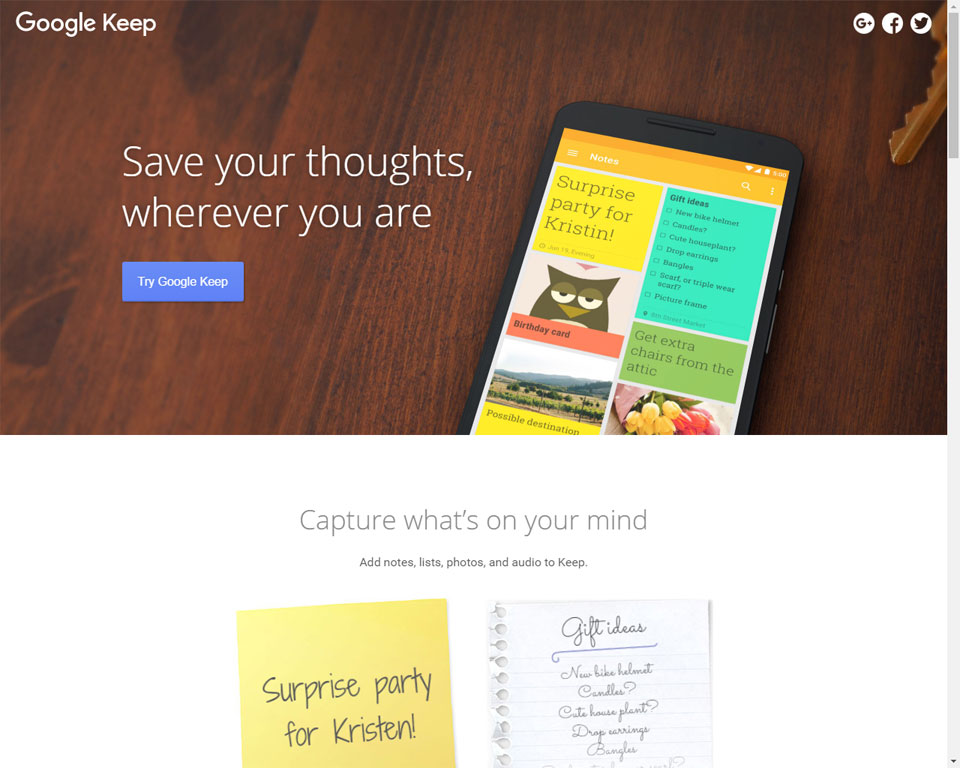 Here are the features you will once you sign up for free. The four main categories of content on Google Keep that you can create are notes, lists, photos and audio. The beauty of notes and lists are you can set reminders for each of them. These can be location-reminder e.g. a shopping list when you are at the stores or time-based that pops up based on your pre-determined time. The great thing about the list is that if you have a group project, you can assign different tasks to each team members and by sharing your notes or list with them you can track progress and see the list gets checked off in real time. That way, things can done faster and each team mate are motivated and can see each other progress. Also, being Google, you can search and filter your notes by colour, attributes to find what you need. The app works across different devices and syncs over the cloud.
Google Keep Features
capture, edit, share and collaborate on your notes on any device, anywhere. Stores in Google Drive.
share note and update in real-time
add notes, list, photos, and audio to Keep
organise notes with labels and colours
get reminder about a note at the right time with time-based reminder or place with location based reminder
record a voice memo and have it automatically transcribed
grab text from an image to help quickly find note again through search
filter and search for notes by colour or other attributes e.g. using lable, audio notes with reminders or shared notes
available on phone, tablet and computer over the web
if you use Google Chrome, there is a Google Keep Chrome App to keep on top of your notes
Easy to use feature to work together on a list; makes planning and working on a school project as a team a no brainer. Live feedback and continuous syncing meant you see what others are doing. App is fun when you start keeping a variety of notes, adding labels and colours. We like being able to record memo for lessons and lectures, then being able to play back. Also, Google automatically transcribes the voice to text so you can decide if you want to keep the recording or not.
4. Simplenote – iOS, Android, Mac, Windows, Web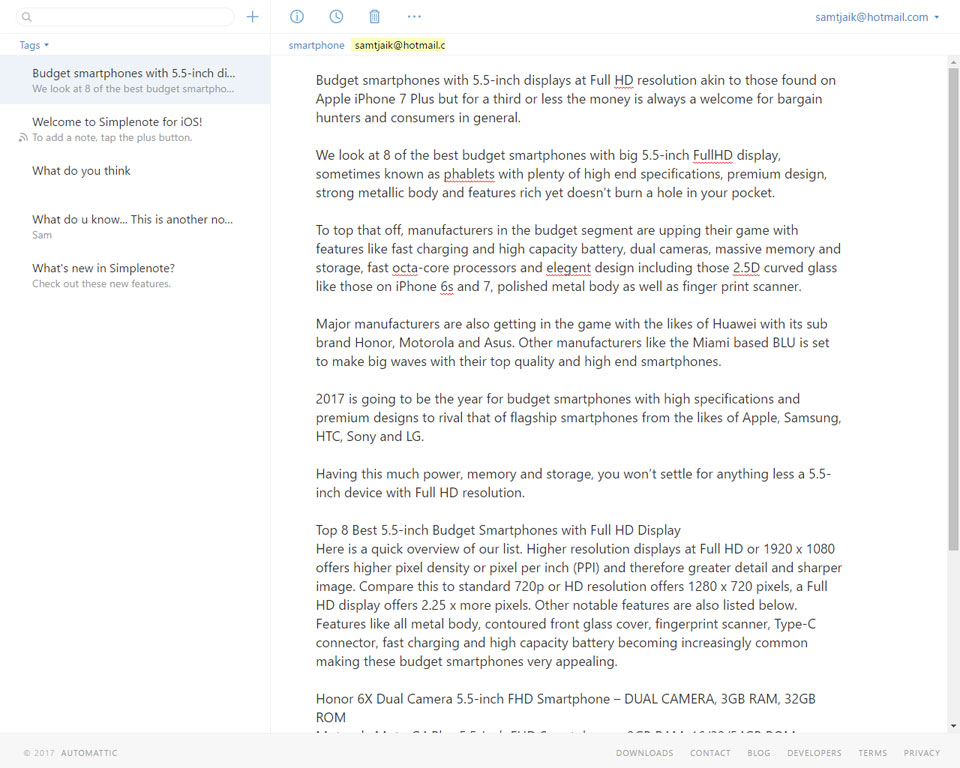 If simplicity is what you are after then you can't get simplier than Simplenote. The cloud based app lets you access your notes from any devices and keeps them synced. You can find notes quickly with instant search and using simple tags. It has the ability to let you share a list, post instructions or publish your thoughts quickly. There is also a history button that lets you access previous versions of your note by simply dragging the slider to go back in time. The best part of course, it is completely free.
Simplenotes Features
automatically syncs to the cloud and across all your devices
organise your notes quickly with tags for quicker search
share a list, post some instructions or publish your thoughts
look at history of the note to track changes
search your notes and list your updates instantly
the app and web is completely free
Simple and easy to use. Nothing but textual recording, great for authors and writers. If you have an essay to write or article to finish and do not want any distractions, this is the free note app for you.
One of the essential app that Apple overlooked in its early days is the Notes app. That and the Reminders or task list app both were neglected for a long time. Things are different now. Both Notes and Reminders are now integral part of iOS. If your school or students promote uses iOS devices then there is no reason to not use both these apps for learning. Apart from using them on the iPhone and iPad, you can also access these apps online over iCloud.com. Over the years, Notes have evolved into a pretty power app supporting features normally only available on premium products. Here are some of the features.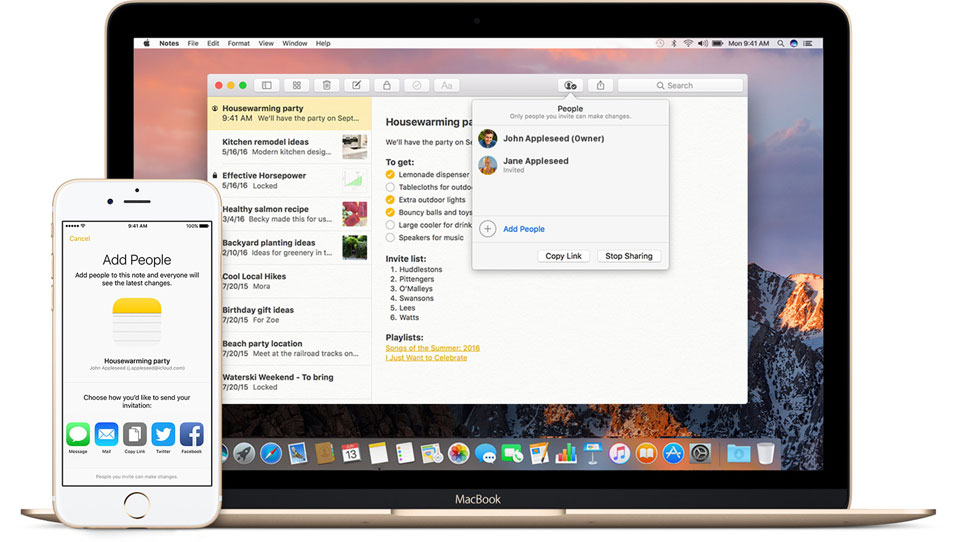 Apple Notes Features
capture thoughts with text using the keyboard or jot down notes
create checklists,
sketch ideas,
insert existing photo or video from gallery
insert new photo or video taken with the camera,
format your text
add links
add attachment
search for a note or attachment
organise your notes by creating folders and creating or moving notes into them
share your notes via message, email or other third party apps
collaborate on notes by adding people to the note so they can see the changes and update it
manage who your share your notes
lock notes and recover deleted notes
access its on the web over browser
OTHERS
Quip – iOS, Android, Mac, Windows, Web
Quip is more of a collaborative workflow tool for those working in a team or teams. It's less of an education, more of a business application. But we think there is scope for schools to use this too. Top features are being able to edit live documents, share to-do lists and documents, communicate via chat and work on documents and spreadsheets. Working on the same platform also meant there are fewer emails and meetings to check on each others progress. You can get Quip for Mac, iPad, iPhone and Android devices.
Quip Features
Import or export to Quip to get started
Create teams and add members to your team
track version history to see who changed what and when
organise and share folders with your team
get push notification on your devices to stay up to date
set permissions at group, document and folder levels
search your doc, spreadsheet or folder quickly
ability to work online or offline with auto syncing
1 to 1 messaging ability
link documents, spreadsheet, folder or chat within Quip easily
Read receipts
Quip works well as a team tool, bringing together members of your team in one place and focus on communication and working on documents, spreadsheets together or individually in a folder. The live document feature lets members add their bit in to the document and discuss changes and updates alongside the document making feedback, co-ordination and work assignment easy and seamless. You can add tasks lists, images, spreadsheets, tablet and more to the document.
Hackpad – iOS, Android, Mac, Windows, Web
Recently acquired by Dropbox, Hackpad will continue to serve new and existing customers. It is free to sign-up for a personal space and works if you want to start working collaboratively, you can create private spaces with a few of $2 per user. When used in a team, this is more of a collaborative and workflow tool with the ability of creating tasks, or subtasks and assigning them to different team members as well as append tags to create releases and milestones.
Hackpad Features
record and share collaborative notes, data, and files
use comments to communicate your thoughts in real time as well as leave a message
Working on the same content, every contribution is marked with the authors name
set privacy permission at different levels.
link supporting data
monitor progress using to-do listss
create tasks and sub-tasks and assign to different members
append tags to create releases and milestones
syncs with the cloud and accessible from any device
capture your context, objectives, supporting data and files in one place
BONUS: Dropbox Paper – One to watch out for
Already known for its file sharing service, Dropbox Paper is an extension for those whom are already familiar with the Dropbox. If you already have a Dropbox account, accessing Dropbox Paper is pretty straight forward. Start by creating a new document of take a look at the samples to see how you can use it to capture ideas, gather feedback and collaborate in a flexible workspace. Here is another collaborative workflow tool for teams with apps for iOS and Android as well as Web access over browser.
Dropbox Paper Features
Use it to write text, tasks lists or code
embed images, audio and video
rich formating functions with ability to embed video and audio
embed links and files from Google Docs or Dropbox itself simply pasting the link
collaborate by sharing docs with others, inviting like you would with DropBox and give them access
create a company or team folder to make it easier for group sharing
add comments to the document, or any assets highlighted
add stickers and emojis, tag using alias username @mention
assign due date for a task
Use it to brainstorm ideas, capture meeting notes and create to-do lists and more. The samples are a great way to start thinking about how you would use Dropbox Paper. Use the creative collaboration for working together on an assignment, to do list for a task list that you can assign to different people in your team and mark off when complete, meeting notes, brainstorm and more.