Teachers and students wanting to create evidence of learning, the ability to take a photo and have this developed or printed instantaneously for record or log is a great way to achieve this.

Be it a piece of art work, sculpture, outdoor activity, community work or school event, being able to take photos and have this available to present immediately has a great impact on learning. It offers both students and teachers a sense of achievement and accomplishment.
These easy to use instant cameras can be operated by both teachers and students without a problem. Students can even be taught basic photography skills like how to frame their shots, use basic effects available on some cameras, take macro shots of their outputs, consider lighting of the subject and background and in time, pick up good practices when handling and using cameras.
For some students, these photos can also be used as part of their portfolio of work. Simply taking photos on tablets and smartphones meant these photos will need to be printed, which typically involves downloading the photos onto a computer, have the image inserted into a document and printing this on a colour printer. It would then need to be cropped to size and finally inserted into their portfolio. Instant cameras takes you straight to the photo with a single click.
The first commercially available instant camera was pioneered by Polariod with technology and research that started in the 1920s. It wasn't until the 40s and 50s that instant cameras are available world wide. These consumer friendly instant cameras and films have self developing film that will chemically develop into print shortly after taking the picture.
However, in February 2008, the company filed for bankruptcy protection for the second time and was later acquired by PLR IP Holdings, LLC that uses the Polaroid brand to market various products related to instant cameras including Polaroid branded Fujifilms own Instax instant camera.
Other Polariod digital instant cameras come with zero ink printer built-in to print photos. Instead of self developing film, it uses special ZINK paper and printer.
The other name absent from the scene is Kodak with their Kodak EK instant camera and Kodak Kodamatic. Where Polariod and Kodak failed, Fujifilm persevered and has become the market leader in instant cameras. The Japanese firm cornered the Japanese and Asian markets in the 80s. The integral films are based on Kodak line of instant camera films.
Later, in the late 90s, Fujifilm introduced a new series of cameras using a new film called Instax. It wasn't until after 2008 with Polariod ceasing film production that the Fuji Instax and peel apart type films become available in more channels including the US.
Top 5 Best Instant Cameras for Education
Others
For instant cameras with self developing films, the developing time is around 90 seconds. Here is a closer look at each of the cameras.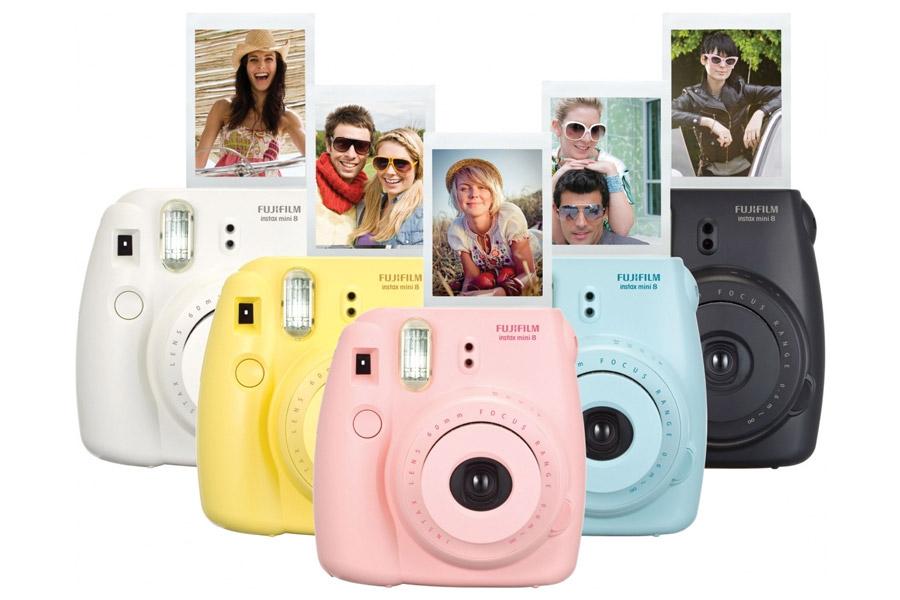 Photo Size: 62 x 46 mm. Film Size (with white border): 86mm x 54mm. Available as pack of 10.
Features: Manual brightness adjustment dial with LED indicator for recommended settings. Set the dial to correspond to the suitable lighting setting marked by the lit LED. There is a Hi-Key mode for softer impression. Always on flash with automatic light adjustment and cycle time 0.2 sec. to 6 sec depending on battery. Flash effective range of 0.6m – 2.7 m. Shooting range: 0.6m to ∞. Shutter speed: 1/60 sec.
Dimensions & Weight: 116mm x 118.3mm x 68.2mm / 307g (without batteries, strap and film pack)
Two new colours available: Grape and Strawberry in addition to the above, White, Pink, Blue, Yellow and Black.
---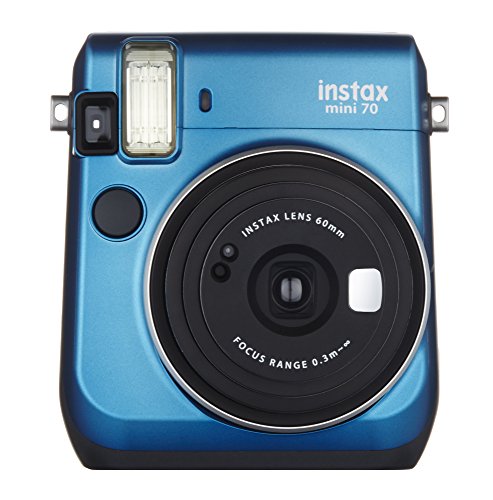 Photo Size: 62 x 46 mm. Film Size (with white border): 86mm x 54mm. Available as pack of 10.
Features: Dual element lens f = 60 mm, 1:12.7 . Motor driven 3-range switching focusing for Macro Mode (0.3 m – 0.6 m) Normal Mode (0.6 m – 3 m) and Landscape Mode (3 m and beyond). Programmed electronic shutter release 1/2 sec – 1/400 sec with automatic exposure, interlocking range (ISO 800) LV5 – LV 15.5 or exposure compensation (Hi-Key) +2/3 EV. The camera uses automatic electronic flash with charging time of 0.2 sec – 7 sec depending on battery with effective range of 0.3m – 2.7m. The Fill-in Flash Mode ensures not only the subject but background is lit. There is a an electronic self timer with 10 second delay. Shooting mode (Selfie, Macro, Landscape, Fill-in Flash, Hi-Key, Auto), Self timer Mode (1 frame/2 frames continuous shooting)
Dimensions & Weight: 99.2×113.7×53.2mm (W x H x D) (not including protrusions) / 281g (without battery, strap, and film pack)

---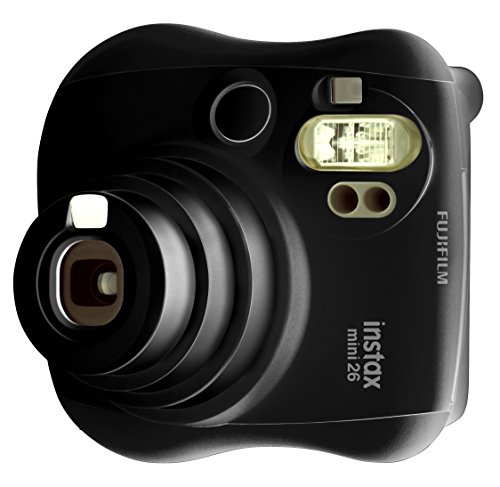 Photo Size: 2″ x 3″
Features: The camera as two shutter buttons for use in vertical or horizontal mode. Take photos or selfie (with mirror near the lense) easily with buttons located conveniently within reach. The Lighten-Darken Control button lets you decide the shades for the print, either finished brighter or darker according to taste. The Close-up lens lets you shoot up to 35mm from the subject. Built-in automatic exposure compensation to capture the right amount of light in most shooting situation. Fill-in flash Mode detects the brightness of the background to control the shutter speed. Backgrounds can be captured clearly even in dark room.
Dimensions and Weight: 5.75 x 4.25 x 5.5 inches, 1.15 pounds

---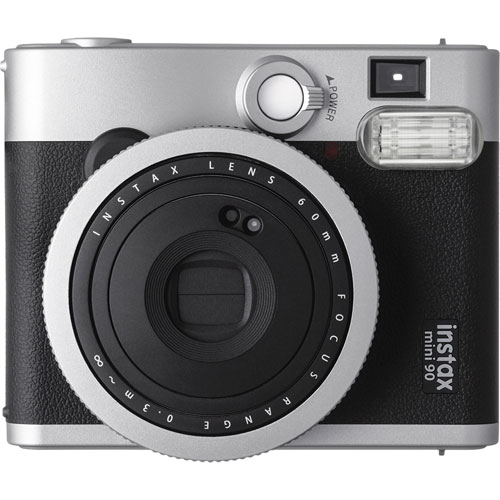 Photo Size: 62 x 46 mm. Film Size (with white border): 86mm x 54mm. Available as pack of 10.
Features: Dual element lens f=60mm, F=12.7 and real image finder 0.37x, with target spot and parallax adjustment for macro mode. Motor-driven 3-range switching focus range for macro mode: 0.3m – 0.6m, normal mode: 0.6m – 3.0m, landscape mode: 3.0m – ∞. Programmed electronic shutter release 1.8 – 1/400 sec. shutter speeds (macro mode: aperture automatically fixed at F22, bulb mode: maximum 10-second shutter open time). Exposure control: Automatic, LV5.0 – 15.5 (ISO800), lighten-darken control ±2/3EV, +1EV. Automatic electronic flash with brightness adjustment function and red eye reduction mode. Party Mode enables subject and background to be captured brightly. Kids Mode for fast moving subjects like children and animal, also great for low light conditions like room light and cloudy day. Mode button select between Party / Kids / Landscape / Double exposure / Bulb.
Dimensions & Weight: 113.4mm x 91.9mm x 57.2mm, 296g (excluding the battery, strap and film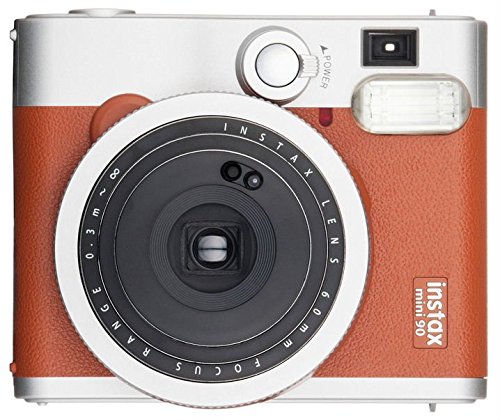 ---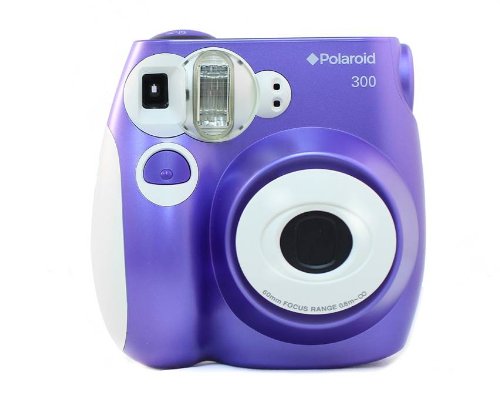 Photo Size: The prints are 1.8-inch x 2.4 inch on paper that is 2.1-inch x 3.4-inch
Features: Available in red, black, blue and purple (shown below), the Polaroid 300 comes with four scene settings to help capture the perfect shot in any light. It has an automatic flash and 1/60sec electronic shutter. The Polaroid 300 uses PIF-300 Instant Film.

---
Others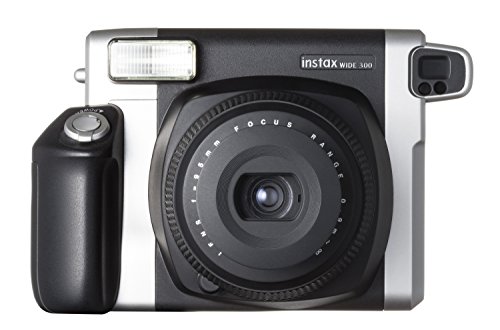 Photo Size: 62 x 99 mm Film Size: 86 x 108 mm
Features: dual element retractable lens f = 95 mm, 1:14. Real image finder, 0.37 x, with target spot. Motor-driven 2-range focus switching (0.9m – 3m / 3m – ∞) Normal Mode (0.9m – 3m) Landscape Mode (3m – ∞). Programmed electronic shutter release, 1/64 sec – 1/200 sec. Exposure control: Automatic, Interlocking range (ISO 800) : LV 10.5 – LV 15 Exposure compensation (Lighten-Darken Control) : ± 2/3EV. Built-in, automatic electronic flash, Charging time: 0.2 sec – 6 sec (using a new battery), Flash charging indicator (LED lights in red), Fill-in Flash Mode, Effective flash lamp range: 0.9m – 3m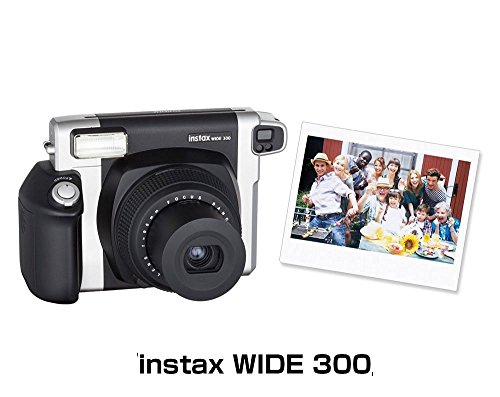 ---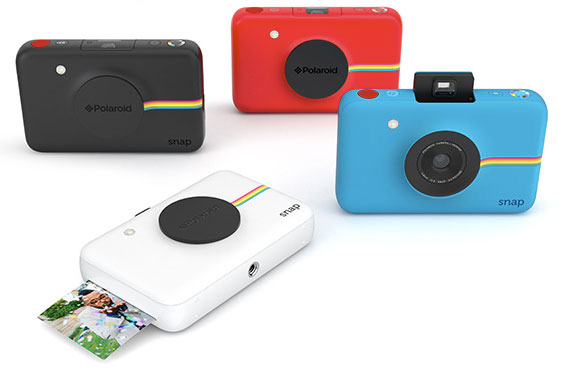 Photo Size: 2″ x 3″
Features: Take a digital camera and put an ink free printer on it for printing on special paper without using ink. The Polaroid Snap is a new take on the old film type cameras, with the same instant print function.  The 10MP digital camera is smaller than its film counterpart and it comes with a micro SD card slot for up to 32GB of storage. The ZINK, Zero Ink technology uses 2-inch x 3-inch special paper to create full colour prints. You can also choose three different colour modes; normal, black and white or vintage sepia tone when printing. Print borderless or with the white borders using the Polaroid Classic Border. There is even a Photo Booth mode that takes six quick photos in 10 seconds.
---
Photo Size: 2″ x 3″
Features: A bigger 13MP camera sensor coupled with zero ink printing technology, the Polariod Snap Touch Instant also includes a touch control display measuring 3.5-inch in size. The ZINK Zero Ink printer is capable of producing prints in three different colour modes: black & white, color, & vintage sepia. There is also an option to print with the Polaroid Classic Border Logo. The camera has Bluetooth capability, Self timer & selfie mirror. It also records 1080p Full HD video recording and can store images & video stored on a micro SD card (up to 128GB).
---
Instant Photo Printers
If you would rather stick with your existing smartphone or digital camera for taking photos and would still like the instant gratification of having your photos printed and in your hand the next minute then one of these instant photo printers will satisfy that need.
Polariod ZIP Mobile Printer –

PORTABLE

Canon Selphy Wireless Colour Photo Printer –

BEST QUALITY