The speakers on Amazon Echo may be suited for projecting vocal responses but it's not great for music. If you have not already got the Amazon Echo, and want voice-activated services as well as great sound quality, then get the Amazon Echo Dot.
You can then pair this with your favourite Bluetooth speaker or cable it to your HiFi system. Alternatively, wait for this, you can use it with any Sonos speakers over WiFi.
If you already have the Amazon Echo then you are stuck with the on-board speaker. While it can work as a Bluetooth speaker, it cannot work as a Bluetooth source to pair with another speaker. It does not have stereo output socket either so no connection to your own amplifier and speaker. All you have is to use it with Sonos for streaming over WiFi. (see options below)
How to Get Better Quality Sound from Amazon Echo & Echo Dot
So the options for better sound quality according to the devices you have are as follows. These would depend on your existing sound system or if you haven't got one, see our recommended list below.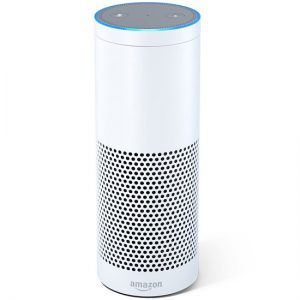 For Amazon Echo and Amazon Tap
For Amazon Echo Dot
wired to Hi-Fi Sound System
pair with Bluetooth speaker
Sonos Speakers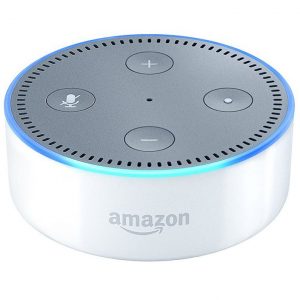 Hi-Fi Sound System
The wired route is pretty obvious for audiophiles and those already owning a Hi-Fi sound system, a simple cable to hook up the Echo Dot gives it superior sound quality on any streaming service be it Prime Music or Spotify or TuneIn or any music streaming service supported by Amazon Echo Dot.
Superior Sound Quality Bluetooth Speakers for Amazon Echo Dot
The second option would be to pair a Bluetooth speaker with the Amazon Echo Dot, effectively making it a smart voice activated speaker. This option is the quickest and easiest if you do not have a wireless sound system or wireless. Check out your options for some of the best Bluetooth speakers if you haven't already got one.
Sonos Speakers Integration with Amazon Echo Dot
No, we are not talking about wiring the Echo Dot to a Sonos Play:5 or Sonos Connect via line-in with the Echo Dot as a music source but with software update from Sonos, you will be able to stream to any speaker or speakers in any room via WiFi.
You can then get high quality sound from your existing Sonos multi-room sound system, bringing voice activated services to your speakers. Here, you are not restricted to your tablet or smartphone using the Sonos App to spin your tunes, simply ask for it to be play on the speaker of your choice.
Sonos and Alexa service integration will take your multi-room sound system to a whole new level. Control your Sonos speakers from Amazon Echo, Echo Dot and Amazon Tap using voice commands. Tell Alexa what to play, navigate your tracks and pause or stop. You can even tell Alexa which Sonos speaker to play on and have your usual serving of daily briefing, shopping list, schedule and task list as well.
Take advantage of the far-field voice recognition system on Amazon Echo and Echo Dot and enjoy the best sound quality you deserve with your favourite Bluetooth Speaker or with Sonos.
Sonos third party support will also be extended to Spotify. Simply fire up the Spotify app, and as long as your device in on the same network, you will be able to select Sonos as a speaker to play your tunes. This is different from selecting a Bluetooth speaker as Sonos does not have Bluetooth Radio. Your app will simply act as a remote control and pass the streaming job directly to the Sonos speaker, playing your tunes from the Internet via Wi-Fi. You will need Spotify Connect app and it is likely that this feature will only be available to Spotify Premium users.
If you have not already got a multi-room sound system and are thinking of starting one here are the different Sonos speakers you can get.