Heavy, bulky and unsightly laptops are a thing of the past. Slim, thin, light and sexy is in. Even the new MacBook Pro 2017 is 17% thinner than its predecessor and the MacBook Air which was once the ultraportable is now eclipsed by 14 of 15 ultra portables in our line-up. Long live slim and sexy!
It used to be that in order to be small, slim and light, laptops achieve these at the expense of performance. Consumers have to make do with under-powered processors, small memory and storage. Not anymore. With innovation in technology; smaller, thinner and lighter laptops can be just as fast if not more powerful that their big counterparts. These ultrabooks use high-end components, latest in engineering designs, highest resolution displays at 12-inch or 13-inch as well as revolutionary energy efficient processors, ultra fast graphics and state-of-the-art fast flash storage.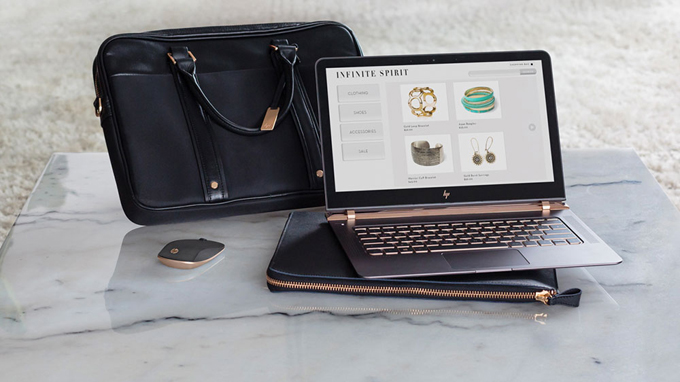 There is plenty going for these machines. Even with all that, these devices can still manage anything from 10 hours of battery life per charge enough to last you all day. While it is designed to perform, it does this efficiently with fanless high performing processors and new cooling technology, lots of memory and flash storage as well as dynamic power settings all with the aim of delivering the performance when you need it and saving on energy and making the battery last otherwise, truly lean, mean and green.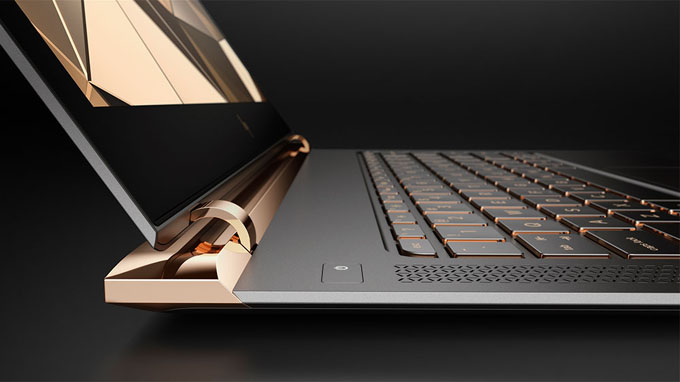 Top 15 Best Slimmest and Lightest Ultra Portable Laptops
Not only does it deliver, you will want to be seen with one of these too. It's like arriving in a Rolls Royce or better, a Lamborghini with looks that make heads turn and everyone checking you or your laptop out twice. Simply, a laptop that says it all. Here is our line-up according to the height of the device from thinnest to not so thin:
BONUS: Microsoft Surface Book 7.6mm (tablet) 23mm (laptop) | 730grams (tablet), from 1.51kg
Now for a closer look at each of these ultrabooks:
With so many laptops to go through, we look at the areas that matter most (CPU, Memory, Storage and Battery Life) as well as some key features that make each ultrabook stand out.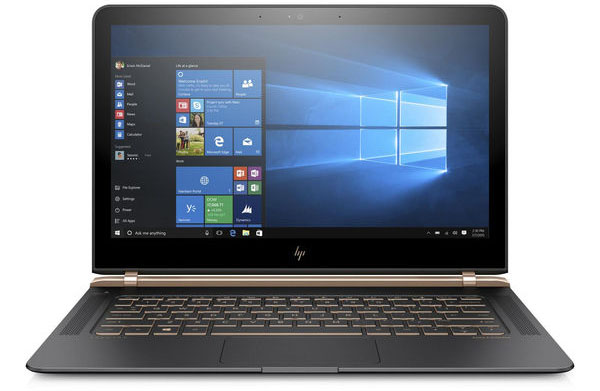 The world's slimmest or thinnest laptop is also the best looking with new shades that HP likes to call Dark Ash Silver and Luxe Copper. Underneath the slim interior is a powerful Intel Core i7-6500U Dual Core 6th generation processor clocking at 2.5GHz with Turbo Boost frequency up to 3.1GHz, 8GB of RAM and 512GB or SSD storage. To enable the performance from a powerful processor in a tight space, HP use breakthrough hyperbaric cooling technology from Intel that actively draws cool air in to the laptop rather than just venting heat out. Combined with dynamic power settings, the laptop stays cools even at peak performance. Crafted from premium grade aluminium and high-tech carbon fibre, the Spectre measures only 10.4mm thin and weighs less than a kilogram.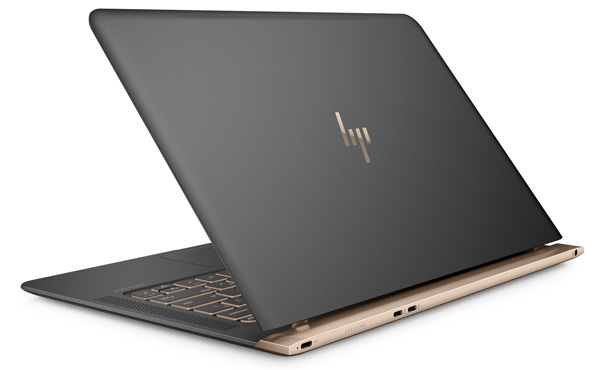 Everything about the Spectre screams quality, the display is covered edge-to-edge with Corning Gorilla Glass for durability and scratch resistance, the keyboard is backlit and the trackpad is made of glass while the hidden hinge folds flush when the laptop shuts to give it a clean, nearly hingeless look. Other features include HP Audio Boost for maximum volume with clarity and dynamic sound, Full HD IPS vibrant display with cripst picture and ultra wide viewing angles, Bang & Olufsen treatment – custom tuning by the specialist to bring sound to life. With all that packed in the slimmest chassis currently in the market, the laptop stilll manages a whole 9 hours of battery life.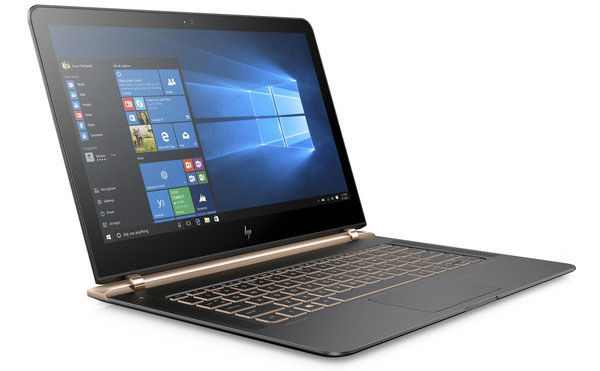 Intel® Core™ i7-6500U Processor Dual-core 2.5 GHz / 3.1GHz with Turbo Boost 4 MB cache | 8GB RAM memory | 512GB PCIe SSD storage | Windows 10 | 3 x USB Type-C port all support charging, high speed data transfer and external display. Two offer Thunderbolt data transfer with speed up to 40gbs | up to 9 hours battery life
Height:

1.04 cm

x Width: 32.5 cm x Depth: 22.94 cm.Weight: from

1.11kg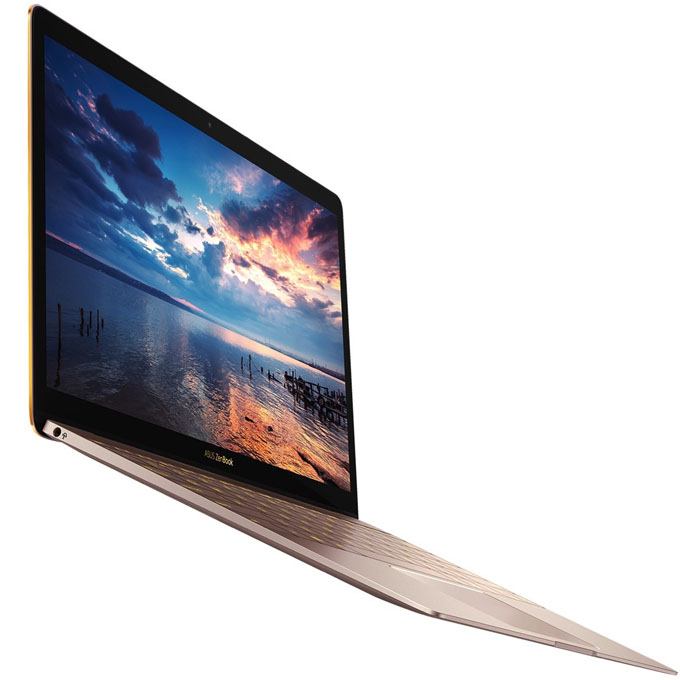 Lighter than even the MacBook 12-inch, the ASUS ZenBook 3 at 910 grams is a solid contender to the MacBook 12. Everything about the ZenBook screams quality with precision components and elegantly crafted details, the ultrabok is lighter, thinner and stronger with all metal unibody enclosure measuring only 11.9mm high using the world's most compact hinge measuring only 3mm high. The edge is finished with a 2-phase anodizing process giving it a stunning gold highlight. It comes with a full size backlit keyboard (19.8mm distance between the center of each key equivalent to most desktop keyboards) and powerful four speaker audio system developed with audiophile specialists Harman Kardon. Available in three different colours Rose Gold, Royal Blue and Quartz Grey.

The 12.5-inch display at Full HD resolution has a wide viewing angle of 178˚ with a narrow bezel of 7.6mm and contrast ratio of 1000:1. The wide 72% NTSC colour gamut makes for more vivid and lifelike colours. ASUS fine-tuned the display parameters to ensure superb colour accuracy and using ASUS Tru2life Video, offers real time video enhancement to automatically optimises the apperance of every pixel for better contrast and sharpness. There is a fingerprint sensor on the top right corner of the touchpad that lets you login to the laptop via Windows Hello.
Intel Core i7 Processor up to 3.1GHz | 16GB RAM 2133Mhz memory | 1TB PCIe Gen 3 SSD Storage (3X Faster than SATA3 SSD) or 512GB SATA3 or 512GB PCIe Gen 3 SSD | Windows 10 Pro | 12.5-inch Full HD (1920 x 1080) 16:9 LED backlit | USB-C port | up to 9 hours battery life 40Wh Li-Polymer Batter | Fast charging 60% in 49 mins | Fingerprint scanner
Height:

1.19 cm

x Width: 29.6 cm x Depth: 19.12 cm. Weight:  

910grams
3. ASUS ZenBook UX305 (and UX330) – 13.3-inch FHD (1920 x 1080) or QHD+ (3200 x 1800)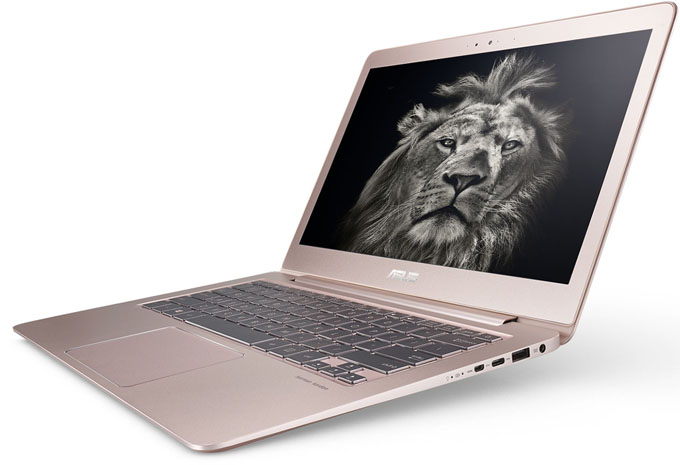 Another entry from ASUS, this time with a 13.3-inch display, available in both Full HD or QHD+ with 3200 x 1800 pixels with chassis made from aluminium alloy, the UX305 is an ultra slim 12.3mm thin and lightweight 1.2kg machine. It has the same battery life is the MacBook Air 13 of up to 12 hours on the UX330 and 10 hours on the UX305. Available in three shades the silky smooth Ceramic White, Tactile Aurora Metallic or classic Obsidian Stone with signature spun-metal finish. The new UX330 is available in Rose Gold or Quartz Grey, also finished with ZenBook's iconic spun-metal, a fine series of concentric circle moving form the center to the edge of the laptop with a tapered wedge at the front. The UX330 is slightly thicker measuring 13.65mm high but has a slightly smaller foot print and still weighs 1.2kg.

Powered by Intel Core M processor up to i7-YY75, the 7th generation is fast enough to crunch through everything yet requires no active cooling, making it fanless and silent laptop. Heat is dissipated through ultra-thin 0.5mm diameter heatpipe made from chromium-copper alloy. There is plenty of connectivity options with three USB 3.0 ports, 1 micro HDMI, 1 SD 2-in-1 card reader, 1 microphone-in jack and 1 headphone out jack. The new UX330 has two USB 3.0 ports, 1 USB-C Gen 1 port, 1 micro HDMI and 1 SD card reader.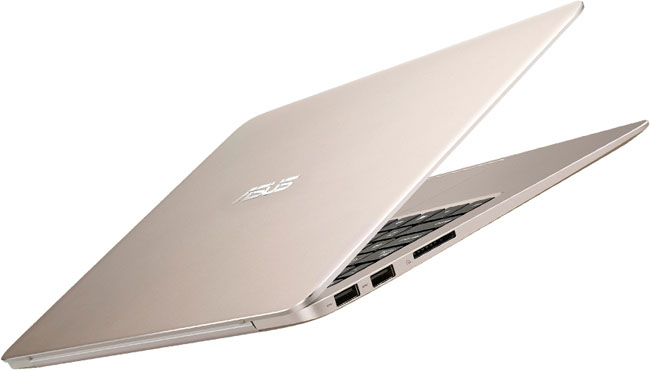 Intel Core M Processor (7th Generation) fanless design | 4GB/8GB memory | 128GB/256GB/512GB SSD Storage |  13.3-inch 16:9 QHD+( 3200 x 1800)/Full HD (1920×1080) | Windows 10 Pro | up to 10 hours battery life
Height:

1.23 cm

x Width: 32.4 cm x Depth: 22.6 cm. Weight:

1.2kg
The Lenovo 900s is the smaller 12.5-inch version of the bigger Lenovo 900 convertible-hybrid laptop with a 13.3-inch display also featured here. The 900s is thinner and lighter in design using the reliable watch band inspired hinge first seen on the 900. The device managed an amazing 10.5 hours of battery life, better than others here with the same display size. It has a bright and crisp display with QHD+ resolution and IPS technology and a comfortable full size keyboard in an ultra slim and luxurious design with a powerful Core m7 under the hood. The innovative 360-degree hinge allows for different modes the Yoga is famous for, check out the four different modes, laptop, stand, tent or tablet in the gallery below. For connectivity the 900s includes a USB-C port, a USB 3.0m 1 DC-in that doubles as a USB2.0, audio combo jack and supports optional Active Pen stylus input. The only concern that some has is the big bottom bezel, but all is forgiven with the one of a kind beautiful watch inspired hinge.
The YOGA 900S supports digitizer pens with 2,048 levels of pressure sensitivity (Lenovo Active Pen sold separately). Write with the confidence that your notes and sketches will be accurately represented. And say goodbye to fat, bulky lines and accidental marks from palm contact for a flawless writing and drawing experience. The speakers deliver rich stereo sound with Dolby Hme Theater standard for immersive audio experience. It also weighs just under 1kg making it both ultra thin (1.28cm) and ultra light (999grams)
Intel Core i7 processor (6th generation) | up to 8GB LPDDR3 memory | up to 256GB PCIe SSD | 12.5-inch QHD (2560 x 1440) IPS Touch Display | 1 USB 3.0, 1 USB 3 with Video Output (Type C), 1 DC-in with USB2.0 function, 1 Audio Combo Jack | Stereo Speakers with Dolby Audio Premium | up to 10.5 hours battery life
Height:

1.28 cm

x Width: 30.5 cm x Depth: 20.8 cm  | 12.01″ x 8.19″ x 0.5″. Weight: Starting at 2.2 lbs (

999g

)
The Samsung Notebook 9 ultra portable with 13.3-inch is thin and looks smart albeit a little plain.  A bigger 15-inch Samsung Notebook 9 is also featured in our line up below with equally impressive dimensions and weight. The 13-inch weighs less than the MacBook Air 13 and has a Full HD display. Under the hood it is spots an Intel Core i5 processor (6th generation), 8GB of memory and 256GB SSD storage. It uses a sleek premium forged metal frame with the rest of the body engineered from aluminium and magnesium alloy making it weigh less than 1.2kg or 1.12kg to be precise. The design is a little bland given that all other laptops here comes with cutting edge design complete with all metal unibody contruction.
Intel Core i5 processor (6th generation) 2.3GHz with Turbo Boost up to 2.8GHz  | 8GB RAM memory | 256GB SSD storage | Windows 10 Home | 13.3-inch 16:9 Full HD (1920 x 1080) display | 1 mini VGA, 1 Type D Micro HDMI, 2 USB 3.0 ports, 1 Microphone In | 1 Headphone Out | up to 10 hours battery life
Height:

1.29 cm

x Width: 31.37 cm x Depth: 21.8 cm (12.35″ x 8.6″ x 0.53″) Weight: 2.5lbs (

1.16kg

)
6. Apple MacBook 12 – 12-inch LED with IPS (2304 x 1440) –

TAPERED
Now in its second iteration with slight speed bump, more shades with Rose Gold being an option now, and faster flash storage, the MacBook 12 can be ordered with 1.1GHz Dual Core Intel Core m3 processor with Turbo Boost up to 2.2GHz or the more desirable, faster 1.2GHz dual-core Intel Core m5 processor with Turbo Boost up to 2.7GHz. Both models come with 8GB memory and 256GB and 512GB SSD storage respectively. The MacBook is lightest second only to ASUS ZenBook 3. The tapered design makes it look ultra slim just like the MacBook Air. The thinnest edge measures only 0.35cm while the highest point measures 1.31cm. It adopts the 6th generation Intel processors for fanless and silent design and like most 12-inch laptops managed up to 10 hours of battery life per charge. The 12-inch retina display with 2304 x 1440 pixel resolution boast edge to edge glass cover that brings everything into focus like those found on MacBook Pro.
Apple's unmistakable design and engineering DNA is all over the new MacBook with its all metal unibody chassis and anodized finish. First with a new chiclet keyboard now adopted by the new MacBook Pro 2016, the full size keyboard is designed from ground up with butterfly mechanism to replace the conventional scissor mechanism that is know to wobble around the edges. The butterfly mechanism is wider and has a single assembly made from stiffer material making it more stable and responsive. That's not all, the trackpad also supports Force Touch for a responsive, uniform click no matter where you press the surface. Force sensors detect how much pressure is applied and react accordingly. A haptic feedback gives you a better sense of touch producing tactile vibration. Unfortunately, there is only one USB 3.1 Gen 1 port that support everything from charging to Display and USB 3.1. You will need to buy adapters for VGA or HDMI video output.
1.1GHz Dual Core Intel Core m3 processor Turbo Boost up to 2.2GHz or 1.2GHz Dual Core Intel Core m5 processor Turbo Booost up to 2.7GHz | 8GB memory | 256GB or 512GB PCIe-based on board flash storage | 1 x USB-C (up to 5Gbps) | up to 10 hours battery life | Available in Silver, Gold, Space Grey or Rose Gold.
Height:

0.35–1.31 cm

(0.14–0.52 inches) x 

Width:

28.05 cm (11.04 inches) x 

Depth:

19.65 cm (7.74 inches). 

Weight:

0.92 kg

(2.03 pounds)
Dell claims that the Latitude 13 7000 is the world's smallest 13-inch business-class laptop with an InfinityEdge display. Featuring an aluminum or optional carbon fiber LCD back for incredible durability, just to confuse the buyers – the InfinityEdge display is also on the Dell XPS 13 (see below). It has ultra narrow bezel top, left and right but a much bigger bezel at the bottom. Still, it is incredibly thin and light so business travelers can thank Dell for sparing their shoulders especially when they have to travel the world with their laptop.
The InfinityEdge experience is like no other, display that goes right up to the edge with a Full HD (1920 x 1080) with anti-glare for business reasons. It measures 13.3-inch but thanks to the InfinityEdge, the device fits into the frame of a 12-inch laptop. That's not all, the body of the Latitude 13 is crafted with layers of aerospace-grade carbon fiber and features an aluminum or optional carbon fiber LCD. Plus, the commercial keyboards and touchpads are built to ISO standards to ensure maximum longevity and comfortable use.
When it comes to connectivity, it has two Thunderbolt™ 3 multi-use ports allowing you to charge your laptop, connect to multiple devices, a USB 3.0 port with Power Share, a Micro HDMI port, an audio combo jack and one SD card reader. If chosen, it being a business laptops, you can also get the optional smart card slot and micro SIM card slot on top of that. It's all the connectivity that you will ever need in an ultraportable laptop.
Intel® Core™ m5-6Y57 (Dual Core, 1.10 GHz, 4MB cache) Processor (6th Generation) |  8GB memory | 128GB/256GB SSD Storage | 13.3-inch FHD (1920 x 1080) InfinityEdge Anti-Glare | up to 10.5 hours battery life | Windows 10 Pro | 1 USB 3.0, 2 Thunderbolt, 1 micro HDMI, 1 universal jack.
Height:

1.432 cm

(0.56″) x Width: 30.48 cm (12″) x Depth: 21.05 mm (8.3″). Weight:

1.12 kg

(2.47 lbs)
8. Acer Aspire S 13 – 13.3-inch FHD (1920 x 1080)
With the focus on making one of the thinnest 13-inch laptop in the market, the Aspire S 13 measures only 14.58mm thin, making it the fifth thinnest 13-inch laptop in our list. Like the HP, Acer also included a chunky metallic hinge as a design feature, silver on the black and gold on the white. The back of the screen or cover has what Acer calls Nanoimprint, lithography with intricate patterns that makes the laptop stands out.
But the beautiful cover is only skin deep, Acer claims that the laptop can last up to 13 hours per charge enough to keep you going all day and has USB3.1 Type-C port for ultrafast data transfer and USB 3.0 port that supports charging of devices even with the laptop switched off. There is also a full size HDMI port just in case you need to hook it up to a big screen TV.
Intel® Core™ i7-7500U processor 2.70 GHz (Core i3 and i5 also available)  6th Generation Processor | 13.3-inch Full HD (1920 x 1080) 16:9 IPS  | Intel® Shared Memory | 8GB LPDDR3  | 256GB SSD | 2×2 MU-MIMO 802.11ac wireless | 2 USB 3.0 ports, 1 HDMI port, 1 USB 3.1 Type-C port | up to 13 hours battery life | Windows 10 Home
Height:

1.458 cm

(0.57″) x Width: 32.7cm x Depth: 28.8cm. Weight:

1.3kg
Even with the huge 15-inch display, the Notebook 9 from Samsung is both lightweight weighing under 2.9 pound and slim at 0.56inch with a small footprint given its ultra narrow bezel at 0.24in. Engineered from aluminium and magnesium alloy, the metal-crafted body is both sleek and stylish. Finished in iron silver, it carries that premium look akin to the type of finish you find on most high-end laptops these days. The biggest feature is in its battery life, even when spotting a Core i7 processor and super slim body, it still manages up to 12 hours of use and with Fast Charging, it only takes 1.5 hours to top up.
Intel® Core™ i7 Processor 2.5GHz with Turbo Boost 3.1GHz (6th Gen.) | 8GB RAM memory | 256GB SSD M.2 storage | Windows 10 Home | 15" LED Full HD (1920×1080) 16:9 Display | Up to 12 hours of battery life
Height:

1.49 cm

x Width: 34.65 cm  x Depth: 23.67 cm (13.64″ x 9.32″ x 0.58″). Weight:

1.59kg

(3.5lbs)
10. Lenovo Yoga 900 13.3-inch QHD+ (3200 x 1800)
Not your standard 2-in-1 convertible with a 360 degree hinge, but a Yoga 900 and the keyword here is hinge. The Yoga 900 is an ultra-lightweight 13.3-inch device with one of a kind, watchband hinge. To make it stand out even more, the colour options are bolder in bright silver, champagne gold and eye catching orange. Under the hood, you get the fast Intel Core i5 or i7 processor, 6th generation CPU and PCIe solid-state storage for faster data access and stability. It also has one of the highest resolution 13.3-inch display packing QHD+ with 3200 x 1800 pixel resolution and IPS technology to make everything look super sharp and colours vivid.
Weighing only a mere 1.29kg and measuring just 14.9mm thin, the ultra portable still manages 9 hours of battery life per charge. The revolutionary watch bracelet inspired hinge is definitely a head turner and does not only look good. The strong hinge lets you use the laptop in four different modes common with convertible laptops with 360 degree hinge. It is made from 813 pieces of metal to make changing modes ultra smooth. The auto lock hinge also makes open and closing easy with one hand. To top if off, Lenovo has also equipped the Yoga 900 with JBL stereo speakers with Dolby DS1.0 Home Theatre certification making it great for both work and entertainment.
Up to Intel Core i7 processor (6th Gen) shown above is the Intel Core i5-6200U Processor( 2.30GHz 1866MHz 3MB) | up to 16GB RAM (model includes 8GB RAM) | 256GB SSD SATA III | up to 9 hours of battery life.
Height: 

1.49 cm

x Width: 32.4 cm x Depth: 22.5 cm |  12.75″ x 8.86″ x 0.59″. Weight: Starting at 2.8 lbs (

1.3 kg

)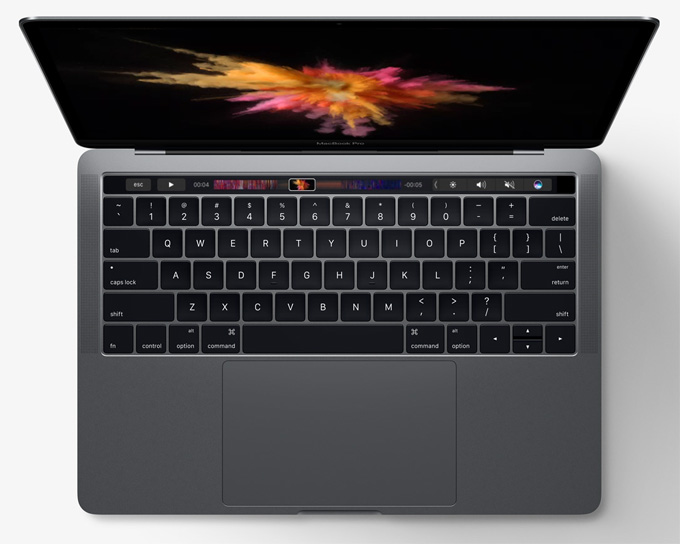 The new MacBook Pro 13 2016 is a whole 17% slimmer than its predecessor making it only 14.9mm thin, the same height as the Lenovo Yoga 900. It does not have a fancy hinge, but it comes with the option of a Touch Bar with integrated Touch ID sensor, a long touch panel display located where the F keys normally are on the keyboard and changes with the app currently in focus to show the relevant controls or tools just when you need it. A cheaper non-Touch Bar version is also available for those looking to save some money and stick with the F keys.
Apart from the Touch Bar and dimensions, the key areas that have received a boost are; the display – now 67% brighter; the graphics – up to 130% faster; the storage – up to 100% faster and faster processor options configurable with Turbo Boost speed up to 3.8GHz. The Retina display is not only 500 nits brighter but 25% more colours than sRGB and 67% higher contrast ratio. Its larger pixel aperture and variable refresh rate also makes it more power efficient and its the first Mac laptop to support wide colour, 25% more for a broader range of greens and reds.
A few more areas that received an upgrade includes the sound system, now 58% more volume, 2.5x louder bass for maximum boom and twice the dynamic range. The MacBook Pro also received the same responsive butterfly mechanism keyboard seen on MacBook 12, this time in its second generation which is dubbed to be 4 times more stable than conventional scissor based keys. Lastly, the trackpad has also been given a boost, now twice as large compared to previous generation MacBook Pro, which is to say humongous offering more rooms for gestures and click.
Intel Core i5 2.0GHz dual-core, Turbo Boost up to 3.1GHz (no Touch Bar) or Intel Core i5 2.9GHz, Turbo Boost up to 3.3GHz (with touch). Configurable up to Core i7 3.3GHz dual-core, Turbo Boost up to 3.6GHz | 13.3-inch LED Backlit display with IPS technology (2560 x 1600) | 8GB RAM memory (configurable to 16GB) | 256GB / 512GB PCIe based onboard SSD. (configurable to 1TB SSD) | Two Thunderbolt 3 (USB-C) ports on no Touch Bar version. Four Thunderbolt 3 (USB-C) ports on Touch Bar version. Use Thunderbolt 3 ports for charing, DisplayPort, Thunderbolt Data transfer (up to 40Gbps or as USB3.1 Gen 2 (up to 10Gbps) | up to 10 hours battery life
Height:

1.49 cm

(0.59 inches) x Width: 30.41 cm (11.97 inches) x Depth: 21.24 cm (8.36 inches) Weight:

1.37kg

(3.02 pounds)
12. Dell XPS 13 – 13.3 inch QHD+ (3200 x 1800) –

TAPERED
The biggest feature of the XPS 13 is the InfinityEdge display, with near zero bezel around the display making the device the smallest 13.3-inch laptop in the market. For the display two resolutions are available, Full HD at 1920 x 1080 pixel or UltraSharp QHD+ at 3200 x 1800 resolution, a resolution so high, its only matched by Lenovo Yoga 900 and bettered by Surface Book's Pixel Sense display.
Even with a 13.3-inch display it weights only 1.22kg and measures 9-15mm high, one of the lightest and thinnest laptops around. The UltraSharp™ QHD+ resolution has ultra wide viewing angle up to 170°, offers 400 nit brightness and achieves a colour gamut of 72% and a contrast of 1000:1. An optional touch screen is also available.
The other feature that makes it stand out is the amazingly long battery life of up to 18 hours 14 minutes (with FHD display). The laptop has Thunderbolt 3 multi-use port for charging or connecting multiple devices including up to two 4K displays and data transfer rate up to 40Gbps. Design wise, the XPS 13's chasis is cut from a single block of aluminium, uses Corning Gorilla Glass NBT on the QHD+ display and carbon fiber around the palm rest area.
Intel 6th Generation Core i5 or Core i7 procesor. Core i5-6200U 3MB cache, up to 2.8GHz speed | 8GB LPDDR3 1866MHz memory | 256GB PCIe SSD Storage |13.3-inch QHD+ (3200 x 1800) InfinityEdge touch display | up to 18 hours (with optional battery pack) | 2 USB 3.0, 1 Thunderbolt 3, 3-in-1 Card Reader, Noble Lock Slot
Height: 

0.9-1.5 cm

(0.33 – 0.6″) x Width: 30.4cm (11.98″) x Depth: 20.0cm (7.88″). Weight: 1.2 kg (2.7lbs) non-touch,

1.29kg

(2.9lbs) touch
The specifications and features are similar to that of the MacBook Pro 13 2016 but with a bigger display.
Height:

1.55 cm

(0.61 inches) x Width: 34.93 cm (13.75 inches) x Depth: 24.07 cm (9.48 inches). Weight:

1.83 kg

(4.02 pounds)3
UPDATE: Since late 2019, with the launch of MacBook Pro 16, Apple has discontinued the MacBook Pro 15. We may find that Apple decide to resurrect it with Apple's own chip but for now, the focus is on MacBook Pro 13 and MacBook Pro 16 with the potential release of a MacBook Pro with 14-inch screen.
A 2-in-1 convertible laptop with a 360 degree hinge, the HP Spectre x360 13 may not be as slim as the Spectre 13, the world's thinnest laptop also from HP, but it is more versatile with its bendable profile. The device targets home users, allowing them to operate the laptop in four different modes as all convertibles do.  The laptop has an aluminium cover and is finished in ash silver putting it up there with other premium laptops.
Spectre x360 features a durable 360° hinge that makes it easy to rotate between four different modes. In stand mode, the keyboard is rotated behind the screen, making it perfect for watching movies and making video calls. In tent mode, the touch screen is easily accessible, ideal for bringing your favourite apps and games to your fingertips. Tablet mode is slim and simple, ideal for use on the go, while the classic laptop mode makes it easy to be productive with the keyboard and trackpad. Transitions are smoother than ever thanks to a newly designed hinge that will hold your Spectre x360 in position and blends seamlessly into the spine of the laptop.
Powered by sixth-generation Intel® Core™ i7 Processor and 8GB of RAM, the Spectre x360 13 is ready to breeze through your computing needs, with enough power to take on more intensive tasks, such as photo and video editing as well as 3D gaming, and built-in security for absolute peace of mind. It also comes with a fast PCIe based 512GB Solid State Drive storage offering plenty of room for all the documents and media.
The Spectre x360 is brilliantly portable and packs a long battery life to boot. It weighs just 1.4kg and measures 1.6cm in height when closed, making it easy to slip into a bag and take with you. The aluminium unibody has been chiselled by computer numerical control- a process used by the aerospace industry- to ensure a durable, refined design. And it's ideal for use on long journeys or when you can't get to a plug socket too, thanks to a battery that will last for up to 12.5 hours.
Intel® Core™ i7-6500U 2.5GHz dual core (6th Gen) Turbo Boost up to 3.1GHz | 33.8 cm (13.3″) diagonal Quad-HD (2560 x 1440) touchscreen display | 8GB RAM memory | 512GB PCIe® SSD Storage | Audio by Bang & Olufsen; TrueVision Full-HD Webcam; Cortana optimised Microphone | Windows 10 Home 64 | up to 12.5 hours of battery life
Height:

1.59 cm

x Width: 32.5 cm x Depth: 21.8 cm. Weight: from

1.45kg

15. Apple MacBook Air – 13.3-inch LED (1440 x 900) –

TAPERED
At the point of writing, the MacBook Air is the most affordable MacBook one can buy. Apple has quietly retired the MacBook Air 11 leaving only the MacBook Air 13. This is not entirely a bad thing as there must be a decline in demand for the smaller MacBook Air. Being a MacBook Aif fan myself and a proud owner of the MacBook Air 13, I can see how this will be popular for those who do not want to spend big bucks on the new MacBook 12 or new MacBook Pro 2016 only to spend more on adapters given its lack of ports. It is also the longest lasting laptop outlasting the MacBook 12 and MacBook Pro 2016 by 2 hours per charge, 12 hours in total.
So we know we get 2 extra hours and a handful of ports, but what are we missing. What you do not get on the MacBook Air is the retina display and the Force Touch trackpad. Both MacBook 12 and MacBook Pro (13-inch or 15-inch) have Retina displays and Force Touch trackpad. And, the new MacBook Pro does come with faster processors and weighs just slightly more 20 grams more to be exact when comparing the 13-inch devices.
But whatever the task, fifth-generation Intel Core i5 and i7 processors with Intel HD Graphics 6000 are up to it. The lack of a Retina display meant the processor and graphics are not caught up redrawing those mega pixels as it only has to worry about 1440 x 900, the screens native resolution, a saving on processor cycles. From editing photos to browsing the web, everything happens ultra-fast with onboard flash storage and plenty of memory at 8GB upgraded from 4GB. The starting storage does take a hit at 128GB or 256GB and configurable to 512GB while MacBook and MacBook Pro starts from 256GB. Another positive with the MacBook is it still uses the MagSafe 2 Power adapter and power port which is more convenient to attach and safer if someone were to trip on the cable as the port just snaps off the laptop rather than taking everything with it.
1.6GHz dual-core Intel Core i5 processor Turbo Boost up to 2.7GHz with Intel HD Graphics 6000 (configurable to 2.2GHz dual-core Intel Core i7 (TB up to 3.2GHz) | 8GB memory | 128GB or 256GB PCIe-based flash memory (configurable to 512GB) | Thunderbolt 2 port (up to 20GBps) digital video output with Native Mini DisplayPort output, 2 x  USB 3.0 and SDXC card reader | Dual mic, Stereo speaker and headphone combo
Height:

0.3–1.7 cm

(0.11–0.68 inches) x Width: 32.5 cm (12.8 inches) x Depth: 22.7 cm (8.94 inches). Weight:

1.35kg

(2.96 pounds)
As a tablet: Height:

0.76 cm

x Width: 31.24 cm × Depth: 22.02 cm (12.3 by 8.67 by 0.3 inches) As a laptop: Height:

2.3 cm

x Width: 31.2 cm × Depth: 23.2 cm (12.3 by 9.14 by 0.9 inches)
Weight: As a tablet: 1.6 pounds (

0.73 kg

) As a laptop: 3.34 pounds (

1.51 kg

) As a laptop with Performance Base: 3.68 pounds (

1.67 kg

)
ALSO SEE: HP Envy 13 – 13.3-inch Full HD
Height:

1.3cm

x Width: 32.6 cm x Depth: 22.6cm Weight:

1.3kg