Aiming squarely at the Macs, Microsoft's Surface Studio is not a new PC format. There are at least a dozen of different touch enabled all-in-on PCs out there. And while these may be missing those optional accessories like Surface Pen and Surface Dial, I am sure it won't be long before third party manufacturers come up with equivalent. At the end of the day, these all-in-one PCs, Microsoft Surface Studio included run on the same Windows 10 operating system. To the average user looking for touch experience on a big screen, you can't really go wrong with what is already in the market.
CAVEAT: At the point of writing, there are no equivalent desktop from competitors with stylus input but almost of of them support Touch interface. We look mainly at big all-in-one PCs with specifications that come close to the Surface Studio minus the hefty price tag. If you are set on stylus input, you do not really have a choice but to go with Microsoft Surface Studio.
Microsoft Surface Studio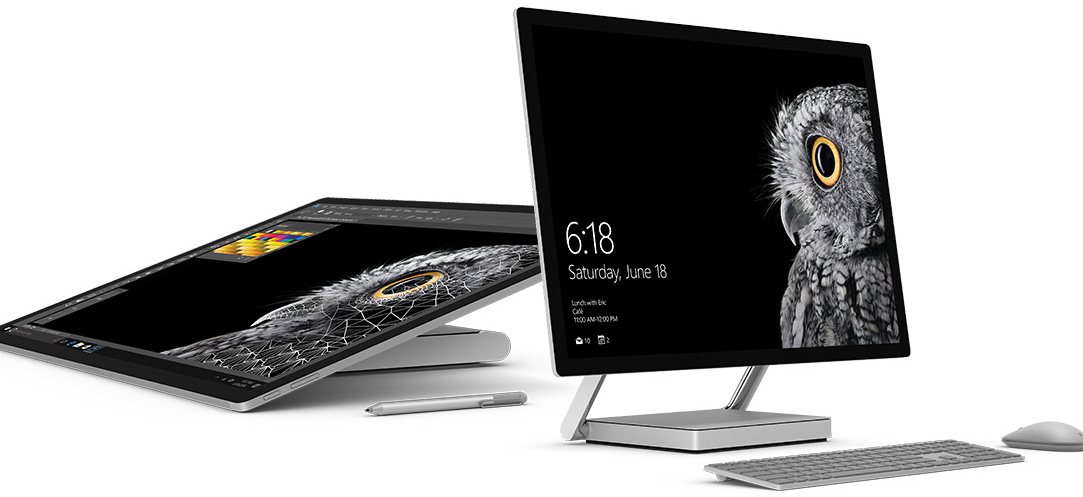 Before we start looking at the alternatives, here is what we know of the Microsoft Surface Studio. The Microsoft Surface Studio is a powerful workstation in an all-in-one profile with a collapsible zero gravity hinge that lets you lower the display turning it into a digital worktop. Using accessories such as the Surface Pen and Surface Dial, users can work directly on the screen like a drafting table. The specification on these machines are pretty high however, that is not to say that the pages
28-inch Pixel Sense Display with higher than 4K resolution (4500 x 3000 pixels) 3:2 aspect ratio 10 point multi touch screen.
Intel Core i5 or i7 processor
Dedicated graphics from NVIDIA GeForce GPU with up to 4GB memory
Up to 32GB of RAM memory
1TB or 2TB SSD storage
Other Notable Features: Zero Gravity Hinge, Sketch and Draw naturally with Surface Pen, Surface Dial for quick and intuitive access to settings.

There are software already developed to take advantage of the Surface Dial and/or Surface Pen. These include Sketchable, Mental Canvas, Drawboard PDF, Bluebeam Revu, Moho 12, StaffPad and more. Watch a quick introduction of the Surface Studio below.
<iframe width="560″ height="315″ src="https://www.youtube.com/embed/BzMLA8YIgG0?rel=0&amp;controls=0&amp;showinfo=0″ frameborder="0″ allowfullscreen></iframe>
Top 5 Microsoft Surface Studio Alternatives
Here are some of the best All-in-One Desktop PCs already out there in the market with touch enabled displays. They cost no where near the Surface Studio and still pack all the goodies you would find on a high-end machine. For up to date prices from Amazon, click on the links in our line-up below:
OTHERS
Now for a closer look at each of the All-in-Ones that made it to our list.
HP ENVY Curved 34 All-in-One Desktop PC –

 34-INCH CURVED NON-TOUCH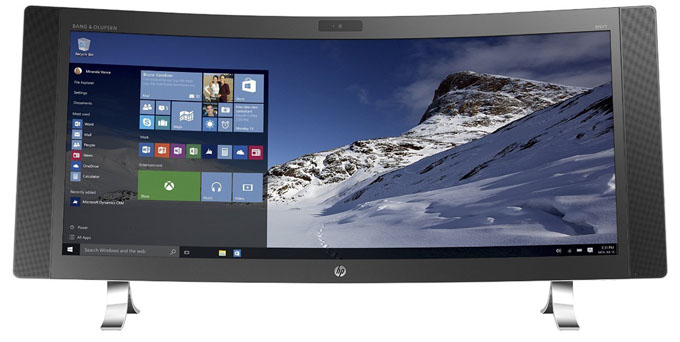 The ENVY Curved 34 does not only have a bigger 34-inch display but a curved one too. The display is Technicolor Colour Certified to pump out true-to-life colours. The only disadvantage is that it is not touch enabled. Other HP Envy all-in-one desktop models with flat displays are touch enabled. You can find the HP ENVY 27p featured below. Others include, HP Pavilion 27n, HP Pavilion 23q and HP 22. Still, the HP ENVY Curved 34 is packed with plenty of high end components making it a premium workstation with choice of Core i5 and i7 processors, 12-32GB of RAM memory, up to 2TB of SSD storage and plenty of connectivity and ports. That curved display with its powerful NVIDIA GeForce GTX 960A graphics with 2GB of dedicated display memory and Audio by Bang & Olufsen makes it great for games and entertainment.
Processor: 6th generation Intel Core Quad-Core i7-6700T processor 4GHz with Turbo Boost up to 4.2GHz
Integrated display: 34-inch curved diagonal widescreen ultra wide QHD LED backlit display (3440×1440), Technicolor Color Certified Display.
Memory (RAM): up to 32GB DDR4.
Storage: 1TB (7200RPM) SATA hard drive &  128GB M.2 SATA solid state drive or 2TB pure SSD Storage
Wireless: Wireless LAN 802.11a/b/g/n/ac (2×2) and Bluetooth 4.0 M.2 combo.
Video graphics: NVIDIA GeForce GTX 960A graphics with 2GB GDDR5 dedicated memory. Up to 8122MB Total Available Graphics Memory as allocated by Windows 10.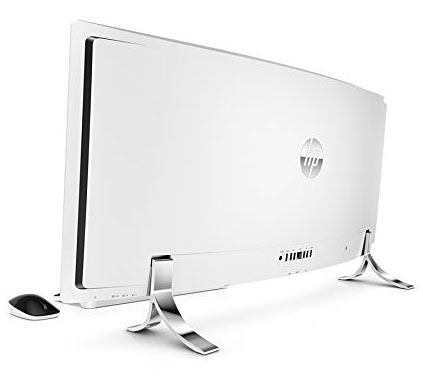 What we like: There is enough spatial resolution on the curved and mighty big screen at 3440 x 1440 to open to spreadsheets or browser or any app for that matter, side by side and without the need for dual display, great for increasing productivity and true multi-tasking.
Check Price on Amazon: HP ENVY Curved 34 All-in-One Desktop PC
---
Lenovo Ideacentre 910 All-in-One Desktop PC –

27-INCH TOUCH ENABLED (OPTIONAL)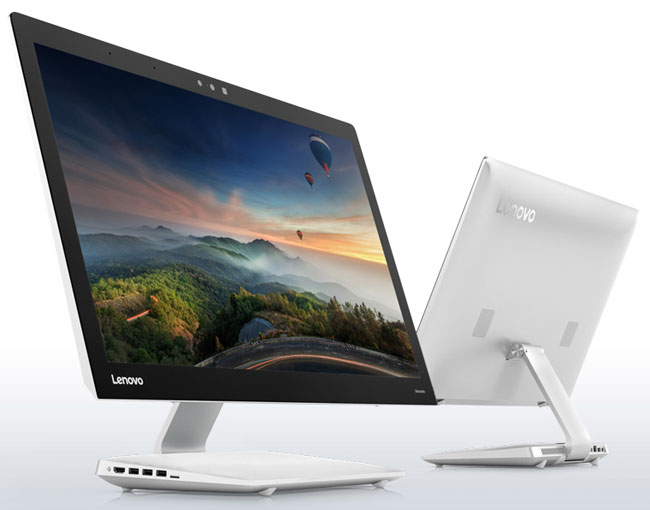 Available with a choice of Intel Core i5 or Core i7 processor with 8GB/16GB RAM of Memory and 1TB of hard disk storage or a hybrid of 1TB hard drive and 128GB SSD storage, the Lenovo Ideacenter 910 is a mid range All-in-One Desktop PC with a display just 1-inch smaller than the Surface Studio at 27-inch. The display features Full HD or Ultra HD 4K resolution depending on model. The 10-point multitouch screen is optional so make sure you purchase the right model if you are after a touch enabled desktop. Like the Surface Studio it has a unique adjustable dual-hinge moving the display from -5 to 90 degrees not only lets you have that perfect working angle but for screen sharing as well. It is equipped with an Intel RealSense 3D camera that can capture hand gestures and facial expression with the right software. It has a dedicated NVIDIA GTX 940M graphics great for gaming, multimedia and video editing. The rear firing Harman/Kardon stereo speakers together with a Dolby Home Theatre certified subwoofer makes it a great entertainment desktop. Finally, the AIO has plenty of connectivity options and ports and you can even make the display work independently of the built-in computer, making use of its display via the HDMI port.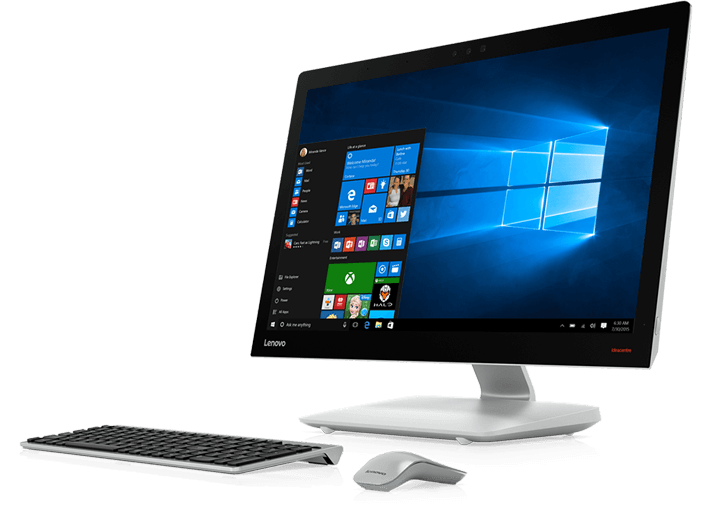 Processor: Intel Core i5-6400T Processor (2.20GHz 2133MHz 6MB) or Intel Core i7-6700T Processor (2.8GHz 2133MHz 8MB)
Display: 27-inch All In One with Multi-touch function 3840X2160. Standalone monitor function via HDMI port.
System: Graphics NVIDIA GeForce GTX950M 2GB
Memory: up to 16.0GB PC4-17000 DDR4 2133 MHz
Storage: Hard drive 128GB SSD + 1TB 5400rpm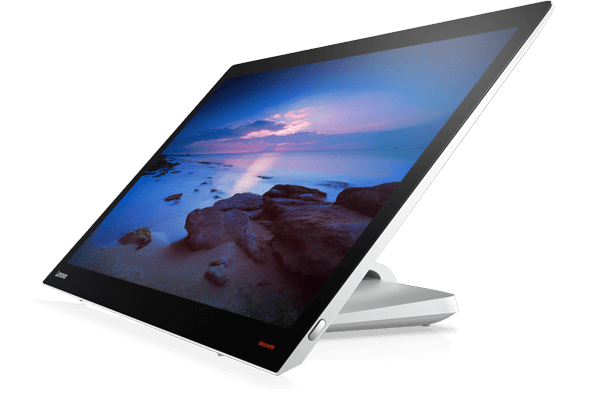 What we like: A very capable and well thought out machine that brings a lot to the table including the ability to adjust the tilt and use the screen independently. It has everything from 4K resolution to Intel RealSense 3D to NVIDIA GTX graphics and Harman/Kardon as well as Dolby Home Theatre sound, what is not to like.
Check Price on Amazon: Lenovo Ideacentre 910 All-in-One Desktop PC
---
ASUS Zen Z240 All-in-One Desktop PC –

23.8-INCH TOUCH ENABLED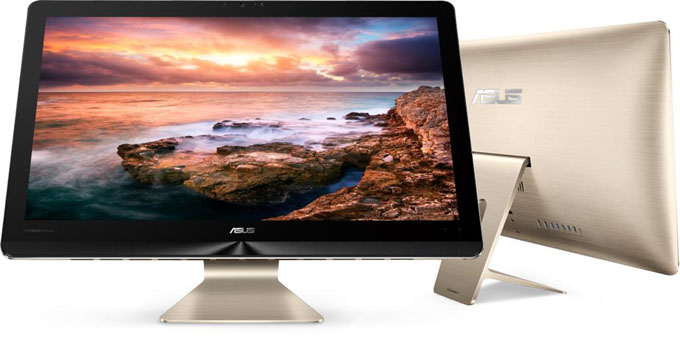 Also available with a choice of Core i5 and Core i7 processors, the Asus Zen Z240 AIO Pro Desktop is a premium desktop in precision crafted solid aluminium body with a brushed, slightly gold finish. The Zen-inspired spun-metal detailing seen on ZenBooks are also on the AIO apart from the sparkling diamond-cut edges. It has a seamlessly-integrated one piece stand that is both strong and stable. There is no base to speak of, like the Mac, the ports and button are found on the back of the display. Talking about the display, the 23.8-inch display packs up to a glorious 4K/UHD (3840 x 2160) IPS with 10-point multi-touch. A lower resolution Full HD display 1920 x 1080 is available on some mode. The AIO also features Intel RealSense 3D camera and dual array microphone for facial and sound recognition especially Windows Hello facial recognition login. Like most high end AIO, it comes with a dedicated NVIDIA GeForce GTX960M with 2GB of dedicated memory.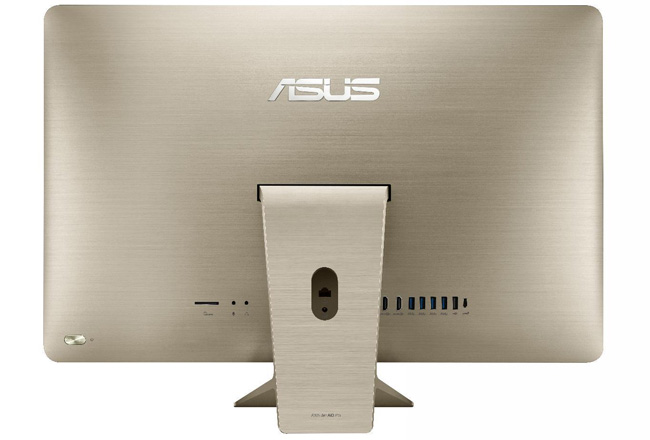 Processor:Intel® Core™ i7 6700T Quad-Core Processor (Core i5 also available)
Display: 23.8″(60.5cm), 16:9, Wide Screen, Ultra HD 3840×2160 or Full HD 1920×1080, LED-backlight, IPS, 178° wide viewing angle
Graphics: NVIDIA® GeForce GTX960M 2GB/4GB
Memory: up to 16GB DDR4 at 2133MHz
Storage: up to 2TB Hard Drive or Up to 1TB Hard Drive and SSD 128GB
What we like: Another premium AIO with plenty of nice touches design wise with performance to match. It also carries the Intel RealSense 3D camera setup, 4K display option and dedicated display perfect as a gaming machine and for when you do not have the room for a big 27-inch screen.
Check Price on Amazon: ASUS Zen Z240 All-in-One Desktop PC
---
HP ENVY All-in-One 27 Desktop PC –

27-INCH TOUCH ENABLED
The HP ENVY All-in-One is another premium device with plenty of nice touches and design meant to make a statement with its superior finished dual metal stands. The touch enabled display tilts 5 degrees forward and up to 35 degrees back and is Technicolor Color Certified, for true-to-life color. It does not go as far back is the Surface Studio but you would need a large desk space to accommodate that anyway. Still, the 27-inch display is nearly as big as the Surface Studio and packs 4K Ultra HD resolution of 3840 x 2160 is plenty be it as a workstation, for gaming just entertaiment. Audio is provided by Bang & Olufsen pumping through 4 front facing speakers. While it does not have Intel RealSense cameras, only a 750p HD low light web cam, it comes with dual array microphone.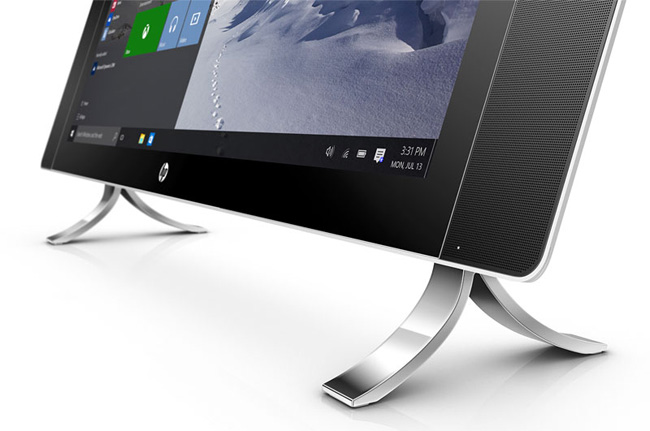 Processor: Intel® Core™ i7-6700T (2.8 GHz, up to 3.6 GHz, 8 MB cache, 4 cores) processor with Intel® HD Graphics 530
Display: 68.6 cm (27″) diagonal 4K Ultra-HD WLED backlit touch screen (3840 x 2160) display
Graphics: AMD Radeon™ R9 A375 (4 GB DDR3 dedicated) or NVIDIA GeForce GTX 950
Memory & Storage: up to 16GB RAM with up to 128GB SSD and 2TB storage
What we like: Here is the HP ENVY with touch enabled albeit flat and slightly smaller display at 27-inch. Still, it spots a 4K resolution and together with either an AMD Radeon or NVIDIA GeForce graphics and the processing prowess of the Core i7 makes it a high-end workstation. While it may lack Intel RealSense 3D camera setup it makes up for it with four front facing speakers with audio by Bang & Olufsen and those shiney stands.
Check Price on Amazon: HP ENVY All-in-One 27 Desktop PC
---
Acer Aspire Z3 AIO Desktop PC –

23.8-INCH TOUCH ENABLED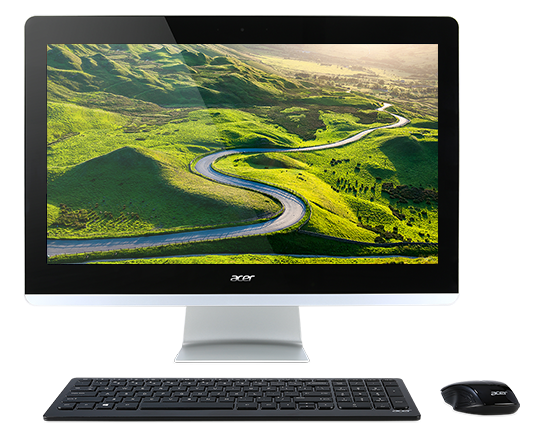 Powered by quad-core Intel Core i7 processor, Core i7-6700T clocking in at 2.8GHz coupled with up to 16GB of memory and up to 2TB of hard drive, this is no slow beast. The only down side to the Acer is 23.8-inch display which is only available in Full HD 1920 x 1080 resolution. If you do not need to cramp too many windows side by side, then this is definitely one for you. Otherwise, consider one of the 4K Ultra HD displays above. You may find that some variants come with dedicated NVIDIA 940M graphics, others just the standard Intel HD Graphics 530 with Shared Memory. If you just need a standard All-in-One PC with touch enabled display, the Acer Aspire Z3 is also available with cheaper Core i3 or i5 processors, 8GB memory and 1TB hard drive. Finally, it also comes with a built-in DVD-Writer drive which are missing from most AIO these days.
Processor: Intel Core i7-6700T Quad Core 2.8GHz processor
Display: 23.8-inch Full HD 1920 x 1080 resolution LED Active Matrix TFT Colour LCD
Graphics: Intel HD Graphics 530 with Shared Memory or NVIDIA 940M
Memory & Storage: 16GB DDR4 SDRAM memory, 2TB Hard Drive
What we like: The lack of 4K Ultra HD resolution display may be a no-go for some but it does bring the cost down, especially when the display only measures 23.8-inch. Still it is jam packed with powerful and useful components including a DVD-writer, not something you find on AIO Pcs these days.
Check Price on Amazon: Acer Aspire Z3 AIO Desktop PC
---
OTHER:
Check Price on Amazon: