Standard portable wireless speaker may not cut it anymore. As we move around and share our tunes with others, the sound box needs to be capable of pumping 360° omni-directional sound. We look at 10 of the best omni-directional speakers with sound to fill any room and to take with you wherever you go.

Wireless portable speaker makers have been innovating like mad the past few years. The result, super lightweight and portable wireless speakers with ultra long battery life that project sound in all directions so it does not matter where you place it. Still, the best place to put any of these speakers, given that it is wireless, is in the middle of the room.
What To Look For When Considering a Wireless Portable Speaker
We love our music, so much so that we want to take it with us wherever we go to share it with others. And if you like sharing, these speakers do it best. So here are some aspects of a portable wireless speaker you should look out for:
Durability – If you are always out and about, get a shockproof and waterproof speaker to make sure that it is ready for the outdoor and is weather resistant. If the intention is to have a portable speaker that you can move around indoors say from the bedroom to the home office to the kitchen then this may not be a key factor. To help you decide, both standard and waterproof or weather resistant models are clearly marked in our list below.
Connectivity – Bluetooth, NFC and WiFi versatility. Most standard wireless portable speakers use Bluetooth to connect to your mobile device. There are now portable speakers that support streaming over WiFi. These speakers can stream directly from the Internet negating the need for a mobile device much like high-end multi-rooms speakers (see next point). Some speakers support multi-host for playing songs from two  to three Bluetooth source devices so they can take turns swapping tracks. For ease of pairing with mobile devices, some speakers support NFC (Near Field Communication) letting you connect your speakers to your compatible smartphone quickly.
Multi-room and Multi-speakers: if you have more than one speaker (of the same make) in the vicinity why not play your tunes two or more to push up the volume, great for real stereo, parties and multi-room setup. Most Bluetooth speakers lets you pair up speakers for that stereo effect. Some goes as far as to call it multi-room. Using the app, you can create different groups or spaces so you can have the speakers in different rooms playing the same tune.
Battery Life – You want your speakers to last at least the day when you are out before needing to find a wall socket. Speakers in our lasts from 8 hours per charge, plenty of time to enjoy your tunes. The best playtime we have seen lasts up to 24 hours on a single charge. Most speakers also lets you charge your device such as smartphone or tablet, should you need to keep the groove going.
Size – It is always a toss up when considering speakers by size. Bigger speakers naturally means bigger sound and higher volume. It also offers deeper base with use of bass radiators and bigger drivers. Still, the smaller speakers in our line-up are more than capable of producing quality sound with a small compromise.
Form Factor – Most speakers are water bottle or cylindrical form factor making the 360° sound projection possible. Still there are other clever omni-directional speakers with revolutionary tri-projection design or the more conventional ice box profile. It really comes down to personal choice.
Top 10 Best 360 Degrees Portable Wireless Speakers
Let's take a closer look: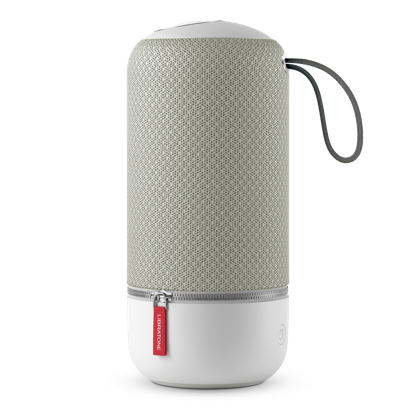 The ZIPP mini from Libratone is the smaller version of the popular ZIPP. Keeping all the functionality and features of its bigger sibling, the ZIPP mini boast dual connectivity, WiFi and Bluetooth, instead of just the standard Bluetooth. This allows it to support AirPlay, DLNA, Direct Internet Radio streaming (with programmable favourites) and Spotify Connect for those with premium service over the cloud.
Use it with the app, you can label multiple ZIPP speakers big or small and turn them into a multi-room sound system with features such as grouping, stereo and preset sound equalizer. It also features a touch panel for easy access to Internet radio stations, volume control, skip or go to previous track and hush gesture detection. The later involves putting your palm over the control panel to lower the volume or enter hush mode. Taking your hand away returns the volume to previous level.
FEATURES: Deep bass, full midrange, crisp highs, 60-watts of power, and 360° FullRoom acoustics| Pair up to 6 ZIPPS to experience immersive sound in one room or multiple rooms or outdoor | WiFi and Bluetooth Connectivity supports Spotify Connect and Internet Radio direct streaming without device. AirPlay (iOS) and DLNA (Android) | 10+ hour rechargeable battery | convenient carrying handle | intuitive touch-control interface | speakerphone. Dimensions and Weight: 22.4 cm / 8.8" (H)  x 10.0 cm / 3.9" (W). 1.1 kg / 2.4 lbs
AUDIO: 360 degree reflector, 3" Neodynium Woofer, 1" Soft Dome Neodynium Tweeter, 2 × 3.5" Low Frequency radiators
If you like the sound of all this; Bluetooth and WiFi, Interent Radio presets, Multi-room and Spotify Connect for direct streaming and prefers a small portable speaker than ZIPP mini is for you, otherwise check out the bigger Libratone ZIPP. A premium version is also available, the ZIPP mini copenhagen.
---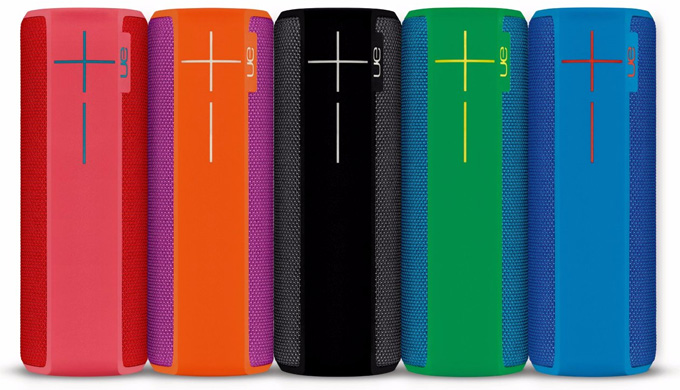 Following from the popular Ultimate Ears UE BOOM, the second generation UE BOOM 2 keeps to the same ultra portable water bottle shape profile, easy interface to power on, pair, play and skip as well as increase or decrease volume on the durable rubber spine and most importantly that good quality sound and deep bass. The speaker is waterproof and shock proof with IPX-7 rating (waterproof up to 30 minutes and a depth of one meter). The speaker can receive firmware updates over the air and supports Siri + Google Now voice integration although you may need to update the software to enable this.
FEATURES: Bluetooth (range 100 ft) pair up to 8 source device| 3.5 mm audio output | Block Party – take turns playing music from up to 3 Bluetooth Devices | Stream to 2 UE speakers at the same time from one source for stereo effect or louder volume | Water and stain resistant acoustic skin | 15 hours per charge | iOS and Android App | Speaker phone | Dimensions: 180mm (H) x 67mm (D) | Weight: 548 grams – LIGHTEST
AUDIO: Maximum Sound Level: 90dBA. Frequency Range: 90Hz – 20kHz. Drivers: Two 45 mm (1 ¾ inch) active drivers and two 45 mm x 80 mm (1 ¾ x 3 inch) passive radiators.
---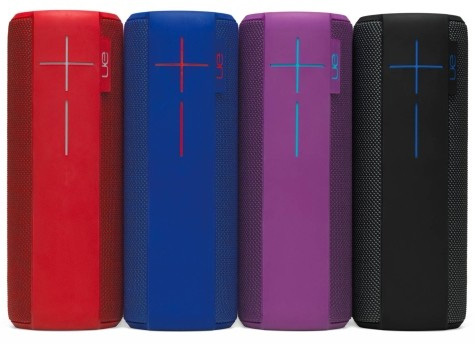 Bigger version of the UE BOOM 2, the UE MEGABOOM is 46mm taller and 16mm wider in diameter. It also weighs 329 grams more. Both speakers when put side by side, makes the UE BOOM 2 looks 3 quarter the size of the full MEGABOOM. Being bigger means louder volume and deeper bass. It also means the playtime is longer at 20 hours per charge with a charging time of 2.5 hours.
It also features the same easy interface to power on, pair, play and skip as well as increase or decrease volume on the durable rubber spine and most importantly that good quality sound and deep bass. The speaker is waterproof and shock proof with IPX-7 rating (waterproof up to 30 minutes and a depth of one meter). Over the air updates brings features like Siri and Google Now voice control. Cool features include Tap Control for play, pause and skip and Block Party for music DJ-ing with up to three devices. App lets you control Alarm, Top Control, Remote On/Off and more.
FEATURES: Bluetooth, 3.5mm audio socket | Pair up to 8 Bluetooth® enabled source devices – Connect up to two source devices at the same time | Wirelessly play (stream) to 2 UE MEGABOOMs from one source | Range up to 30m (100 ft) | NFC (passive) enabled | 20 hours per charge | Apple iOS and Google Android Apps | speaker phone | Dimensions:Diameter: 8.3cm (3.3"). Height: 22.6 cm (8.9"). Weight: 877 g
AUDIO: Maximum Sound Level: 90dBA. Frequency Range: 65Hz – 20kHz. Drivers: Two 2" drivers and two 2" x 4" Passive Radiators.
---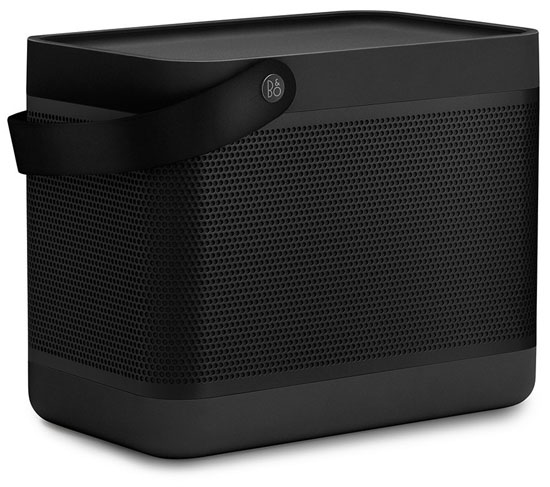 The biggest and heaviest speaker in our line-up, the Beolit 15 from Bang and Olufsen takes on a cooler box profile. We say the biggest but when faced with the real thing, it is not all that big. Think of a small cooler box measuring 23 cm wide, 13.5cm deep and 18.9 cm tall. It weights 2.7kg and is made from strong aluminium grid and hard plastic. There is a full grain leather strap perfectly positioned to stop the speaker from wobbling when carried around. But the biggest features from the B&O are the 4 active drivers and 2 passive bass radiators hidden under the metal grid firing True360 omnidirectional sound to fill even a large room with 240watt of peak power. It also has an ultra long 24hours battery life.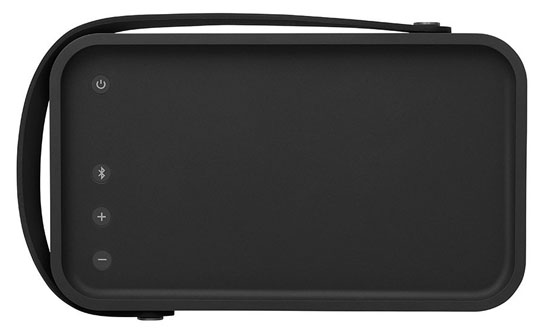 FEATURES: Bluetooth 4.0 (range 100 ft) | 3.5 mm audio output | 1 USB connection for charging (500mA) and 1 mini USB for service | Stereo pairing – wirelessly connect two Beolit 15 speakers for real stereo | Colours: Natural, Polar Blue, Shaded Rosa, Natural Champagne, Black | 24 hours per charge | Beoplay App iOS and Android App | Speaker phone | Dimensions 230mm (W) x 135mm (D) x 189mm (T) | Weight: 2.7kg – HEAVIEST
AUDIO: 240Watt Peak Power from 2 x 35 watts Class D for bass and treble (2 x 120 watts peak power) · 1 x 5.5" long-stroke Full- Range Driver · 2 x 4" Passive Bass Radiators · 3 x 1,5" Mid-Tweeters.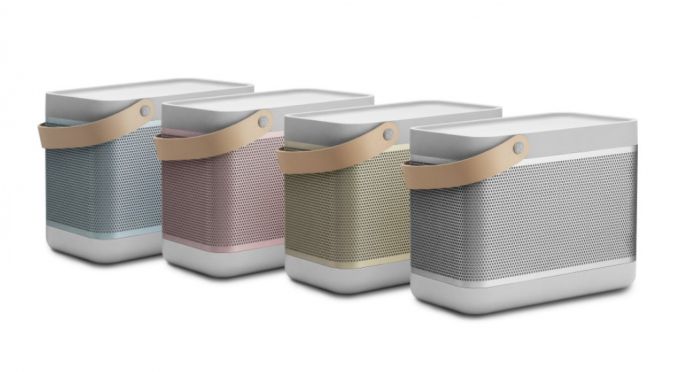 Not the smallest or the easiest to lug around but the speakers can really pump out loud and clean music. The leather strap like that on Libratone ZIPP is a nice touch. If you want premium quality sound and the look to match, you can't go wrong with Bang and Olufsen.
---
The bigger version of the Libratone ZIPP mini, the Libratone ZIPP shown above next to the mini to give you a sense of size, packs a bigger sound, and bigger leather strap. Now in its second generation, it has improved in features and functionality and still offers the full, clear sound that fills every moment with music. The biggest feature that the ZIPP and ZIPP mini has that no other portable speakers in our line-up has is the multi-room function.
You can link your ZIPPs big or small over WiFi using SoundSpace LINK, a function on the app or tap on the button on the speakers to link multiple speakers. Using the WiFi connection and the App, you can also assign up to 5 different Internet radio stations for instant access from the control panel so no need for a connected device.
And, if you have a premium Spotify account, use Spotify connect on your device as a remote control and stream songs straight to the speaker over WiFi, no need for an AirPlay or Bluetooth connected mobile.
Zipp and Zipp Mini create huge sound for such small packages. Passive radiators, patented sound baffles, custom DSP software… it's all clever stuff. Translated for normal people, it all means that anything you play will sound incredible.
A premium version made from the best materials is also available in the form of Libratone ZIPP Copenhagen. You can find a full review of the Libratone ZIPP here (on out sister site).
FEATURES: Bluetooth and WiFi | Multi-room | Direct Streaming over WiFi | 5 Online Radio Preset | Spotify Connect™ | Create SoundSpace to link Libratone ZIPPs or ZIPP Minis together for flexible Multi-room listenning | Touch Control Interface | Libratone App | 10-12 hours per charge | Dimensions and Weight: Height: 26.1cm / 10.3″, Width: 12.2cm / 4.8″, Weight: 1.5kg / 3.3 lbs – TALLEST
AUDIO: Full digital class D amplified adaptive DSP sound optimisation and speaker protection system. 100 Watt total power across 2 DSP enhanced amplifier channels. Drivers: 360 degree reflector, 4" Neodynium Woofer, 2 × 1" Soft Dome Neodynium Tweeter, 2 × 4" Low Frequency radiators
One of the tallest in bottle shaped speaker in our line-up, the Libratone ZIPP is not small, slightly bigger in diameter to a 2 Liter soft drink bottle. The carrying strap is a nice touch. While we have not yet worked out how to remove the cover, we were told that it is interchangeable. The multi-room feature is a nice touch with both Bluetooth and WiFi connectivity.
---
The third weather resistant speaker in our line-up, the TDK Life on Record A28 Trek Flex is a portable and rugged wireless Bluetooth speaker that can take on the harshest conditions from the elements. It delivers 360 degrees of room-filling TDK Life on Record Signature Sound.
This speaker is made to move with a weatherized design and built-in shock resistance so it can take a tumble and keep playing your tunes. The TREK Flex surrounds listeners with 360 degrees of powerful audio with enhanced bass, whether you position it horizontally or vertically.
NFC makes connecting the speaker to your smartphone quick and simple, and changing tracks is as easy as the touch of a button, letting you keep your smartphone tucked safely away. Stylish and sturdy, the TREK Flex will provide the soundtrack to all your adventures, no matter what the forecast.
FEATURES: Bluetooth | MaxxBass technology for enhanced bass performance | Rugged and weatherized design | Shock resistant for rough handling | 8 hours per charge | NFC for easy pairing | speakerphone |  Dimensions & Weight: 23.2 x 12.1 x 12.2 cm ; 862 grams
---
Available in gloss black (NP7860B) or white (NP7860W),  cylindrical omni directional speaker shapes like a flask with its water bottle profile and super glossy finish and stylish metallic trims.
LG MUSICflow Sound360 uses an innovative speaker design that emits sound from all angles. Even distribution of the sonic spectrum produces an authentic sound that envelopes you wherever you are in the room.
It also features a multi source function that lets you connect up to 3 devices simultaneously to the Bluetooth™ speaker. Pair up and play out your favourite tunes, tracks and more as you stay in control of the mix using LG MUSICFlow BT app available for iOS and Android.
You can also pair up with another with another speaker for louder volume or use it as a surround sound when paired with certain LG TVs. On a full charge, it lasts for up to 20 hours and takes 5 hours to recharge via microUSB port with supplied cable but no power supply.
The controls pops up when switched on, actually more like ejects up which is a pretty near feature. The interface is clear labelled and easy to use. There is the standard play/pause, volume up and down, repeat and next as well as EQ button that takes you through 3 preset sound modes, Bluetooth indicator and control light button.
FEATURES: Innovative 360 Degree Design | Lightweight and Portable | Bluetooth™ Speaker | 20 hours per charge | 3 Simultaneous Connection | Pair and Play syncing 2 speakers together | TV Sound Sync | Android and iOS app | NFC pairing | Dimensions and Weight: 67 (W) x 204 (H) x 67mm (D)
AUDIO: 1.1 Channel, Built-in Woofer with Dual Passive Radiator
---
The Orbitsound PORTABLE SPACED360 features the company's airSOUND technology. Invented by Ted Fletcher in 2005, airSOUND is a patented audio innovation that delivers high fidelity sound throughout a listening space from a single speaker enclosure. The setup combines the use of three speakers as seen in the Spaced360 instead of the standard stereo pair to give listeners good balanced and stereo image wherever they may be in the room.
The Orbitsound PORTABLE SPACED360 had 3-dimensionally formed grilles of metal and coated for a tough and durable finish. The loudspeakers are surrounded by tough rubber. The passive radiators lie on the sides underneath the tough grilled on the exterior.
Controls include volume, mute and centre key. The Spaced360 comes with a neat base charger, simply seat the speaker on top of it to charge and lift to go, no need to fiddle with connectors. The speaker lasts up to 14 hours of play time per charge and takes only 2 hours to charge up again. There is an active NFC (Near Field Communication) for ease of connectivity with a compatible NFC enabled device.
FEATURES: Bluetooth with aptX for HD wireless music | Active NFC for on-touch connection. | Aux connection 3.5mm | 14 hours playtime, 2 hours charging time  | Active NFC | Dimensions and Weight: Max width: 22cm, Max depth: 19cm, Height: 8.8cm, 1.1kg.
AUDIO: 3 custom designed neodymium loudspeaker drivers, radially spaced | 3 passive radiators powered by 3 digital amplifier.
---
The JVC 360 Degree SP-AD95-A Portable Wireless Speaker is available in three colours, blue, black or red. It features Bluetooth connectivity and auxiliary input via 3.5mm socket. It also has NFC for one-touch pairing with NFC-equipped devices. This would be great in a social gathering where friends can share their new songs with you simply by tapping their NFC enabled smarpthone on the speaker.
The speaker also supports pairing with another JVC 360 speaker for synchronous streaming from one source. This forms a stereo pair or for extra volume. The added extra is that the speaker is water resistant so you can take it with you to the beach, by the pool or on picnics in the park. It can withstand splashes and rain with IPX6 rating.
Controls are available for Bluetooth pairing, Volume up, Handsfree, Volume down, True wireless (TWS) and Power.
FEATURES: Wireless music streaming with Bluetooth and NFC for one-touch paring | aux-in with 3.5mm jack provided | Pair two speakers for big stereo sound | Water resistant design for listening anywhere  | up to 12 hours battery life | Speakerphone | Dimensions and Weight: 178 x 71 x 71 mm (H x W x D), 556 grams – SHORTEST
AUDIO: 16W from 2 full range drivers offering sound volume up to 75 ± 3 dB(A) fired by a digital amplifier.
---
On first glance, the speaker exudes charm and oozes style. It doubles as a ambiance lighting with built-in LED making it an interesting conversation piece. The LSX-70 creates a pleasant and calming atmosphere anywhere you put it. The cylindrical body measures 9.4cm in diameter and it is easy to handle with its textured synthetic leather finish. There is a choice of three richly textured colours.
Inside, there are two speakers located at the top and bottom of the unit. These speakers are designed to produce 360-degree non-directional sound. The sound is tuned based on the listening volume for perfectly balanced audio whether listening quietly on your own or with the music turned up.
The DTA Controller app lets you control basic and advanced functions for a richer experience. It also act as a remote control to turn the light on or off and to adjust the intensity across a range of ten brightness levels. You can also control the volume, set up smart timer to turn adio and lights on or off at different times, even on specific days of the week.
FEATURES: Bluetooth with aptX | 10m (38ft 10in) range | Aux input 3.5mm stereo mini jack | up to 8 hours (with light off) | 4 LED adjustable brightness | Dimensions and Weight: 94 x 241 x 94 mm; 3-3/4" x 9-1/2" x 3-3/4" 0.95kg / 2.1Ibs | Available in Black and White.
AUDIO: Audio 5.5cm full range x 1, 4cm full range x 1