There are many reasons why one would choose an 8-inch over a 7-inch tablet. the whole 1-inch does make a big difference. So, if you do not need a big tablet, and do not like to be limited by a small 7-inch display than perhaps 8-inch is your thing.
Those looking for an 8-inch devices would be glad to know that there are quite a few competent devices in the market. Most of these are priced very competitively that it makes you wonder why settle for a 7-inch when you can have a bigger 8-inch tablet for not much more.
Top 8 Best Budget 8-inch Tablets
Looking for bigger screen, the 8-inch offers both, a bigger screen and compact package. With its ultra narrow bezel and slim profile, some are no bigger than their 7-inch counterpart. Manufacturers seem to focus more on delivering ultra slim and lightweight 8-inch tablets, good news for consumers. This may be is your middle ground between a full size 10-inch tablet and a small 7-inch tablet.
1. Samsung Galaxy Tab A 8-inch Tablet 16GB
2. Amazon Fire HD 8-inch Tablet 16GB/32GB
3. Asus ZenPad Z380M 8-inch Tablet 16GB
ALSO: Asus ZenPad Z580C 8-inch Tablet 16/32/64GB
4. Linx 810 8-inch Tablet 32GB – WINDOWS
5. Lenovo Tab 2 A8 8-inch Tablet 16GB
ALSO: Lenovo IdeaTab A8-50 8-inch Tablet 16GB
6. Lenovo Yoga 3 8-inch Tablet 16GB – LONGEST BATTERY LIFE
7. LG G Pad II 8.0 V498 8-inch Tablet 16GB – FULL SIZE USB2.0, STYLUS
ALSO: Lenovo G Pad 8 V480 8-inch Tablet 16GB
8. CHUWI  Hi8 8-inch Tablet 32GB – DUAL BOOT
BONUS: Lenovo Tab 3 8-inch Tablet 16GB
Let's take a closer look at each of these tablets.
---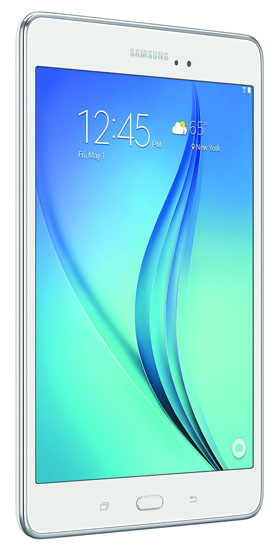 8-inch Display with 1024 x 768 XGA resolution | Samsung Quad Core Processor, 1.2 GHz Qualcomm APQ 8016 | 1.5GB RAM Memory and 16 GB Flash Storage with microSD Card Slot (Up to 128GB) | 5.0MP main camera and 2.0MP front facing web cam | Up to 13 hours internet browsing time, 12 hours video playback or 114 hours music play time with 4200mAh Lithium Ion battery | 802.11 a/b/g/n; 2.4GHz+5GHz, HT40, Bluetooth 4.1, GPS, Glonass | Android 5.0 Lollipop | Dimensions & Weight: 8.2 x 5.4 x 0.3 inches, 11 ounces (208.3 x 137.9 x 7.4 mm, 313 grams) | Available in Smoky Titanium (shown above), Smoky Blue or White
Samsung Galaxy Tab A 8 is the thinnest and lightest in the line-up. The interface is simple, clean and intuitive. The device is slim and sleek with stylish chrome accent. The battery life is amazing and the pair of front and rear camera is a real bonus with sufficient performance. If you have a compatible Samsung smartphone, connect and share content between the devices with SideSync and QuickConnect. The tablet also supports MultiWindow for multitasking, Kids Mode for safe and secure interface, Microsoft Office, decent front and rear cameras and did we say it is ultra-thin. The other 8-inch tablet from Samsung is the high end Samsung Galaxy Tab S2 8.
---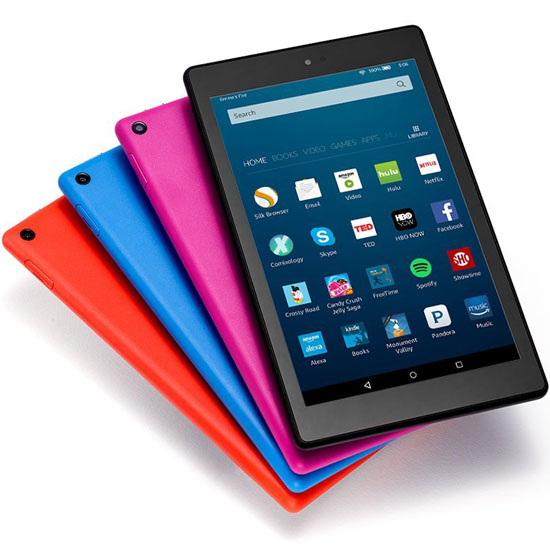 8.0-inch HD 1280 x 800 resolution IPS display with multi-touch (189ppi) and an advanced polarising filter, fully laminated HD display | Quad Core up to 1.3GHz processor | 1GB RAM and 16GB or 32GB Storage (expandable up to 200GB with microSD) | VGA Front and 2.0MP Rear Cameras | WIFI Dual Band 802.11 a/b/g/c/ac, BT, microUSB | 12 hours battery life | Dolby ATMOS Dual Stereo Speakers | Fire OS | Dimension 214 x 128 x 9.2 mm, 341 grams | Available in Black, Magenta, Blue or Tangerine
Designed to consume content, the Fire HD 8 had an upgrade with new quad-core processor, double the storage and Amazon claims the Fire HD 8 to be twice more durable than iPad mini 4. If you run out of on-board storage, there is the microSD slot that supports up to 200GB additional memory. The only complaint is the VGA front camera which is a little low on resolution by today's standard. But soon, you will also get the popular Alexa voice assistant like those found on Amazon Echo and Echo Dot – voice controlled Internet connected speaker and home smart hub.
---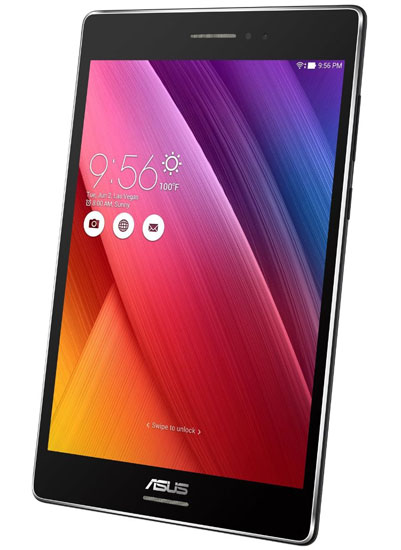 8-inch IPS Display with TruVivid Technology 1280 x 800 pixels IPS display LED backlit Multi-touch screen | MTK 8163 Quad-Core 1.3GHz processor 64-bit | 1GB/2GB RAM memory and 8GB/16GB storage with microSD card reader for up to 128GB SDXC | Android 6.0 (Marshmallow) | 802.11abgn, Bluetooth 4.0, Miracast | 2MP Front & 5MP Rear Camera with auto focus | 1 x Front Speaker with DTS HD Premium Sound, DTS headphone:X | 8 hours battery life 15.2Wh Li-Po Battery | Dimensions and Weight: 209  x 123  x 8.5 mm (LxWxH) 350 grams. | Available in Black, White, Aurora Metallic
The ZenPad Z380M has a fashion inspired design giving the tablet a luxurious and premium look. It runs on MediaTek 8163 Quad Core processor clocking at 1.3GHz. Other versions in the market run Intel Atom x3-C3200 (Z380C) and Qualcomm processors (Z380KL) depending on market. It has 2GB of RAM, 8-inch IPS display with ASUS TruVivid technology and front firing DTS HD Premium sound with ASUS Sonic Master. The ZenPad also has a big screen-to-body ratio at 76.5% and PixelMaster Camera software does a good job with HDR, low light, beautification and 140-degree selfie mode. Depending on usage, you can get up to 8 hours of battery life. A premium version is also available, the Asus ZenPad S 8.0.
ALSO: Asus ZenPad S 8.0 Z580C 8-inch Tablet 16/32GB – BIGGER STORAGE
---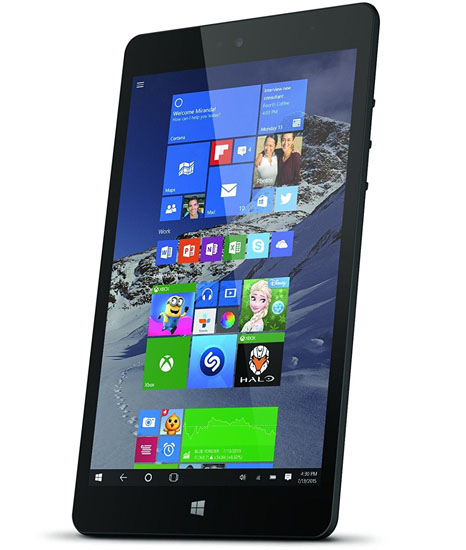 8-inch 1280 x 800 IPS TFT display | Intel Atom Z3735F Processor Quad-Core 1.33GHz (Turbo Boost to 1.83GHz) 2MB cache | 1GB RAM, 32GB Storage, MicroSD Card Slot supports up to 64GB | 2MP Rear and 2MP Front Cameras | 7 Hours 4000mAh Lithium-ion battery | 802.11bgn, Bluetooth 4.0, mini HDMI, micro USB | Dimensions and Weight: 215 × 125 × 8.9 mm (H x W x D), 721 grams
If you absolutely must have a Windows 10 tablet and an 8-inch one to boot, the Linx 810 delivers a great Windows 10 experience in a clean and simple design. For a tablet, it offers limitless creativity and productivity wherever you go. 1GB memory is a bit small by today's standard but you won't be pushing this too hard keeping in mind it is after all only a small tablet. It is also quite easy to see how, with a Bluetooth keyboard, mouse and HDMI cable, you can transform this into a fully working desktop, using the desktop/tablet mode switch on Windows 10. Just remember to go easy on it. Out of the box, it offers Office Mobile apps pre-installed and you can always find more apps in Windows Store.
---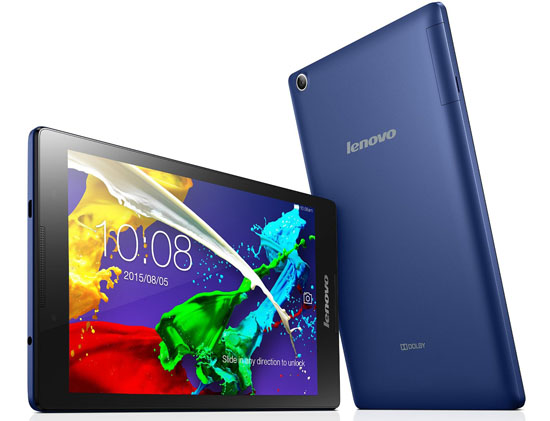 8-inch HD IPS display at 1280 x 800 resolution | Mediatek MTK 8121 1.3 GHz Quad-Core processor | 1GB DDR2L Memory and 16GB eMMC Storage expandable up to 32GB with microSD | 2MP front facing, 5MP rear facing cameras | Accelerometer, BT4.0, WiFi 802.11 bgn, GPS, A-GPS, integrated microphone, Micro USB, Micro SD and audio jack. 3G optional | 11 hours (4200 mAh), 20 days standby.
Here is a low cost 8-inch Android tablet that still packs all the bells and whistles a standard tablet has. The Lenovo A8 is based on MTK 8121 processor running at 1.3GHz with Quad-Core. Notable features include the 8-inch HD IPS display running at 1280 x 800 pixel resolution, integrated front and rear facing camera at 2MP and 5MP respectively which is a surprise bonus at this price and the dual stereo speakers with Dolby Digital Plus audio system. As you can see from the specifications, it is not very different from the Lenovo Tab 3 8-inch but with better battery life.
ALSO: Lenovo IdeaTab A8-50 8-inch Tablet 16GB
---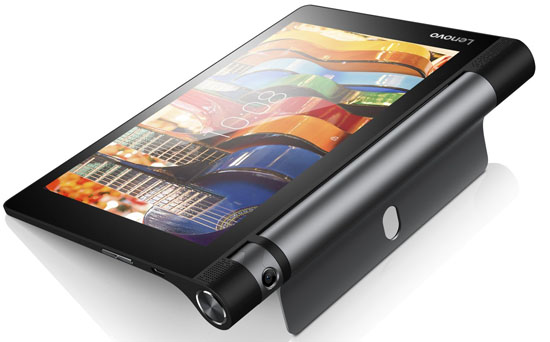 8-inch FHD IPS Screen 1280 x 800 | Qualcomm® Snapdragon™ APQ8009 1.3 GHz Quad-Core Processor | 1GB RAM memory and 16GB eMMC Storage | 8.0MP Front/Rear Rotating Camera | WLAN, BT, MicroSD slot (up to 64GB), MicroUSB | up to 20 hours Li-Ion | Dimensions: H14.6 x W21 x D 0.3cm, 466 grams
You either love it or hate it, I was referring to the rolled edge or bulge on the long side of the Lenovo Yoga 3. Still, it cannot be all that bad if they are making a third generation device. This time, the cylindrical housing keeps the high capacity battery, sound chamber for the stereo speakers, power button, rotatable camera and swivel out kick stand or hanger. The battery life has been improved to 20 hours instead of 18 hours per charge with its 2-cell Li-Ion with Quick Charge 2.0 that charges 75% faster. If you are not bothered about the bulk and would rather have ultra long battery life and 8MP optic goodness on a tablet, then the Yoga 3 is for you.
---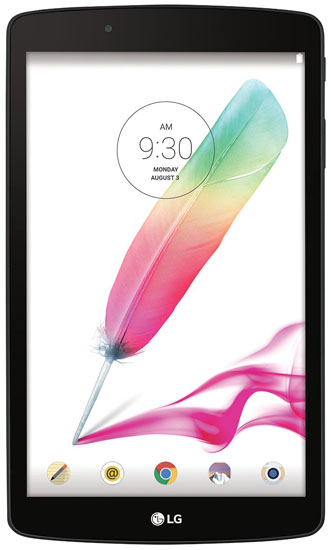 8-inch HD+ IPS 1280 x 800 Display | Qualcomm Snapdragon 1.2GHz Quad Core | 1GB RAM, 16GB storage (9GB usable memory) microSD support up to 128GB | 5MP rear and 3MP front facing cameras | 802.11 abgn, Bluetooth 4.0, Miracast, Media Server (DLNA), SmartShare Beam | Full Size USB | Built-in Stylus | Android 5.0 Lollipop | up to 10 hours video playback, 30 hours music playback, 420 hours standby with 4200mAh battery | Dimensions and Weight: 8.30″ (H) x 4.89″ (W) x 0.35″ (D), 12.31 oz
LG's primary focus is to make tablets that people actually want to use, with features that you will like. To start, the LG G Pad Generation 2 stands out in that it features a full size USB port and Stylus. No need for converter cable or added extra. You can use the USB port with a flash drive, keyboard, mouse or game pad. LG also features QPair sync, an app that lets you link up your Android smartphone to answer calls and reply to messages from the tablet. It gets call notifications (calls, messages, social network), QuickMemo+ for drawing and Internet via the phone. Other features include Dual Window for multitasking, Knock Code for security access, Knock On to wake or put the tablet to sleep, Clip Tray to copy multiple items and paste them in clipboard and QSlide Function overlaying up to two windows with adjustable sizing and transparency on the primary screen.
ALSO:  LG Pad 8 V480 8-inch Tablet 16GB
---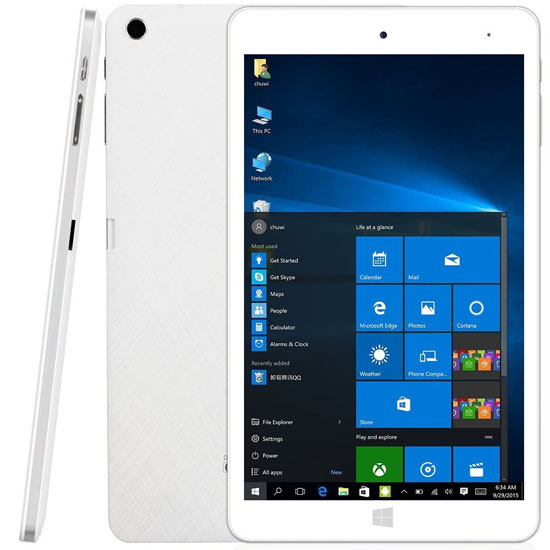 8-inch HD+ IPS display 1920 x 1200 | Intel X5 Atom Cherry Trail Z8300 1.44GHz Quad Core 64-bit (Turbo Boost up to 1.84GHz) | 2GB RAM and 32B eMMC Storage with microSD card slot supports up to 128GB | max 64GB microSD card | 2MP Front 2MP Rear Cameras | Windows 10 and Android 5.1 Dual OS | Type-C USB, Micro HDMI | 4000mAh battery | Dimensions & Size: 211.2 x 123.2 x 7.9 mm, 352 grams | Windows 10 + Android 5.1
Here is a dual personality tablet. It comes pre-loaded with both Windows 10 and Android 5.1 OS. Powered by Intel Cherry Trail Z8300 Quad Core processor clocking at 1.44GHz, 2GB of RAM memory and 32GB on board storage with option to expand this with up to 128GB microSD card, this is a techie's dream tablet. It also comes with a high resolution display at 1920 x 1200 which is unheard of in the budget segment. While things may look a little small, you can run the tablet in landscape desktop mode and use the new Edge Browser, Cortana, desktop apps and multiple desktops like you do on a laptop or desktop PC. The other plus is the inclusion of a Type-C USB port for faster charging and data speeds of up to 10GBps, again only available on high end smartphones or tablets.
---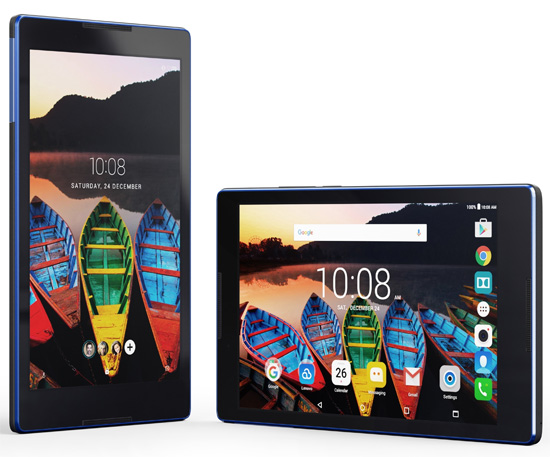 8-inch HD IPS 1280 x 800 LED backlit Multi-touch screen | MediaTek MT8161P 1.3GHz Quad-Core, 64-bit | 1GB RAM memory | 16GB Storage | microSD Expandable Memory: Up to 64GB | WiFi: 802.11 b/g/n | Bluetooth 4.0 | Camera, Rear: 5MP Auto-Focus; Front: 2MP Fixed-Focus | 9hrs battery life |  Android 6.0 | Dual Front-Facing Speakers with Dolby Atmos | Dimensions & Weight: 125 x 8.9 x 210 mm (4.92″ x 0.35″ x 8.26″), 329 grams