Power banks or portable battery chargers have become today's essential for all gadget toting users to keep them going through the day. We look at five of the favourite and best power banks in the market at 10,000mAh, that sweet spot that offers a balance between portability and sufficient charge.
Smartphones and tablets have so many features and applications such as connecting to mobile broadband, getting your directions with satellite navigation app, posting and getting your updates on social media network, producing your own award winning video clip and shooting that perfect photo, that soon you will be running low on battery.
All is not lost as these power banks are here to save the day. But why 10,000mAh? Here is a battery capacity that strikes a balance between portability and yet have enough charge to refuel your smartphones at least a couple or times over if not move. The thing with power banks is the bigger the capacity, the bulkier and heavier it would be. It will also take a long time to charge up again.
So our magic number, 10,000 hits the sweet spot, not overweight, it is actually lightweight and pocketable, not too big, does not runs down quickly and does not take forever to charge up again.
Top 5 Best 10,000mAh Portable Battery Chargers
Selling like hot cakes, here are five of the most reliable power banks we found in our research.
BONUS: XIAOMI 10000mah Power Bank Portable Battery Charger – METAL BODY
One of the smallest and lightest 10000mAh portable charger. Provides almost three-and-a-half iPhone 6s charges or three Galaxy S6 charges. The PowerCore 10000 is small and light, no bigger than a deck of cards, fits easily in the pocket or bag.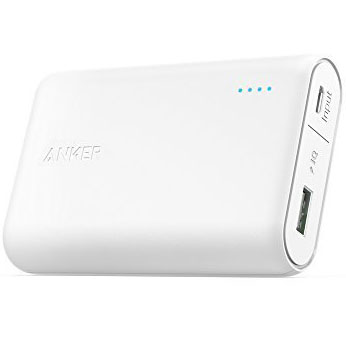 Features: PowerIQ and VoltageBoost combine to deliver the fastest possible charge for any device. Qualcomm Quick Charge not supported. MultiProtect safety system ensures complete protection for you and your devices.
Output Port(s): 1 USB port
Output Current: up to 2.4A for the fastest possible charge
Colour Options: Black or White
Dimensions & Weight: 3.62 inches, 2.36 inches, 0.87 inches (2.2cm), 6.4 ounces (181 grams) –

LIGHTEST
ALSO: Anker PowerCore 10,000mAh with Quick Charge 3.0 for Quick Charge compatible devices. See your smartphone or tablet for presence of Qualcomms Quick Charge capability.
---
Get 4 full empty-to-full charges for an iPhone 6/5S, 2.5 charges for a large capacity smart phone like Galaxy S6, and one charges for an iPad Mini. The Poweradd Pilot 2GS has a slim profile with a lightweight and durable body made from aluminium.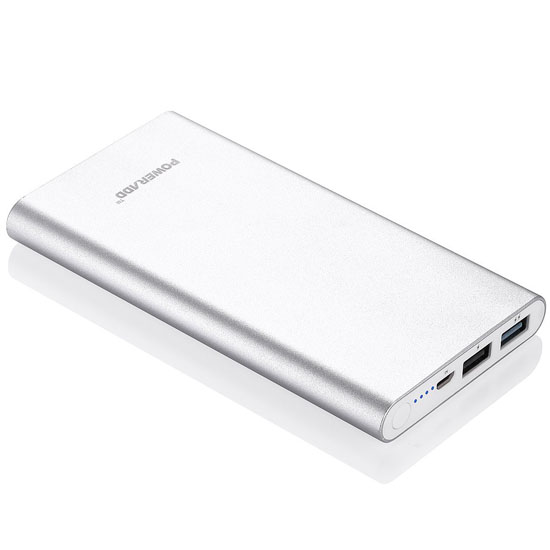 Features: Aluminum body with rolled edges, power button, battery level indicator (4 LED) and clearly marked output ports. Charge with included cable via microUSB port. Power adapter not included.
Output Port(s): 2 USB ports. Colour coded ports.
Output Current: Dual USB (1.0A + 2.1A) for charging 2 devices simultaneously. The 2.1A port is in blue.
Colour Options: Black, Gold, Rose Gold or Silver (shown above)
Dimensions & Weight: 5.43 inches x 2.91 inches x 0.54 inches (1.37cm), 8.8 ounces (249 grams) –

SLIMMEST
---
The iMuto has 10000mAh Capacity and yet compact in size. There is enough charge to quickly charge your iPhone 6 almost 4 times, iPad mini 1 times, Galaxy S6 almost 3 times, Galaxy Note 4 almost 2.4 times. It has a digital battery level indicator, the only one in our line-up with a Smart digital screen to show the remaining power in clear and precise digital format.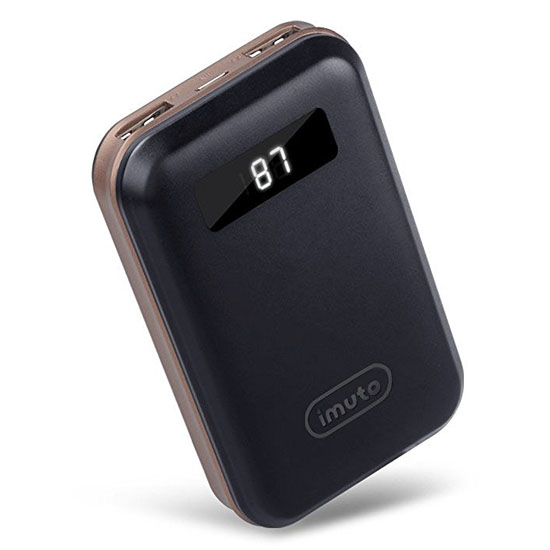 Features: 

Multiple Smart Protection System: keeps your devices safe from over-charging, over-voltage, over-current, and short circuit.

Input Port: micro USB 5V/2.1A for quick 'refuel' with a compatible power adapter (not included)
Output Port(s): 2 USB ports
Output Current: 2 ports (2.1A & 1A) charge 2 devices at the same time
Colour Options: Black with gold surround
Dimensions & Weight: 3.8 x 2.6 x 1.2 inches (3cm), 8.48oz (240 grams)
---
Enough juice to charge iPhone 6 over 3.5 times. Samsung Galaxy S6 over 2.5 times and iPad Air once, the EasyAcc 10,000mAh power bank has smart technology that intelligently detects your device and deliver the fastest charge.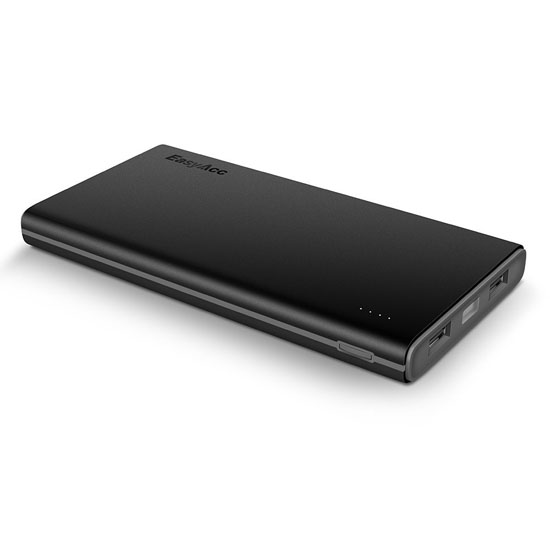 Features: Compact and portable design with a flat profile. Power level indicator with 4 white LEDs.
Input Port: 5V/2A recharges in 6 hours with a 2A adapter (not included)
Output Port(s): 2 USB ports
Output Current: 5V 2.4A (max) dual smart output
Colour Options: Black with Gray accent or Black with Lime Green accent.
Dimensions & Weight: 5.67 inches, 2.95 inches, 0.58 inches (1.48cm), 7.97 ounces (226 grams)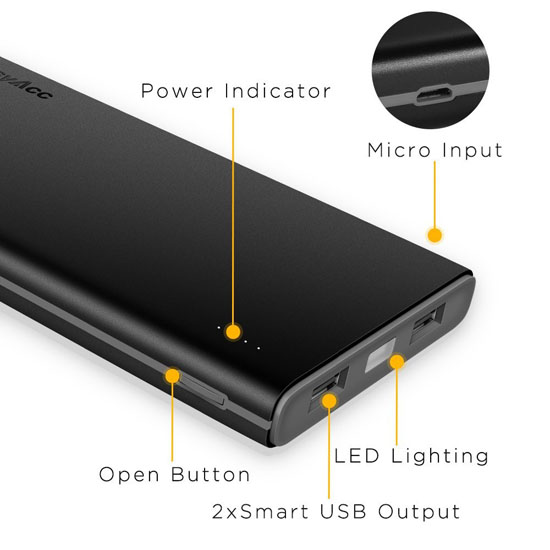 ---
TechNet PowerCrest C1 has advanced Li-Polymer battery technology charges iPhone 4-5 times, Galaxy S3 3 times or an iPad once. The TeckNet PowerCrest C1 has a slim, unobtrusive, lightweight body with a high 10,000mAh capacity.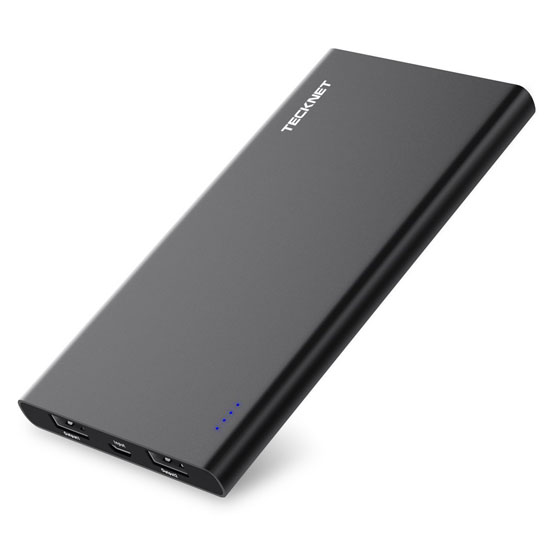 Features: Cutting-edge BLUETEK™ Technology which identifies and optimises USB power compatibility of devices from Apple, Samsung and many other devices to enable faster recharge rates up to 2.4A
Input Port: 5V/2A for faster recharge.
Output Port(s): 2 USB ports, charge two devices simultaneously with LED battery level indicator (4 LEDs)
Output Current: 2.4A max per port (total of 3.4A)
Colour Options: Black or White
Dimensions and Weight: 2.9 x 0.4 x 5.8 inches (1cm), 8.6 ounces (243 grams) – 

SLIMMEST
---
World-class circuit chip protection with nine layers of protection, built by Texas Instruments. Optimized charging/discharging efficiency up to 93% conversion rate. Made from a single-piece of metal, the casing was created by high precision CNC digital cutter. The surface is water and corrosion resistant, and is perfect for everyday use.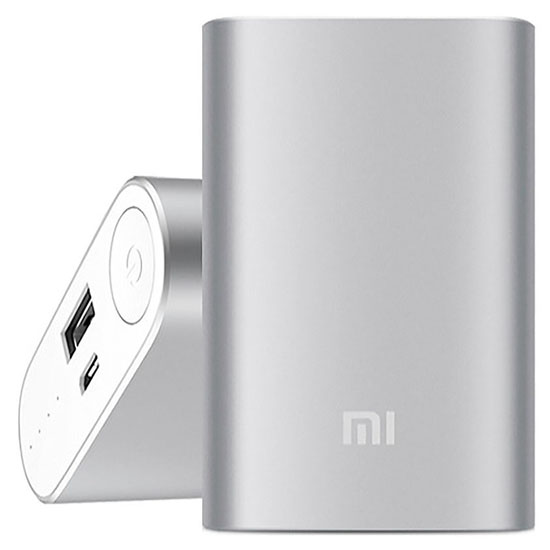 Features: Auto detects device connection and removal. Supports high voltage input limiter, feedback protection, current output limit, voltage output limit, circuit breaker, charge limit and charge and discharge temperature control.
Input Port: micro USB with 5V/2A approx 5.5 hours to recharge, with 1A adapter, approximately 10 hours to recharge.
Output Port(s): 1 USB port
Output Current: 5V 2.1A
Colour Options: Black or White
Dimensions & Weight: 3.8 x 3.2 x 1 inches (91 x 60.4 x 22mm), 6.4 ounces (181 grams) –

LIGHTWEIGHT