Why starter kits, these are what manufacturers put together to entice you and to get your started on your journey to building and configuring your own smart home. You can decide on one with the right amount of kit to suit your needs.
For small homes, apartment and flats, a starter kit may just be what you need. These starter kits are also cheaper to own and more cost efficient than buying the individual items.
Those configuring a big setup may even be better off getting a couple of these starter kits and make them work together.
Top 5 Best Smart Home Starter Kits
To make your selection easier, we have included the general features these starter kits offer and list the components that make up each of them. Here is a quick overview before we dive in to look at the details:
UPDATE: Ring Alarm 5 Piece Kit with Siren – 4 modules
1. Samsung SmartThings Home Starter Kit – 4 modules
2. Panasonic Smart Home Monitoring and Control Starter Kit with HD Camera – 4 modules
3. D-Link mydlink DCH-107KT Smart Home Security with Camera and Siren – 3 modules
4. Insteon Home Kit 2244-244 Home Automation Starter Kit with Camera – 5 modules
5. HIVE Connected Home Starter Kit – 4 modules
NOTE: Number of modules for each package does not include the hub.
Now for a closer look.
Categories: Monitoring, Security
This offering from Ring expands the Ring portfolio from door bells and cameras to security system. The kit includes a base station, contact sensor, motion sensor, keypad and range extender. You can of course get an enhanced kit with 7 sensors, 2 motion detectors, smoke and CO listener, floor and freeze sensor and panic button on top of the base station, keypad and range extender. Other packages includes the 8 piece kit and the 14 piece kit. Since we are focusing only on affordable starter kit, Ring Alarm 5 Piece Kit is a great starting point.
If an alarm event is triggered, you will get a notification on your phone. This can be set for when someone enters a room, opens a window or door or sets the siren off. Plus, it works with Alexa so you can ask Alexa to arm, disarm and check the status of your Ring Alarm security system all by simply asking. To expand your starter kit, buy additional motion detectors and contact sensors.
An optional assisted monitoring plan called the Ring Protect Plus is available to enable the Ring Alarm to call three emergency contacts should an Alarm is triggered. The plan also includes cellular backup in case the WiFi goes offline.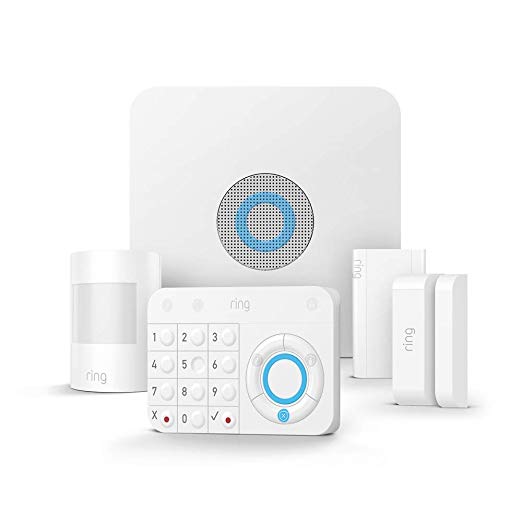 No of modules: 4
What is included:
base station
contact sensor
motion detector
keypad
range extender
Other 8 Piece Kit, 14 Piece Kit and Enhanced Kit are also available. Works with Android, iOS and Alexa
Categories: Monitoring, Automation, Security and Power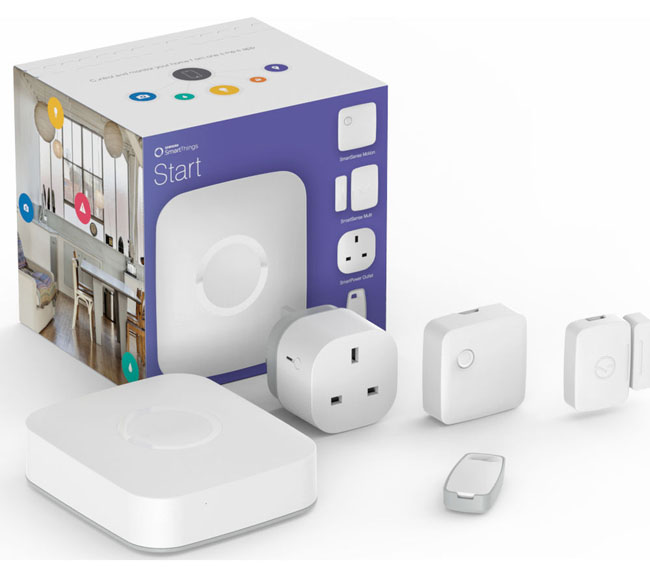 Monitor, control and secure your home from anywhere in the world. This Samsung SmartThings Home Starter Kit also includes a presence sensor, a key chain or key tag that you can use to track you or your family's presence at home. Use it to know when people, pets or cars arrive or leave home and trigger connected lights or use it to track keys.
No of modules: 4
What's included:
Hub
Motion Sensor
Multi Sensor – door or window, temperature and vibration sensor
Presence Sensor
Power Outlet
Works with Android, iOS, Windows Phone and Alexa (use the voice activated assistant to control SmartThings)
Compatible with other Samsung and third party connected products including those from D-Link (pan and tilt wi-fi camera), LIFX WiFi LED Smart Bulb, Philips Hue LED Connected Bulb, Bose SoundTouch Wireless Music System, Yale KeyFree Connected Smart Lock, Fibaro door sensor, Honeywell EvoHome Thermostate and AEOTEC's panic button. A huge list of compatible devices can be found on Samsung's SmartThings website.
---
Categories: Monitoring, Automation and Power + Camera and CCTV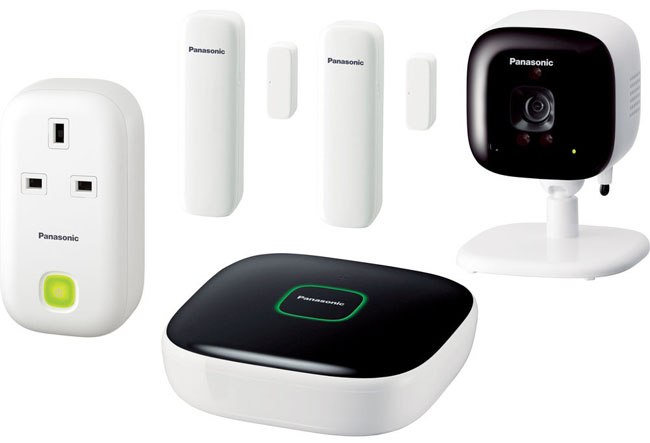 There are three different starter packs offered by Panasonic. The KX-HN6012EW is the only one that includes the indoor camera. To make this a complete security and monitoring system at least the siren and possibly some motion sensors. The siren and motion sensor is available individually as separate purchases or in Panasonic's other packages (see below). As with almost all smart home systems, the Smart Hub is the center of the system by connecting to the modules wirelessly. It also records footage from the Smart Home Camera onto a microSD card. The kit uses standard DECT wireless as a safer alternative to WiFi. DECT is more stable and has interference free range that is invisible to regular consumer products with range of up to 300 metre (open space).
No of modules: 4 (not including hub)
What's included:
Hub/Base
High quality indoor camera
Door Sensors x 2
Smart plug
Works with Android, iOS.
Other Panasonic Smart Home Start Kits:
You might also want to consider the Panasonic Access Keypad to complete the security system.
---
Categories: Monitoring, Automation and Power + Cameras & CCTV + Safety & Security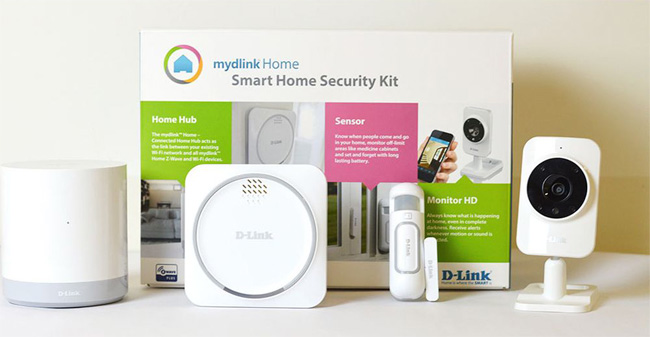 Apart from Panasonic's Smart Home Monitoring and Control Kit above and Insteon's Home Kit, here is another starter kit that includes a camera. Not simply any camera but a HD 720p resolution with night vision. Using mydlink Home app you can get live feed on your smartphone or tablet with the ability to zoom in without losing fidelity. As with most security cameras it is also equipped to detect movements or sound and can be set to push notifications to your device.
The door and window sensor also doubles as a room temperature monitor to alert you of sudden change in temperature caused by fire. This is also the second starter kit that includes a Home Siren with six sounds to choose from and sound level that can be set up to 100db. Using the app, you can decide the type of sound alerts for different triggers or events. Finally, the Home Hub which is the heart of the system bridges your existing WiFi network with any mydlink modules.
What's included:
No of modules: 3 (not including hub)
Home Hub
HD Monitor Camera with Night Vision
Door/Window Sensor
Siren with optional battery back-up
Works with Android, iOS (mydlink app)
---
Categories: Monitoring, Automation and Power + Cameras & CCTV + Safety & Security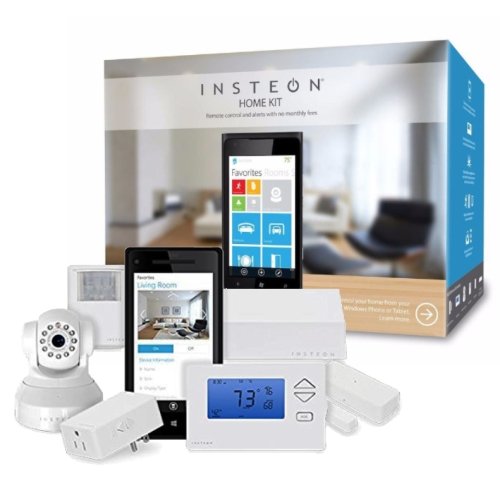 Insteon Home Kit is easily the most complete starter kit that lets you control lights and appliances remotely, set schedule for devices, receive email alerts when doors and windows are open or close, remotely control your thermostat and look at what goes on at home through the WiFi camera. The advance camera also pans 300-degrees and tilts 120-degrees so you can look around. It also has a built-in microphone to let you hear what is going on.
No of modules: 5 (not including hub)
What's included:
Hub
Motion Sensor
WiFi Camera
Thermostat
On/Off Module
Open/Close Sensor
Works with Android, iOS, Alexa.
---
Control all the HIVE modules from the smartphone, tablet or computer via the Hub. Use the Hive Active Plug to turn on the heating before you get home, receive notifications when any doors or windows are opened with the door sensor or keep track of anyone entering your home with the infra-red motion sensor. To start, pair the modules with the Hive Hub via wireless, add more sensors and/or plugs later and set your controls or alerts with the app. Those who have Amazon Echo can also use it to voice control the Active Plugs via Alexa Voice Service.

Categories: Monitoring, Automation and Power
No of modules: 4 (not including hub)
What's included:
Hub
Motion Sensor
Active Plug x 2
Window/Door Sensor
Works with Android, iOS, Windows Phone, Alexa
The Linkind system is super compact. It has one of the smallest motion detector and door or window sensor around. Even the base unit that comes complete with alarm for siren up to 110db is small. But small isn't bad. It means, it is lighter and easier to install. So small and light in fact, you can even use the adhesive back if you don't fancy using the drill and screws.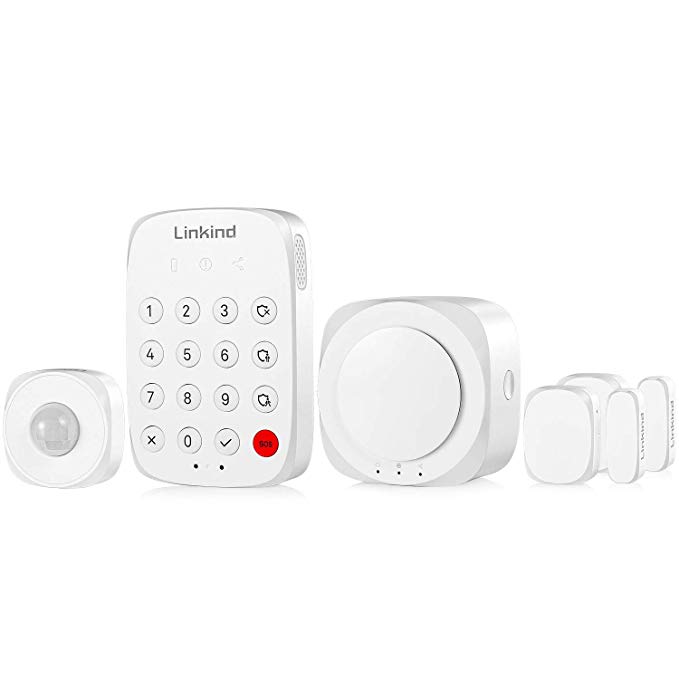 You will however get a standard size keypad to set one of four security modes. These are Arm Away to enable all sensors, Arm Stay for certain sensors, Disarm to disable all sensors and SOS which is akin to panic button. The latter can either be triggered via the app or holding down the panic button on the key pad for 3 seconds which will in turn set the siren off. The one thing to note is that the Siren hub needs to be plugged into a power source. You can then connect up to 50 Linkind Zigbee devices to the hub at your own pace or where needed. Everything else is powered by lithium batteries, up to 2 years for sensors and half a year for the keypad.
No of modules: 4 (not including hub)
What's included:
Hub with Siren
Keypad
Motion Sensor
2 x Window/Door Sensor
Works with Android, iOS
NOTE: A version of this article was also feature on our sister site colourmyliving.com where you can learn about the different smart home products and how to go about choosing one. You can also find alternative starter packs from the same manufacturers listed above.