The only way to impress a room full of people when you have the floor is still to use a projector, think big product launches and well timed videos. A well thought out presentation be it for school or business ultimately rests on the impact you make on your audience, one of these portable video projectors will help make that happen.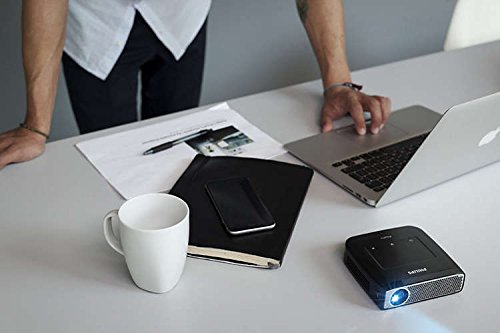 Philips is the forerunner in the portable projector space and they dominate our list with some of the most innovative offerings. The other reputable manufacturers to offer portable projectors are Optoma and Asus. We start by checking out the five key features to look out for when considering a portable projector.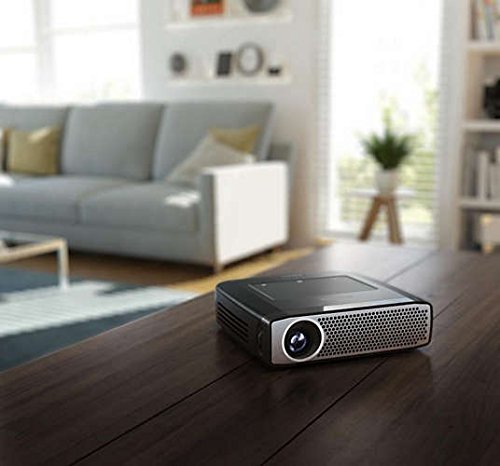 5 Things to Consider When Looking for a Portable Projector
Maximum size of projected image: You can get up to 100-inch on average, but some projectors go up to 150″. Obviously the bigger the image meant the further you have to be from the wall or projector screen unless you have a shot throw projector. Short throw projector lets you project bigger image in a shorter distance using a series of lenses, making the projector setup bigger.
Resolution: With portable projectors, you have to dial down your expectation with regards to resolution. Having said that, even portable projector can muster up to HD resolution. That is 1280 x 720 pixel or 720p HD. Plenty for viewing PowerPoint presentation and sufficient for motion picture and video clips from the web.
Connectivity: HDMI and USB is pretty standard. Other connectivity include WiFi and Bluetooth for video and sound. More advanced portable projector have integrated media player and microSD slot making it totally independent and can be operated without a laptop or PC connected.
Brightness: Don't expect ultra small pico projectors to be super bright. Understandably, it is not possible to get the full brightness, around 2000-3000 lumens of a full size projector. Portable projectors can only manage up to 700 lumens. Smaller pico projectors typically only project 200-300 lumens. At these brightness level, you would want all lights to be switched off in the room and draw all curtains to keep the lights out.
Size of projector: for obvious reasons, a portable projector needs to be just that, portable. Unless you are looking at ultra portable pico projectors, which are typically around the size of a small box of chocolateor no bigger than a PC mouse, one that fits nicely in your palm and therefore in your pocket, typical portable projectors are no bigger than a small box of biscuits.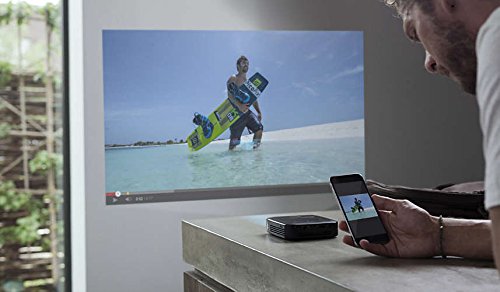 5 Best Ultra-Compact Portable Projectors
We highlighted some of the key features in our top 5 line-up.
1. PHILIPS PicoPix PPX4935 Portable Projector – HD, HIGH CONTRAST
2. OPTOMA ML750e Portable Projector – HD, HIGH CONTRAST, BRIGHT
3. OPTOMA ML750ST Ultra-Compact WXGA Short Throw LED Projector – HD, HIGH CONTRAST, BRIGHT, SHORT THROW, BIGGEST PROJECTED IMAGE
4. PHILIPS PicoPix PPX3414 Portable Projector – ON-BOARD BATTERY
5. ASUS P2E Portable Projector – HD, SHORT THROW
Others
Here are the projectors with its key features.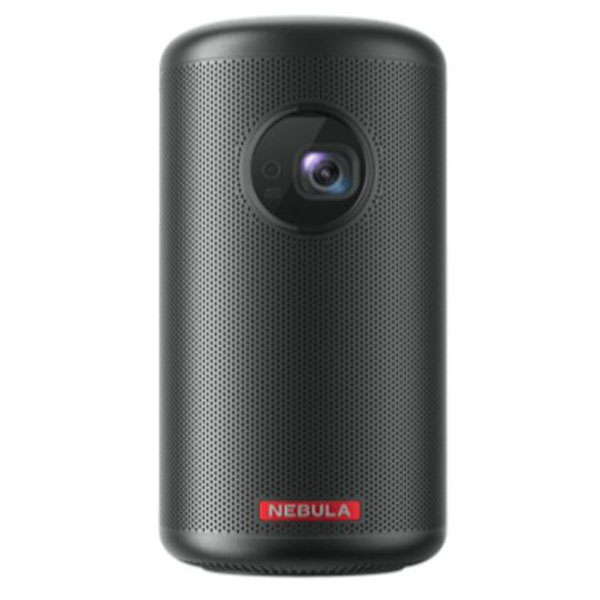 It may not be the smallest, certainly not the slimmest but the coke can shaped 2nd generation portable Anker Nebula Capsule projector has many things going for it. For starters, it has a built-in 3 hour battery and on-board operating system based on Android TV. It projects 720p HD image onto a wall producing a decent image up to 200-inches at 200 ANSI Lumens and smart 1 second autofocus plus vertical keystone. There is a HDMI input port, 8W sound system with bass radiator and offers the ability to remotely control the settings via an app or Fire TV style remote, use Google Chromecast, Google Assistant and streaming apps. The Nebula Capsule II is a truly self contained smart portable projector.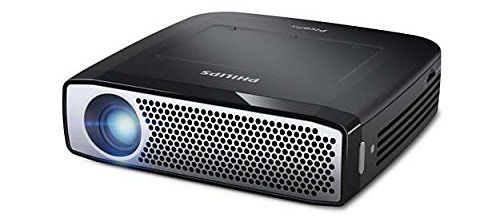 The Philips Pico PPX4935 is a brillaint Android based pocket projector that comes equipped with 350 lumens, 720p HD resolution, Wi-Fi and Bluetooth audio allowing you to connect to other devices and share your videos & pictures straight away thanks to wireless screen mirroring. Integrated media player & HDMI/MHL interface, various connections for all common appliances, Bluetooth audio function, Wi-Fi to go online and share web content, connect wirelessly with other devices within a network or to set up your own network.
Resolution: 1280 x 720 High Definition (HD) 720p video
Connectivity: WiFi, Bluetooth & HDMI & USB, VGA, Component, Composite and SD/SDHC slot. Integrated media player.
Contrast: 100000:1 with DLP SmartEngine LED technology
350 lumens
Screen size: 15″ – 150″
Size & Weight: 11.5 x 11.5 x 3.2 cm ; 349 grams
Features: use the WiFi connection to go online and share web content, connect with other devices on the network or set up its own network. Integrated media player software makes viewing content straight off the source WiFi, USB or micro SD without the use of laptop, smartphone or tablet. It also has 4GB onboard memory.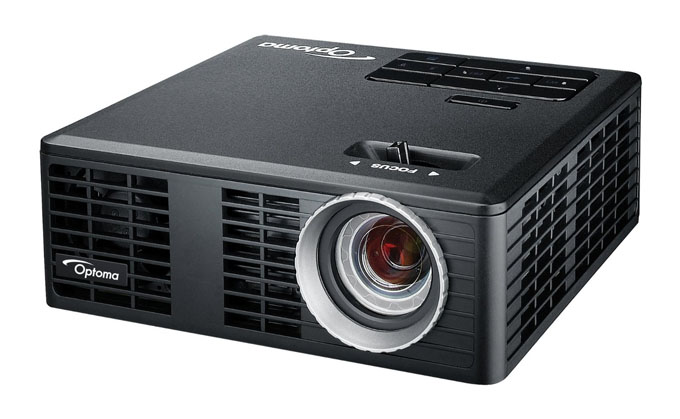 Present your best wherever you go with the ultra-compact Optoma ML750 portable LED projector. The projector offers power and performance of a full sized projector in an ultra compact package no bigger than the palm of your hand. It delivers an impressive 700 ANSI lumens and 10,000:1 contrast ratio, with razor sharp focus and magnificent color accuracy. The fast response time with low latency at 17ms makes it suitable for gaming and sports.
Resolution: 1280 x 800 HD resolution
Connectivity: HDMI & USB & VGA
Contrast: 10,000:1  with DLP Technology from Texas Instrument and LED that lasts up to 20,000 hours
Throw Distance: 1.8 – 10.6 feet
700 lumens
Ratio: 16:10
Screen size: 17″ – 100″
Size & Weight: 4.1 x 4.2 x 1.5 inches, 14.4 ounces (10.5 x 10.6 x 3.9 cm ; 381 grams)
Other Features: Incorporates media player, native office viewer and built-in speaker for a true PC free operation using the built-in memory, micro SD card slot and/or USB connection. The projector uses LED with long life.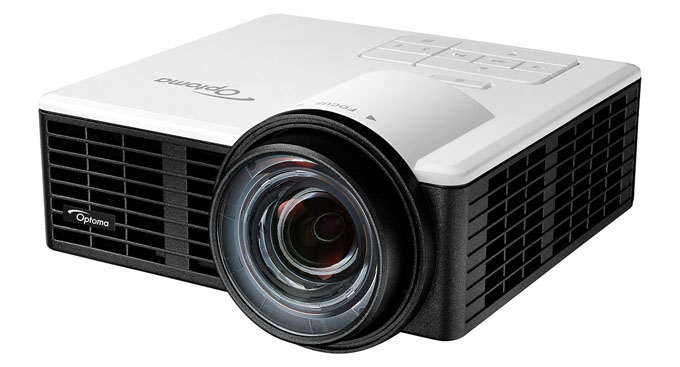 The ultra-compact Optoma ML750ST short-throw LED projector delivers an ultra-bright image for road Warriors and power-users. The ML750ST packs the power and performance of a full sized projector in the palm of your hand. The ML750ST boosts an impressive 700 ANSI lumens, 20,000:1 contrast ratio with razor sharp focus, auto Keystone and Rec709 color accuracy.
The benefit of short throw setup mean you can get 50-inch diagonal iameg from only 32 inches away, that's just a little over a foot. The LED light source is rated to last over 20,000 hours greatly reducing the need to buy or replace the LED lamp.
Resolution: 1280 x 800 HD resolution
Aspect Ratio: 16:10
Contrast: 20,000:1
Connectivity: HDMI/MHL connectivity, HDCast Pro Device Mirroring, Multimedia Playback.
Size & Weight: 4.2 x 4.1 x 1.5 in, 0.88lb   (12.3 x 5.7 x 11.3 cm ; 422 grams)
Throw Distance: 1.4 – 11.3 feet
Brightness: 700 lumens with LED light source to last over 20,000 hours
Screen size: 24.8 – 199.9-inch
Other features: HD Cast Pro device mirroring (Android, iOS, Windows devices) and multimedia playback (music, pictures and videos)
Display photos, videos, presentations and more from a variety of sources using Philips's PicoPix PPX3414 Pocket Projector. The PPX3414 has a brightness of up to 140 lumens on AC power, and a display size of up to 120 inches.
Resolution: 854 x 480 pixels
Connectivity through HDMI, USB, SD card. Also plays files directly from your PC
Contrast: 1000:1
Brightness: 140 lumens on power, 60 lumens on battery
Screen size: 12″ – 120″
Size & Weight: 10.5 x 10.5 x 3.1 cm ; 272 grams
Features: Built-in media player (MP4) and 4GB internal memory for storing videos on the go, 

Premium speaker with 3.5mm headphone input. 

Pocket Size and up to 2 hours battery to project everywhere you go
ALSO: PHILIPS PicoPix PPX3614 Portable Projector
Resolution: 854 x 480
Connectivity: HDMI & VGA
Contrast: 1000:1
100 lumens
Screen size: 12″ – 120″
The P2E operates at a brightness of 350 ANSI lumens, giving you professional-grade projections that benefit from outstanding colour clarity and detail. DLP projection technology ensures sharper images and clearer text and, thanks to an HD (1280 x 800) output, the projected image is exactly what you see on your notebook or PC.
The P2E has a short throw ratio (1.1:1) that gives you a 42″ diagonal image from a distance of 1m. Move the projector back to 3m and the projected image can be up to 120″ diagonal; almost 4x that of a 32″ TV. An Auto Keystone Correction feature ensures you get projections by detecting the P2's orientation and automatically correcting distorted images from angled projections.
Brightness: 350 lumens-rated long-life (30,000 hrs) LED light source
Resolution: HD 1280 x 800 visuals with auto keystone correction, correcting distorted image from angled projections.
Contrast: 3500:1

Quick setup with instant on/off capability and auto keystone correction.

Short throw projection for 42–inch images from just 1 metre. 120-inch in 3m
Connectivity: Built-in HDMI/MHL, mini VGA, earphone out and speaker.
Size and Weight: 14.2 x 13 x 3.5 cm, 502 grams
The same model is also available with built-in battery, ASUS P2B Portable LED Projector –

HD, SHORT THROW, AUTO KEYSTONE, BUILT-IN BATTERY
ALSO: ASUS S1 Portable Projector – SHORT THROW, BUILT-IN BATTERY, COMPACT
Resolution: 854 x 480
Connectivity: 2 x HDMI with MHL
Contrast: 1000:1
200 lumens
6000mAh Battery
Screen size: 30" – 100"
Size & Weight: 110.5 x 30.7 x 102 mm, 342 grams
OTHERS
Resolution: 854 x 480
Connectivity: HDMI for video and USB for power. Includes Mini-HDMI to HDMI cable, Micro USB to USB-Y-cable
Contrast: 5000:1 –

HIGH CONTRAST

100 lumens with Texas Intrument's DLP and LED technology for up to 30,000 hours of viewing
Screen size: 15″ – 120″
Size & Weight: 0.87″ x 2.6″ x 2.68″ (H xW x D) 6.8 x 6.6 x 2.2 cm, 2.9 ounces (83 grams)
Resolution: 640 x 360
Connectivity: WiFi & HDMI & USB and micro SD slot. 3.5mm headphone and Bluetooth
Contrast: 1300:1
Screen size: 10″ – 60″
Brightness: 50 lumens
Size & Weight: 2.1 x 3.8 x 0.7 inches, 4.5 ounces (5.4 x 9.7 x 1.7 cm ; 127 grams)
Features: integrated media player (MP4) and Bluetooth audio function to connect to a Bluetooth speaker. Built-in rechargeable battery that last up to 2 hours and 4GB of internal memory. Recharge via USB port so no external power adapter to carry.