Tired of under powered Windows 10 Tablets based on Atom processors. Not one for full size tablets, then the Galaxy TabPro S strikes a balance between performance and portability.
When it comes to 2-in-1s, the de facto leader is Microsoft's own Surface Pro 4 packing the best in hardware for performance and built quality. But, not many can afford the price or need that much power especially on a tablet, there is always a laptop or desktop for that.
Getting the best out of work and play is what the Galaxy TabPro S is all about. Brilliantly designed to be thin and light, this 2-in-1 device lets you stream, browse and game on.
The 10.8-inch Surface 3 would be ideal as an all-round tablet except it is based on Intel Atom processor and would struggle with CPU and graphic intensive apps. As an alternative to Microsoft Surface Pro 4 with Intel Core m3 processor, the good people in Samsung came up with the Galaxy TabPro S.
The Samsung Galaxy TabPro S has the same Intel® Core™ m3-6Y30 as the Surface Pro 4 entry level model.

At the time of writing, the TabPro S comes only in one size, one processor, one memory and storage, one model but two colours, white or black. If the TabPro S is a runaway success, just like the Galaxy S smartphones, Galaxy Tab S tablets, we may see a new age for Windows tablets. Here are five things you need to know about the TabPro S.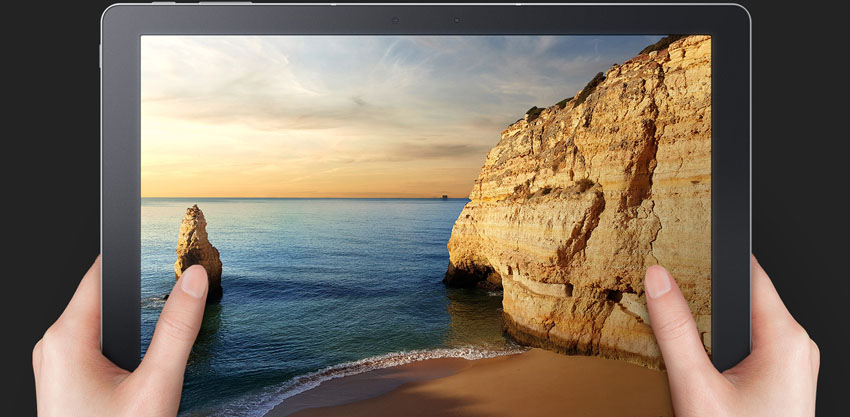 Amazing Display
The TabPro S has a vibrant Super AMOLED® display. If you are a fan of the Super AMOLED, the tablet is going to be a show stopper. Plenty of brightness, rich colour, crisp and detail in the image and deeper black as well as great contrast under all lighting conditions. The 12-inch display packs plenty of pixels at 2160 x 1440 pixel resolution FHD+ for incredible accuracy for watching videos or going through photos.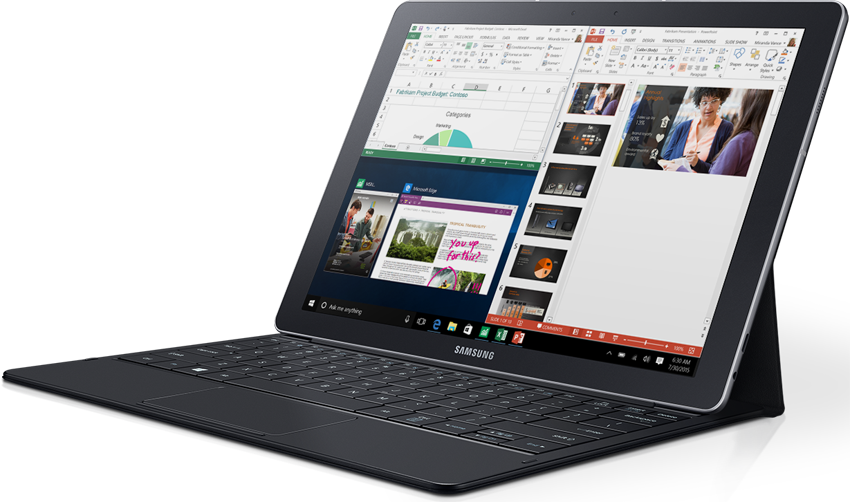 Slim, Sleek & Stylish
There is no denying that the TabPro S is a showy tablet out to accomplish what other Windows tablets failed to do. The tablet measures only 6.3mm thin. To put it in perspective, it is as thin as the iPad Air 2 with 6.1mm thin with a 9.7-inch display. Something more up its street, the iPad Pro with 12.9-inch display measures 6.9mm thin. The TabPro S is aimed squarely as an iPad Pro alternative.
The TabPro S is also lighter at 693 grams so it won't weigh you down. Again, for comparison, the iPad Pro 12.9 weighs 712/723 grams owing to a bigger 12.9-inch display.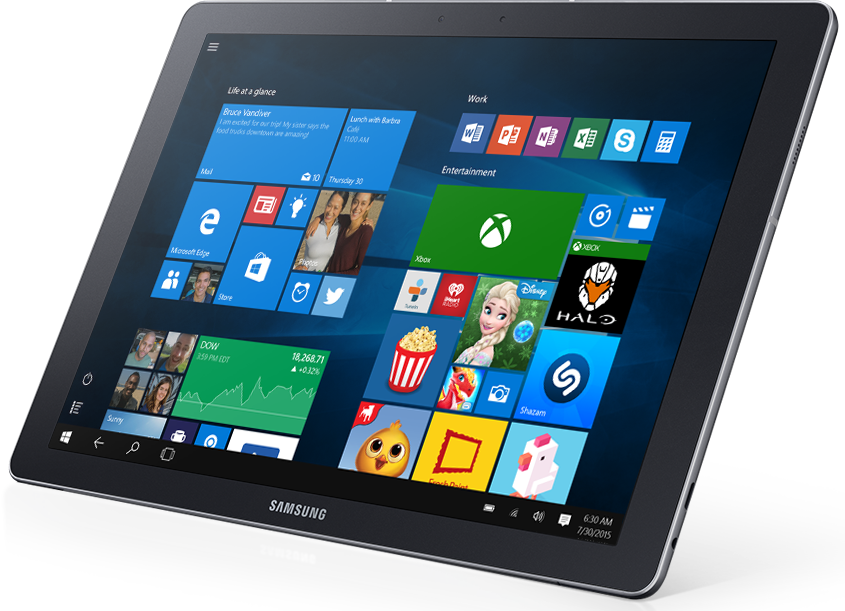 Powerful PC Performance
Not an all singing, all dancing processor, but the Intel Core M processor strikes a balance between performance and efficiency, bringing PC performance to a tablet. The Galaxy TabPro S runs Windows 10 combines with Intel® Core™ M processor with 4 GB RAM and 128 GB solid state drive. Again, this is identical to the entry level Microsoft Surface Pro 4.
Using the new generation power efficient Core M processor, the Intel® Core™ m3-6Y30 clocking at 900MHz, and pushing up to 2.2GHz with Turbo Boost when needed, Samsung is able to design the tablet to be a fanless device. No fan equals no noise equals super slim design. The Galaxy TabPro S is the only device you'll need in your bag. As powerful as a laptop and as mobile as a tablet, it's your most efficient workstation yet.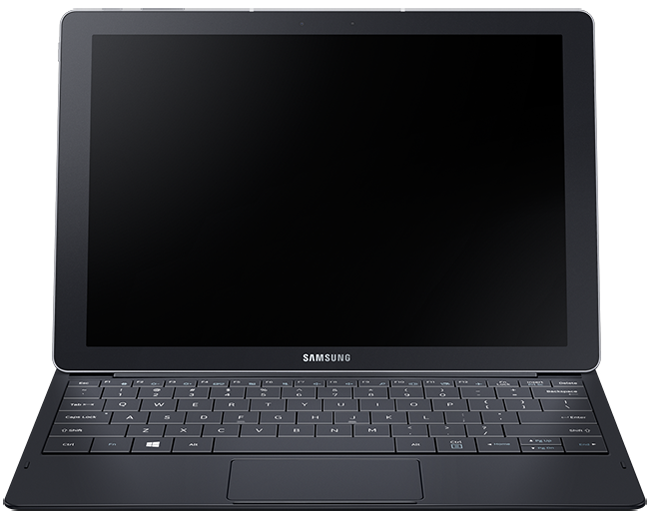 Amazing Keyboard Cover
The keyboard cover is amazingly thin and it is included. Unlike Microsoft and Apple who charge a premium for their keyboards, Samsung's approach is definitely a game changer. The keyboard attachment is designed to work specifically with the tablet and is yours when you get the tablet.
Keys are bigger because Samsung has removed the space between the keys making it significantly bigger than those on island-style keyboards or chiclet keys. Typing on the keyboard is great as you will quickly get used to how efficient and ease it is to work on the device.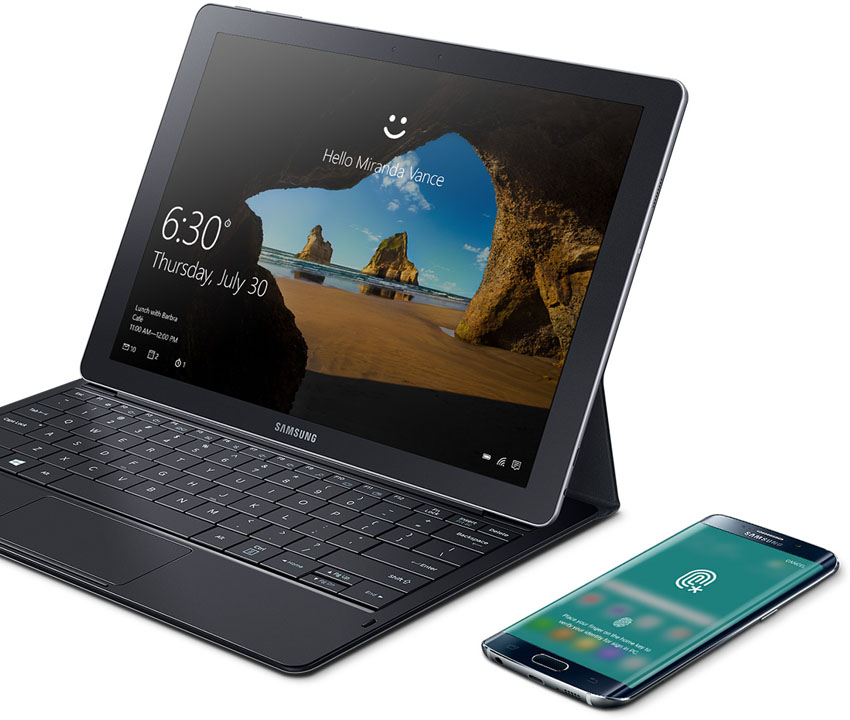 Connect your Samsung Devices
If you have s Samsung smartphone, use Samsung Flow to enable seamless connectivity between the Galaxy TabPro S and your Samsung smartphone.
Unlocking the tablet by simple tapping your unlocked Galaxy smartphone and scanning your fingerprint. You can also easily enable your mobile hotspot to keep your TabPro S connected, and check and reply directly to your phone's notifications with just the touch.
The integration is similar to iMessage and FaceTime on Mac and iOS. With the tablet and a Samsung smartphone, you can respond to texts and get phone notifications in real time right on the tablet screen.
Specifications
Intel® Core™ m3-6Y30 processor 900MHz up to 2.2GHz turbo frequency
12-inch Super AMOLED display 2160 x 1440 pixel resolution
Memory: 4GB RAM, 128GB SSD storage
Connectivity: 802.11 a/b/g/n/ac 2.4G+5GHz with WiFi Direct, VHT80 MIMO, Bluetooth v4.1 (A2DP, AVRCP, DI, DUN, HFP, HID, HOGP, OPP, PAN),  3.5mm stereo jack.
Cameras: 5MP front camera, 5MP rear camera. 4x digital optical zoom, Full HD (1920 x 1080) digital video recording.
Keyboard included
What We Like
Full size keyboard and its included
Super AMOLED display with Full HD+ resolution
Super slim and light design
Great battery life for a Windows tablet 10.5 hours and quick charging too
LTE Connectivity option available.