Design studios would not be complete without one of these drafting tables. Suitable for home, office, college and university, it's an essential piece of furniture for the creatives.
In this modern day and age, why would one need a drafting table? The answer is, there is nothing that can really replace 'putting pen or pencil to paper'. For every budding artist, designer, engineer and architect, here's where you start.
Form vs Function
When choosing a suitable drafting table, consider the design as well as the functionality of the furniture. Think about the space you have for the table and the furniture around it. We look at two examples that explain the different drafting tables you will find in the market.
The first example shows a basic, almost minimalist, utilitarian drafting desk made from heavy gage steel and durable MDF worktop with height adjustable legs. The dual-top surface includes an angled and a small fixed flat top work space with the main angled top work surface fitted with a pencil ledge. Everything about the furniture is well thought out and the straight lines give it an industrial feel. Having that utilitarian feel is not bad at all and is suitable for most offices, schools, colleges and universities.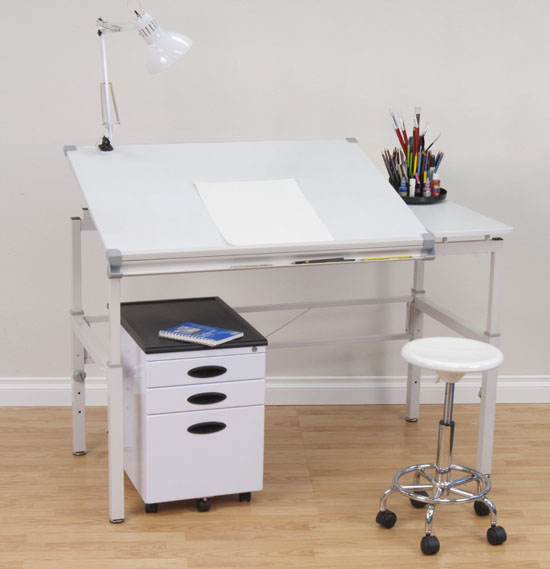 The second example focuses more on looks with safety glass work tops, a combination of flat and angled worktops as before but on a swish rectangular tubing frames curved to create that designer feel. The flat worktop or side shelf is collapsible and there are trays fitted on either side of the angled work surface and a three tier drawer for storage. The legs however is not height adjustable. This may be sufficient for most people but lack the flexibility of being able to change the height to suit preferred working position. But if your emphasis is on the form and to complement its surrounding, this is the type of table you would choose.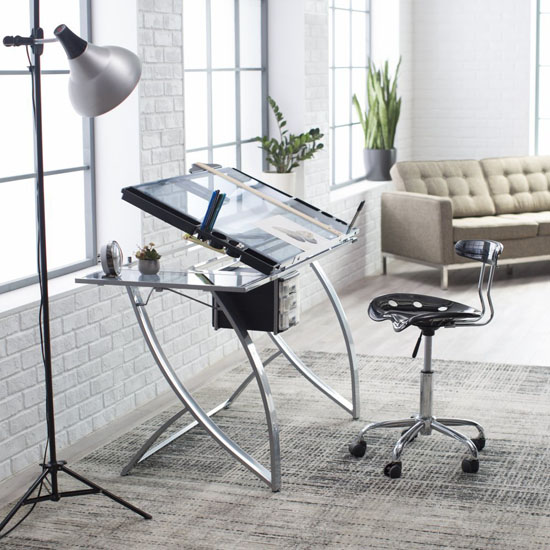 Top 10 Best Drafting Tables
Here is an overview of our best drafting tables in the market.
BONUS: Merax Crafting Station Adjustable Drawing/ Drafting Table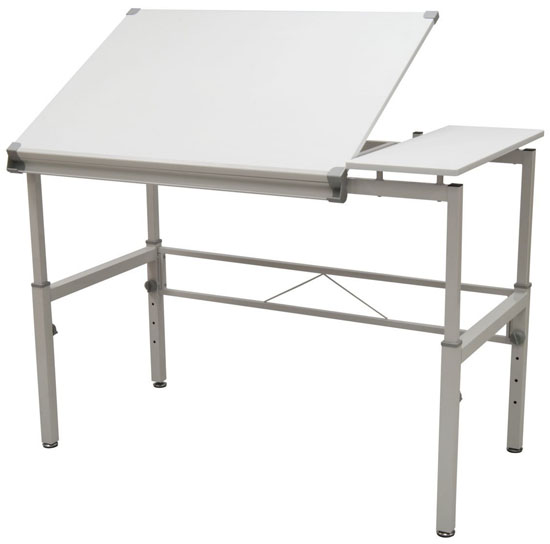 Dimensions: 53.5″W x 30″D x 30″ – 39″H (Other width available: 36″)

Dual Top Surface allows you to simultaneously have a 42″W x 30″D Angled Top and a 11.5″W x 30″D Flat Top

Heavy Gage Steel Construction for Durability

Height Adjustment from 30″ – 39″ High with 

42″W x 1.5″D Pencil Tray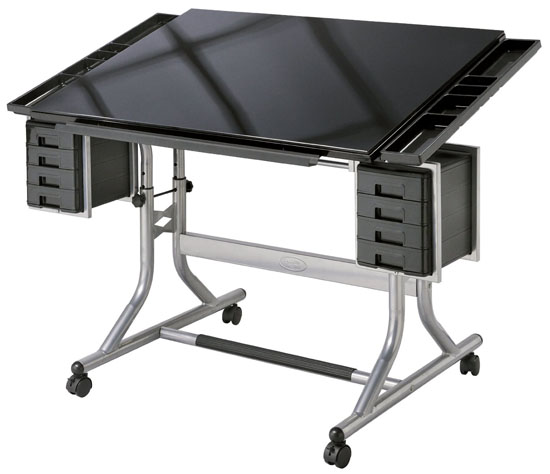 Dual tilt mechanisms – 0 to 30 degrees with plastic pencil and tool tray as well as pencil ledge

Steel construction with powder-coated chrome finish

Two sets of 4-drawer storage units on either sides

Dimensions: 48L x 28W x 32H inches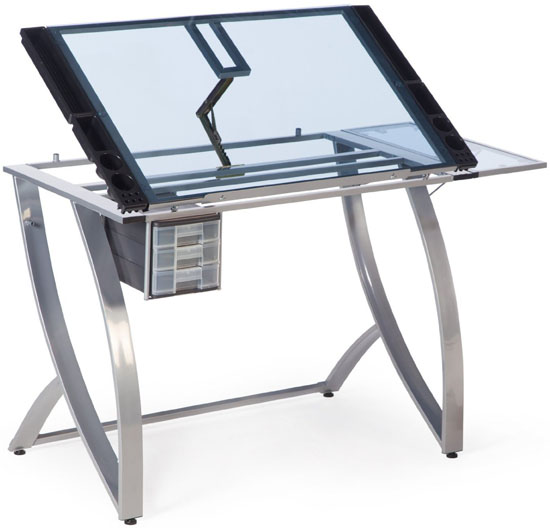 Collapsible glass side shelf for added convenience

Frame features sleek rectangular tubing

Solid tempered blue safety glass work top surface

Top angle adjustment up to 35 degrees

Detachable plastic 3-drawer storage unit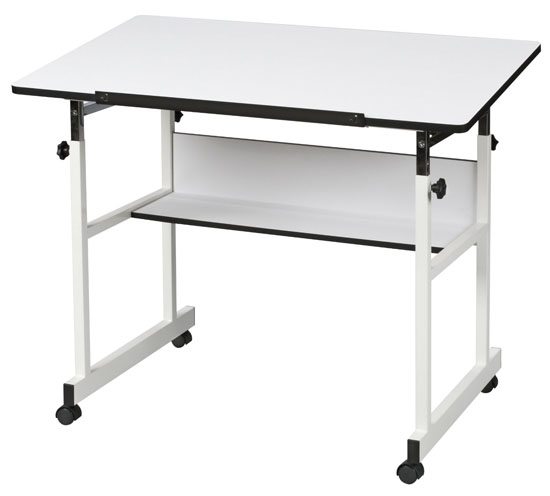 24″D x 40″W Top with rounded corners (36″W also available)

Height adjusts from 29 to 41″

Angle adjusts from 0 to 30 degrees

Casters and floor glides both included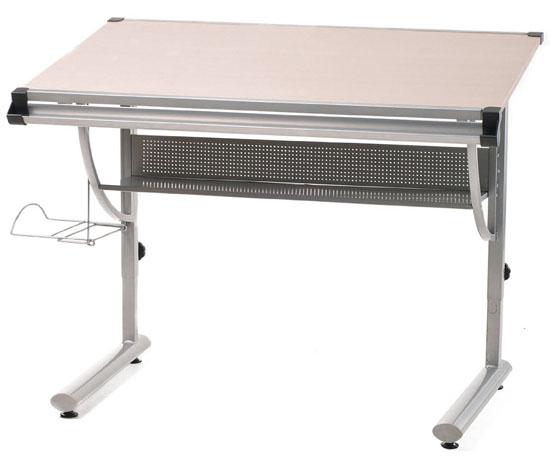 Height adjustable drafting workstation

Multifunctional: convertible desktop with an angling worktop turning it into a drafting table

MDF Wood craft drawing table, adjustable angle for table surface from 0 to 42 degree

Large dimension for table surface: 46.06 x 28.74 inches,

Storage shelf for books and other stuff

Metaled robust structure, with protection for corners of the worktop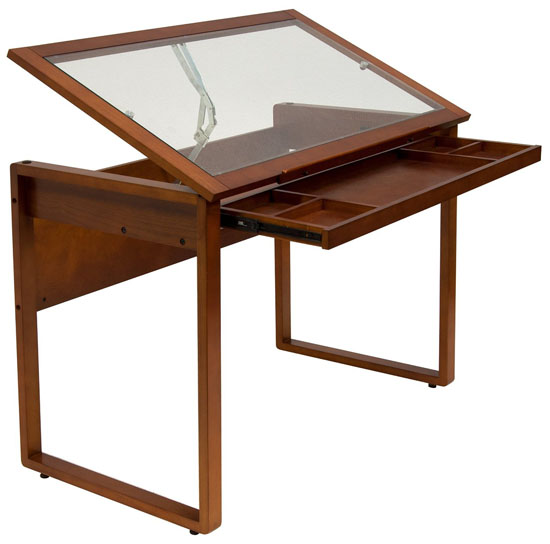 Overall Dimensions: 42″W x 24″D x 30″-41.5″H

Main Work surface 42″W x 24″D with 

Tempered Safety Glass Top

16 Top Angle Adjustments from Flat to 30 Degrees

Solid Wood Frame and Legs with optional leg extension, 5 Partition Wooden Drawer for Storage: 31″W x 10.5″D

Wooden worktop option also available.
The only parallel straightedge board utilizing an anti-warp aluminum body straightedge for strength and stability

Equipped with a six-position adjustable stand with locks to fix it at the desired 

angle

Parallel ruler with large knobs for straight-edge to align with the artwork/drawing and stay parallel

High resin particle board to prevent board breakage

Different sizes available
ALSO: PEB Adjustable Angle Parallel Drawing
Overall Dimensions: 42″W x 24″D x 29.5″-48″H

Main Work Surface 42″W x 24″D

Table Top Vertical Height Adjustment from 29.5″H -38″H, 24″Slide Up Pencil Ledge

Tempered Blue Safety Glass Top, Can be used as a Light Table

Top Angle Adjustment Up to 30 Degrees, 29″W x 13″D x 2″H Storage Drawer

Heavy Gage Steel Construction for Durability, (4) Floor Levelers for Stability
Top Dimensions: 35.75″W x 23.75″D with 

24″ Slide-Up Pencil Ledge

Additional Under Desktop Storage Shelf

Top Angle Adjustment from flat to 40 degrees, Heavy Gage Steel Construction for Durability

(6) Floor Levelers for Stability, Padded Stool Included
Main Work Surface: 35.25 W x 23.75 D. Overall dimensions: 40.75"W x 23.75"D x 30.75" – 44.25 H.

Tempered Blue Safety Glass Top can be used as a Light Table

6 Angle Adjustment from Flat Up to 35 Degrees

Heavy Gage Steel Construction for Durability
One hand tilt-angle mechanism adjusts tabletop from 0° to 40°

Height adjusts from 24-33.8″ with top in flat position

Curved Tray holds Building Plans, Art Work or Supplies

Raised Metric Ruler Along Bottom Edge

Maintains an attractive color scheme that fits well in most homes, offices, and studios