For a long time, access to decent microscopes was something that was limited to older, typically high school age children, and then came the emergence of USB microscopes really took the jump and made micron size objects accessible, displaying them on screens.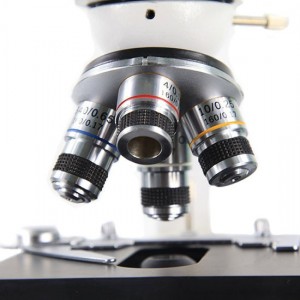 Recently though, decent optical microscopes have joined the ranks of affordability and with not too much in terms of investment, one can now get an optical microscope with up to 2000x magnification; add to this a box of prepared slides and away on a microscopic adventure you'd go.
While for younger children we would definitely recommend the USB-attached digital microscope, for budding scientists from the ages of about eight or nine onwards, an optical microscope is certainly a worthwhile investment.
Here in this post we highlight some of the best optical microscopes, both in terms of value of function that we have come across. We also look at some add-ons such as slide sets and blank slide kits that you might want to consider as well.
Top 5 Best Optical Microscope
Here is an overview of our list, five of the best microscope in the market right now.
BONUS: AmScope M150C / M150C-I 40X-1000X Compound Microscope
Let's take a closer look at each of these: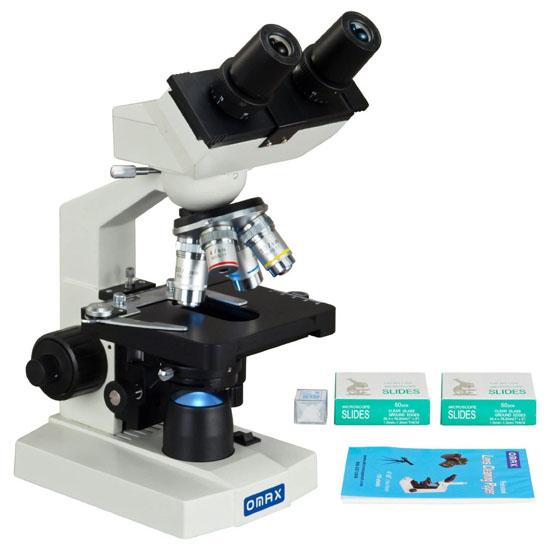 This OMAX compound biological microscope comes with eight level magnifications from 40X to 2000X.
It comes with a sliding binocular viewing head, two pairs of widefield eyepieces (WF10X, WF20X), four achromatic objectives DIN 4X, 10X, 40X(S), 100X(S, Oil), large double layer mechanical stage with scale, Abbe NA1.25 condenser with iris diaphragm, coaxial coarse & fine focus knobs and variable intensity LED transmitted illumination system, plus 100-piece blank glass slides & 100-piece cover slips and 50-sheet lens cleaning paper. It easy to connect to a USB digital camera (sold separately) to record what you see in the microscope and saving it into your computer as a picture or a video clip.
ALSO AVAILABLE:
Also from OMAX, binocular and trinocular compound LED microscopes with higher resolution cameras between 1.3MP to 10MP.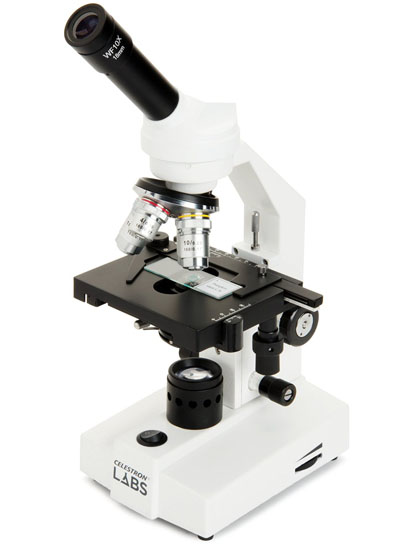 Mechanical stage, Abbe condenser, 4 Fully achromatic objectives, 10x and 20x eyepieces, course and fine focus, 10 prepared slides, 3 color filters (green, blue, red), emersion oil.

Lab ready, full metal compound monocular head microscope, great for science and education with 40x to 2000x powers

360° rotatable head has all glass widefield 10x and 20x eyepieces and 4 precision ground DIN achromatic objective lenses- 4x, 10x, 40x and 100x

Fully mechanical stage with X/Y adjustments and course and fine focus wheel for precision imaging

Adjustable halogen lower illuminator, 1.25 NA Abbe condenser with iris diaphragm and filters for optimal brightfield imaging- 40x, 80x, 100x, 200x, 400x, 800x, 1000x and 2000x magnification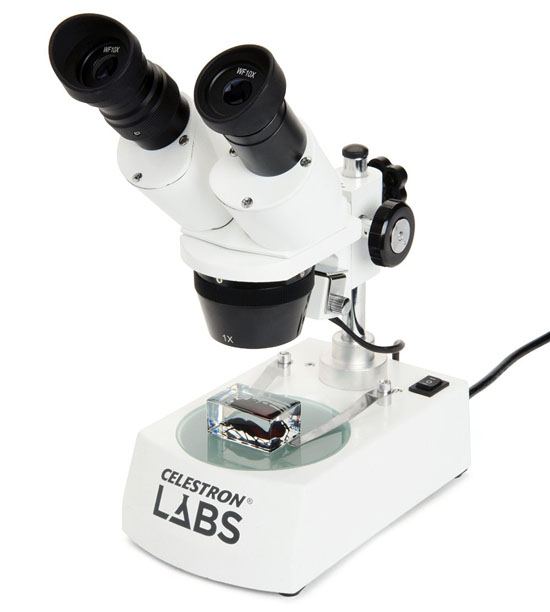 Lab and Educational ready stereo microscope with 10x to 60x magnification, great for viewing a range of 3D objects from insects to rocks to plants from above, or incident illumination to transmitted illumination specimens on a slide (illuminated from below)

Includes 4 encased in clear plastic insect specimens, 2 stage plates, 10x and 20x eyepieces, metal construction, upper and lower illuminators

Widefield, precision ground, all-glass 10x and 20x eyepieces and 1x and 3x objective lenses allow for 10x, 20x, 30x and 60x magnification

All metal binocular head with interpupillary adjustment makes for easy viewing

Upper and lower illumination and 2 stage plates (opaque-black and white, and clear) allow for viewing multiple specimens from 3D objects to slides
ALSO: Celestron 44104 500x Power Advanced Biological Microscope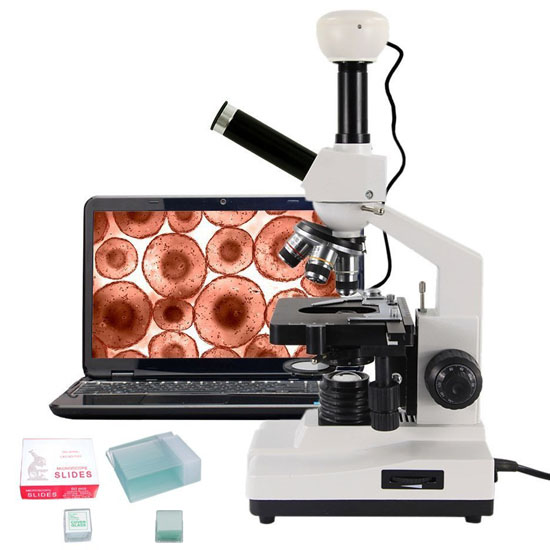 Double-Layer Mechanical Stage, LED Illumination and Coaxial Coarse, Includes 2.0MP Camera and Software 

Trinocular port for adding photo or video capability. We have electronic eyepiece and a binocular eyepiece

Spiral-control Abbe condenser with iris diaphragm for clear examination and light control

Quadruple nose-piece with 4x, 10x, 40x, and 100x achromatic objectives that provide color correction of magnified images.

Magnification settings are 40X, 100X, 400X, 1000X, 1600X, 2000X

Coarse and fine focus knobs,dual viewing head, one tube 30 degree inclined and another tube vertical, 360degree rotatable.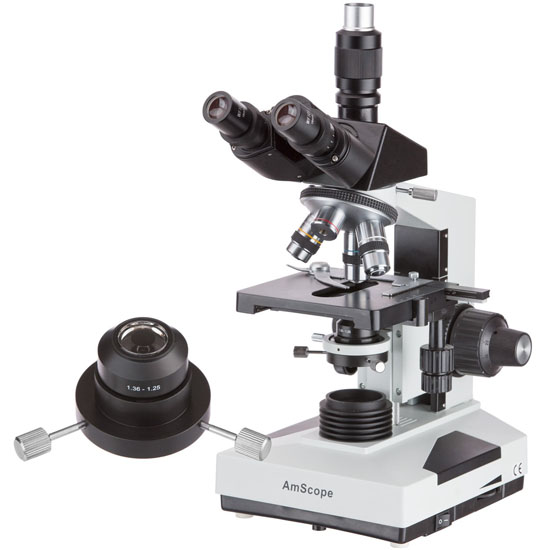 Industrial and professional class microscope with WF10x and WF20x Eyepieces, 40X-2000X Magnification, Brightfield, Halogen Illumination, Abbe Condenser, 3-D mechanical stage, and an intensity-variable halogen illumination system

Simultaneous viewing through the photo port and eyepieces. 30° inclined 360° swiveling compensation-free trinocular head

Adjustable parfocal trinocular port

Detachable C-Mount located on the 23mm photo port, allowing you to attach most of microscope digital cameras and video systems on the market

Sixteen darkfield and brightfield magnification powers
ALSO: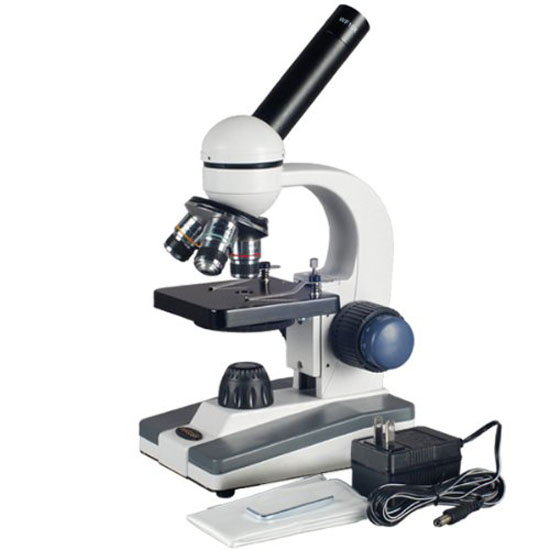 Great value for education, ideal first microscope for children, suitable for elementary to high school
All-metal body, optical glass lenses, cordless, LED student biological microscope

360 degree rotatable monocular head offers five magnification settings 40X, 100X, 250X, 400X & 1000X

Widefield all optical glass elements includes single lens condenser with disc diaphragm

LED illumination system powered by the supplied adapter or three AA batteries.
Don't forget your prepared microscope slides with specimens ready to go under the microscope.