Be it for school, college or university use, these height adjustable mobile laptop cart is so versatile, you will want one for every meeting room, classroom, lecture and school hall.
Most teachers and students will have their personal laptop and given that presentation is a common way to demonstrate what you have learnt, one of these mobile laptop stands will fit perfectly.
There is nothing quite like the ability to move and re-position the stand as well as adjust the height of the workstation to suit the presenter. Gone are the days of desk bound machines where students need to load up their presentation on a desktop in order to present their work. Wireless projectors being common place now, connecting and projecting on to the big screen from any laptop is easy and being able to present at a suitable location meant the presenter can engage the audience better.
The focus then is to find the right furniture to help make it easier for the presenter. Check out our list of user friendly laptop stands for presentation.
Top 10 Best Mobile Laptop Stands for Presentation
Here is a quick overview of our list.
Others:
Now for a closer look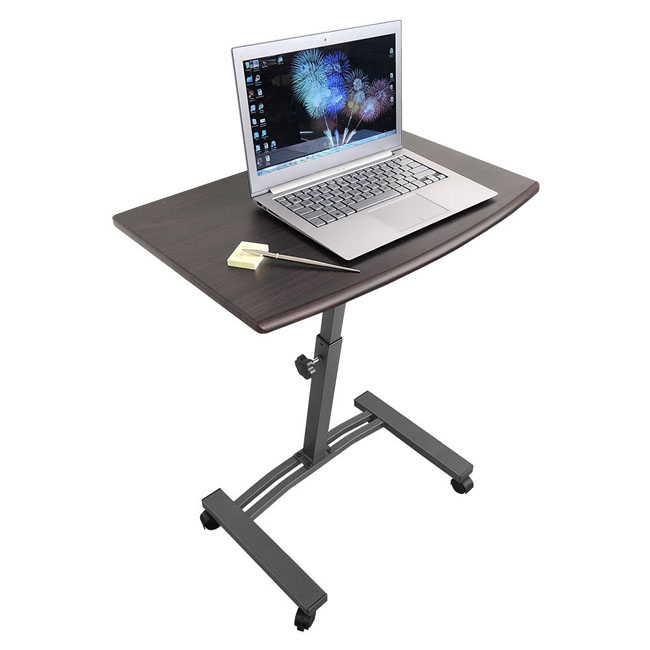 Dimensions: 60X40cm, H51.5-83cm
Adjustable height 51.5-83cm
4 casters (with locking wheels)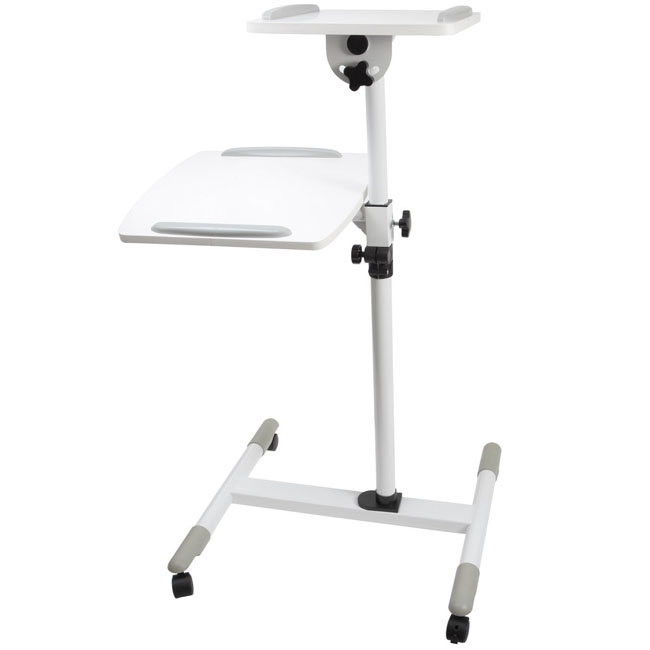 Tables rotate 360 degrees and tilts up to 35 degrees (left or right).
Table top size – 400mmx350mm & 300mmx350mm
Raised edges stop device from sliding off trolley
Lockable wheels (2x)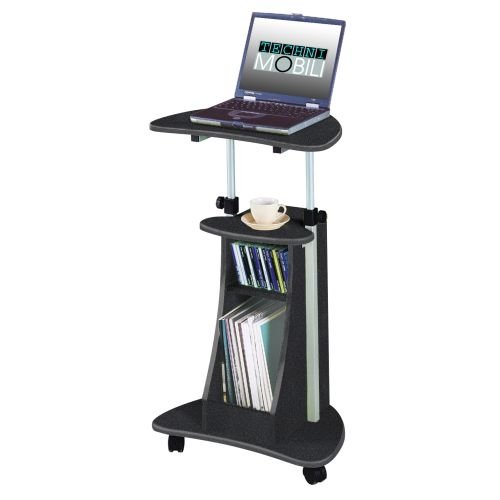 Dimensions: 22L x 16W x 27.5-44H inches.
Constructed from heavy-duty engineered wood with a moisture-resistant PVC laminate veneer
4 castors; 2 locking, 2 standard.
2 open storage compartments, 2 lower shelf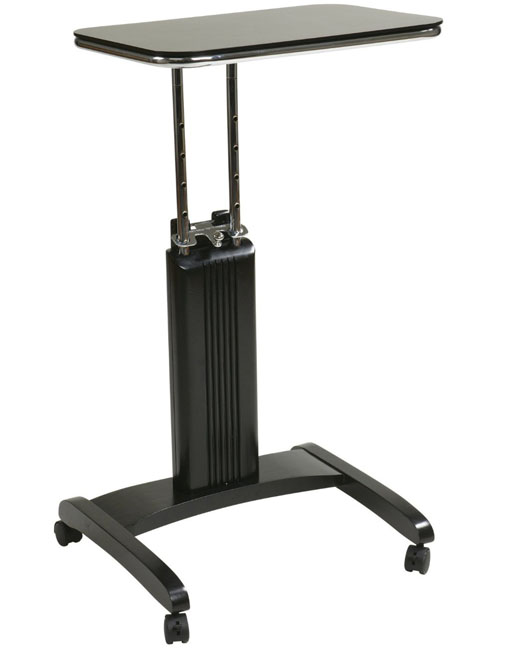 Adjustable height from 27″ to 36″ unique patented easy to use height adjustment mechanism

User has ability to work from seated or standing position

Made from select solid wood and wood veneers finished in maple

Casters for ease of mobility with 2 locking for stability

Colour options: Espresso, Cherry, Mahogany, Black, Maple or White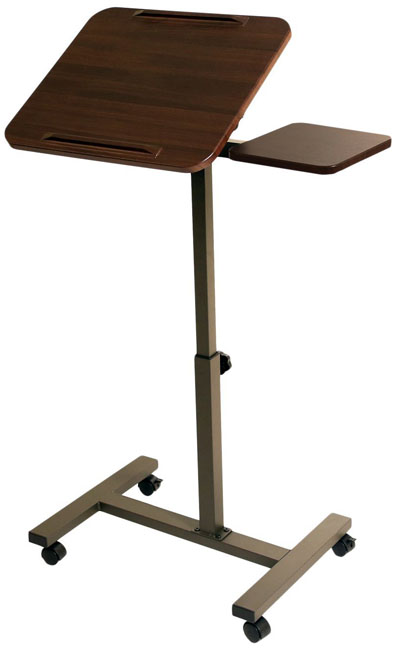 Dimensions: 26″ w x 16″ d x 27.5″ To 40″ h;
Table Top Dimensions: 17.75″ W x 15.75″ D x .625″ H;
Side Table Dimensions: 8.3″ W x 9.8″ D x .625″ H;
Base Dimensions: 22″ W x 16″ D x 3″ H
Adjustable slanted table top for optimal typing
4 x 1.5-inch casters with 2 locking and 2 standard.
Also available: Standard Seville Classics Mobile Laptop Desk without side table.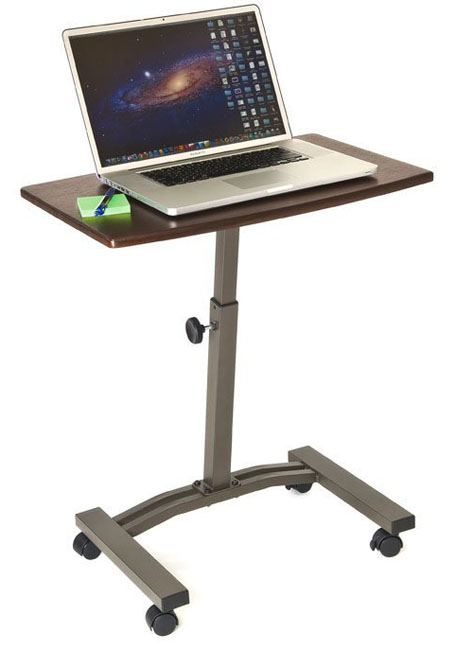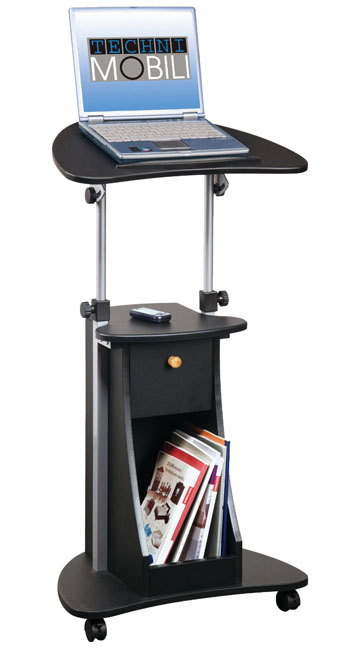 Made from heavy duty engineered wood panels with moisture resistant PVC laminate veneer

One open storage compartment and one closed storage compartment

Scratch-resistant powder-coated steel frame

Tilting table Top with dual adjustment knobs

Height adjustable from 32-inch to 44-inch with dual adjustment knobs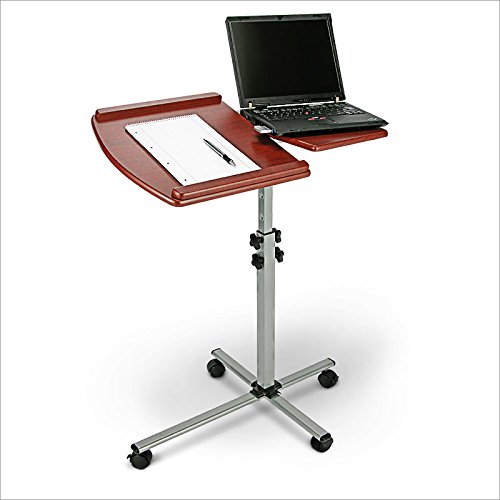 Dimensions: 75.5 x 57.5 x 74.5 – 107 cm

2 trays one adjustable in tilt to both sides, the other is fixed.
Height-adjustable from 74.5 to 107 cm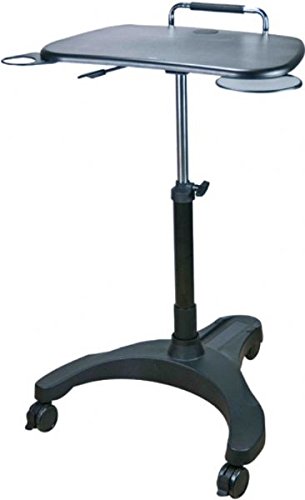 Dimensions: 

40.16″H x 24.8″W x 24.6″D

3 locking castors, gas cylinder pole
Retractable mouse tray and cup holder
Height adjustable 24.8-inch to 38.6-inch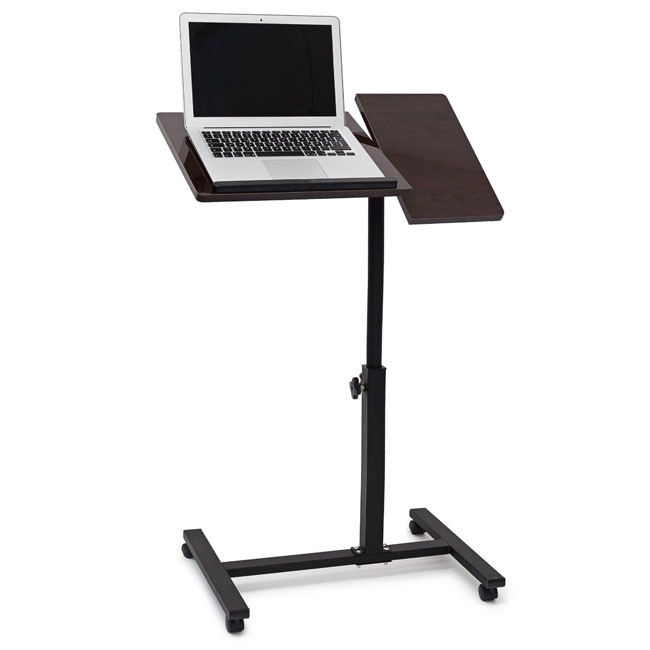 Dimensions (H x W x D): 58-95 x 60 x 40.5 cm
Height adjustable, 2 working surfaces for laptop and mouse
Tilt and swivel working surfaces, stop bar on the main laptop surface keeps device from slipping.
Available in three colours, black, red or yellow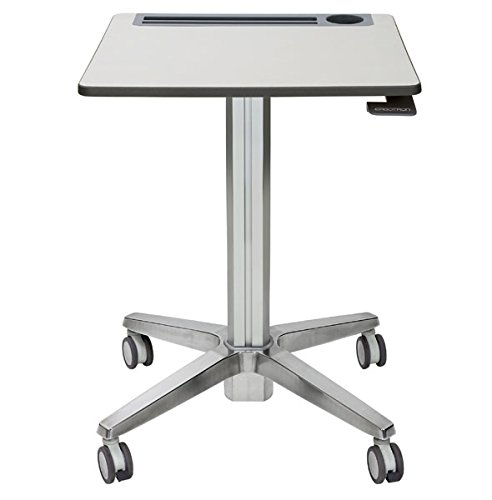 Dimensions: 75 x 35 x 66 cm
Others