Sales of Chromebooks surpassed MacBooks in the first quarter of 2016 according to IDC. During this period, Apple sold approx. 1.76 million MacBooks while Dell, HP, and Lenovo sold nearly 2 million Chromebooks combined.
While this is an Apple to Orange comparison (literary speaking), as these devices are of a different class, Apple's MacBook is a full size laptop with full fat OS while Chromebooks are more of a cut-down laptop with lightweight OS. The numbers are still interesting especially when there are others; Pears (Windows) and Bananas (Linux) based laptops in the mix. This means the growing number of sales in Chromebook is eating away the market shares of laptops based on other operating systems and not only Apple's.
As more and more applications are now cloud based, majority of users are using their machines to browse the Internet, check emails, watch streaming videos and access online productivity apps such as word processor, spreadsheet and presentation packages through their browser and chances are they are using a Chrome browsers to do this. When it comes to replacing their machine, they will quickly notice that apart from Chrome, there is hardly anything else they need to use on their laptop and what better machine to do this than a Chromebook.
Good things come in small packages. Chromebook with its lightweight and fast OS, displays of different sizes, some even with touchscreen flip hinge for a convertible profile and big touch pads and chiclet keyboard give it extra appeal. To top if off, the low price tag makes it easy on the wallet.
Chromebooks were considered a small player in the industry but given that it is able to surpass MacBooks, a well established device in the market meant a great deal. While this is due mainly to the low price tag, a lot of it has also to do with the new generation of Chromebooks with better battery life, bigger and higher resolution displays as well as better choices in the market from reputable and reliable manufacturers. It can also be said that being a budget device makes it a favourite with schools, colleges and universities.
Let's take a look at 5 of the best Chromebooks spearheading the sales right now.
Top 5 Best Chromebooks – slimmer, lighter and here to stay
Here are top 5 Best Chromebooks and given its price, it will make you want to reach for your wallet real quick.
1. ASUS Chromebook Flip C100PA 10.1-inch [CONVERTIBLE, TOUCHSCREEN, 9HR BATT.]
2. Acer Chromebook CB5 13-inch [13HR BATT.]
Also: Acer Chromebook CB5 15.6-inch [BIGGEST DISPLAY]
3. Acer Convertible Chromebook R11 11.6-inch [CONVERTIBLE, TOUCHSCREEN, 9.5HR BATT.]
4. ASUS Chromebook C300SA 13.3-inch [15HR BATT.]
Also: ASUS Chromebook C300MA 13.3-inch [10HR BATT.]
5. ASUS Chromebook C201PA 11.6-inch [13HR BATT.]
Let's take a closer look.
Asus Chromebook Flip C100PA from Asus is the first convertible Chromebook featuring a 360 degree flip hinge. You can use it in laptop, tablet, tent or stand mode. The only let down is the size of the display which is only 10-inch but it does mean that the Chromebook with a touchscreen and Chrome OS is inching closer to becoming a tablet.
The device is slim and lightweight but do not mistake this for a tablet with Android OS, Google's OS for smartphones and tablet. The Chrome OS is designed for laptop and small net stations. ASUS's only challenge is finding the right apps that work with touchscreen that do not relying on the keyboard or trackpad when in tablet mode.
The battery life is amazing offering up to 9 hours of use on a single charge. Connectivity wise, it supports dual band 802.11ac Wi-Fi and Bluetooth 4.1.  There are two full-size USB 2.0 ports, 1 combo audio jack, 1 micro HDMI port to connect to HDTV and 1 micro SD card for additional storage, making this the most complete Chromebook.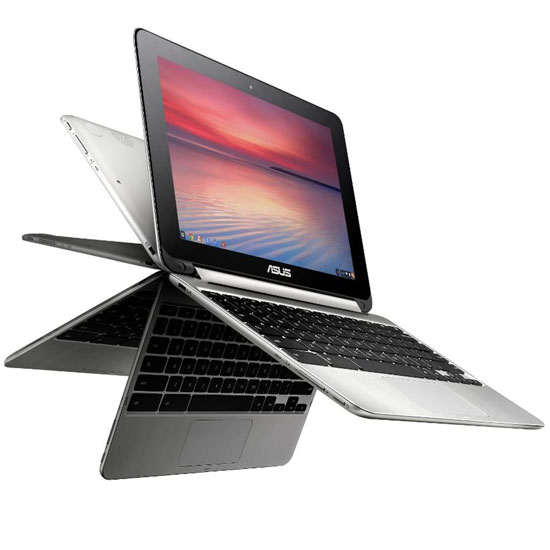 CPU: Rockchip Quad-Core RK3288C Processor
Display: 10.1-inch 16:10 WXGA (1280×800)/Wide View Angle LED Backlight Glare panel touchscreen
Memory & Storage: 2GB or 4GB LPDDR3 MHz SDRAM on board memory and 16GB eMMC storage with micro SDXC card reader
Camera: 1 HD Web Camera
Connectivity: Integrated dual band 802.11 a/b/g/n/ac, Bluetooth 4.1 support (on WLAN+ BT 4.1 combo card)
Ports: 1 x COMBO audio jack, 2 x USB 2.0 ports, 1 x micro HDMI
Audio: Built-in 2 Speaker(s) And Digital Microphone
Battery Life: 9 hours from 2 Cells 31 Whrs
Dimensions & Weight: 262.8 x 182.4 x 15.6 mm (WxDxH), 0.89 kg –

SLIMMEST, LIGHTEST
The Acer Chromebook CB5-311 is your typical no nonsense device with a big 13.3-inch display yet carry a slim and lightweight design, great for everyday portable computing. Another device with exceptional battery life, Acer claims up to 13 hours of battery life from a single charge.
To differentiate from the rest of the Chromebooks in this list, Acer opts for a quad-core Tegra K1 processor clocking in at 2.3Ghz with an impressive graphic capability using NVIDIA's graphic prowess. In terms of weight it is on a heavy side at 1.5kg given that chromebooks with equivalent screen size weights approximately 150 grams less. Still it comes in a small and tidy package measuring only 18mm thin.
CPU: NVIDIA Tegra K1 Processor 2.3GHz
Display: 13.3-inch LED backlight with Anto-glare finish 1366 x 768 pixel resolution
Memory & Storage: 2GB/4GB RAM with 16GB eMMC storage
Camera: HD Web cam
Connectivity: 802.11 ac WiFi, Bluetooth 4.0
Ports: 2 x USB 3.0 port, 1 x HDMI, 1 x combo jack, SD Card reader
Audio: HD Audio with integrated Stereo Speakers
Battery Life: up to 13 hours with 4-cell Lithium Ion batter
Dimensions & Weight: 17.95 x 327 x 227.5 mm (H x W x D), 1.5kg
Also: Acer Chromebook CB5 15.6-inch
Another Chromebook with a 2 in 1 convertible profile, the Acer Chromebook R11 is an 11.6-inch device with a 360 degrees dual-torque hinge. The Chromebook R11 lets you switch from laptop to tablet mode easily and with its touch screen display, you can tap on icons to open an app, navigate using taps, pinches and swipes like you would on a smartphone or tablet. At 11.6-inch, its bigger than the ASUS Chromebook Flip C100PA which only has a 10.1-inch display. It has a thin and light aluminium chassis giving it a robust and solid feel while offering portability. However it only manages 9.5 hours battery life per full charge enough to power you through the day.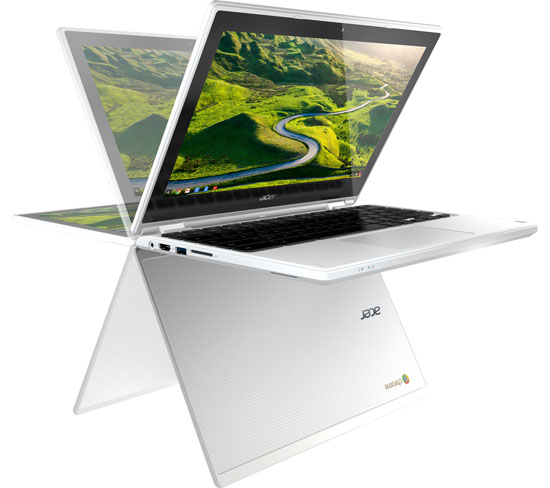 CPU: Intel Celeron N3050 Dual Core processor 1.6GHz with Burst frequency at 2.16GHz
Display: 11.6-inch IPS display with touch screen 1366 x 768 resolution touchscreen
Memory & Storage: 2GB RAM with 16GB eMMC storage
Camera: Webcam
Connectivity: Intel Dual Band Wireless AC7265, Bluetooth 4.0
Ports: 1 x USB2.0 port, 1 x USB3.0 port, 1 x HDMI port, 1 x combo jack, 1 SD Card reader
Battery Life: up to 9.5 hours with 3 cell Lithium ion battery
Dimensions & Weight: 19.2 x 294 x 204 mm (H x W x D), 1.25 kg
Given its screen size, the Chromebook C300SA is a big laptop but still weights only 1.35 kg lighter than the Chromebook C300 which is 1.4kg. This new C300SA is based on new Intel N3000 series Pentium and Celeron processors vs the N2000 series seen in the C300. However, the most amazing thing is the battery life. ASUS claims that the C300SA will last up to 15 hours on a single charge enough to power one through the day and into the evening. The C300 could only achieve 10 hours of battery life per charge.The company also boast high quality audio from its stereo speakers with extra large resonant chambers delivering crisp and powerful immersive surround sound.

CPU: Intel® Pentium® Quad-Core N3710 Processor, Intel® Celeron® Quad-Core N3160 Processor, Intel® Celeron® Dual-Core N3060 Processor,
Display: 13.3-inch (16:9) LED backlit HD (1366 x 768) Anti-Glaire Panel with 45% NTSC or 13.3″ (16:9) LED backlit FHD (1920×1080) Anit-Glaire Panel with 72% NTSC
Memory & Storage: 4GB LPDDR3 1866MHz SDRAM memory with 16GB / 32GB / 64GB eMMC with SD Card slot –

MORE STORAGE OPTIONS

Camera: HD Web Camera
Connectivity: Integrated 802.11 AC WiFi and Bluetooth 4.0
Ports: 2 x USB 3.0 ports, 1 HDMI port (Full size), 1 SD Card Reader
Battery Life: 15 hours from 3 Cells 48 Whrs Battery –

LONGEST BATTERY LIFE

Dimensions & Weight: 32.9 x 23 x 2.03 ~2.2 cm (WxDxH), 1.35 kg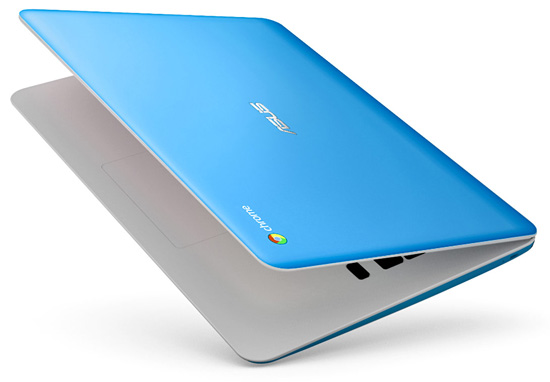 Also: ASUS Chromebook C300MA 13.3-inch [10HR BATT.]
An betweener, the ASUS Chromebook C201PA with its 11.6-inch display sits between the ASUS Chromebook Flip C100PA with its 10.1-inch display and the ASUS Chromebook C300SA with its 13.3-inch display. Catering to those looking for a balance between screen size and portability, the device weighs only slightly more than the Chromebook Flip C100PA at 980 grams, approximately 90 grams heavier.
For its footprint, imaging an A4 sheet of paper laid on a table, the laptop with its lid shut takes up less than that at 287  x 194 mm. If a slim design is what you are looking for in a laptop, the Chromebook C201PA does not disappoint coming in at 17.9 mm thin only. For wireless connectivity, the laptop features 802.11ac WiFi and Bluetooh 4.0.
In terms of battery life, ASUS claims up to 13 hours per full charge, a good number for a device this size. Another feature worth mentioning is the ergonomics of the device. Like the Chromebook C300SA, the C201PA features a full size one-piece chiclet keyboard with improve back assembly offering 1.5mm of keyboard travel.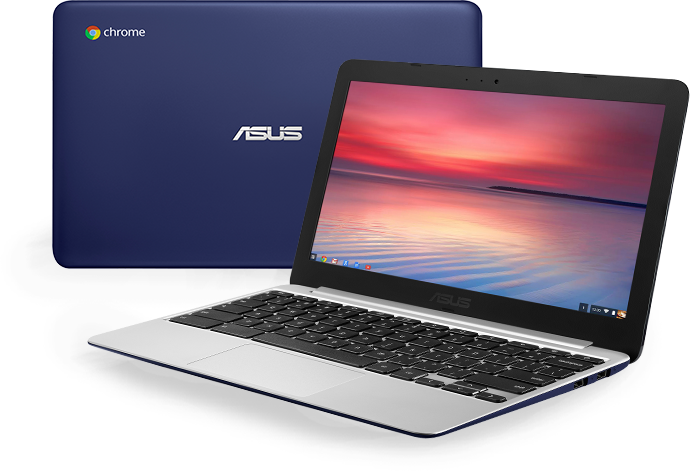 The touchpad is bigger on the C201 with palm rejection feature should you unintentionally go near the touch pad while typing. It measures 98mm by 55mm.
CPU: Rockchip Quad-Core RK3288C Processor
Display: 11.6-inch 16:9 HD 1366 x 768 pixel resolution
Memory & Storage: 2GB/4GB LPDDR3 SDRAM onboard memory with 16GB eMMC storage with Micro SD/SDXC/SDHC slot
Camera: HD Web Camera
Connectivity: Integrated 802.11 a/b/g/n/ac and Bluetooth V4.0
Ports: 1 combo audio jack, 2 x USB 2.0 full size ports, 1 Micro HDMI port, 1 micro SD reader
Battery Life: 13 hours with 2Cells 38 Whrs –

GOOD BATTERY LIFE

Dimensions & Weight: 287 x 194 x 17.9 mm (WxDxH), 0.89 kg –

SLIM & LIGHT
Final Thoughts
If you are after flexibility, being able to use the Chromebook as a laptop as well as a tablet then one of the convertible Chromebooks with touchscreen is your answer. If however, you are not fussed about touchscreen and tablet mode and just want a Chromebook that behaves like a standard laptop using it primarily to browser the Internet, check and reply to emails, blogging and use the productivity apps online, then a bigger 13 or 14-inch device would suit you better.
While touch interface sounds like a great idea on a convertible Chromebook especially in tablet mode, we cannot see a practical use for touch especially on the standard laptop that does not convert to tablet. So, you are not really missing much with or without a touch screen on a Chromebook. Choosing a Chromebook without touchscreen and bigger display also gives you more battery life, up to 15 hours to power you through work during the day and entertainment in the evening without the need to be tethered  to a wall socket.