Huawei's place in the smartphone world was cemented when it was chosen by Google to design a smartphone that carries the Nexus name in the form of Nexus 6P.
Since then the Huawei's smartphone portfolio included Huawei G8, Huawei P9 and now Huawei Mate 8. We looked at Huawei P9 in our other post, a smartphone that focuses on the rear shooter working in collaboration with Leica.
Here is Huawei's biggest offering yet, the Huawei Mate 8 with a whooping 6-inch display.
Huawei, the company that brought us Nexus 6P in partnership with Google is returning this time with Huawei Mate 8. A big 6-inch smartphone with the ultra thin bezels, the Mate 8 feels no bigger than some 5.5-inch smartphones.
1. Whooping Display
Mate 8 uses a 6-inch FHD screen with 95% color saturation. Even with a larger screen, the smart design of Mate 8 is more compact than previous models with a 85% screen-to-body ratio. Still it only carries 1080p resolution, at Full HD 1920 x 1080 pixels, its nothing to shout about give that most flagships are more than Full HD some with resolution up to Quad HD (4K).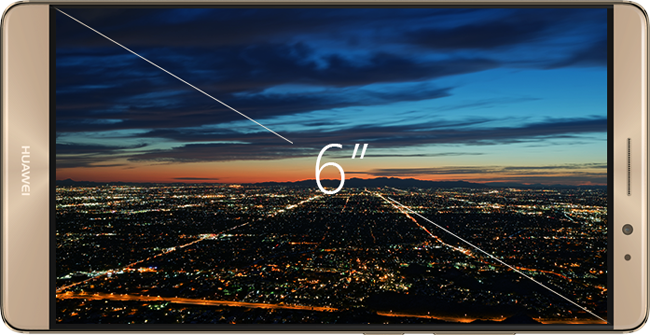 Still the screen is sharp the bring with option on the Customisation Skin to select from different screen colour temperature also seen on smartphones from other manufacturers namely Asus.
2. Sharp Shooter – Front and Back
The Mate 8 is the first smartphone to feature Sony's newest 16 MP IMX298 stacked image sensor, which has an f/2.0 aperture and a 1/2.8-inch sensor size. The sensor is highly sensitive and effectively reduces noise for clearer and sharper photos.
The main camera offers decent image and performs better in daylight.
Sometimes, when the moment is right, the light is wrong. That's when smart Optical Image Stabilization (OIS) comes into play, which uses intelligent light level monitoring and antishake technology to create unbelievably sharp, bright, and detailed images in low-light conditions.
Complete with a dual tone LED flash, it ensures that snaps turn out with the right colour tone and skin colours look great especially in close up under low light condition.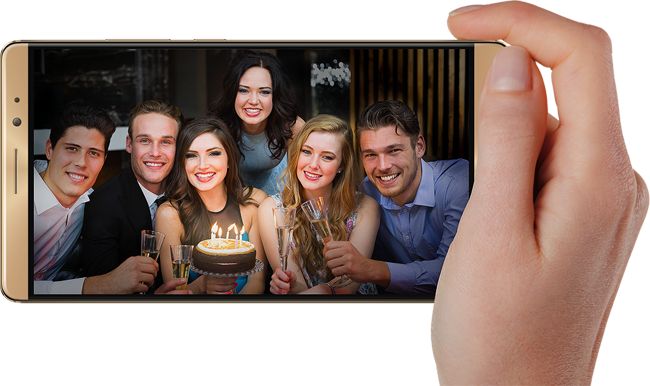 Huawei's new Image Sensor Processor (ISP) delivers remarkably vivid images. The innovative ISP calculates the distance between the lens and the focal point for faster focusing, higher clarity and more accurate color reproduction.
The Mate 8 comes with a Slow Motion mode, which allows you to shoot high-definition videos and view them like never before at 1/4 of the speed of the original. You can also use Continuous Capture to shoot 100 burst shots at 12 frames per second, ideal for capturing images of fast-moving objects.
With a wide-angle 8 MP front camera, the Mate 8 takes sharper selfies with a more vivid background, while video calling takes on a life of its own. Together with the selfie camera app, it offers a whole hosts of beauty options with good results.
A quick shortcut is available in the form of a double click on the volume down button. This launches the camera app from the lock screen even when the device is asleep ready to shoot, making sure that you do not miss that crucial moment.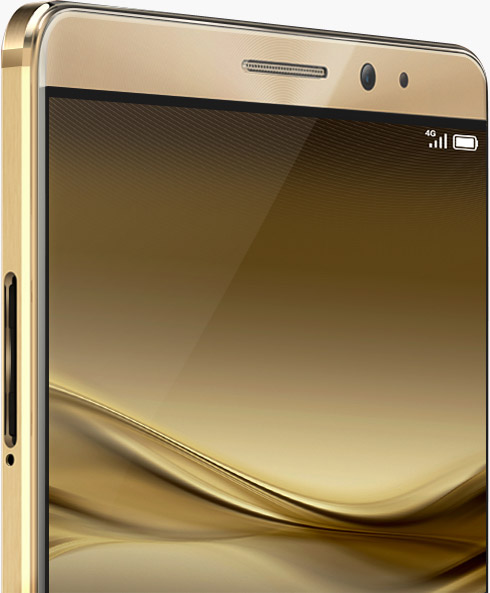 3. Excellent Designer Appeal
The Mate 8 takes the look and feel of the Mate series to a whole new level. Boasting a vivid 6″ FHD display, an ultra slim design, a re-designed fingerprint sensor that's faster and more reliable, and a sleek aluminum unibody design, the Mate 8 is sure to impress.
Even with a big screen, the device weighs no more than 185grams. Mate 8 has slimmer dimensions and 7.9mm edges – 0.4mm thinner than Mate 7. By using diamond cutting technology, it makes Mate 8 visually thinner than other products with a 6-inch display.
Mate 8 employs meticulous yet soft sandblasting on the rear surface. The combination of sandblasting, trimming, and the fine metallic drawing process contribute to a rich yet smooth texture.
What's more, it takes two SIM cards with the second slot being a hybrid slot that doubles as a microSD should you decide to go for extra storage.

4. Awesome Firepower
Performance wise, the device does not disappoint with its Kirin 950 processor. Everything flows smoothly without lag and multitasking is as fluid as ever, not flinching even with a few apps running in the background.
The Mate 8 is powered by a brand-new Kirin 950 chipset,making it the first smartphone to feature TSMC's. Using 16 nm FinFET Plus chip technology. The octa-core processor consists of four A72 2.3 GHz cores and four A53 1.8 GHz cores. The Kirin 950 is 30% more efficient than the Kirin 930, delivering fast, long-lasting performance.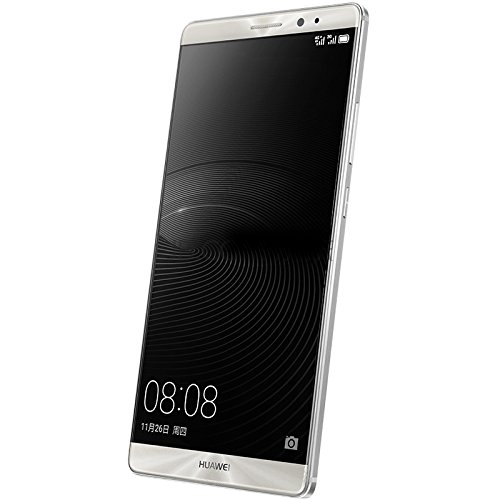 The revolutionary i5 intelligent processor is the most powerful coprocessor currently available. It supports all the functions of a sensor hub as well as speech recognition,low-power consumption, MP3 playback, Fused Location Provider (FLP) navigation, and reduces location-based power consumption by approximately 70%.
The Mate 8 is the world's first smartphone to use the latest Cortex-A72 CPU and high-performance Mali-T880 GPU. The CPU delivers groundbreaking efficiency with at least 20% lower power consumption and 11% higher performance than ARM's previous chip.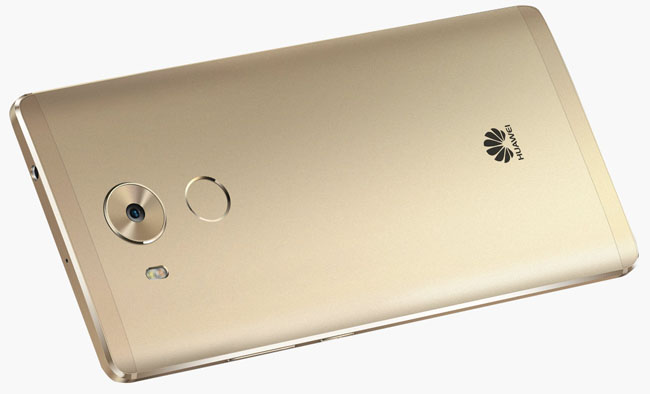 5. Fingerprint Sensor & More
The Nexus 6P, Huawei G8 and Huawei P9 all have fingerprint scanners so this comes naturally on the Mate 8, except it goes a little further. The fingerprint sensor on the back of the Mate 8 has been re-designed for enhanced performance.
The circular sensor matches the shape of your finger, and the depth of the concave area has been decreased to 0.45 mm to enable your finger to get closer to the chipset for improved recognition accuracy and speed. In addition, the metallic ring has been removed for a minimalist design.
Mate 8 also comes with a versatile fingerprint scanner that doubles as a shutter button in camera mode and to bring up the notification bar. The later is triggered by simply swiping the sensor which goes a long way for a phone this size.
As a power user, I find myself constantly swiping to pull down the notification and settings options swiping down from the top edge of the screen. Swiping on the sensor gives.

6. Operating System & Custom Skin
The phone runs the Android 6.0 Marsmallow with Huawei's custom user interface called Emotion UI 4.0. The new user interface features the ability to let users customise the notification screen and adjust the screen tone.
However, the one thing that sets the Emotion UI back and we hope future releases will address is that the EMUI lacks app drawer. This is common on competitors handsets use to automatically group new apps or let users manage their apps in different folders.
The lack of app drawers meant all apps appear on the home screen reminiscence of older Android releases or older smartphones.
7. Big on Battery & Efficiency
The one thing that Mate excel in apart from the size of the display is the huge 4000mAh battery. This allows the device to last for up to 2 whole days on a single charge with mixed use. This means there is no need to carry the adapter for short trips or pack the powerbank with you for fear of losing power.
A large screen smartphone that does not compromise the battery life of the device.
Huawei claims that battery provides an incredible 1.65 days of use for heavy users (or 2.36 days for regular users). And when you're not using your Mate 8, power management technology helps to give you an unprecedented 22 days' standby time. It can manage up to 17 hours of high definition video playback and 20 hours of navigating the web continuously.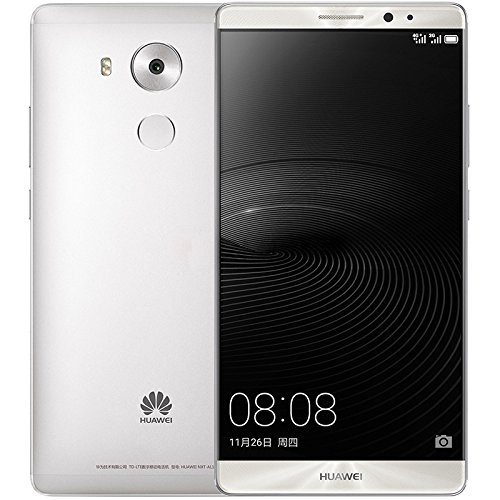 With its 4000 mAh high-capacity battery, the new Mate 8 gives you more time to call, connect, play, and watch without needing to worry about running out of power. Thanks to its highly efficient Kirin 950 chip with SmartPower technology, the Mate 8 sets new standards for smartphone battery life.
When you run flat the quick charge technology lets you bring the battery back to full capacity in 2.5 hours. The cutting-edge 9V/2A fast-charging technology also lets you get a full day's use out of a 30-minute charge-perfect for when time is precious and power outlets are scarce. That quick top up might just save your bacon.
Using the efficient Kirin chip, Huawei introduces 'Heart Beat', an all-new smart power-saving technology in the Mate 8. It continuously scans your apps to determine an optimum ratio between power usage and performance, reducing the power consumption of background apps by up to 50%.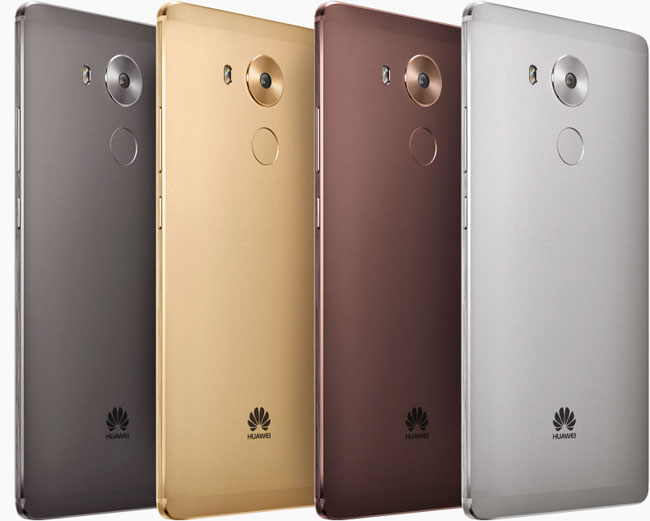 8. Future Proof with Cat 6 4G LTE
The Mate 8 has a built-in HiSilicon RF chip, which supports more channels and bands than any other chip. It supports up to 4 2G channels/9 3G channels/18 4G channels and 1334 carrier net parameters from 217 countries and areas. This enables you to connect to most networks worldwide on more frequencies than ever before.
Experience the thrill of unprecedented speeds to browse web pages, listen to music, watch videos, or play online games in ways you never imagined possible with ultra-fast Cat 6 4G LTE connectivity and download speeds of up to 300 Mbit/s.
Specifications
Display: 6-inch Full HD 1080p (1920 x 1080 pixel) resolution 368ppi 16.7M colors Color saturation(NTSC) 95% High contrast 1500:1
Processor: Kirin 950(64-bit,16nm FinFET+) Octa-core processor: Quad-core 2.3GHz Cortex-A72 and Quad-core 1.8Ghz Cortex-A53 + i5 co-processor
Memory & Storage: 3GB/4GB RAM memory with 32GB/64GB ROM storage
Camera: 16MP rear camera: F2.0, OIS (Optical image stablization), BSI CMOS, Dual-tone flash, PDAF+CAF auto focus, Digital zoom, up to 4x, Timelapse recording, Photos: max 4608 x 3456 pixels, Video recording: 1080p, 60 fps, support 720P 120FPS Slo-Mo recording. 8MP front camera: F2.4, Photos: max 3264 x 2448 pixels, Video recording: 1080p, 30 fps.
Connectivity: 4G LTE (Cat 6), WiFi 802.11 abgnac, WiFi Direct, Bluetooth 4.2, USB 2.0, DLNA, GPS/A-GPS/Glonass/BDS, NFC
Sensors: Fingerprint Sensor, G-Sensor, Gyroscope sensor, Compass, Ambient Light Sensor, Proximity sensor, Hall sensor, Barometer
Battery: 4000mAh Lithium-ion battery
Dimensions and Weight: 157.1 x 80.6 x 7.9mm, 185grams
NOTE: Article was originally published on our sister site Colour My Tech.