Gone are the days where childhood sculpting relied solely on discarded cardboard boxes and paper towel roll inserts; when cutting up newspapers and using tons of sticky tape was the norm.
The modern, tremendously liberating and creative tools of the young designer and sculptor are simply contained in a pen. These pens are suitable for children age 8 upwards, but by no means limited to children only. In fact many adults and artists have taken to using these as a creative outlet.
Based on 3-D printing technology, these pens also known as the 3-D printing pen, or 3D doodler, are based on extruding a plastic filament from heated gears within the pen. There are different coloured filaments that will allow you to create objects of multiple colours.
While not quite a 3-D printer per se, these 3-D pens offer a very good value alternative with greater control over the actual output of the object, given that you have to actually 'draw' it using the pen. Now the only thing it absolutely requires is a steady hand!
Best 3-D Pens
Here in this post we look at some of the best rated 3D pens out there currently.
Sketch Pro 3D Pen Kit – 3D Printing Pen w/ LED Screen, Filament, and FREE Art Stencils for 3D Drawing
Soyan 3D Arts & Crafts Drawing 3D Printing Doodle Printer Pen (orange, grey, yellow, blue)
Others
Now for a closer look.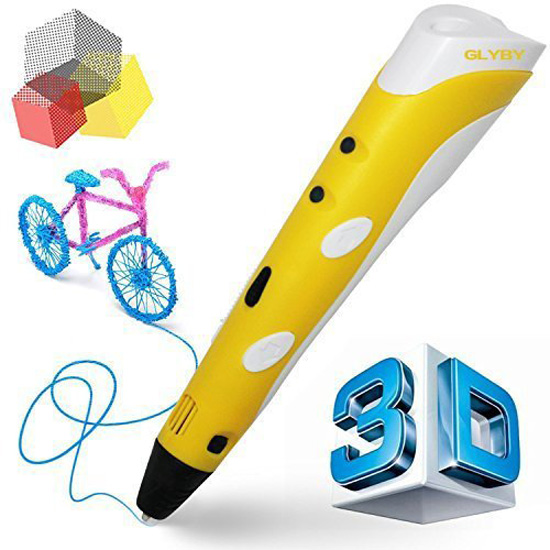 The Glyby 3D pen is one of the more affordable 3D Pen in the market. It is a great tool for anyone interested in 3D modelling. Designed for children above 8 yrs old and adult, the pen can be used for any kinds of modelling or sculpturing whether you are an artist, hobbyist or creative lover.

The product will automatically switch to standby mode in 5 minutes when in rest, stopping the heating ring will stop working.

Temperature and speed regulator. Users can adjust these manually,according to different materials used,to achieve the desired temperature and output.

Control the speed with the slider and through hands movement, act freely when painting stereograph, to created the perfect works.

The only disadvantage is there is no LCD display to indicate temperature or speed settings.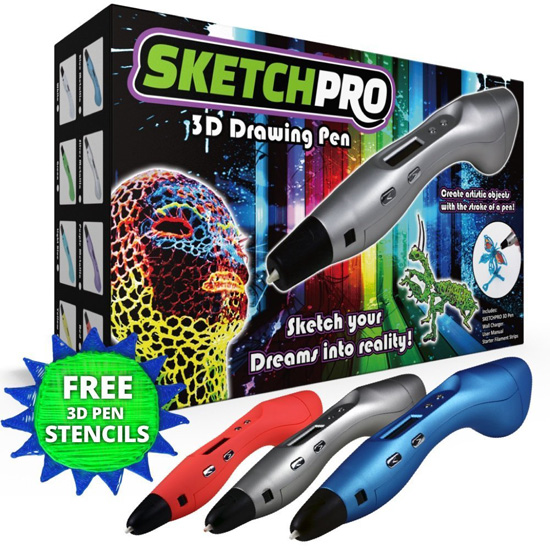 Large LED screen
Quick heat up time (just over 1 min.)
Changing filaments takes just seconds
Lightweight design for comfortable use (only 50g)
Single press buttons for continuous flow
Digital speed and temperature control for more stable and accurate feeding
Auto standby mode after 90 seconds of idling
Ergonomic pen body suits hands comfortably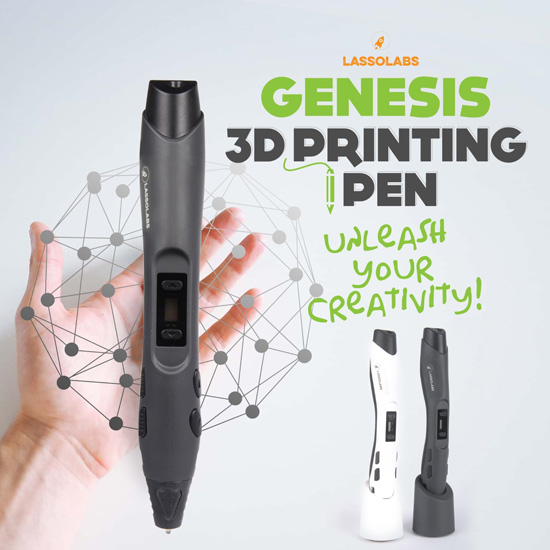 3D printing pen by Lasso Labs is made of high quality materials that are truly durable. This product comes with an easy-to-follow user's manual.
Also included are 5 Meter ABS filaments in assorted colors.
The 3D printing pen allows for the creation of 3D objects simply by drawing objects in the air.
This 3D Printing Pen comes with free filaments that you insert into the pen's feeding hole.
It has a special LED indicator to let you choose what type of material that you will load on the pen, whether "PLA" or "ABS".
You can control the heat and speed of the extrusion of material used for precision.
Now, you can start creating unlimited crafts – whatever comes into your imagination.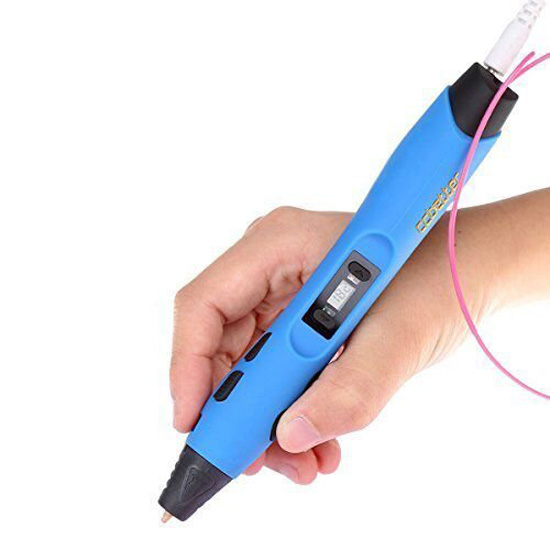 Advanced and enhanced 3D Pen quality with high resistance capability

Smarter adjustments and settings for accurate melting point, filament speed and stable parts

Redesigned version of 3D Pen. Super lightweight, easy to hold and operate

Supports LCD screen for accurate melting point monitoring, compatible with PLA/ABS material

Safety and durable, create your imagination into a real objects
Also available in Black:
The Soyan 3D is similar to the Glyby Intelligent 3D Printing Pen featured above.
OTHERS
The Nextech 3D Printing Pen is similar to CCBetter 3D Pen above.
NEXTECH 3D Pen can be used to draw in the air or on surface as well as tracing objects on paper.

Novel flute design, thoughtfully located buttons, lightweight (only 55g.) and premium material make it easy to handle and very comfortable to use.

Intelligent Control: A single press for continuous extruding flow for more ease of doodling.

8 digital speed controls for more accurate and stable extruding. Filament can be switched freely by the switch button.

Smart tempreature sensing and heating. it can keep lower temperature in tip to avoid scald your hands.

The pen will get into sleep mode itself after 1 minute of inactivity. Uses PLA, ABS and WOOD filament. Comes with 2 loops of filament refills to get you started.
If you can scribble, trace or wave a finger in the air, you can use the lighthouse 3D Drawing Pen.
The lightweight and slim design lets you draw in 3D, sculpting amazing objects and models.
Light House V5 – 3D Printing Pen brings your art ideas into reality with user friendly functions.
You can easily control extrusion speed and choose the plastic filament.
The speed control function allows you to adjust plastic filament feeding making it simple and practical to use.
Comes w/ 2 loops of PLA *NON TOXIC* filament to get you started.